A Very Merry Christmas Home Tour
Welcome to my Christmas home tour! It's one of the most anticipated posts all year and I'm so glad it's finally done and in your hands.
It's been crazy trying to find time between painting the cabinets and feeding my two kiddos to decorate, clean up the space and take pictures. I ended up having to pay my almost 5-year-old to keep her sister in her room while I took these photos. Best $.75 I've sent in a long time. 🙂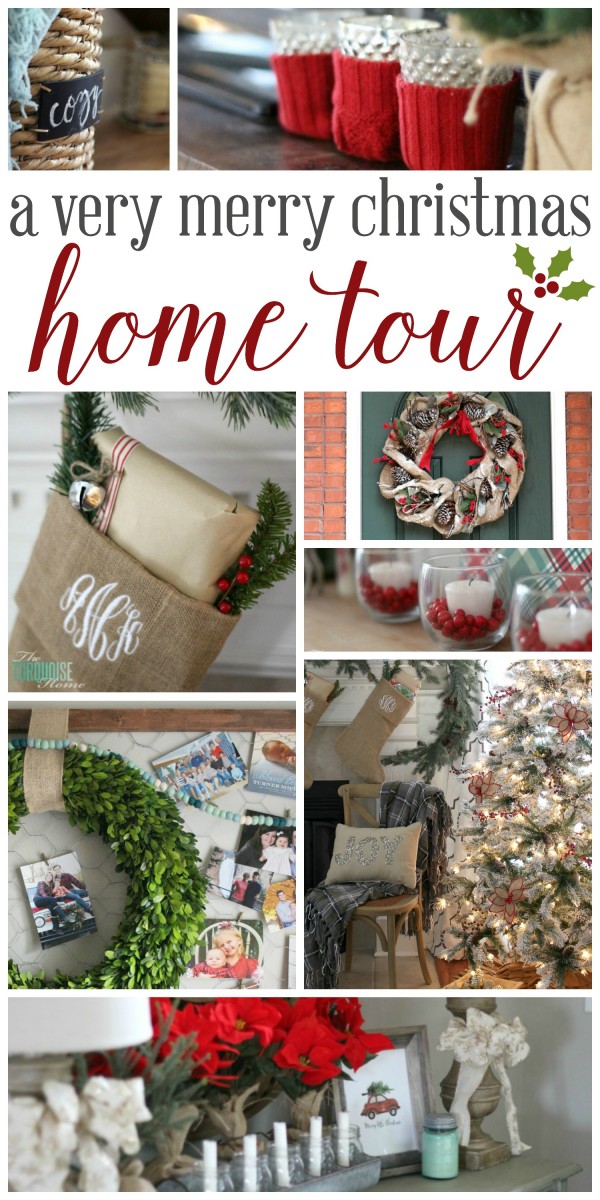 Let me just tell you. Dressing up my home and sharing it with y'all is great fun. I love making pretty spaces. But I have an 11 month old who gets into everything. Don't think for one hot second that my home looks like this … ever. Because it doesn't. Only for the 30 minutes it takes for me to get my pictures.
And in big, fun news — I'm participating with 20+ other bloggers to share our homes this week, so be sure to visit the end of this post and check them all out! AND enter to win our $500 giveaway!!!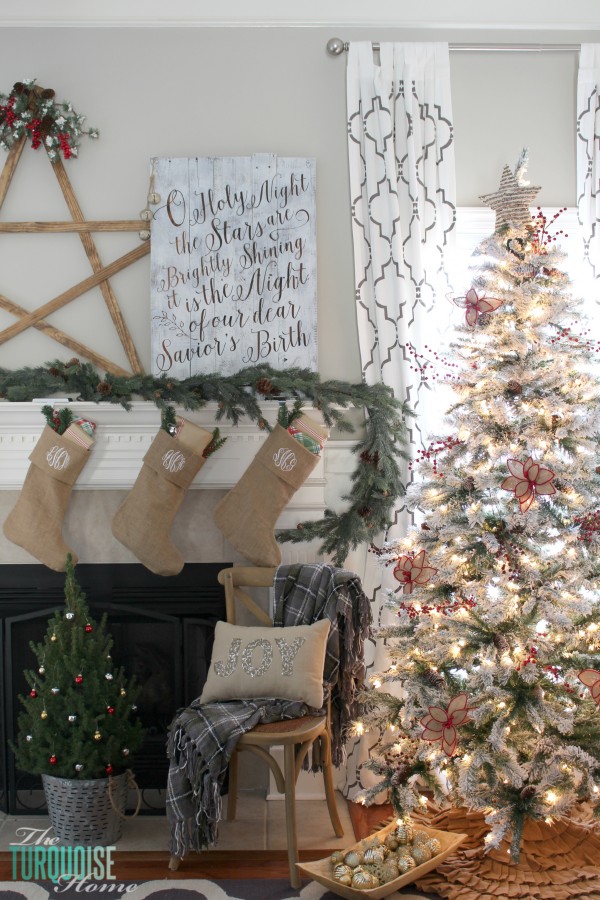 I had a vision for my mantel this year: a large star and a "hand-lettered" sign. I'll be sharing more about the pallet sign tomorrow, but I made it using my Silhouette Cameo.
I love the simplicity of the mantel and how it doesn't really need a whole lot of extra fluff. I'm learning that a couple of large decor pieces go a lot further than a bunch of small pieces.
And then there's my new flocked tree from Walmart. I am so loving it.
I fell in love with this burlap and pine cone wreath from Lowe's. Normally I would try to create my own, but this one was just so perfect right out of the box. It has little LED lights on it, but I don't know if I'll use them.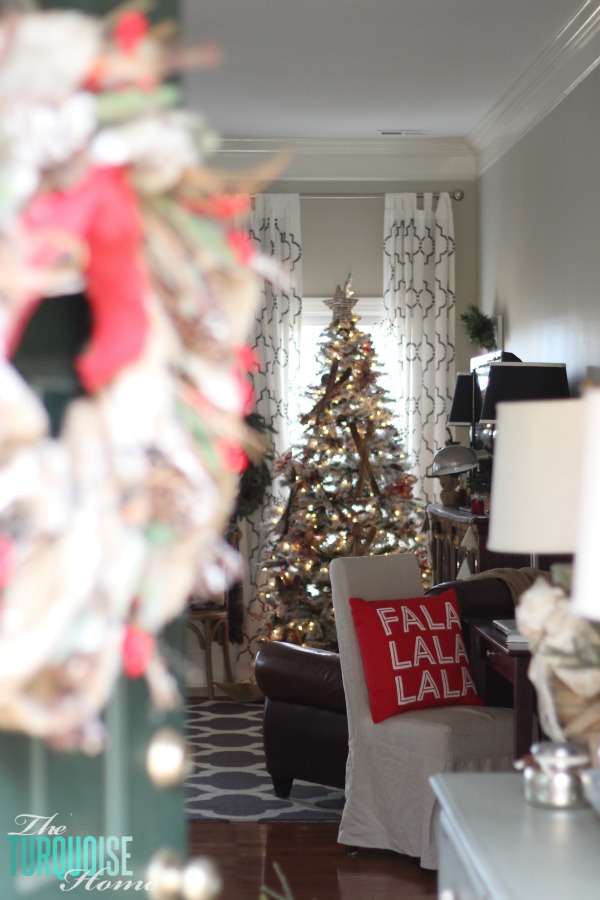 The cute Falalalalala (how many la's is that?!) pillow is from Target. As well as the cute "Joy" sign below.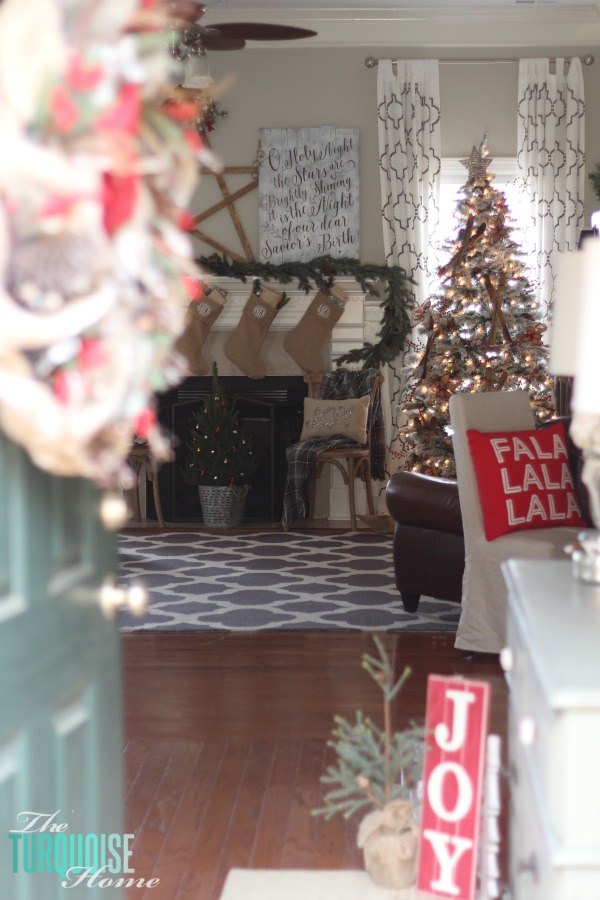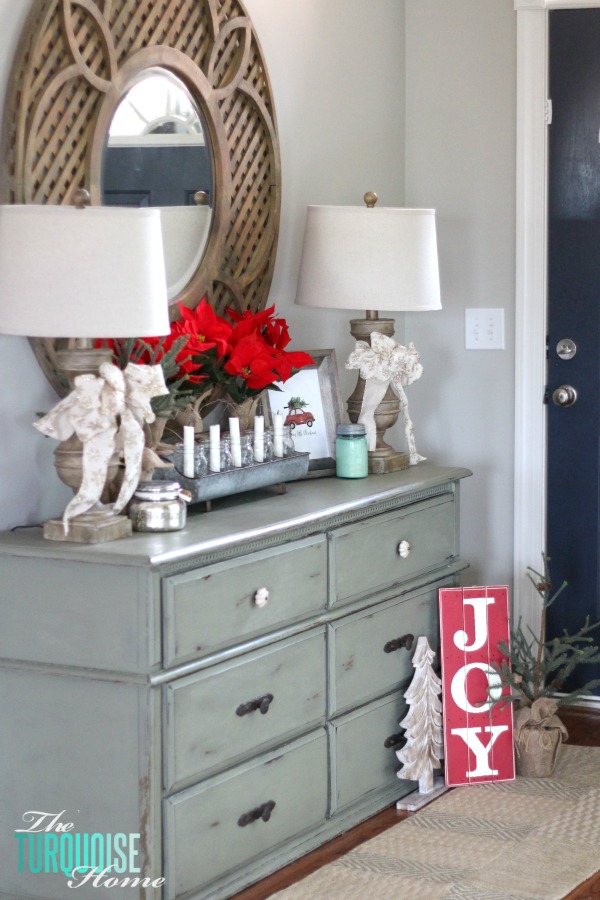 I repurposed the bows on the lamps and most everything else from last year. I did pick up the faux poinsettias from Target's Dollar Spot. The galvanized centerpiece is from Hobby Lobby, but you can find a similar one here.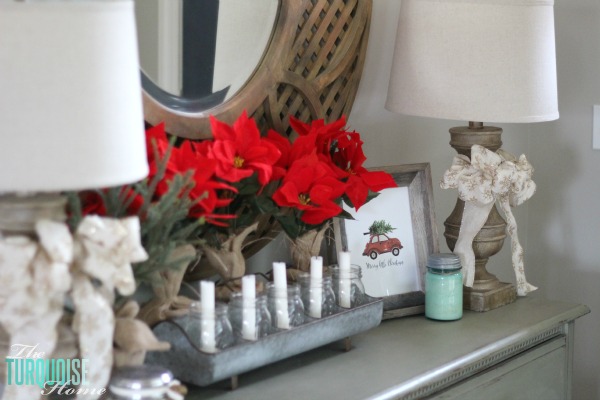 The adorable buggy with a tree print is from fellow blogger, Lucy at Craftberry Bush (similar). She has the cutest prints in her shop!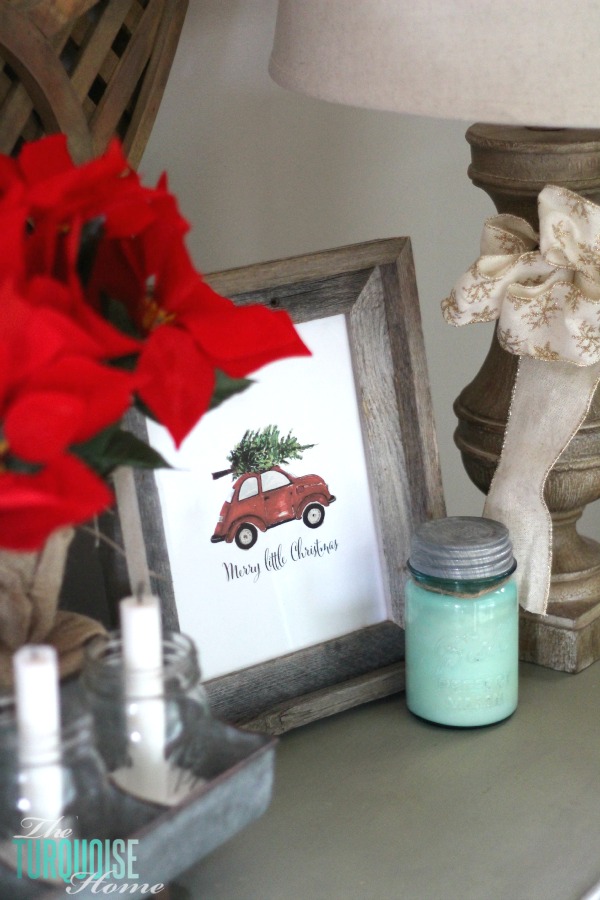 If you've been around a long time, you'll notice that I pulled my desk into the living room. I'm a firm believer in having your own separate work space. But I'm also a firm believer in making your home work for you and your season of life. Right now, it works better for me to have a desk in the living room.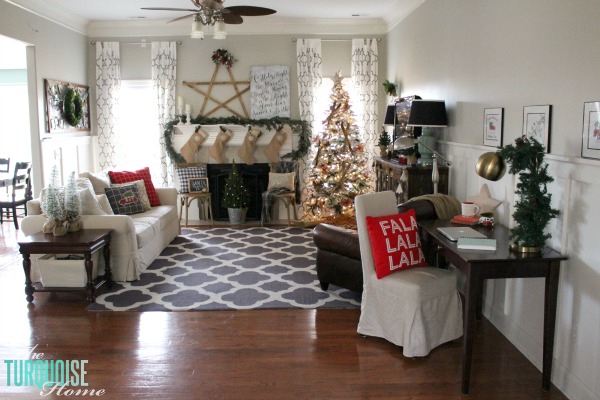 I bought the burlap stockings last year from a local shop. I love them! You can find similar ones on etsy.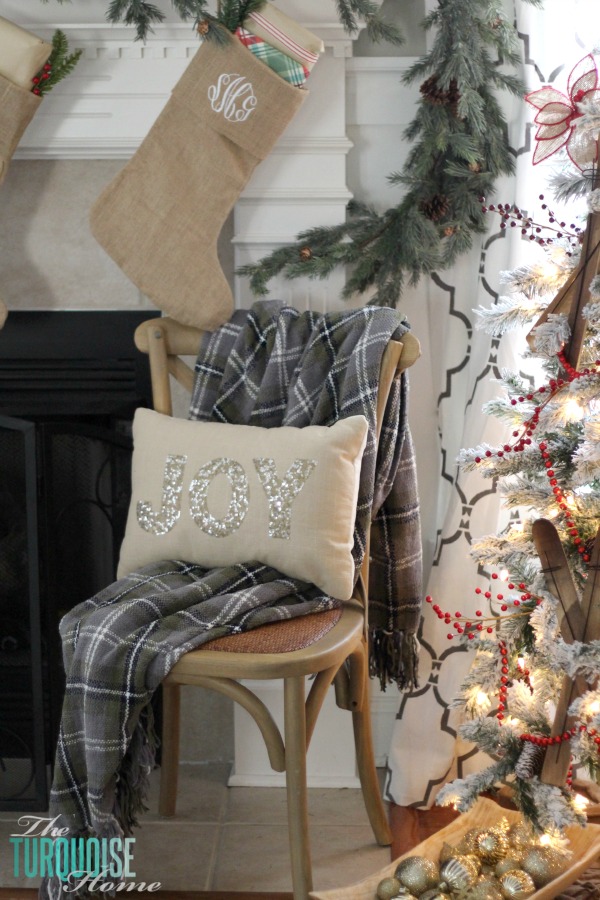 I love to use festive pillows in my holiday decor. I bought this sparkly "JOY" pillow from Target last year. They have some new words this year, but they are very similar: Merry, Noel & Peace.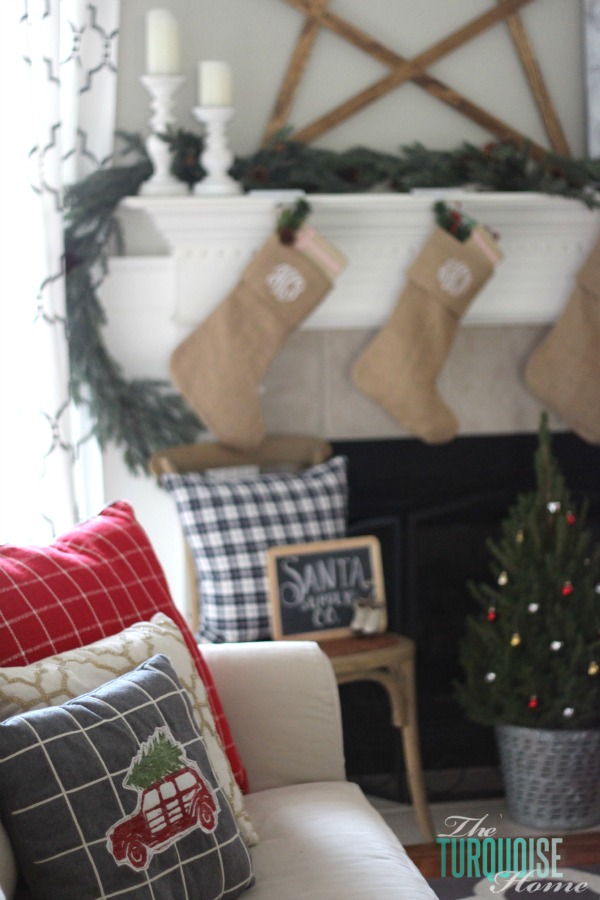 The car with a tree pillow was from last year, too. And the plaid navy pillow was one I made from cloth napkins. I made a simple tutorial for it. The red plaid pillow and gold lattice pillow are from Target this year. Do you sense a theme for where I shop? Ha!!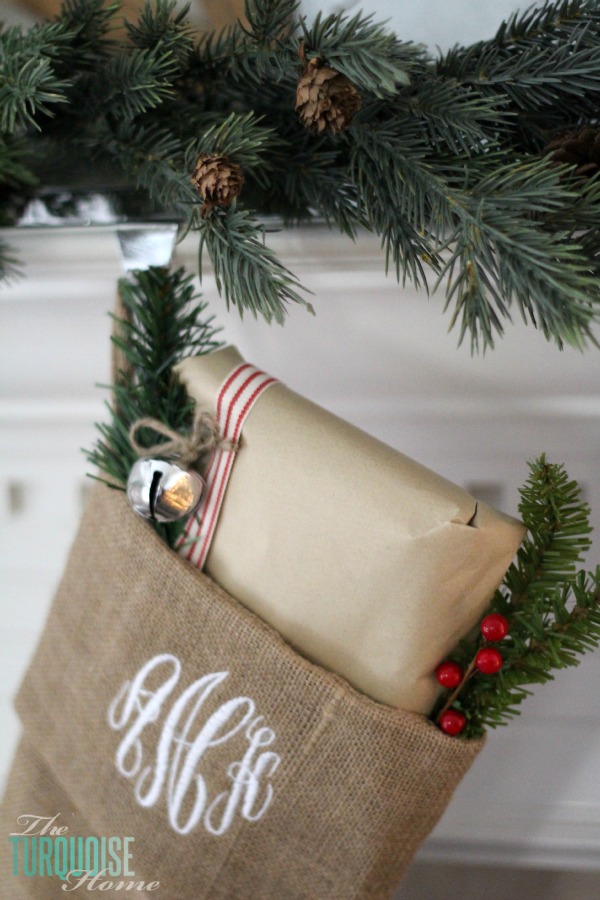 I wrapped up some sweet Christmas pi's for the girls and already put them in their stockings. We started a tradition last year of opening up pajamas before Christmas. I can't decide if I want them to open them on Christmas Eve or before that. Why not get a few night's wear out of them before Christmas, right?!? 🙂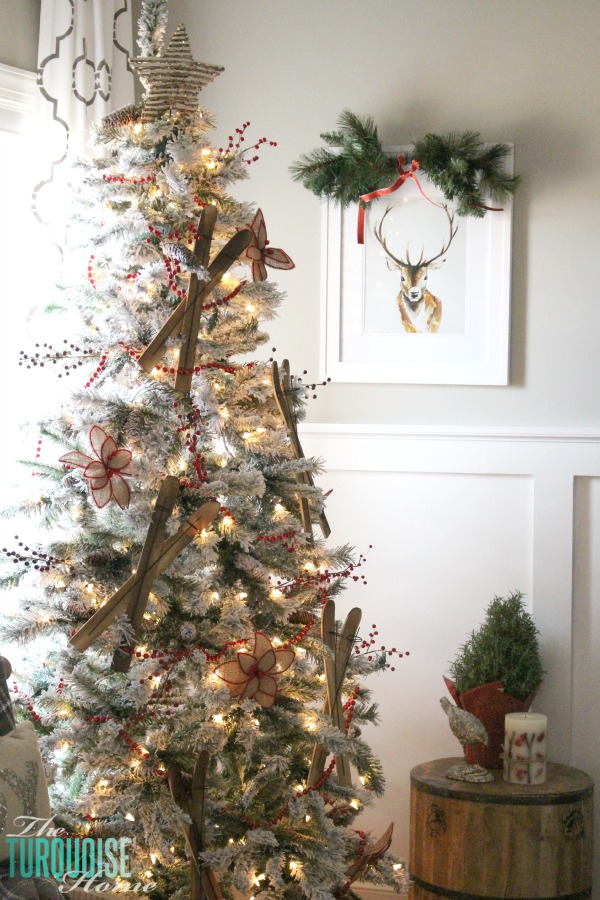 My new flocked tree is one of my favorite things this year. I LOVE it! I decorated it with some simple red garland, burlap & red poinsettia ornaments and wooden skis from the Dollar Spot at … you guessed it … Target. 🙂 I've seen them all over the blogosphere this Christmas. I snatched them up the moment I saw them several weeks ago. I adore them!
The sweet deer art is from Craftberry Bush's shop. So cute! And I think it transitions perfectly into winter decor after the Christmas comes down.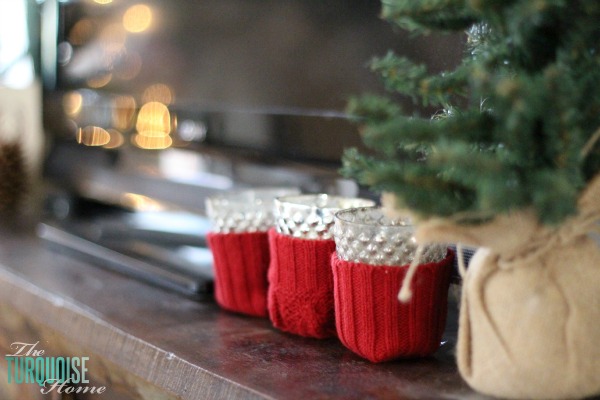 This is the first time I've share my new gallery wall here with my new Everett console table. I had planned on putting family photos in the frames, but ran out of time! Guess what the polka dot and chevron patterns are? Gift bags. 🙂 And the deer print is wrapping paper.
And do you like how I covered up my DIY abstract art? Just wrapped it up like a present and added a bow.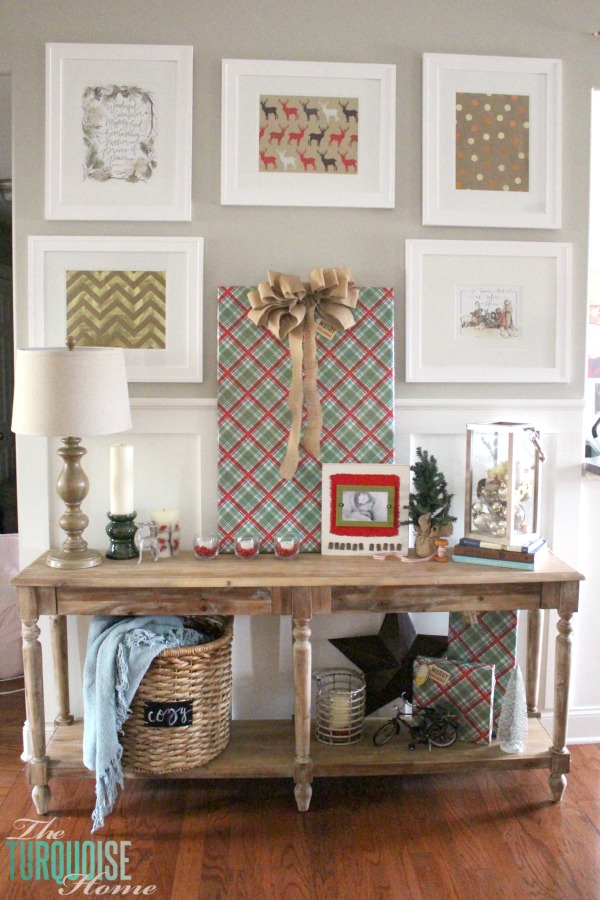 I didn't get a close-up picture of the two prints in the frames, but I LOVE them. They are from gracelaced.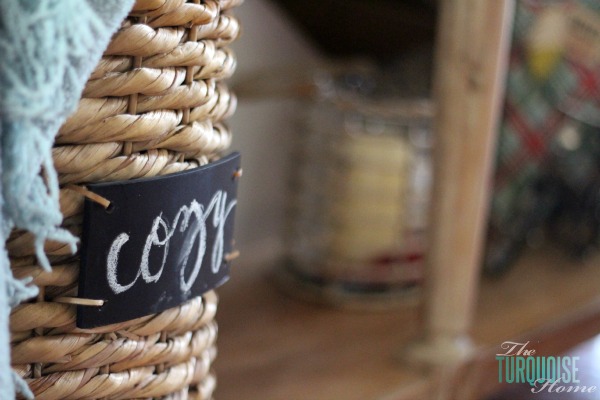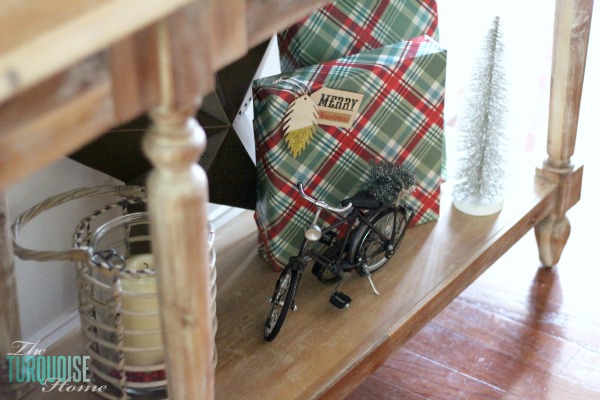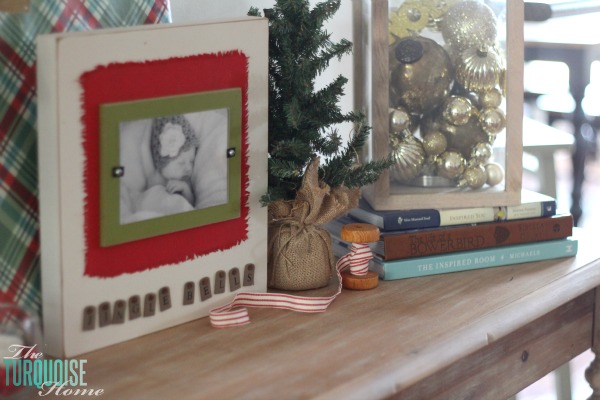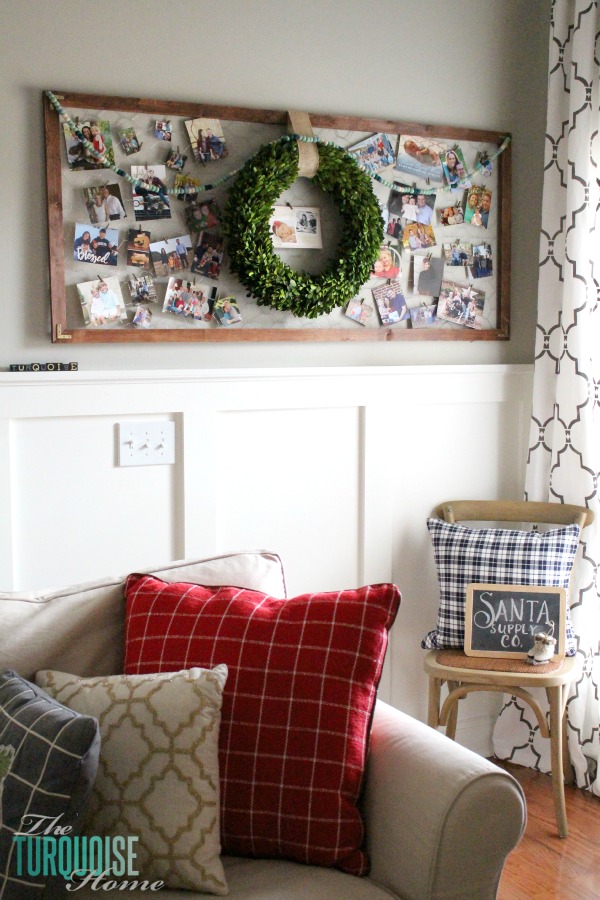 I built the chicken wire framed Christmas card holder last year. It's so simple. You just get some 1×2's and make it to your size specifications and then I used a heavy duty staple gun to staple the chicken wire to the back. Hint: get someone to help you hold the chicken wire in place. It can be kind of squirrely.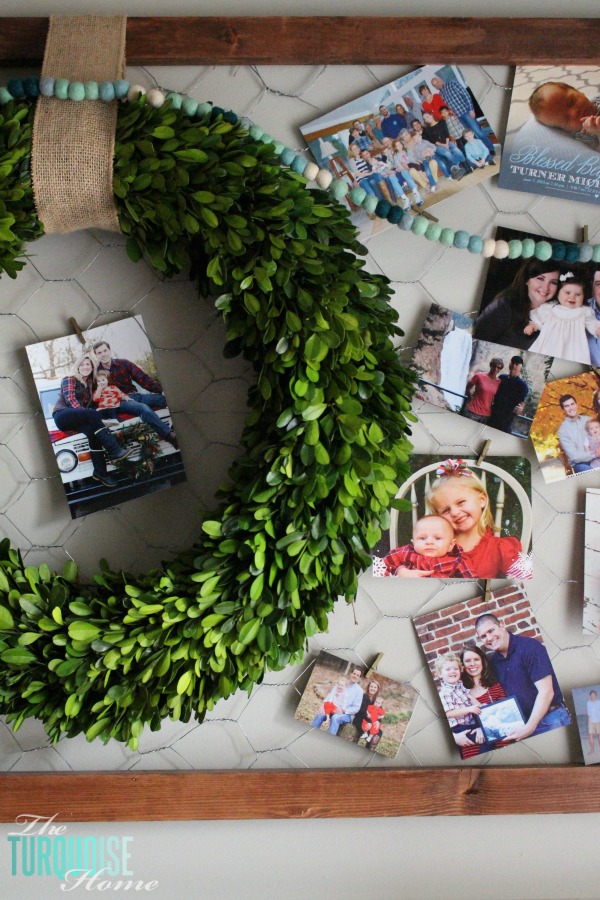 Isn't that felt garland just the cutest? You can get your own here.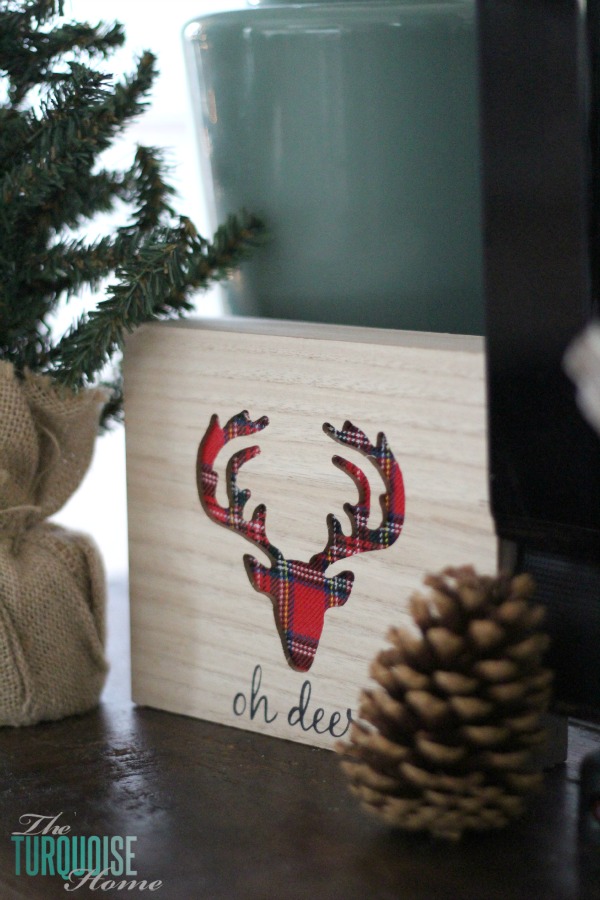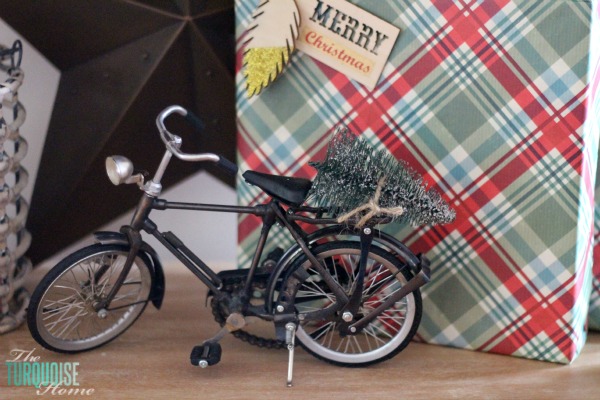 I filled the frames above my desk with some cute free printables.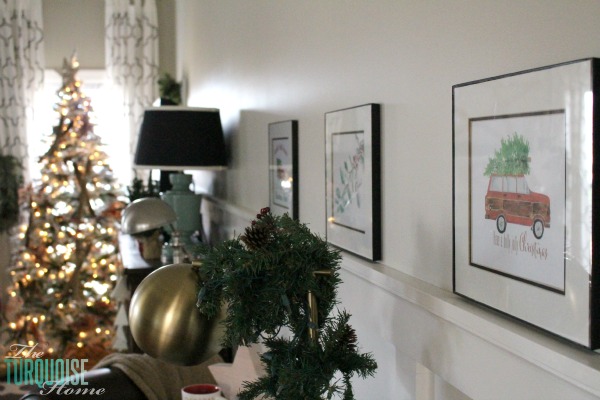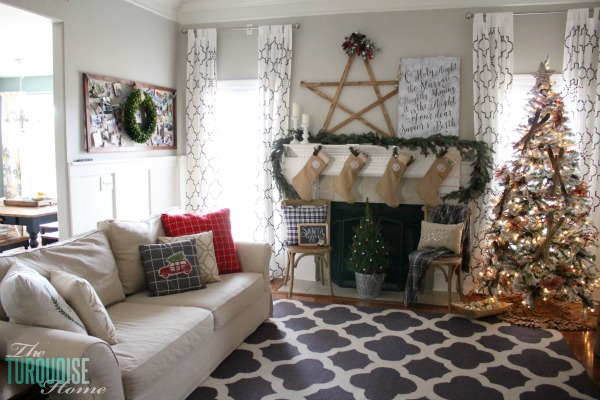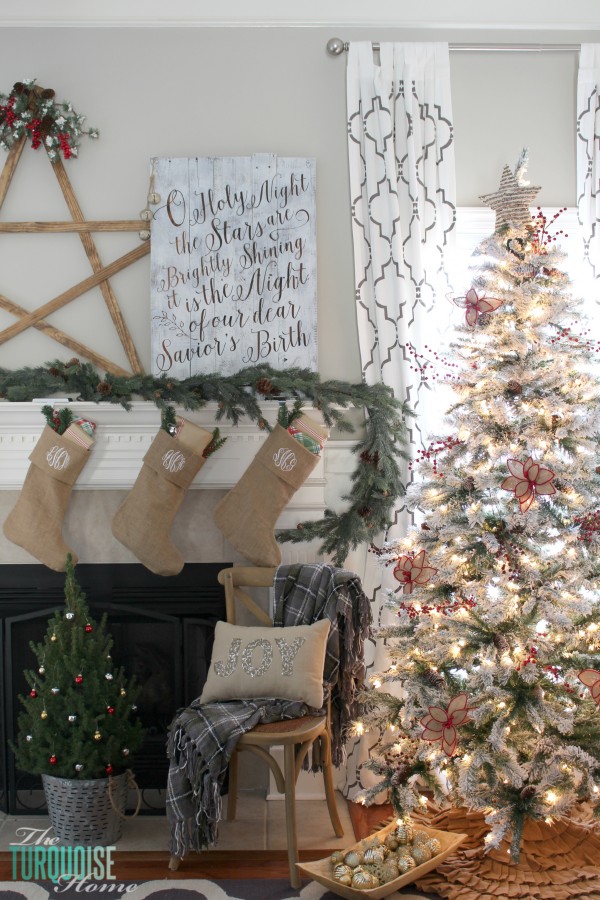 I shared my tutorial for making my O Holy Night pallet sign. It's simple, but I really love how it turned out!
Thanks for stopping by to see my house all decked out for Christmas.
More Posts You Will Love: