Top Favorite Gifts for Her
Don't stress about buying gifts for the women in your life this holiday. Grab any one of these beloved Christmas gifts for her and she'll love it! (Or grab one or more for yourself – I know that's what I'll be doing. 😉)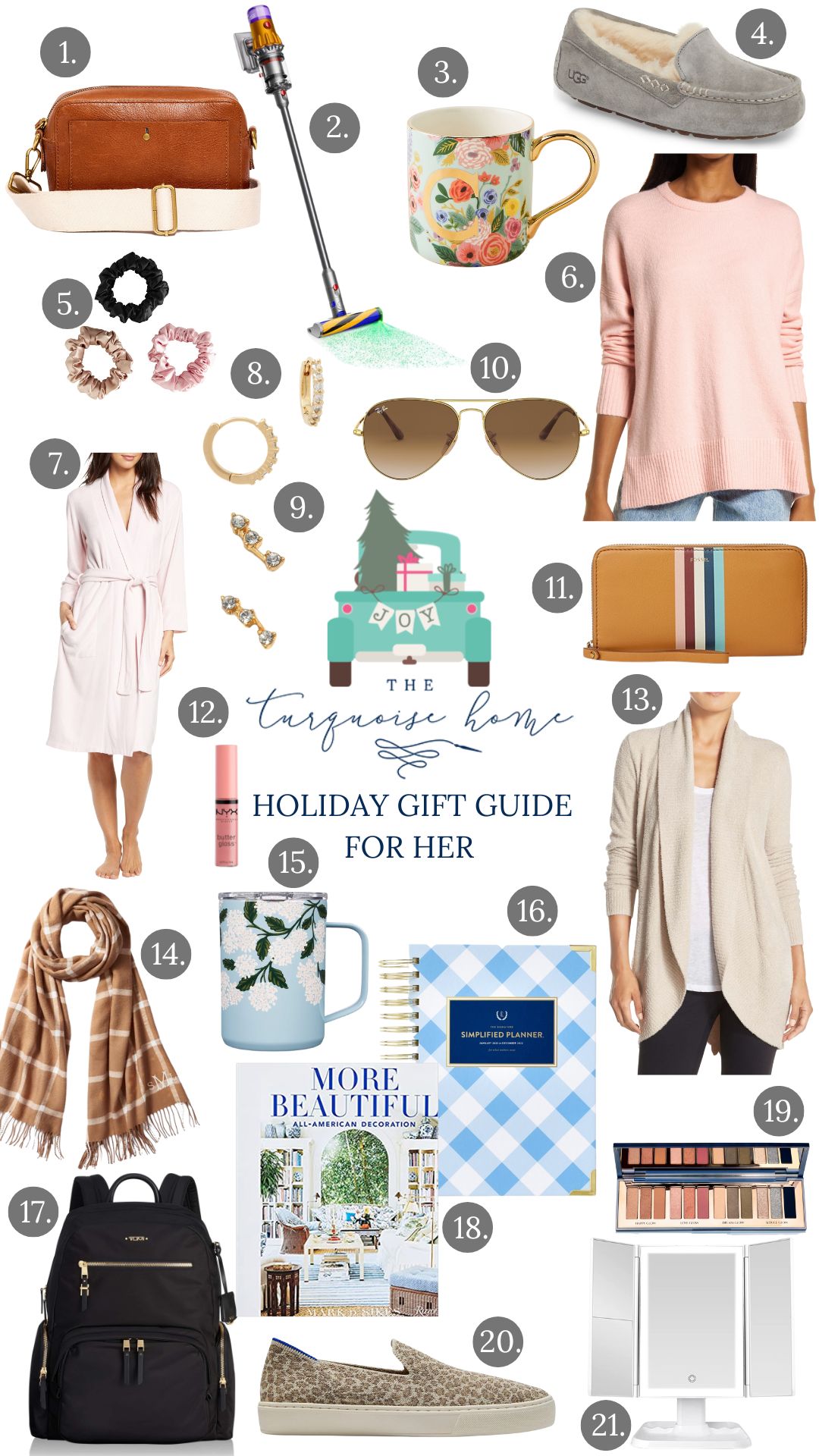 One // Two // Three // Four // Five // Six // Seven // Eight // Nine // Ten // Eleven // Twelve // Thirteen // Fourteen // Fifteen // Sixteen // Seventeen // Eighteen // Nineteen // Twenty // Twenty-One
Hey there, friend! I have a special treat for you today. I'm sharing some of my very favorite things that I love, which make fabulous gifts for all the girls in your life.
Or you may just want to pass this list along to your parents or your significant other. I know you'll find something here that you love too! 
This post contains affiliate links. See my full disclosure policy.
The Best Ideas for Your Wife, Friend or Mom!
Tap on the title of each item to shop!
Every woman needs a high quality leather tote that can be worn cross-body or on the shoulder. I have this one and I LOVE it! It's large enough to fit all of my essentials.
I know, I know. An appliance for a gift seems lame. But I got this years ago (a requested gift) and I've loved every minute of owning it. I use it daily to clean up the messes around my home. I'd say it's the most useful Christmas gift I've ever received! (Now I'm eyeing this fancier vacuum… middle age at its finest!)
This monogrammed mug is a classic for every girl!
These slippers are worth every penny. I get them last year and love them so much! You can even replace the sheepskin insoles for cheap, so they will last for years!!
These silk scrunchies won't leave indentions in your hair or damage your hair. I've recently discovered that pulling my hair up on the top of my head with these as I sleep helps my hair still look great the next day!
This sweater is the BEST cozy sweater this year. I love the tunic length, the split on the side and the fabulous crew neck. Not to mention it's super comfy. The perfect gift for any friend, sister, mom or grandma!
I bought this robe last year for myself and it is divine!
Huggie gold hoop earrings with crystals. I have these and wear them all the time!
I've spent my entire adult life buying cheap sunglasses in the event that I might lose them. But a couple years ago I bought a nice pair of sunglasses and the quality is worth every penny. I LOVE them! I have the gold/brown color combo.
This wallet big enough to fit your iPhone 11 Pro and all of your cards, receipts and cash.
I'm obsessed with the Creme Brûlée color and wear it daily!
The coziest sweater/cardigan you will EVER put on your body. When I wear it my kids fight over who gets to cuddle with me on the sofa. The blanket is a perfect solution–FYI.
This is so pretty and you can add a monogram! I got it for my mother-in-law last year!
I love this mug so much for keeping my coffee warm for hours AND looking pretty! (I love it so much, I put the wallpaper in my bathroom!)
My daily planner that I have used for 5-6 years is literally my brain on paper and would make any planner girl so happy!
This is an investment gift, but I've owned mine for years and LOVE it! It goes with me anytime I leave my house. It has the best pockets and looks like new all these years later. And it will last decades!
This one is beautiful on the inside (of course) and looks great on any bookshelf!
I've worn slip on sneakers for years in the fall through spring months. And I recently bought these exact pair from Rothy's. They are so comfortable and can even be washed in the washing machine! Sold!!
---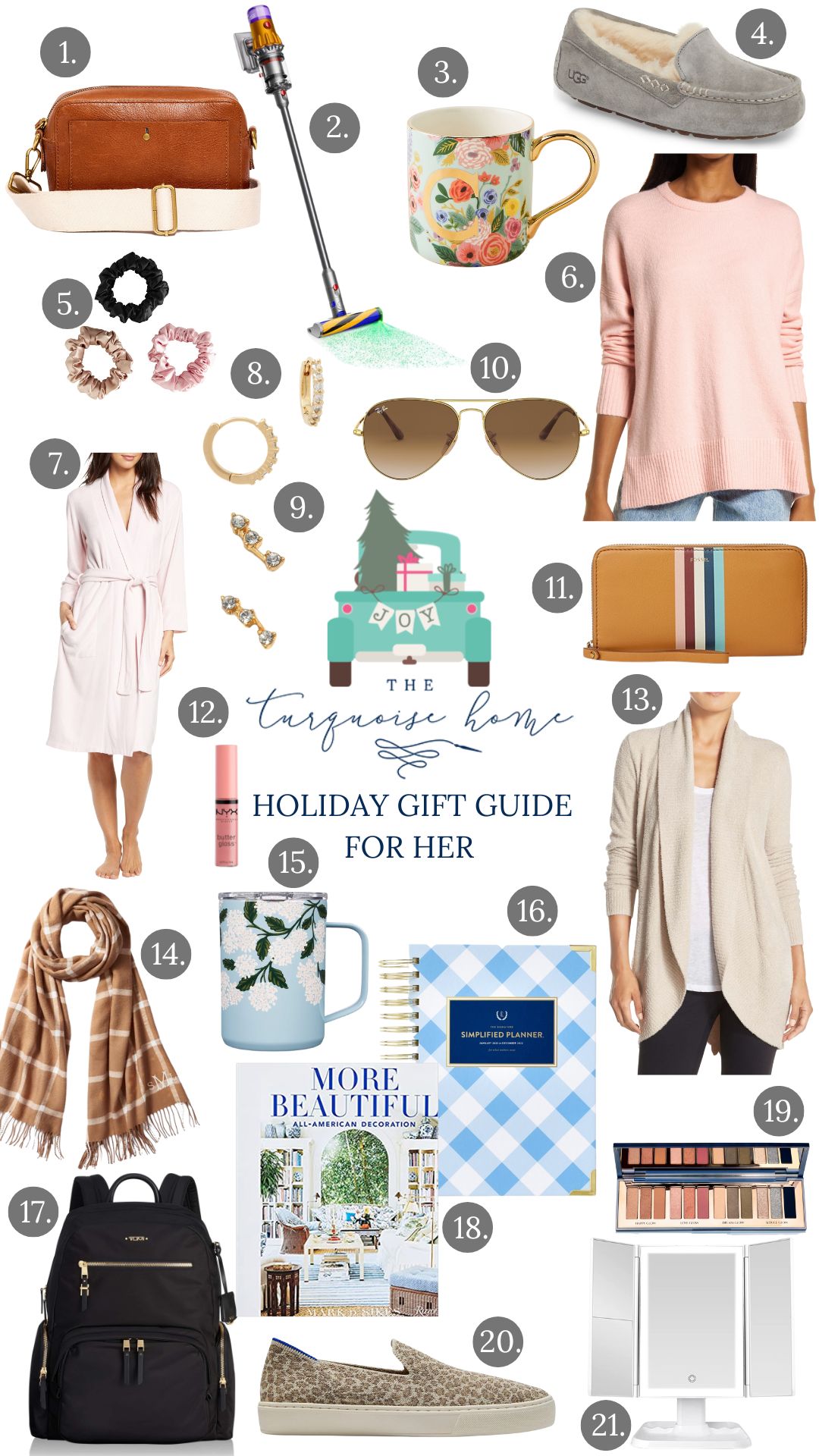 What is your favorite thing that you like to give to the ladies in your life – or get for yourself??
More Posts You Will Love:
SaveSaveSaveSave