Traditional Christmas Living Room Decor 2020
Is your living room ready for the holidays? Get inspired by these Christmas living room decor ideas to give your home a dose of festive charm.
Happy Holiday Season! This year I had so much fun learning to decorate our new home for Christmas. We moved last December and I just stuck a tree in the living room and called it done! But this year I was able to pull out all of my favorite decor and try a few new ideas!
I felt a little lost trying to figure out how to decorate our new space because we have shorter ceilings and a TV over our mantel now. So, I made a Christmas decorating vision board (mostly for the living room) and it helped me so much to envision the space before I started buying anything.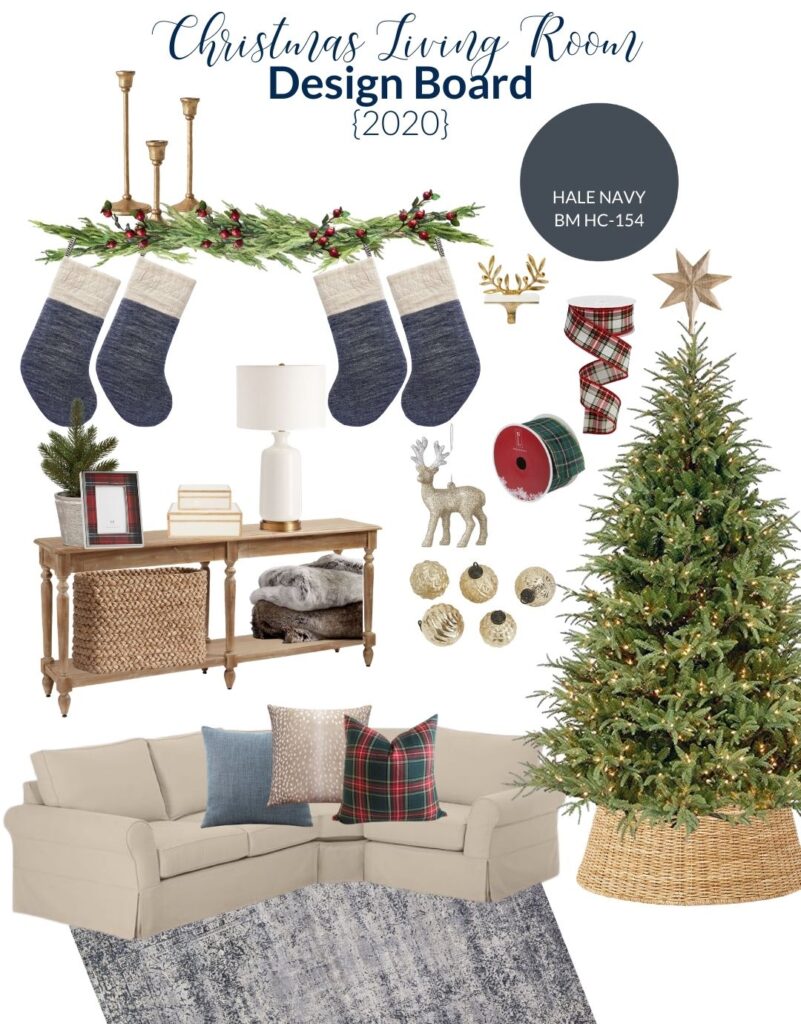 Brass Candle Sticks | Cedar Garland | Pomegranate Stems | Blue Stockings | Stocking Holders (no longer available) | Red Plaid Ribbon | Green Plaid Ribbon | Deer Ornaments | Mercury Glass Ornaments | Console Table | Console Table Basket | White & Brass Lamp | Storage Boxes (no longer available) | Red Plaid Frame | Faux Mini Tree | Faux Fur Throw | Star Tree Topper | Grande Frasier Fir Christmas Tree | Woven Basket Tree Collar | Sectional Sofa | Midnight Blue Linen Pillow Cover | Fawn Pillow Cover | Red Plaid Pillow Cover | Blue "Vintage" Rug (no longer available)
I didn't use everything in my vision, but I used most of it. And I'm so happy to share how my vision came to life in our 2020 Christmas living room…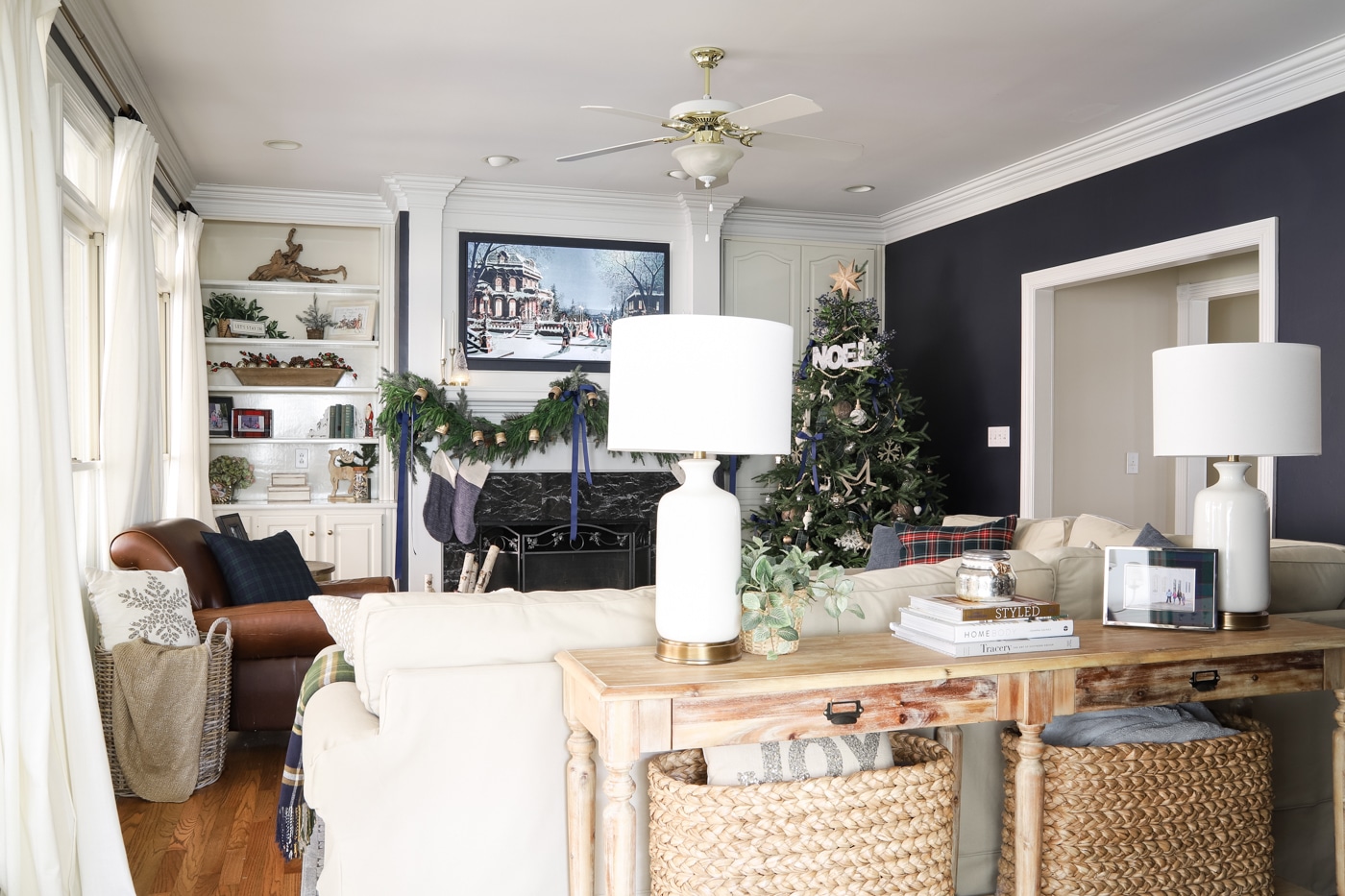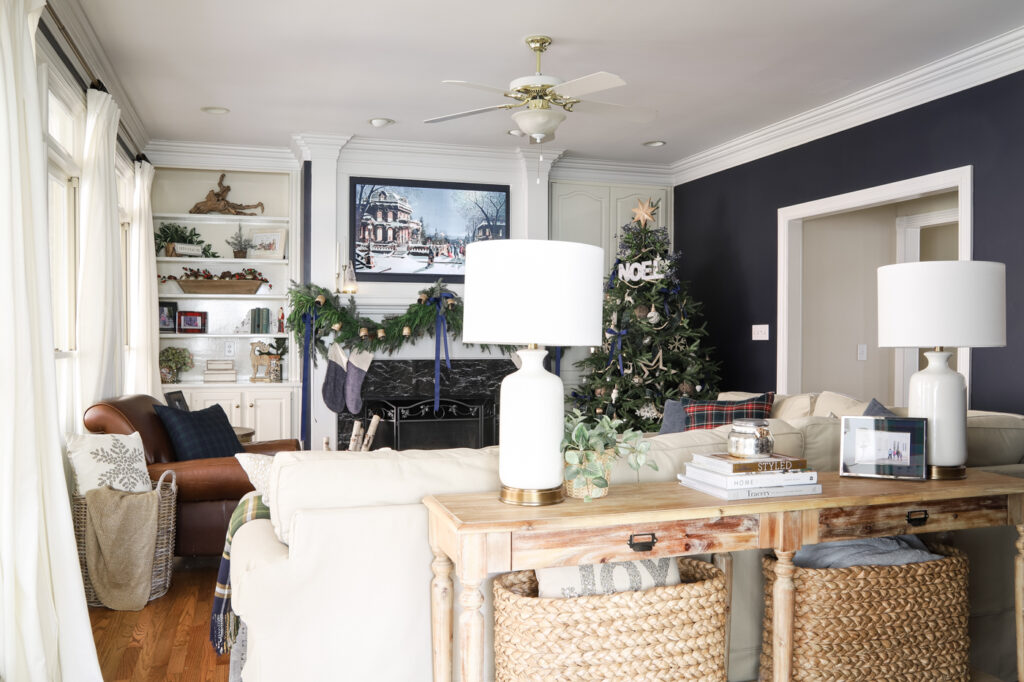 The two new decor things I changed up for this space…
1. We got a new tree!
It's a beautiful 7.5″ "Feel Real" Frasier Grande tree that spans 65″ across at the bottom. It's GORGEOUS!!
I almost didn't want to decorate it because it was so pretty in its natural state. (The 1,000 light bulbs make such a beautiful glow in the evenings!)
I wanted to have a tree that filled this corner, but wasn't too big, and this one is perfection! It's more than I've ever spent on a tree, but after putting it together, the quality is so good and totally worth it, in my book! Totally a worthy investment that we'll enjoy for years to come.
I decided not leave it naked and to actually decorate it–and I love it!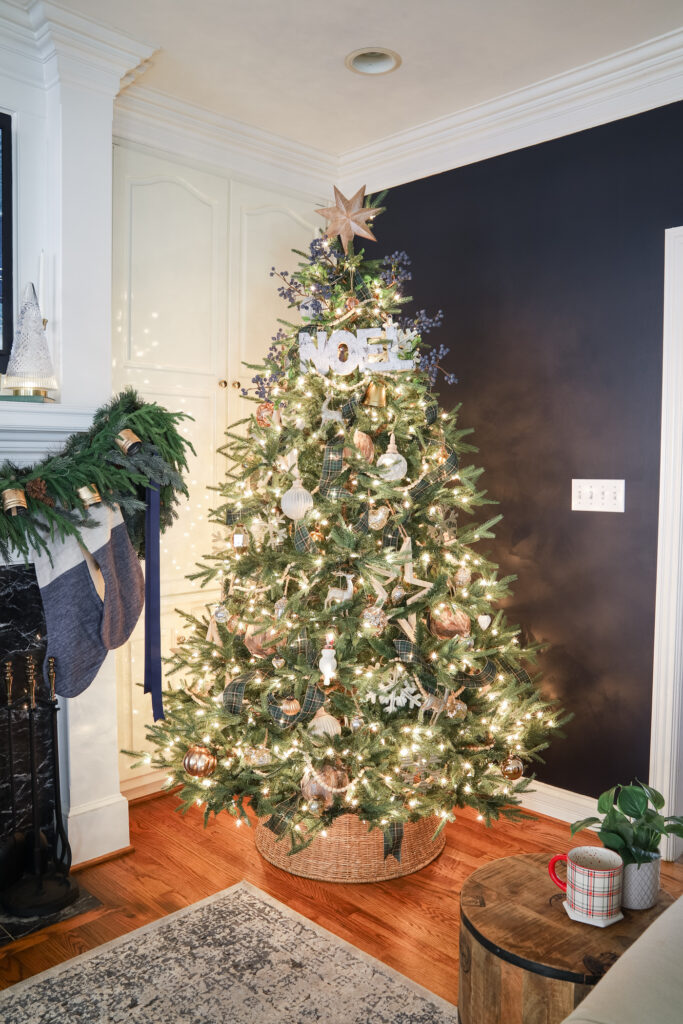 Click/Tap the images below to Shop my Christmas Tree Decor: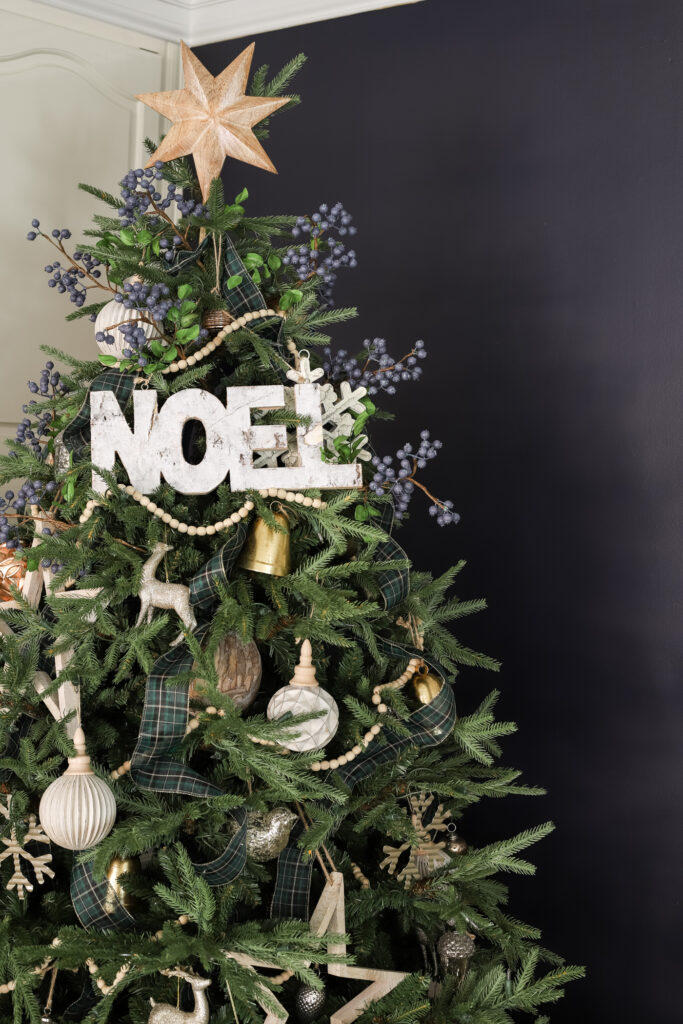 2. The second thing I changed up is our mantel decor!
I've always been a big fan of having a beautiful mantel each Christmas. But since we now have our Frame TV (a TV that displays art on it) over our mantel, I had to try something new.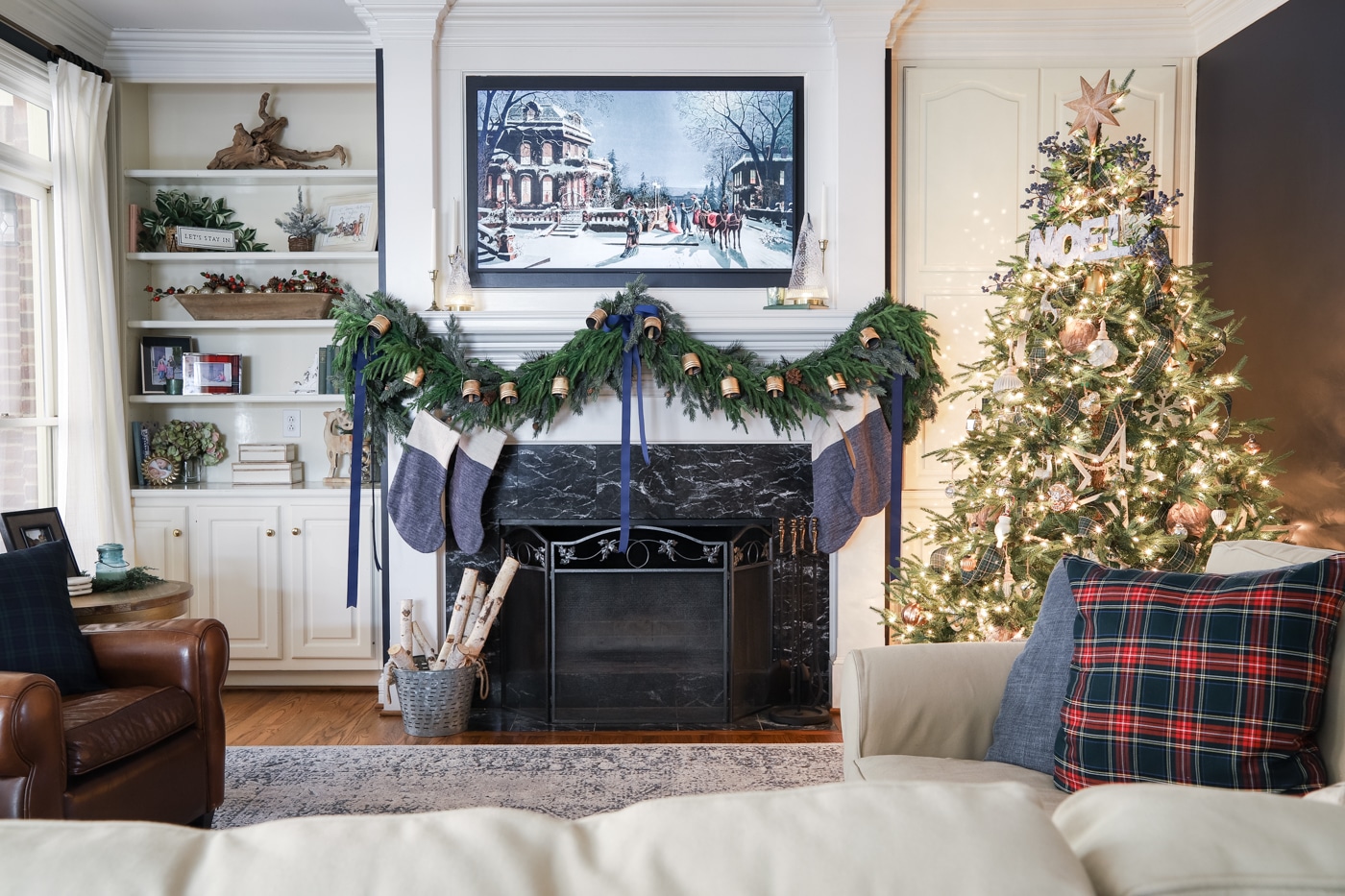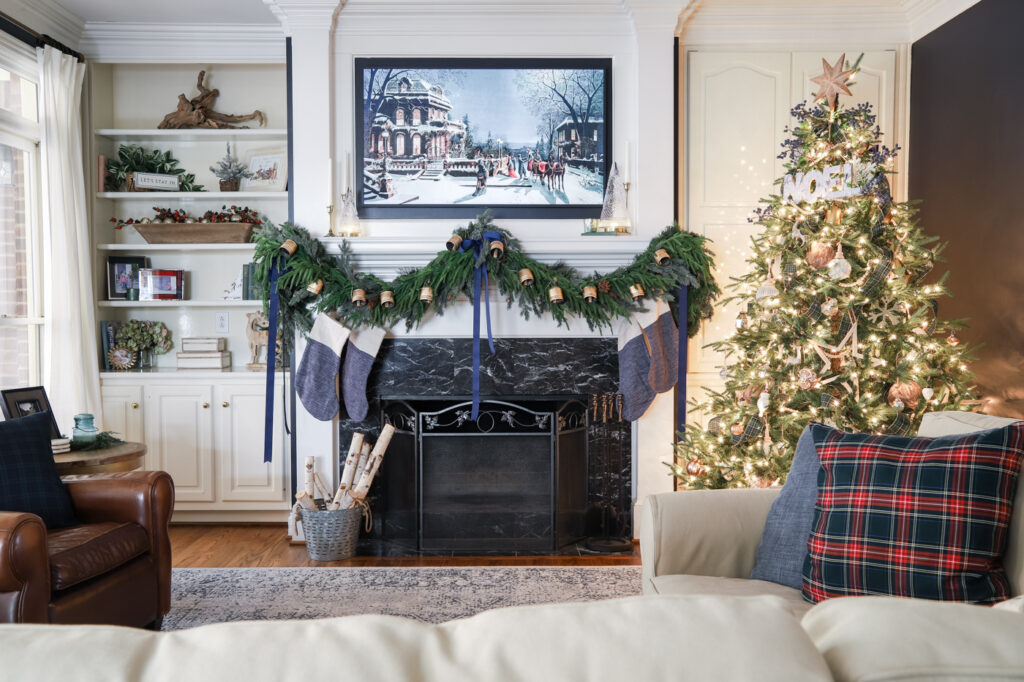 So, I beefed up the garland and hung it on the front of the mantel instead of draping it over the top like I've done in years past.
I LOVE how much it adds to the mantel and I'd be willing to share a "how to" if that's something you would like to see! It's 3 garlands layered over top of each other, so that it looks like one large garland.
Update: I've shared the "how to hang a Christmas garland on the mantel" post here!
The Rest of the Christmas Living Room
Let's take a look around the rest of the room, shall we?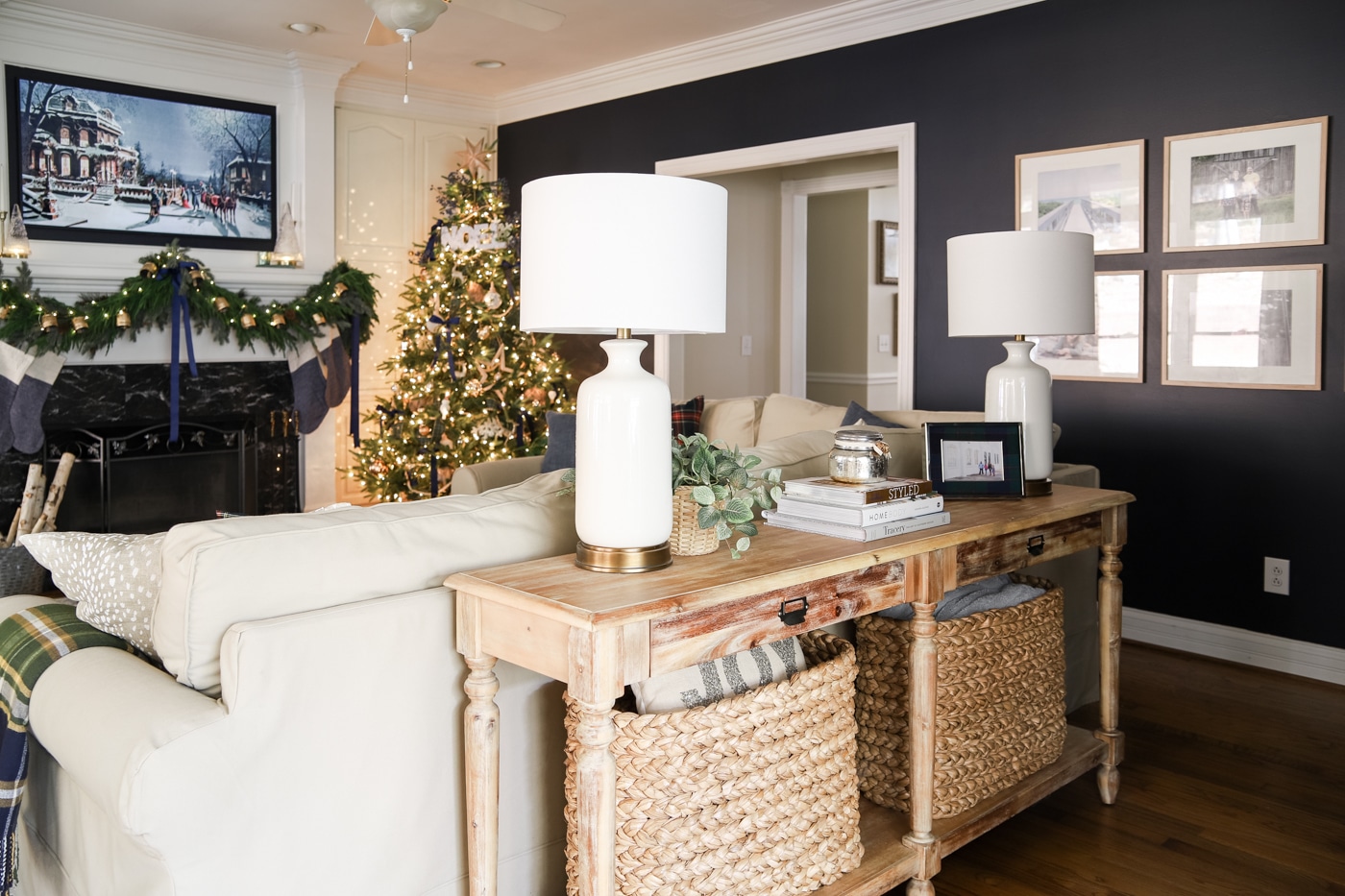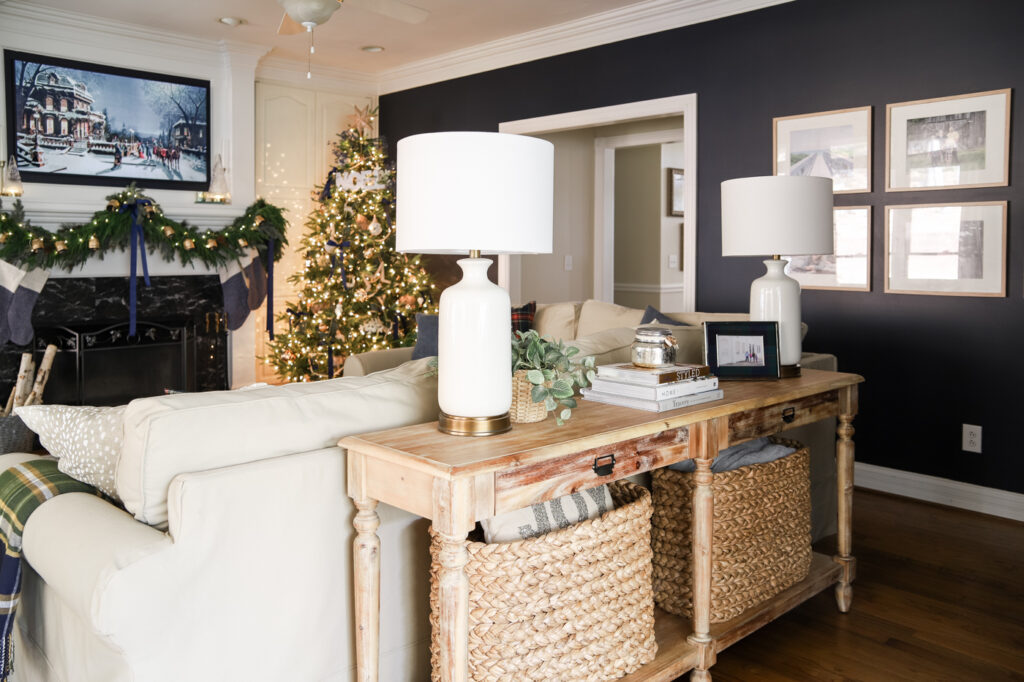 Coming in from the kitchen you'll be greeted with my sofa table, my favorite lamps and console baskets filled with pillows and blankets. I merely added a plaid picture frame to the table for Christmas and a "JOY" pillow in my basket.
Click/Tap the images below to Shop my Living Room Decor:

On the back wall of our living room, we have our media cabinet and my favorite mirror of all time. I simply added some flocked table top trees and my nativity set. It's one of my favorite spots in the room!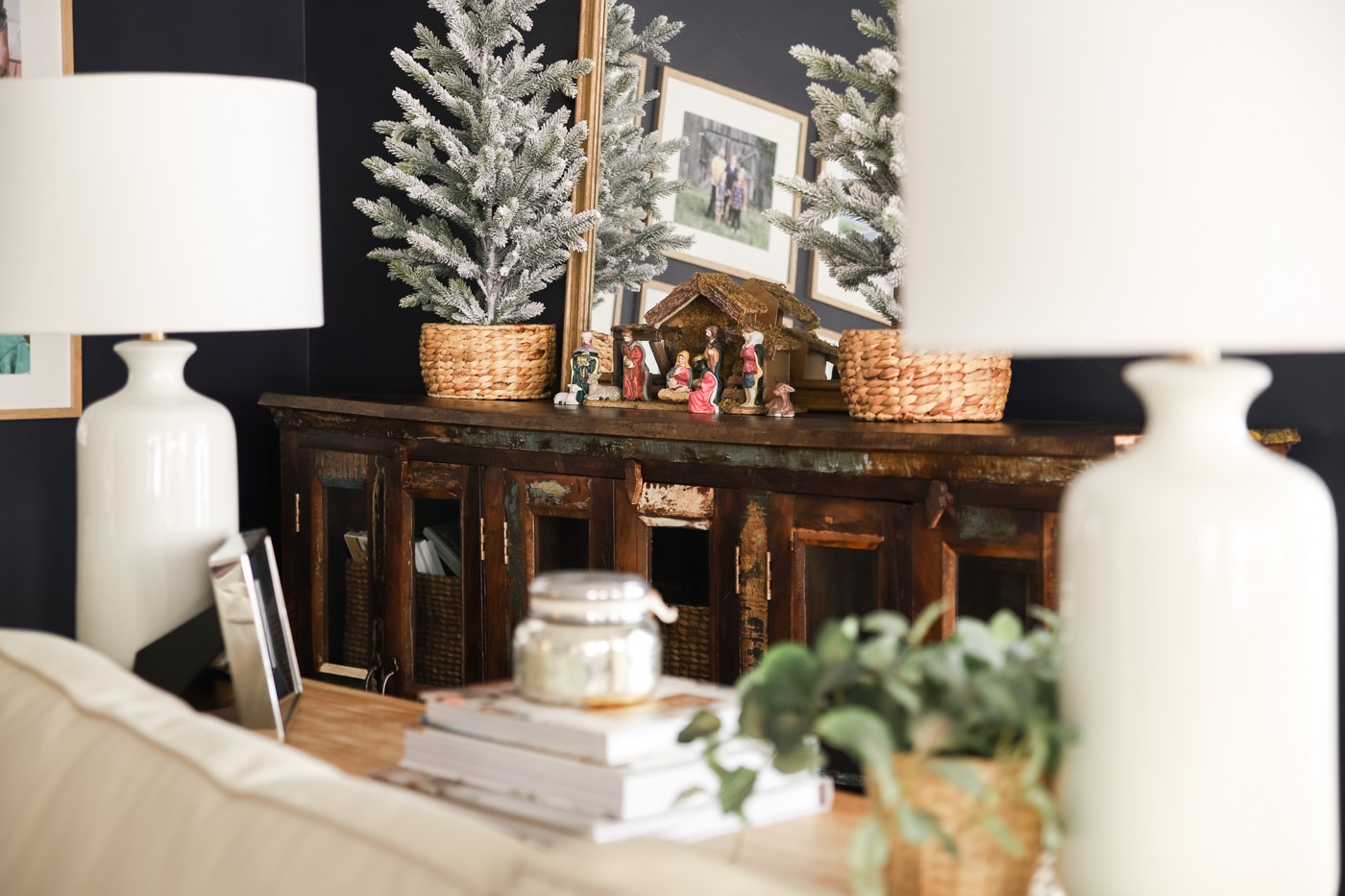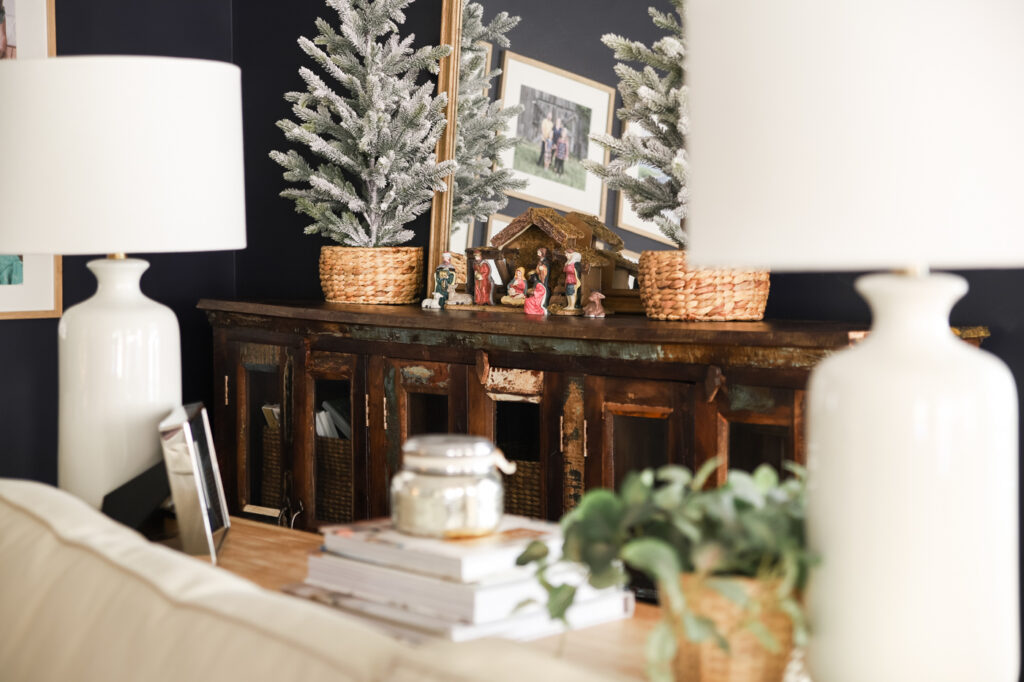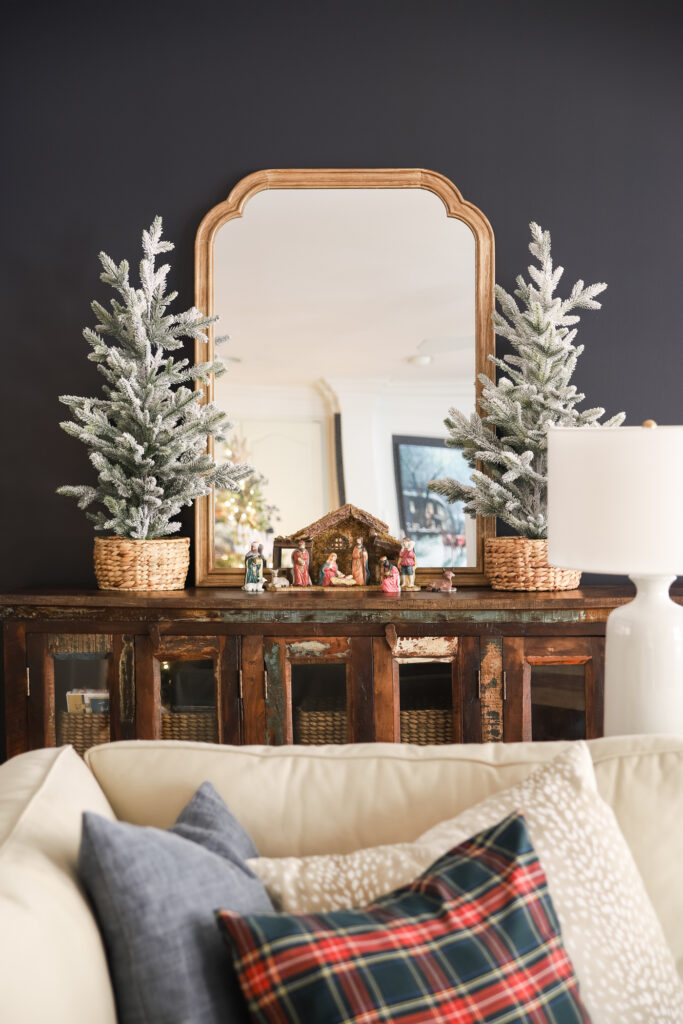 Click/Tap the images below to Shop my Christmas Living Room Decor:

It reminds me that it doesn't take much to decorate for each season. Just a few larger pieces will work!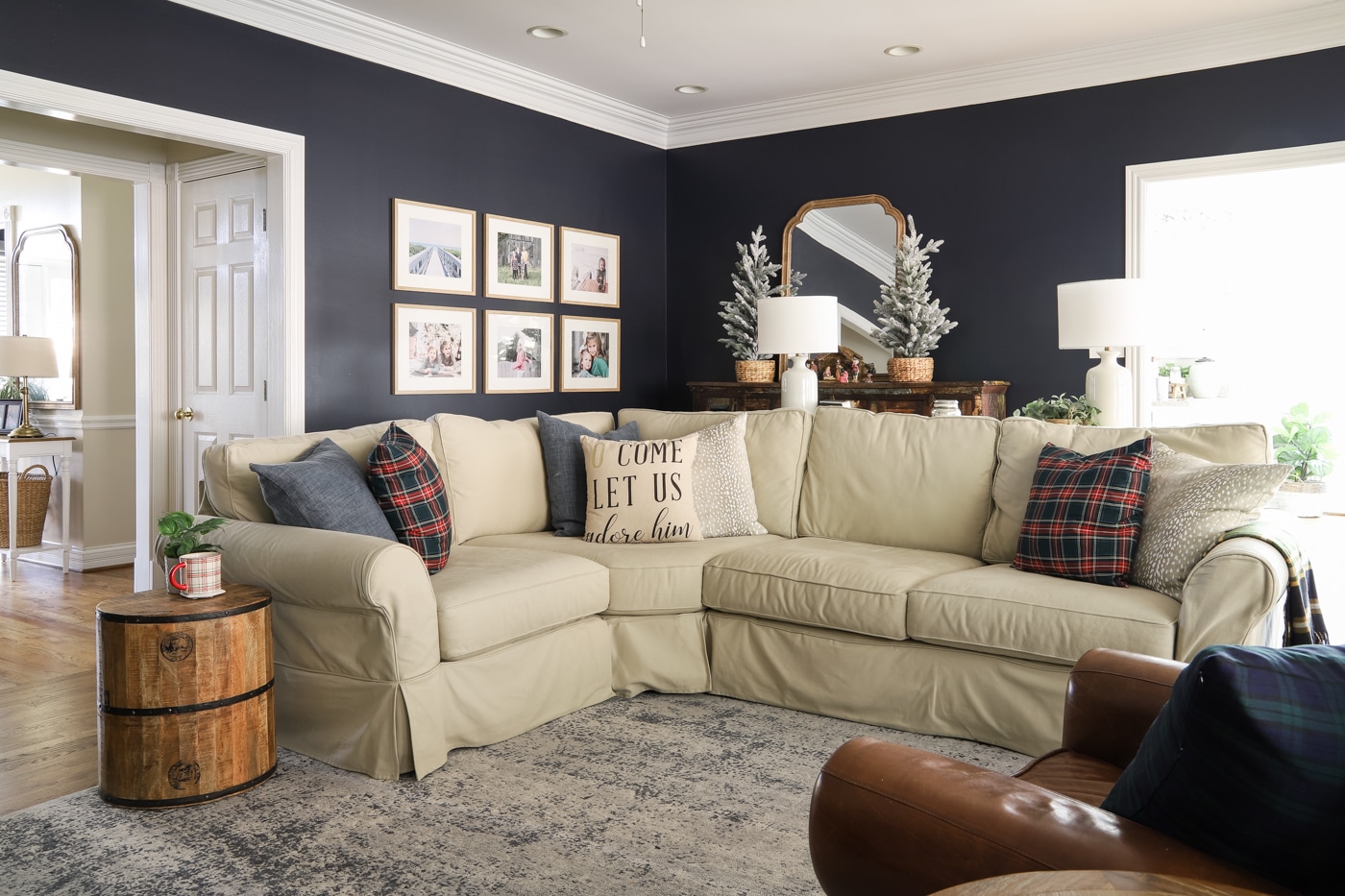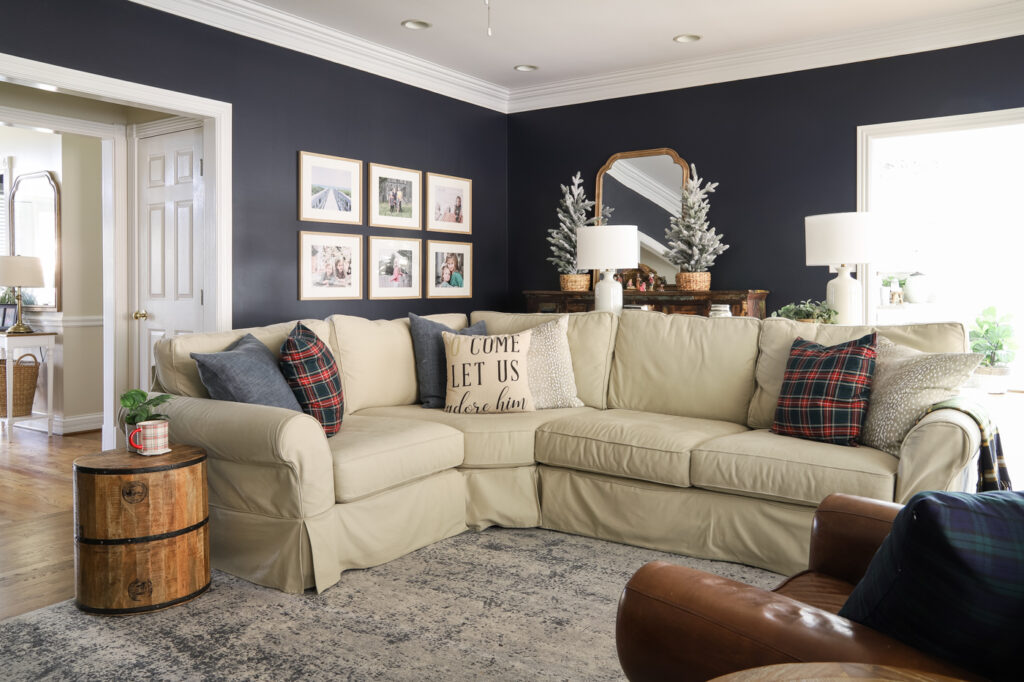 Click/Tap the images below to Shop my Christmas Living Room Decor:

We still love our sectional sofa (in twill fabric, color parchment). It's our favorite spot to unwind and watch Christmas movies at night. You can even get a sneak peek of my entry way additions in the photo above. I'll be sharing more, soon!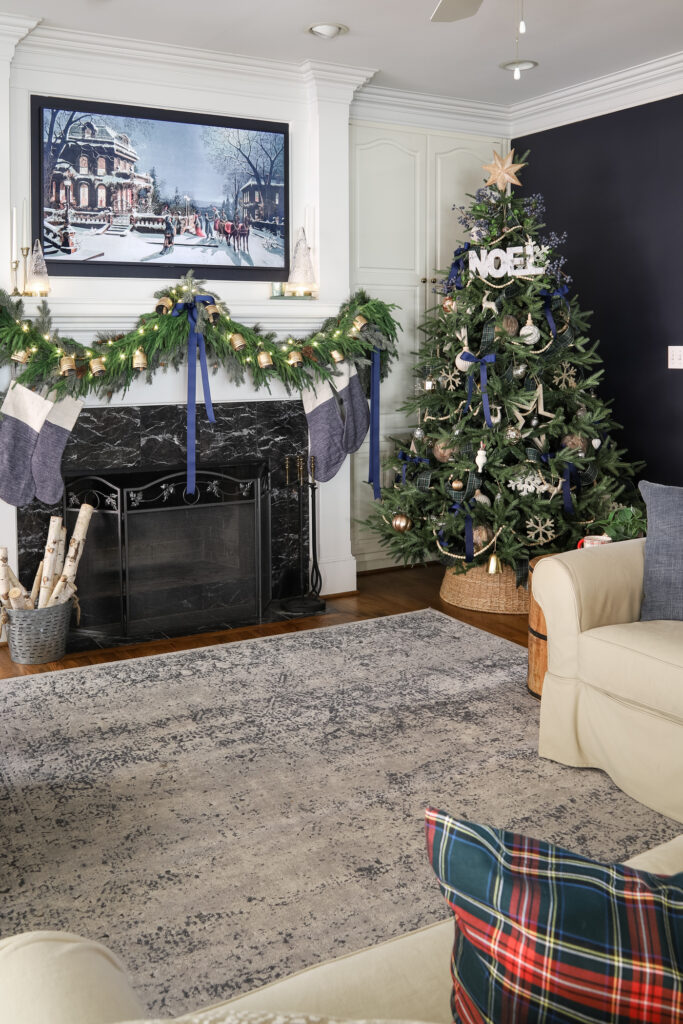 I had to learn how to decorate the mantel around the Christmas tree. And these gorgeous brass candlesticks and fair isle glass trees (similar) were the perfect pieces to compliment the garland and blue stockings.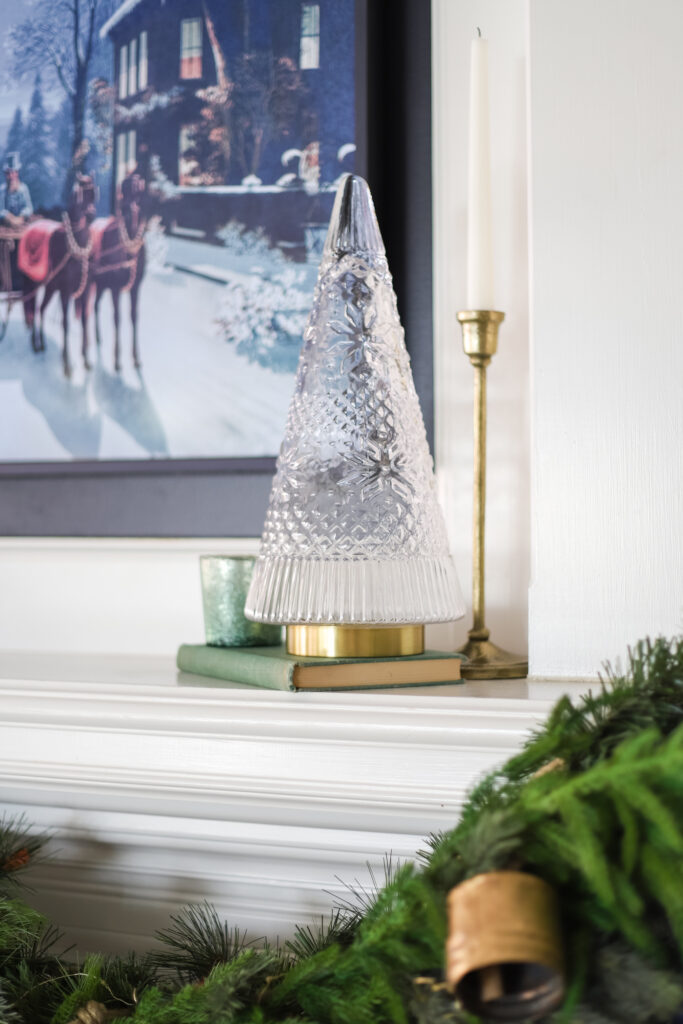 Aren't the glass tree figurines so pretty? I just love them!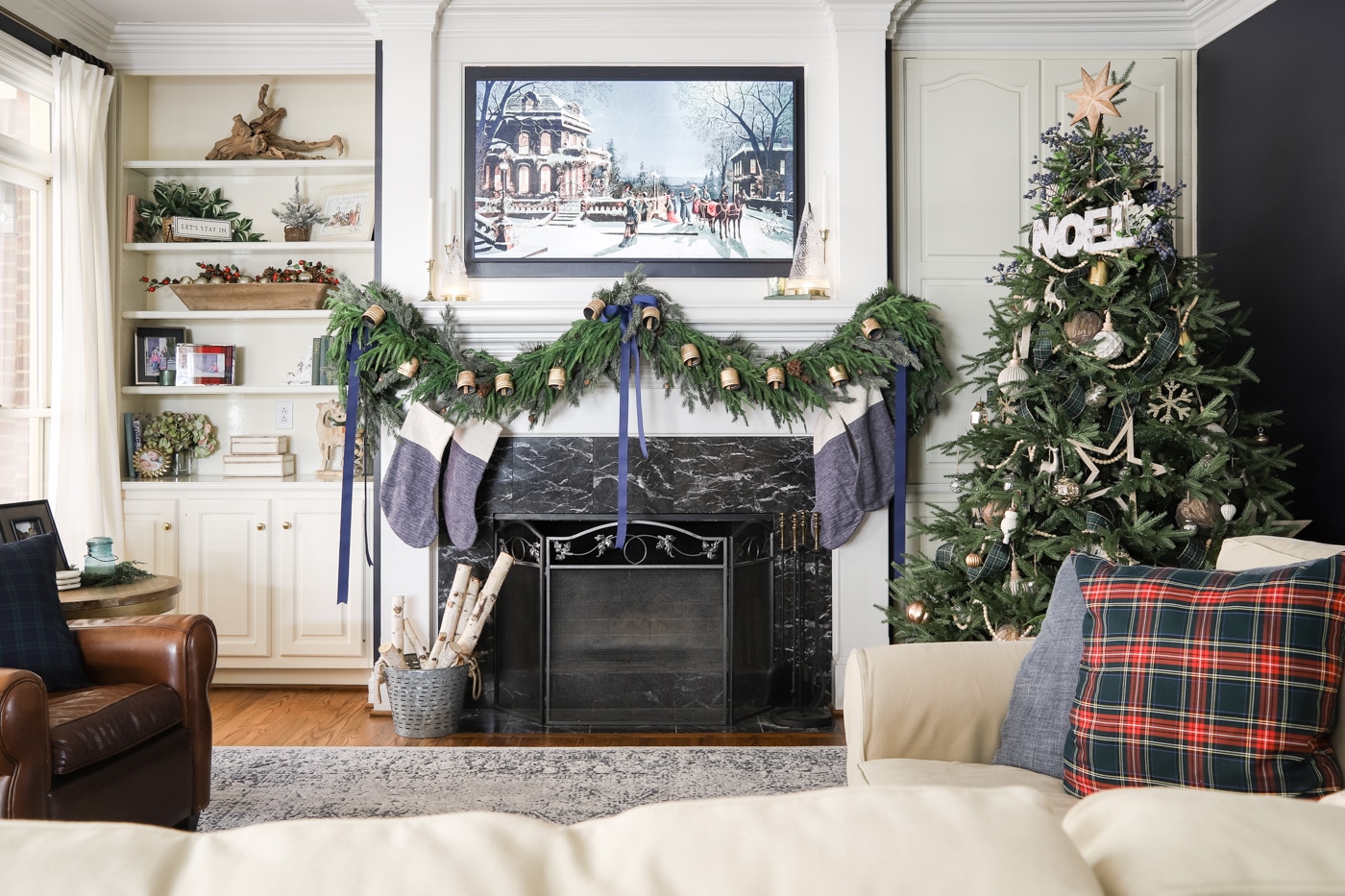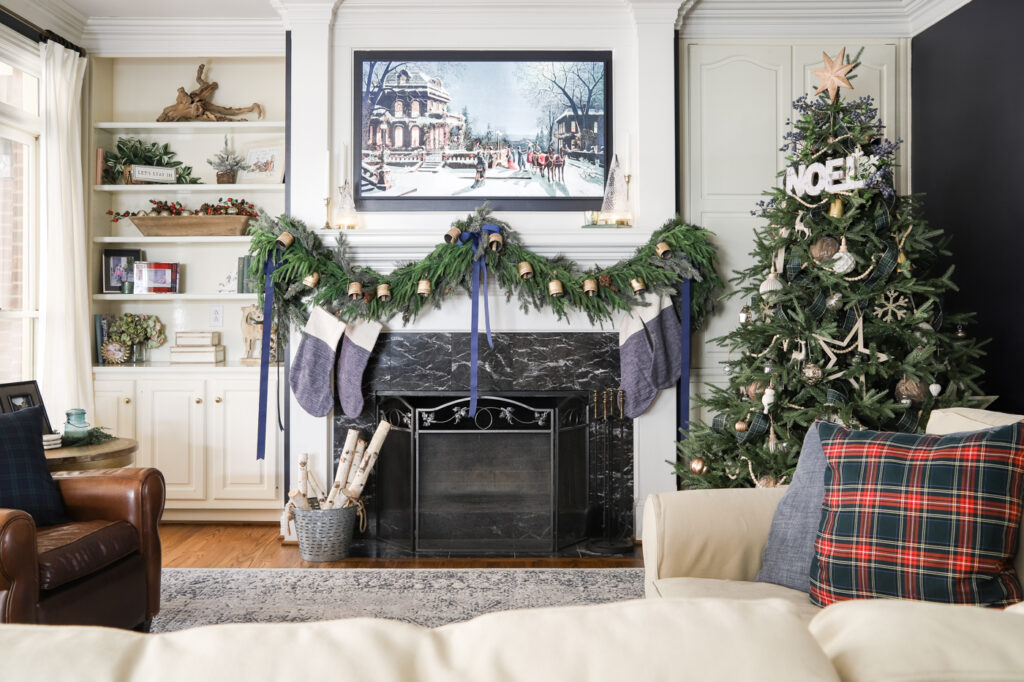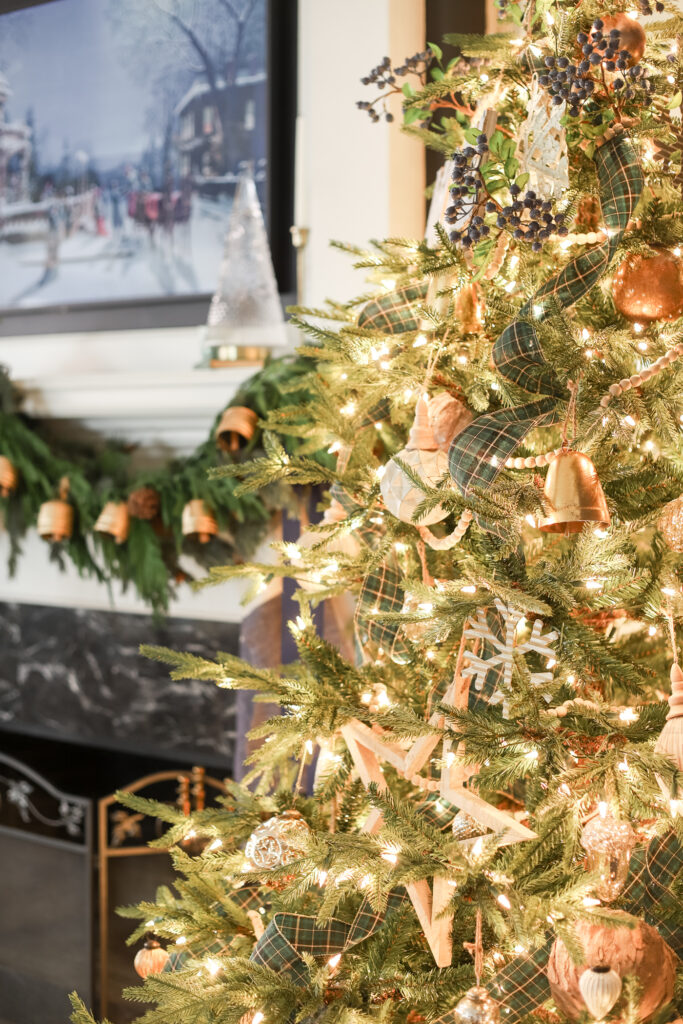 Click/Tap the images below to Shop my Christmas Living Room Decor: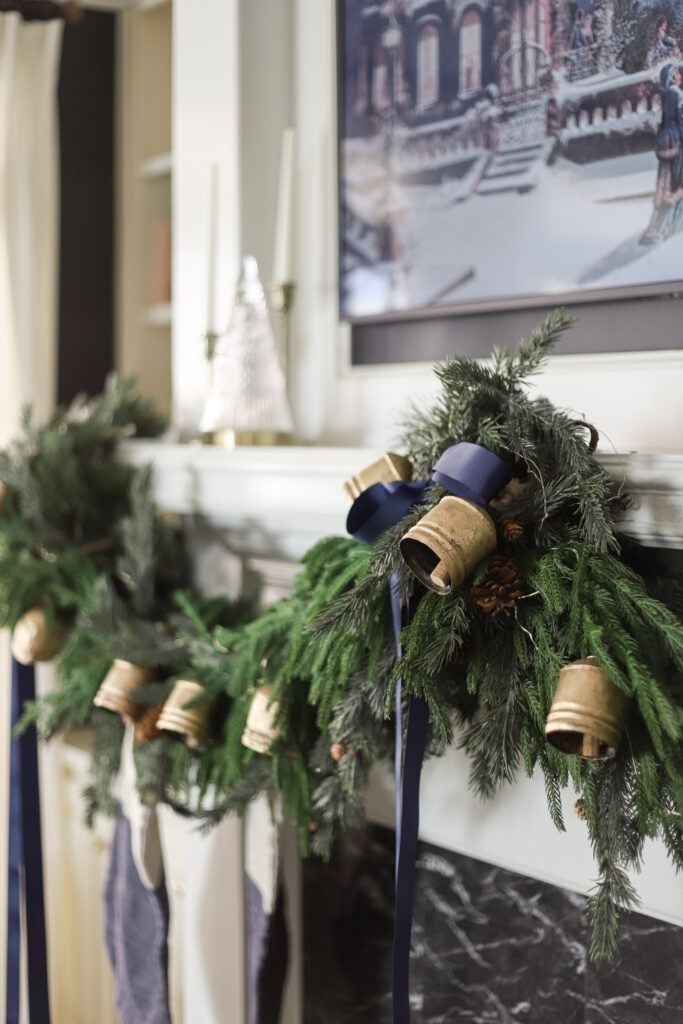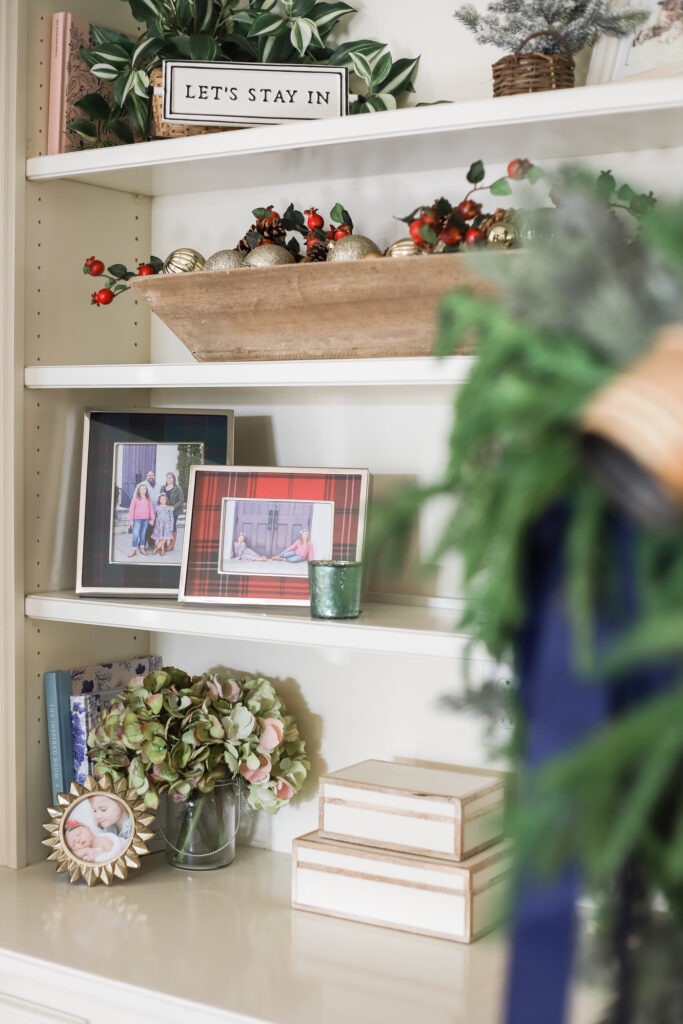 Click/Tap the images below to Shop my Christmas Shelf Decor: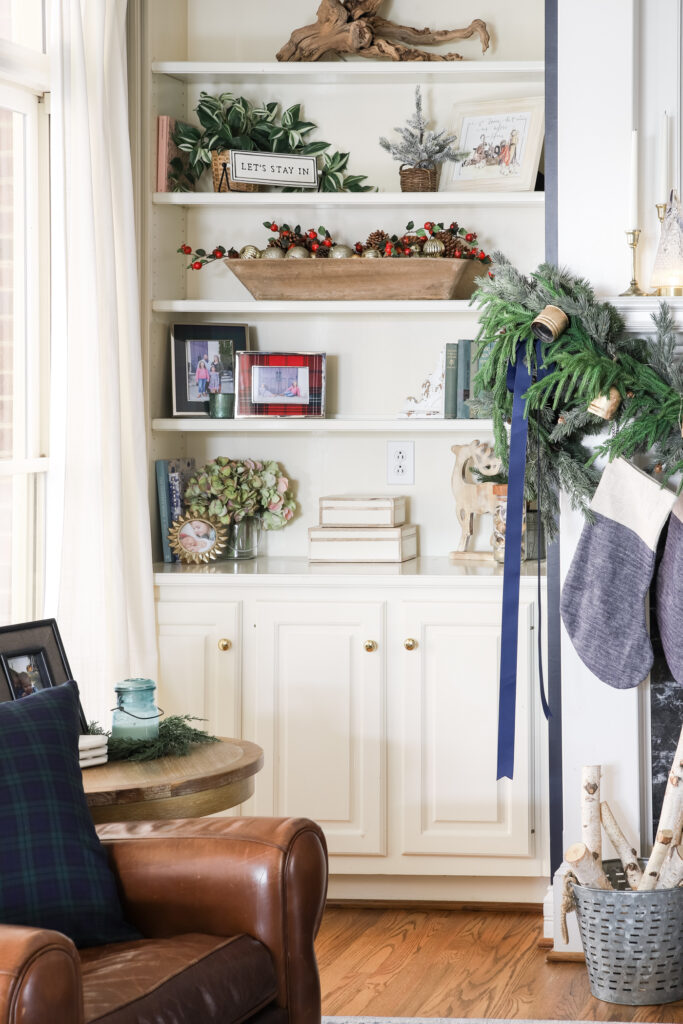 I hope you enjoyed my Christmas living room and Christmas tree tour! I'll be sharing more of my home decorated for Christmas, soon!
More Posts You Will Love: