Best Christmas Tree Collar Ideas (for 2023)
Try a beautiful Christmas tree collar in place of the traditional tree skirt. Choose from wood, metal or woven Christmas tree collars before they sell out!
Over the last few years, the Christmas tree collar has replaced the traditional Christmas tree skirt in popularity. The tree collar not only looks beautiful, but hides the ugly tree base as well!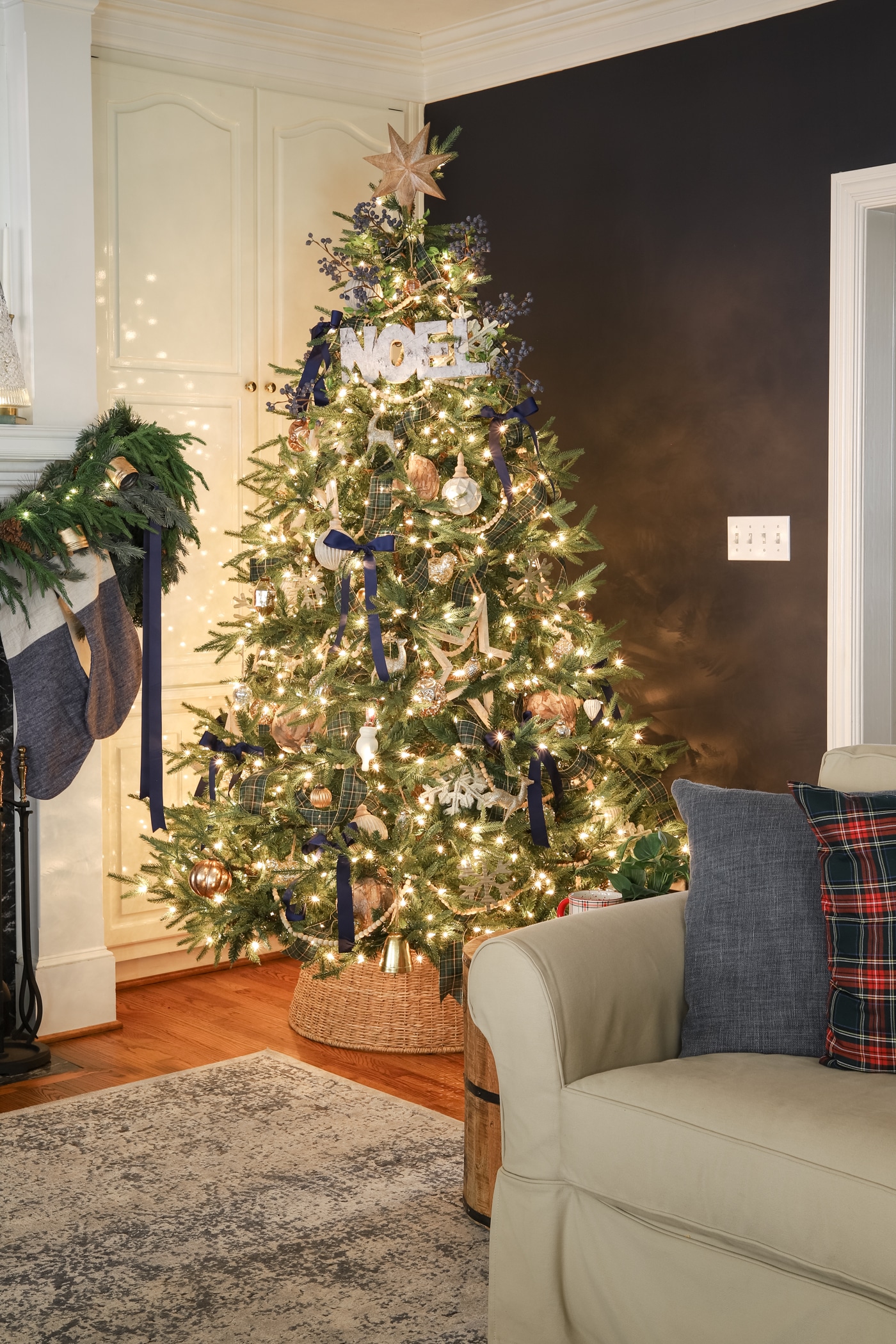 I love sharing about all things Christmas decor! I've shared all about the best artificial Christmas trees, how to decorate a bedroom for Christmas and how to decorate with Christmas ribbon. My hope is that these articles will help you create a home you love!
Navigate this post by using the drop down Table of Contents menu below. And don't forget to pin this post to Pinterest for later!
What is a Christmas Tree Collar?
Essentially, a Christmas tree collar is a round or square shaped "upside-down basket" used for hiding the unsightly tree base.
There are so many styles available today that you can select one to coordinate with your favorite tree decorations!
This post contains affiliate links for your convenience. See my full disclosure policy.
Where to Buy Christmas Tree Collars Online
There are so many great options out there today at a variety of sizes, materials and price ranges. The only problem is that the best tree collars tend to sell out early. So if you see one you love, grab it while you can!
Find tree collars at these retailers:
Woven Tree Collars
The woven Christmas tree collar gives a warm, yet causal vibe, which lends itself to the coastal, transitional and traditional styles. I've bought quite a few tree collars and my favorite is by far the woven tree collar.
Before retailers caught on, homeowners started this trend by placing their trees in baskets. But it was hard to find a basket the right size and it was hard to keep the trees from falling over. Thankfully stores started making the woven tree collars to mimic the look of a real woven basket, but without the hassle!
I did find a way to DIY a basket for my bedroom Christmas tree once upon a time. And the method still holds up if you're looking for a DIY idea! I love how versatile it is and allows me to set it inside any size basket.
Metal Tree Collars
These metal tree collars can lend themselves to every style from farmhouse to classic styles! The galvanized tree collar looks more rustic farmhouse, while the brass and silver are more glam or traditional. And the red metal one would look beautiful in a classic style home with lots of red and green.
A few years ago I sprayed my old galvanized metal collar with brass spray paint. It turned out beautifully! And now I used it in my office every Christmas.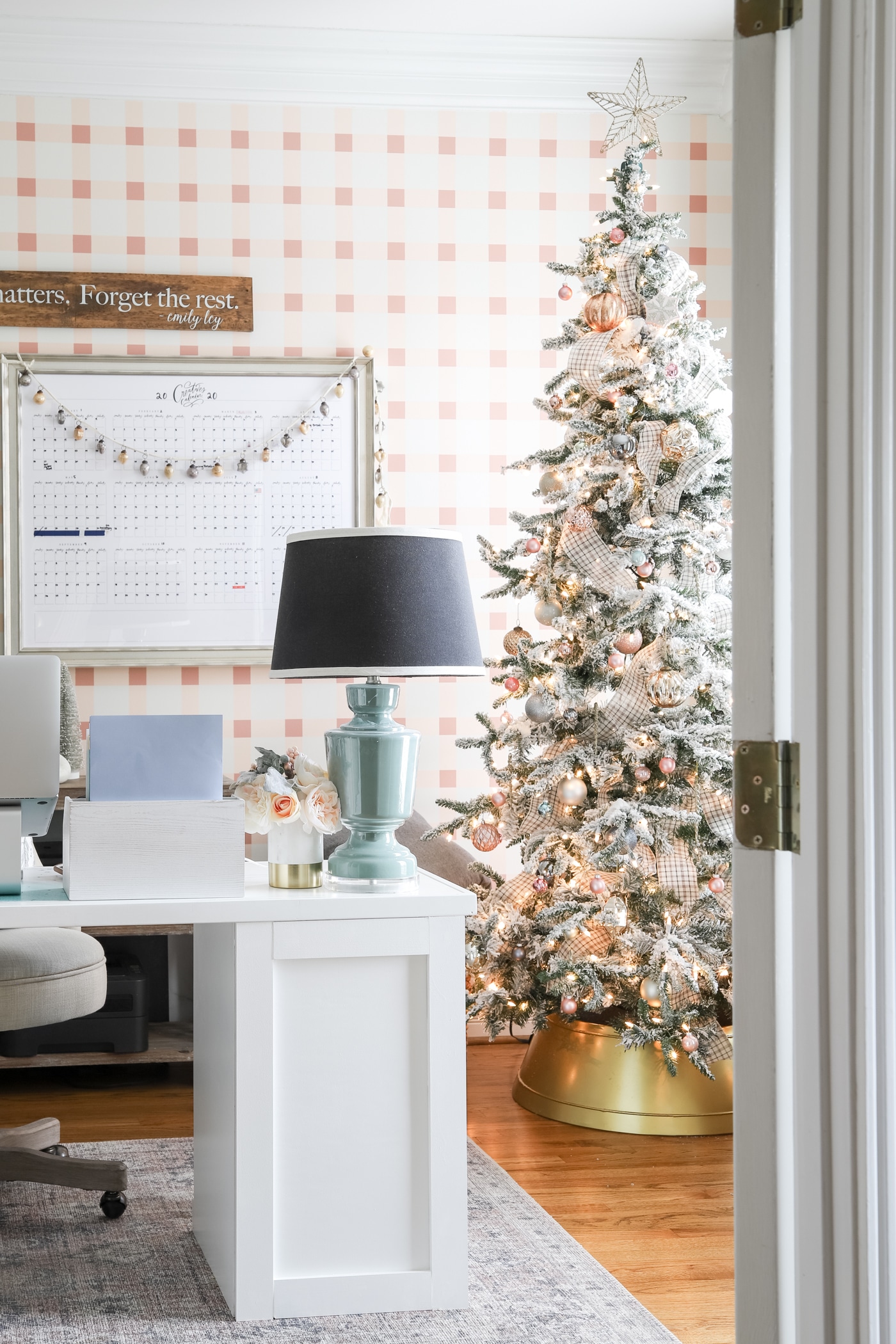 Wooden Tree Collars
Wooden tree collars give off coastal, modern or rustic vibe. They come in a variety of shapes, sizes and patterns. So, there is sure to be one to fit the style of your home!
Long before the tree stand collar trend caught on, I built a crate to cover the base of my tree. So, I guess you could say I was ahead of the times.
What Size Tree Collar Do I Need?
Make sure the tree collar will fit your tree by measuring the diameter of your tree base before ordering. Most collars range from about 21″ to 27″ in diameter, and between 9″ and 11″ tall. They are made to fit most trees, so they will typically fit a tree up to 7.5 feet tall. But always check first!
If your tree base is wider than the tree collar, you can buy a smaller tree base. Or swap it out with another base you already own. That's what I've done in the past!
Proportion Tip: The tree color should be the same diameter as the middle of your tree. This make it look visually proportional to the tree and not too big or too small!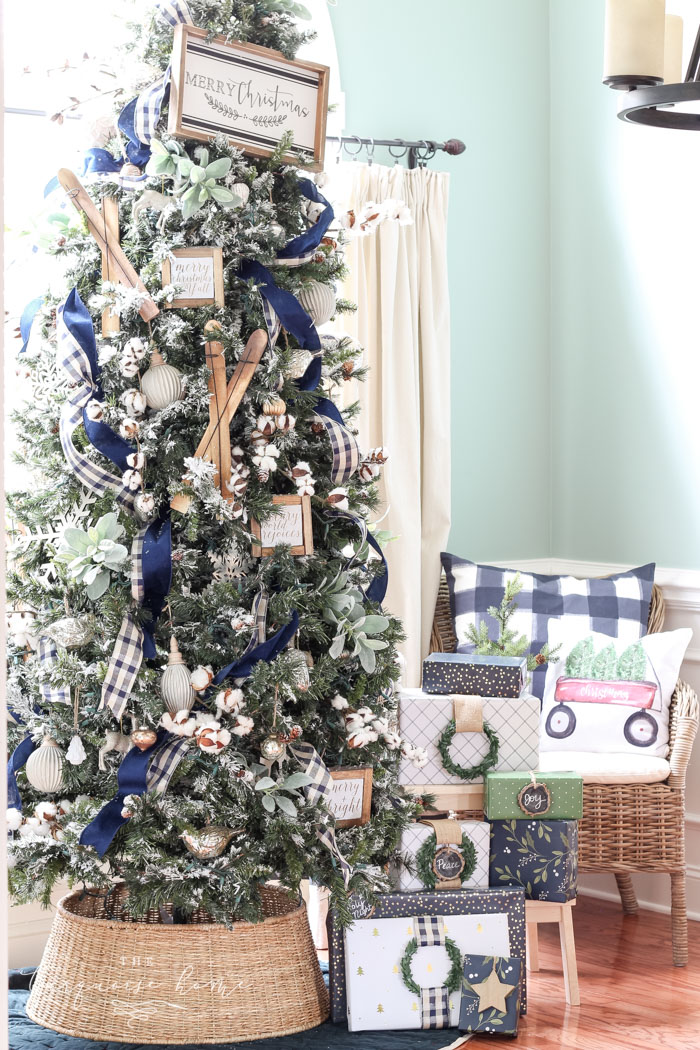 How to Fit a Tree Collar on the Tree
Many tree collars are one piece and need to be put over the Christmas tree stand before assembling the rest of the tree. Others have a hinged collar and can be opened to fit around the base of the tree after the tree is assembled.
Many times the collars with hinges can be stored flat, which is nice for those short on storage space.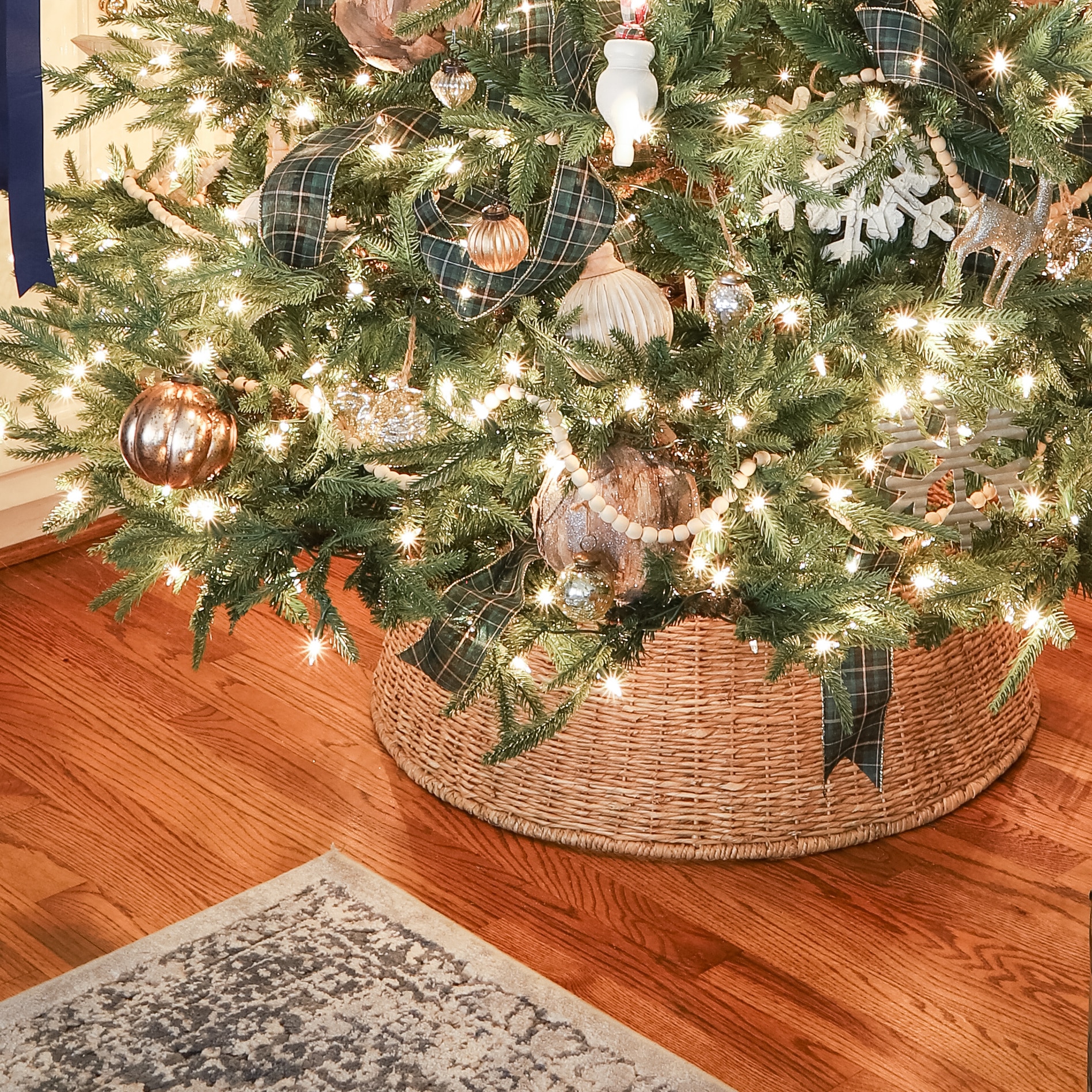 Frequently Asked Questions
Can I use a real tree with a tree collar?
Absolutely! Christmas tree collars are great for both real and artificial trees. Bonus: they keep pets (and kids!) from drinking the water under the tree.
What's the difference between a Christmas Tree Collar vs. Tree Skirt
The benefits of a collar over tree skirts are many, including that you don't have to worry about getting a skirt flat or getting the wrinkles out. Collars can even deter pets from messing with the base of a tree or trying to climb a tree! (I have been known to use a collar on top of a tree skirt, so it's a totally personal choice, of course.)
What is a Christmas Tree Collar?
A Christmas tree collar is simply a structured woven, metal or wood covering for your Christmas tree base. And while tree skirts have been the tree base covering options for decades, in the past few years, tree collars have made a rise in popularity.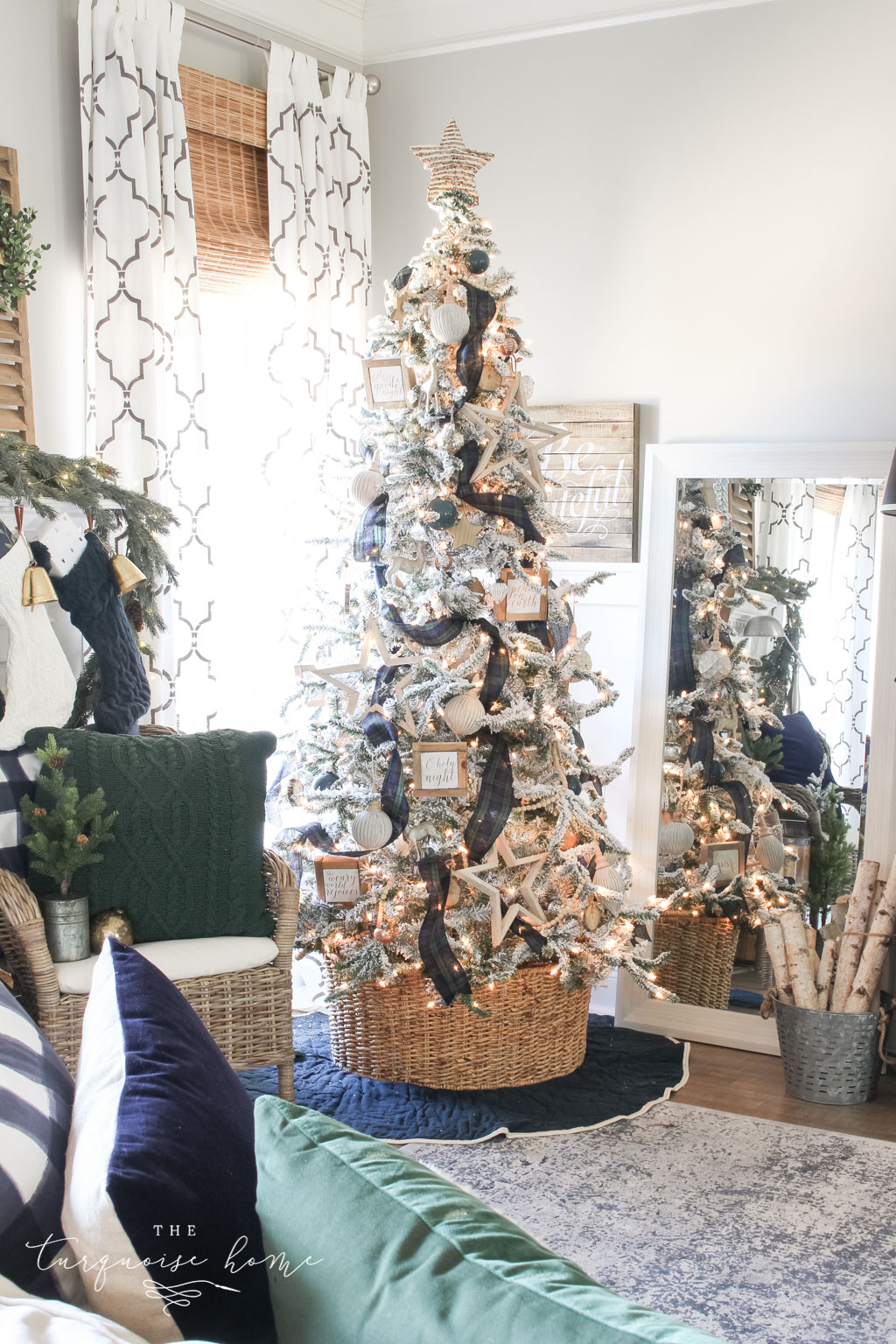 It's been really fun to see all of the collar selections that retailers have brought to the market in the past few years. Moreover, they are made the right size to cover most tree stand and make it easy to create the perfect finishing touch for your Christmas tree.
Just like ornaments and other Christmas decorations are a reflection of your personal style, you're sure to find a tree collar that expresses your style, too!
They are so cute and popular, that they sell out early each season and I didn't want you to miss them this year! I will usually suggest waiting to buy large purchases until a big sale weekend or holiday, but when it comes to tree collars, you'll want to grab these while they are still in stock!
Tell me which one is your favorite in the comments below.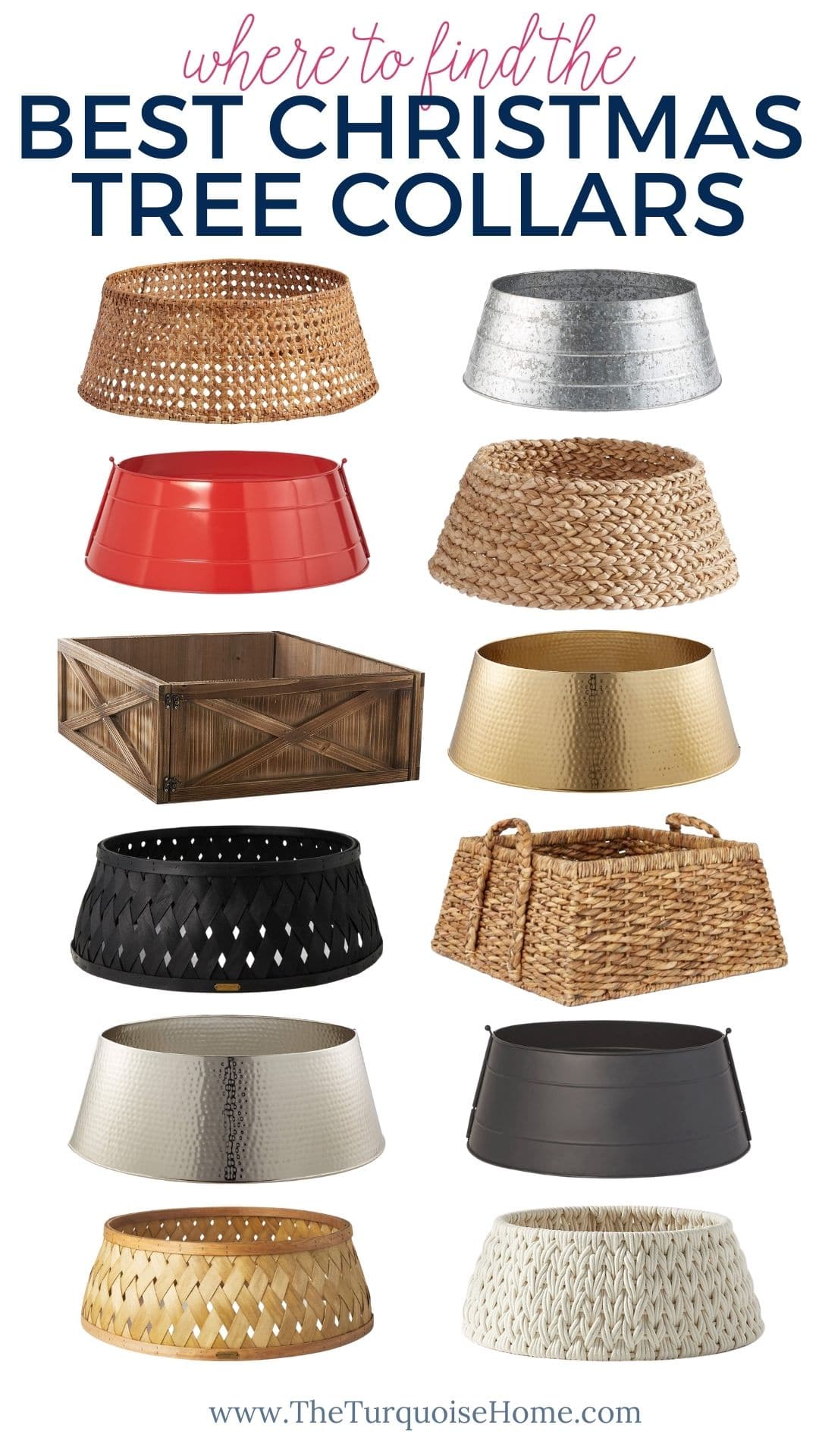 Looking for more Christmas decor inspiration? More Christmas Decor Posts You Will Love: