Download a free ginger jar & lemon tree printable for your summer home decor! Get a little traditional summer decor vibe for free!
With the weather warming up, I decided it was time to finally put away every last touch of Christmas and decorate my living room shelves for summer. I guess we skipped right over spring. LOL I honestly have moved my decorating toward a more year 'round approach vs. seasonal decorating. But I still like to add a few seasonal touches here and there.
An easy way to give your home a seasonal decor touch is with new art. And it doesn't get more budget-friendly than some free printable art. I've joined a few of my friends today to share summer printable art. I hope you'll check them out at the end of the post!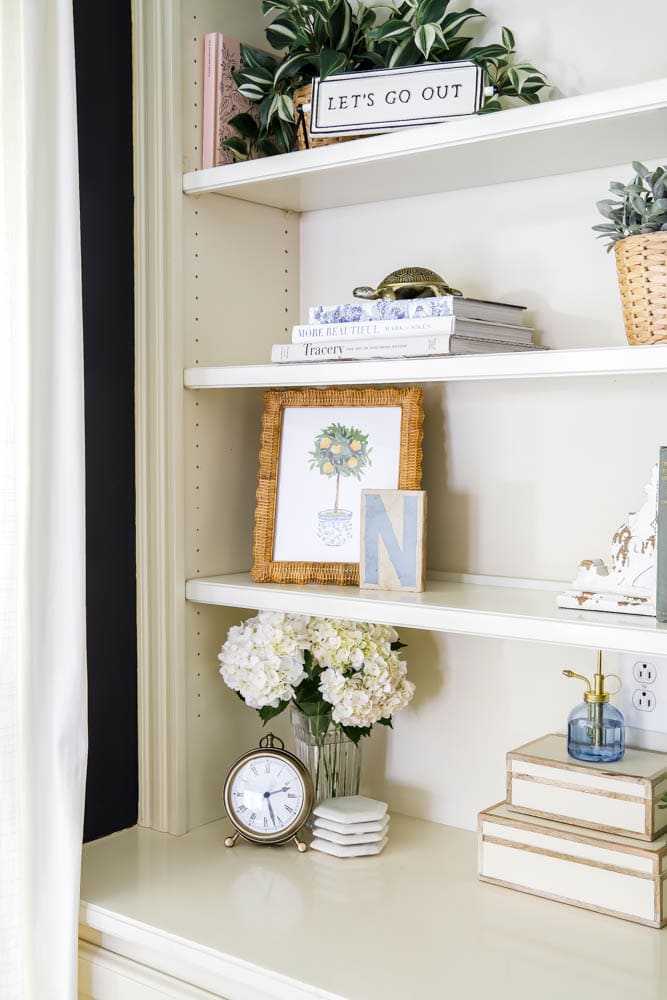 Seriously, though, I put up the last of my red and green plaid frames just this weekend and added a little summer splash to my living room.
First things first, I added my new wicker scalloped frames. I just love them so much! And then I added as much blue and white as I could find to my greenery-heavy bookshelves. (My scalloped frames are a splurge. But this is a woven picture frame at a fraction of the cost!)
Even though I wrote a post about Simple Formulas for Styling Bookshelf Decor, I still find it a challenge to get them styled *just* the way I like them. But I guess that challenge is part of the fun! I refer back to my post whenever I'm decorating shelves to get the balanced look I want.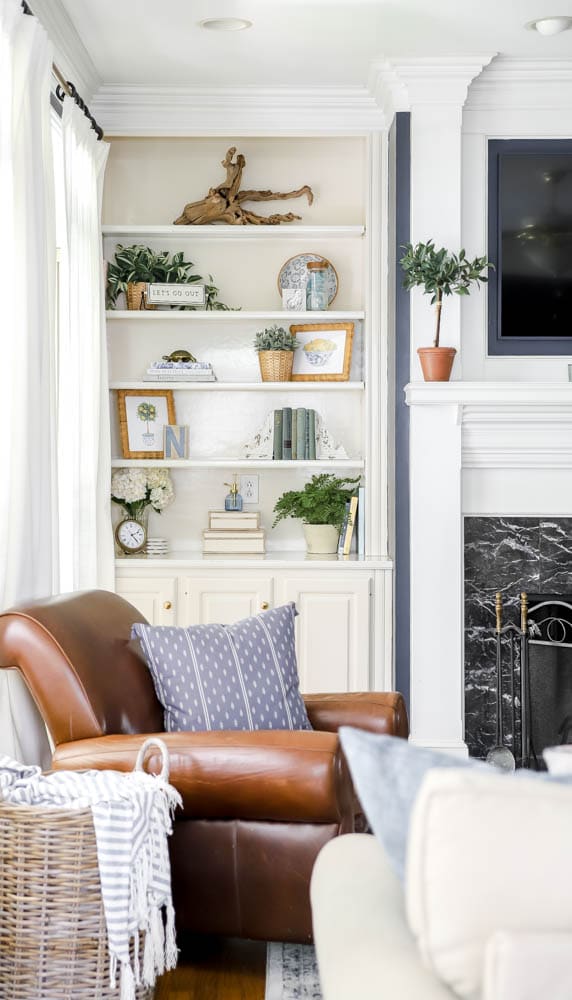 Tap the Images below to shop my Living Room:

I needed some new summer-y art to go in my wicker frames, so I designed a couple of lemon and blue & white chinoiserie printables and popped them in my frames. I'm sharing the free printables with you at the end of this post, along with a few friends who have made some summer printables, too! Check them out and select your favorites to decorate your shelves this summer!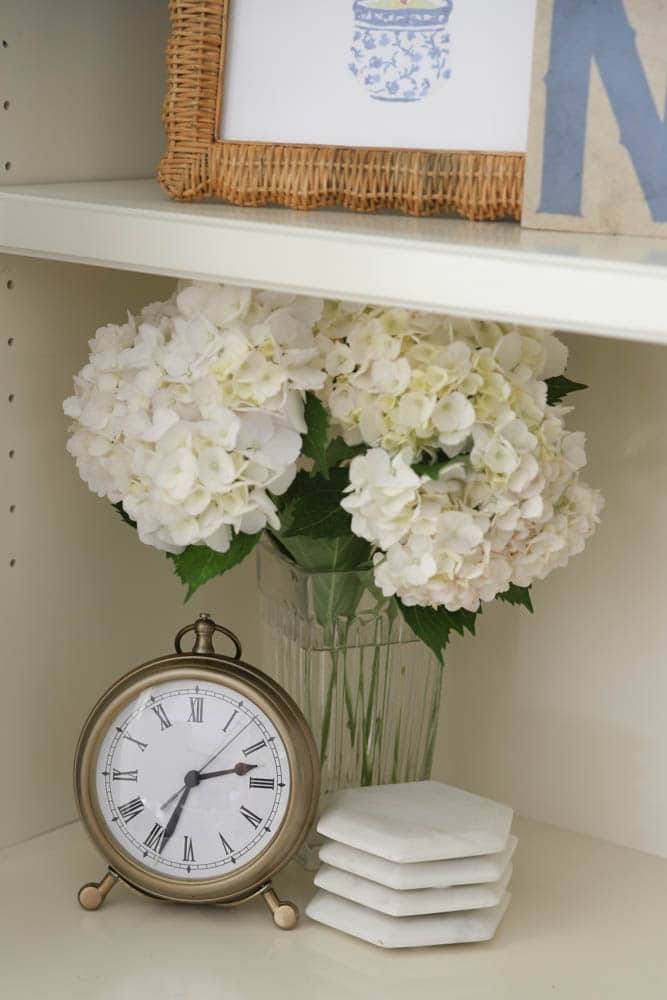 I love that I was able to clip the first hydrangea blooms from my hydrangea bushes for this photo shoot. It's one of my favorite things about our house! And those marble coasters are only $13! So cute!
On the other side of the bookshelves, I have this adorable printable of a blue and white chinoiserie bowl with lemons. It's such a perfect complement to the lemon tree of my other printable. I like that my two printables are similar, but not exactly a matchy matchy set.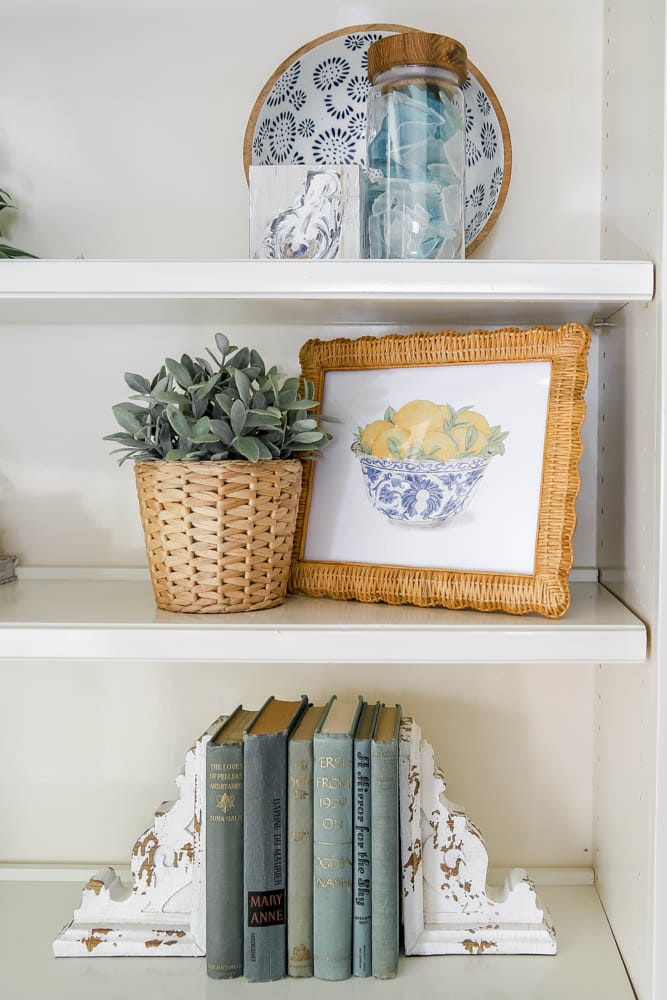 I love all of the blue and white touches that work in the summer. It goes perfectly with my Hale Navy walls and white trim and curtains. It's such a favorite look for me.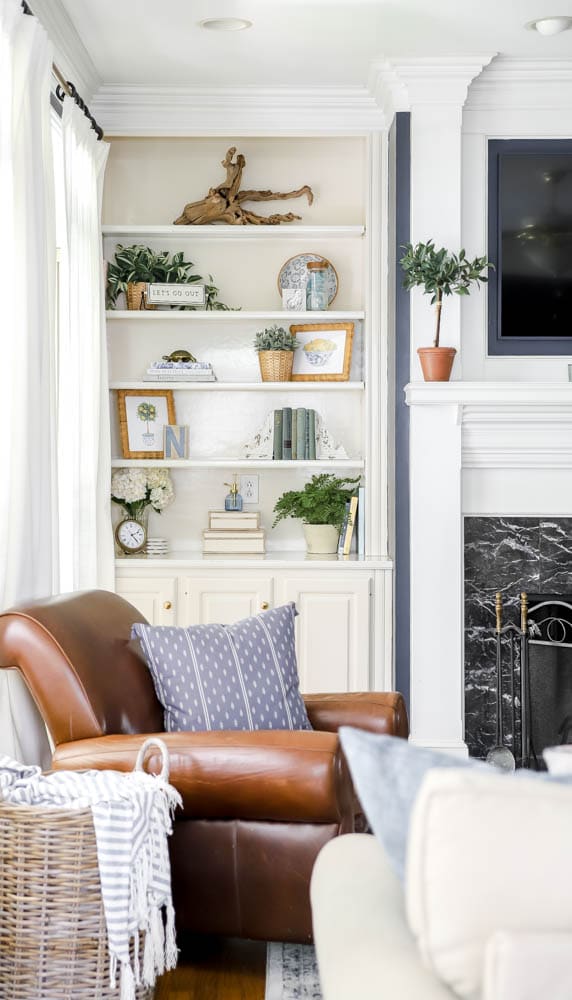 I love to decorate with some of my favorite decorating books, too! They serve both form and functional purposes. My latest favorite is More Beautiful by Mark Sikes.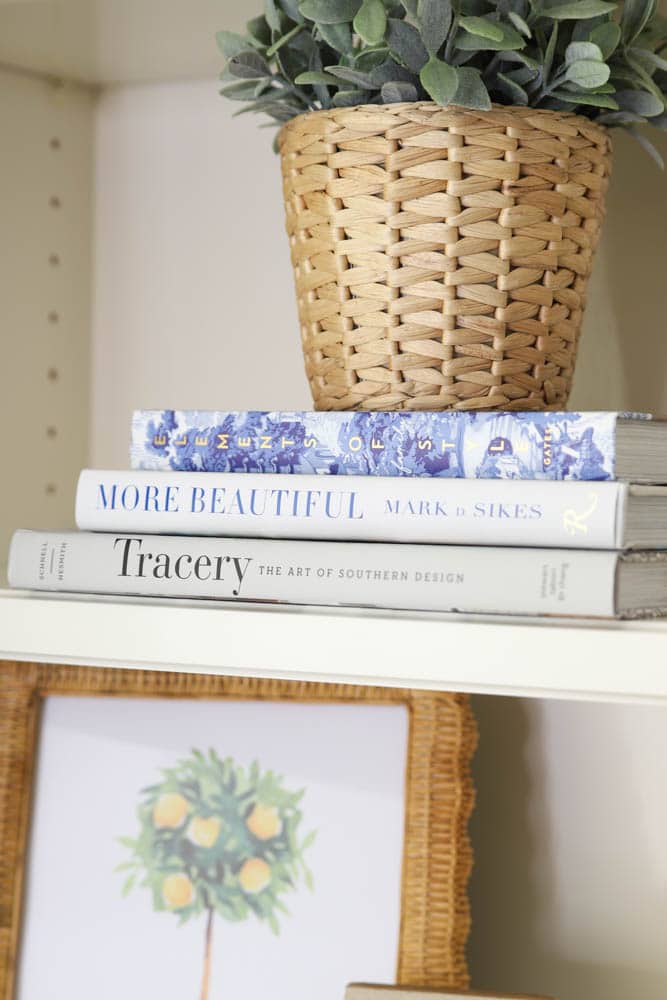 There are so many beautiful images of traditionally styled homes. And while I love Pinterest as much as the next girl, sometimes I want to flip through actual pages. And again, the books double as decor, too! What's not to love?
I hope you find some summer decor inspiration today! And be sure to download these printables for your own home!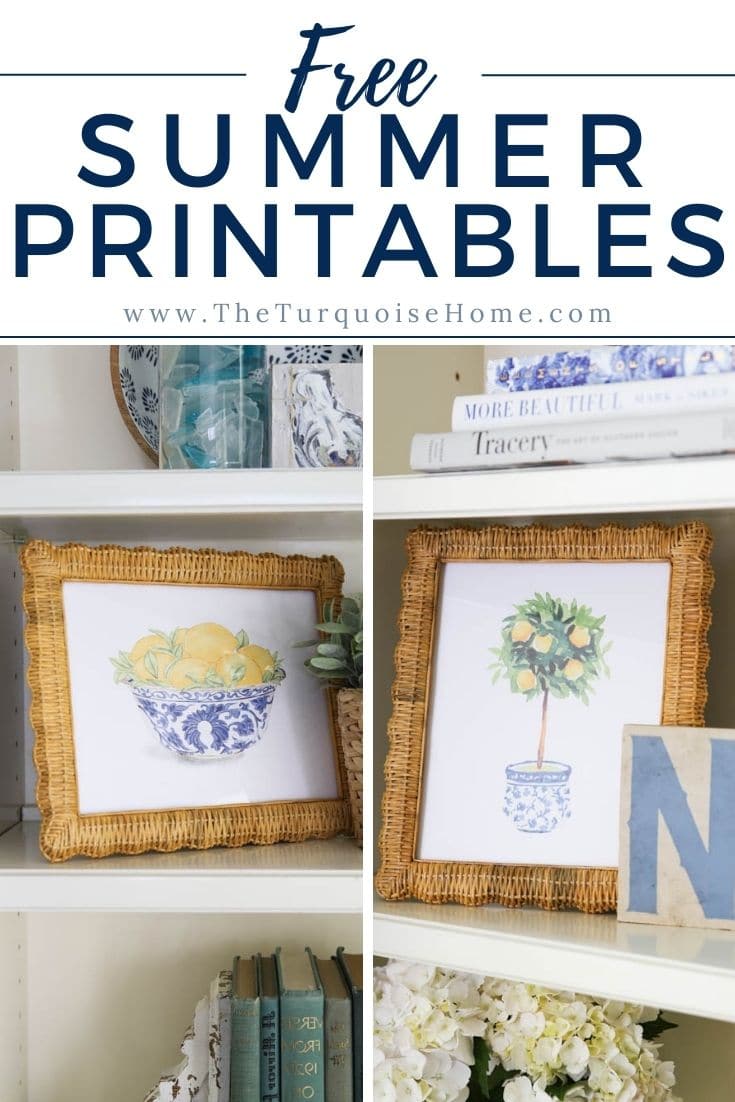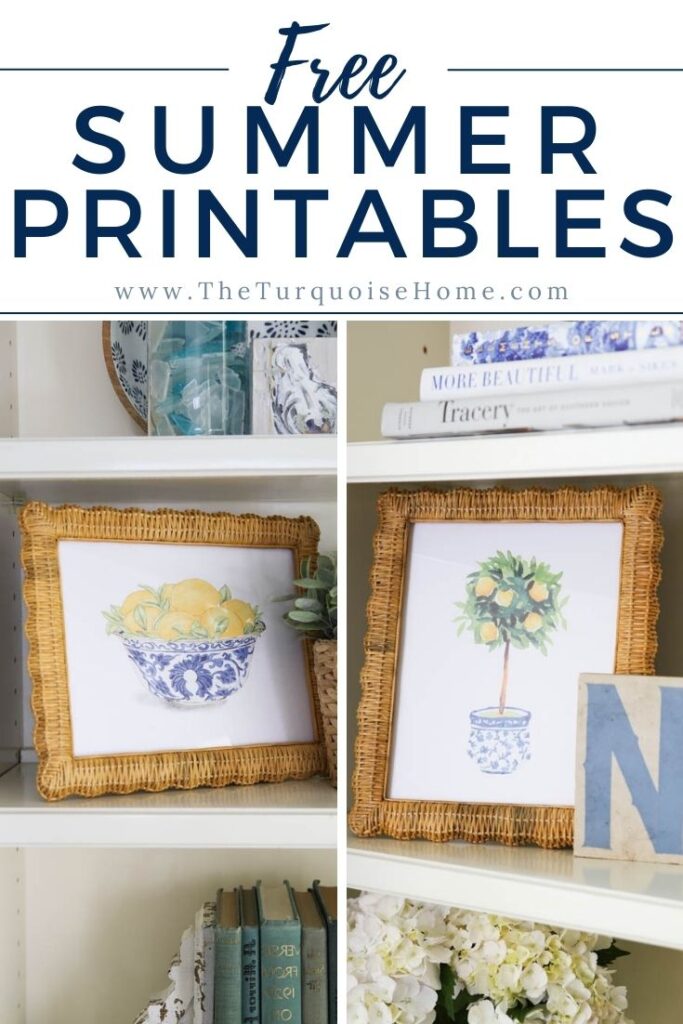 TIPS ON PRINTING PRINTABLE ART DECOR
Home Printer: If you don't have a good printer to print these from home, I recommend my printer. I've had this printer for several years now. The ink lasts a long time and I haven't had any problems with it. It prints out all of my free printables with no issues!!
Use Cardstock: I recommend printing your printables on cardstock paper. Regular printer paper is just too thin, easily torn or crumpled and see through.
Other printer options: If you don't have a printer at home, I've used Staples and Office Depot for printing needs and they were both great!
I've set the printables to print at 100% with some space around the edge to allow for your frame. Also, these print at 8.5×11, which is larger than an 8 x 10 frame. So, you'll have to trim the borders to make them fit. If for some reason they aren't fitting in your frame, adjust your scale of the picture in your printing settings and see if that helps. Unfortunately I can't give specific printer advice because every printer/computer combo is different.
MORE POSTS YOU WILL LOVE: