My Favorite Gifts to Give (… or get, wink!)
I've been organizing my Christmas gift list for my friends and family this week in preparation for Black Friday, Cyber Monday and all of the sale days in between. I'm especially on the hunt for a cheaper price for a Barbie Dream House, so if you see one, send me a link!
But I've also been thinking about what I'd like this Christmas. For real, I'd like new counter tops, but that's a high ticket item for a Christmas present. So, I scaled it down a bit. A few of these things I already have and some are really on my list this year. I hope my hubby reads this, but honestly I'll probably have to just send him the link. 😉
So, if you're shopping for a mom, sister, best friend or just looking for a few things to add to your own list, look no further!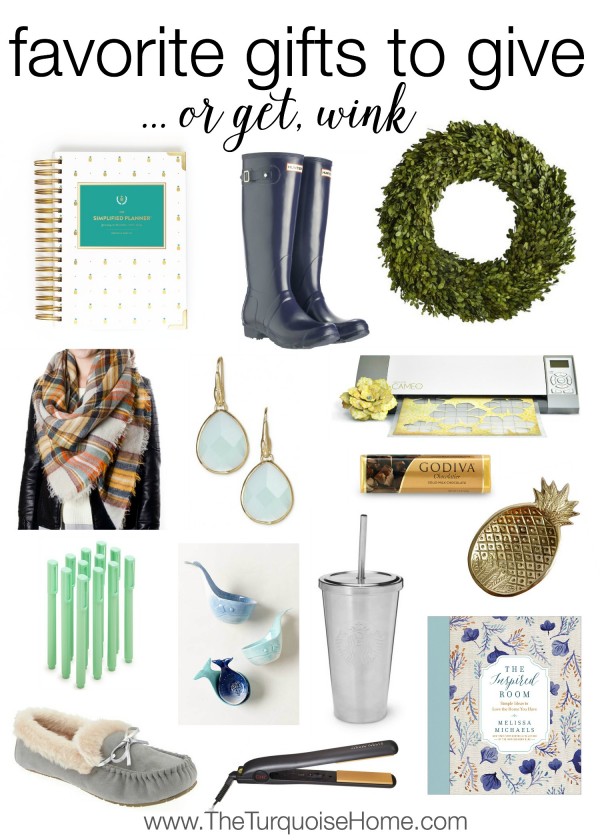 This post contains some affiliate links for your convenience. Read my full disclosure policy here.
Emily Ley Simplified Planner – If I could meet one person that I follow on Instagram, it would be Emily Ley. She just gets us working mamas of littles. Or busy women in general. I'm switching over to her planner in January. It's perfect for simplifying this crazy life! Update 2019: I've used her Simplified Planner now for 4 years and LOVE it! I'll be using this one in 2020!
Silhouette Cameo – I absolutely love having this tool in my crafting arsenal. I don't use it every day, but when I need to make a large farmhouse sign or a large farmhouse sign, it's worth its weight in gold. I've have it for a few years now and would purchase it again in a heartbeat. I bet your mom, sister or even you (hint, hint, hubby) would love one too! You can find most of my Silhouette projects here!
Hunter High Gloss Rain Boots – I've wanted some of these for a long time. And every time it rains, I think, I'm getting some of those pretty rain boots … stat! Err-body needs a pair!
Preserved Boxwood Wreath – I have a preserved boxwood wreath and I love the look! I've hung it on my kitchen chalkboard, my entry way mirror and now it resides on my DIY Christmas card holder. It's one of my favorite things! One for your list, maybe?
Slippers – I splurged on these slippers a few years ago, and it was one of the best decisions I made for my feet! They are so comfortable! If you're looking for more budge friendly slippers, these are a good option too.
Green Glass Drop Earrings – These cute earrings are a little smaller than the ones I own, but I love them for that very reason. And these are gold. Enough said. I think these would be a fabulous sister gift.
Plaid Blanket Scarf – Umm, whomever made it popular to wear blankets as accessories gets a big thumbs up in my book. And I've been swooning for plaid for years. All my love!
Stainless Steel Cold Cup – My favorite way to drink flavored water. (I put a little tangerine essential oil in mine.) AND … if you get a Silhouette for Christmas, you can make it cute like I made mine right here!
Poppin Pens – Y'all. I am a pen snob. There, I said it. And I only use Poppin pens. They write so smooth! I have them stashed in every drawer and a handful in my purse to make sure I never run out! Wrap a pretty bow around these and your co-worker will love you forever.
Floral Measuring Cups – I mean, who doesn't need a set of beautiful floral measuring cups? I know that baking would be a whole lot cuter with some of these. Perfect for a gift exchange with a friend or the baker in your life!
Chi Flat Iron – My hair would be a wild, crazy, frizzy mess if it weren't for my flat iron. Only problem is, that my old non-Chi flat iron is on the fritz. I'm thinking I'll put this on my list so that I won't scare anybody when they meet me in Hobby Lobby. Updated 2019: I recently splurged on this awesome hair straightener. It styles my hair quicker and easier than any any other hair straightener I've ever owned. And most of all, it gives me the MOST frizz-free style I've ever had. It is worth the splurge!

The Inspired Room – I just received this book a few weeks ago and like the title implies, it's super inspiring. I love Melissa's home and the way she encourages (and inspires) us to love the home we have! Your family and friends will love this book!
Brass Pineapple Trinket Dish – What's not to love? Seriously. This would be adorable in my stocking. (Coach … pay attention, please.) Updated 2019: Got it, love it!
Godiva Chocolate – no explanation needed. (Milk chocolate truffles are my fave!) Get in my stocking.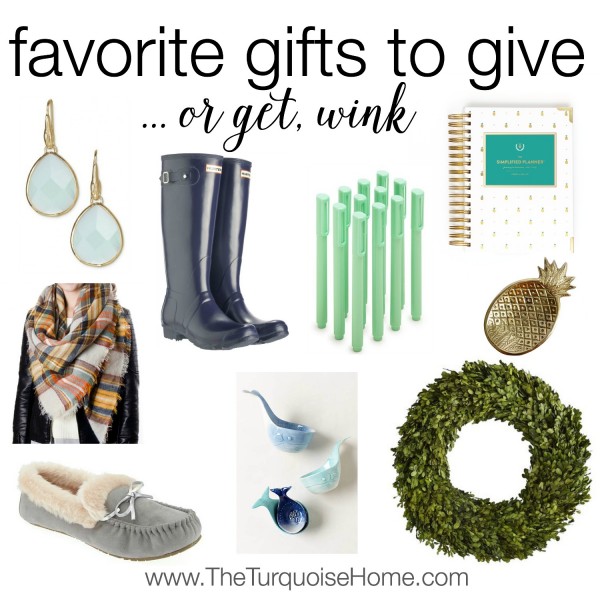 OK, so what's on your list, for real?
Or what is YOUR favorite gift to give! Let us know!!
More Gift Ideas you will LOVE!