Blue and White Christmas Living Room
Do you love blue and white decor? Try this blue and white Christmas decor theme for your home this year! Get inspired by my home!
Welcome to my blue and white Christmas living room full of gold accents and traditional style! I've been loving all things blue and white this year, so I decided to make it my living room theme for the holidays this year. Come on in… let me show you around!
Last year I had a great time incorporating traditional red and green plaid into my living room. It was the 2nd year in our home, so I had a pretty good idea of how I wanted to decorate it. So, I leaned hard into traditional Christmas colors.
I also filled it with all of our nostalgic ornaments that we've collected since we got married. Some I've even had since I was a child!
Honestly I thought I would continue that theme year after year. I *thought* I was tired of changing my decor year after year. I was simply going to rearrange what I already had.
BUT this year I fell in love with a beautiful medium blue hue. There are pops of this blue color in my dining room now. And it's the paint color in my laundry room. So, why not use it as a theme for Christmas, too?
And when I saw this gorgeous herringbone ribbon, I knew I had to use it in my Christmas decor this year.
This post contains affiliate links for your convenience. See my full disclosure policy.
Plans for Christmas Decor in the Living Room
It's so fun to be able to take elements that I've used in the past and add a few new items for a completely different look! Here was design board for the room. I find it helps me plan and buy for the space when I see it altogether first! (Learn how to create your own design board!)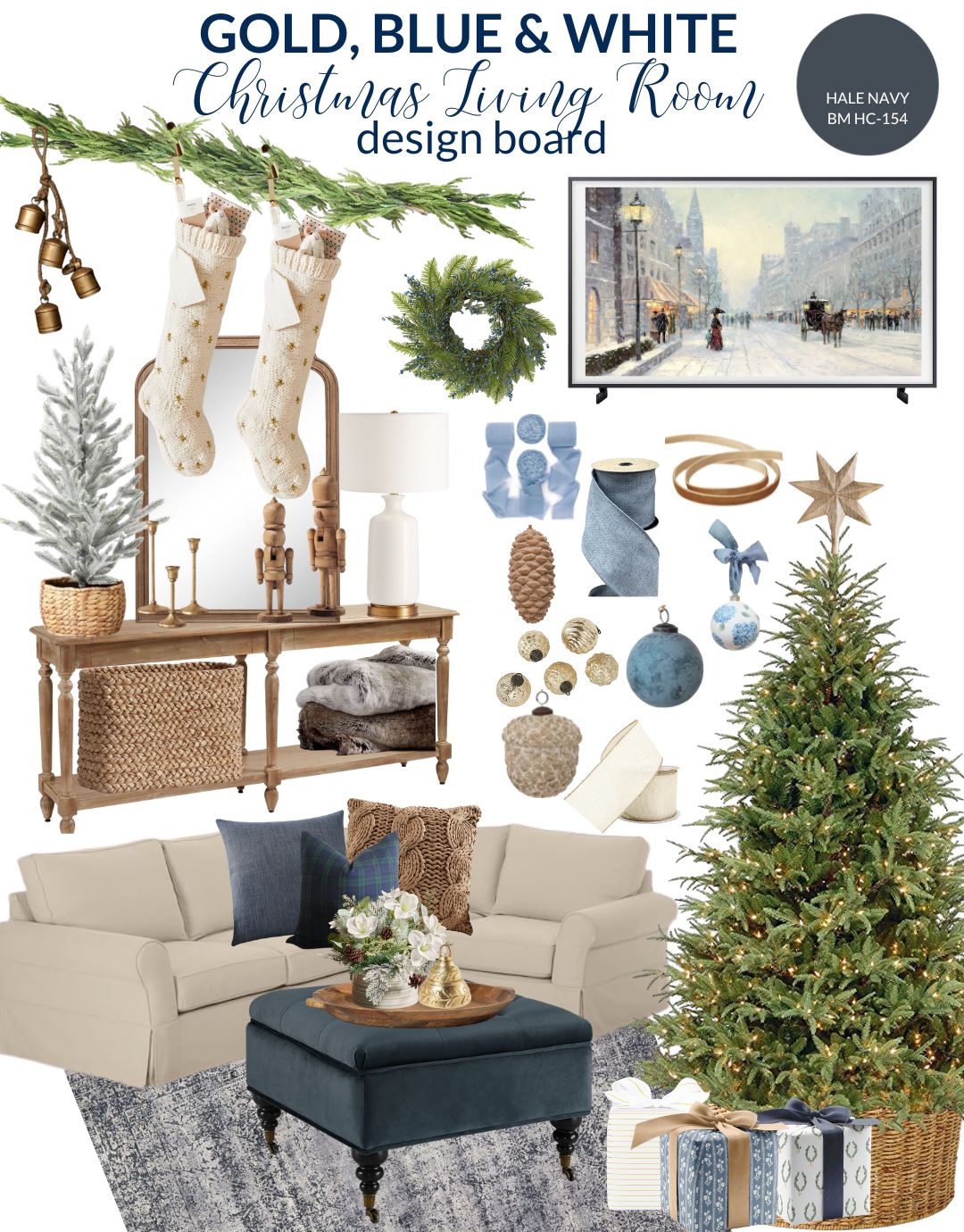 I incorporated a lot of what I already had (perks of collecting a lot of Christmas decor over the years). And really only bought new wrapping paper, ribbon and a few ornaments! Everything else I pulled from my decor stash.
It's been so fun to see how it all looks together as I've started decorating the tree. I arranged some items together in this collage below.
Gold, Blue & White Christmas Decor in the Living Room
And here is how it looks all decorated in the room!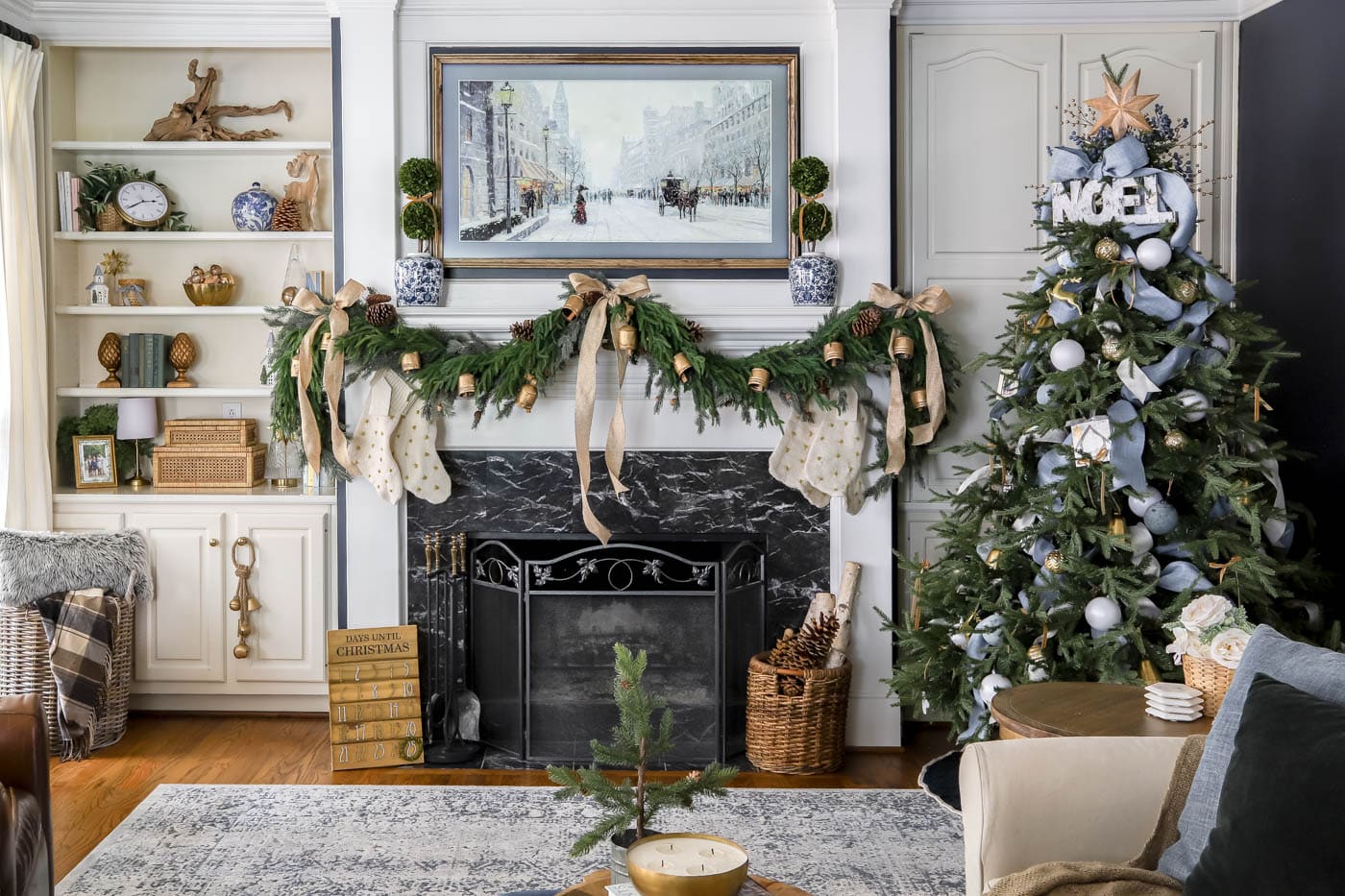 ROOM SOURCES: Mantel Garland | White & Gold Stockings (similar) | Hanging Bells | Mini Juniper Wreaths | 55″ Frame TV | Christmas TV Art | Console Table | Lamp (similar) | Nutcracker Figurines | Wood Framed Wall Mirror | Console Table Basket | Sectional in Twill Fabric | Blue Linen Pillow | Cable Knit Pillow Cover | Blue & Green Plaid Pillow Cover | Blue Storage Ottoman | Wood Bowl/Tray | Winter Floral Arrangement | Brass Bell | Big Brass Candle
I haven't had a chance to wrap any gifts yet, but everything else is done in this room!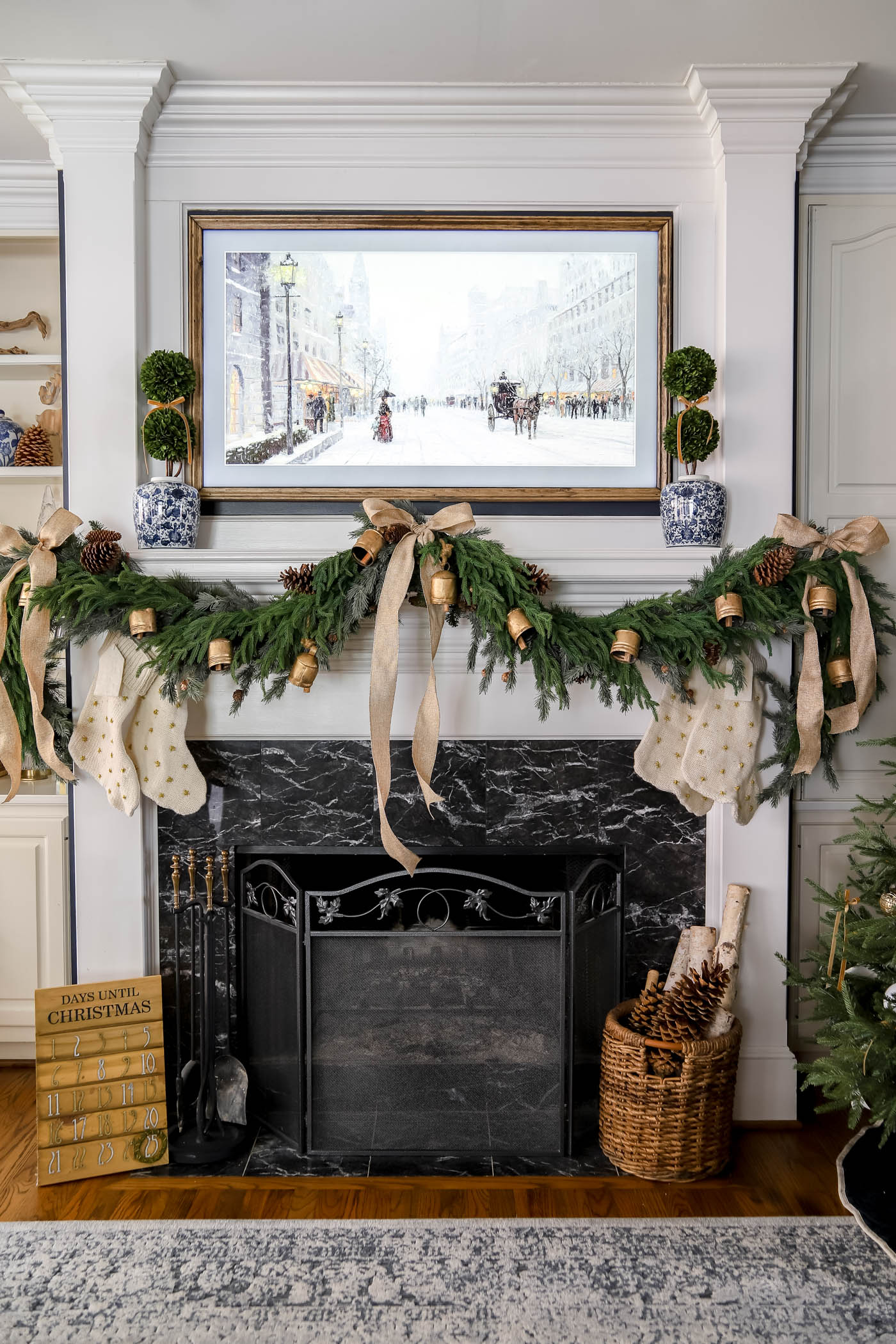 I went back to my symmetrical, double swoop mantel garland on the fireplace. I did an offset side swoop last year, but traditional felt more appropriate this time.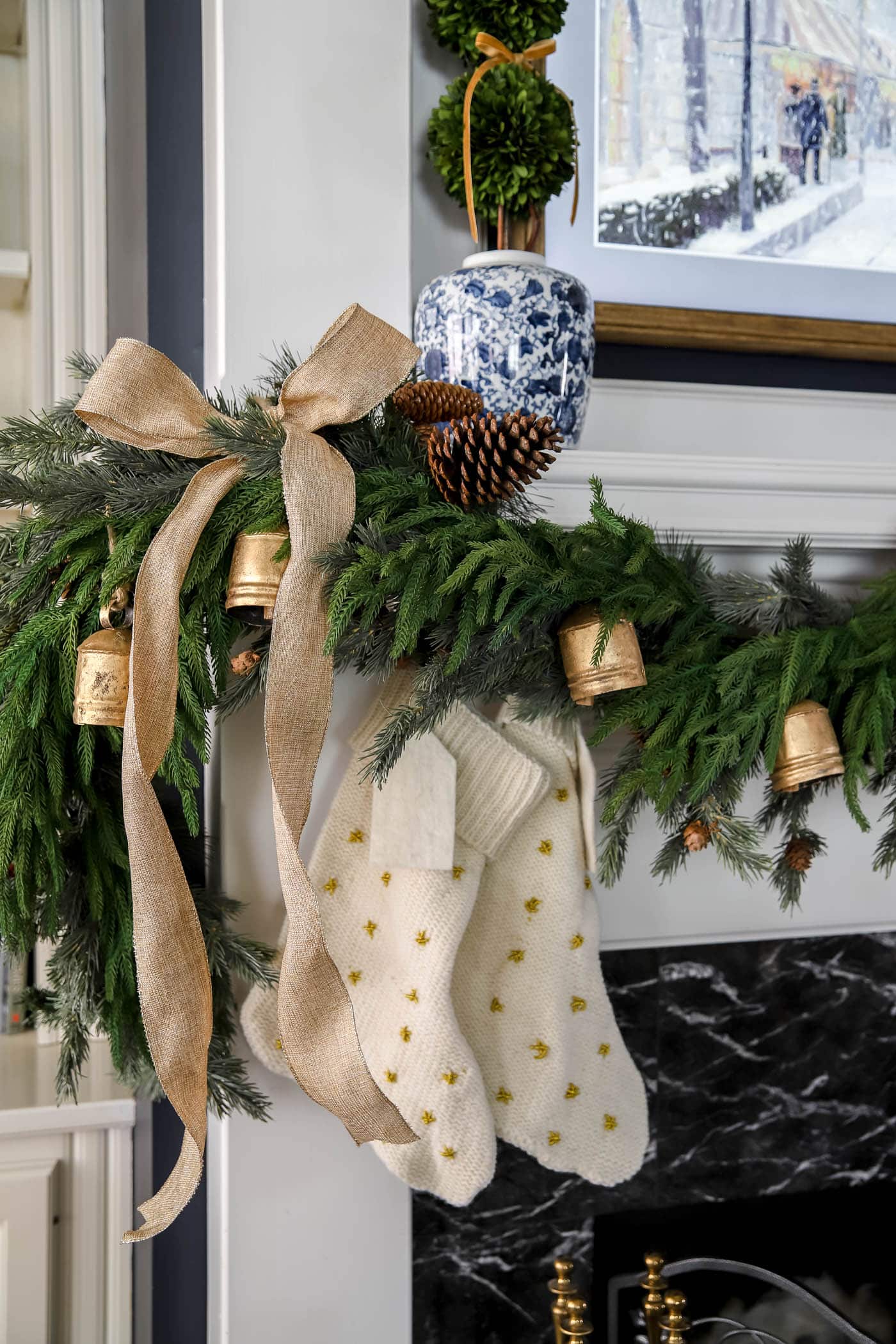 You can find my tutorial with a video on how to put a garland on a mantel in this post. It's several garlands layered on top of each other. Then I add my bells and ribbon bows to finish it off.
The stockings are hung from hooks I screw into the under side of the mantel. Once Christmas is over, I take the hooks away and you can't see the evidence of the holes.
The Gold, Blue and White Christmas Tree
Let's move on to the Christmas tree, the star of the show! The Christmas tree decorating process I use, is in this post from a few years ago. This year, I kept my same tree skirt, tree collar, star and picks, but added new ribbon and a few new ornaments to create a completely different look.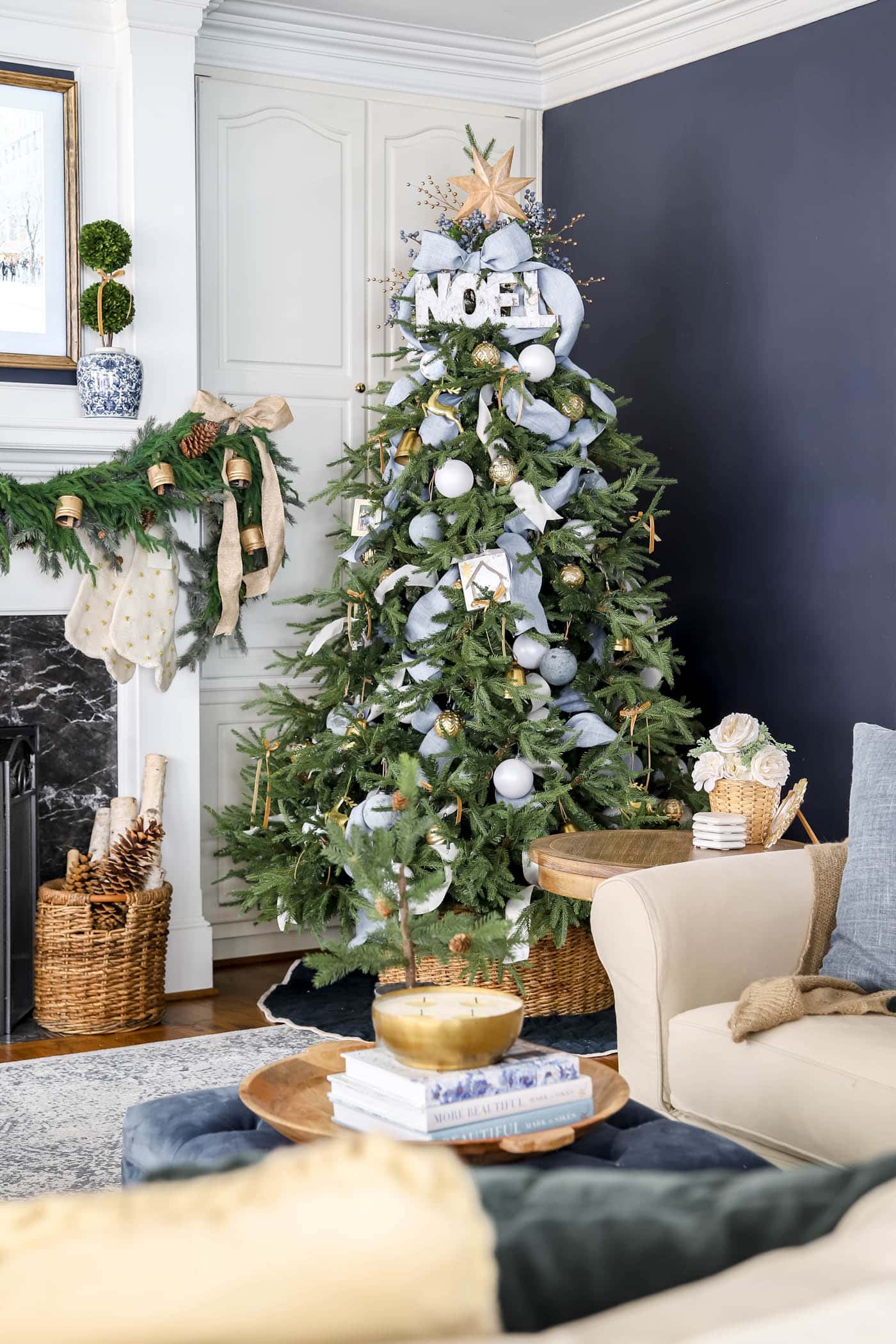 TREE TRIMMING SOURCES: 7.5′ Frasier Grande Christmas Tree | Tree Topper | Woven Tree Collar (similar) | Blue Canvas Herringbone Ribbon | Gold Velvet Ribbon | Blue Ornament | Blue Hydrangea Ornament | White Matte Ornaments | Gold Ornaments | Gold/White Canvas Ribbon
You really can change the whole look of your tree with new ribbon and a few inexpensive ornaments or trimmings!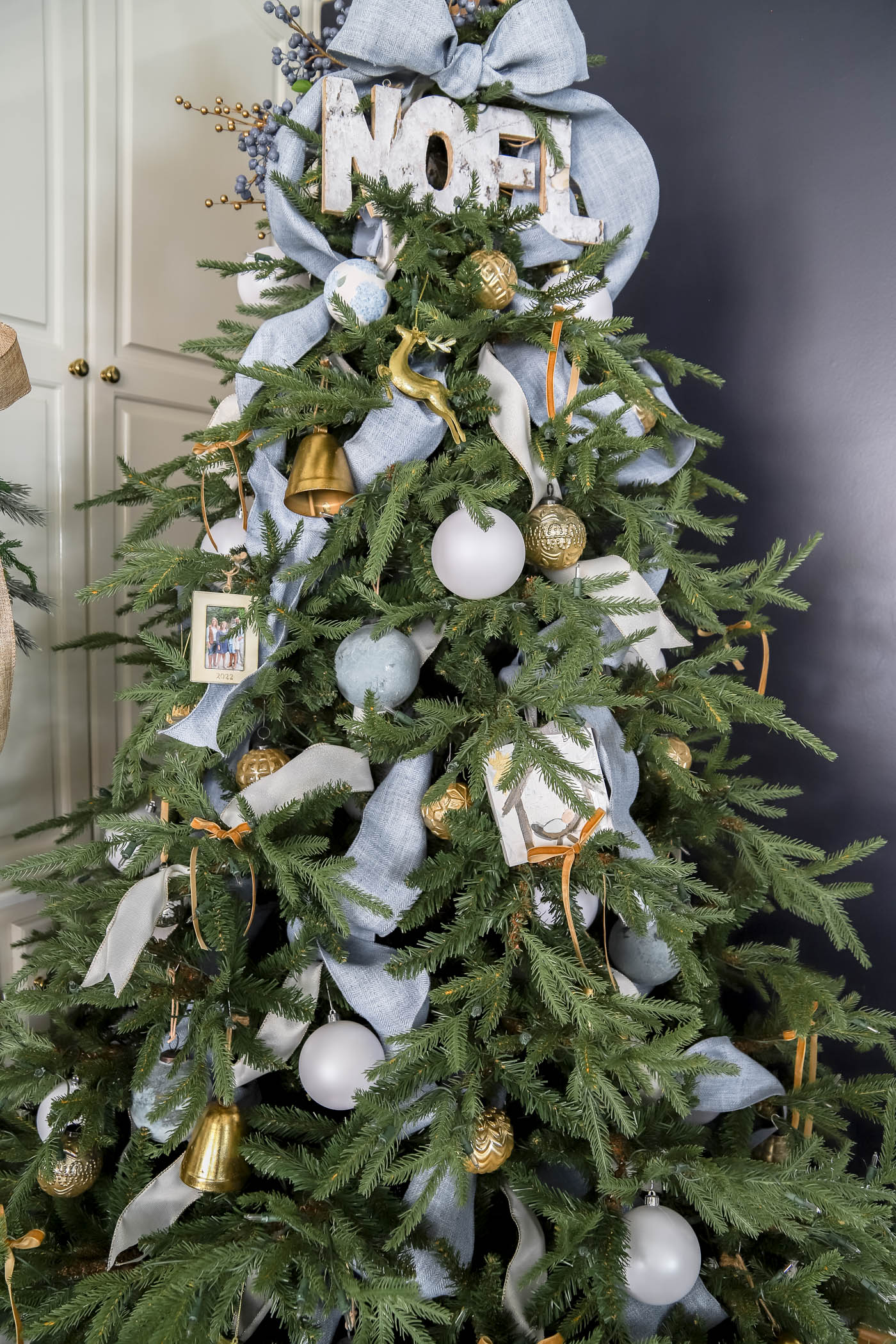 I added in a few of my personal ornaments that fit the theme, like this dated ornament I buy every year for our family photo. I ordered the picture in a wallet size and it fits into the frame perfectly.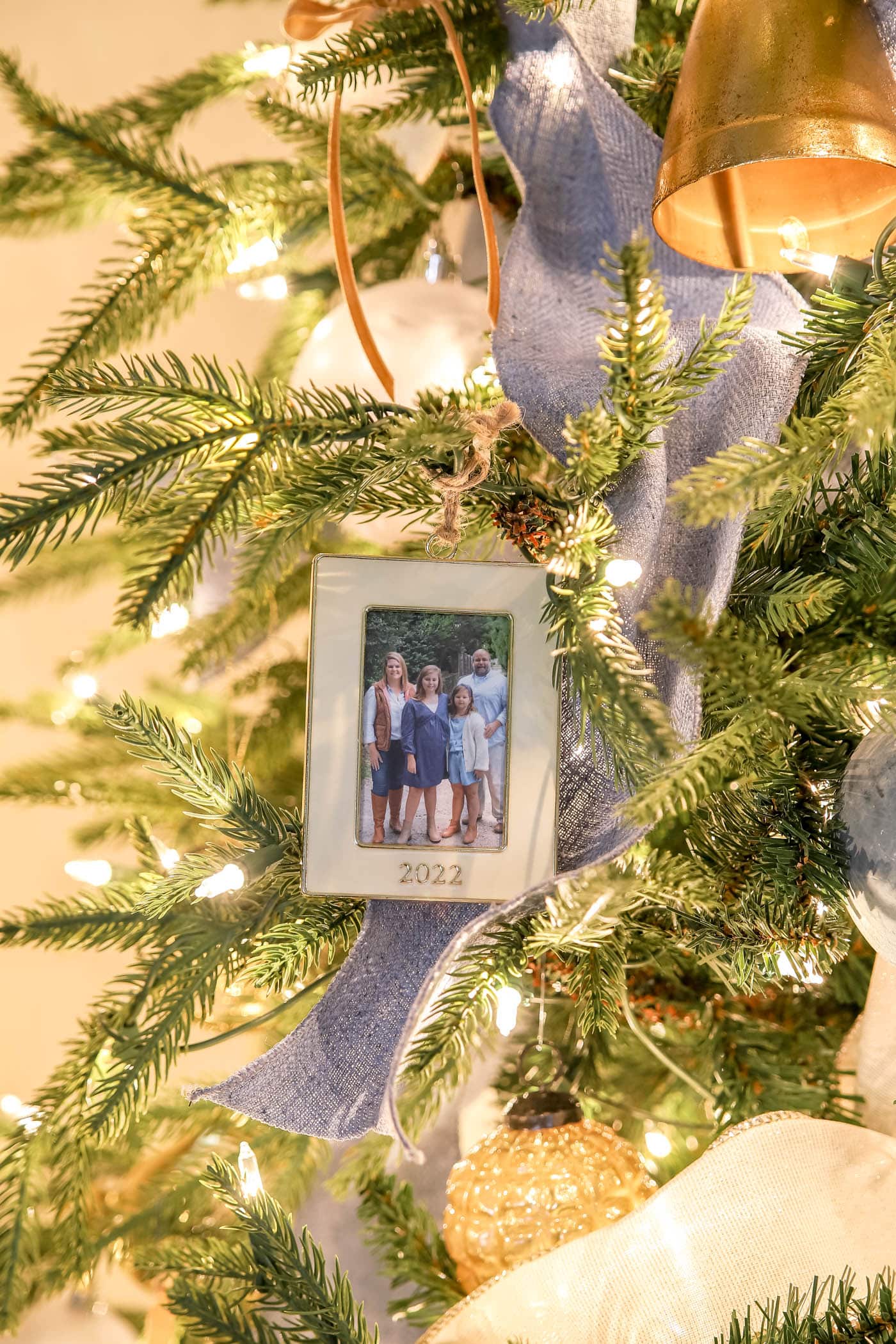 Media Cabinet Decor
On the back wall of the living room is a media cabinet. I keep my wood framed mirror there all year long and simple change up the decor around it. I like to add flocked trees in baskets for Christmas/winter. And the nutcrackers were an addition from last year.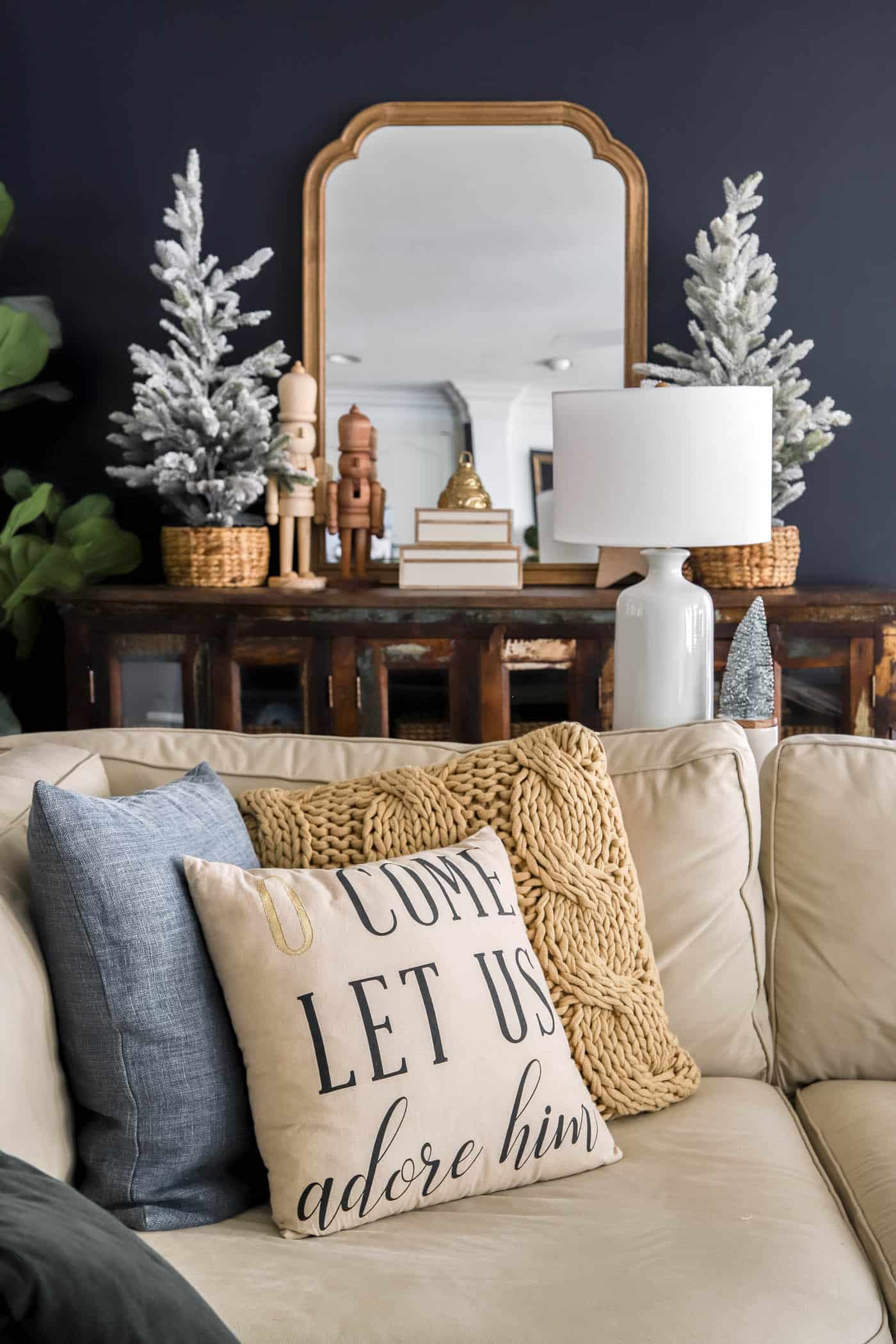 I've had the pillows on my couch for years and just kept the ones out that match the theme this year!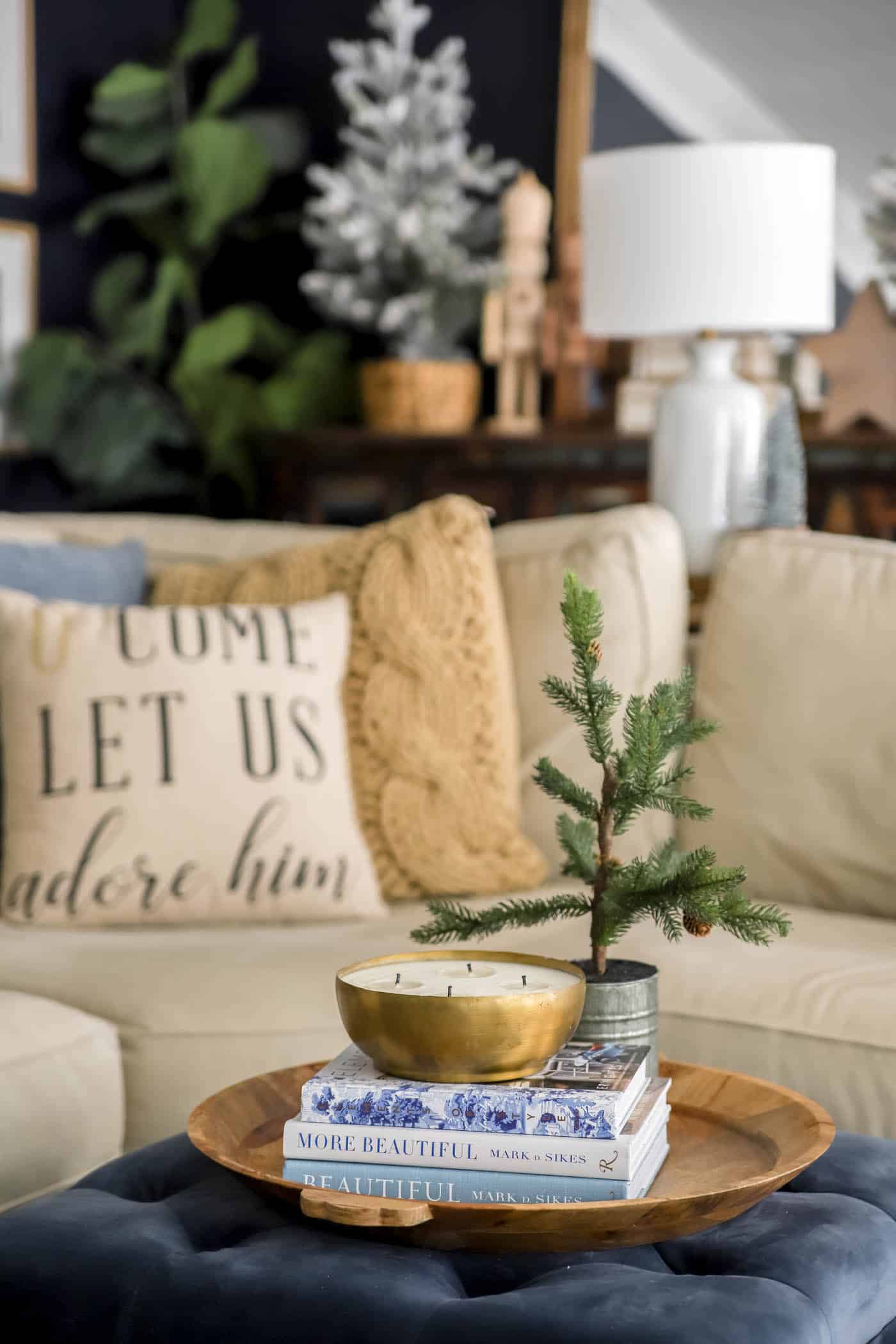 And don't miss the 30% off sale of my big brass bowl candle (until Monday, November 28, 2022). It's the Good Tidings scent and I LOVE it for this time of the year. It fills the whole house with goodness.
This beautiful cedar, berries and snow art I bought last year works perfectly again this year.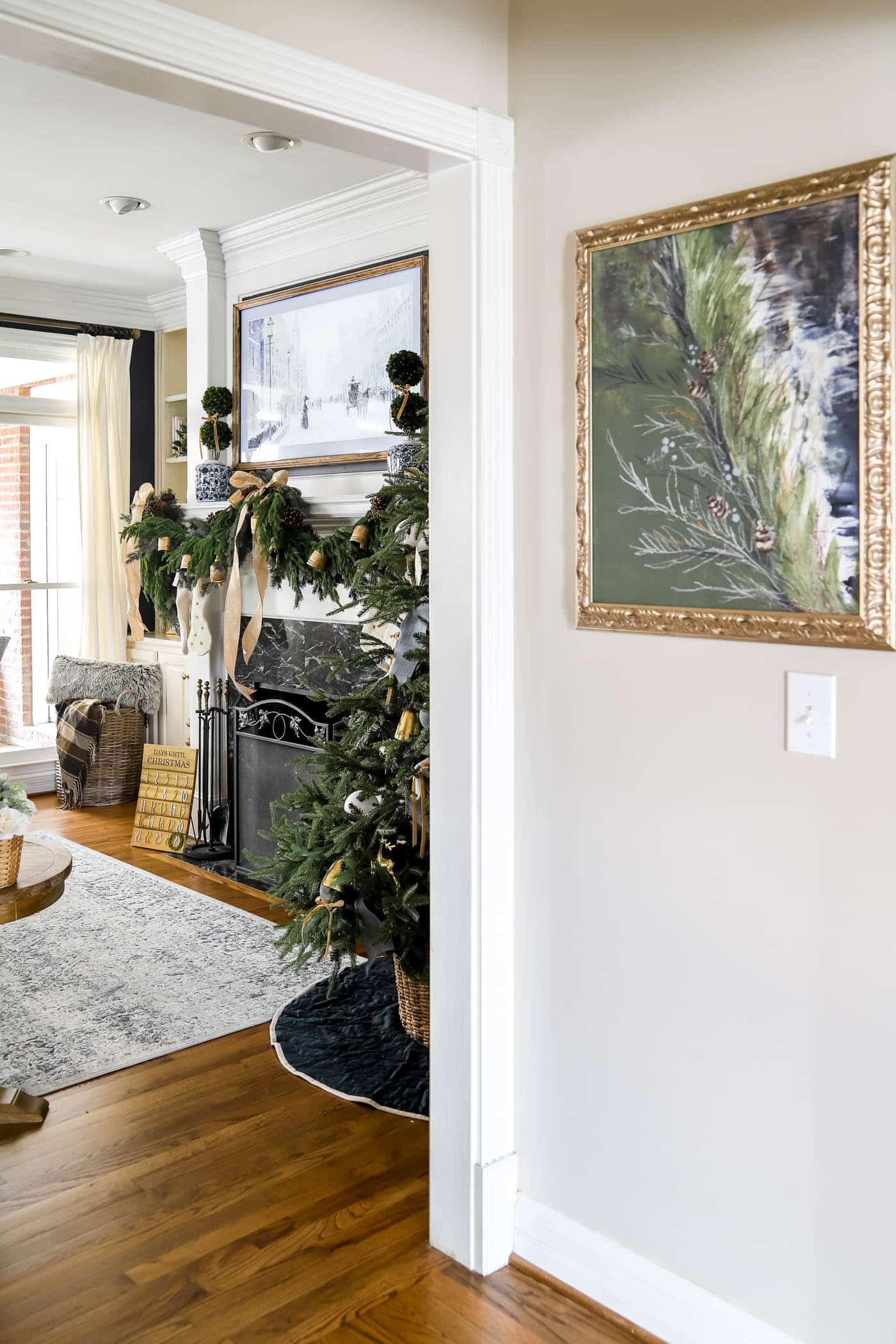 Blue and White Built-in Bookshelf Decor
I added some seasonal decor to my built-in bookshelf favorites. They are pretty simple, but I like how they turned out!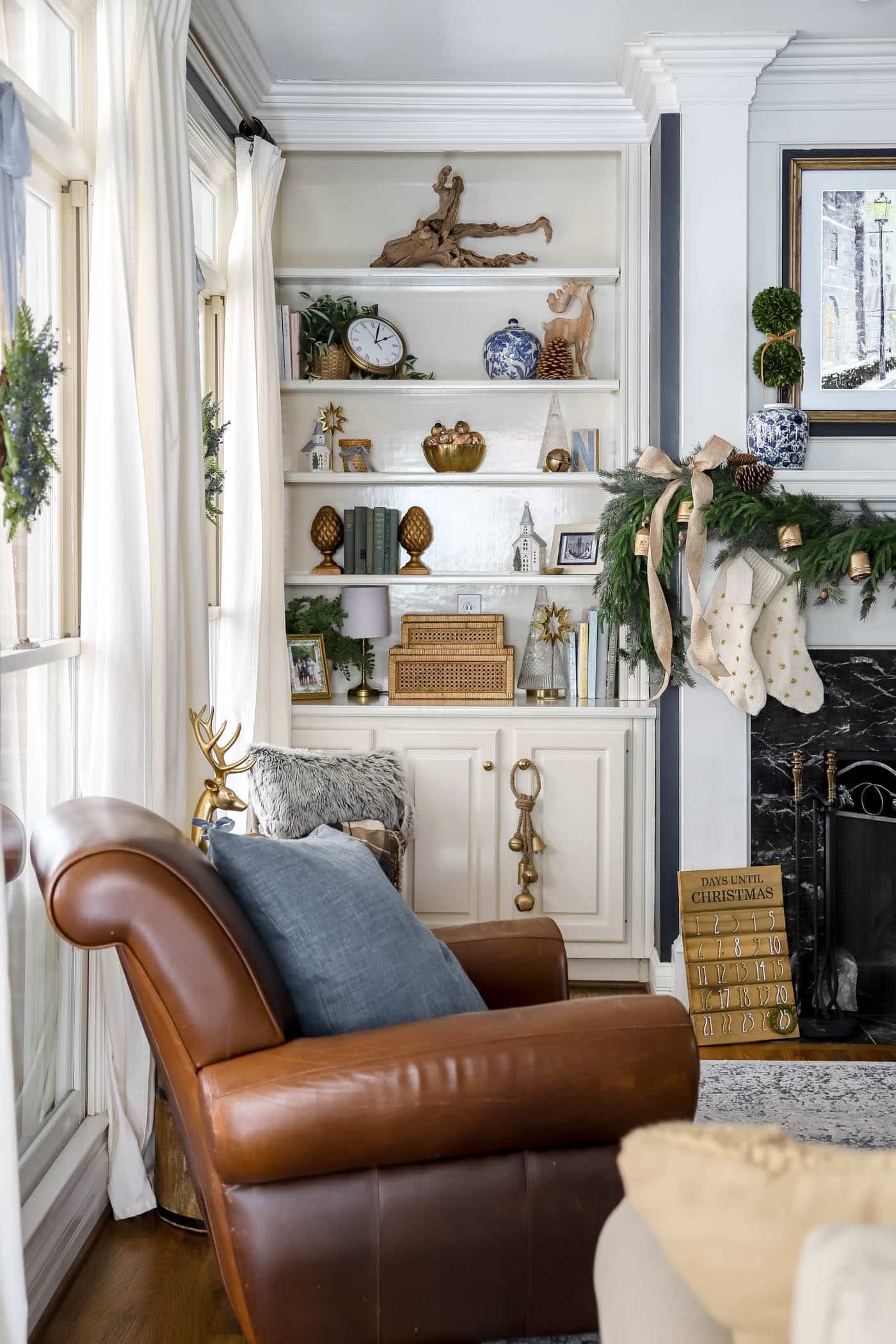 I found these cute blue, white and green winter church figurines at a small store in Atlanta while visiting family. They were perfect for my decor, and I plan to leave them out all winter! I wish I had a link, but couldn't find them online.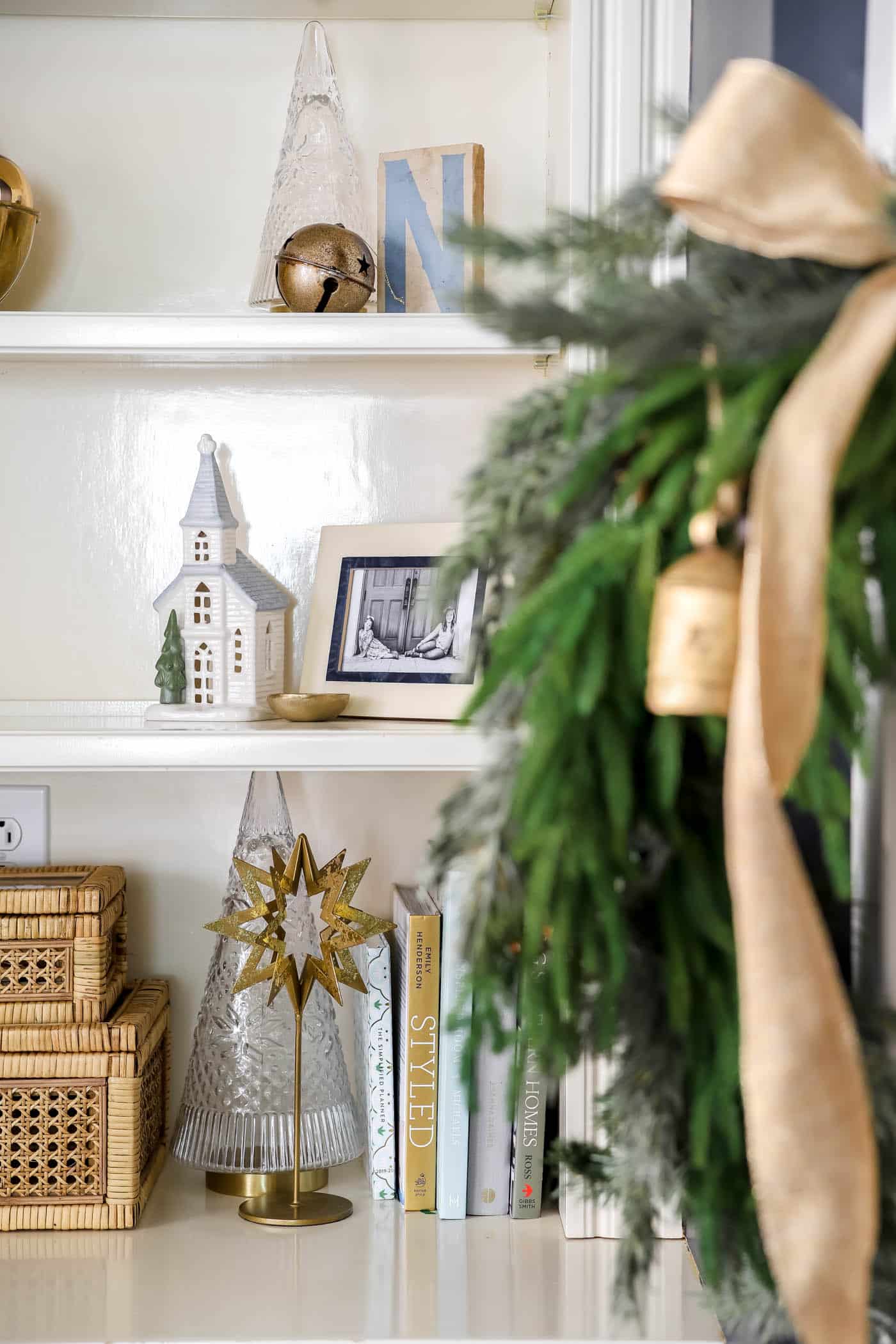 I couldn't help but frame our Christmas card this year, too! Our colors and the Christmas card matches my blue and white Christmas decor so well!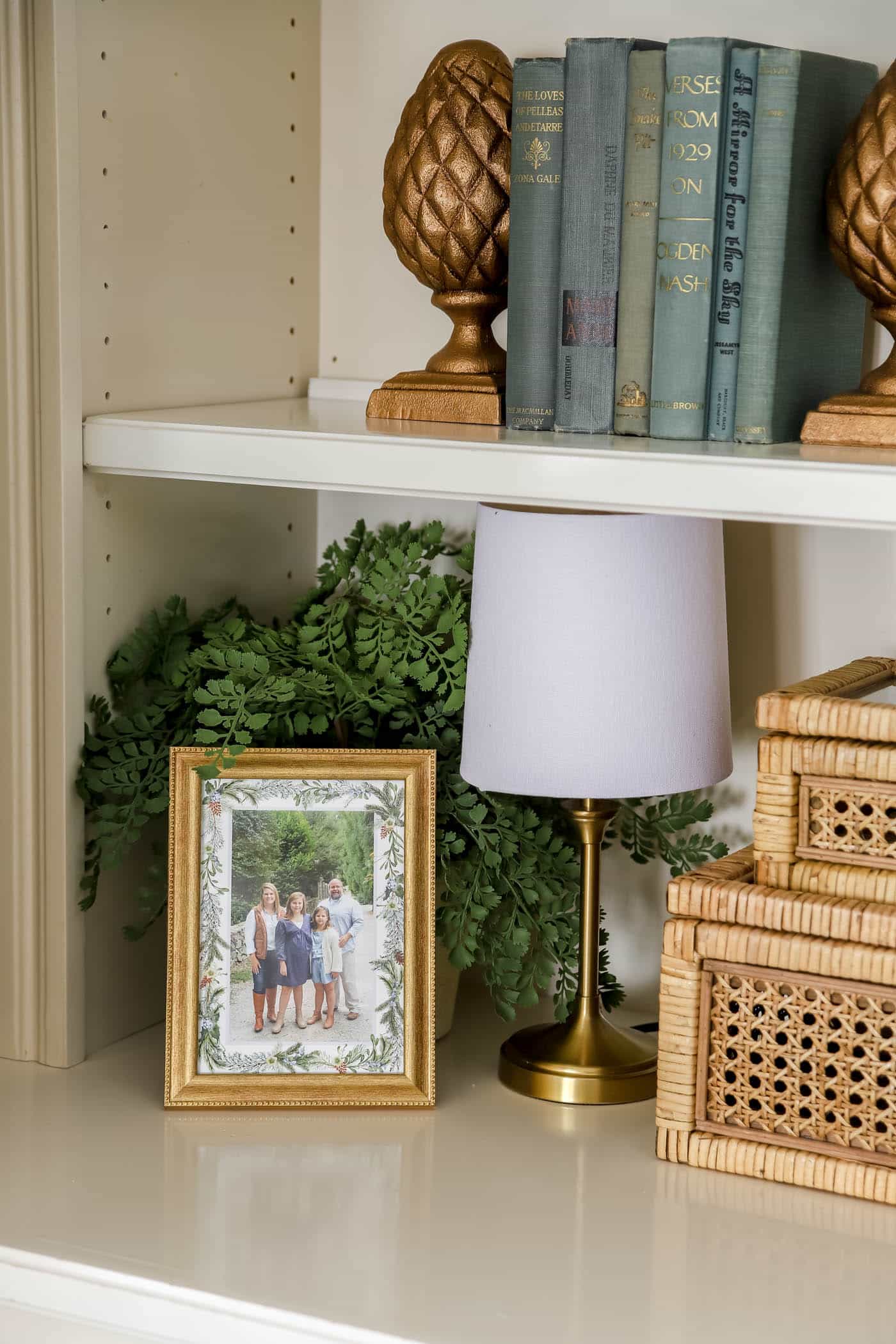 Also, for the first time ever, I added mini juniper wreaths with blue chiffon ribbon to the windows in the living room. The one whole wall is windows, so it adds some festive decor to the otherwise plain windows.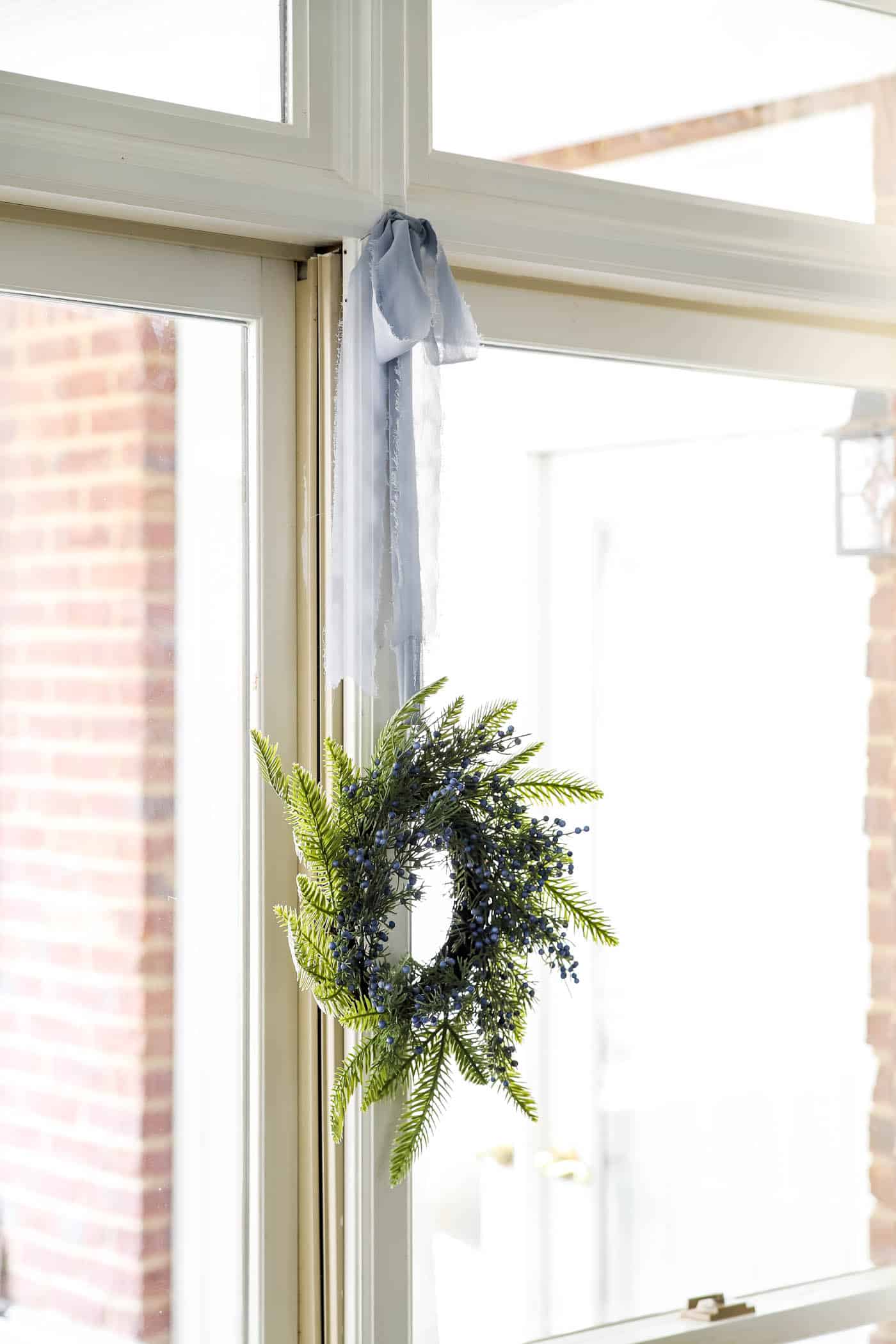 Final Thoughts
I think that about covers the whole living room! I'm so happy with how it looks and I'm glad it's done so we have the whole season to enjoy it. If there's a link I missed in the tour, feel free to ask in the comments below.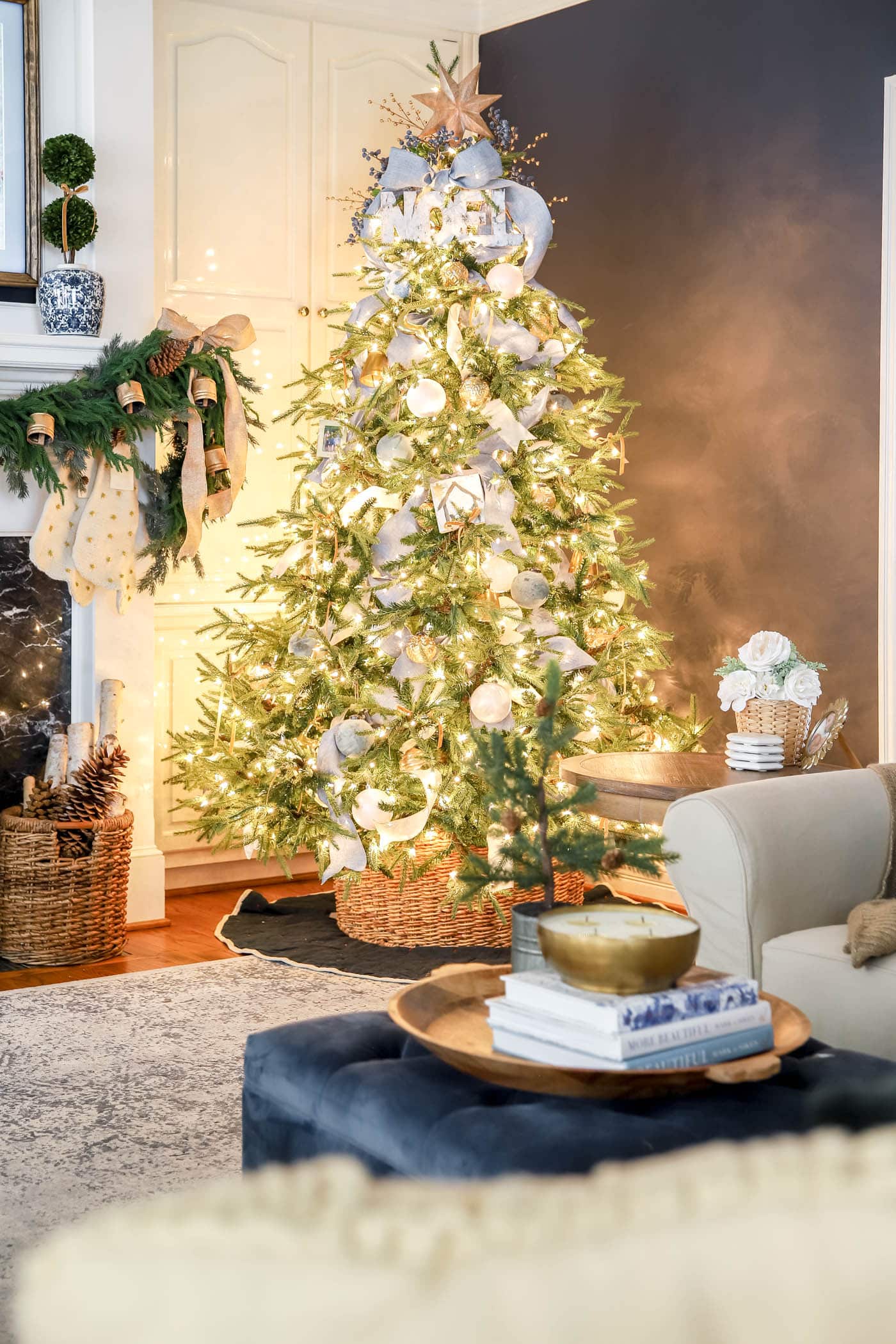 My kids will now put all of our sentimental ornaments on the tree, on top of the "fancy" decorations. So don't worry! We get to have that kind of tree too.
I just wanted to share the tree in its fancy state before we filled it with all of the others. Maybe I'll share a picture of it later!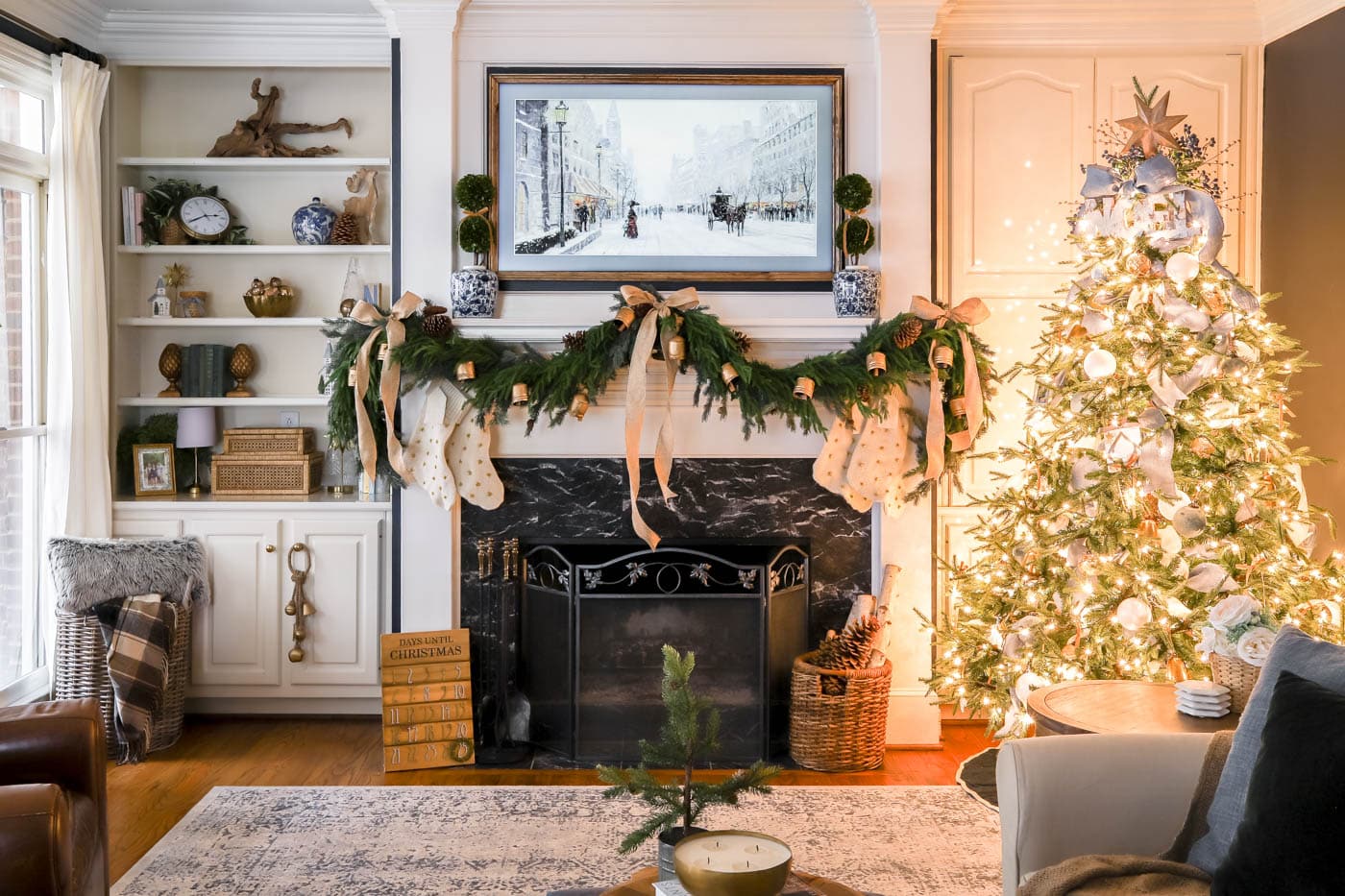 Thank you for stopping by! I hope you enjoyed the tour. I'll be sharing more rooms as I get them decorated.
But I've shared before about my Christmas kitchen and Christmas bedrooms. They won't look much different this year, so check out those older posts to get inspiration for those rooms!
More Posts You Will Love: