One can dream so much better in a room where there are pretty things.

– L.M. Montgomery, Anne of Green Gables
It's a slow process getting this nursery finished. I tell you the truth: it's easier to keep my house clean with a preschooler than to do DIY projects around a baby's nap time. Whew!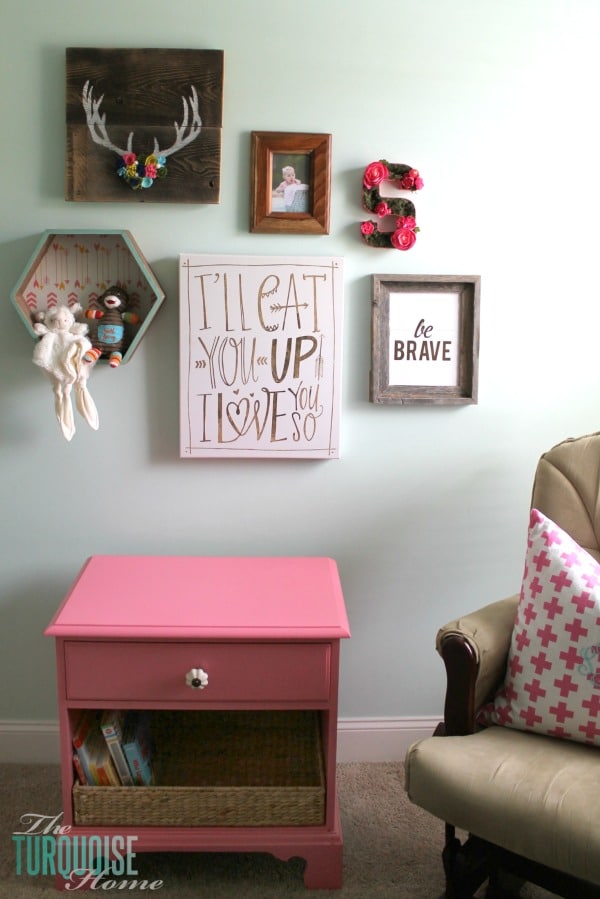 But I finally finished her gallery wall, really it's just a collection of some pretty things I found that I love. And I feel like it continues the theme of her woodland nursery.
Some of these items were in the original design board and I fell in love with them probably almost a year ago when I was planning this room. They've been sitting in the closet for a long time now, patiently waiting for me to hang them on the wall.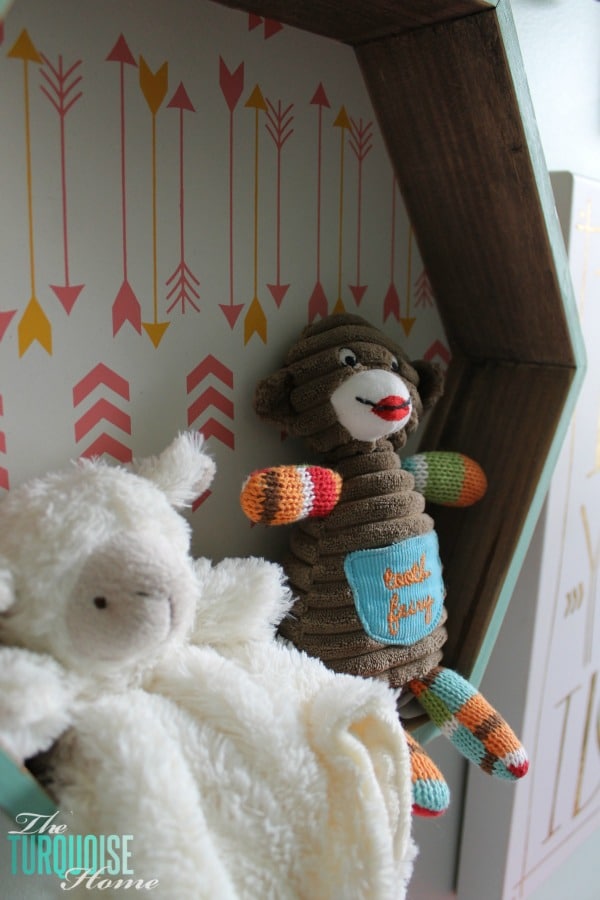 The biggest hold up was that I had collected a few things, but it just needed something more. When I put everything on the floor to figure out placement, I felt like it was missing something.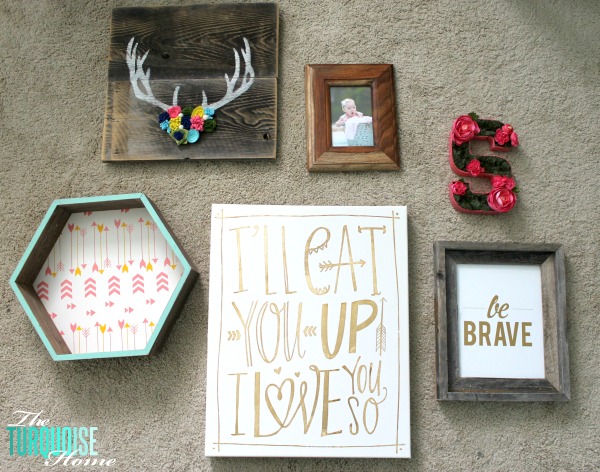 So, I made the sweet little moss and flower initial to round out the collection. Tutorial coming soon! (You may be wondering what "S" stands for since I call her "Baby G." It's her first initial, since "G" stand for "girl." 🙂 )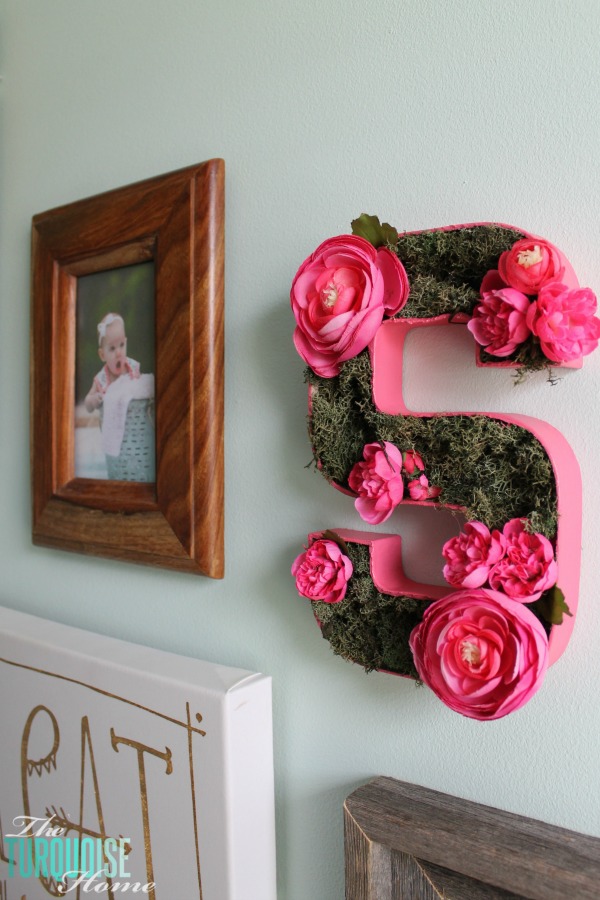 I also am glad to have Baby G's 5 month pictures back so that I could frame one on the wall. (I printed this on my home printer while I wait for the actual prints to come. Photo by Amanda Owens Photography.) I love her little expression in this one!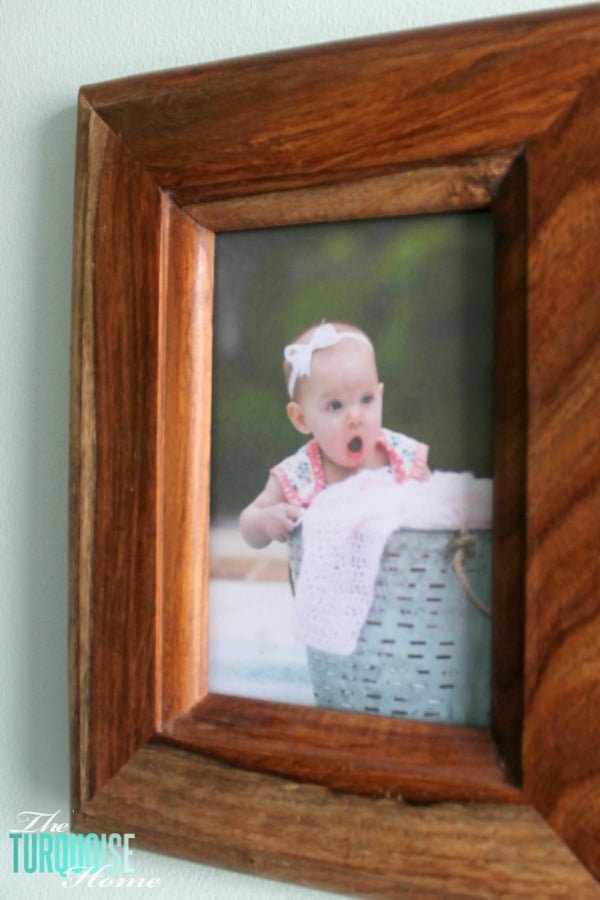 My sweet baby girl. I can't believe that she's almost 6 months old. Where has the time gone?!?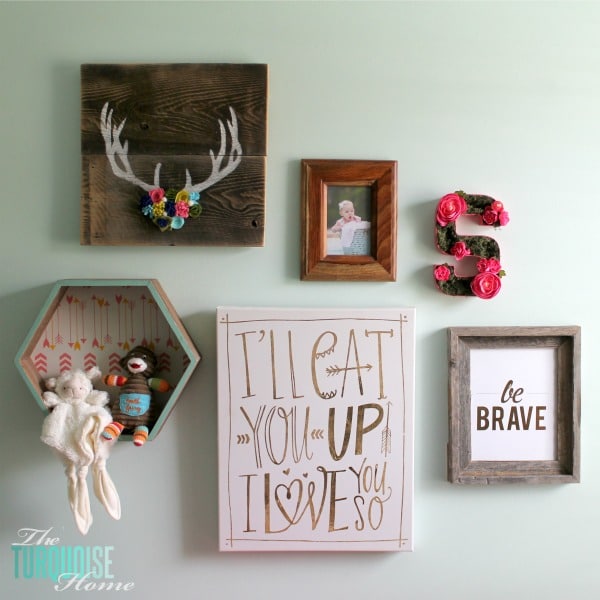 I purposefully don't show much more than the gallery wall. And I took things off of the night stand below.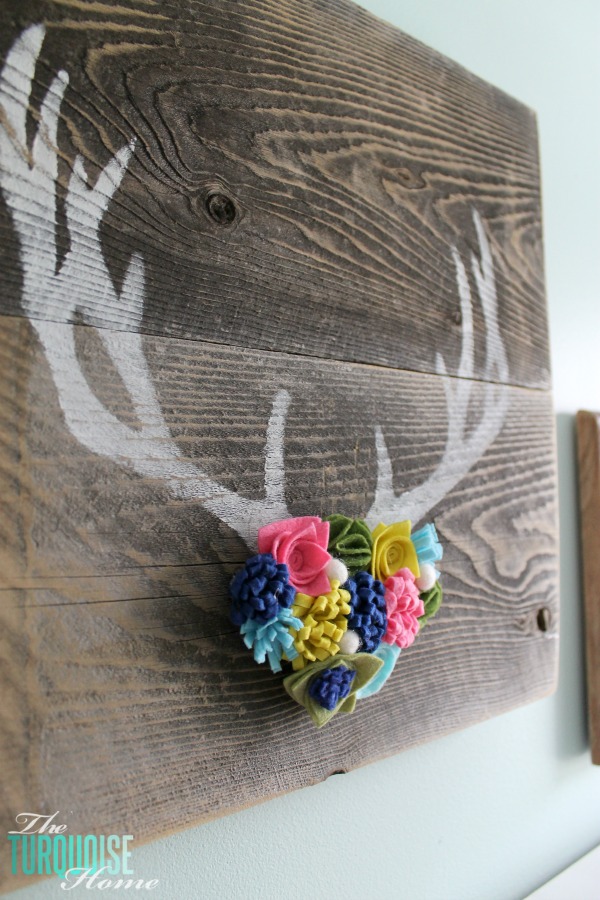 I'm not quite ready for the full room reveal, but it's coming soon. I have one more DIY project planned and then I'll be ready. I hope. Finger's crossed!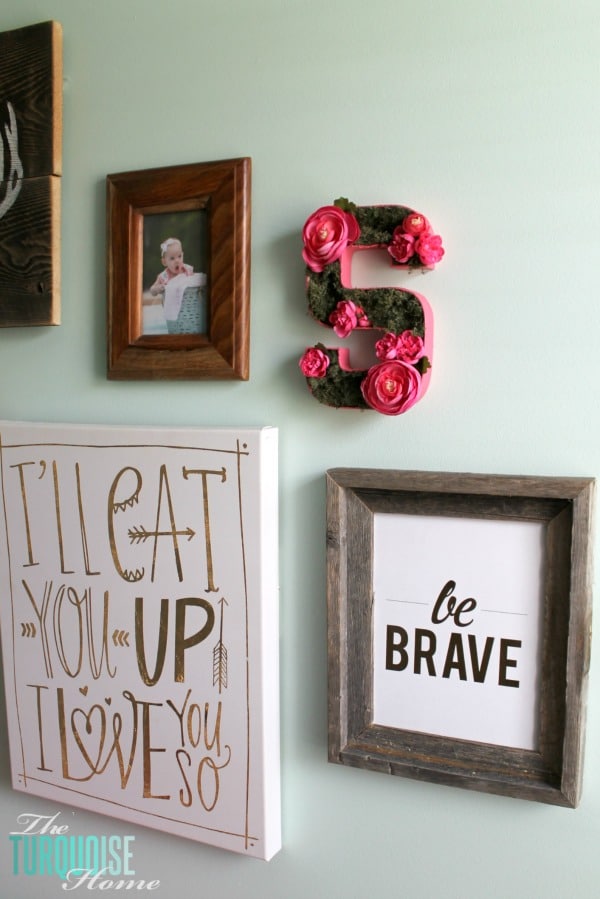 Sources:
I'll Eat You Up canvas – Hobby Lobby
Be Brave print – Etsy: CharmAndGumption
Wooden Antler Art with Felt Flowers – Etsy: Peabody & Sassafras
Hexagon Shelf – Hobby Lobby
Moss and Flower Initial – DIY tutorial coming soon!
Here's hoping I can finish this room before she turns a year old!
Don't miss out on the behind-the-scenes fun!
This post is sponsored by my YL. I love having natural options and these essential oils have helped my family tremendously in our pursuit of natural wellness. They are also my business and are so well-loved that they sponsor my blog!! Enroll by clicking here.
I'm giving away a special freebie this month when you enroll. Click the image for more info: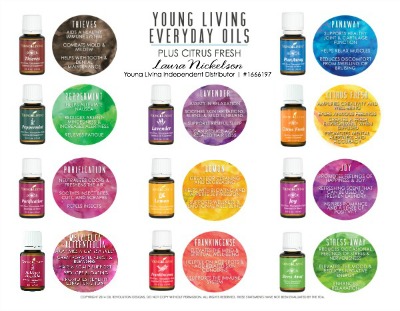 Disclosure: This post includes affiliate links, which does not mean you pay a penny more when purchasing through my link. It means that in helping you easily find some of my favorite products, I receive a small commission if you purchase. Thank you so much for supporting The Turquoise Home! {P.S. I only share products I truly love!}