Baby Girl's Woodland Nursery – Final Reveal!
After months of hard work, I'm sharing this baby girl woodland nursery with so many fun DIY elements!
Y'all! It's a big day around here!! The baby's woodland nursery is complete and she's only 7.5 months old. Haha! Yeah, so I shared this vision board 10 months ago and here we are with it completely done!
I hope this gives you a glimpse of what it's like for a real-time room makeover. I know that you see whole home makeovers take place on TV in 60 minutes. But in the real world with real life going on (including having a baby in the midst of it all) and living on a real budget, makeovers take much longer. And this was me being pretty focused on getting it done!
Here's the original jumping off point for the room.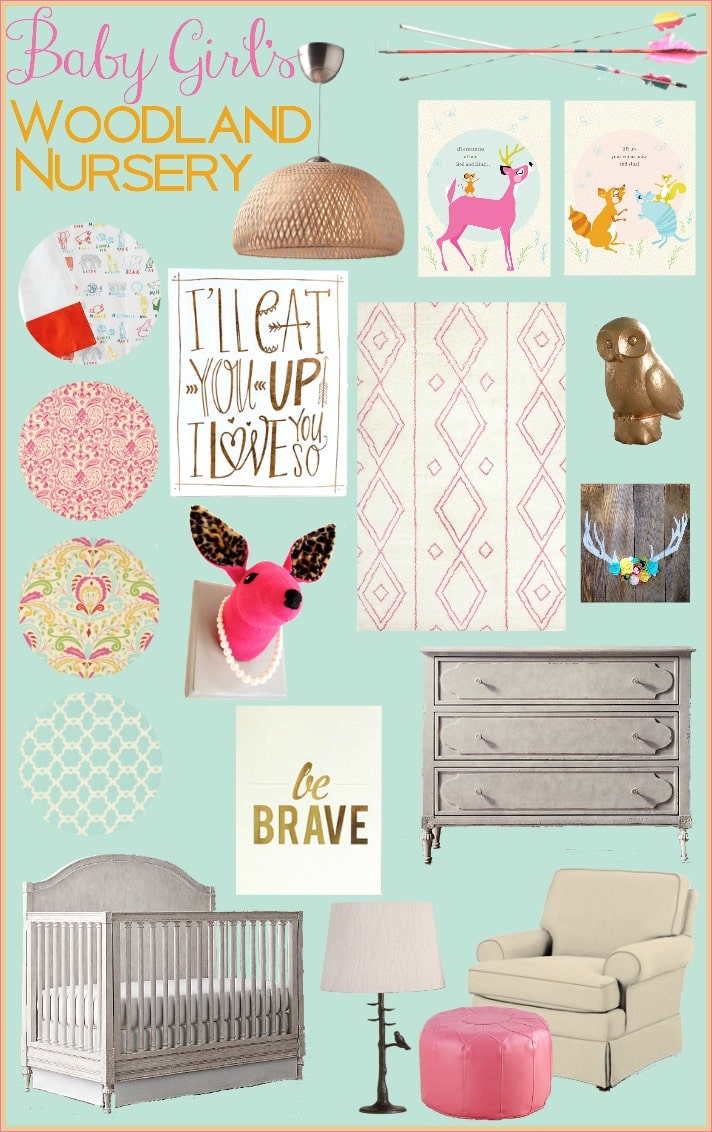 Side note: I highly recommend starting a room makeover with a vision board. It's made all of the difference in the world for me to finish. The rooms where I just start with a bunch of ideas in my mind, I quickly get distracted and forget where I'm going. But when I feel lost, I just go back to the board, see what else needs to be done and I'm back on track!
OK, so back to the vision. You'll see that some things are exactly like the inspiration, like most of the art for the room is exactly what I used. The furniture was only ever purely inspirational. I painted my existing crib and dresser gray instead of purchasing new items from Restoration Hardware. You know, just to save a penny or two. 🙂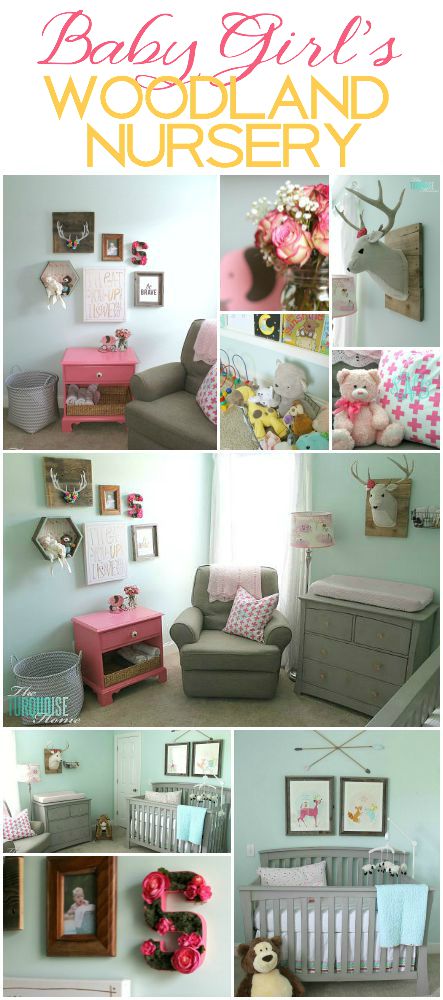 The fabrics are totally different, but that's because I'm the most indecisive fabric purchaser ever. I change my mind constantly. And so I purchased them on a whim, and love them! (See sources at the end of this post.)
OK, I'll stop talking so much and let you just enjoy the pictures. I tried to link up to all of the sources at the end, but let me know in the comments if I missed anything!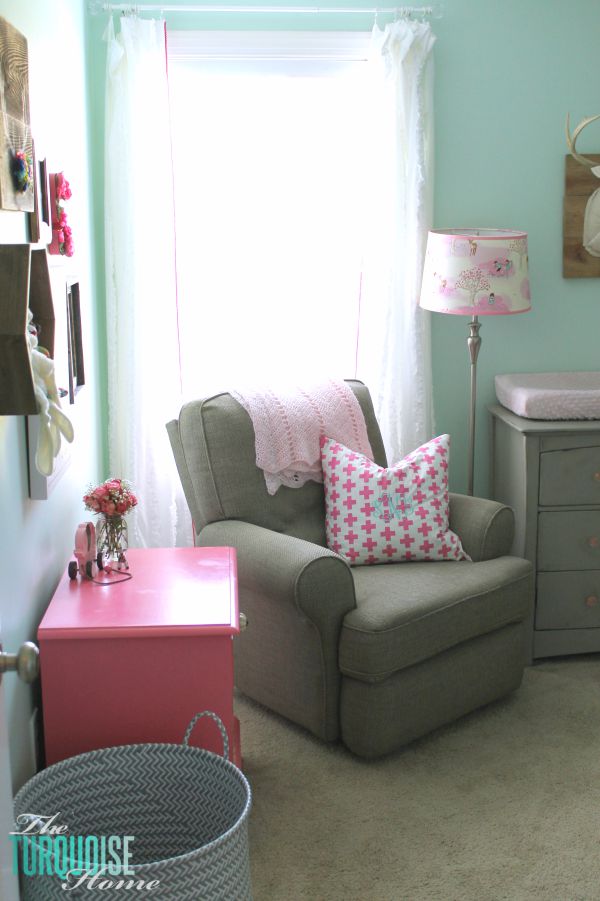 The sweet nursery curtains are so impractical, but I love them. I bought the curtains at Target and then embellished them with pink pom pom trim. Most of the time, though, I have a navy blanket over the window to keep it dark in there.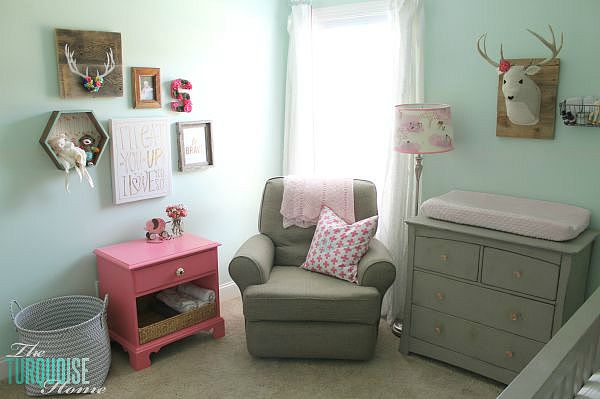 Like I said, I painted the dresser and the crib with Annie Sloan Chalk Paint and clear and dark wax. I made a custom color and I share that recipe in the posts. The sweet pink knobs are from Hobby Lobby.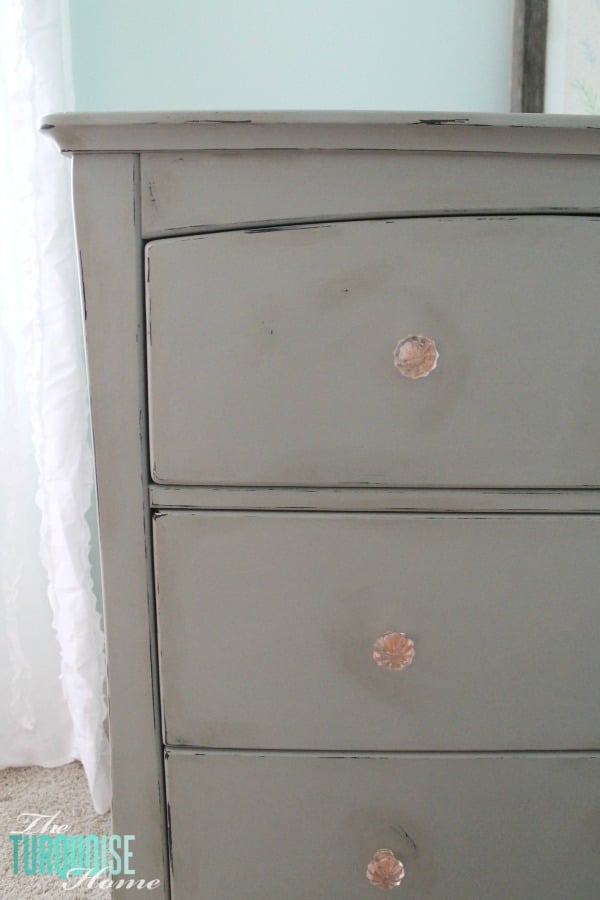 The custom lampshade and plush deer head were both DIY projects. The deer head was a true labor of love and was one of the first things I wanted in the room. Originally I was going to buy one, but thankfully found a pattern and tutorial that walked me through each step. The antlers are from a buck that my husband shot when we were first married. I know not everyone will think a dead animal's bones are sweet, but I do. 🙂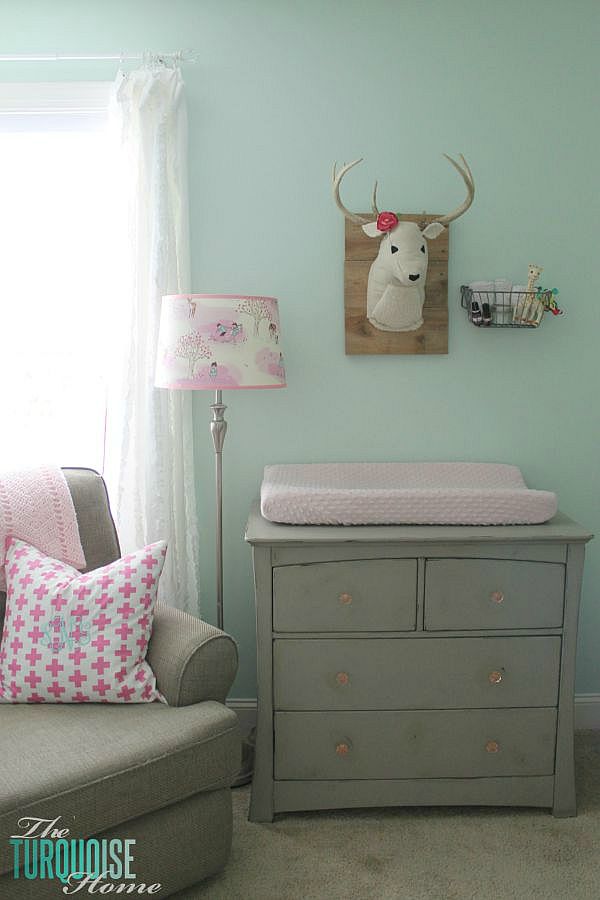 I put the little basket on the wall to hold things I need close by, but out of baby's reach: a toy for changing times, some essential oils, coconut oil, hair bows and some burp cloths. I used washers to attach it to the wall.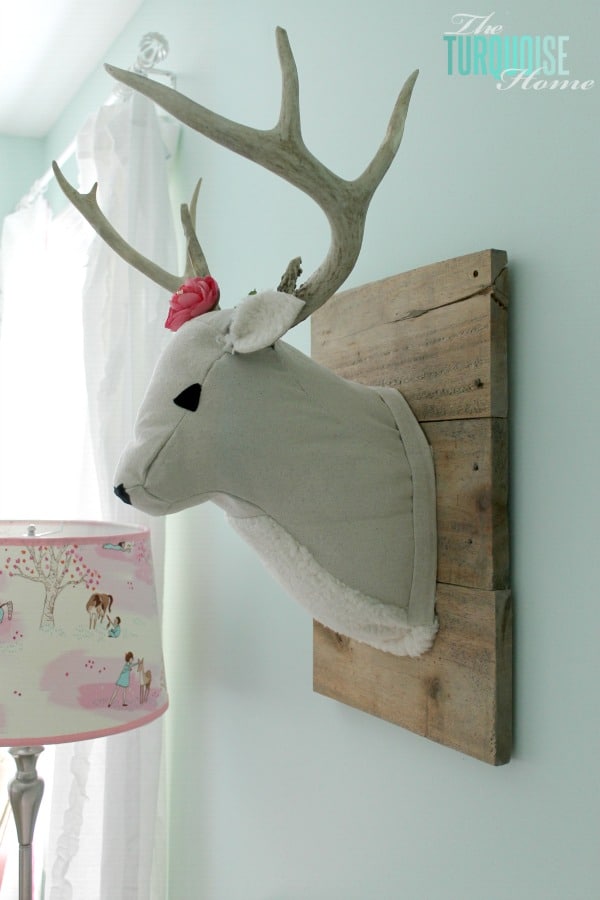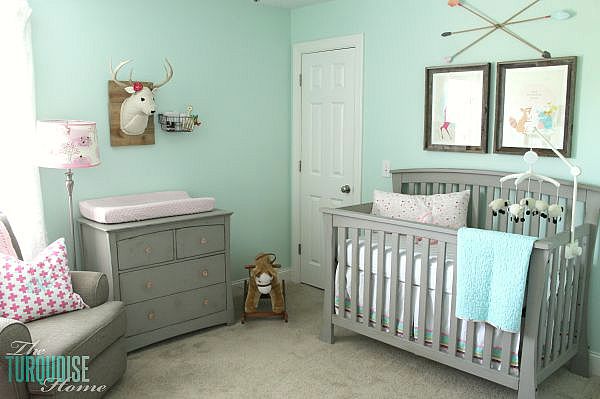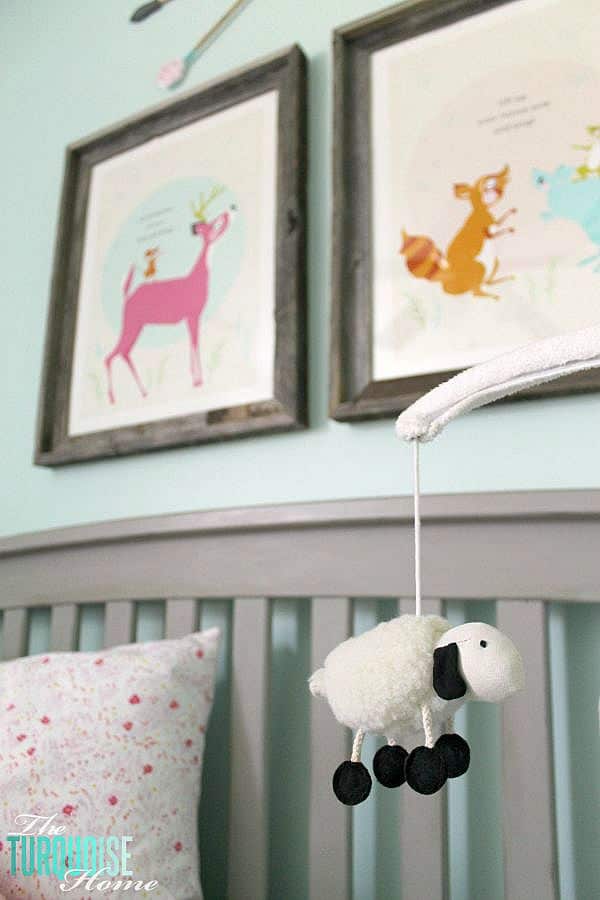 The sweet lamb mobile (similar) was a hand-me-down from Miss A's nursery. It's perfect for keeping them entertained in those first few months.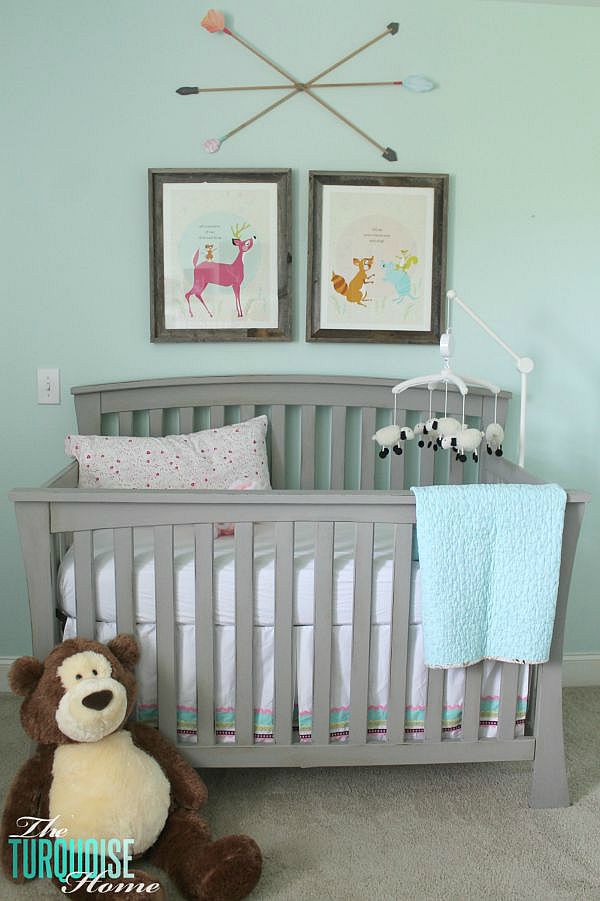 I made those arrow above the crib. Aren't they cute?!? Originally I wanted some from etsy, but they sold out before I could buy them. So, DIY it is. They were so inexpensive and I love them! I shared the tutorial HERE.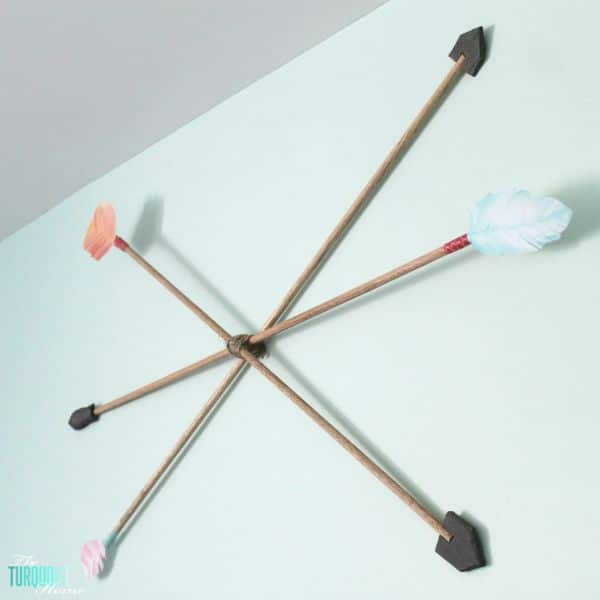 And then the chevron arrows and bookshelf ledges were also DIY projects. I love how that wall turned out!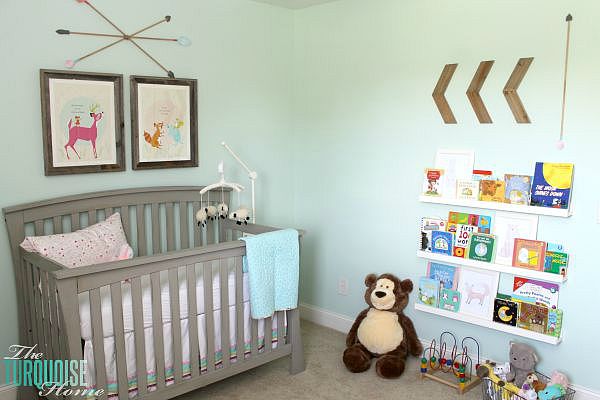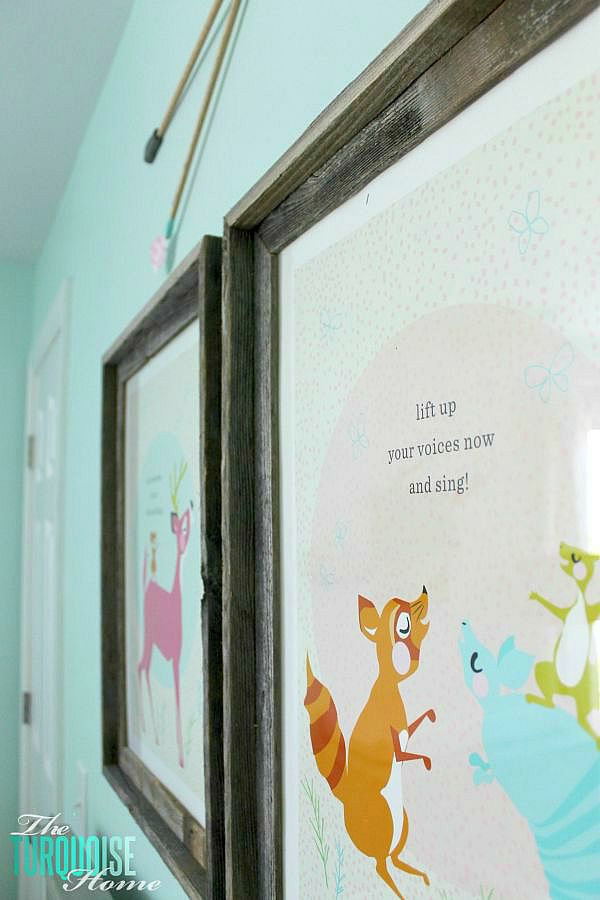 The prints above the crib were the starting point and color inspiration for the whole room vision. I just loved them the first time I saw them years ago. I'm so glad I now have a nursery that includes these sweet, singing creatures!
A girl can never have too many plush animals. Just ask my 4-year-old. I think she hoards them.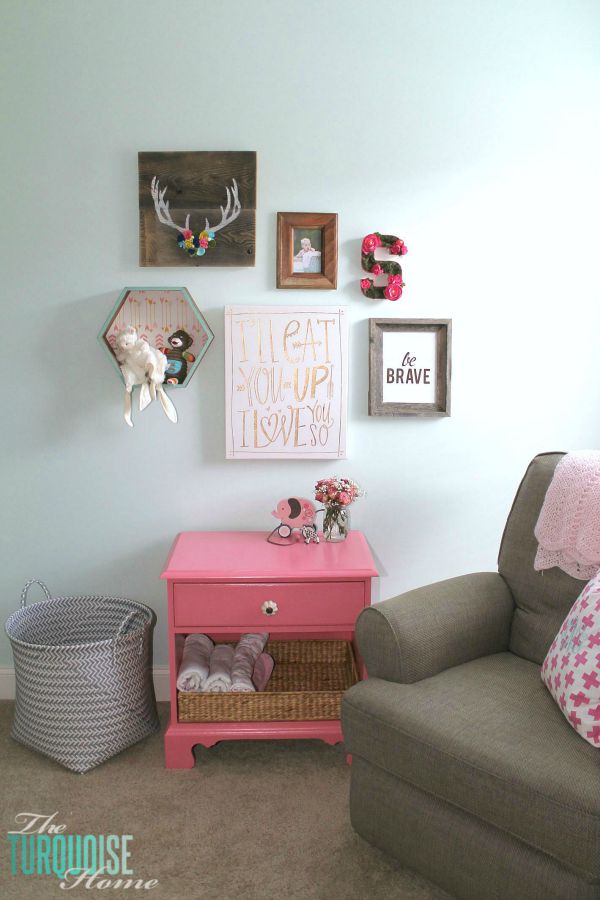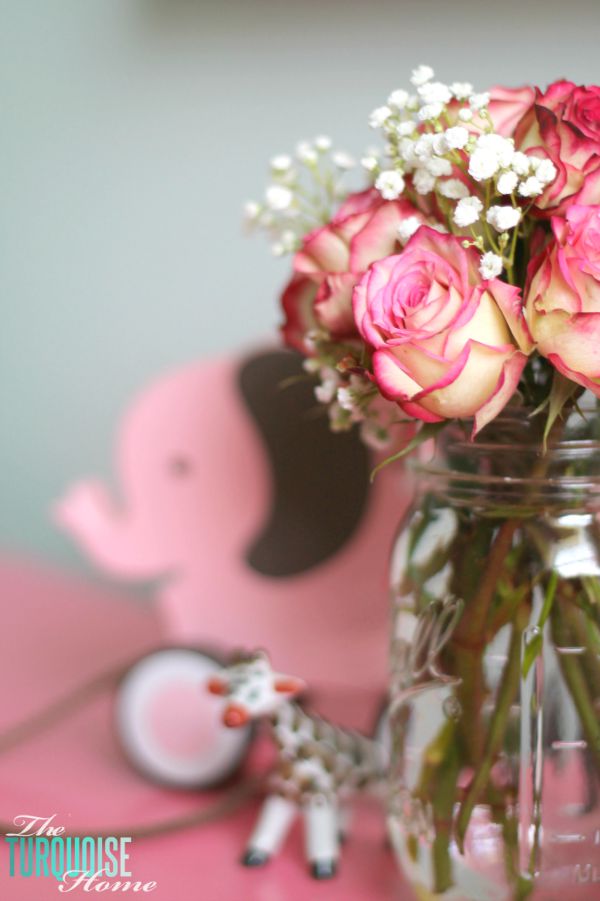 The gallery wall is one of my favorite spots in the room. I really love how this moss and flower letter turned out. And "be brave" tends to be a theme around this house. I'm thinking of putting a DIY "be brave" version in Miss A's room. Do you think that would be too much? I hope not!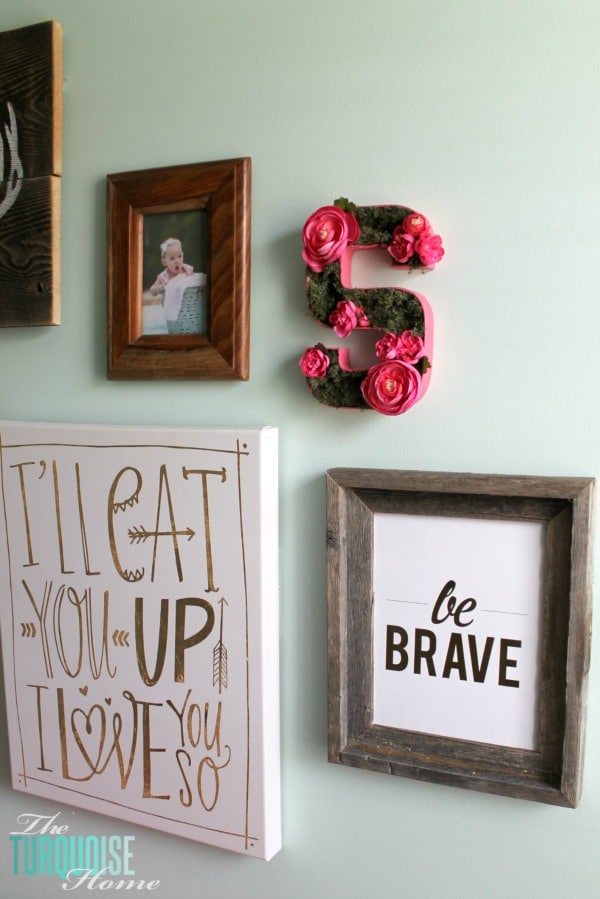 My sweet friend Emily sewed me the two pillows in the room from some fabric I bought. I love this monogram in turquoise. The pink crocheted blanket on the back of the chair was a gift from my grandmother when Miss A was born. She crocheted two pink blankets for me. And I love that each of my girls has one. She passed away two years ago, so she never got to meet Baby G.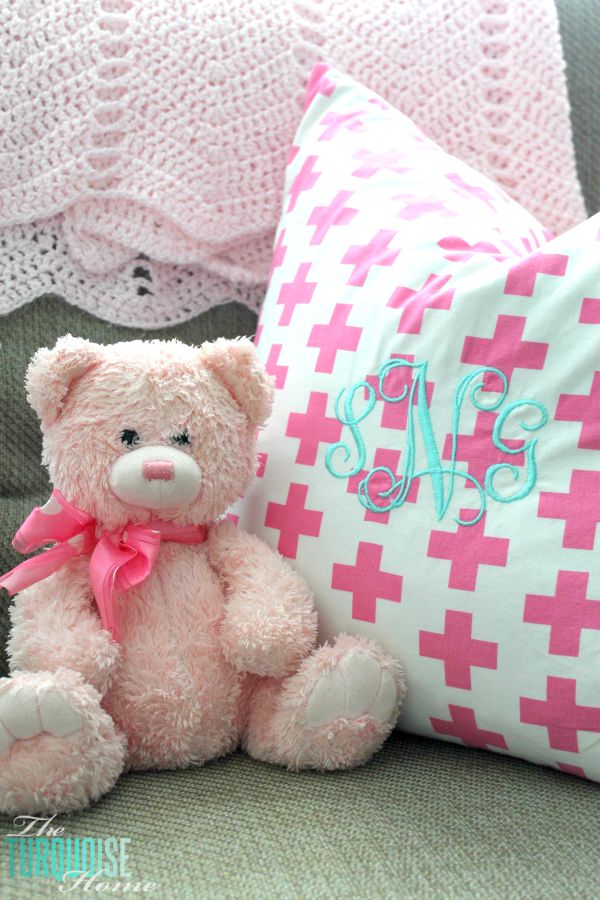 Whew y'all! It's such a relief that this room is finally done. My biggest piece of advice after doing this room is get your nursery done well in advance of your due date! I thought a couple of months would be enough time, but being at the end of my pregnancy made it difficult to crank out the work. And then when the baby was here, it was next to impossible to find time to work on it. So, get it done early!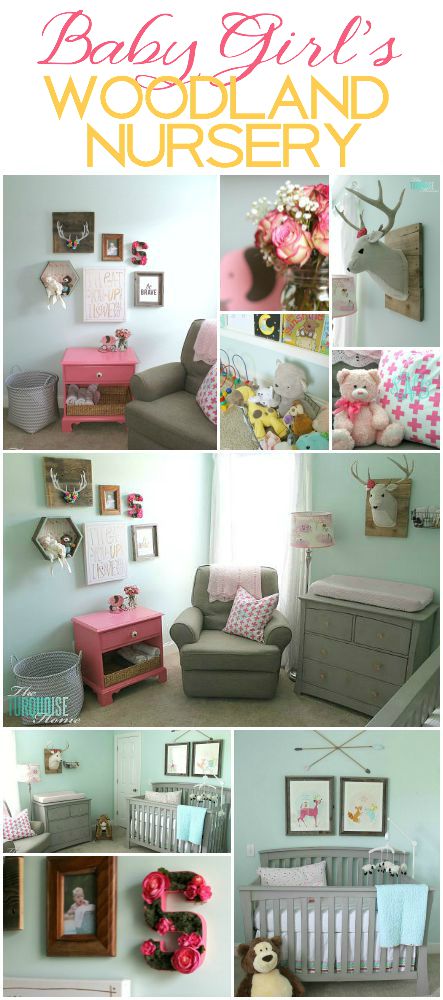 If you're paying close attention, you may have noticed that something is missing from my final reveal. I made a rug for this room, but ultimately decided that it wasn't working. I think it would be better on hardwood with a rug pad underneath. With it laying over carpet, it just got bunched up all the time. I think a traditional rug layered over carpet can be really cute, but it's not in the budget right now.
OK, so what do you think? If you want to see a video of me walking through the room, check out my periscope video on YouTube. It'll seem like I'm talking to random people, but it's the comments from periscope. They just don't show up on YouTube. 🙂
Sources:
Fabrics: pink swiss cross, wee wander woods – petal, wee wander meandering – petal (this one has little footprints on it – so cute!)
Gray and white basket – Target
Rocker/recliner – Tryp Best Chair (I LOVE this thing)
Lamb mobile – Pottery Barn Kids (the exact one is discontinued, but here's a similar one)
Creature prints above crib – Lay Baby Lay (Deer and Armadillo)
Be Brave print – CharmAndGumption Etsy shop
Moss & flower initial – DIY tutorial
Hexagon shelf – Hobby Lobby
I'll Eat You Up canvas – Hobby Lobby
Pink night stand – DIY tutorial
Arrows – DIY tutorial
Bookshelf ledges – DIY tutorial
Curtains with pom pom trim – DIY tutorial
Chevron arrows – DIY tutorial
Crib and Dresser makeovers
More Posts You Will Love: