Organize your playroom before the holiday season to save your sanity (and home) when all the new toys start flooding in over Christmas. These inspiring rooms are filled with excellent and practical ideas that will work within any home.
The holidays are coming fast and furious. That's why we need to talk about how to declutter and organize the playroom before the holidays. Trust me, you're going to want to get organized ahead of time to save your sanity later.


I set aside time every October or November to do a major decluttering because the influx of stuff at Christmas can be stressful and overwhelming if you're not prepared. I also love to donate their old and unused toys so that other kids might have a Christmas gift that they will love!
Watching your kids frantically tear the paper off their gifts is fun for you and them. However, as you look around the room on Christmas morning and it's filled with paper, packages, and tons of TOYS, you may be wondering what to do with them all.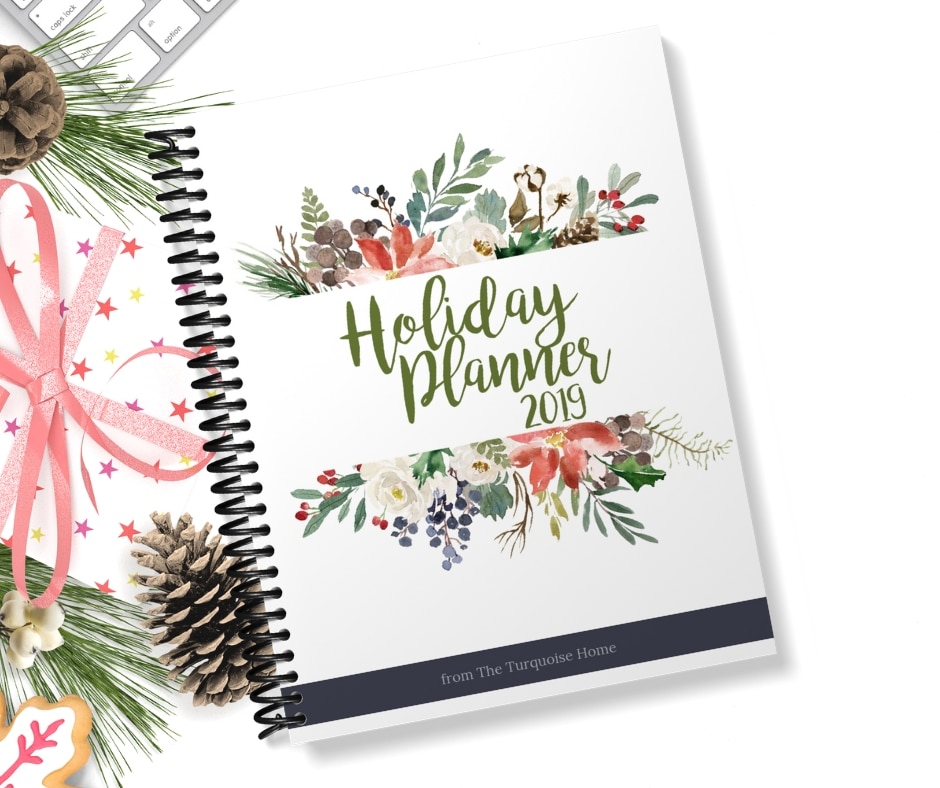 Grab the Ultimate Holiday Planner
Use code OHOLYNIGHT for $10 off!
Well, I have some easy ideas and storage solutions that will have your toy room in top shape before the holidays hit. Then you can easily add in all the new stuff and not lose your mind!
Organizing Ideas for a Playroom
Let's face it. When your home is cluttered and disorganized, it can cause unneeded stress. It's better to nip it in the bud before it becomes an issue.
Isn't it crazy how many toys that kids end up with? It's hard to get rid of them because we all worry that kids may want to play with them again.
Quick tip: I will sometimes put toys that my kids not longer play with in a large bin in a closet. If they don't ask for them in 6 months, I go ahead and donate them.
If you don't want to get rid of anything just yet, that's okay! Let's just get it organized with these inspiring ideas—you may be inspired enough to start boxing up older toys.
This post contains affiliate links for your convenience. See my full disclosure policy here.
Organize So It's Visually Appealing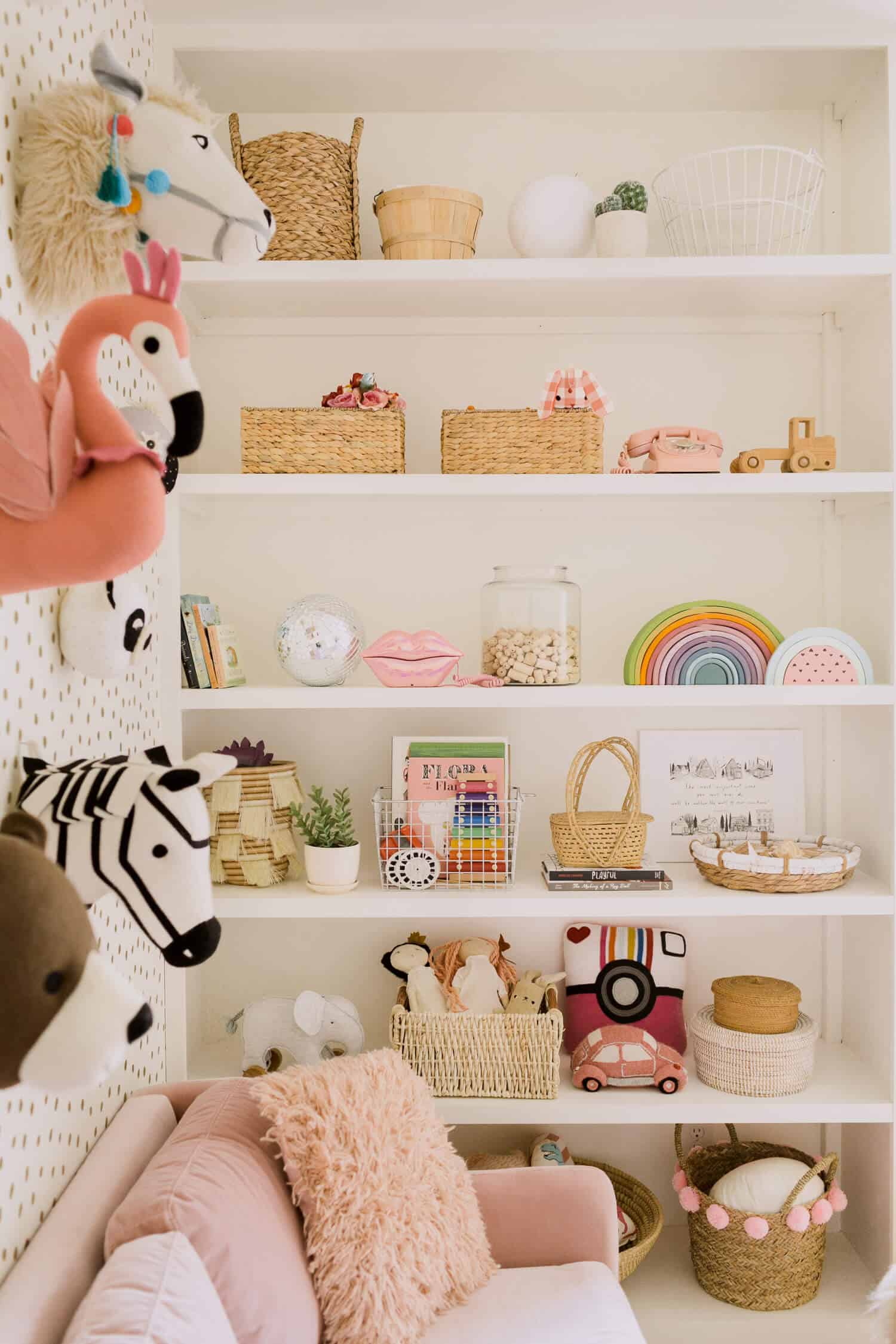 Elsie at A Beautiful Mess thought of everything when decorating and organizing the playroom. Shelving is a perfect way to display all sorts of toys while keeping them organized. Utilizing baskets are a pretty way to store items you don't want visible to everyone all the time.
This toy room has everything you could need to get your space in order. There is a comfy couch, an art table, and art supplies that are beautifully organized while on display.
Using plastic jars with lids and arranging everything, so it's color-coordinated, is visually appealing. Plus, it will help your kiddo know and understand where everything belongs.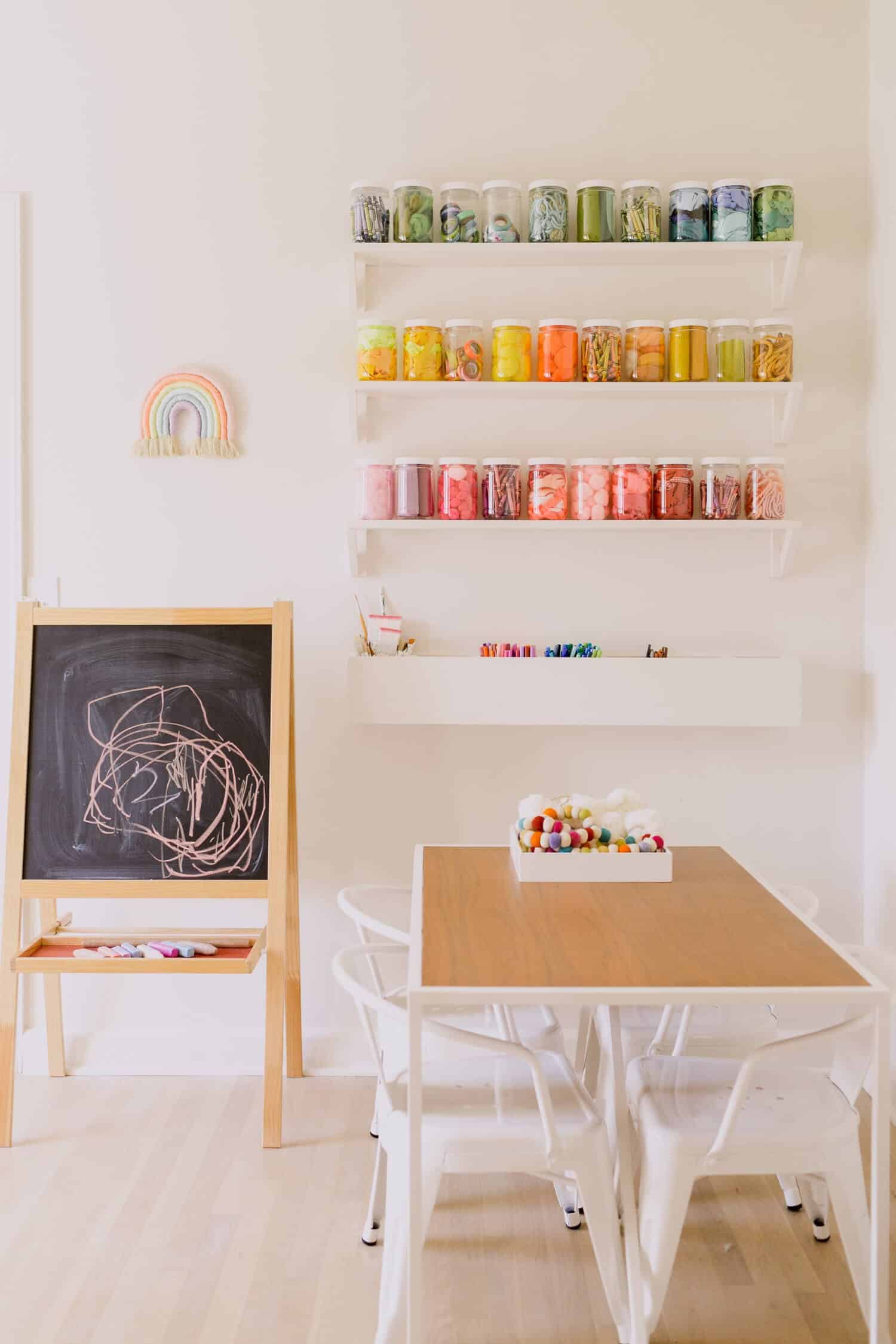 The only problem I see with this playroom is that your kids may want to be in there all the time instead of hanging out with you! Just kidding, but they will love it without a doubt. I kind of wish I had a room like this for myself!
Utilize Closet Space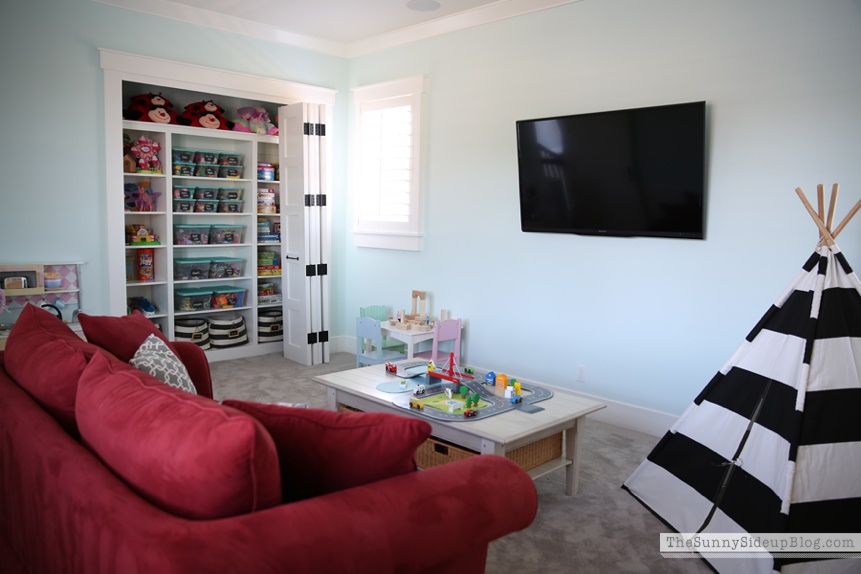 If you don't have a ton of space or if the playroom also doubles as a family room, you have to utilize every inch. To keep it organized, it's nice to have a system in place that makes it easy.
I love what Erin at Sunny Side Up did with her organized playroom. She took advantage of the large closet and used the shelving perfectly. Labeling plastic totes and baskets makes it simple for the kids to put everything back when they are done with it.
This room also has a chic play tent that can also house stuffed animals. The coffee table is a great place to play with cars, and extra toys can be stuck in baskets under the table. She made sure to use up all the space she had perfectly.
Simple Yet Organized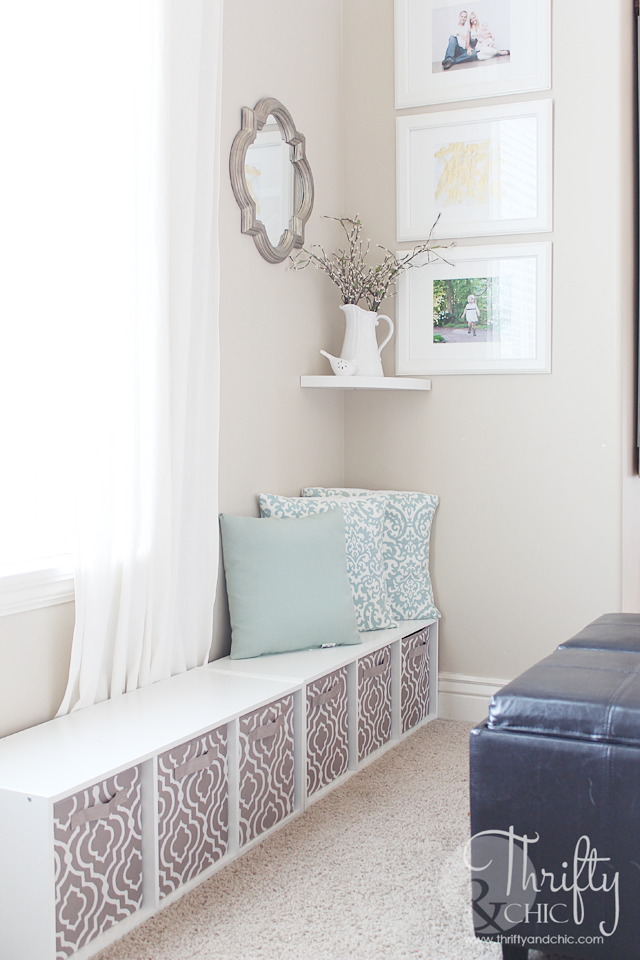 Alicia from Thrifty & Chic didn't have a room that could be a toy room on its own. So she made the best of it and added shelving right to her living room to create a mini playroom space.
If you didn't know it's there, you would have no idea that this is also the kid's play area. Decluttering made a significant impact on the space too.
Using shelving that can also double as seating is a fabulous idea! Adding in the subtle, neutral color for the fabric bins was a pleasant touch that's eye-catching.
So, don't worry if you don't have an actual playroom. This is a wonderful alternative that will keep everyone happy, and you'll have much less stress.
Infuse Your Organized Playroom With Farmhouse Style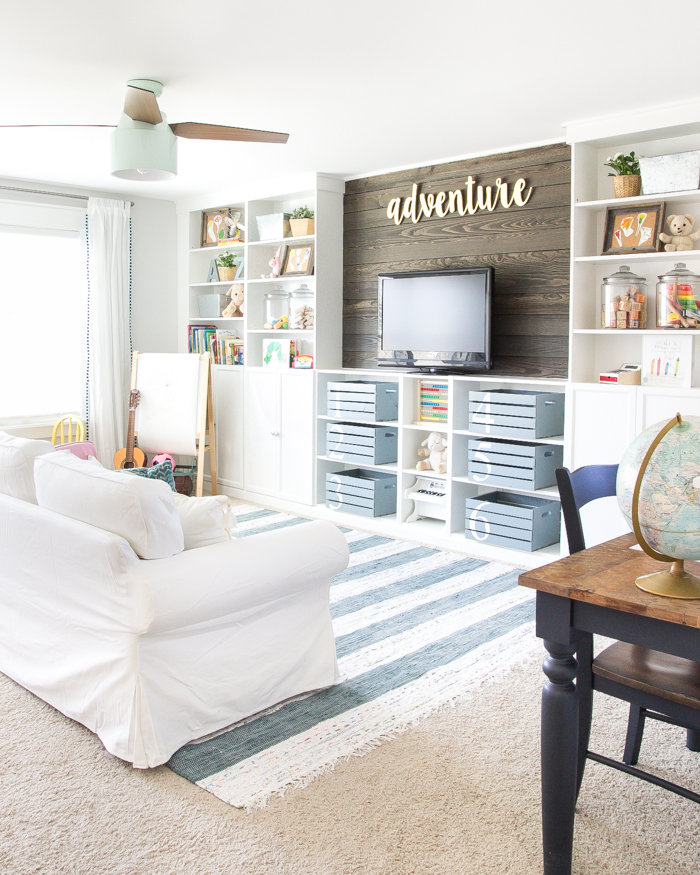 Decluttering the playroom can also be a great time to add some farmhouse decorations in there too! You can make it a space that anyone in the family wants to hang out even if they don't play with toys. This room is so inviting and full of charm.
The wooden crates under the television are each numbered, which makes it easy to stay organized. Lauren at Bless'er House added glass jars to the shelving to organize and declutter.
There is a station for art projects, and she even used some of the art as framed decorations for the room. It turned out lovely!
Use Shelving For Large Bulky Toys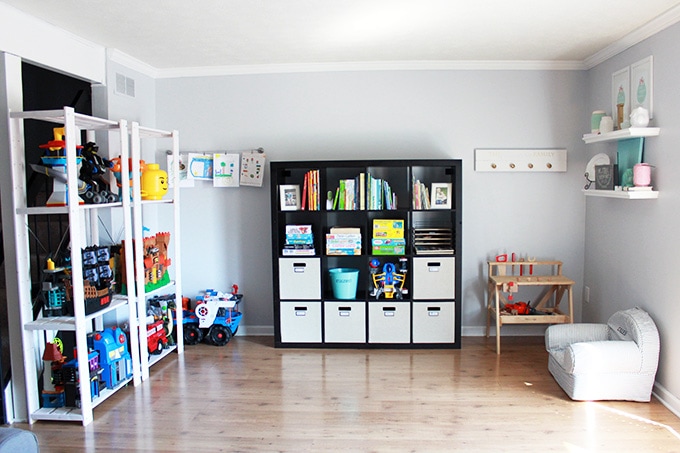 Abby Lawson knew she had a lot of large, awkward toys to organize. Using open shelving was the perfect touch to the playroom. She decluttered by adding a large shelving unit with lots of baskets for some organization. She even thought of hanging artwork on the wall.
The result? A beautiful, organized playroom. The room is large enough that there is lots of space to play right on the floor. With everything organized, it's easy to stay clutter-free and be ready to add in all those new Christmas gifts.
Organize Books in the Playroom With a Reading Nook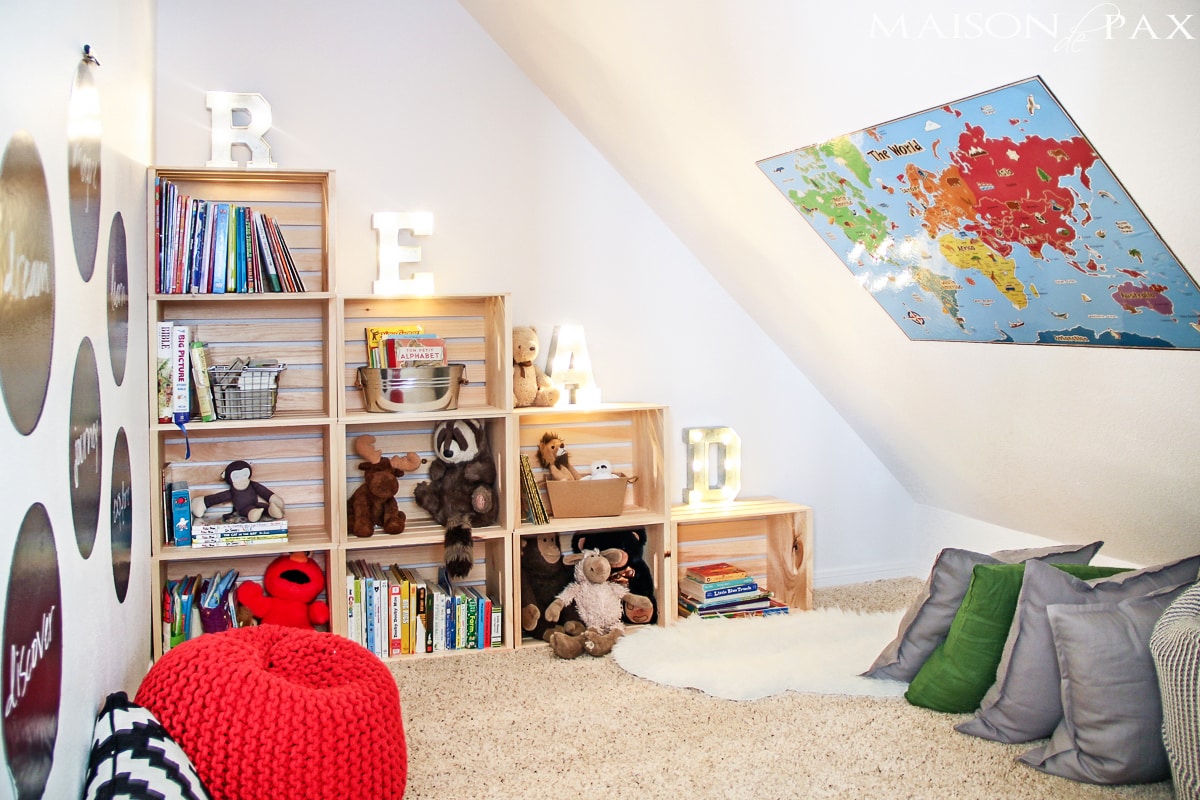 Books can overtake any toy room or playroom, especially if you have a little bookworm on your hands. You can find inexpensive wooden crates and use them to keep books easily organized. Adding some large comfy pillows will be inviting and encourage your kiddos to break out a book and enjoy a story or two.
Rachel at Maison de Pax thought of everything for this space. There is still room to add those extra books and toys that are received for Christmas. Adding simple touches like a map on the wall or some chalkboard circles go a long way with being organized too.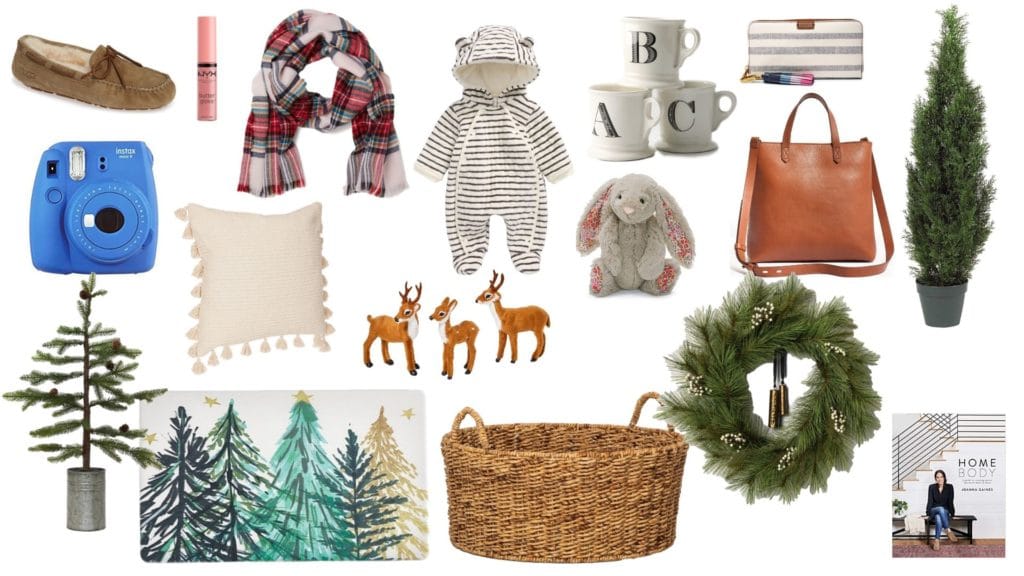 Shop Gift Guides for Everyone
& My Christmas Decor Shop
How to Declutter a Playroom
If you haven't sorted through toys yet, you may feel like the images above are impossible to obtain. However, with a little pre-work, you can have the organized, decluttered playspace of your dreams. Here is how to tackle it.
Gather all the toys your kids own and get them in one single space. It'll probably look pretty scary, but this is a crucial first step.
Grab a couple of boxes and label them. One should be for donations and another for storage. Plus, make sure to have a trash bag on hand for broken or damaged toys.
Start combing through toys. Look at the pile and see what you can immediately trash or donate, then toss accordingly.
If you have toys that are sentimental or you want to keep for a potential future child or cousin, put them in the storage box.
Once you are left with toys you want to keep, take the pile and divide it into two. Store half in a hall closet or somewhere that is accessible but not out in the open. The other half can go back into your playspace.
In three months, switch toys. Put the ones that have been out up in the closet, and the ones that were stored out to play with. This will keep your playroom decluttered and your children interested.
See, that wasn't so bad! Decluttering doesn't have to cost you tons of money. It just takes a little bit of inspiration and time. I hope you feel confident about how to declutter the playroom before the holidays. You've got this, mama!
MORE POSTS YOU WILL LOVE:
Get Instant Access to my Guide to Customize Your Home on a Budget
Grab your FREE guide for 10 Ways to Customize Your Home on a Budget: simple projects to transform your home from builder beige to a home with character and charm!