5 Smart Kitchen Organization Tips
Welcome to Day 12 of the 30 Days to Less of a Hot Mess Challenge! We're decluttering, reorganizing and taking a breath of fresh air to create a home we love. If this is your first time at the challenge, you may want to start here at the beginning. Affiliate links used for your convenience.
**************************************************************
Today we're going to tackle the kitchen!
I've actually been pretty consistent over the years to declutter and clean out my kitchen. When I realize there's an appliance or gizmo that's been sitting in the back of a cabinet or drawer for a long time, I just put it in my on-going donations box.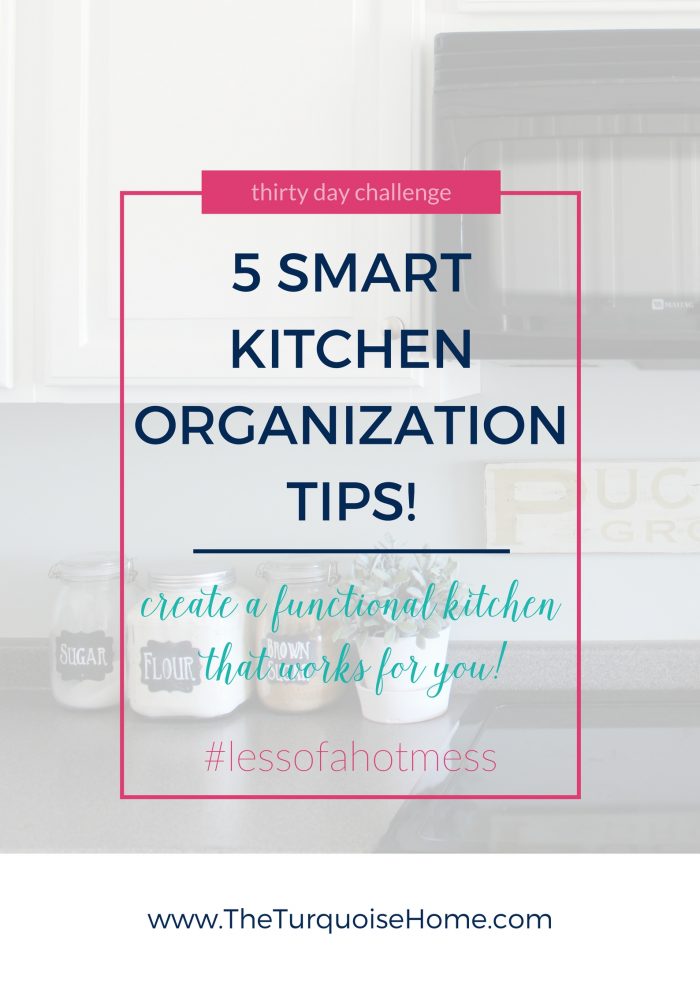 I've done the entire room declutter before and it has worked to keep things at a minimum. I've given away whole sets of glasses we got for our wedding, and sets of dishes too. Because truly? How many cups and plates does a family of 4 actually need?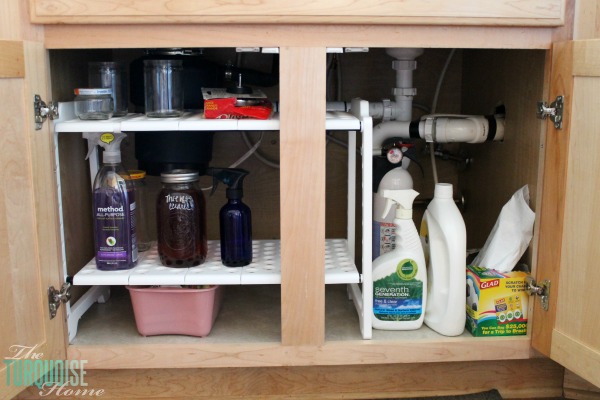 I also have gone through and thrown out pretty much everything under my kitchen sink. I posted about that and organizing my spice cabinet and foils and plastic wraps a few years ago. (click here) It's still in good, decluttered condition. I did end up getting rid of the organizational system I had under the sink, though. It just wasn't working for me.

So, I bought one of these tier organizers for the few cleaners I do keep under there and it works like a charm!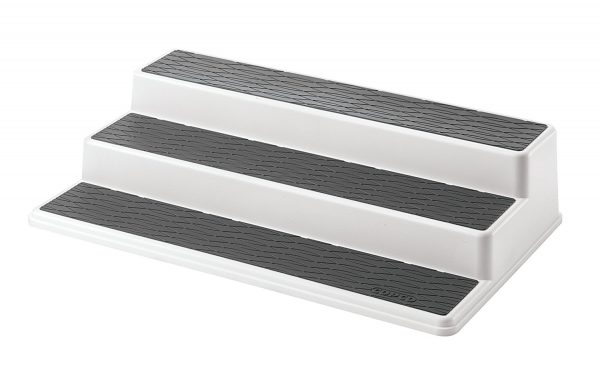 I can see everything at once and as long as something doesn't fall down behind it, it keeps everything in order.
Since the kitchen is the hub of the home, my biggest struggle is keeping the counters clear of every kind of randomness under the sun: random toys, homework papers, things my husband unloads from his pockets, random appliance boxes, pretty much anything that doesn't have a home ends up on my counter tops.
I've committed this year to keeping the counters cleaned off for good. I've added it to my Daily List of home cleaning chores. Every night before I go to bed I load the dishwasher and run it and wipe down the counters. So, now I will also clean off the top counter and wipe it down too. I cleaned mine off last night in less than 15 minutes and the difference is amazing! I don't know why I haven't been disciplined to make this a priority before?!
5 Smart Kitchen Organizational Tips
Create a functional kitchen that works for you!
Here are some things I do in my kitchen to keep it tidy and running smoothly.
1. Store cups and plates nearest the dishwasher, or where you will be serving with them. 
Ideally I would have a huge island in my kitchen with large drawers next to the dishwasher so that I could unload them in a hot second. But I don't.
I have an old fashioned kitchen with upper cabinets. LOL
The space near my dishwasher is pretty small, because it's sandwiched between then fridge and the sink. But on the one cabinet above the dishwasher we keep all of the cups. It makes the most sense because they have to be uploaded individually and it's right next to the fridge, perfect for getting drinks. My dishes are above and to the right of the stove. This makes sense because they can be stacked to unload from the dishwasher and this is where we serve our plates for dinner.
2. Keep a magnetic notepad on the side of the fridge to write down items as you run out of them.
It's easy to tear off the page and take it with you when you're making your grocery list. This has been a life-saver for my sanity and my marriage. Ha! I found my notepads at Amazon (here).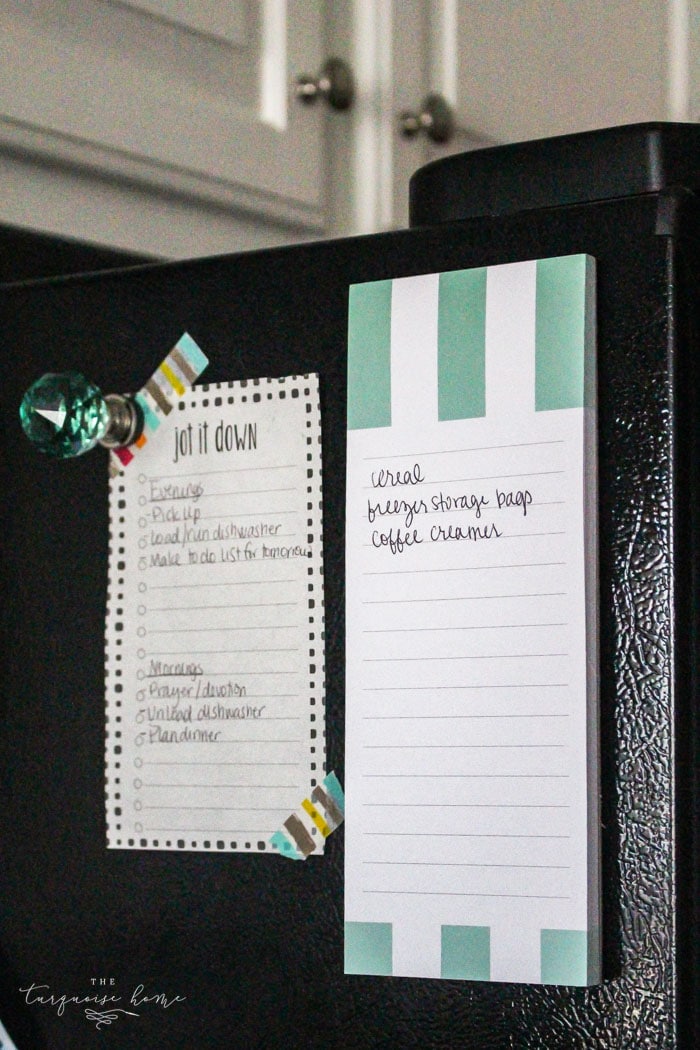 3. Decant your most used baking ingredients and label them clearly!
A few years back I put my sugar, flour and brown sugar in glass containers on my counter and labeled them with chalkboard labels. I wrote about them in this post about the importance of labels.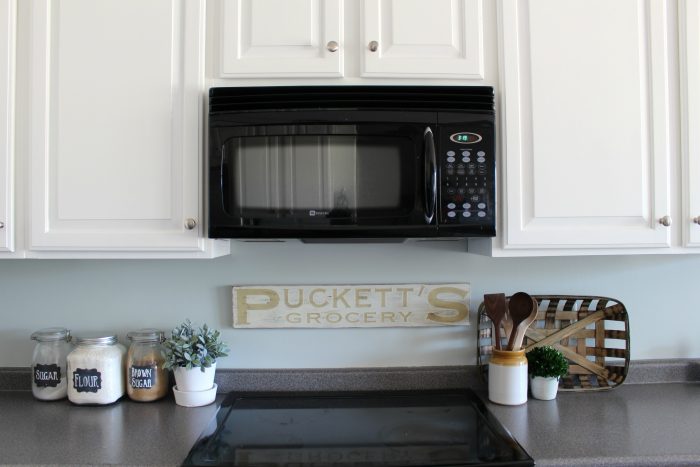 Is has make cooking so much easier as I can reach them quickly. I also think they looks kind of cute!
Similar Glass Containers – here, here, here and here
Chalkboard Labels – here or make your own with the Silhouette Cameo, like I did (post here)
4. Have one day of the week that you clean out your fridge. No excuses!
I grocery shop on Monday mornings, so I always clean out my fridge on Sunday evenings. This keeps old food from becoming a science experiment in the back of the fridge. And it makes space for my new groceries coming home the next morning.
I *try* to wipe down the shelves when I clean it out, but I probably do that every other time.
This one tip has really changed my fridge organization in the past year. I'm ramping it up right now with some storage bins that I'll be sharing soon, so stay tuned for more fridge, freezer and pantry organization!
5. Buy the stackable, easy-find-lid storage containers and your cabinets will thank you!
Also, you won't risk an avalanche of containers and lids every time you open the cabinets! I've used the plastic containers for years and have been switching over to glass in the past year. I love these things!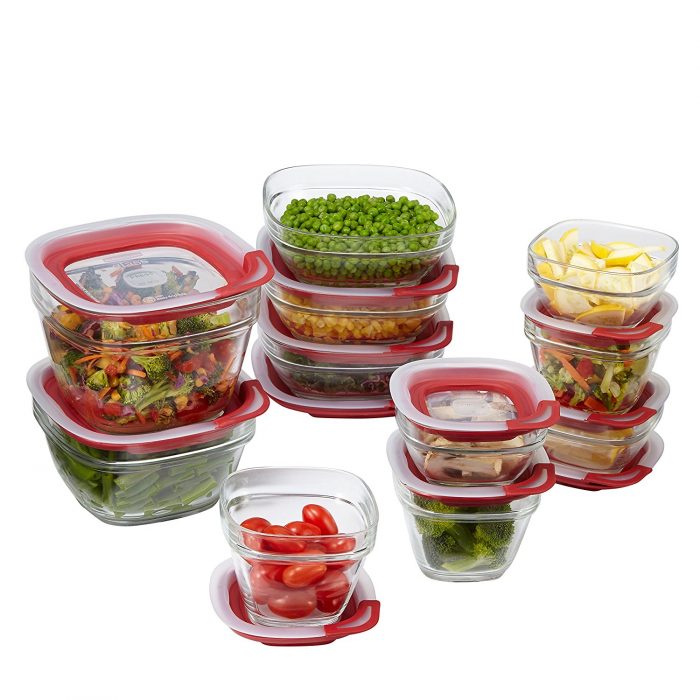 So, donate out your old mis-matched containers and get a set of the stackable containers. You will thank me later, I promise!
****************************************************************
I hope you can use one of those tips as they help me run a more organized home and kitchen!
Like I said, I'll be going more in depth about fridge and pantry organization very soon! It's a beast all by itself!
I'll also be sharing my meal planning tips and tricks. I've been perfecting my system for the past couple of years and it works, so I can't wait to share that tomorrow!
The Messy Work: Tackle a decluttering project today! First, take a box and remove everything from your kitchen counters that doesn't belong there. Then carry the box around the house and put these things where they do belong (or donate or trash them)! THEN, find your worst cabinet or drawer and declutter & organize it! Remove everything in it, decide what you love or use, put it back in an organized manner and donate or trash the rest! Ahhhh, so much better!!
In the mess with you, Laura