The Best Family Calendar Ideas
These family calendar ideas will help keep your family on track and on schedule while also serving as some serious eye candy. These calendar ideas give you the best of both worlds – form and function.
It's back to school season, and around our home, things are about to get really hectic. With a husband who coaches and teaches and two daughters, it is essential that we are all on the same (calendar) page when it comes to our day to day lives.


One of the best methods we've come up with for doing so is a family calendar. For some of you, your heart just started beating a little faster, while others may feel a little queasy. Don't worry—calendars really can be fun and I'll show you how! I'm kinda obsessed with them myself! 😉
How to Choose Family Calendar Ideas That Work for You
First you need to decide if you want a physical calendar that everybody can view on the fridge or in a designated command center. Or do you want a digital option that allows everyone to sync up on their phones and computers.
There are so many ways you can keep track of your family's schedule these days. From automatic syncing calendars, to voice apps, and day planners, there is truly a system for everyone.
While technology is helpful and definitely utilized in our home, I have to make a strong case for a physical calendar system that is displayed prominently in your home. Think of it as a sort of hub for everything going on in your daily life—a spot where appointments can be jotted down and a drop zone for bills that need to be paid.
A physical calendar can also be a focal area of your home, too. Is it where you'll lead guests to sit in front of and relax? Probably not. But, that doesn't mean that any of these family calendar ideas have to be an eyesore or something that's hidden away.
I've shared some of my favorite Family Command Centers (click here) – if you need ideas.
The Best DIY Family Calendar Ideas
Here are some of my favorite family calendar ideas from around the internet. I think you'll be pleasantly surprised at how gorgeous these are!
DIY Dry Erase Family Wall Calendar
I admit it. I'm pretty obsessed with my DIY dry erase wall calendar (including a free printable)! It's one of my favorite projects to date since it allowed me to turn something super functional into something nice to look at, without losing any of the function.
This calendar sits in my office and helps me run my business, but it would be perfect for a family calendar, too!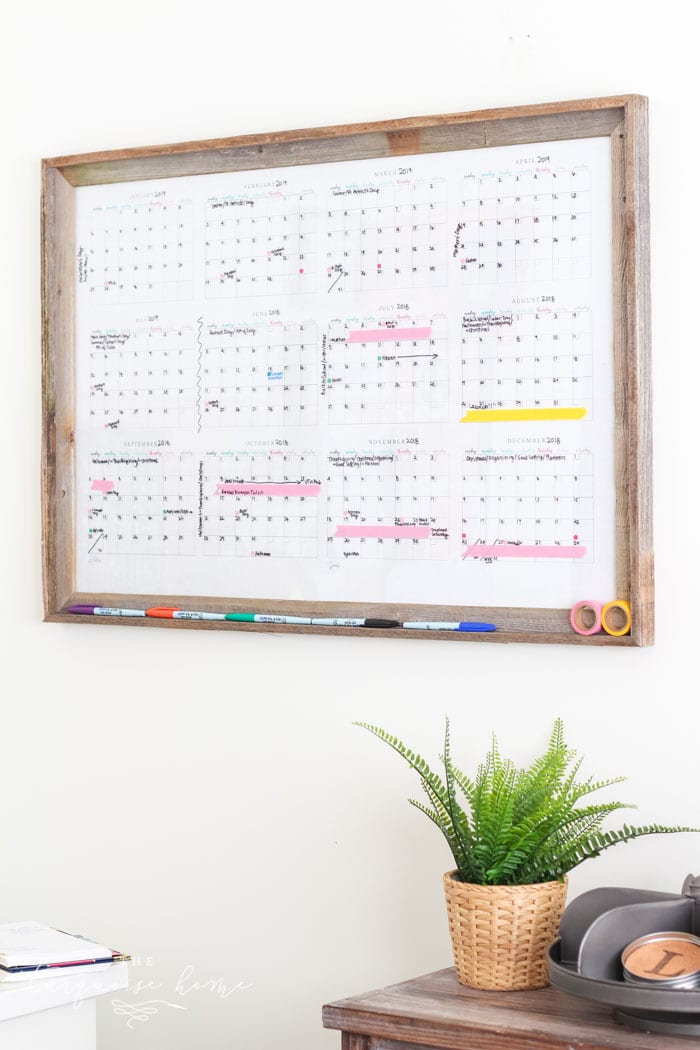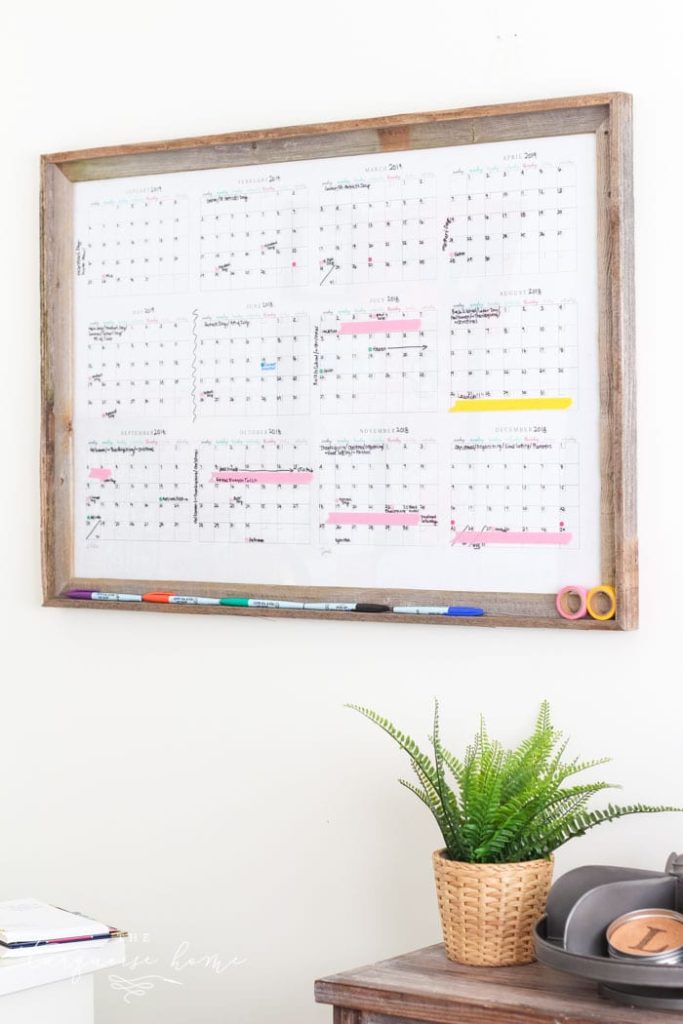 Bicycle Wheel Chalkboard Calendar
This bicycle wheel chalkboard calendar by Thistlewood Farms is genuinely stunning. Not only will you have a fabulous way to keep track of your weekly duties, but you can also add style to your space too. This is especially great if you have a rustic or farmhouse theme in your home. There is something that just draws you to this stunning chalkboard calendar. You can use traditional chalk or buy some chalk pens and plan until your heart is content.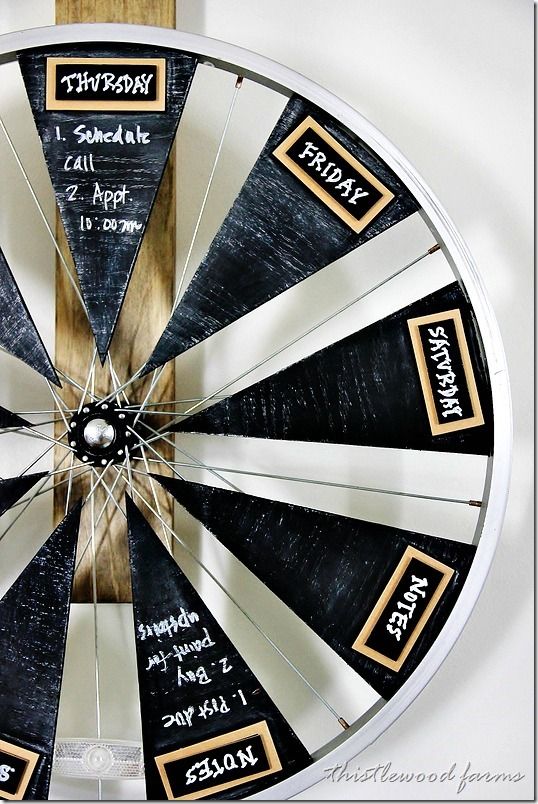 Dry Erase Family Calendar Printable
Keep tabs of all your events, grocery list, and even your dinner menu on this dry erase family calendar printable by Somewhat Simple. I love how sleek and clean the design is. Plus, it just feels good to have everything organized in one easy-to-find spot.
There are three different font options to choose from. Once you choose the design, print it and place it in a frame. Then you can add and remove everything quickly. How easy is that?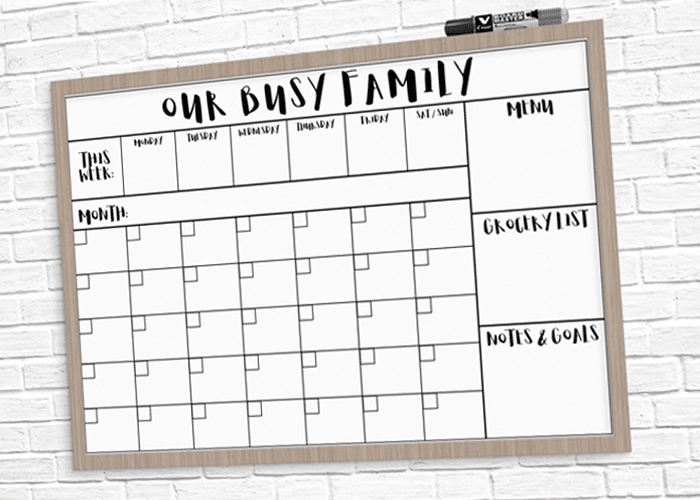 Acrylic Wall Calendar
If you are looking for a stylish and elegant command center, this is precisely what you need to include in your family calendar ideas. It's so pretty and would be wonderful in an office or any other location in your home.
This acrylic wall calendar by The House Of Wood is sure to impress anyone that lays eyes on it. Don't worry if you have never worked with acrylic before; she gives a detailed tutorial with easy-to-follow instructions.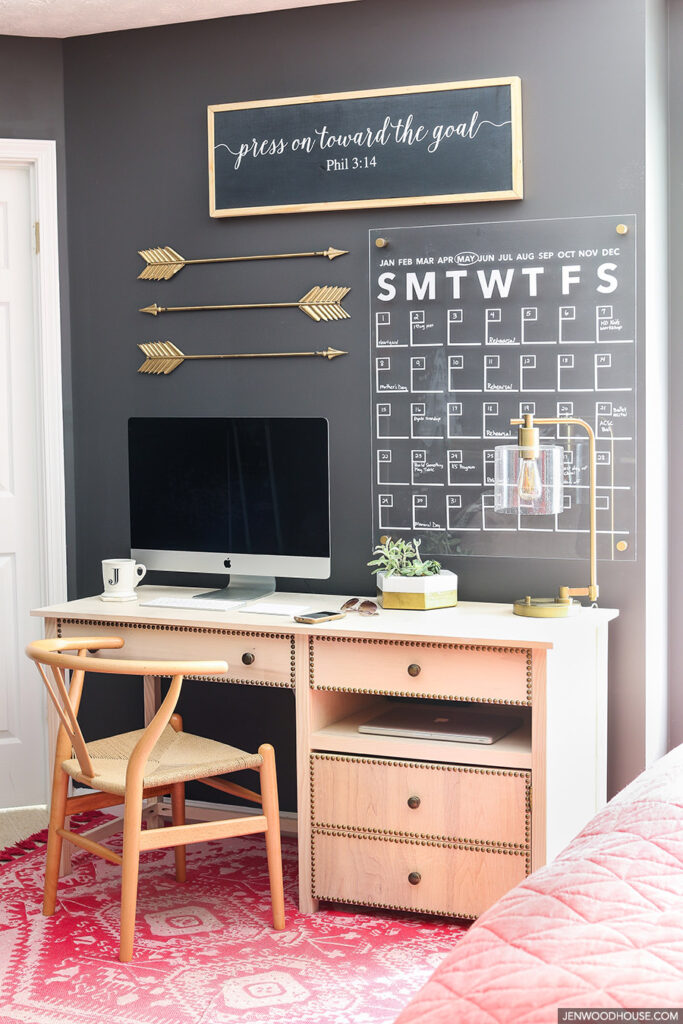 DIY Chalkboard Magnetic Calendar
36th Avenue is at it again with this beautiful DIY chalkboard magnetic calendar. You can never go wrong with making a calendar that is a chalkboard. Making it magnetic takes it to the next level of amazing!
You can even make your own magnets, so it fits your style and design choices. This is one of the most function family calendar ideas, and it's simple to make too.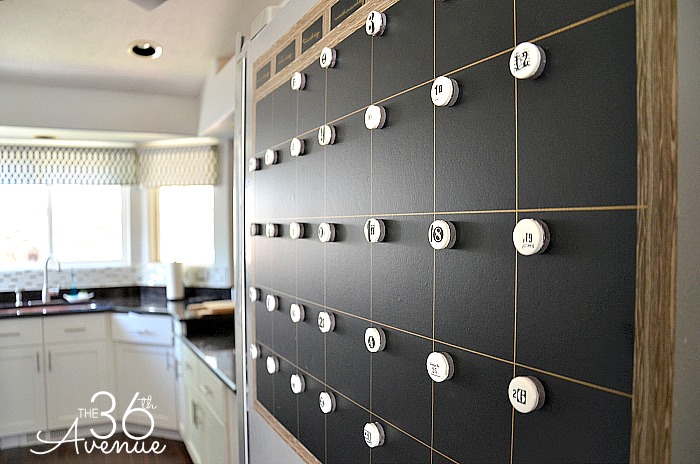 Chalkboard Wall Calendar
This isn't just an ordinary wall calendar; it's beyond extraordinary! You can actually paint the chalkboard calendar directly on your wall. What a terrific idea and the look is so pretty.
This chalkboard wall calendar by It All Started With Paint is a must-try project. This is one of those family calendar ideas that is so gorgeous all your friends will be jealous they don't have one.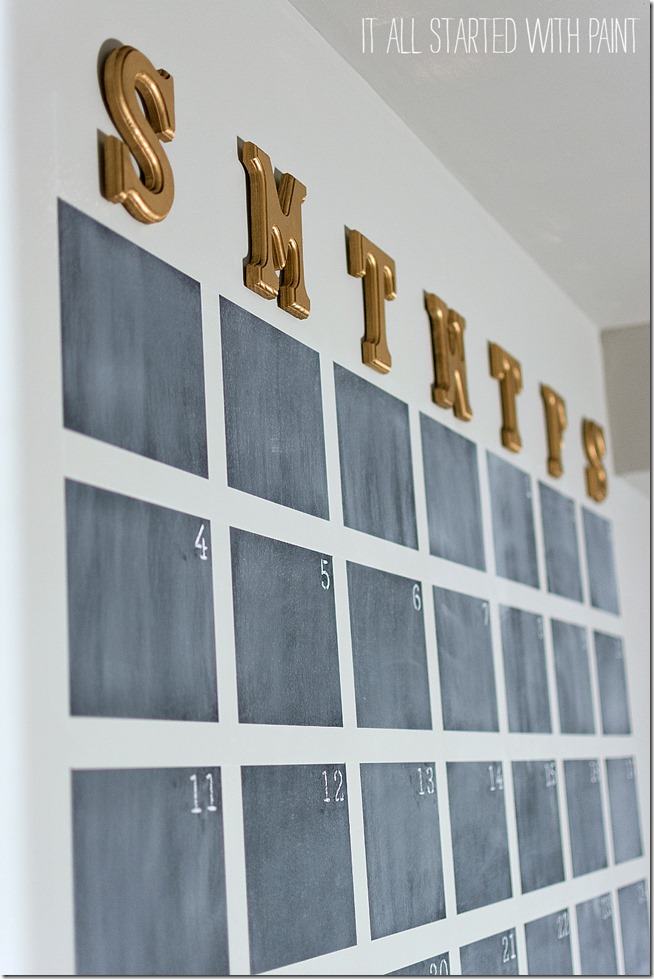 Colorful Chalkboard Calendar
Adding some color to your space is a great way to decorate while keeping it functional too. This colorful chalkboard calendar by Princess Pinky Girl is adorable. You can get as wild and creative as you wish for this project. I love how she went with some subtle color instead of bold.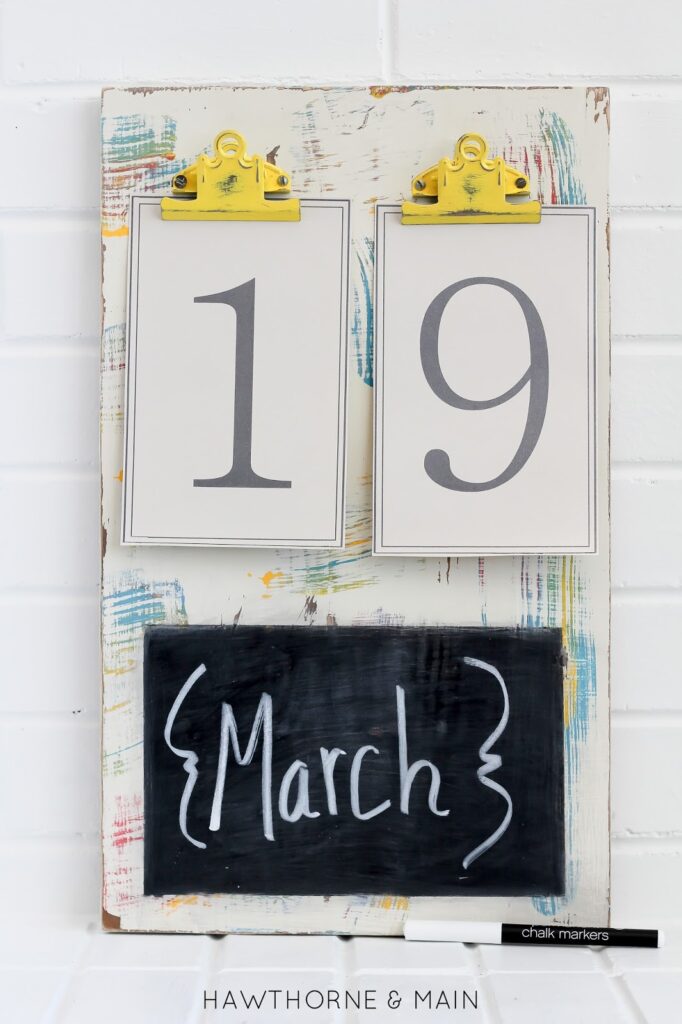 Giant Rustic Wall Calendar
If you are a fan of rustic style, you are going to LOVE this simple, yet charming DIY giant rustic wall calendar by Houseful of Homemade. Add this to your list of family calendar ideas, because it's awesome! They have a printable giant rustic calendar that you can use too. Sleek yet rustic is the perfect way to describe this beauty.
Dry Erase Calendar With Washi Tape
The options are endless when it comes to this pretty dry erase calendar with washi tape by The Homes I Have Made. There are so many different types of washi tape out there with thousands of colors and designs. Your family calendar command center just got even better with this lovely idea.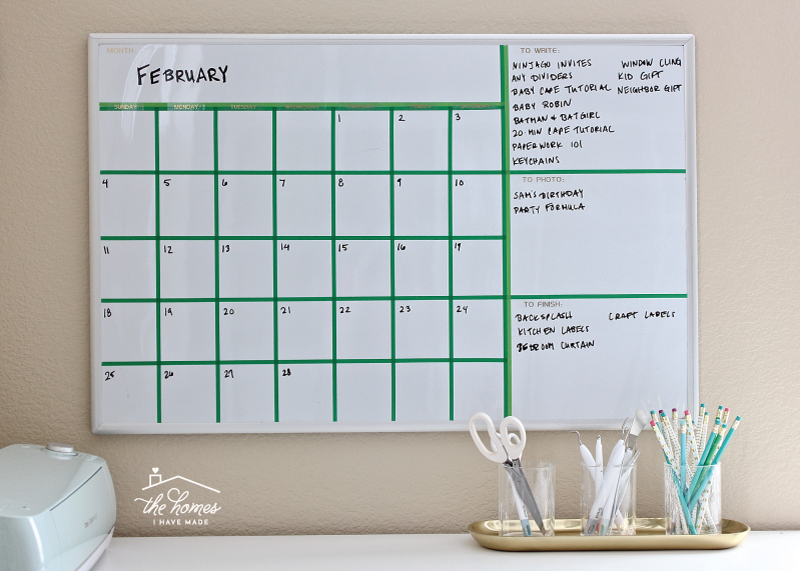 Mirror Makeover Chalkboard Calendar
I love this style of the calendar because they took an old mirror and transformed it into a usable (and stunning) functional piece.
This mirror makeover chalkboard calendar from Sincerely Sara D is more like art. I would definitely consider this option for family calendar ideas because you probably already have what you need around your house. Easy and pretty!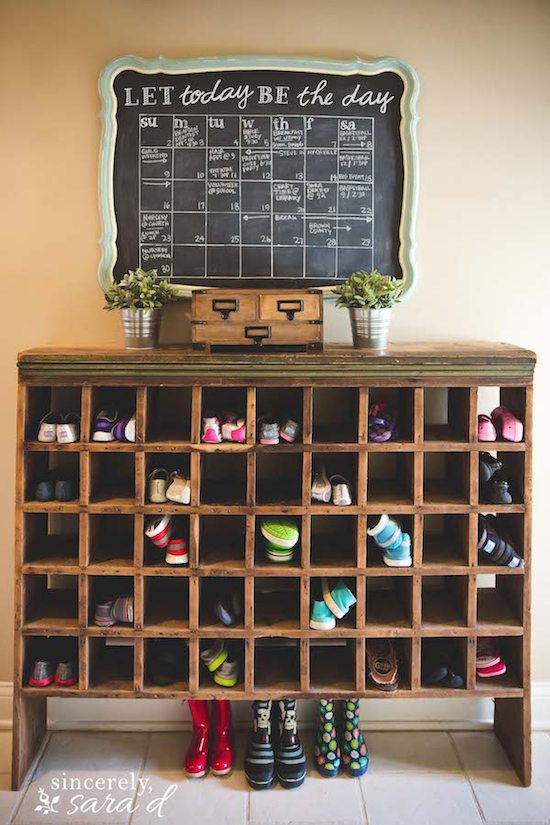 Educational Home DIY Wall Calendar
This stunning idea is so much more than just a calendar. This is a fantastic educational home DIY wall calendar by Fresh Mommy Blog. It's charming, and each day your children can go and change the date. They are going to get so excited to help and learn along the way too.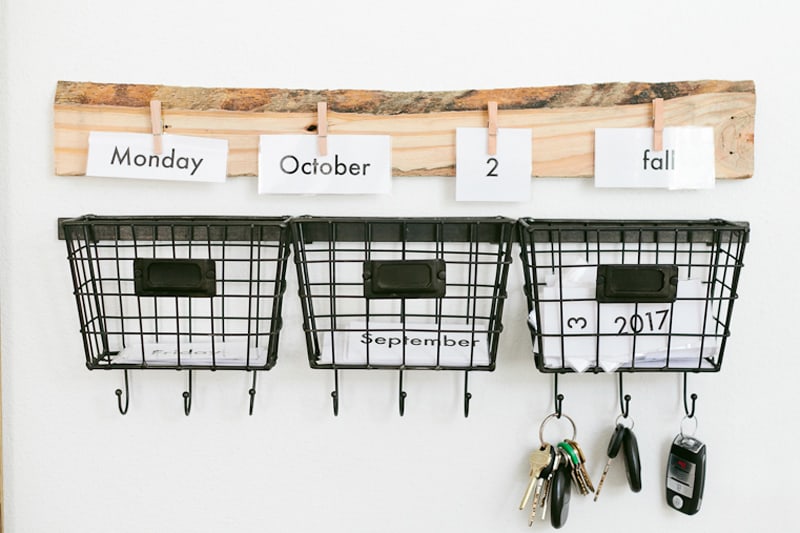 Best Family Calendars to Purchase
I know you're busy; I'm busy; We're all busy. And sometimes life doesn't call for a DIY project. In fact this year I bought this adorable paper calendar, stuck it on the side of a cabinet in my kitchen and called it a day.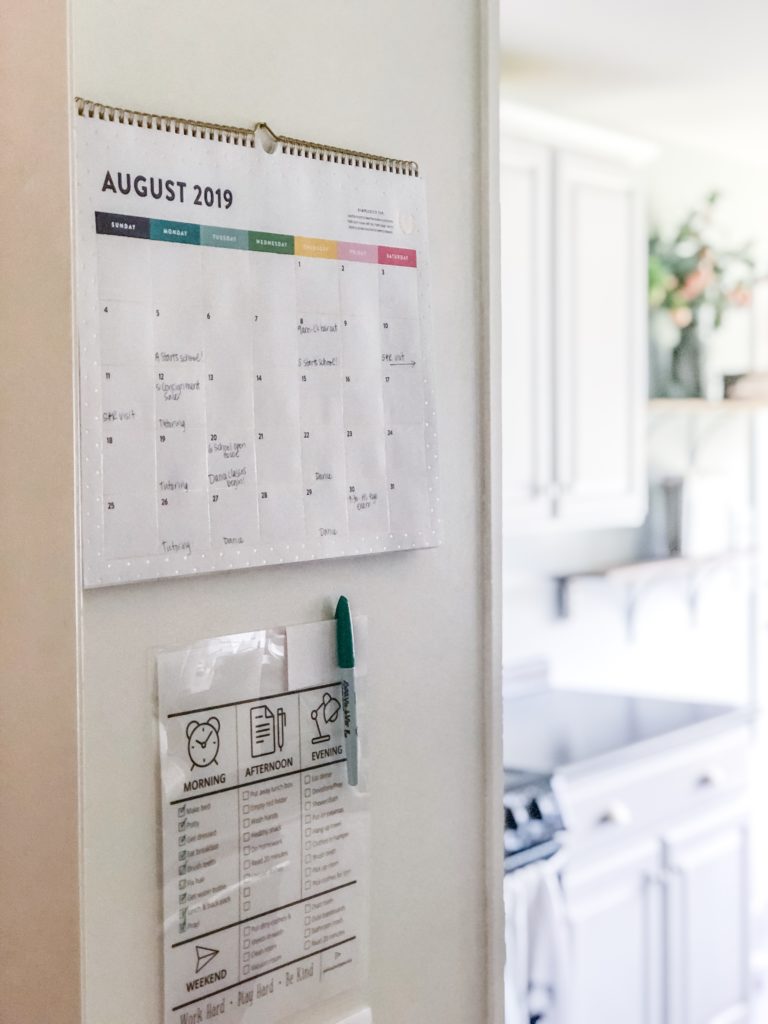 I usually like to make a photo calendar from Shutterfly, which I LOVE, and my girls love them too. But I just didn't have time to make one this year.
Wanna know more about that chore chart below my calendar? Click here for my Back-to-School Organization Ideas that include things like an awesome homework caddy and these chore charts. I just mine in between laminating sheets and the girls check them off daily. If they do everything on the sheet each day, they get their allowance.
But back to the calendars… these are some great calendars to buy if you're short on time or just don't like to do DIY projects:

Digital Family Calendar Ideas
If you aren't a fan of the physical calendar like me, then you may want to try one of these digital calendar options. I personally use the calendar app on my iPhone to remind me of major appointments, like the hair salon, eye doctor, family doctor, etc. But I also put them in my personal planner and the family calendar as well.
Calendar App on the iPhone – This app is great because it's already on the iPhone and can be synced with your other family members who have iPhones.
Google Calendar – I love google apps for everything from spreadsheets to documents and keeping my business files in order, but they also have a robust calendar app. It's super popular because it's free, easy to use and can be accessed from any device. It's great for sharing with older kids and even a nanny because you can set the permissions setting to control what other users can and can't see.
Other digital calendars to consider: Evernote, Trello and Cozi.
Final Thoughts
Which one of these family calendar ideas are you most excited about? Remember, the best calendar is the one you actually use, so experiment until you find what works for your family.