The rest of the Living Room Makeover posts:
Part 6: Super Easy Throw Pillows
I really hoped that I'd be able to nail all of my boards up on the walls this past weekend, but like most projects, things just go a little slower than expected.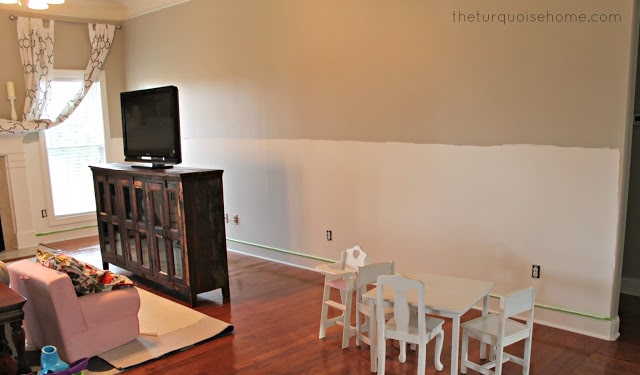 I applied two coats of white paint on the bottom part of the walls. I was pushed back a little because I didn't like the first white paint I brought home. I just bought white off the shelf and it was WAY too bright. So I returned it to Lowe's and got some paint color-matched to Benjamin Moore's Simply White. Much better. Less neon white and more pretty white, please and thank you.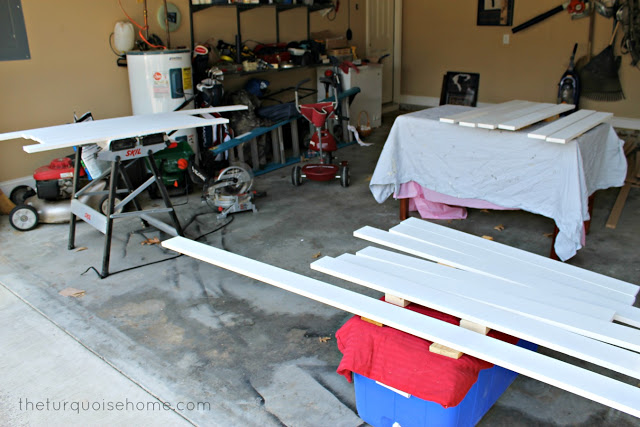 I also started priming and painting my MDF boards outside. I quickly realized that I need a lot of places to put all of these boards. I don't have a ton of places to put them, so it looks like I'll be painting them in shifts. I started by painting as many boards as possible. And then late last night I started nailing them into the wall. I'll show you that when I get them all on the walls.
As you can tell, I'm trying to paint as much as possible before putting the boards on the walls. I have been told, and it makes sense, that it's much easier to paint the walls before the boards go up. And I'm putting one coat of primer and one coat of paint on the boards before hanging them. This way I should only have to paint one more coat on the boards after I caulk and fill the nail holes with wood filler. We'll see how it goes!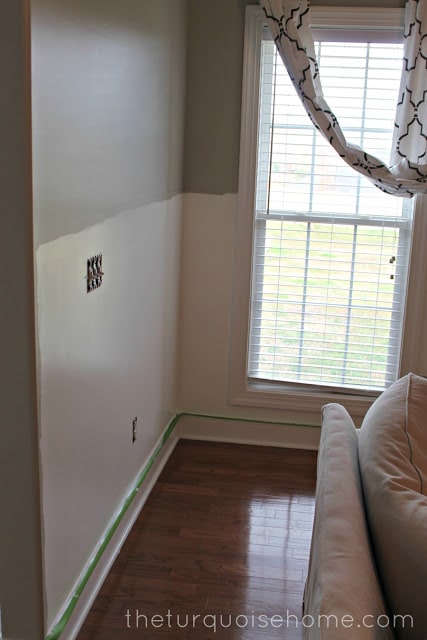 For right now I'm just happy that there's no more beige showing and my gray looks gray and not light blue. 🙂
This week, I probably won't get much done. I have two sets of house guests coming to visit and it's my birthday this week! Woohoo! (Party on Wednesday.) Maybe I'll be able to work on it here and there.
It's just a reality that when you have little ones and are doing a project by yourself, it can take a long time.
Big props, though, to my hubby who took Miss A most of the weekend to let me work. They went on a bike ride, went to the park and generally played outside. Thanks honey!!
***Original post via TheTurquoiseHome.com***
Get Instant Access to my Guide to Customize Your Home on a Budget
Grab your FREE guide for 10 Ways to Customize Your Home on a Budget: simple projects to transform your home from builder beige to a home with character and charm!