How to Style a Console Table Behind a Couch (4 ways!)
Struggling to decorate a table behind a sofa? Get 4 different ways to style your sofa table right here!
When we moved into our new house last year, the living room was the room I was most concerned about decorating. We had purchased a sectional sofa for our old house, but it took so long to arrive that we had it delivered to a new house. This post contains affiliate links for your convenience.
Thankfully I love the new sectional in this room. (I brought a measuring tape to the house showing to make sure it would fit). And I was pleasantly surprised that my beloved Everett console table fit perfectly behind it! I love our new cozy living room layout, which is a less open space than we had before.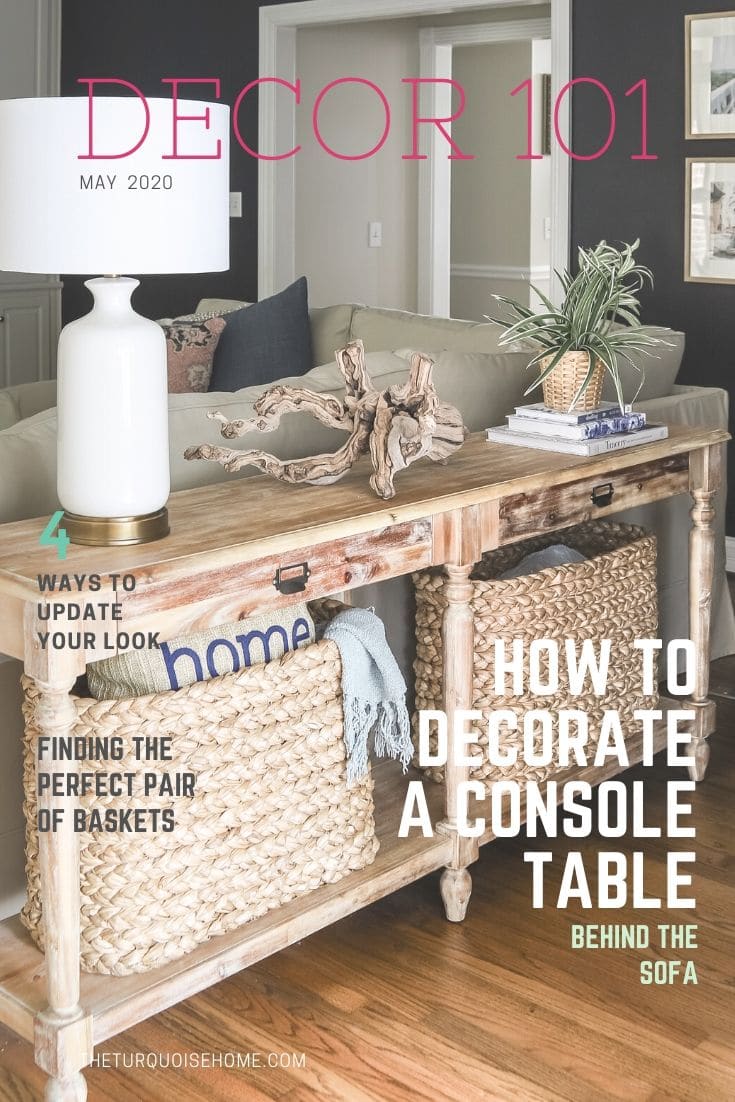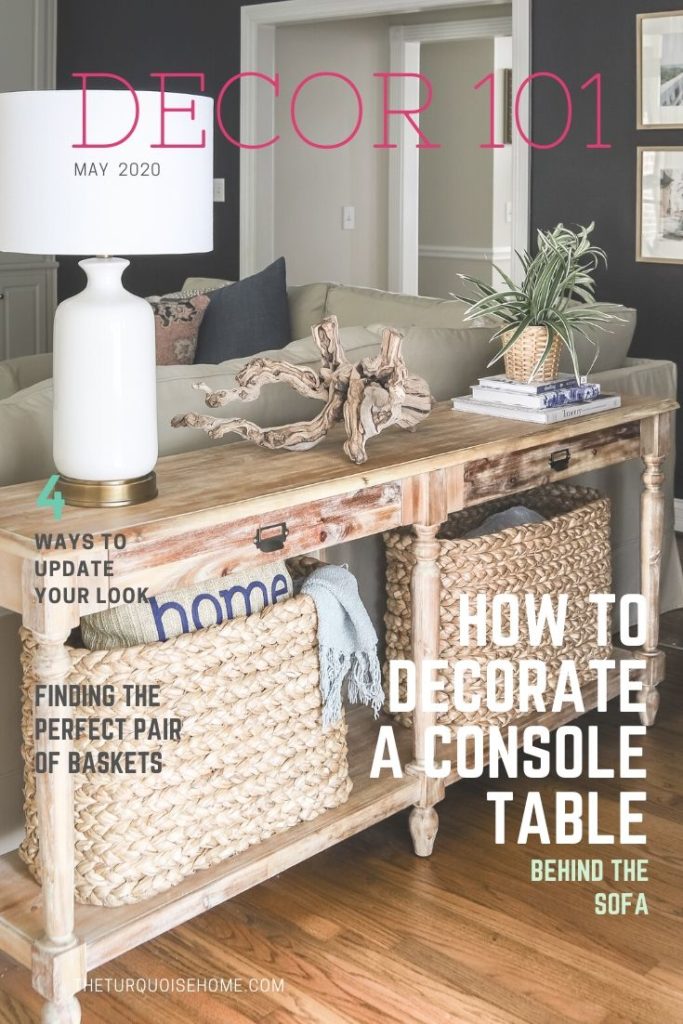 But the new challenge for me was how to style the console table behind the sofa and in the middle of the room. It needed to be functional (with lamps for reading) and beautiful (duh!) and not feel like it was a wall in the middle of the living room.
I've pretty much had it styled one way since I set it up, but I decided to play around with some other styles and found 3 new ways to style it, too! So, I thought I'd share them with you, in case you too have a console table behind a sofa, too! These home decoration ideas will also work for any flat service!
So, what do you do differently when a decorating a table than when it's pushed up to a wall? Well, for one, you won't want to fill the table with a bunch of really tall decor because then you won't be able to see over it.
So, keep that in mind as you're styling these. For example, when I styled this console table against a wall in my old house, I put a big piece of art in the middle. But that won't work in this situation.
How to Style a Behind the Couch Table
While each style is slightly varied, I like to include at least one of each of these elements in my decor when I'm decorating any horizontal space.
Books – for entertaining and height
Organic shapes – for interest (animal figurines or items from nature)
Greenery (real or faux, I usually use faux plants if we're being honest) – to breathe some life into my decor
Tray or console basket – for corralling items or blankets and pillows
Lamp – for the cozy factor!
Console Table #1: The Symmetrical Sofa Table with 2 Lamps & 2 Baskets
Styling things symmetrically is probably my favorite way to decorate, but it's not always the most pleasing to my eye. I just find it easy. So, this formula is the one I've used the most on our console table behind the couch.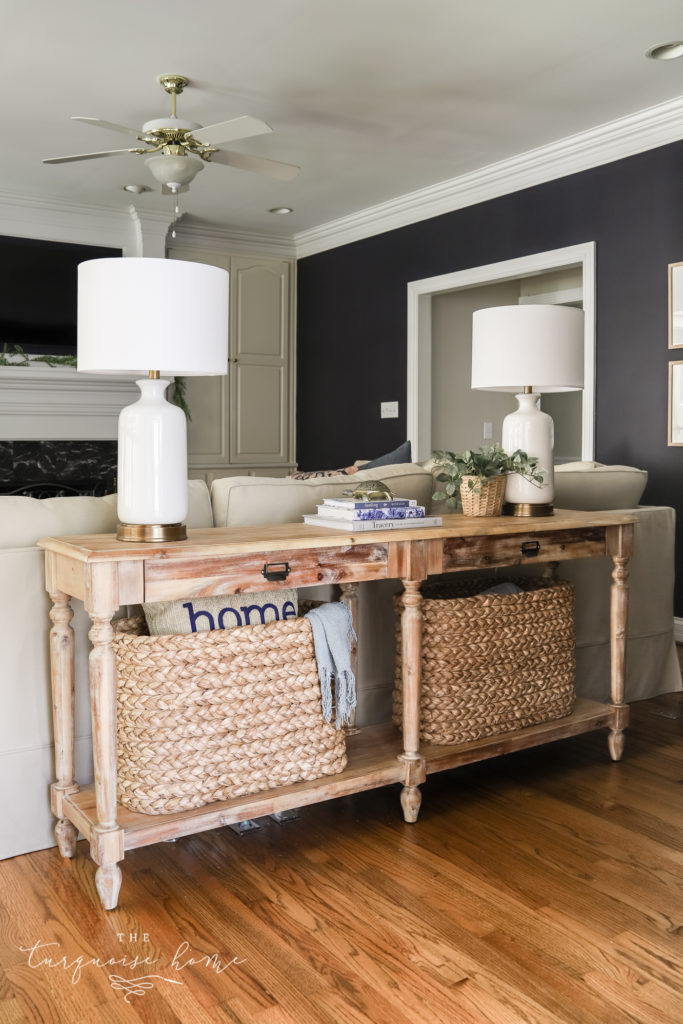 It includes my favorite two lamps on either side of the table, then a short stack of books and decor accessory in the middle. The little brass turtle on top of the books brings in the organic element.
The faux plant to the right side and the blanket coming over the basket edge on the bottom left side give enough asymmetry to feel a little more interesting and less "plain Jane."
Then on the bottom, I have two of my very favorite console baskets. This is a very simple, yet classic style and we use these lamps every evening when the sun goes down to give a cozy vibe to our living room.
Console Table #2: Asymmetrical Sofa Table Decor with 1 Lamp & 2 Baskets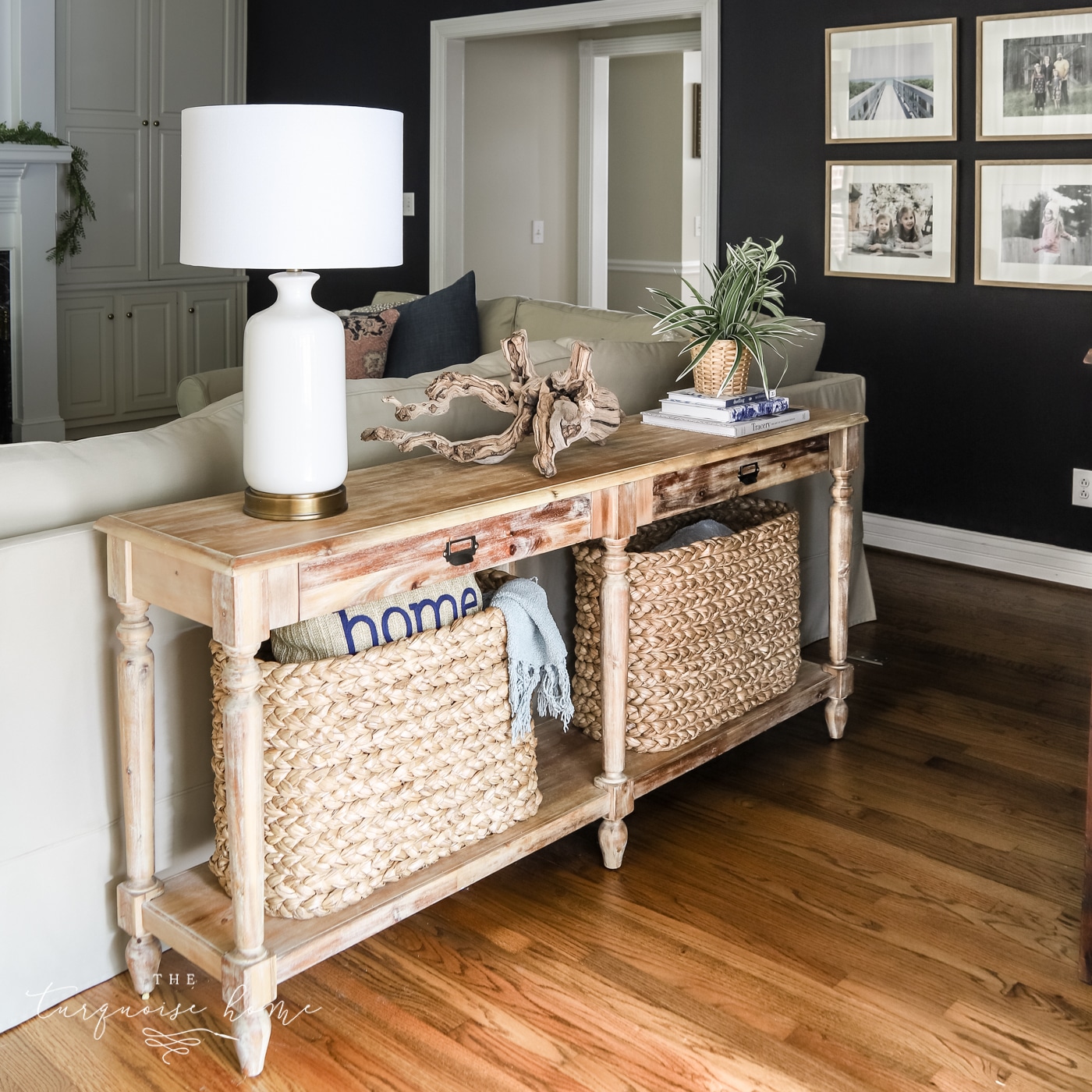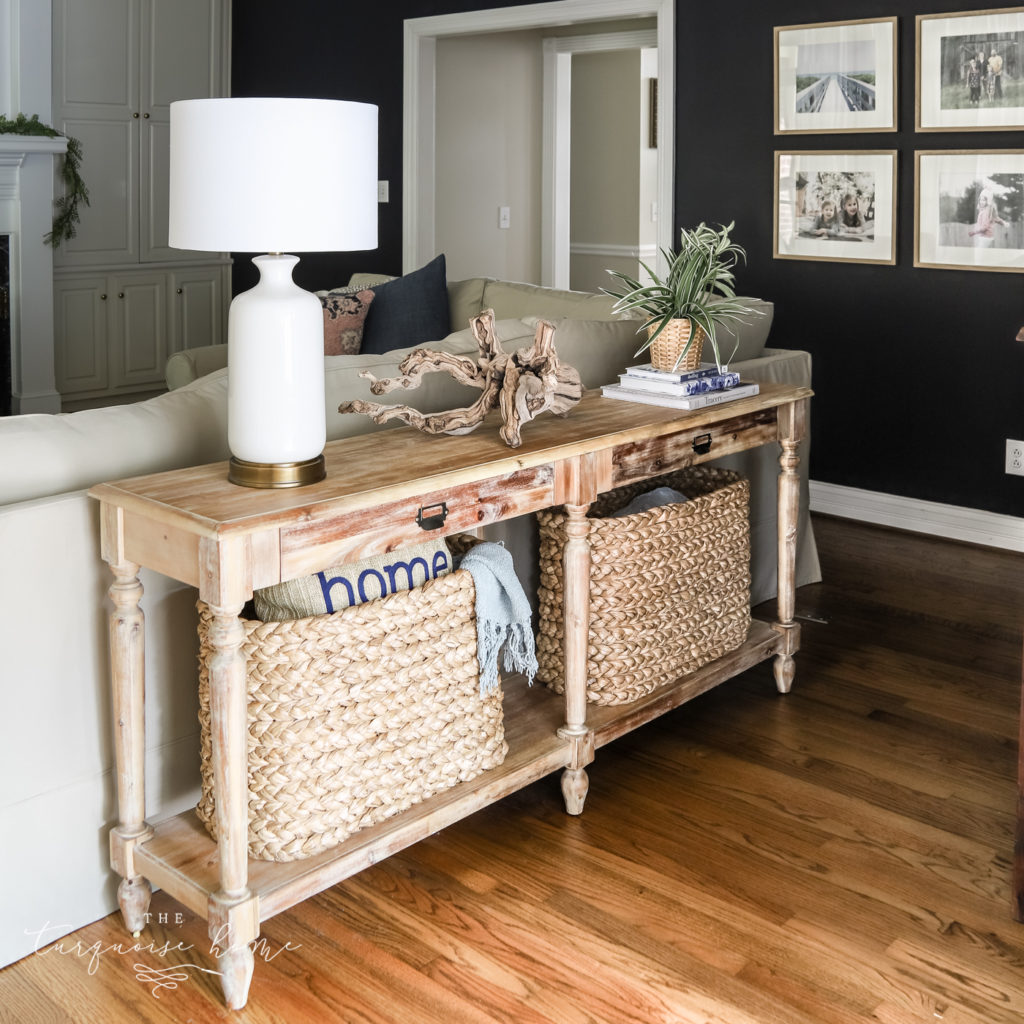 In this look, I kept the two baskets on the bottom, but took away one of the lamps. It still needed to feel balanced with something tall(ish) on the right side, so I moved the stack of books under my faux spider plant to give it some height.
Then I added an organic shape via this dried grapewood branch. It not only brings in interest, but is low enough to see over.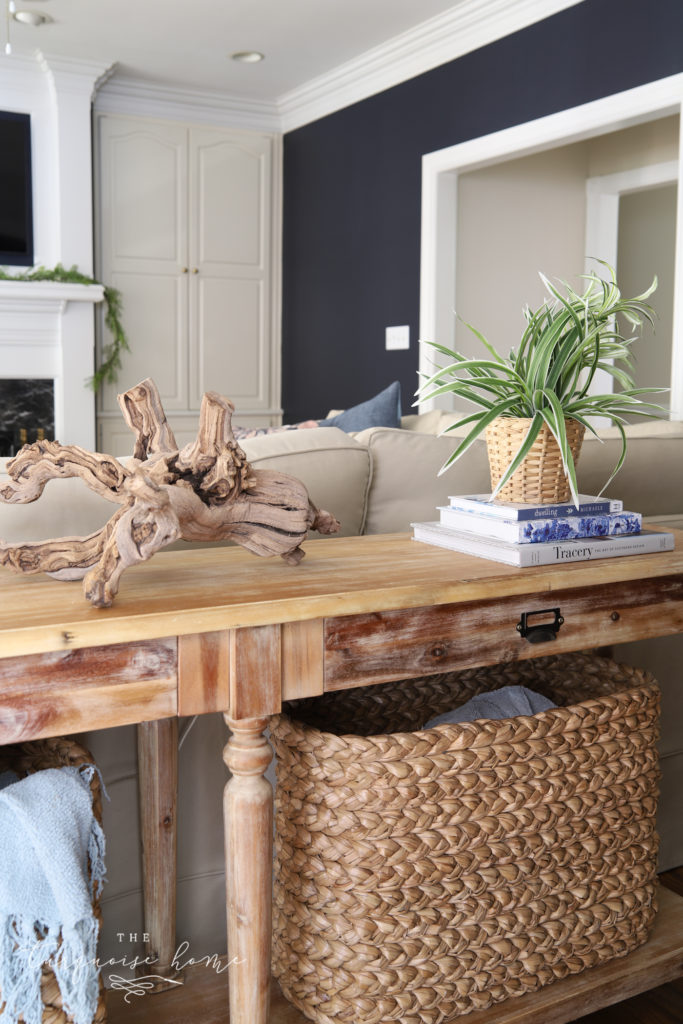 I think I like this look the best, but we love having both lamps on the table for lighting. But if I were to change our current look, I'd change it to this! 😊
Style #3: Asymmetrical Decor with 1 Lamp and 1 Basket
I took one of the baskets away and added some decor underneath. I loved how this tray brought these 3 items on the bottom left together.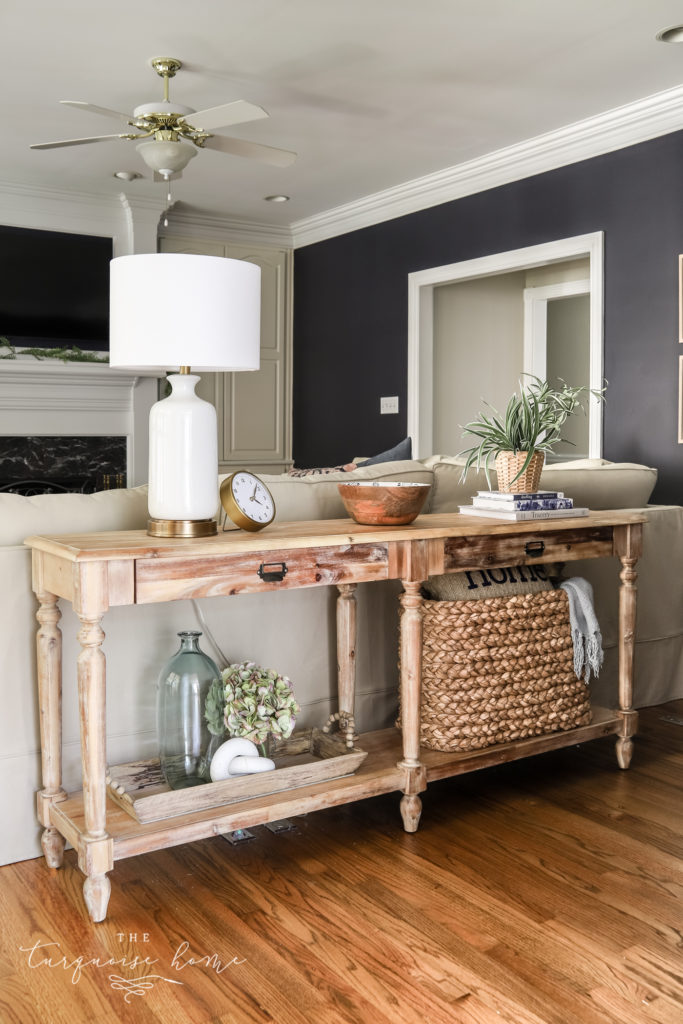 The limestone knot decor at the bottom gives the organic interest. And the bowl on the top of the table can serve as a corral spot for keys or remote controls. If your console table is near a door, you may need the bowl for everyday items.
See how I balanced it out by putting the large lamp on one side and the large basket on the bottom of the other side? It would have looked funny if both larger items had been only on one side.
Style #4: Asymmetrical Style with 1 Lamp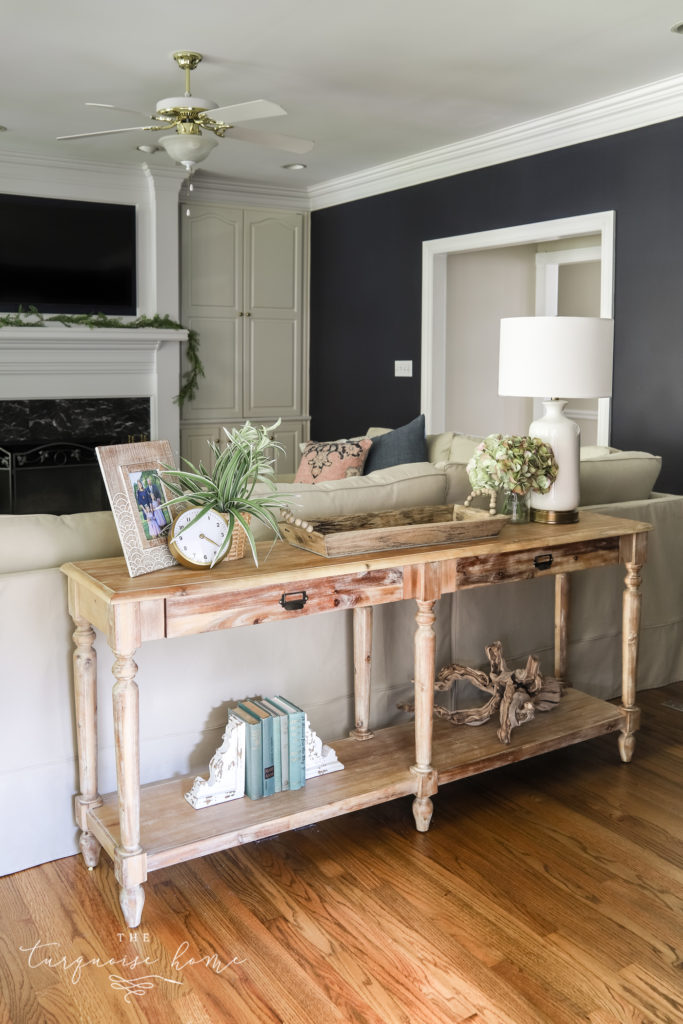 If you don't need or want baskets, I wanted to share a way to decorate your console table without them! I also put a tray on the top for remote control corralling if you need that, too.
Moving the lamp to the other side of the table allows for a more clear sight line, too! Do whatever works best in your living room design.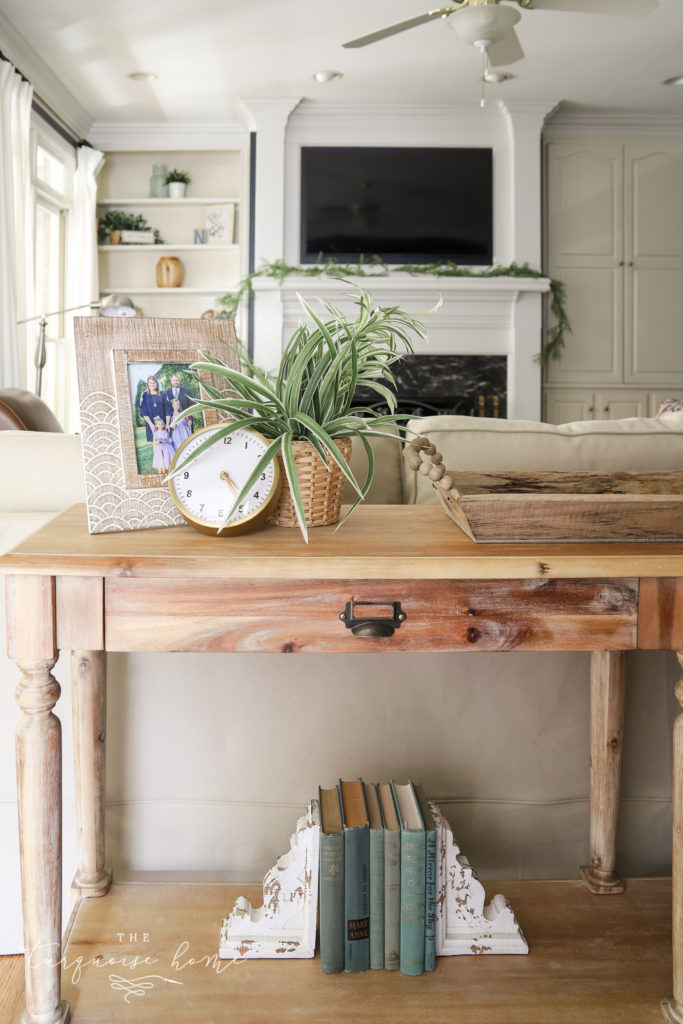 I hope these different stylings helped you find a way to decorate your behind a sofa table. I just went around my house and collected a bunch of items and moved them around until they looked good. So, get creative and use items in your home, too!