Revere Pewter stands out as the epitome of greige: a gray color with a strong beige background. It is a transition color due to its warmth and depth, making an excellent choice for open spaces in your home.
Coincidentally, it keeps the cool tones of gray present in most lighting conditions. This is a fun color to play around with because of the breadth of its undertones, changing around depending on light exposure.
This post contains affiliate links for your convenience. See my full disclosure policy here.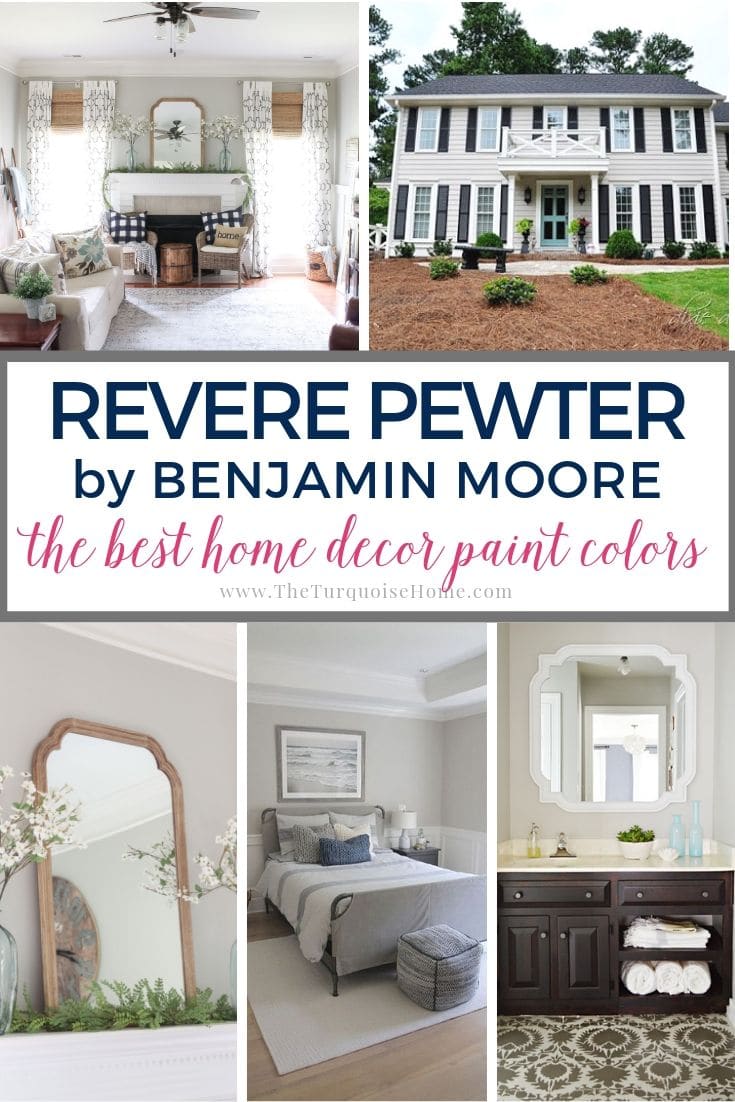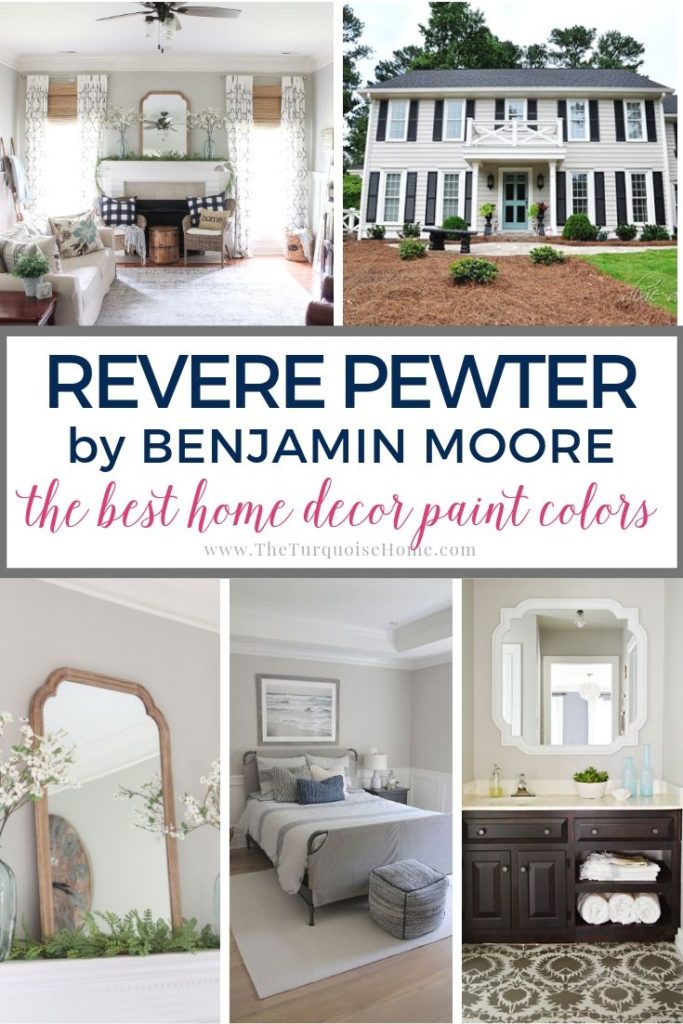 All of these add up to the most popular gray paint color on the market…and a personal favorite of mine.
NOTE: If you're painting the room yourself, these tools will help tremendously. And this post will give you my best tips for painting a room in 5 easy steps.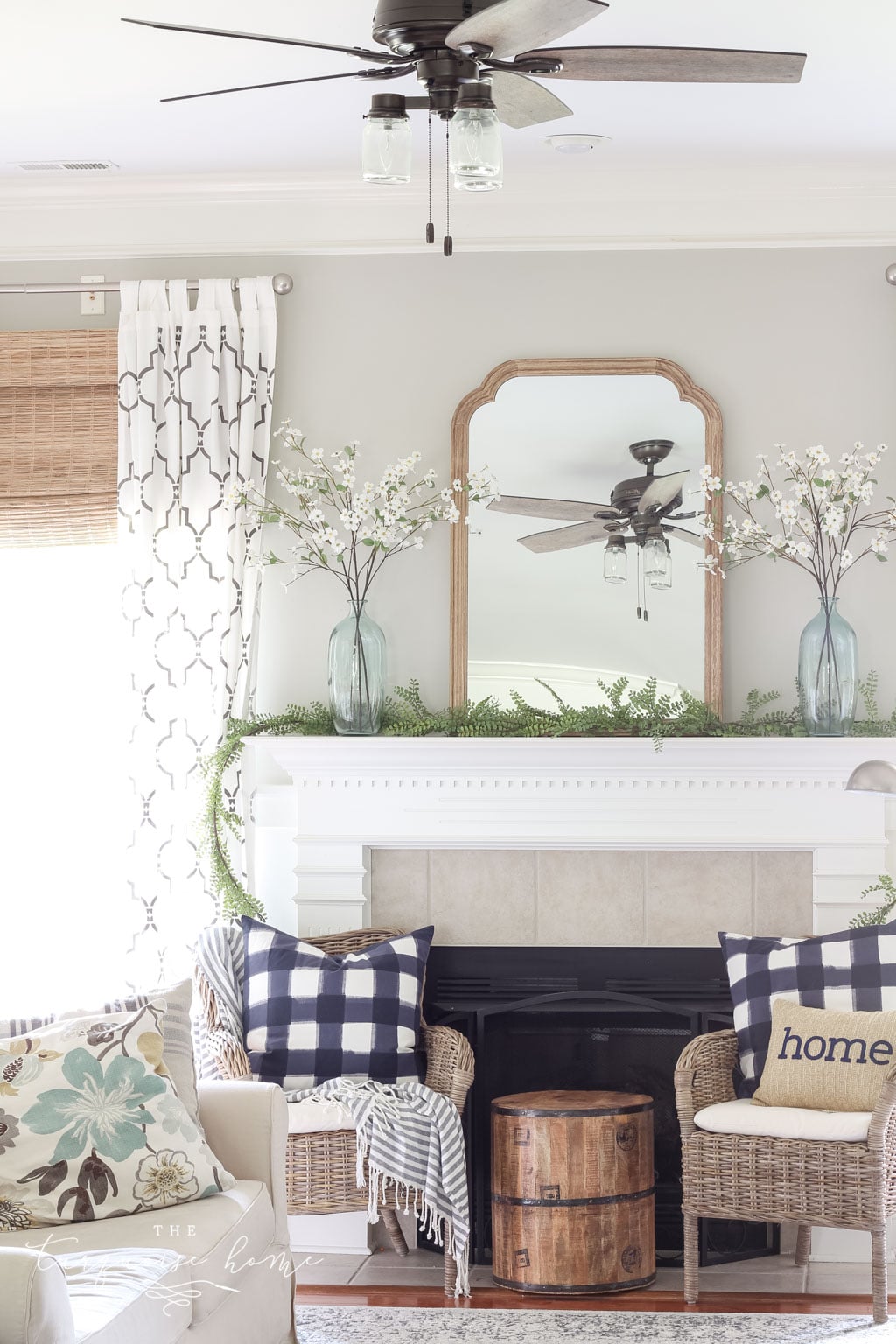 FREE BONUS!
5 Secrets Every Home
Decorator Knows
… to transform your home into your dream home!
Revere Pewter Undertones
Revere Pewter is a chameleon in the house that is very versatile. The best attribute it has is that the shade will remain gray while being much warmer than most of the other popular grays.
However, it can have very muddy undertones, sometimes bringing out a little green as well. This can blur a "clean" look if that's what you're looking for, or it could be perfect for you if you're looking for earth tones. This green will come out with lots of greenery outside the window or in the room. The green undertones may also come out when paired with a dark floor.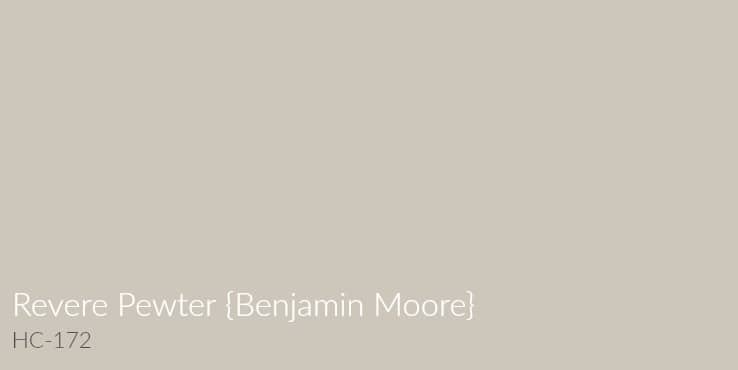 If you choose to use Benjamin Moore Revere Pewter in a dark room or hallway, you will need to give it lots of light or else risk it being murky and lifeless. In this situation, or where there's a room with a lot of dark, heavy furniture, Revere Pewter will look straight up beige or tan.
The other side of this color's undertones is blue. In an airy room with lots of natural light Revere Pewter will almost lose the beige background and replace it with a blue undertone. This creates a similar color to more traditional grays while still being warm.
What Colors go with Revere Pewter?
Pretty much ALL colors! I believe so strongly in the versatility of this shade that I wrote an entire post giving some of my top picks here, which is the best starting point if you are trying to figure out what to pair with this Benjamin Moore shade of paint. Here are some other ideas in addition to the blog post:
Revere Pewter is very accommodating to other colors. For a focus on earth tones, Benjamin Moore's Mink (2112-10) and Silver Gray (2131-60) pair well with Revere Pewter, bringing out the beige and creating a warm, cozy feeling.
For an accent color in an earth tone Revere Pewter room, Chelsea Gray by Benjamin Moore will pop while being pleasing to the eye, as it and Revere Pewter have similar, warm undertones.
Other options from Benjamin Moore include Raccoon Hollow (978) and Winding Vines (532), both of which will bring out the muddy green and beige.
For a lighter feel to a room, Revere Pewter can be balanced with lighter grays as well as whites such as Soft White, Cloud White, and Simply White.
As you can see, it's hard to find a color that doesn't go great with Revere Pewter – it's truly a shade that boasts flexibility with a wide range of accents, ranging from bright red to avocado green to yellow or magenta. For a real pop of color, try Coral Gables by Benjamin Moore or Turquoise, as shown below.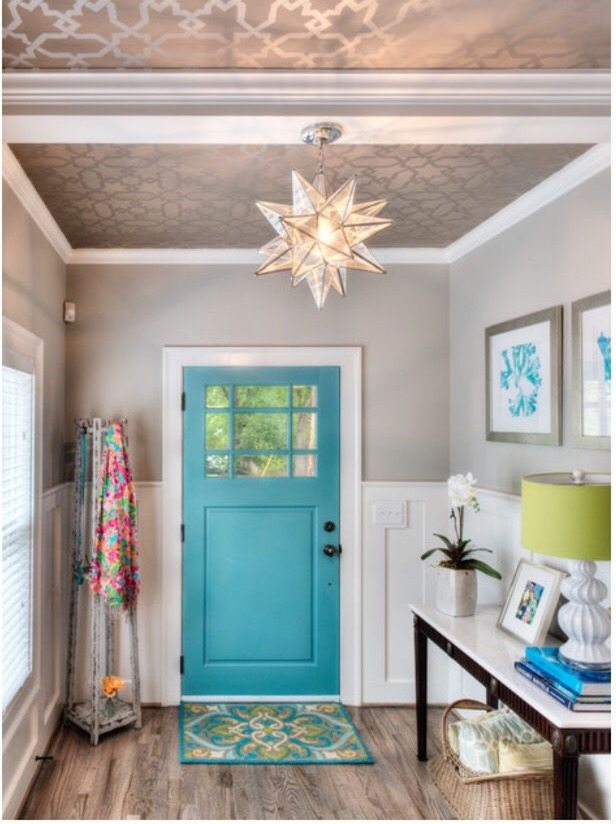 Revere Pewter in Rooms
As a result of being a top-notch transition color, Revere Pewter works in almost any room. Below you'll find examples of it as a light and airy paint, as well as earthy rooms.
Revere Pewter in Living Rooms
Let's start with my personal favorite – my living room! After debating between several paint colors, I finally settled on using BM Revere Pewter —and I absolutely love it!
Our living room has those pretty taupe undertones while bringing the gray through. The natural light joins with Revere Pewter in making the room feel extra cozy and warm. In my opinion, this is a great paint color for any open space as it helps keep the room feeling cozy without overwhelming the space.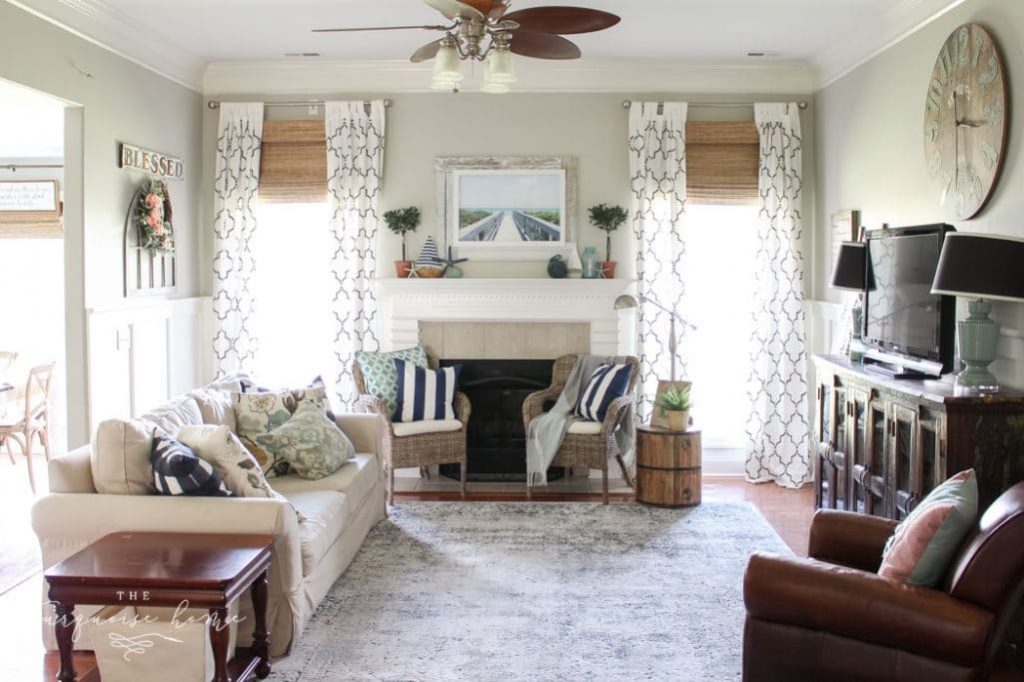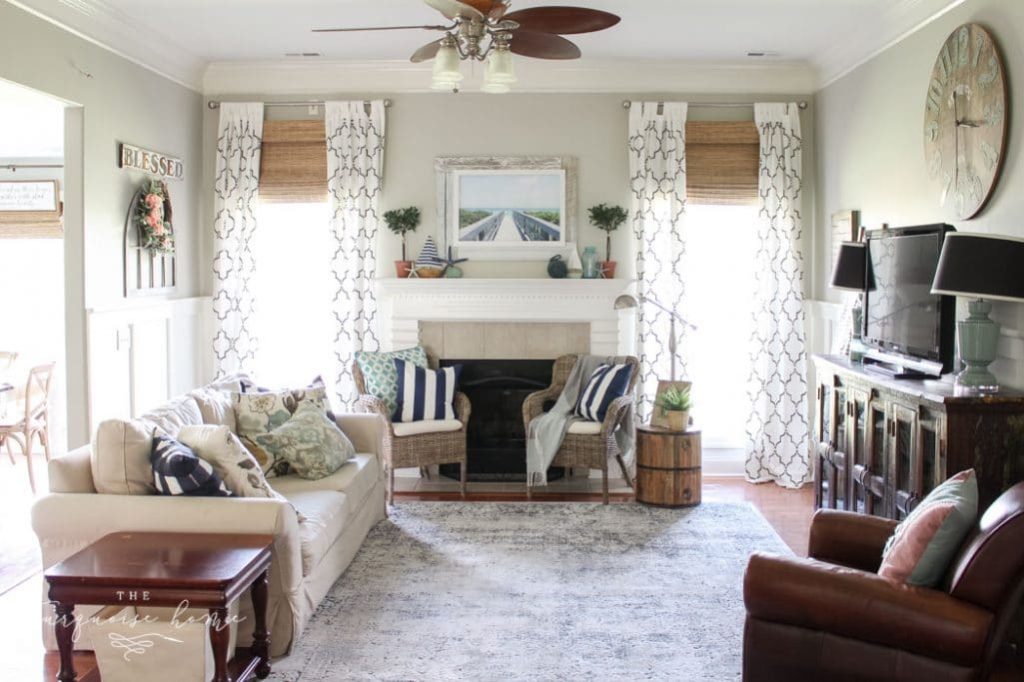 Kelly Bernier Designs has made the beige stand out in this Revere Pewter family room by the dark accents in the rug and the dark wood floors. The natural light helps keep the space open and helps Revere Pewter be neutral.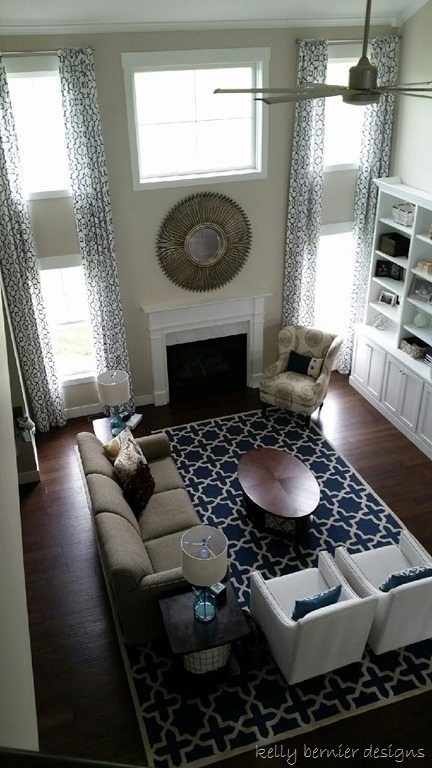 Kitchens with Revere Pewter
This kitchen from Painted By Kayla Lane has Revere Pewter painted cabinets. As you can see, they take on a clean gray look, caused by the light-colored wood floors, and more influential, the wall color Silver Feather by PPG.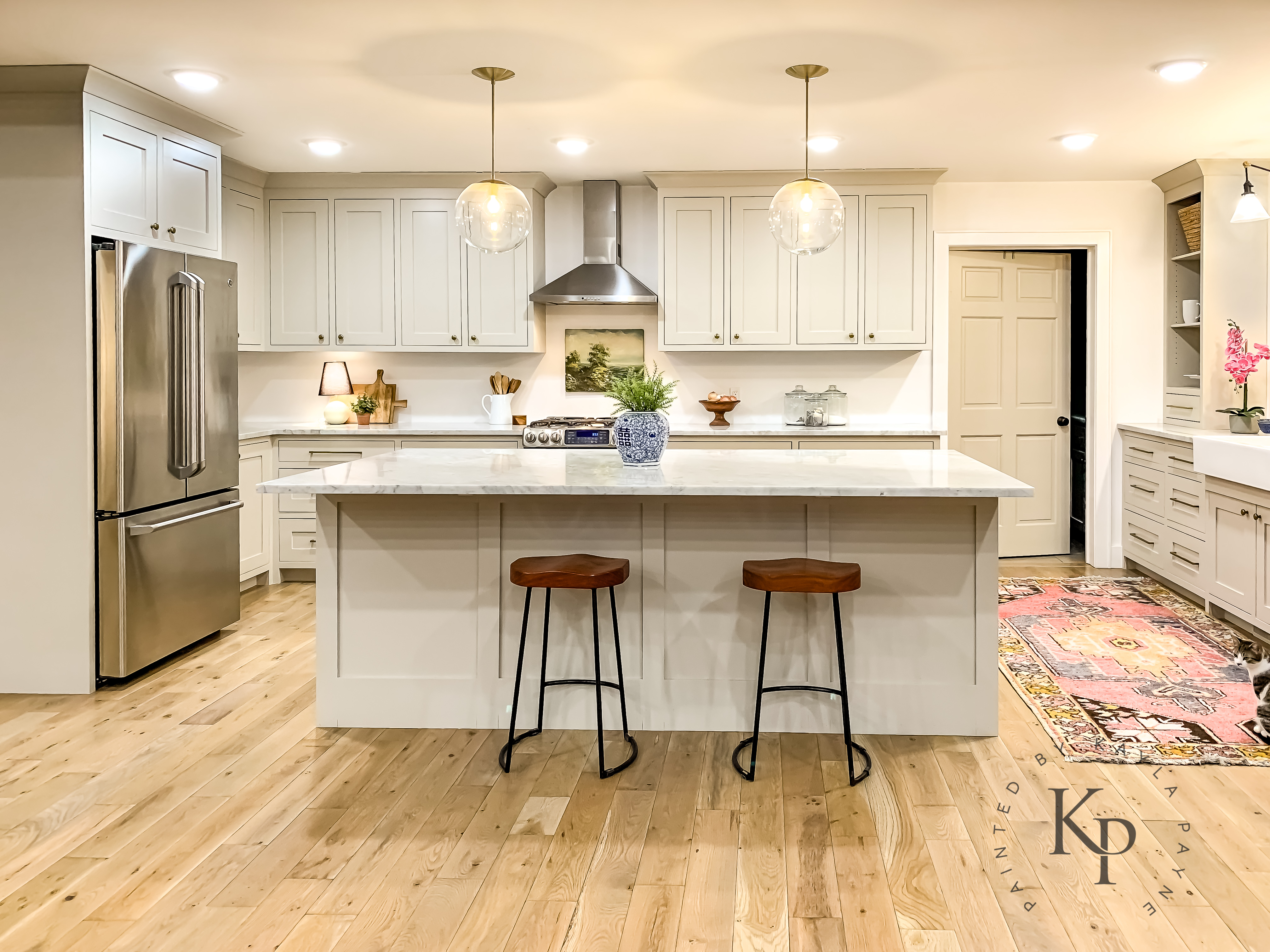 There is a taupe undertone present, and some may see a bit of green come through because of the greenery on the counters and walls. It creates a warm atmosphere while not darkening the room or making it feel closed off, thanks in part to the amount of light added to the room. It pairs very well with the light marble countertops.
In this next kitchen from Bright Ideas From Martinec they have painted with Revere Pewter, the walls Revere Pewter with a light gray or white paint on the cabinets. Contrasted to the previous kitchen, this has low to no artificial lighting and a moderate amount of natural light.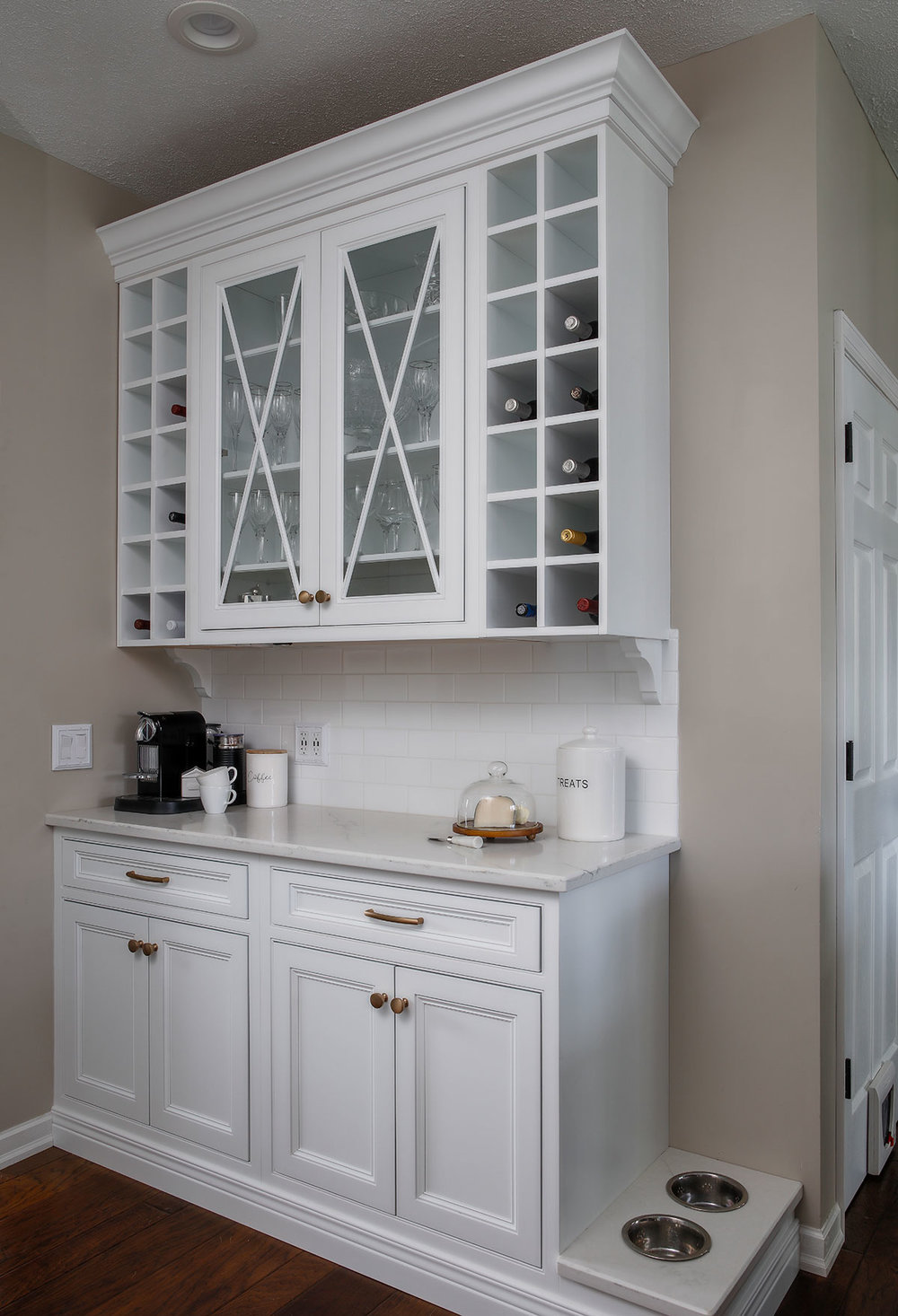 Furthermore, the juxtaposition of Revere Pewter and the white cabinets results in the beige color pulling through, matching, if not overpowering, the gray. This, along with the dark flooring, gives the space a closed feel, which could be lovely paired with a breakfast nook or kitchen table where you would like to feel cozy.
In the second picture of this same kitchen, the Revere Pewter almost acts as an accent to the kitchen because of the sparse wall space for paint.
As you can see, the placement of the the first photo is on the right hand side of the second photo. This shows that with the open space, the Revere Pewter does not so much close the space as it does give it a warm feeling and provides the eye with a great transition from the white cabinets to the dark wood floors and island.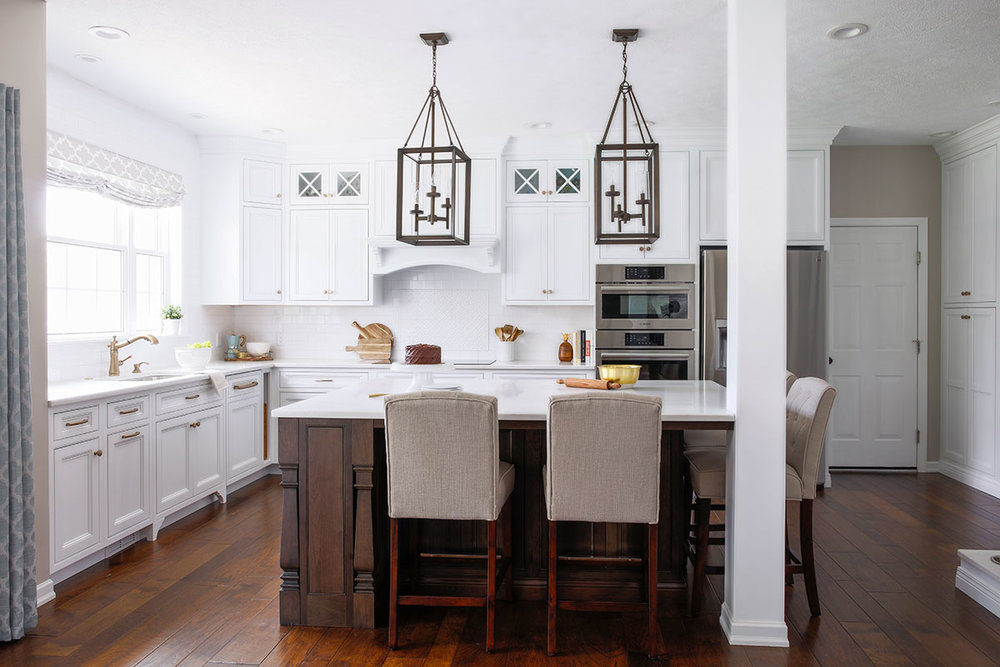 Revere Pewter Bedrooms
This master bedroom from Creating Contrast Designs was painted with Revere Pewter walls shows the influence of moderate natural light when combined with Cloud White.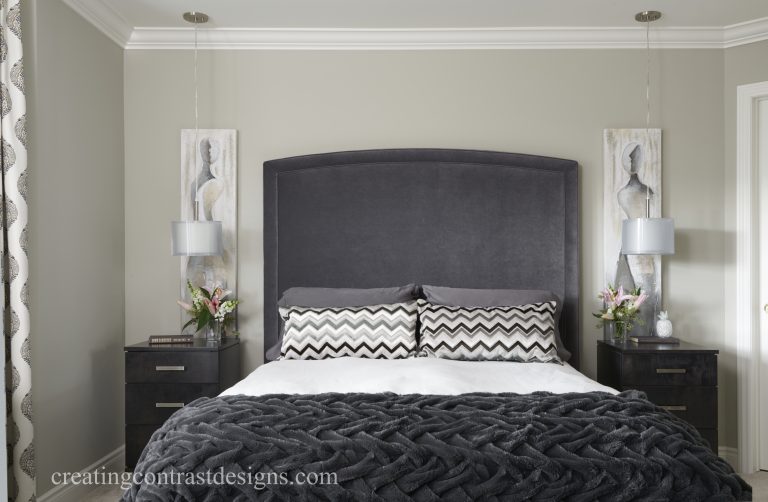 The taupe undertones are pleasantly drawn out with the dark gray furniture and bedding. The green undertones may stand out to some, while the beige is almost completely gone. With more natural light let in, the taupe would no longer be highlighted. Overall, Revere Pewter in this room adds a warm feeling without being dark or cold.
Take a look at Kelly Bernier Designs Revere Pewter bedroom design which is similar to the previous bedroom but lacks the taupe undertone seen above. This is due to the light gray and blue accents in the room as opposed to the dark gray and green.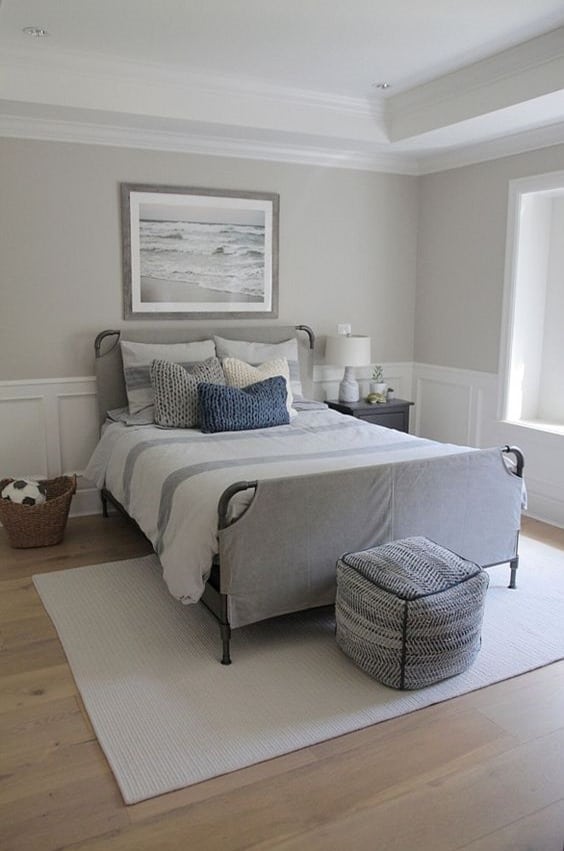 This room has low natural light and no artificial light in the photo, lending Revere Pewter a hand in showing the true neutral gray that it can be. With more blue and light in the room, Revere Pewter may show its blue undertones.
Bathrooms with Revere Pewter
This elegant Scavullo Design bathroom with Revere Pewter walls is where the warmth of Revere Pewter displays beautifully. Both the beige and the gray come through thanks to the natural light and gray accents in the tile and marble walls. This bathroom shows that greenery does not always elicit the green undertones of Revere Pewter.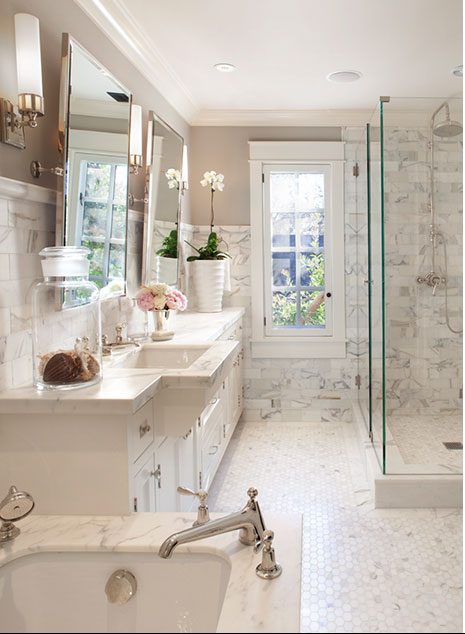 This design by Young House Love in this master bath with Revere Pewter contrasts with the previous bathroom nicely. Revere Pewter acts as the main element instead of an accent, and the flood of natural light brings out the gray.
Taupe undertones are present due to the dark wood and gold-brown in the carpet. It is a balance of warmth and cool, not closing the space down. The mirror and the gray color help open up this area nicely.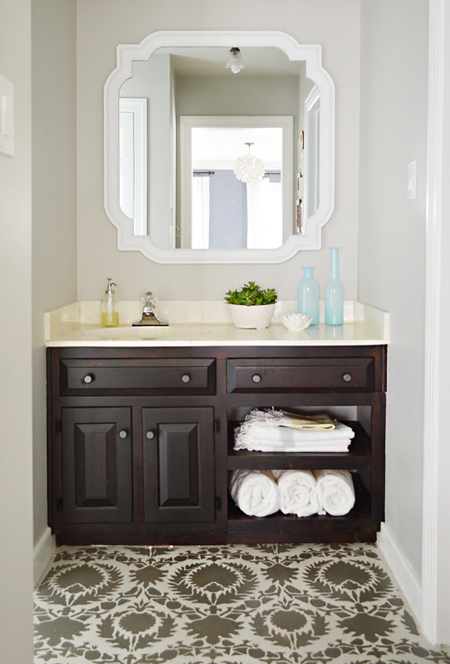 Revere Pewter as an Exterior Color
Favorite Paint Colors chose a light greige Revere Pewter exterior shows how beautiful this neutral color can be on the outside of a house. The dark shutters help bring out the beige while the white trim and gray roofing elicits the gray. No undertones are seemingly present, though, with more greenery around the yard, green or taupe may come through. The light turquoise door pops thanks to Revere Pewter.
So, what do you think? Are you a Revere Pewter fan after seeing these examples? Don't forget to check out these other fantastic paint colors!
Tips for Painting a Room Yourself
I've gathered some of the best tools for painting a room yourself. First of all, you'll want to check out this post I wrote: Painting a Room in 5 Easy Steps. These tools are the top tools I use when painting my own rooms, which is how they get painted 95% of the time!
Paint Brush – These paint brushes are a little more expensive than your basic brush, but they're worth it! I've used these brushes for more than a decade and if you wash them out well after each use, they will last for years.
Painter's Tape – a MUST have for taping off edges. You'll need to tape off all edges if you don't have a steady hand.
Drop Cloths – a must have if you don't have any laying around the house already.
Paint cup – Sure you could use any old cup, but I've come to swear by this one. The magnetic piece holds your brush cleanly in place when you need to take a break. And it fits my hand perfectly, keeping it from cramping.
Roller Tray – I've found the only paint tray I'll ever use again. The magnetic piece is great for holding the roller in place. And the liners are a luxury, but I won't paint without them because it makes clean up a breeze!
MORE POSTS YOU WILL LOVE: