Benjamin Moore Revere Pewter
Revere Pewter stands out as the epitome of greige: a warm green-gray color with a strong beige background. It is a transition color due to its warmth and depth, making an excellent choice for open floor plans in your home.
This is a fun color to play around with because of the width and breadth of its undertones, changing around depending on light exposure. Coincidentally, Benjamin Moore HC-172 keeps the cool gray undertones present in most lighting conditions.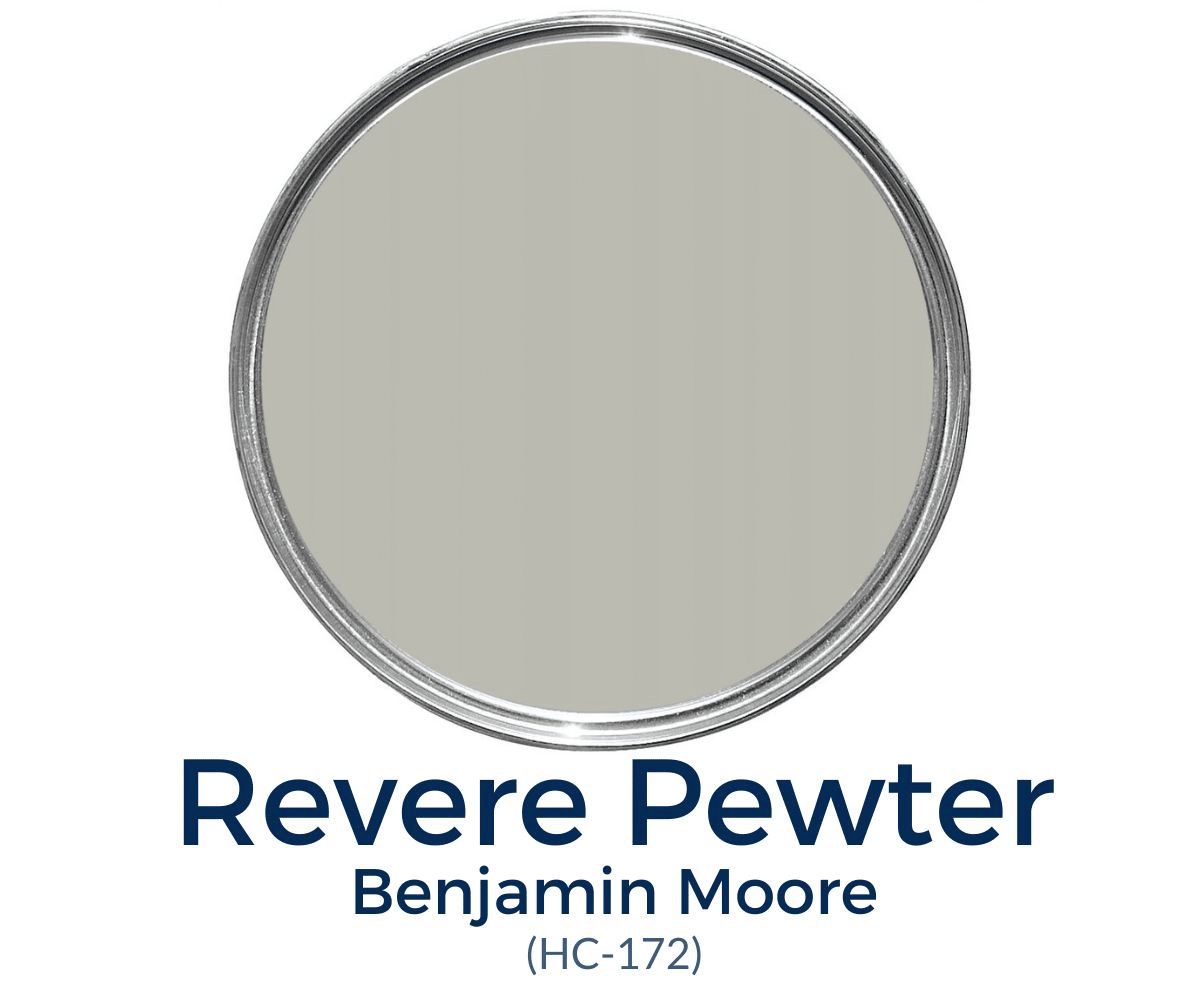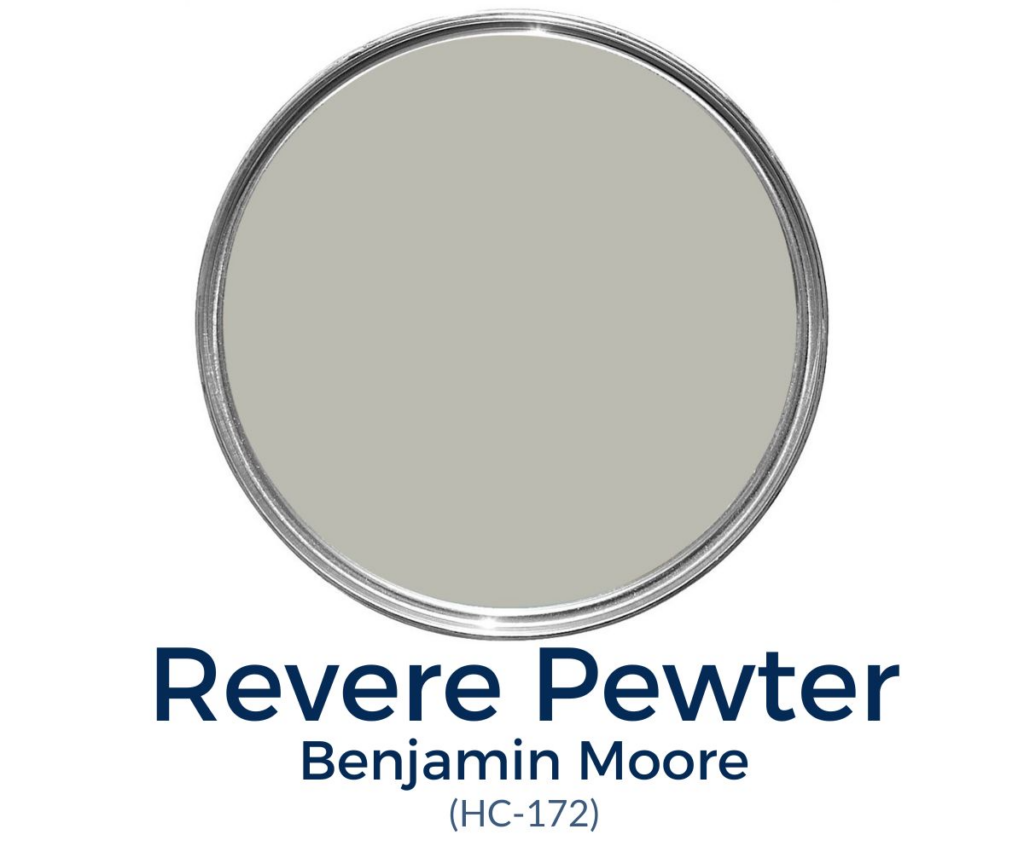 This post contains affiliate links for your convenience. See my full disclosure policy here.
All of these add up to the most popular gray paint color on the market – and a personal favorite of mine.
Navigate this post easily by using the drop down Table of Contents menu below. And don't forget to pin this to save it for later!
I love sharing paint color spotlights and tips for painting a room! Painting is one of the easiest ways to transform your home on a budget. Don't forget to grab the painting supplies you will need!
Tip: Use Real Paint Samples
Any time you are choosing a new paint color, you need to try out the real paint color in your home first!
The easiest and quickest way to do that is with Samplize! I solely use them for paint samples now. There's no mess, no leftover sample pots of paint. Plus, these no-mess, peel and stick rectangles made from real paint, are easy to move around the room and easy to save for future reference!
What Color is Revere Pewter?
a warm green-gray color with beige undertones
a medium color with an LRV of 55.5
a beautiful choice for an open floor plan
a versatile color that works with every style from farmhouse to traditional to modern!
Revere Pewter Undertones
Revere Pewter is a chameleon paint color, which which makes it very versatile. The best attribute it has is that the shade will remain gray while being much warmer than most of the other popular grays.
However, it can have very muddy undertones, sometimes bringing out a little green as well. This can blur a "clean" look if that's what you're looking for, or it could be perfect for you if you're looking for earth tones. This green will come out with lots of greenery outside the window or in the room. The green undertones may also come out when paired with a dark floor.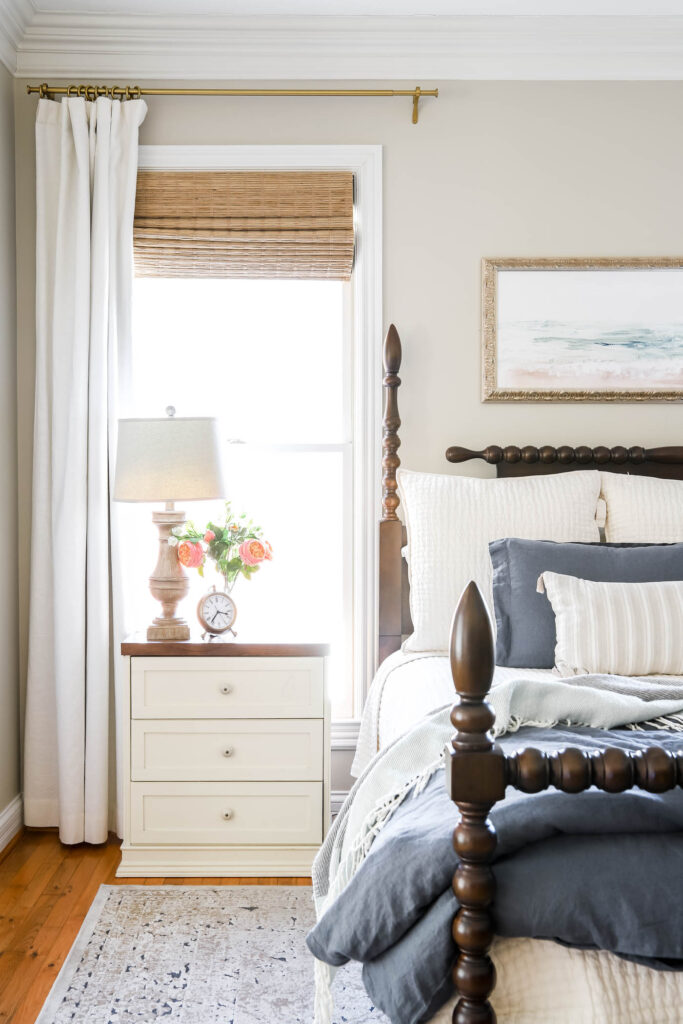 If you choose to use Benjamin Moore Revere Pewter in a dark room or hallway, you will need to give it lots of light or else risk it being murky and lifeless. In this situation, or where there's a room with a lot of dark, heavy furniture, Revere Pewter can look straight up beige or tan!
The other side of this color's undertones is violet-blue. In an airy room with lots of natural light Revere Pewter will almost lose the beige background and replace it with a blue undertone. This creates a similar color to more traditional grays while still being warm.
LRV of Revere Pewter
Light reflectance value (LRV) is the percentage of light reflected in a paint color. When it comes to LRV, the higher the number is, the more light it reflects rather than absorbs, making it more white. While a lower LRV will be a darker color. So, where does Revere Pewter fall on the scale?
Revere Pewter has a Light Reflectance Value of 55.5.
So, it's right in the middle of the LRV spectrum. In rooms with little to no natural light, you'll want to pick paint colors with an LRV of 60 or higher. So, if that's the case for you, I might choose Edgecomb Gray or Revere Pewter mixed at 75% strength instead.
What Colors go with Revere Pewter?
So many colors look good with Revere Pewter! I believe so strongly in the versatility of this shade that I wrote an entire post about pairing paint colors with HC-172. Here are some additional paint pairing ideas:
Sea Salt by Sherwin Williams (medium blue/green/gray color) pairs really well with Revere Pewter, being as they have nearly the same LRV. And they both have a green/gray undertone! This will give you a light and airy, even coastal vibe.
Hale Navy (Benjamin Moore) is another great color to pair together.
Kendall Charcoal (Benjamin Moore) is a dark gray with warm undertones that would make another great paint color to pair together!
Chelsea Gray (BM) would be good as well since they both have similar undertones!
For a lighter feel to a room, it can be balanced with lighter grays as well as whites such as Soft White, Cloud White, and Simply White.
As you can see, it's hard to find a color that doesn't go great with Revere Pewter – it's truly a shade that boasts flexibility with a wide range of accents, ranging from bright red to avocado green to yellow or magenta. For a real pop of color, try Coral Gables by Benjamin Moore or Turquoise!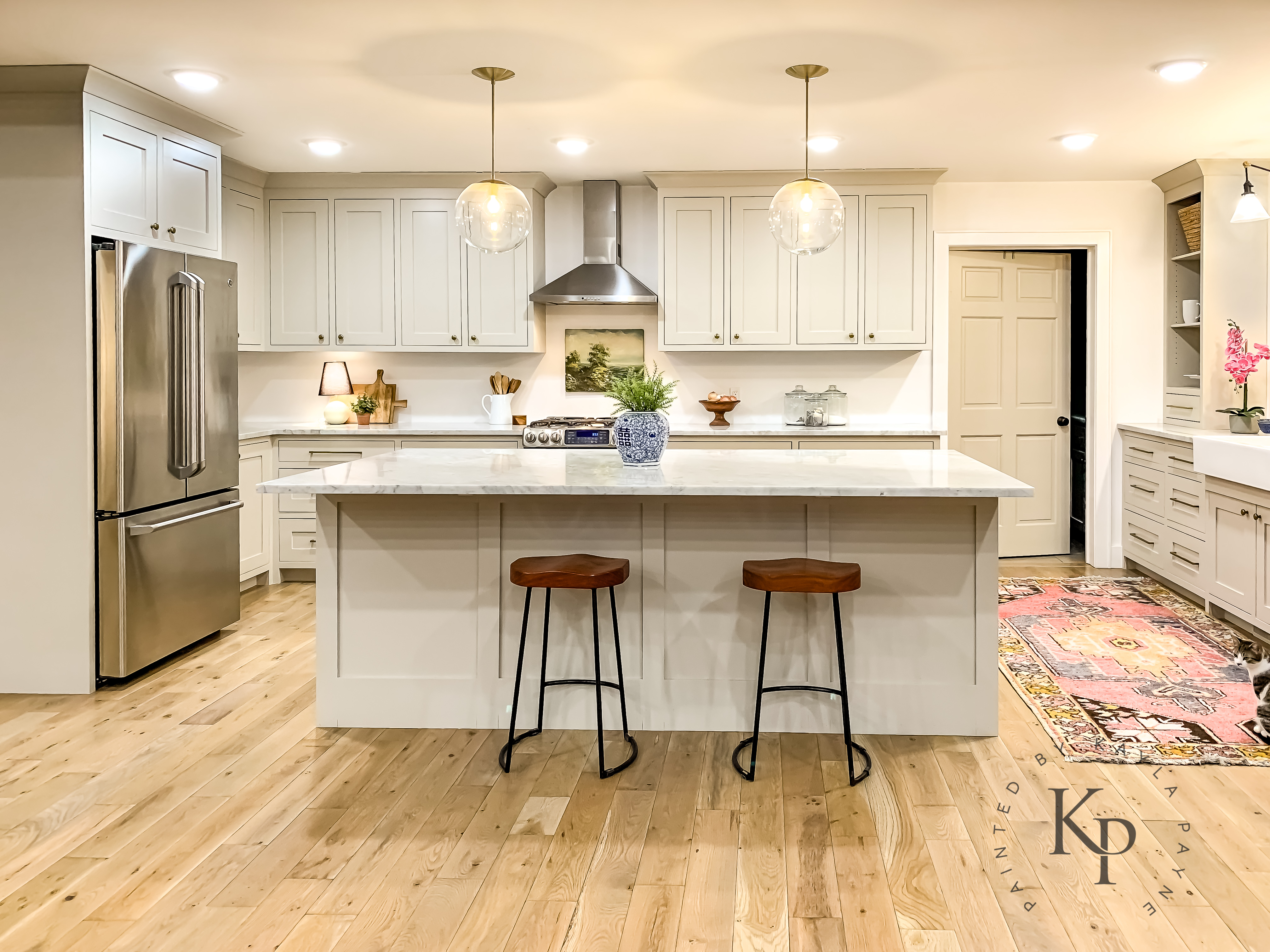 Trim Colors to Pair Together
The best trim colors to pair with Revere Pewter are:
Simply White (BM) – my favorite off-white trim and cabinet color
White Dove (BM) – creamy beige
Pure White (BM) – a true bright white
Chantilly Lace (BM)
Alabaster (SW)
I would choose an off-white or warm white color for trim. As long as you stay away from a white with too much yellow, you should be fine!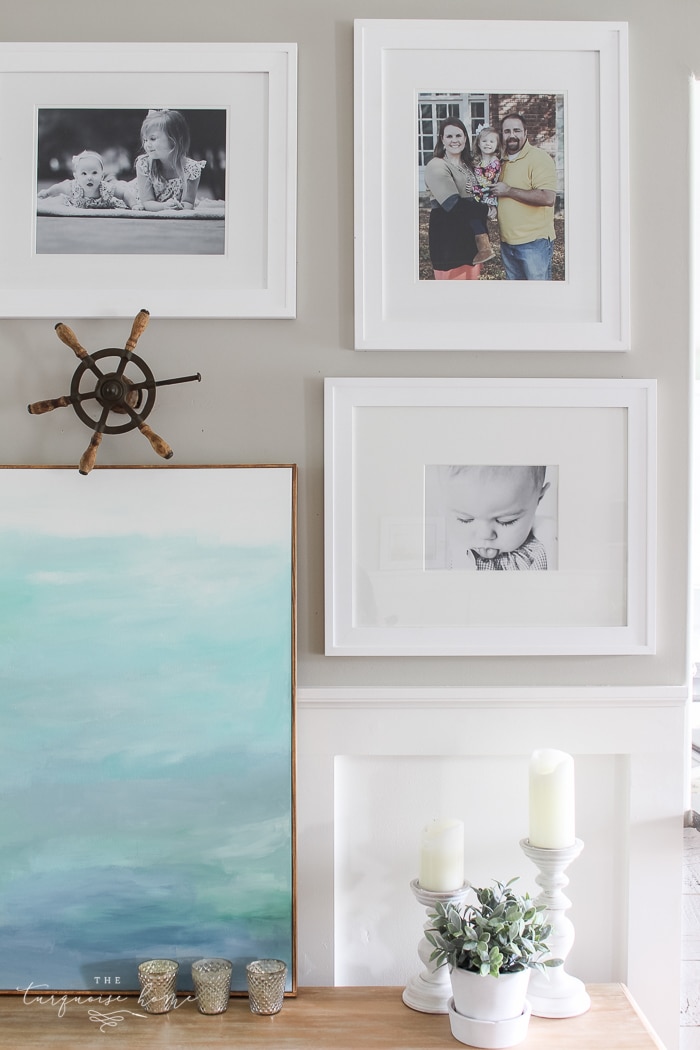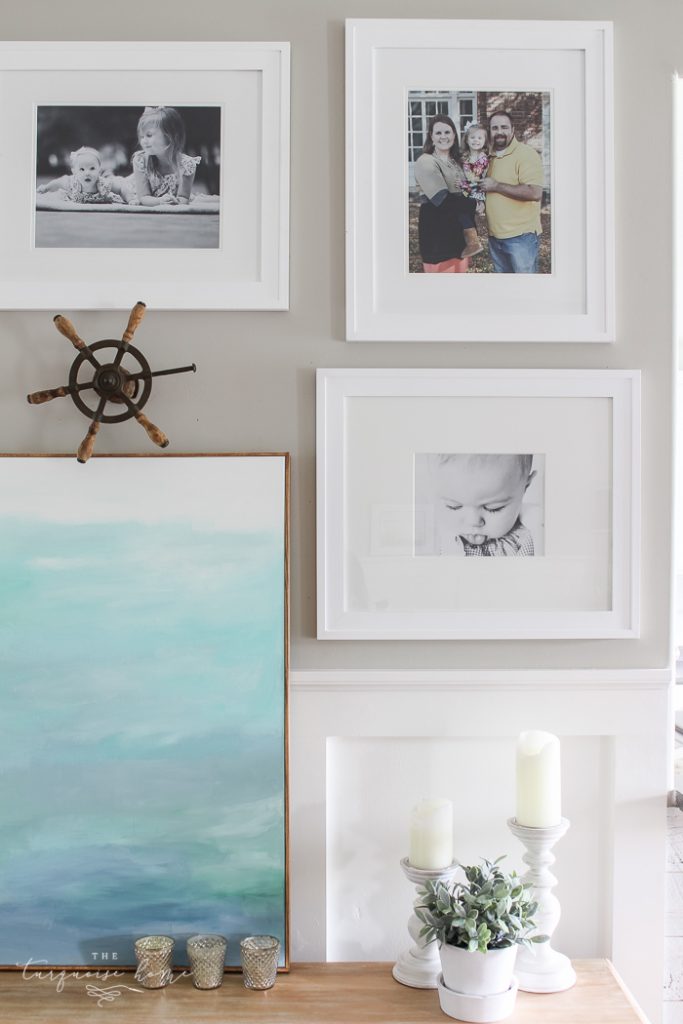 Revere Pewter vs. Agreeable Gray
As you'll see in the image below, Revere Pewter is slightly darker and warmer than Agreeable Gray. Many people try to find comparable colors from other paint companies, and often times Revere Pewter is compared to Agreeable Gray (Sherwin Williams).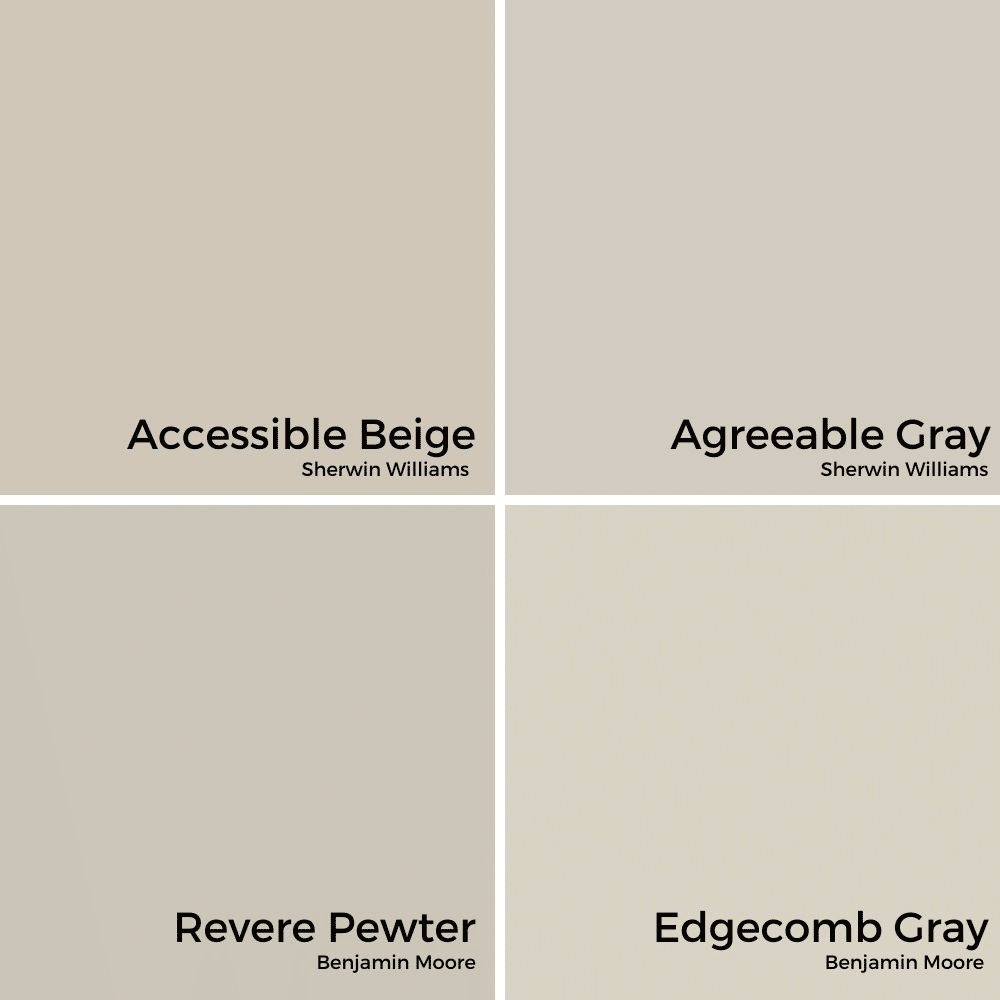 Other comparable colors to Revere Pewter HC-172 are Edgecomb Gray and Accessible Beige.
Truly, Revere Pewter is one of the most popular greige paint colors, but you could choose any of them and be happy with your choice! Just pay attention to the undertones and choose accordingly!
After debating between several paint colors, I finally settled on using HC-172 in our last living room —and I absolutely loved it!
Our living room had those pretty taupe undertones while bringing the gray through. The natural light joined with Revere Pewter in making the room feel extra cozy and warm. In my opinion, this is a great paint color for any open space as it helps keep the room feeling cozy without overwhelming the space.
Frequently Asked Questions
Is Revere Pewter Benjamin Moore still a favorite?
While Revere Pewter has been one of the most popular paint colors for more than a decade, we're still seeing top interior designers use this soft gray/beige color.
Where to use Revere Pewter?
This versatile color can really be used anywhere, including the trim, walls, cabinets and even floors and ceilings!
Is Revere Pewter Warm or Cool?
Revere Pewter definitely leans more on the warm side. It will only appear cool when paired with other really warm colors like chocolate brown.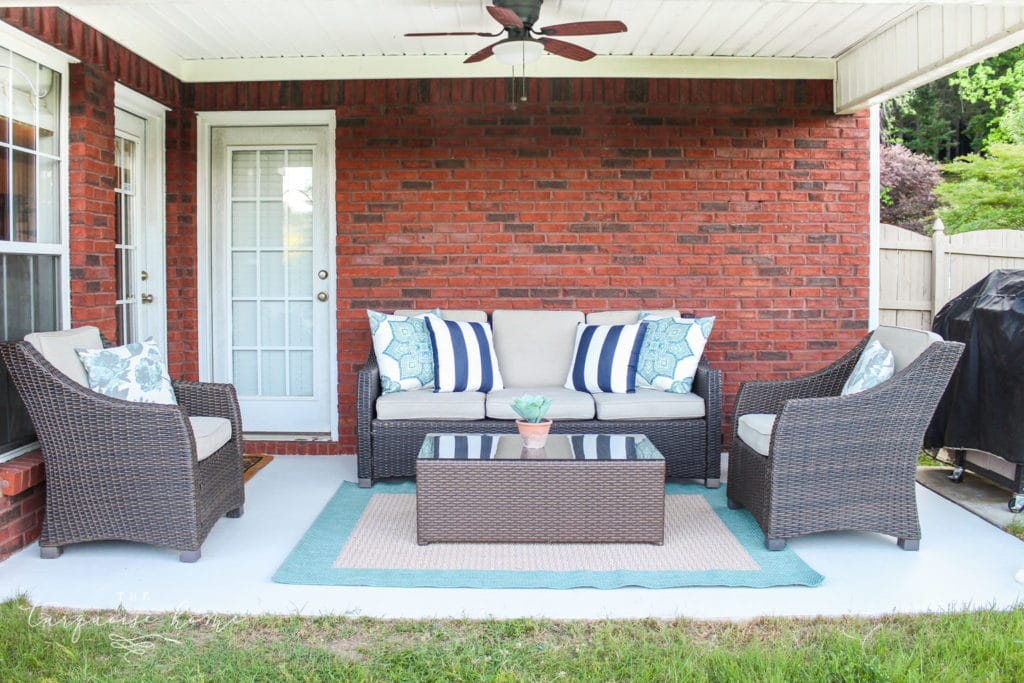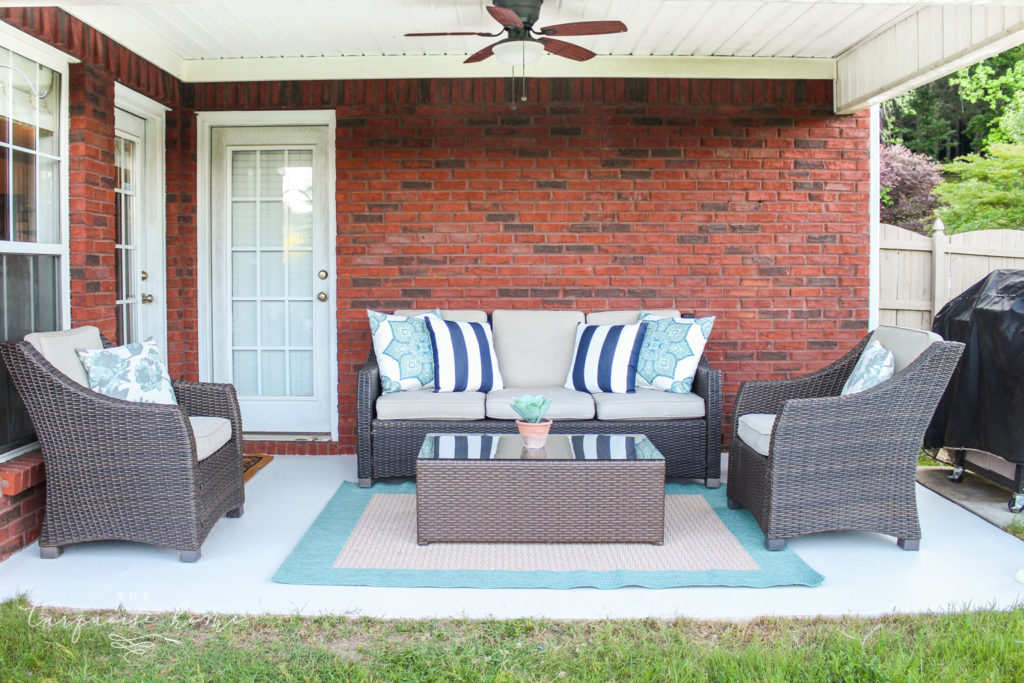 Painting Tips
More Posts You Will Love: