The Principal's Office: A Warm and Homey Makeover
Happy Monday, my friends! When HomeGoods recently contacted me about making over a space for someone else, I was excited to jump on board!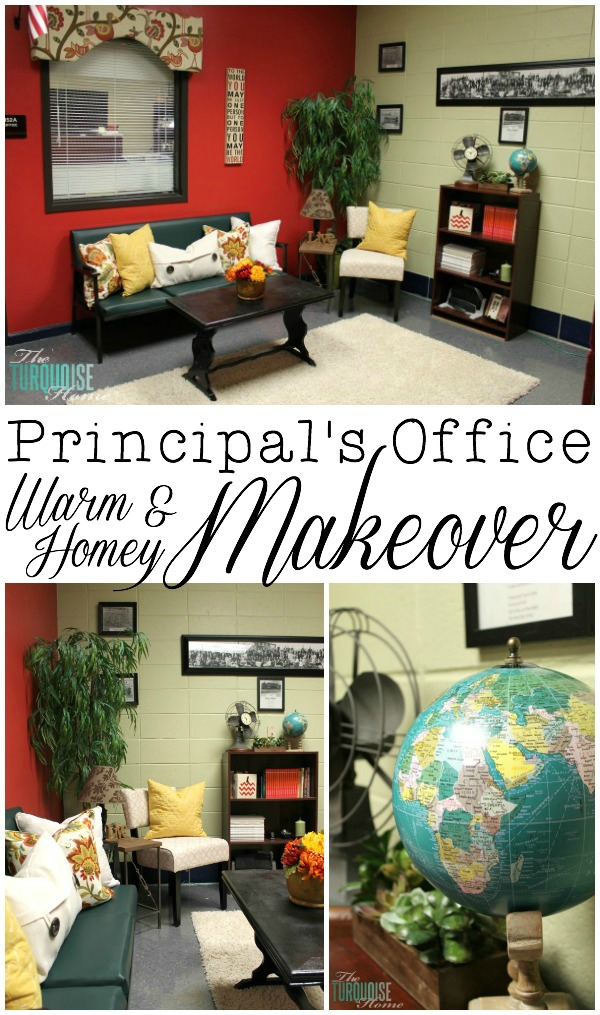 I immediately thought of Coach's school. He's a teacher and a coach in a county high school nearby and I thought surely I could spruce up a corner of their world. I didn't know if maybe the library or the front office could use some love, but I knew they could put it to good use. And guess what? We found the perfect spot needing a little bit of love.
Coach contacted the assistant principal, Mrs. Reynolds, one evening. And come to find out, she had been planning on going shopping the very next day to spruce up part of her office.
Now, before you think she just wanted to spruce up her own space, that's not it at all! She has two rooms for her office: the place where she keeps her desk and works and then a room where her student aids can hang out or do their homework or visitors can wait for their appointments. We fixed up the second room. 🙂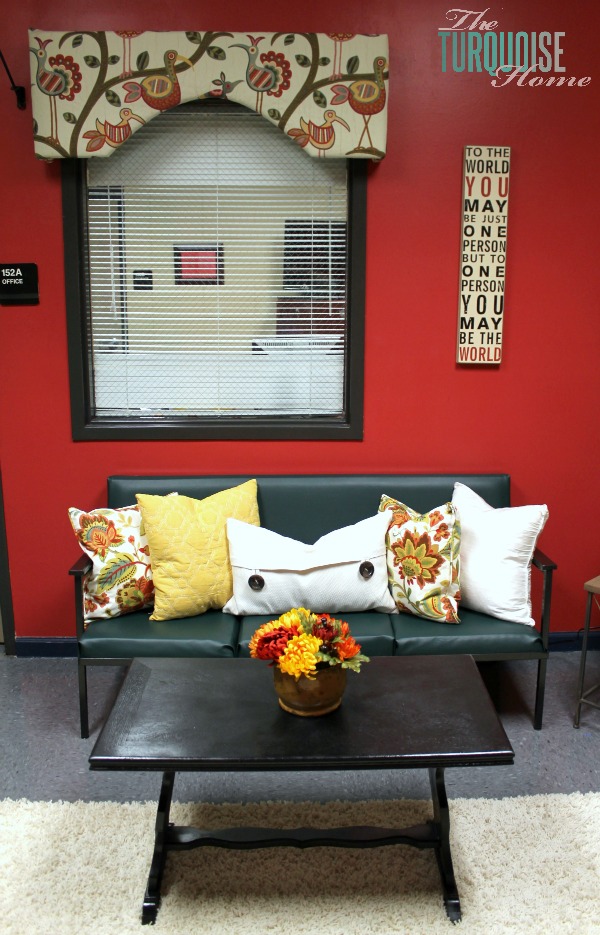 She had already picked out some beautiful fabric, made valances and painted the walls, so my job was really easy. I took a fabric swatch from the valance with me to make sure I got the pillows and chair colors right.
Tip: when shopping for accessories or furniture, grab a swatch of fabric already used in the room. That keeps you from buying things in the gray family when really you need to be buying things in the brown family and vice versa. When I found the patterned pillows for the couch, I knew they would work perfectly because I had that fabric swatch!
Mrs. Reynolds wanted the room to be warm, homey and inviting – all things I knew I could accomplish with a little help from HomeGoods. She also needed more seating and to somehow cozy up the existing seating.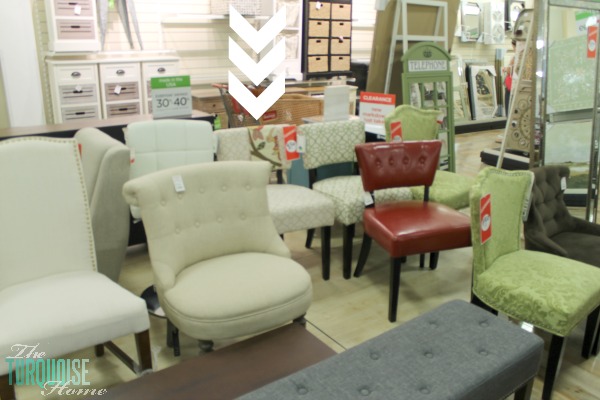 (Sorry for the super blurry picture, but you can see the awesome clearance section. Even better deals on already great prices! I threw my fabric swatch over the chair and they looked great together.)
When I walked into HomeGoods, I headed straight for the chairs and furniture. There was a huge clearance section with tons of seating options and I spotted the perfect one immediately. I got it for a steal at $69. And I grabbed a stool (also on clearance) for the computer desk, as well as some pillows and decor items.

A little side-by-side action
In addition to the upholstered chair, stool at the computer desk, pillows and decor items on top of the bookshelf, I also got the little side table you see in the picture above at HomeGoods. Mrs. Reynolds already had the black coffee table, but she was using it in another place before I snatched it up. 🙂

I did grab some items from my home decor stash at my house. Some of the items I was going to sell in my next yard sale, or donate and they worked perfectly with this spruce up!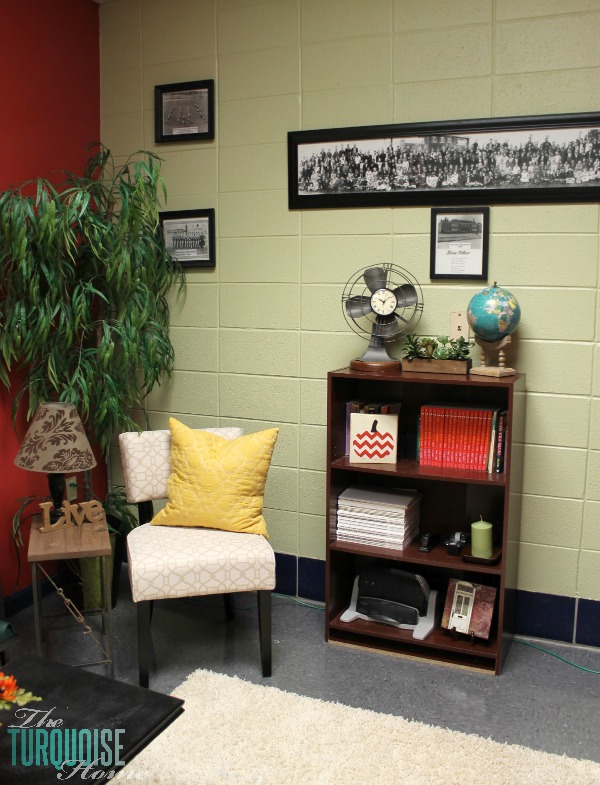 I absolutely love the fan clock, faux succulents and cute little globe on the bookshelf. I thought the globe was appropriate for a school study room. I grabbed one of my Scrappy Fall Pumpkins from my stash for a little autumn decor.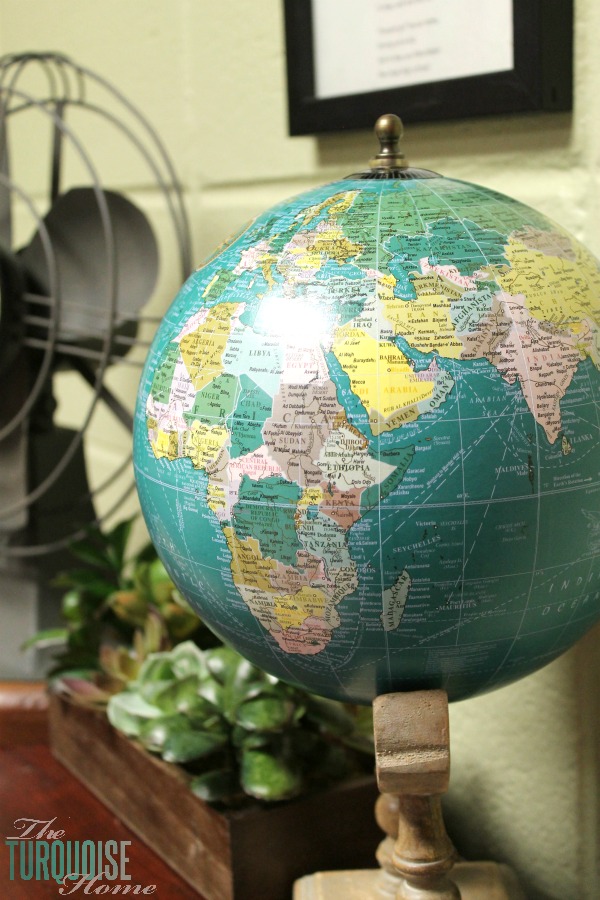 At the end of the day, I had so much fun getting to add a little cozy warmth to one corner of the school. Although I am a little worried that it may be too cozy. Coach came home one day and told me that he caught a football player napping on the sofa with all of the pillows. Ha! Mrs. Reynolds might have to keep them from sleeping in there. 🙂