Gather your old and new spring decor, plus some beautiful fauxtanicals to decorate your spring tablescape!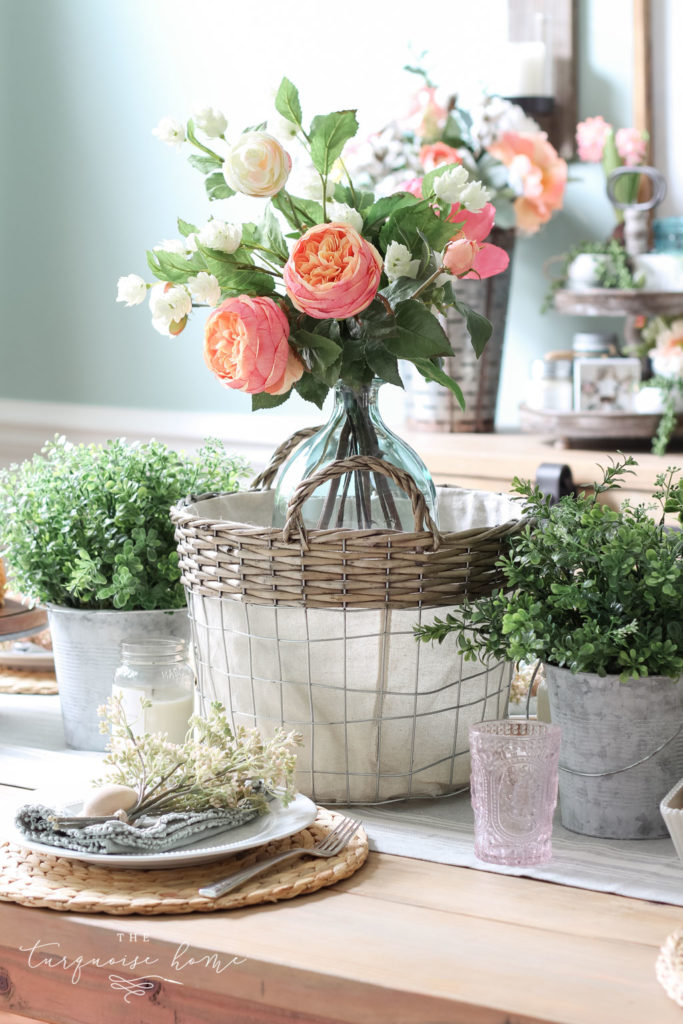 I love decorating my dining room table with fresh signs of the new season, especially this season coming up – because flowers! I've realized in this spring decorating process that I'm obsessed with what we like to call "faux"tanicals around here. It's the #1 thing I buy every spring since, well … I have a terrible case of black thumb.
But I love thinking of new, creative ways to decorate a tabletop with my faux-tanicals. So, if you love that too then you're in luck today!
We're hosting supper club at our house in a couple weeks, so I'm glad I figured out my set up now and not waiting until the last minute. Although I'm not going to have big ol' floral arrangements in the middle of the table while we eat. That space will be filled with yummy food instead!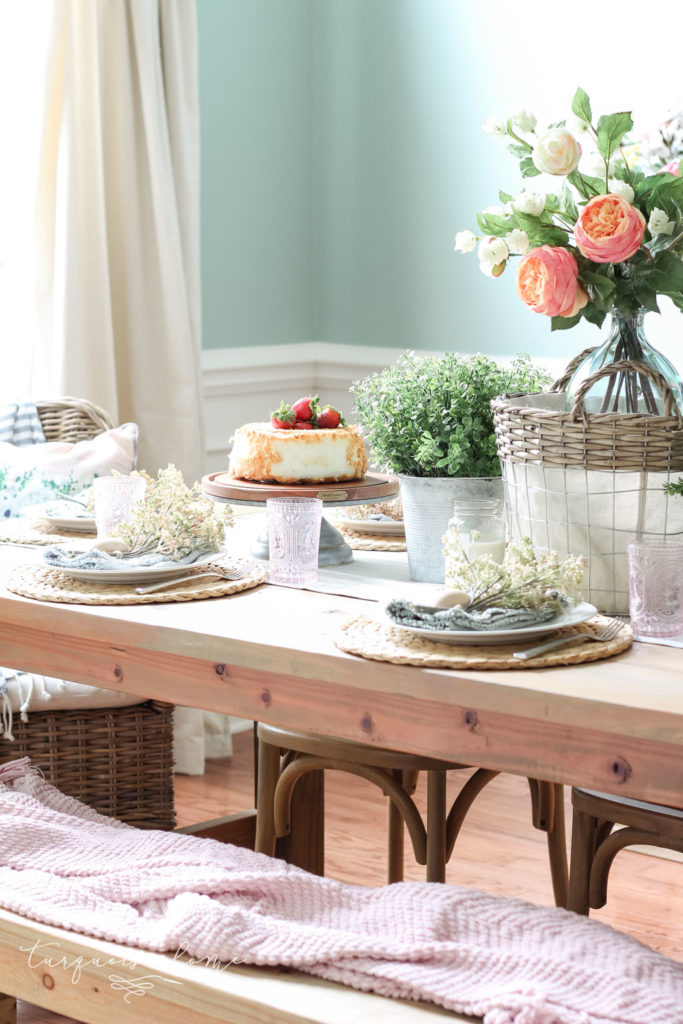 P.S. – If you have a fabulous dish that would be perfect to serve at supper club, please share in the comments!
I started with the turquoise blue vase (Similar) in the middle of the table. I've been eyeing some similar vases for years, so when I saw this one last week I snatched it up!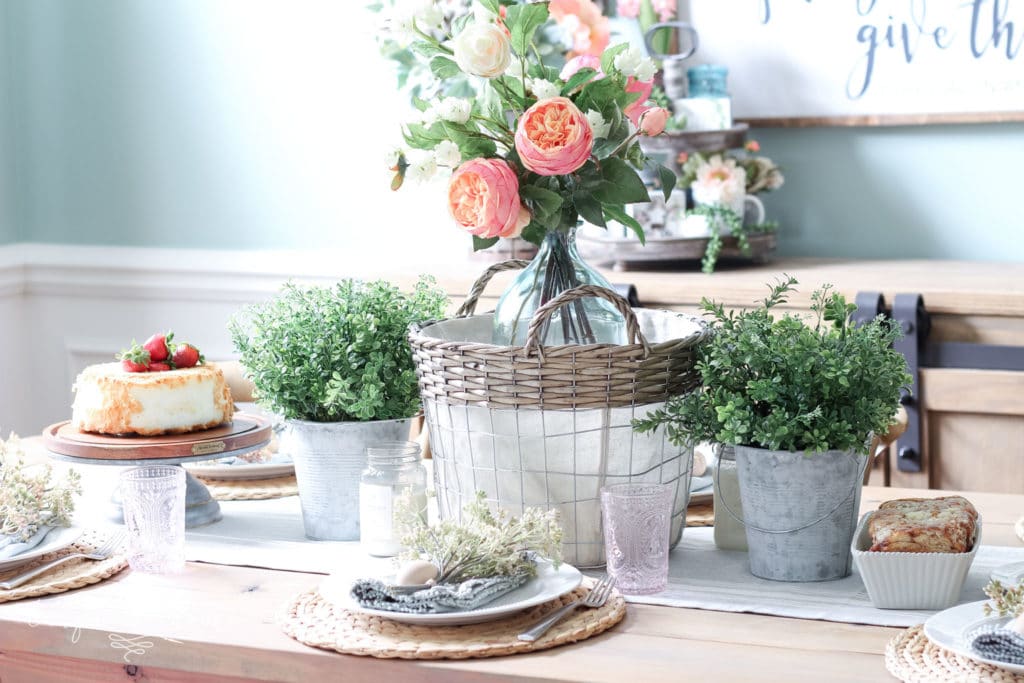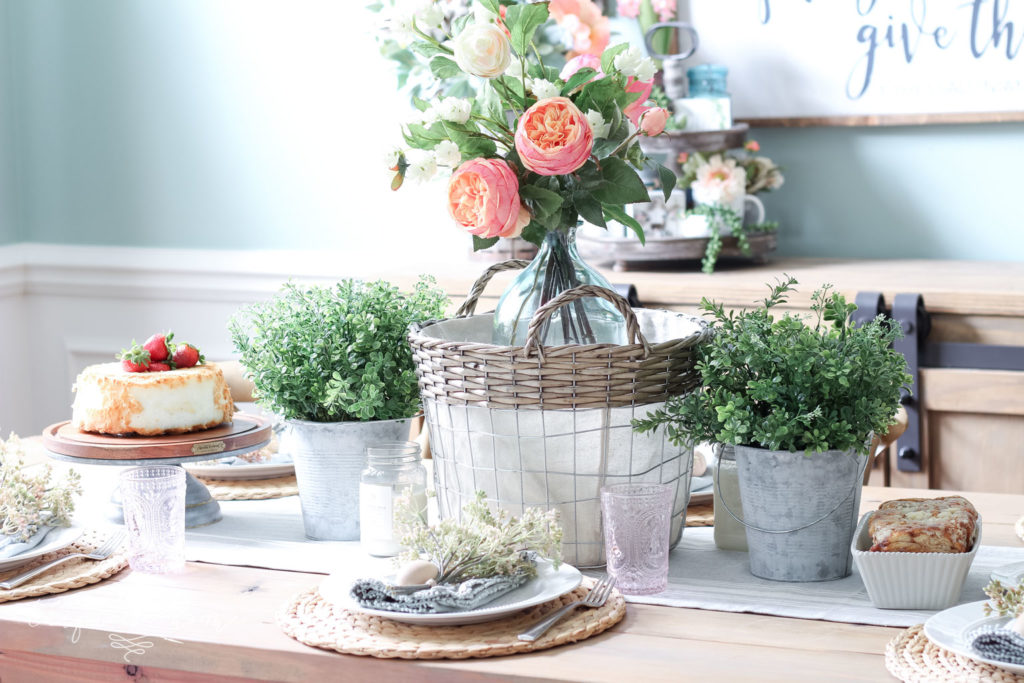 My stash of faux spring florals is the size of the Titanic, but that didn't stop me from going on a hunt for some perfect new stems! I found them at a local home store, so unfortunately I don't have a link. But they are so life-like – I love them!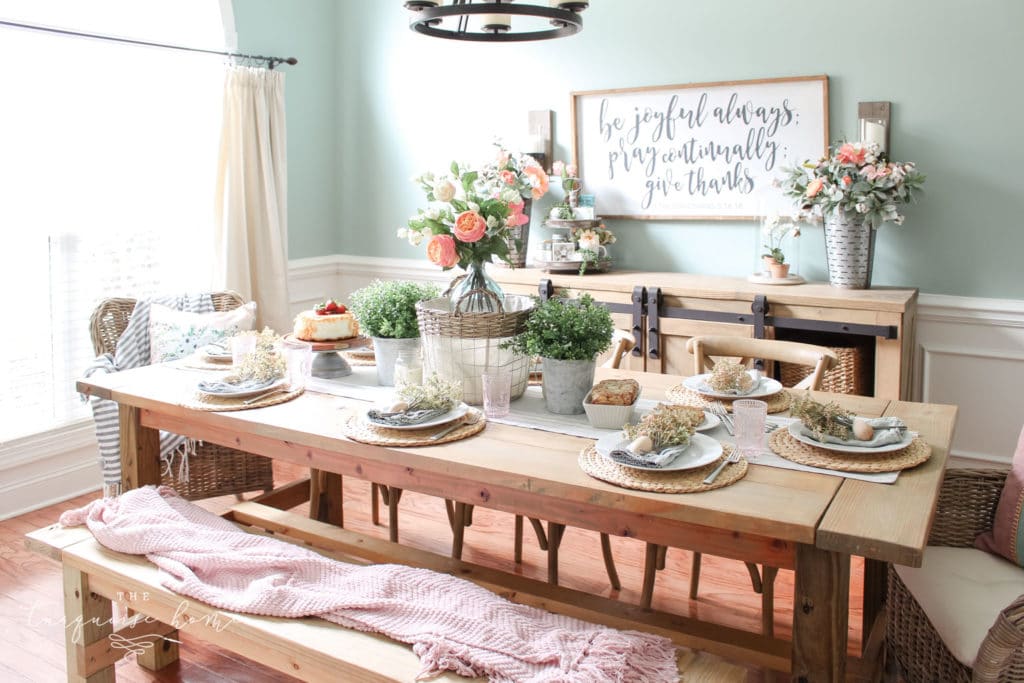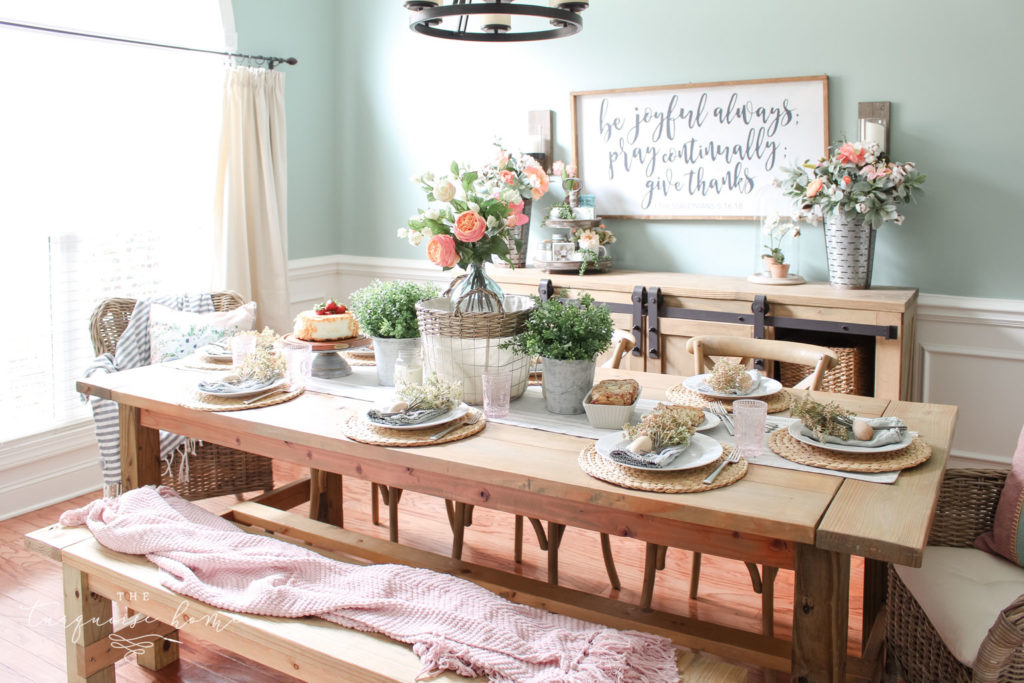 Once I got my floral arrangement just right, I realized that they looked silly in my blue vase because the stems only reached about halfway down the vase. 😂 So, I needed to find something that would hide them bottom half of the vase!
Enter a basket.
I love it when I can repurpose something already in my decor stash. And it not only hides the bottom of the vase but adds interest and texture to the table – win/win!
The two buckets of faux boxwood greenery in white buckets (Similar) found their way into my basket a couple weeks ago. You can never go wrong with a bucket of greenery!
My white plates are one of my favorite things ever because they go with anything and every season! I will say that they were cheap and after about 5 years they are starting to chip.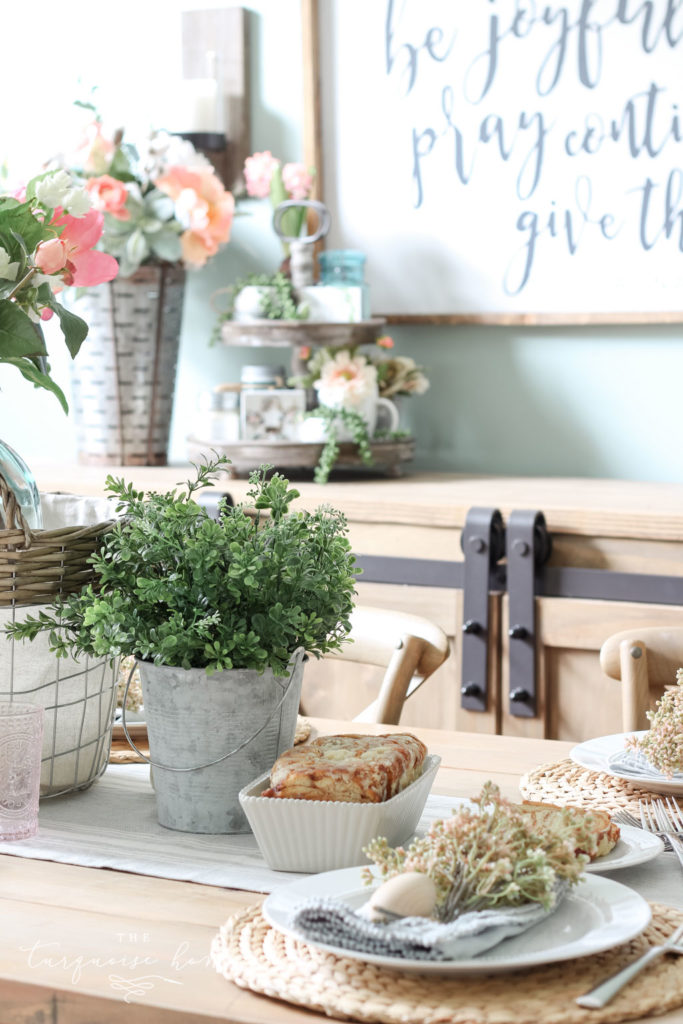 Maybe for our 10th anniversary this year we can invest in some nicer white dishes. But white dishes are classic and I would tell my about-to-be married self a decade ago to just go with plain white dishes! (I started with some brown and turquoise dishes that were nice, but I didn't love after the first year. Womp. Womp.)
The water hyacinth placemats are another staple in my decor stash, which work with every season! But I especially love the color and texture for spring & summer.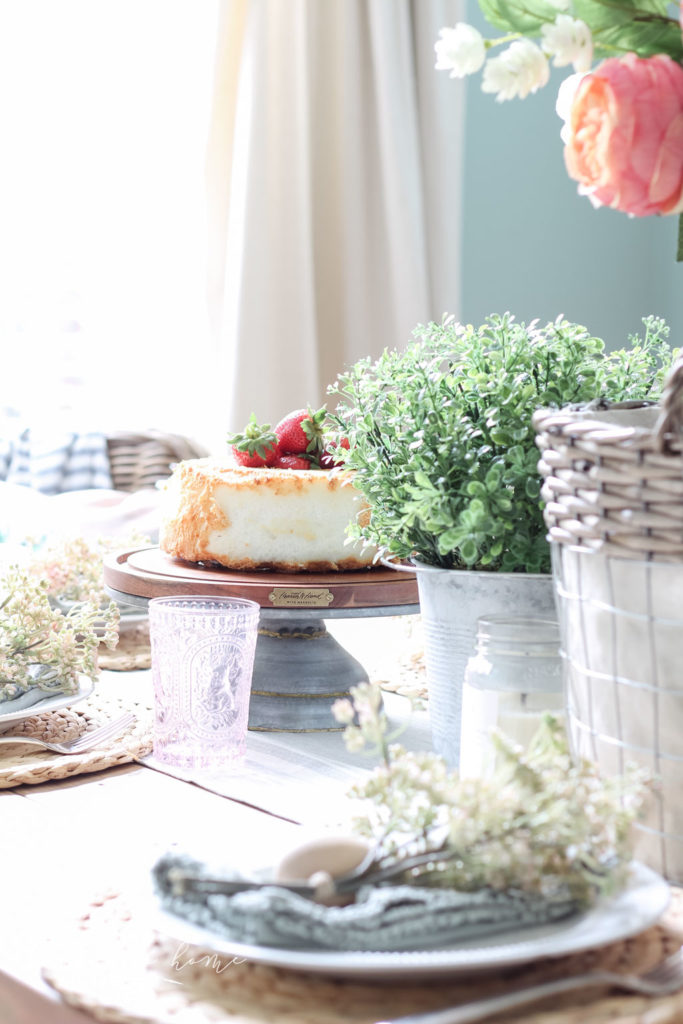 The cake stand is something I bought at Christmas.
I bought the adorable blue and sage ball pom napkins last year at Hobby Lobby and they are the perfect spring touch for the table. They brought them back this year, which I am so happy about, because they sold out so quickly last year.
And the pink bunny juice glasses were a great find at HomeGoods. I couldn't find any exactly like them online, but I found some similar here and here. My girls loooove drinking out of their fancy bunny cups now.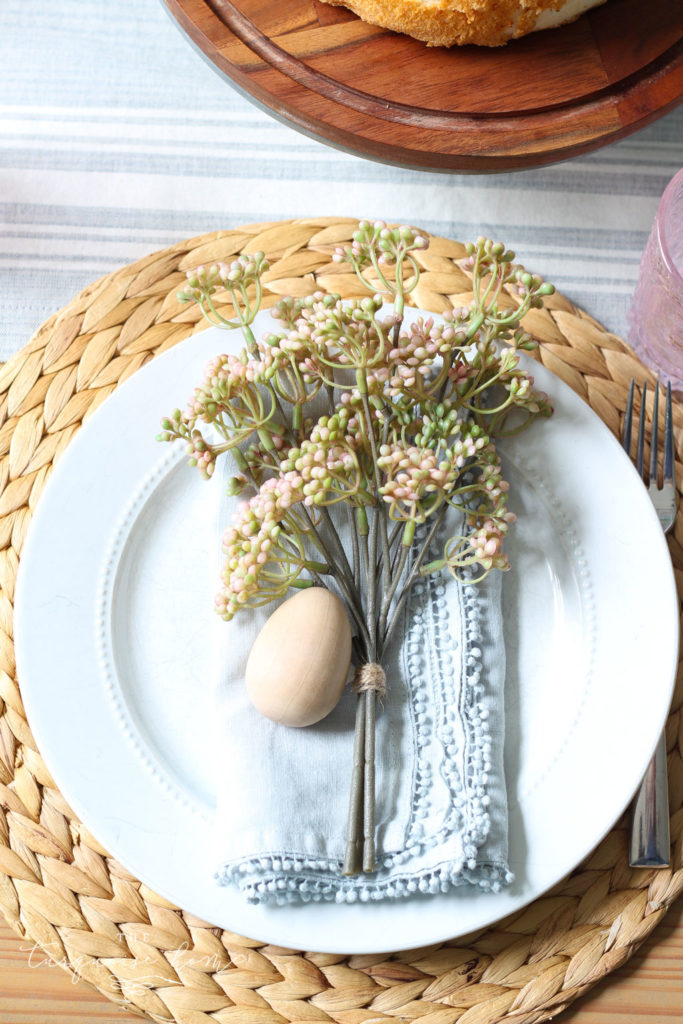 I love, love, love this pillow with the flower truck on it. It's a classical spring image with some of my favorite colors: blush and navy!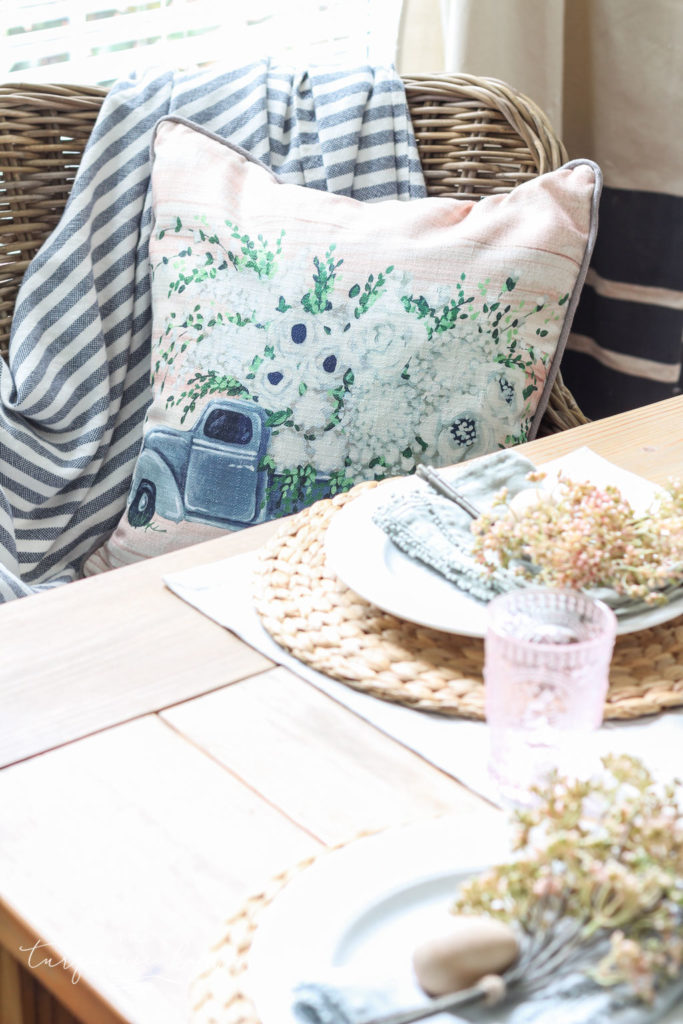 My husband just walked by and said, "what are you trying to say by offering everyone a wooden egg and a bunch of weeds at every plate!?" Ha! Men.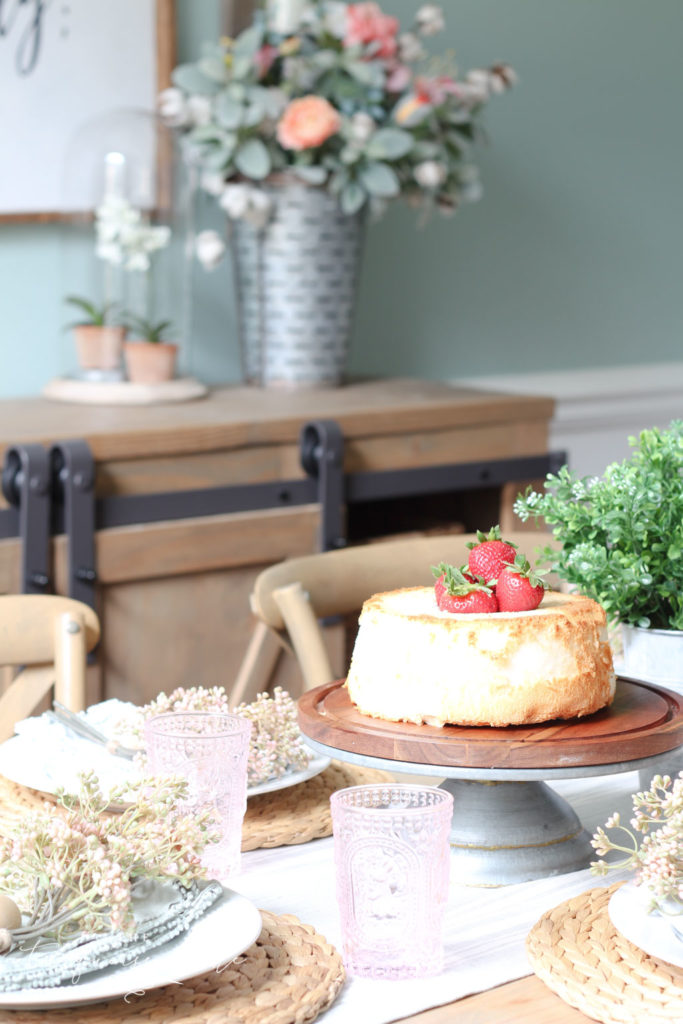 It's called decor, honey. 😂 Nobody will have to eat the wooden egg or weeds. Although I thought the faux eucalyptus with berries bundles were really cute on each plate!
Behind the table you'll see my large console (DIY tutorial here) that I built a couple years ago. It was by far my largest build, but really doable. I love how great it is for storing some of my seasonal decor items!
I bought the large wood & glass cloche and the most adorable mini potted orchids for spring this year and I love them. I'll have to get a closer photo when I do my spring home tour on Monday.
And in just a couple weeks I'll be mostly recreating this look to host supper club at my house. 😂 Remember to send me those favorite recipes for hosting large groups! I need to start working on that menu!
Sources for my Spring Tablescape:
If there's any item I didn't link, just ask me in the comments and I'll be glad to find a link if I can!
Enjoy your spring decorating!
Laura
Looking for More Simple Spring Decorating Ideas?
MORE POSTS YOU WILL LOVE: