Where to Buy the Best Fake Plants
Layering plants into your space can add personality and style to any room. If you're internally cringing at the thought of having yet another living thing to care for, don't worry! We've got you covered with where to buy fake plant decor!
Faux plants can look just as realistic as their real counterparts, minus any of the hard work. Here's everything you need to know about where to buy fake plants and what to do with them.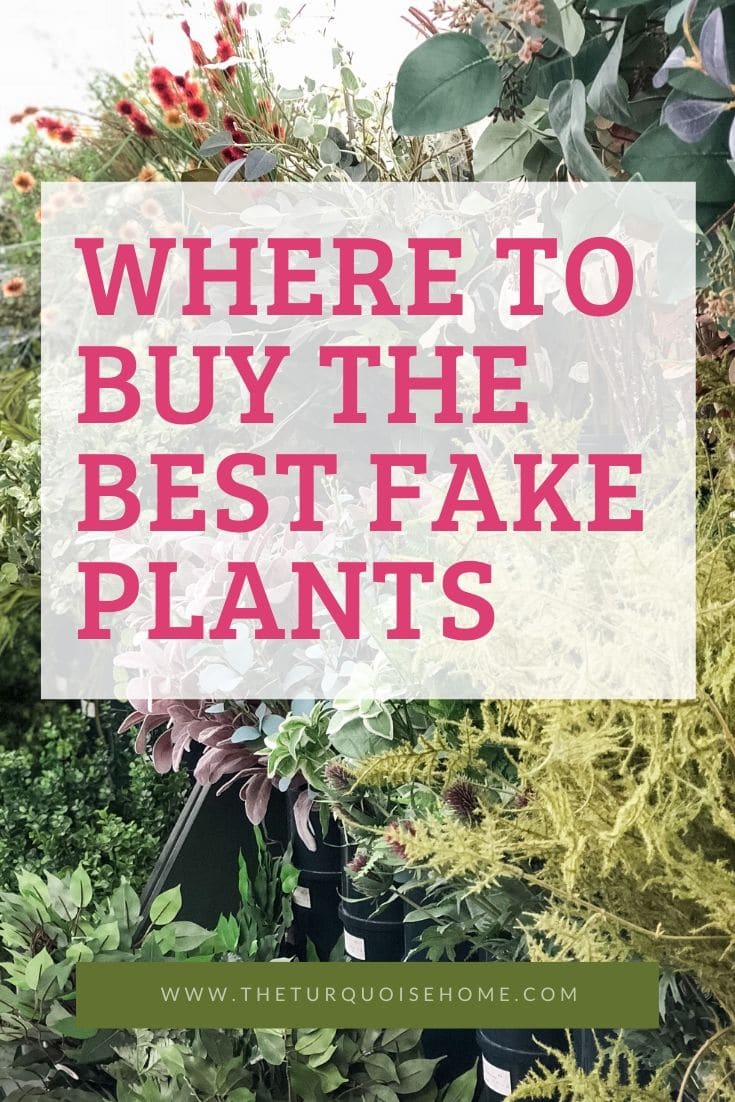 Decorating your home should be a fun and enjoyable experience. One of the easiest ways you can make your house feel more like home is by adding accessories to your space. My current favorite home decor accessory? Greenery!
This post contains affiliate links for your convenience. See my full disclosure policy.
However, even though I can keep a plant alive, I don't feel like I have time to keep more than a few plants alive right now. I'll be honest, though. As my kids get older, I'm adding more and more real plants to my collection and it makes me happy.
So, if you are in a season of life where you can't imagine keeping one more thing alive, or adding one more to-do to the list, that's where faux plants come in!
Thankfully, fake plants look so realistic that I often can't tell the difference! And I decided to share with you where to buy the best fake plants because they can make a HUGE impact on the aesthetic of your home or office.
I've decorated with live plants before and end up frustrated for many reasons, and I don't want you to go through something similar. There is definitely a place for real plants, but when it comes to decorating, artificial is often the way to go unless you are a natural gardener!
I've rounded up the best places to shop for faux plants online, including: Nearly Natural, Target and Pottery Barn!
Where To Buy Fake Plants Online
You'd be surprised how many gorgeous faux plants you can snag with Amazon. And you can order at the last minute and usually get them delivered in a couple of days.
What to Buy: These jasper and cypress topiary balls are perfect for a front porch planter! And my boxwood tower topiaries have lasted for years. (No one can tell they aren't real!)
I love buying fake plants at Target because they always keep a great stock of stylish items. Plus, they almost always come in the most adorable containers. This is where I found my fiddle leaf fig, which everyone thinks is real!
What to Buy: Smaller houseplants like this faux fern are perfect for filling a space without breaking the budget. And my all-time favorite fiddle leaf fig is a huge winner!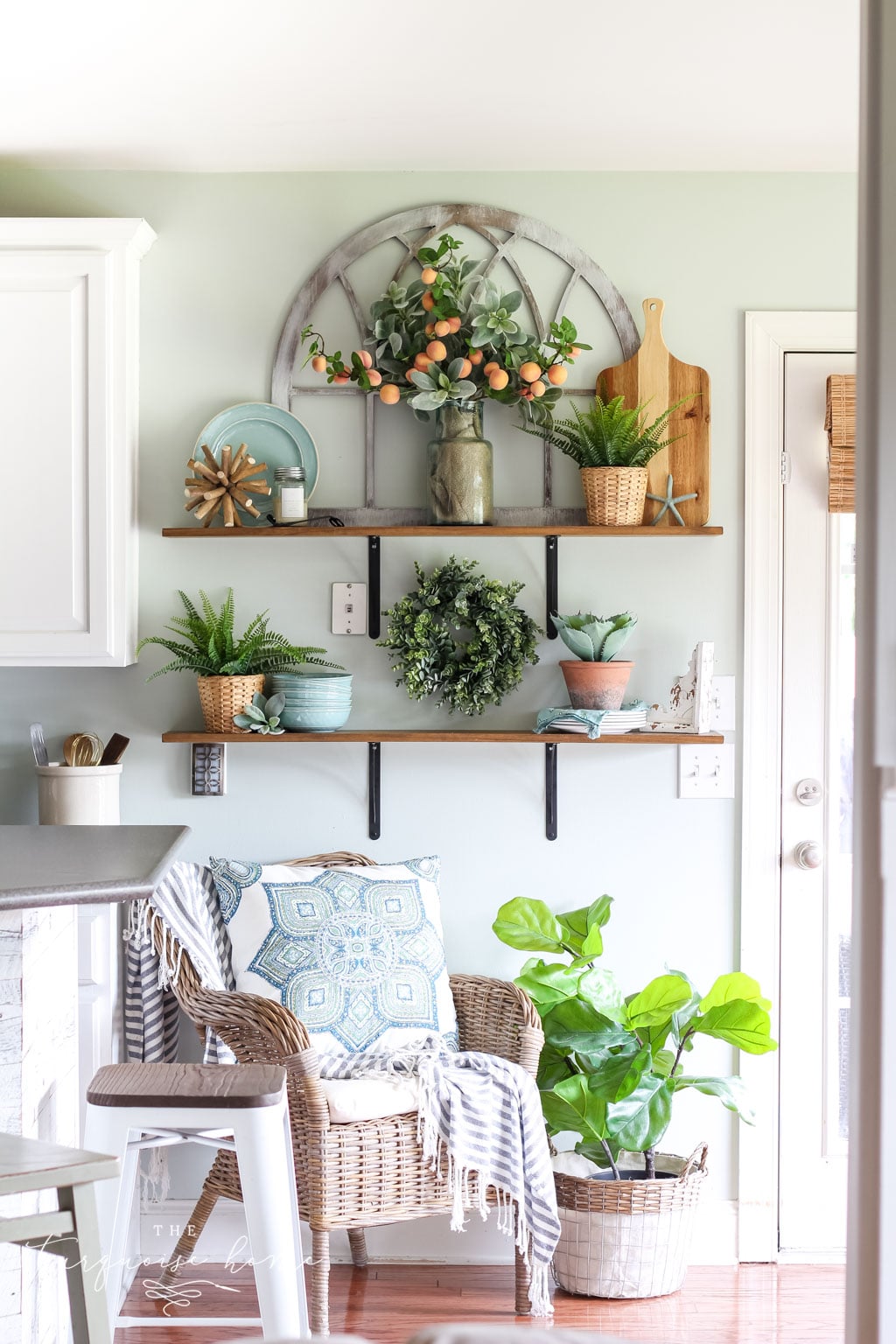 If you are looking for plants that are top of the line and great quality, consider Pottery Barn. It's one of the best places to buy fake plants. I love nearly every option they sell!
What to Buy: I especially love my Faux Wandering Variegated Tradescantia! And this lemon tree is gorgeous! My faux orchid arrangement is not inexpensive, but such a beautiful piece. I'm so grateful I have it!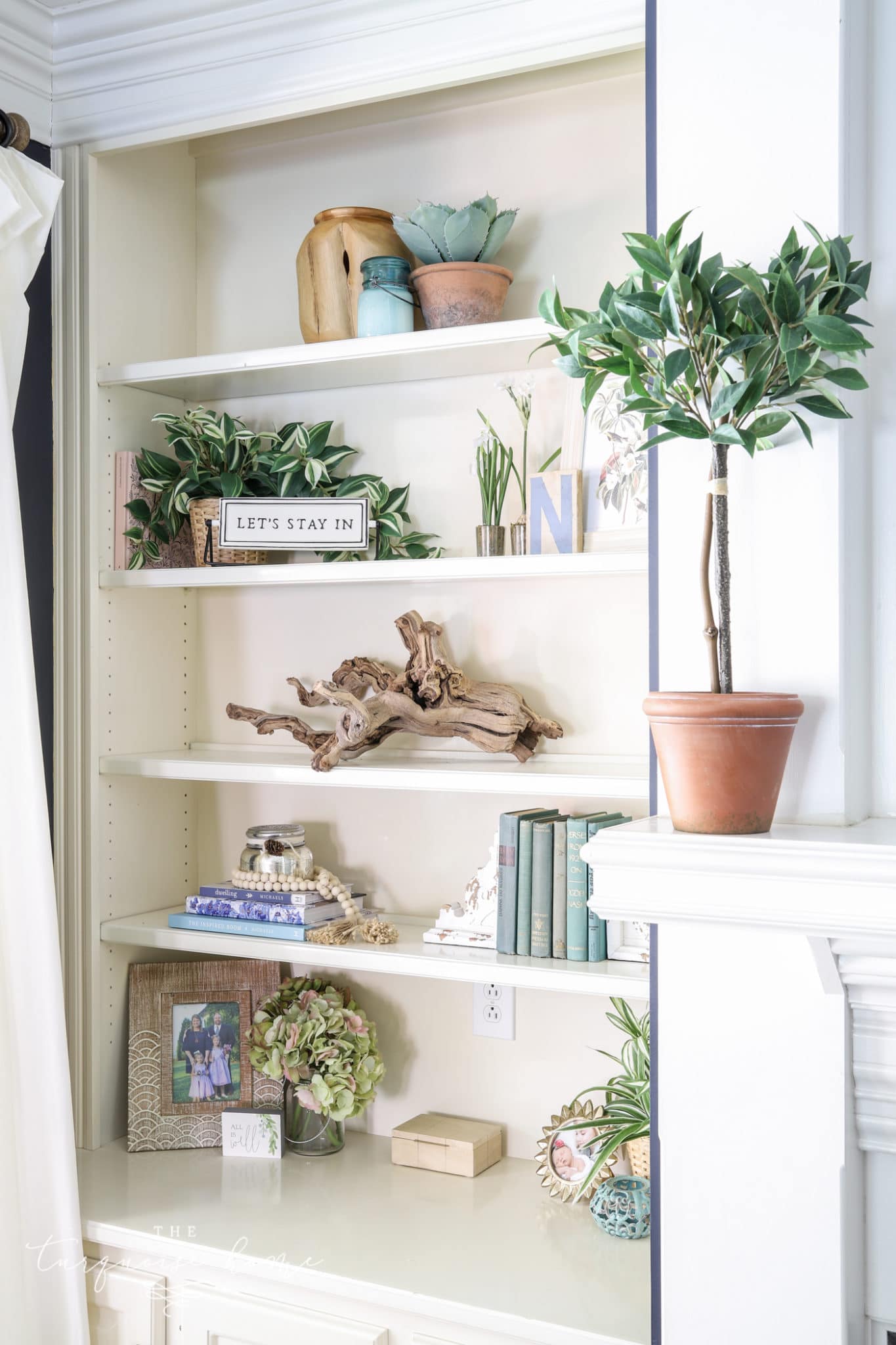 The faux tree and house plant selection at Nearly Natural is second to none and while I haven't personally bought from them, I know people who have and love them! This triple ball boxwood topiary is huge and a fantastic price for the size!
They may not be the least expensive plants, but they look the most lifelike!
What to Buy: Fittonia Hanging Plant (Set of 2), Large Boston Fern or Olive Tree.
If you're looking for realistic faux stems, then look no further than Aforal. They also carry everyone's favorite real touch, evergreen garland during the holidays.
What to Buy: Pampas grass Stems, a large and gorgeous trailing Pothos Plant or Pink Cherry Blossom stems.
You may not think of Ballard Designs as the go to place for plants, but their preserved boxwood topiaries, seasonal stems and faux arrangements are gorgeous. (I know my boxwood topiaries are preserved real plants, but I put them in the faux category because you don't need to water them.)
What to Buy: Dogwood Stems and Boxwood Planter Fillers
Finding some luxurious and realistic faux plants, West Elm is a delightful option. Although it is a little higher on the pocketbook, you'll find a large selection of beautiful, realistic fake plants.
What to Buy: Faux Potted Donkey Tail Plant and
Wayfair always has such cute fake plants and accessories for your home and office. Plus, they have everything you need to decorate your entire home, including furniture, rugs, and more.
What to Buy: Faux Eucalyptus Plant in Ceramic Pot and Artificial Monstera Plant
What To Look For When You Buy Faux Plants
When you are on the hunt to buy faux plants, there are a few things you need to consider. You can't just walk into your local dollar store, grab a few fake plants, and expect your home to look like a million bucks.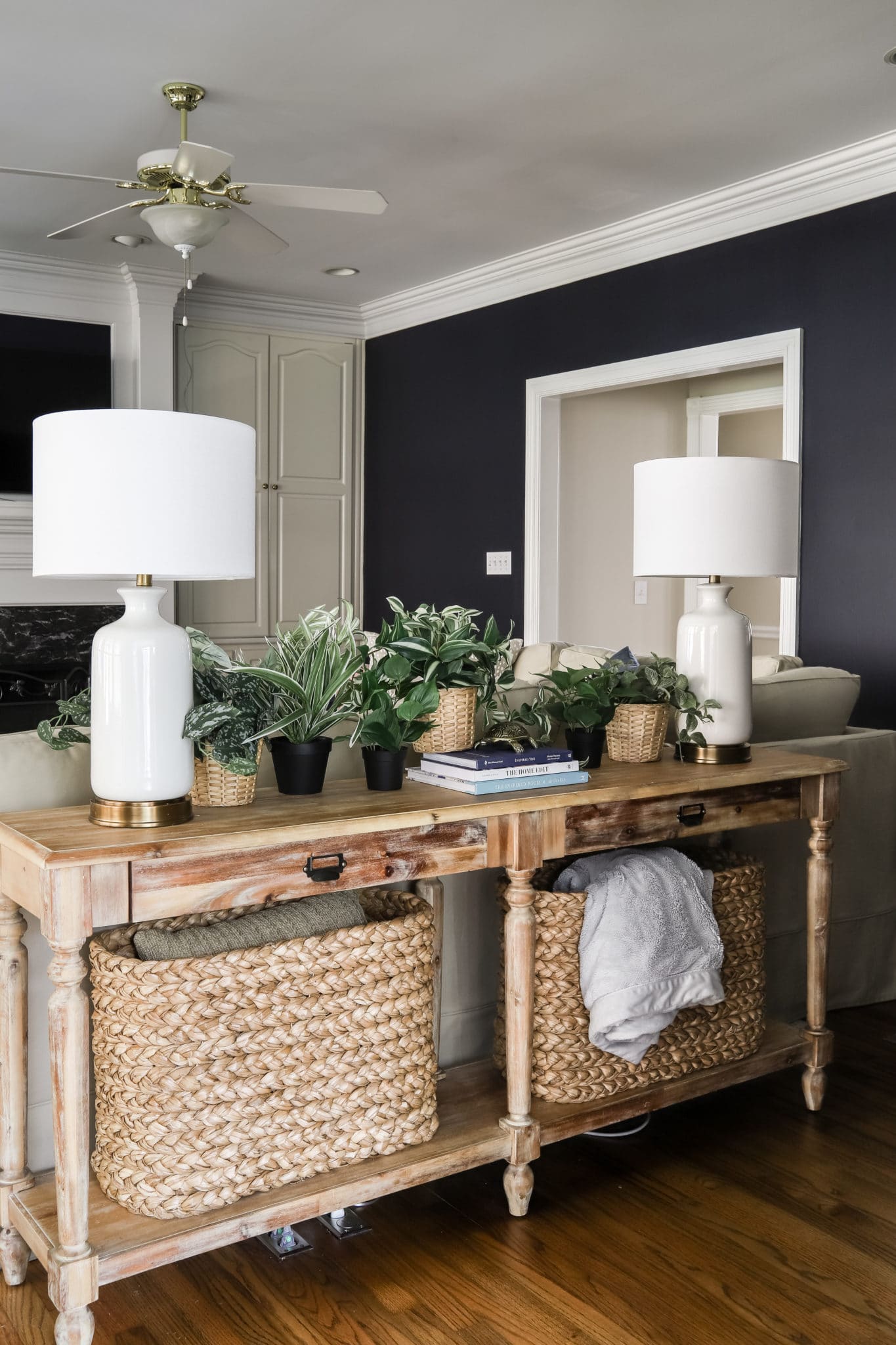 Quality
Consider the quality of the faux plants. Artificial and dried floral should look realistic and welcoming. They should closely resemble a real plant because otherwise, it will stick out like crazy.
You want fake plant decor that look so real that people need to touch them and ask you if they're fake or not. That's a sign you picked a good one. Odds are you will be spending more money on fake plants to get that good quality, but it's completely worth it.
Beware: Sometimes, the cheap fake plants have an odd plastic chemical smell to them, that you can't hide.
Fit Your Space
Pick plants that will easily fit in your space. Consider what room you are shopping for and the size of the plant you need. If you're setting it on the floor, it's going to need to be a lot larger than if it's on a small shelf in the kitchen.
Fake Plants vs. Real
There are many pros and cons to both artificial plants and real. I tend to always reach for a faux plant when there's a quality option, but it's on my list of goals to get some real plants and learn how to care for them.
But think about it; you don't have to water fake plants, give them food, or put them in a larger pot when they outgrow the one they're in. Plus, you don't have to worry about where you place it in your home.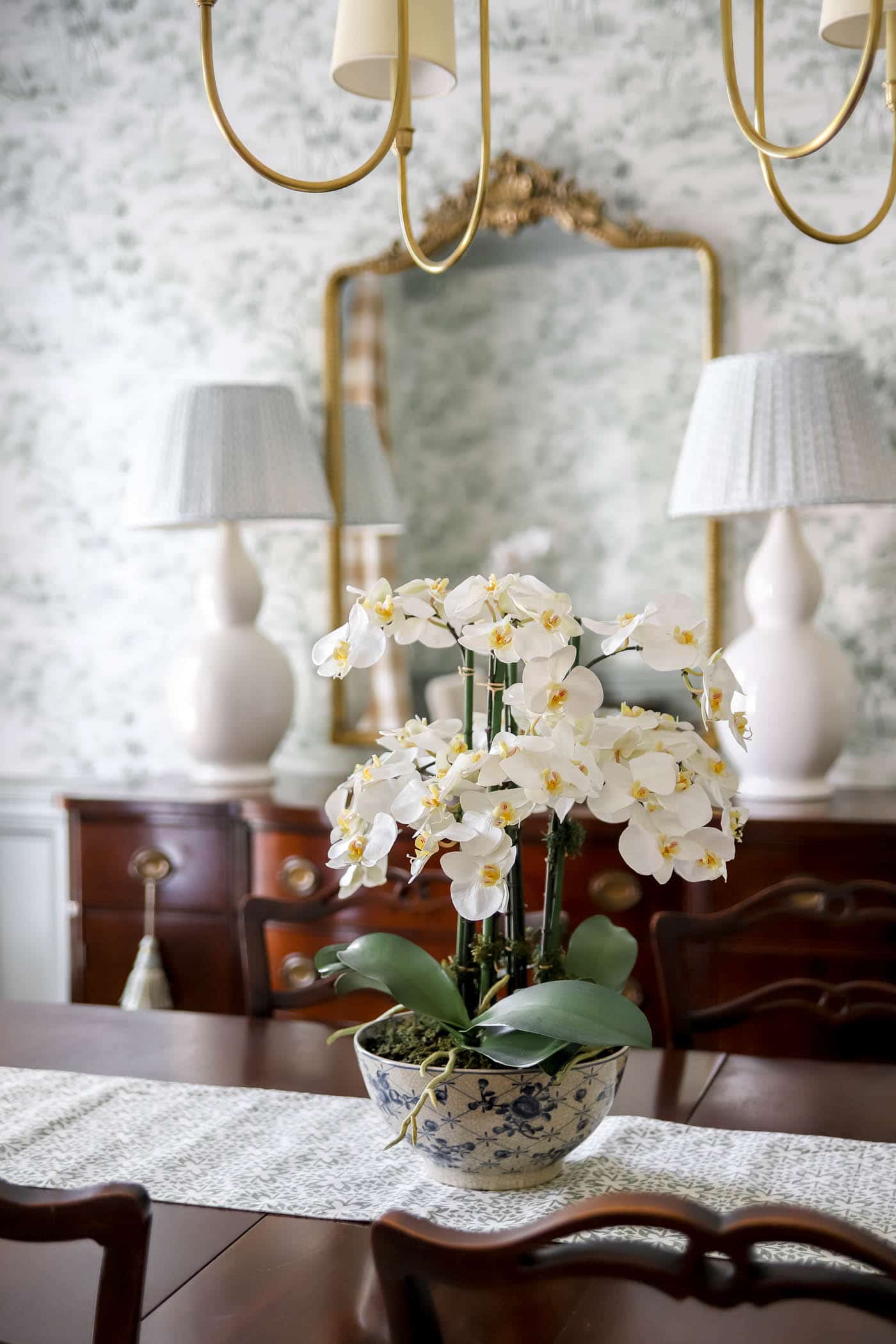 Real plants need the perfect amount of sunlight to continue to grow and thrive. Let's say you have a darker den, and there's not a ton of natural light. There aren't many plants that are real that are going to do too well in there. But if you gather some fake plants, you can put them anywhere you like with no worries.
There are many real plants that need to be treated differently depending on the season. With the best faux plants, you can set them and leave them for as long as you want — no worries about keeping them in the dark cool basement for the winter or pruning them.
How To Decorate With Fake Plants
Use faux plants to hide unsightly items and areas of your home. Maybe you have a strange spot on your floor that's not repairable—you can place a large fake potted plant there to hide it. Or if you have electrical cords that you don't want everyone to see, put a plant to draw the eye away.
You want to try to make the plant appear to be as authentic as possible. If you place a plant in front of a window, try to bend the leaves and stems so they go towards the window as a real plant would. No one will think a thing of it because that is a natural thing that plants do.
Use pretty baskets and flower pots for the fake plants. They will be lovely focal points and add an additional pop of color to your room. If you do have a few live plants too, place them together, so they complement each other.
Try different styles and textures of plants to add even more character to your space.
Three Ways to Style Plants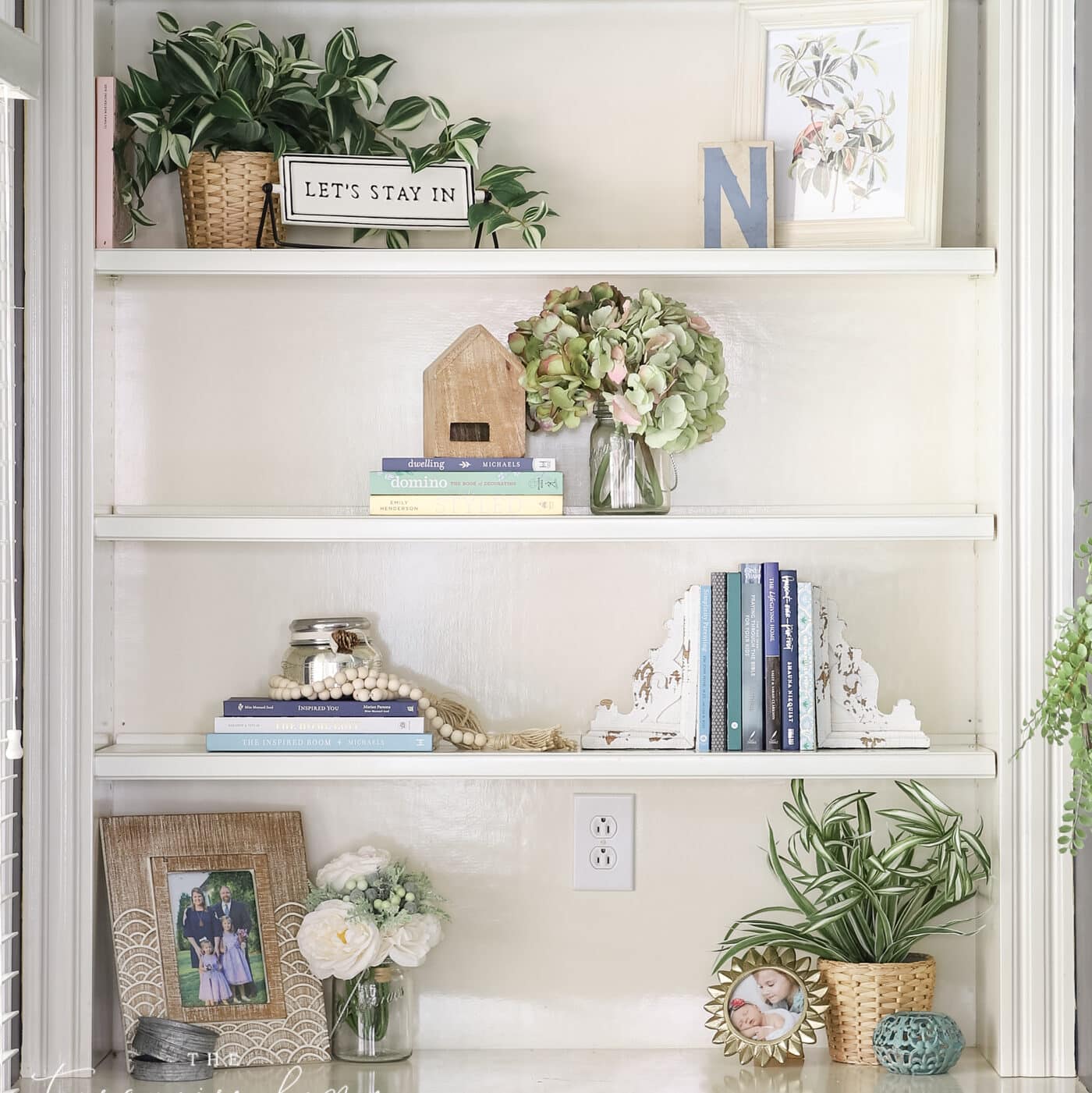 On a Bookshelf
There's no better way to bring life to a bookshelf than with some indoor greenery! I like faux greenery in between my books and other decor, so I don't have to remember to water them!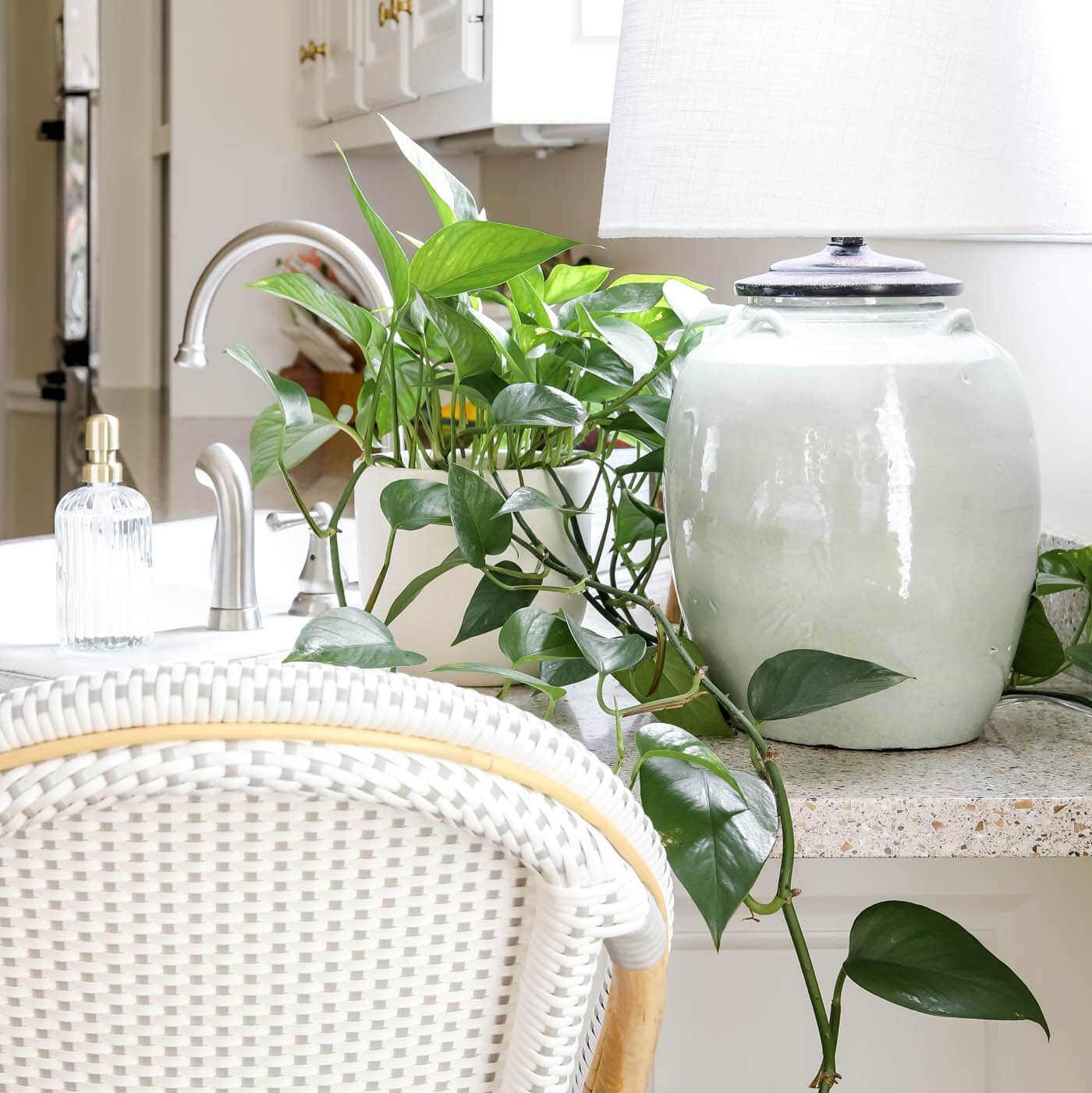 In a Window Sill or Counter Ledge
If you don't want to worry about keeping a plant alive, but want it to look real, keep it in the window sill! I keep real plants behind my sink, but faux would work just as well! (If you plan to try your green thumb, this would be a great place to start!)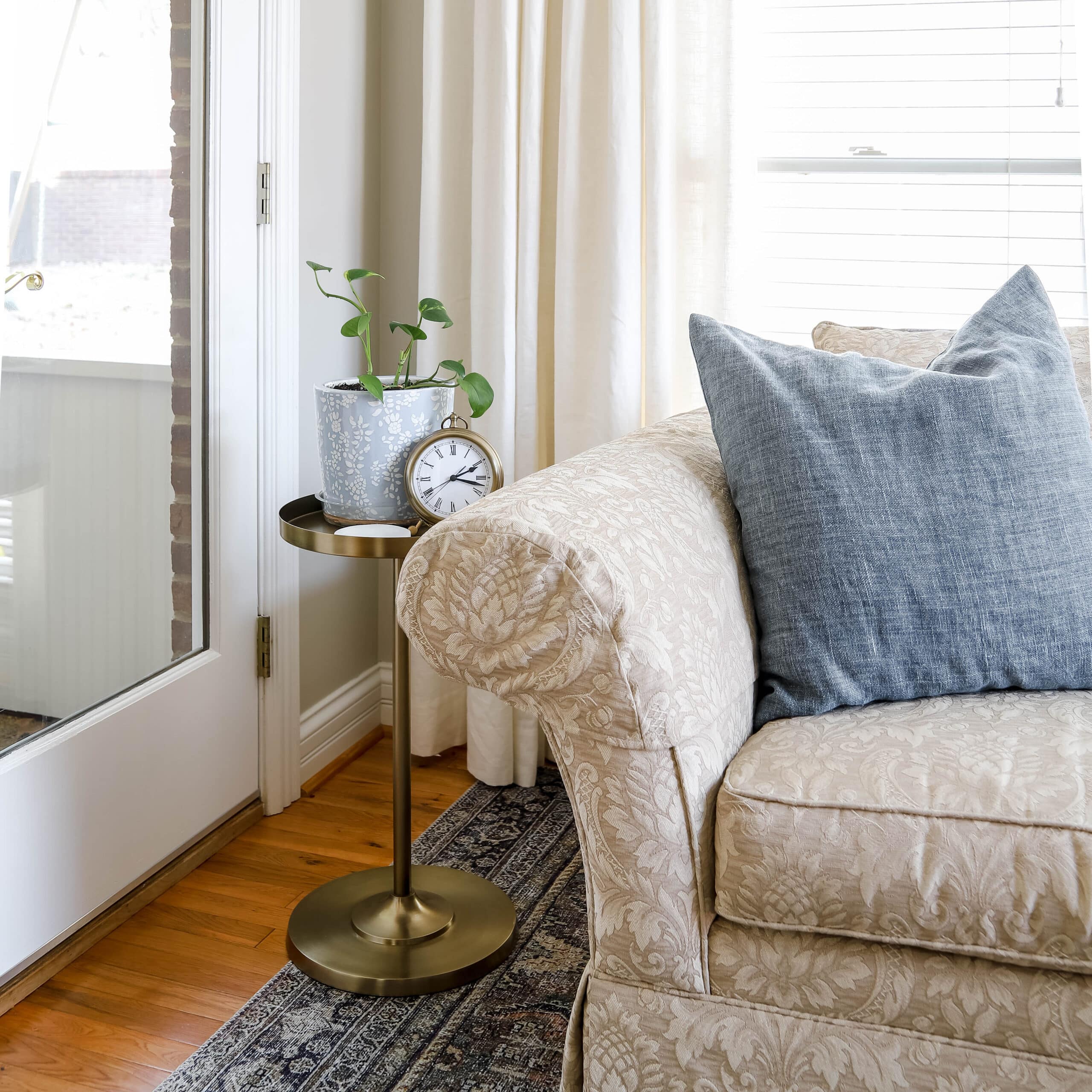 On a Plant Stand
A plant stand is a perfect spot for a little plant when you don't have space on a shelf or counter! Some of them can even double as a small table.
How To Clean Fake Plants
The only downfall to having fake plants is that you have to clean them. But don't worry, it's usually a pretty simple task and doesn't take a ton of effort. Here are a few ideas to help you:
Use a paintbrush. You can quickly and easily use a paintbrush to wipe off all the leaves one at a time. This doesn't take long, and a paintbrush can fit into smaller spots.
Cloth is a great option for wiping leaves. You can get a microfiber cloth damp and lightly wipe each leaf. The dust will stick to the cloth, and it will look new when you're done.
Try your vacuum. If you have a vacuum with an attachment, remove it and use it to suck up dirt. It's a quick and easy method that has a significant impact. Just be careful not actually to suck up any portion of the plant itself.
There you have it! Are you convinced that you need a faux plant (or 12, no judging!) in your life?
More Posts You Will Love: