As we are starting to get into consistently warmer weather and the allergens have returned, I'm thinking of all things spring decor and even starting to let my mind think of summer fun! I mentioned the other day on Instagram that I wasn't going to put any pressure on myself this year to do much seasonal decorating. I much prefer getting in my baby snuggles than crafting the perfect mantel.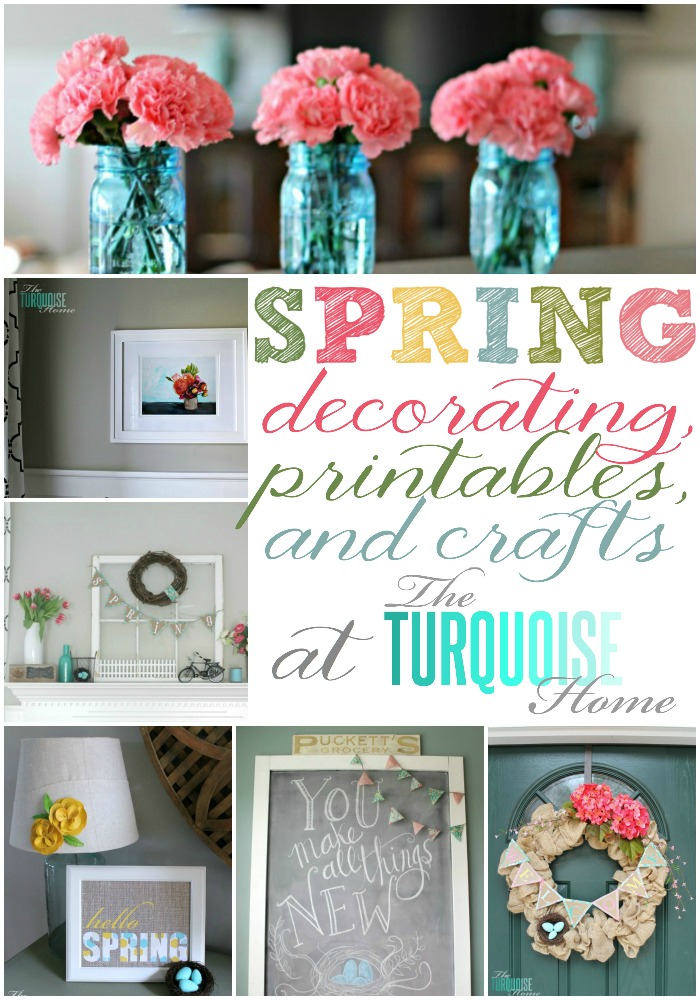 I do enjoy creating a beautiful, seasonal home, but it's just not the time right now. (Although I picked up a few things at Target the other day that will look fabulous on a summer-inspired mantel, so I might just dive right into that one since the inspiration is coming!)
Let's take a look at some of my favorite spring and pre-summer inspired looks around The Turquoise Home from years past…
Last year I absolutely had a blast decorating for spring. The mantel was decked out in a cute picket fence, tulips, a miniature bike, turquoise watering can and other happy pink and turquoise odds and ends.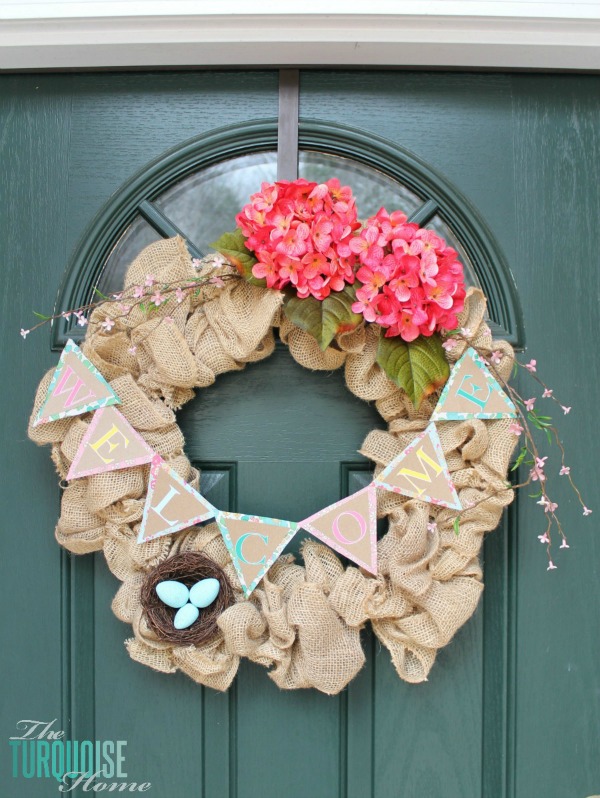 I gussied up the front door by adding some spring fun to my simple DIY burlap wreath. It was easy to stick some faux blooms on there, a little spring bunting and a sweet nest. Welcome!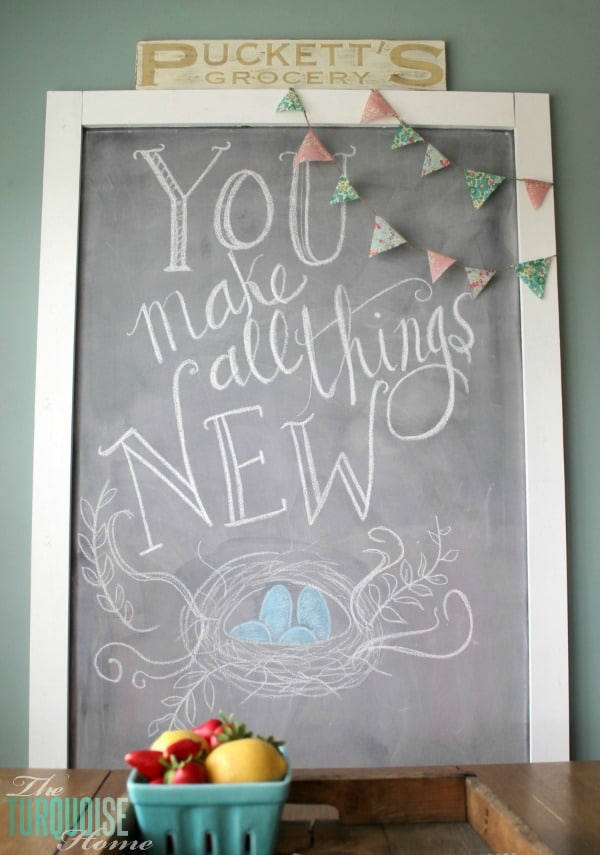 My giant kitchen chalkboard got a refreshing spring-inspired message. I love changing it out for all occasions. Simple and free decor (minus the cost of chalk)! And I'm still loving that Puckett's Grocery sign up top. Reminds me of home. 🙂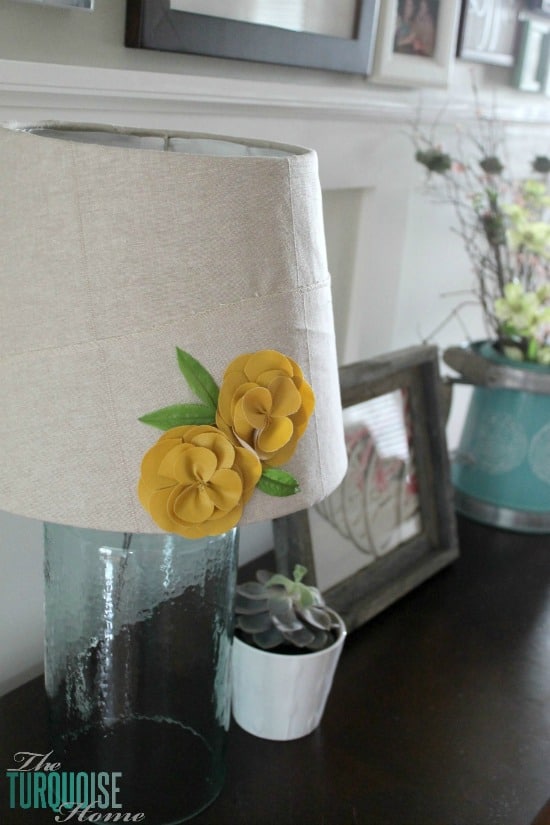 I covered this lamp shade with a super cheap solution and added two leather rosettes for a pretty spring touch. I just pulled this out of the decor closet the other day and it's sitting on this same table again. I smile every time I walk by it.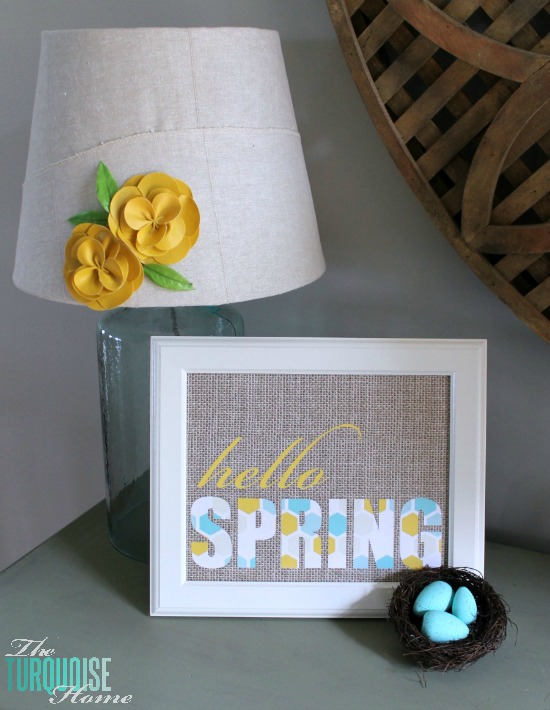 This cute "hello spring" printable sat on my entry way table last spring and welcomed the new season and all of its visitors. I made 6 color options. Click here  to find your favorite and print it out for free!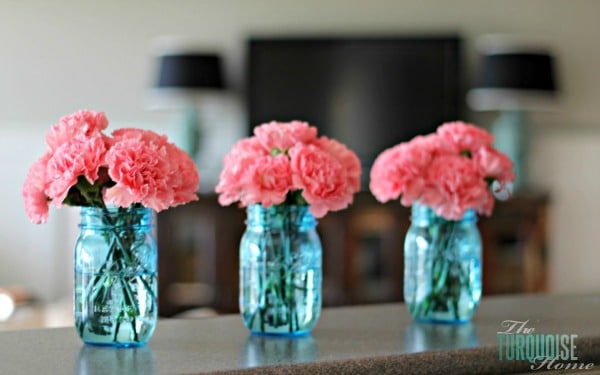 A couple of years ago I added some pretty turquoise touches to my living room, as a part of my big living room makeover. You'll see these pretty pops of color reoccur over and over in my home. I can't get enough of them, especially this time of year! (hence the name of the blog – right?)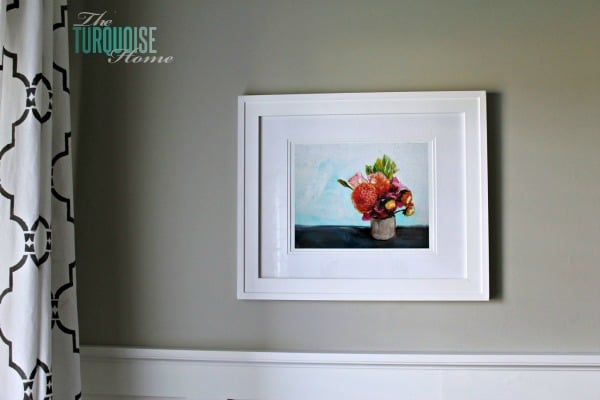 It's time to change out my living room frames for something more spring and summery. I think I'll grab this one from Mai Autumn. I love it so!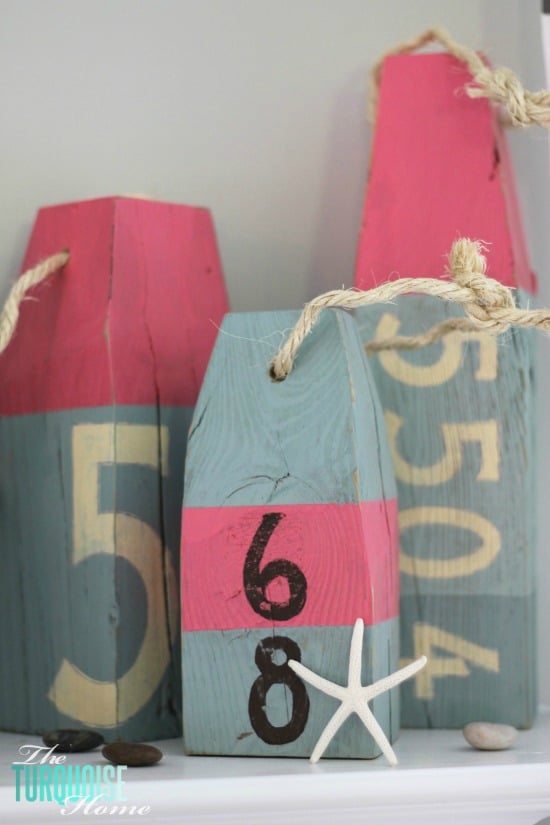 And if you're like me and ready to decorate for summer, then why not try making some DIY weathered wood beach buoys. These were some of my first DIY projects 3 years ago. I tried to sell them a while back, but they didn't sell and I'm kind of glad. I think I'll break them out again one more time!
What's your favorite spring decor idea??