DIY Simple Spring Wreath with Peonies
This DIY spring wreath with lamb's ear and peonies is seriously the easiest craft you'll do this season! It's the perfect pop of color for your front door!
Hi friends! I am so excited that the color pink is re-entering my home decor world, because it's one of my most favorite colors … and pulls me out of my end-of-winter funk.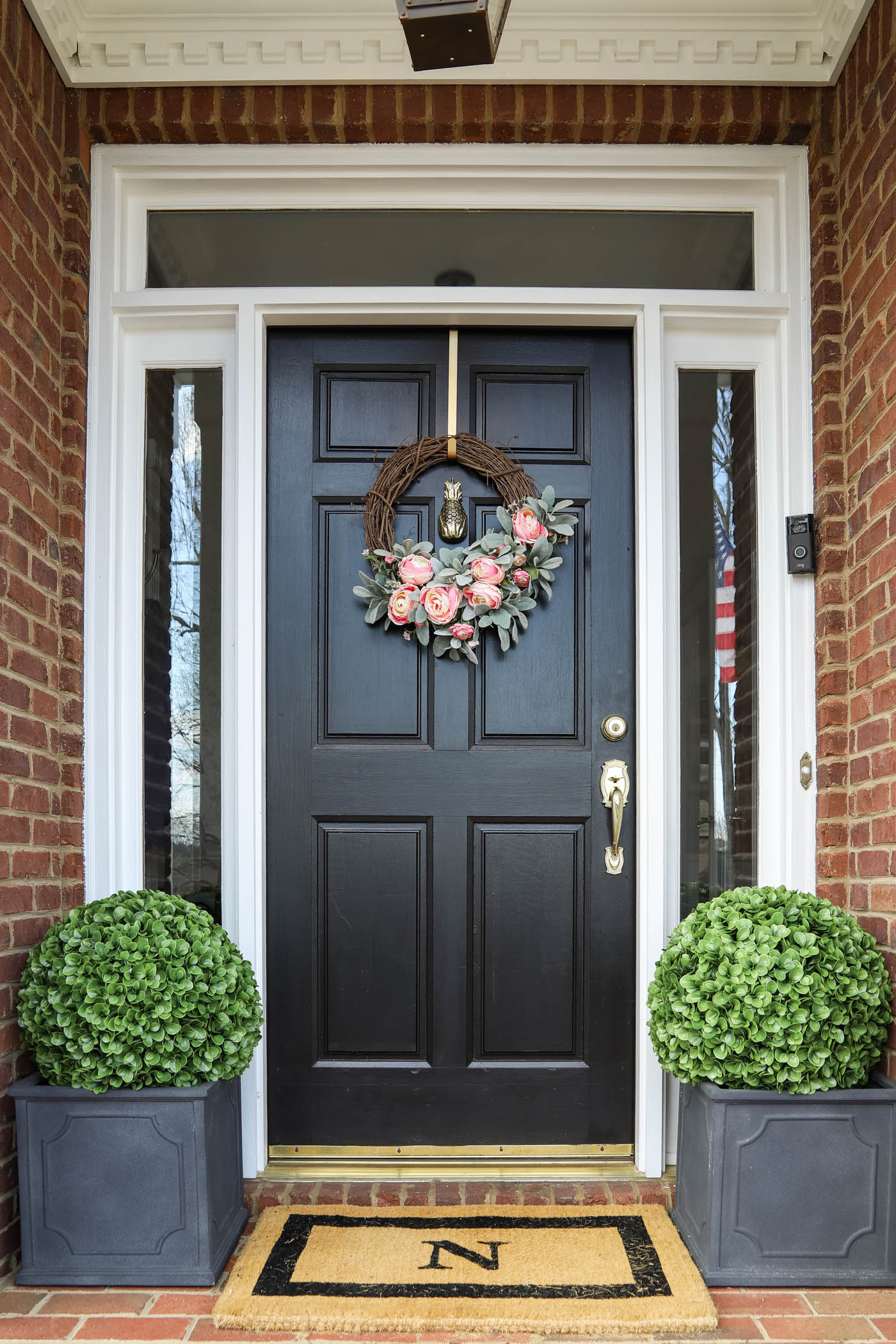 I love how it compliments the turquoise and brightens up my neutrals. So, I decided to make a wreath with bright pink peonies and soft green lamb's ear. Even though I made this wreath years ago, it still goes up on my front door at the first hint of spring!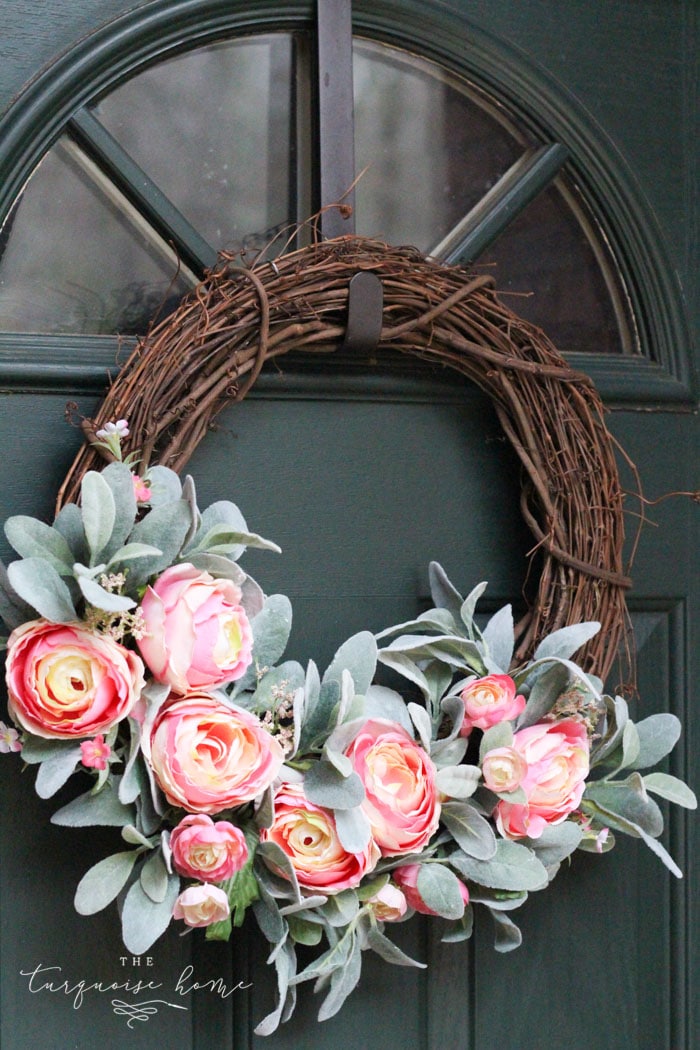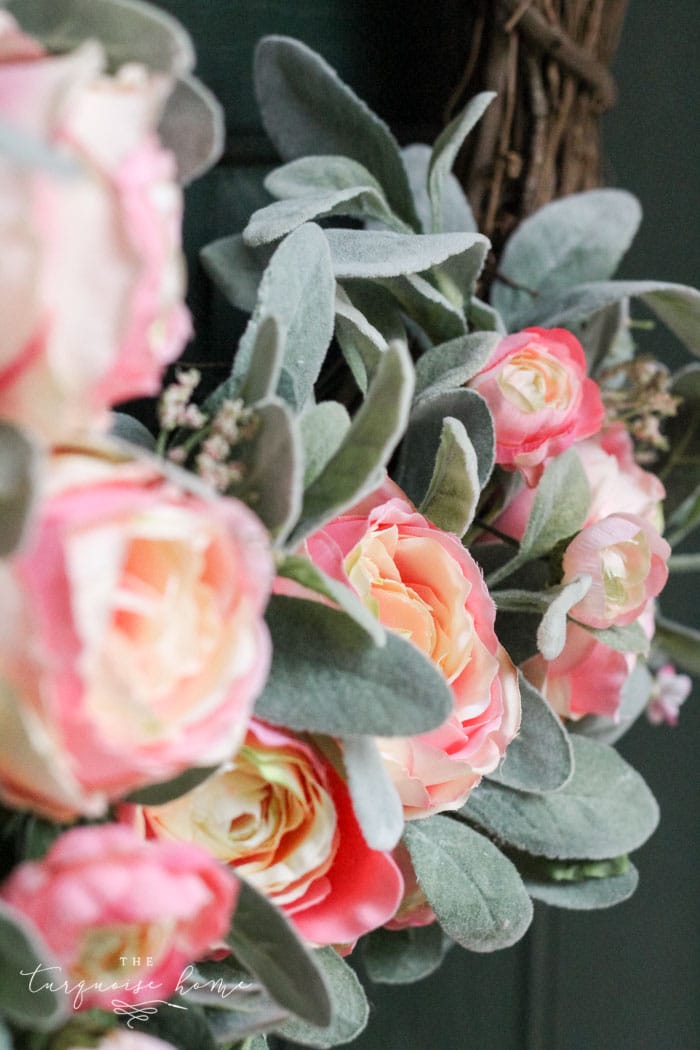 The reason for the double craftiness is that my favorite source for lamb's ear was sold out last year and I had to buy it from an online vendor I'd never used before. The quality was OK, but I LOVE Hobby Lobby lamb's ear stems the most.
So, this year I have a TON of lamb's ear from Hobby Lobby laying around after I decorated my Christmas tree with it. And I wanted a vibrant pink floral wreath for spring, so it's a win/win! This post contain affiliate links for your convenience. See my full disclosure policy here.
So, while my two wreaths are similar, I love this one so much more! We'll just say that my lamb's ear and peony wreath evolved into a better version of itself this year. 😉 (But I love the little "welcome" sign in the wreath from last year, so I'm keeping it and putting it somewhere in my home.)
The process was super quick, and I recorded it on video so that I can see exactly how easy it is. I use really technical terms like "not so wild and crazy" and "don't like where it's sticking up."
Supplies for DIY Spring Wreath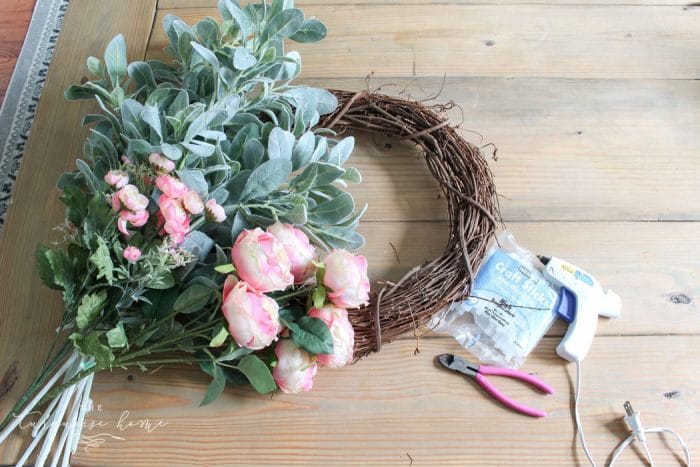 Watch the DIY Video Tutorial
Directions to Make your Simple Spring Wreath
The process is truly so easy.
1. Cut down the floral stems and layer them into the wreath.
Cut down the floral stems to a manageable length with your floral wire cutter and start layering them into the wreath.
First layer: The first layer is the lamb's ear. I drew an imaginary line down the middle of the wreath and filled in one side with lamb's ear. I didn't fill it completely, but left a few spaces for my peonies.
Second layer: Then I added the peonies. I tried to use just 5 blooms, but they didn't look quite right, so I added a 6th and it was perfect.
Third layer: I filled in all of the empty spaces with the smaller blooms and called it done!
2. Hot glue everything into place
Once I got everything where I wanted it, I went back through with hot glue and glued it all in place!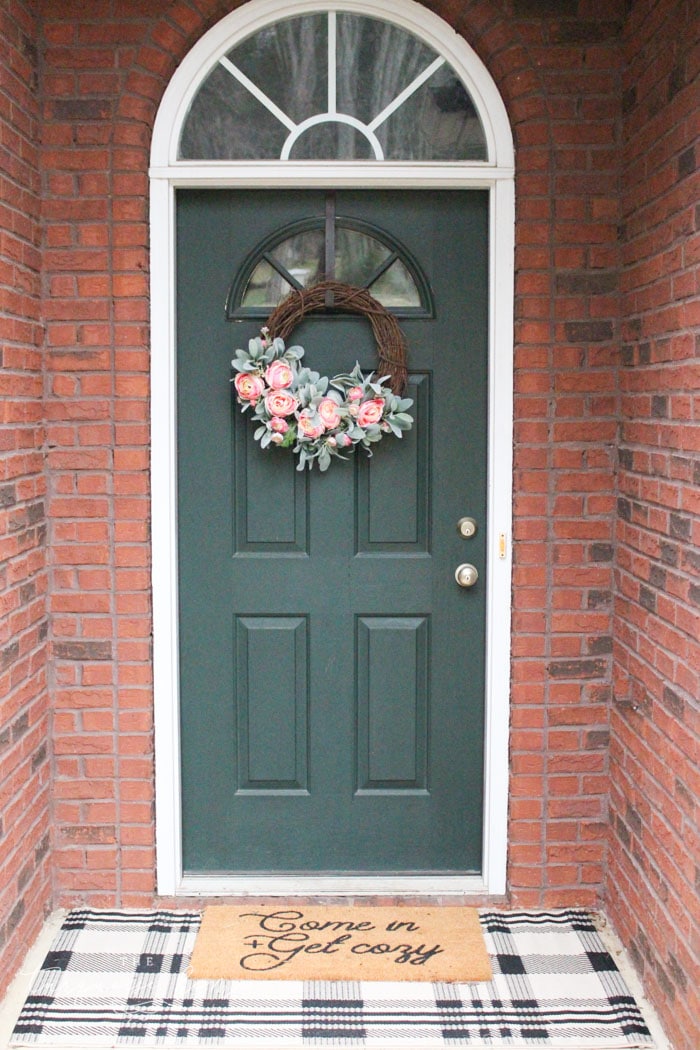 You're done!
I hung it on the front door because I plan to keep it up there all spring long. It's been my go-to spring wreath for years now, even since I moved to a new home with a different style.
SOURCES: The plaid door mat can be found here and here! (Depends on where it's in stock at the time.) And the "Come in + Get Cozy" rug can be found here.
But then I brought it in and set it on the mantel to keep it out of reach of the kids, and I love it up there! I may just call it a happy accident and use something else for the front door.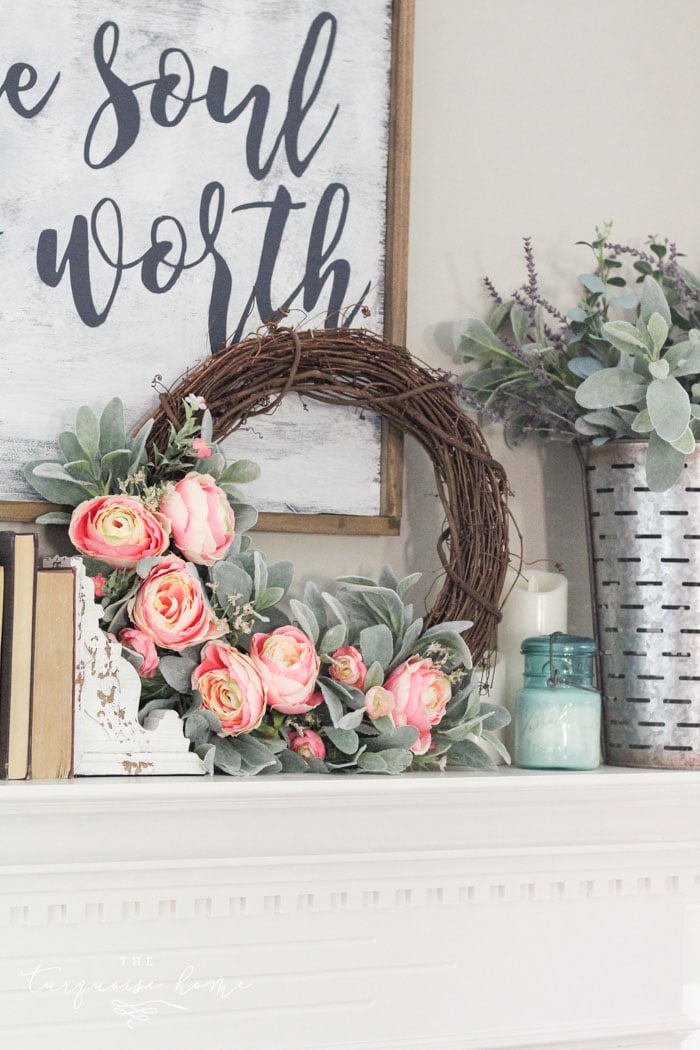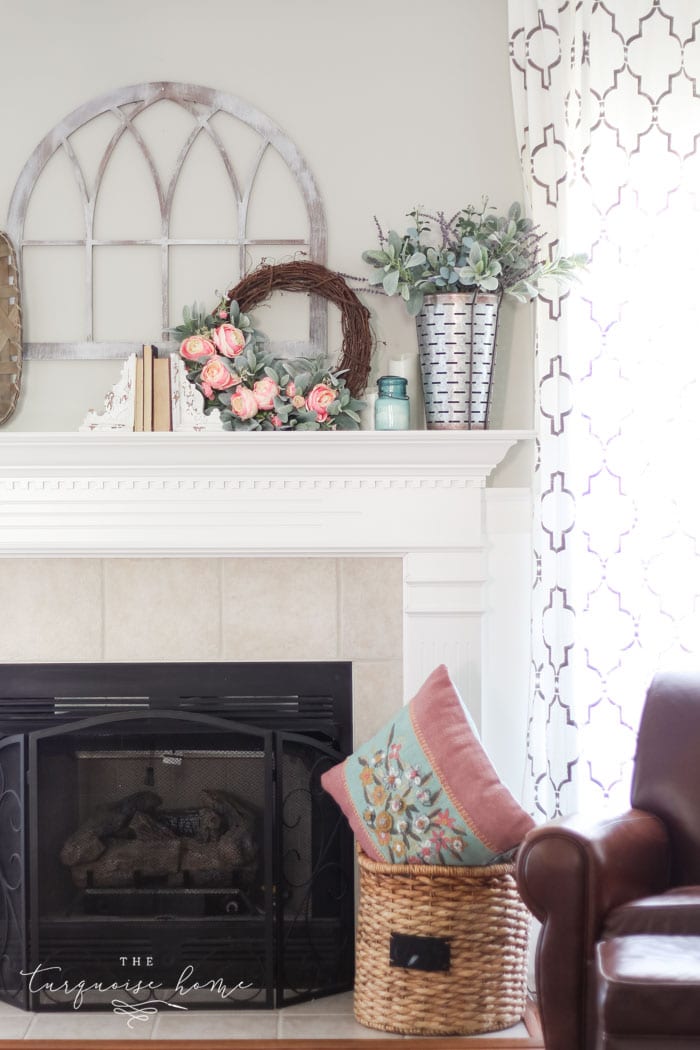 The floral blush garden throw pillow is no longer available, but here is a similar pillow.
I love how this project turned out, and how simple it was! I know you'll love your wreath for years to come if you try it too!
MORE POSTS YOU WILL LOVE:
SaveSave
SaveSave