Need to buy Valentine's gifts for the whole family? Check out this gift guide full of ideas everyone will love for Valentine's day!
Valentine's Gifts for the Whole Family
Buying Valentine's gifts for the whole family is a great way to show everyone how much you love and care for them. Many people tend to just buy something for their significant other but this holiday is about a lot more than that. There are so many different relationships and people you can celebrate and this is the day to show them you care.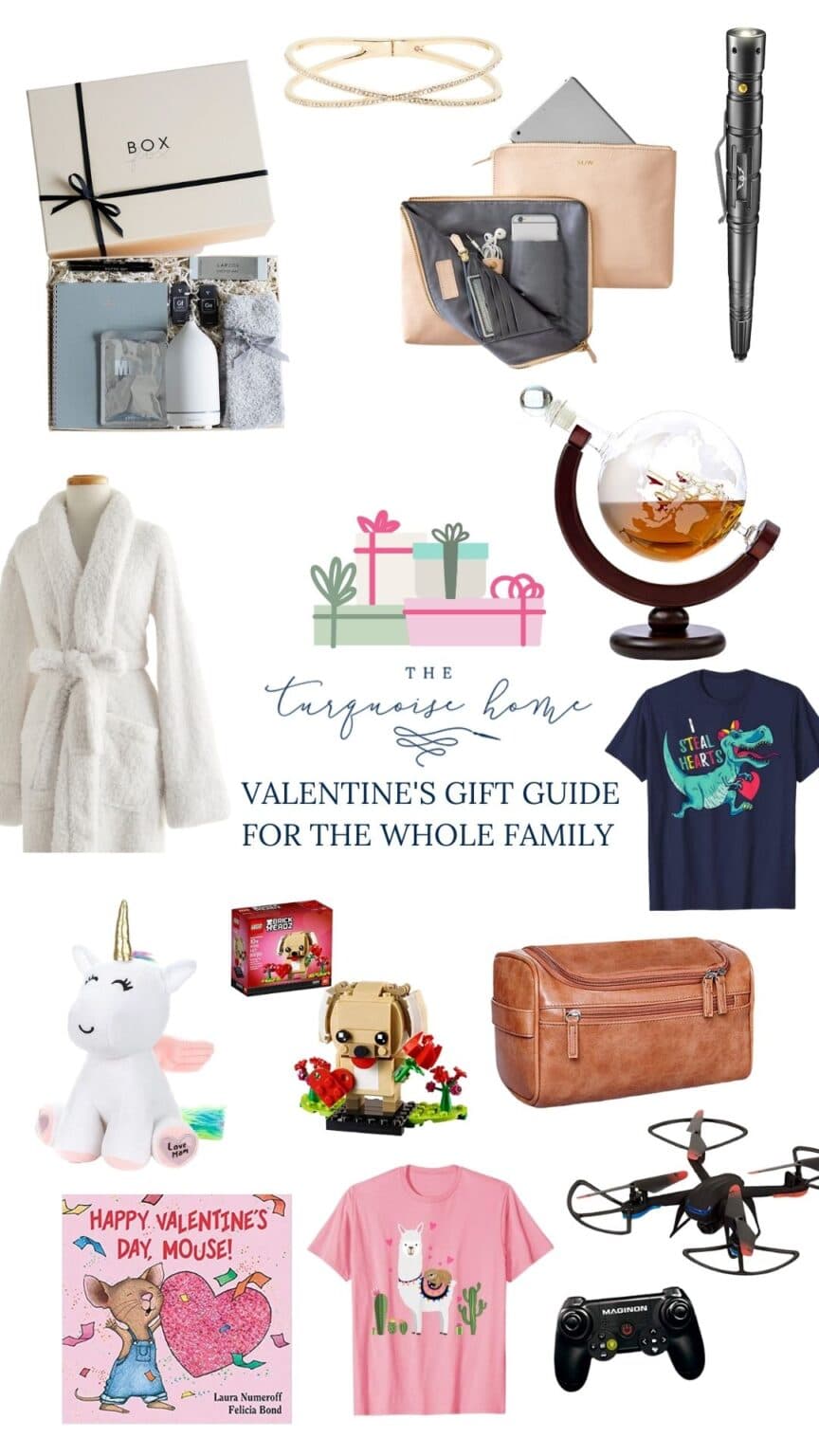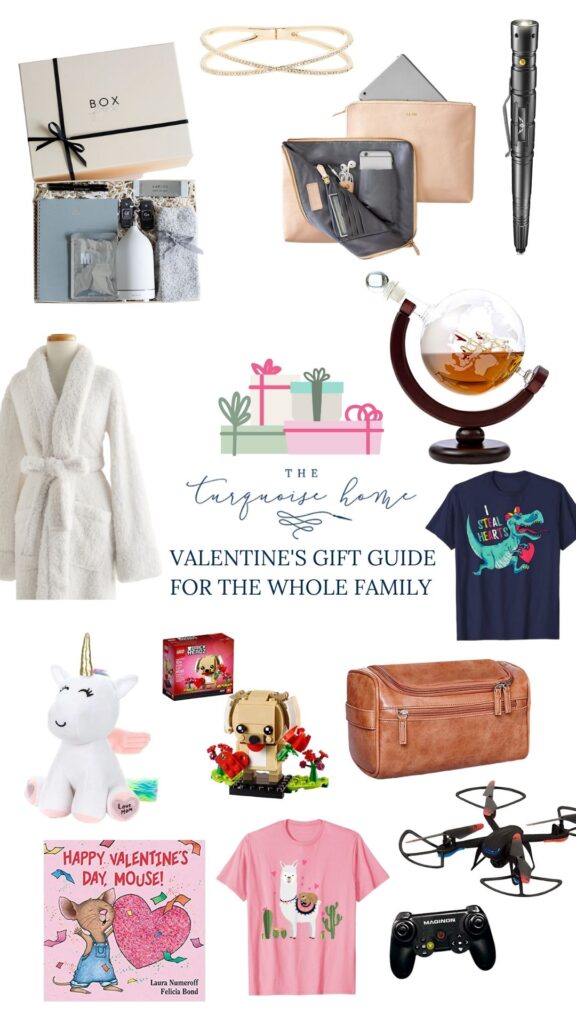 Plus, it's just fun! Who doesn't want to see their child excited about a pink, glittery something? 🙂
I've found that gift-giving is a wonderful way to let your friends and family know that you were taking the time to think of them. Each of these terrific gift ideas will make everyone get a warm fuzzy feeling because you picked each one out just for them!
One note: you don't have to go for extravagant gifts unless you really want to. Sometimes a simple or thoughtful memento will be enjoyed and appreciated more than a gift of higher value.
With this gift guide, shopping for Valentine's gifts for the whole family doesn't have to be stressful. Take a look at these gift ideas for inspiration for Valentine's Day!
This post contains affiliate links for your convenience. See my full disclosure here.
Valentine's Gifts For Her
Whether it's your mother, grandmother, best friend or significant other, buy a Valentine's Day gift that will bring her joy! I love the idea of taking a trip and using the Adventure Scrapbook to document the memories! And the makeup mirror is a gift I got for Christmas, and I love it!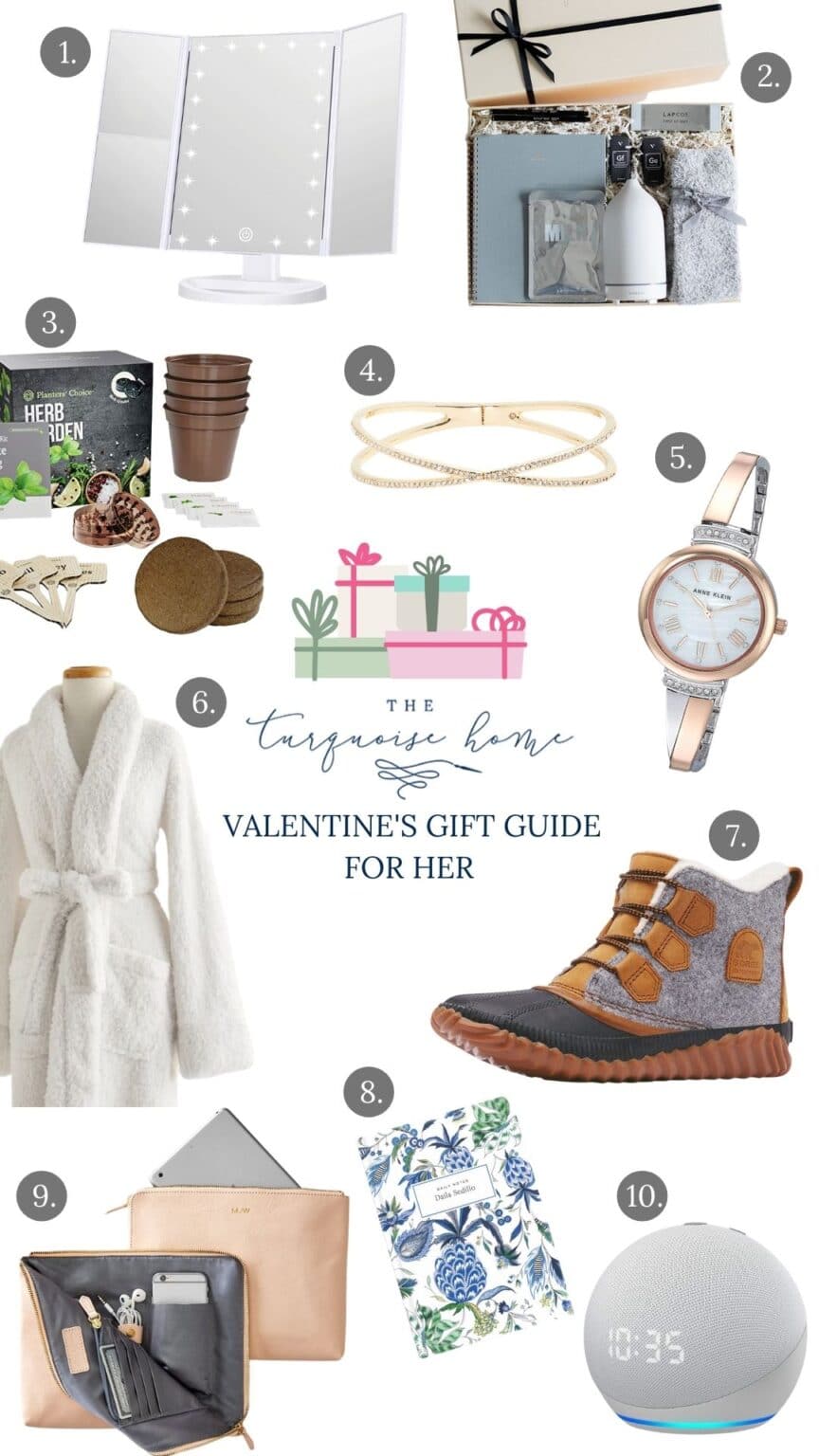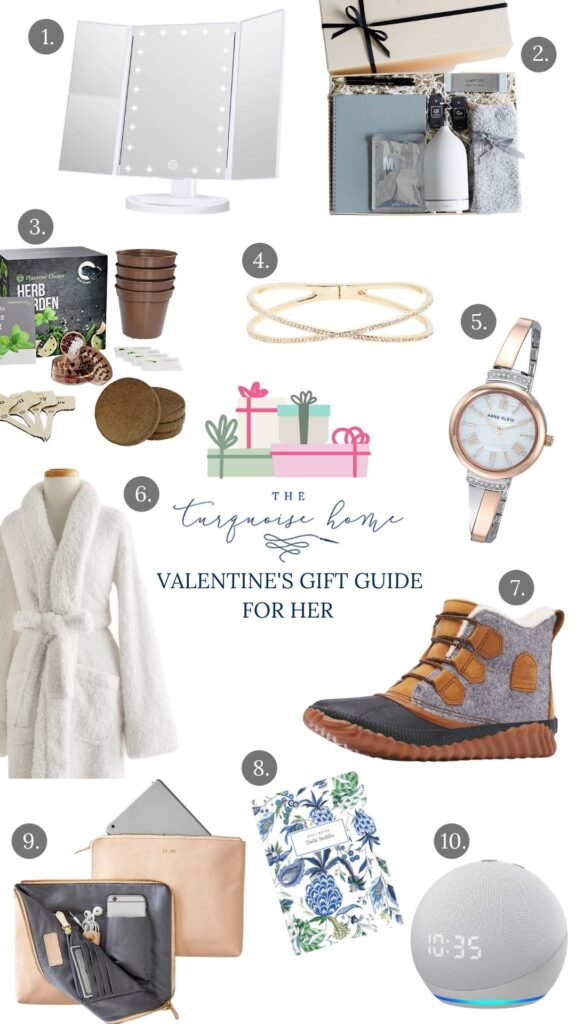 Click the pink title of each numbered item to shop for it!
Every woman needs a lovely makeup mirror to make getting ready a breeze in the mornings. Plus, this one folds up so that you can travel with it! (I have this one and love it!)
For the lady who needs some pampering in her life, grab an "A Moment Away Gift Set" for her. (Don't we ALL need that?!) A diffuser, journal, cozy socks and more will make her feel like she's at the spa!
If your favorite lady is a foodie who loves to cook with fresh ingredients, she might want to grow some of her own herbs. Plus, she might cook you some amazing dinners with them, too if you're lucky!
This beautiful cross over bracelet is dainty and gorgeous. Perfectly lovely for any lady!
This watch is stunning with a rose gold finish and a beautiful mother of pearl face. Everyone is going to be jealous that they don't have one.
What could be more comforting than this big, huge, plush teddy bear robe? It's so warm and cozy; it's impossible not to be relaxed when wearing it!
Every woman needs a pair of stylish winter boots. They are so comfortable and waterproof, too! They will go with all of her winter outfits, so it's the perfect Valentine's Day gift.
Do you need some a place to write down your thoughts, goals and intentions? This gorgeous journal will inspire you to reflect and be intentional about your days.
This gift for yourself or your girlfriend will go with you anywhere! Keep all of your essentials, like your phone, keys, cards and AirPods all organized in this super cute tech clutch! Just add a couple of her favorite gift cards inside and you'll be her BFF.
Listening to music has never been easier with the Echo Dot! Your valentine can even check the weather and get answers to her questions—it's truly the gift that keeps on giving! We LOVE ours!
Valentine's Gifts For Kids
For children, Valentine's Day might be full of heart-shaped candies and personalized cards from friends at a classroom party, but your little one will appreciate a gesture of love from you, too. Check out some of these Valentine's Day gift ideas to surprise your kids this year!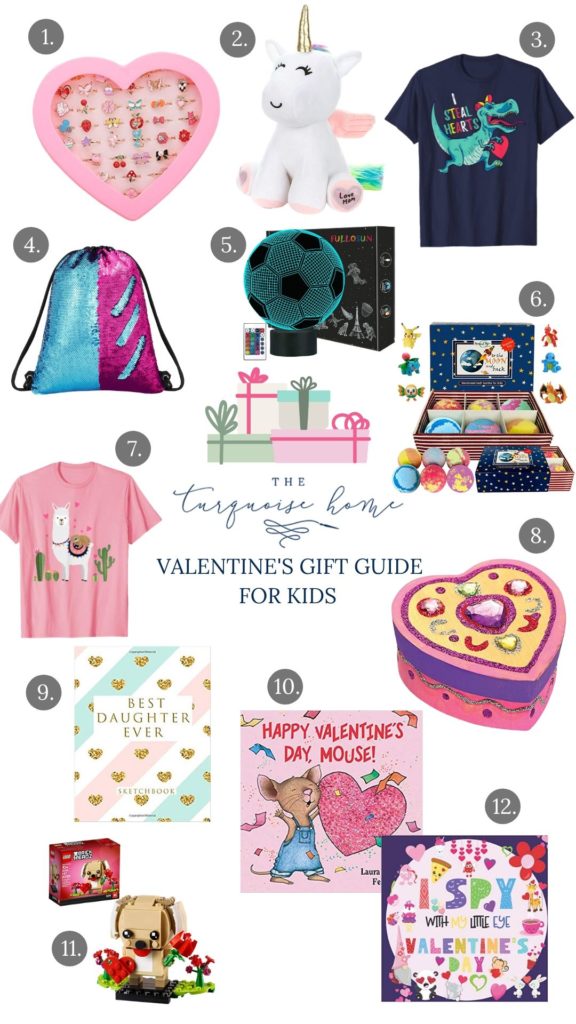 Click the pink title of each numbered item to shop for it!
This set comes with 36 rings that are perfect for the little kid in your world. Each ring can easily be adjusted, too.
You won't find a more adorable unicorn than this gift idea. It's complete with rainbow hair and can be personalized with your child's name—they'll love it.
This Valentine's Day t-shirt is totally cool with a dinosaur on it. If you have a dino-obsessed little one, this is the perfect Valentine's Day gift idea!
Choose from all different color combinations with this sequin mermaid bag. We all know that kids love anything that has to do with mermaids, and this bag is no exception.
If you have a soccer player in your midst, he or she will enjoy this awesome night light! Using the remote, you can change the color of the light too.
My kids would use a bath bomb in every single bath they take if I would let them. These come with surprises inside, making them even more popular!
Okay, what is more popular right now than llamas and sloths? Nothing! This is the perfect gift for your little one. So cute!
Your crafty kiddo will love this adorable heart-shaped trunk. Spend some quality time crafting with your child as you decorate the box, and you've got the best Valentine's Day gift for kids!
If you have a budding artist or writer, she will love this blank journal/sketchbook. Pair it with some cute colored pencils and she'll be busy for hours!
Giving a board book to even your youngest Valentine is sure to be a hit. It's a sweet book and lots fun for little kids.
How cute is this Valentine's Day Lego set? I know both my girls would love it!
This is the #1 bestseller in the children's question and answer game books!
Valentine's Gifts For Him
Sometimes coming up with an interesting or unique gift for the man in your life can prove challenging. If you are lucky, he will have a specific hobby or interest that you can base your gifts off. If not, don't panic. Simply give him one of these Valentine's Day gifts for him…they are all guaranteed winners!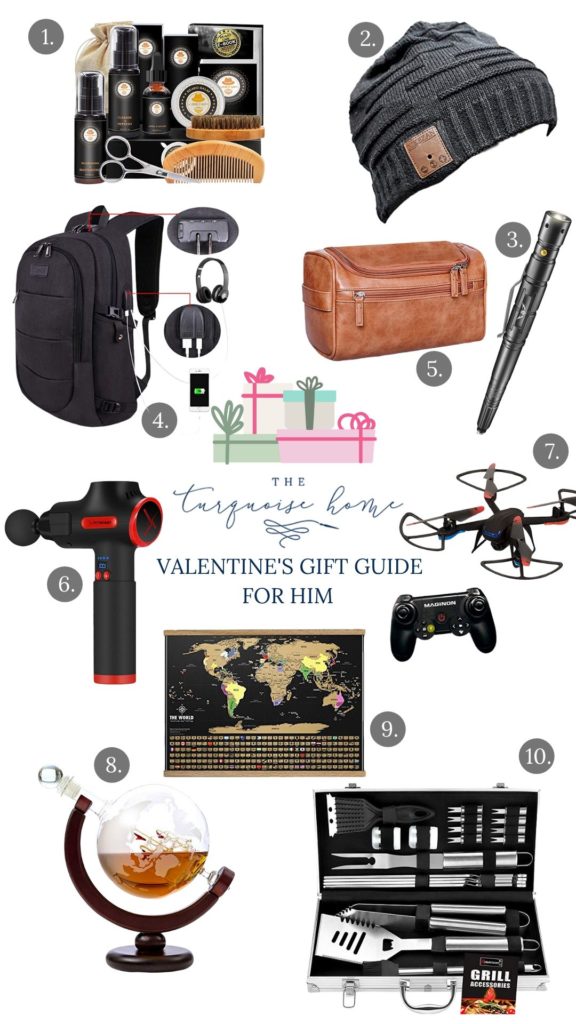 Click the pink title of each numbered item to shop for it!
This beard grooming kit has everything he needs to keep his beard well-groomed, like shampoo, a beard comb, a storage bag, and more! He is going to love this gift idea.
If your man spends time outdoors in the winter and loves listening to music, he will greatly enjoy this.
Having a tactical pen is so handy. In addition to being a self-defense tool, he will also be able to use it as a flashlight, window breaker, and even a bottle opener.
Transporting your laptop everywhere doesn't have to be a pain, especially when you carry it in this water-resistant backpack. This bag is durable and even has an anti-theft lock on it.
Even men need toiletry bags for when they travel. This one is fantastic and is made of quality leather, so it's easy to wipe clean, too! Now, you just need to plan a trip somewhere, and it will be the best Valentine's Day gift for him ever.
Help ease those aches and pains from working hard or exercising too much. This massage gun is sure to make him feel relaxed and comfortable.
You are never too old to take out a drone and fly it around. He is going to feel like a kid again as it flies through the air.
If you're looking for an elegant and charming gift, this whiskey decanter is sure to be what you've been looking for. It's stylish and can be used with several different types of alcohol, so stock it with his favorite before gifting it.
Traveling across the world is even more exciting when you can track where you've been. If he loves traveling, he is going to be so excited about this thoughtful Valentine's gift.
If you've been on the hunt for a grill set that he is going to love, this one is it. It has 20 pieces, including a spatula, salt & pepper shaker, and corn holders.
I hope this gift guide full of Valentine's gifts for the whole family will help you pick some wonderful gifts! No matter who you are shopping for, there are some terrific ideas that fit every personality.
Psst…want to buy yourself a Valentine's gift this year? Check out these options!
MORE POSTS YOU WILL LOVE: