Valentine Gift Ideas for the Whole Family
Need to buy Valentine's gifts for the whole family? Check out this gift guide full of ideas everyone will love for Valentine's day!
This post has been updated for 2023!
Valentine's Gifts for the Whole Family
Buying Valentine's gifts for the whole family is a great way to show everyone how much you love and care for them. Many people tend to just buy something for their significant other but this holiday is about a lot more than that. There are so many different relationships and people you can celebrate and this is the day to show them you care.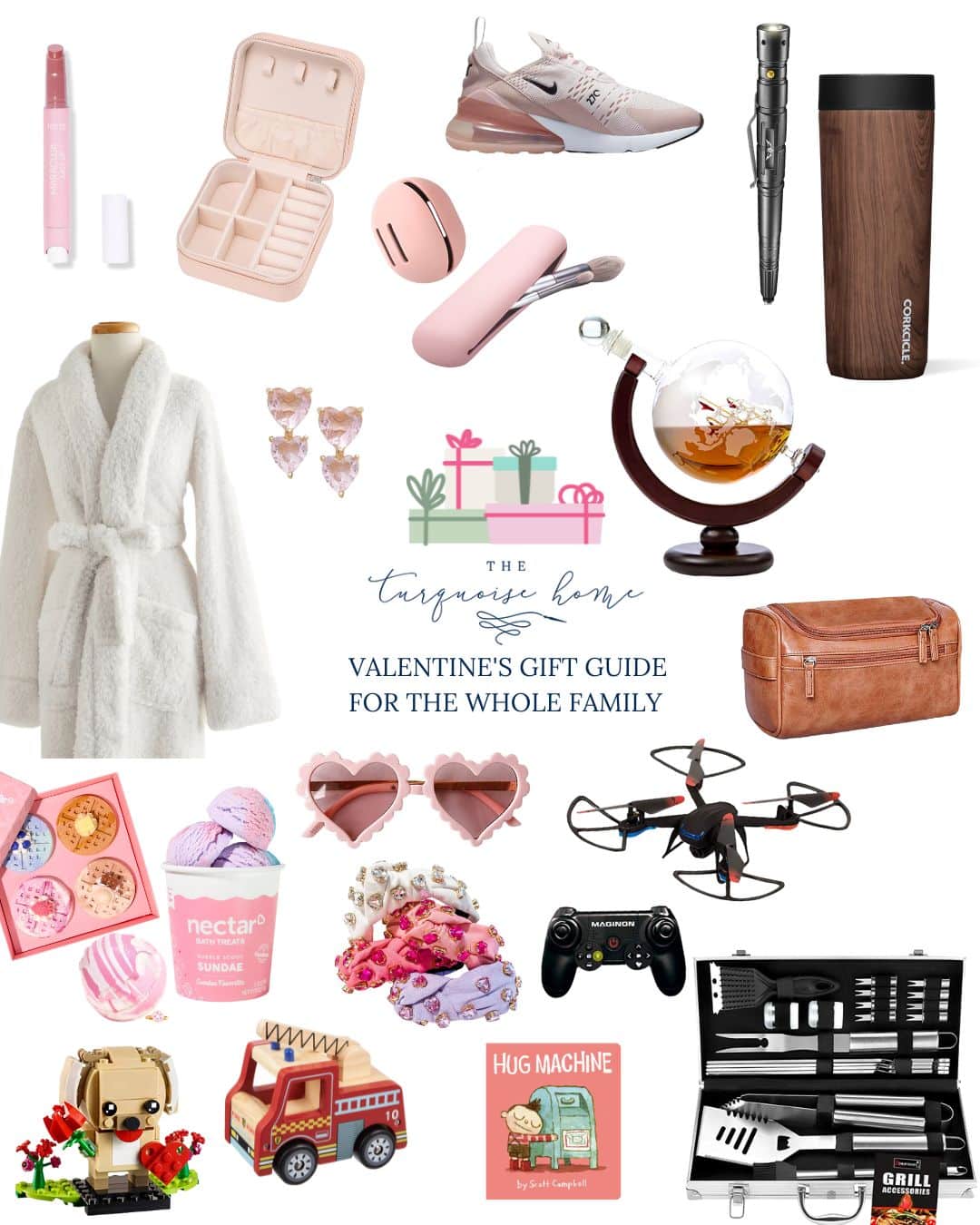 Plus, it's just fun! Who doesn't want to see their child excited about a pink, glittery something? 🙂
I've found that gift-giving is a wonderful way to let your friends and family know that you were taking the time to think of them. Each of these terrific gift ideas will make everyone get a warm fuzzy feeling because you picked each one out just for them!
One note: you don't have to go for extravagant gifts unless you really want to. Sometimes a simple or thoughtful memento will be enjoyed and appreciated more than a gift of higher value.
With this gift guide, shopping for Valentine's gifts for the whole family doesn't have to be stressful. Take a look at these gift ideas for inspiration for Valentine's Day!
This post contains affiliate links for your convenience. See my full disclosure here.
Valentine's Gifts For Her
Whether it's your mother, grandmother, best friend or significant other, buy a Valentine's Day gift that will bring her joy! I love the idea of taking a trip and using the Adventure Scrapbook to document the memories! And the makeup mirror is a gift I got for Christmas, and I love it!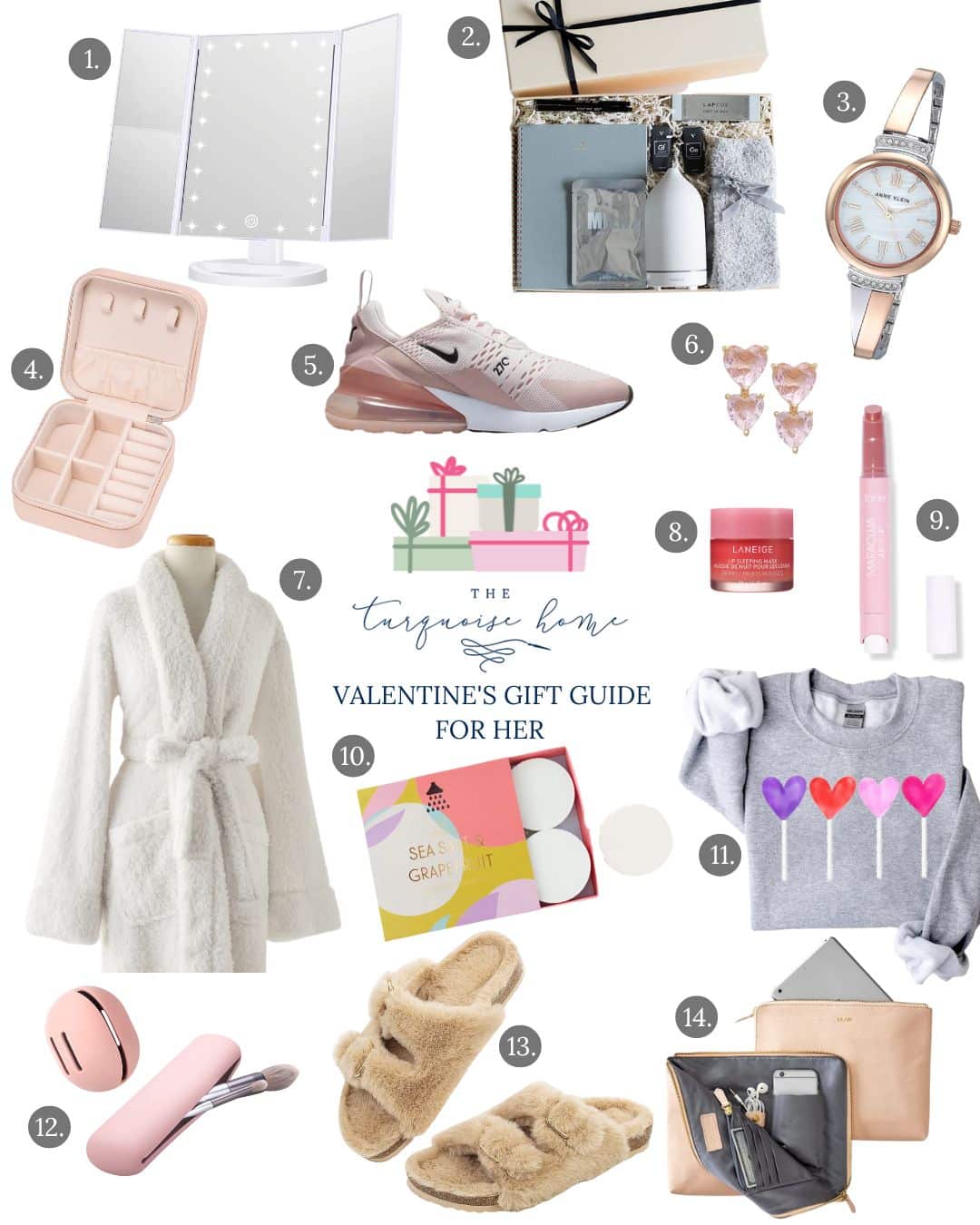 Click the pink title of each numbered item to shop for it!
Every woman needs a lovely makeup mirror to make getting ready a breeze in the mornings. Plus, this one folds up so that you can travel with it! (I have this one and love it!)
For the lady who needs some pampering in her life, grab an "A Moment Away Gift Set" for her. (Don't we ALL need that?!) A diffuser, journal, cozy socks and more will make her feel like she's at the spa!
This watch is stunning with a rose gold finish and a beautiful mother of pearl face. Everyone is going to be envious!
4. Travel Jewelry Case
My girls and I got these for Christmas and they are the perfect size for traveling with your favorite jewelry! Super pretty and inexpensive!
New sneakers are always a good idea. And these Nike sneakers are perfect for spring!
These cute earrings are so simple and sweet.
What could be more comforting than this big, huge, plush teddy bear robe? It's so warm and cozy; it's impossible not to be relaxed when wearing it!
Moisturize your lips this winter with this yummy lip sleeping mask. (I use it any time of day, not just when I'm sleeping!)
Need some color on your pucker? I bought this lip balm at Christmas and it's delightful! I love the slight color and it's very moisturizing. LOVE!
Encourage your loved one to enjoy a hot, relaxing and rejuvenating shower with these invigorating shower steamers.
Give your loved one an adorable sweatshirt she can wear all season long.
These silicone brush holders are such a cute way to travel with makeup brushes. It keeps them clean and compact, too!
Every woman needs a pair of furry sandals. They are so comfortable and cute, too! It's the perfect Valentine's Day gift.
This gift for yourself or your girlfriend will go with you anywhere! Keep all of your essentials, like your phone, keys, cards and AirPods all organized in this super cute tech clutch! Just add a couple of her favorite gift cards inside and you'll be her BFF.
Valentine's Gifts For Kids
For children, Valentine's Day might be full of heart-shaped candies and personalized cards from friends at a classroom party, but your little one will appreciate a gesture of love from you, too. Check out some of these Valentine's Day gift ideas to surprise your kids this year!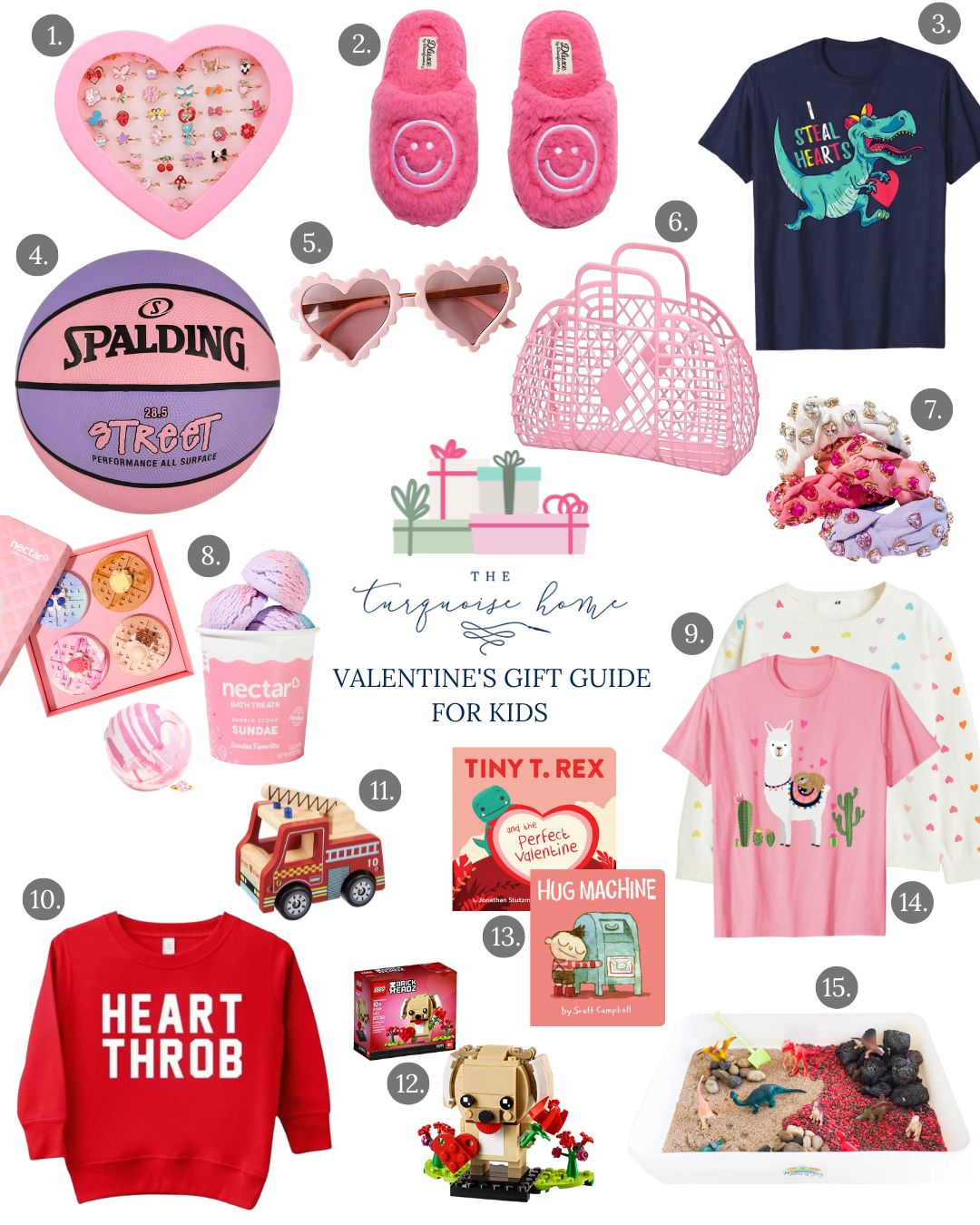 Click the pink title of each numbered item to shop for it!
This set comes with 36 rings that are perfect for the little kid in your world. Each ring can easily be adjusted, too.
The smiley faced everything is all the rage, and these fuzzy slippers are pretty popular, too! My girls would both love this!
This Valentine's Day t-shirt is totally cool with a dinosaur on it. If you have a dino-obsessed little one, this is the perfect Valentine's Day gift idea!
Let the games begin with this adorable Love Day basketball! There's a green/blue version, too!
She'll be stylin' and profiling' in these adorable heart-shaped shades!
Stock up her favorite goodies in this cute, retro jelly basket (and re-use it for Easter)!
If bedazzled headbands aren't having a moment, then I don't know what it. These are so popular and trendy right now!
What kid doesn't love a fun bath treat? My youngest especially loves a scented bath fizzy or special soap. These waffle shaped bath bombs are adorable. And the ice cream scoop foaming bubble bath treats are such fun! Or get a single decadent bath bomb with a donut ring inside!
If you want to try making your own, you can find my DIY bath bomb recipe here!
Have your daughter go to school in style on Valentine's Day with this adorable hearts sweater!
Little boys steal their mama's hearts, so this heart throb sweatshirt would be perfect for him!
Of course a little toy is always a good idea for Valentine's Day, like this little wooden toy fire truck. The red makes it perfect!
How cute is this Valentine's Day Lego set? I know both my girls would love it!
There are so many cute Valentine's Day books, like Tiny T. Rex and the Perfect Valentine or Hug Machine.
Okay, what is more popular right now than llamas and sloths? Nothing! This is the perfect gift for your little one. So cute!
Give the gift that will keep kids busy for hours! Do you have a kinesthetic learner? Try a dinosaur sensory bin, or a Valentine's themed sensory bin. There are so many options to choose from, and any kid will love these!
Valentine's Gifts For Him
Sometimes coming up with an interesting or unique gift for the man in your life can prove challenging. If you are lucky, he will have a specific hobby or interest that you can base your gifts off. If not, don't panic. Simply give him one of these Valentine's Day gifts for him…they are all guaranteed winners!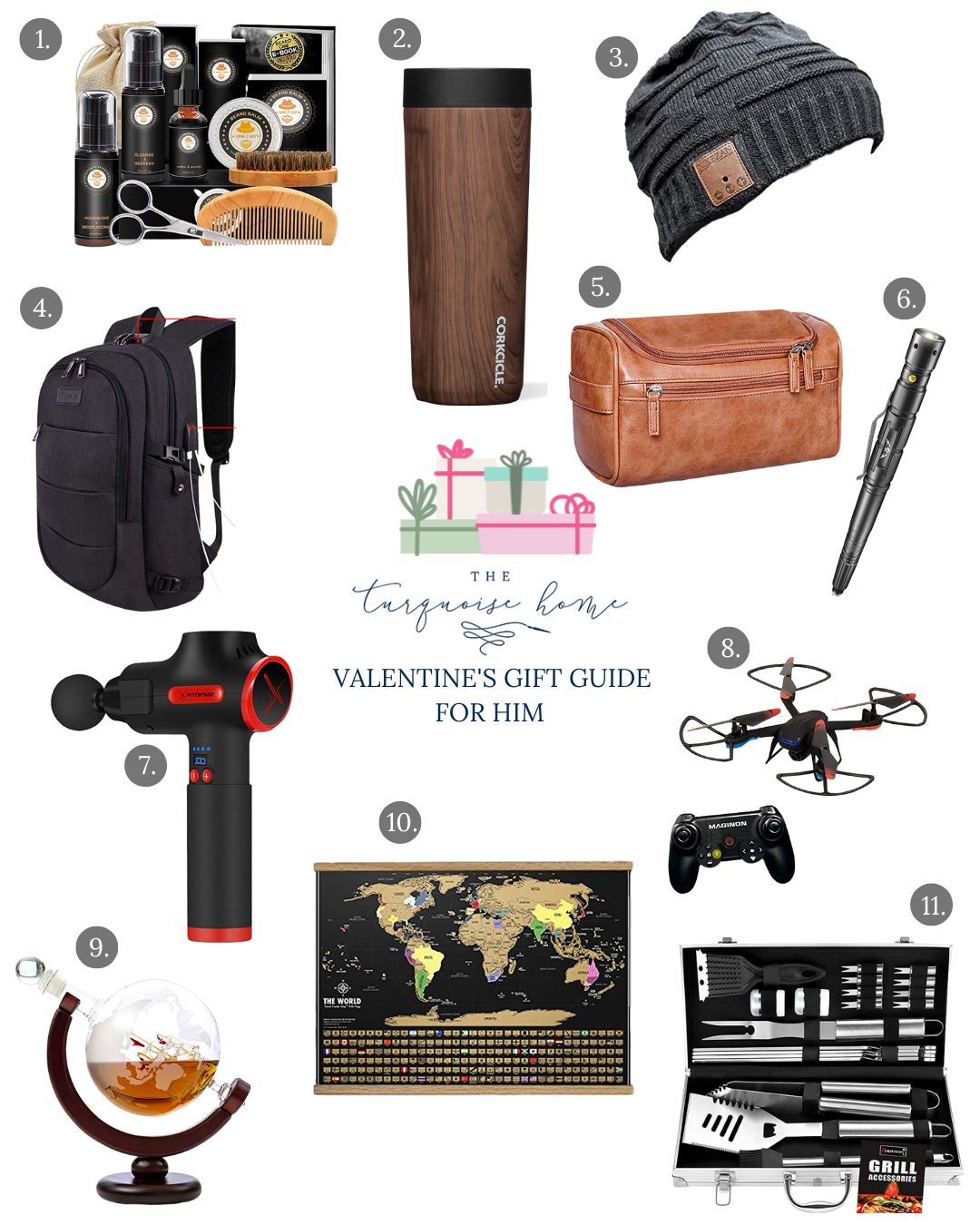 Click the pink title of each numbered item to shop for it!
This beard grooming kit has everything he needs to keep his beard well-groomed, like shampoo, a beard comb, a storage bag, and more! He is going to love this gift idea.
He'll never have to worry about spills again because this commuter coffee cup seals closed with one push! My husband has this cup and loves it! He throws it in his bag and doesn't have to worry about making a mess.
If your man spends time outdoors in the winter and loves listening to music, he will greatly enjoy this bluetooth beanie.
Having a tactical pen is so handy. In addition to being a self-defense tool, he will also be able to use it as a flashlight, window breaker, and even a bottle opener.
Transporting your laptop everywhere doesn't have to be a pain, especially when you carry it in this water-resistant backpack. This bag is durable and even has an anti-theft lock on it.
Even men need toiletry bags for when they travel. This one is fantastic and is made of quality leather, so it's easy to wipe clean, too! Now, you just need to plan a trip somewhere, and it will be the best Valentine's Day gift for him ever.
Help ease those aches and pains from working hard or exercising too much. This massager is sure to make him feel relaxed and comfortable.
You are never too old to take out a drone and fly it around. He is going to feel like a kid again as it flies through the air.
If you're looking for an elegant and charming gift, this whiskey decanter is sure to be what you've been looking for. It's stylish and can be used with several different types of alcohol, so stock it with his favorite before gifting it.
Traveling across the world is even more exciting when you can track where you've been. If he loves traveling, he is going to be so excited about this thoughtful world map Valentine's gift.
If you've been on the hunt for a grill set that he is going to love, this one is it. It has 20 pieces, including a spatula, salt & pepper shaker, and corn holders.
I hope this gift guide full of Valentine's gifts for the whole family will help you pick some wonderful gifts! No matter who you are shopping for, there are some terrific ideas that fit every personality.
Psst…want to buy yourself a Valentine's gift this year? Check out these options!
More Posts You Will Love: