A Flower Shop Spring Home Tour
After a long (& rainy) winter, I'm so thankful to see signs of spring coming! These floral inspired decorations get me so excited for the spring season right around the corner!
I'm so excited to finally have my house decorated for spring and ready to share it. I posted about this earlier last week in my Instagram stories, but it's always a fun challenge for me to redecorate for each season. I like to find new ways to use old items and insporate new ones.
This year I looked around and realized I have more faux flowers than could fill a faux flower shop, so I just went with the look. LOL It's a flower shop spring home tour, if you will.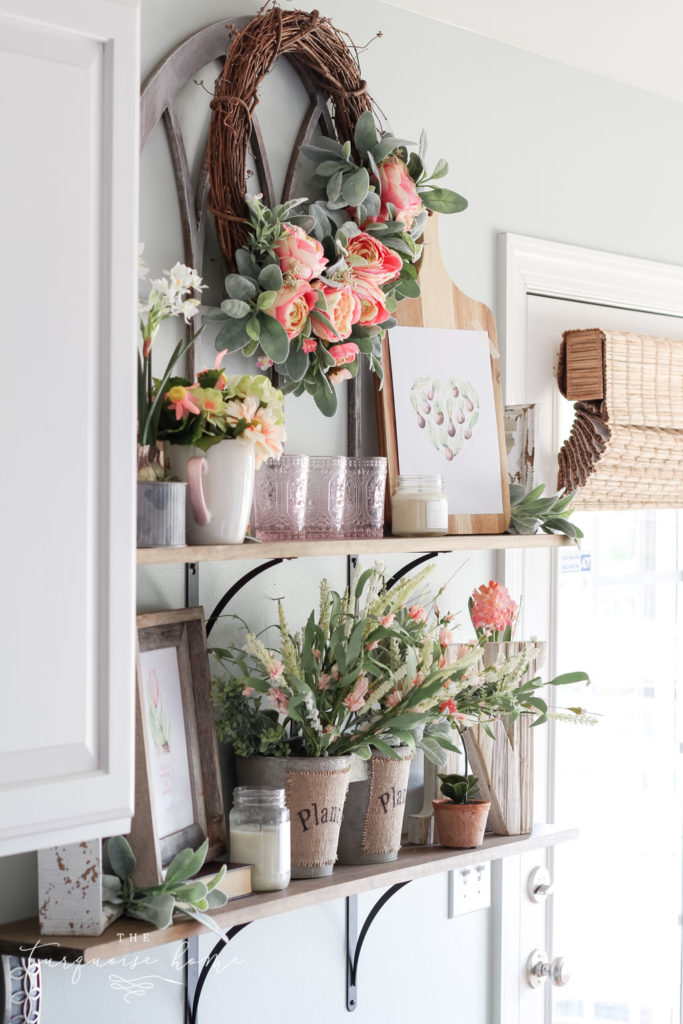 I love a flower shop and I've got plenty, so why not!? Maybe someday I'll be able to afford to fill my home with all of the fresh flowers, but until then my fauxtanicals will do! 😂
This post contains affiliate links for your convenience. See my full disclosure here.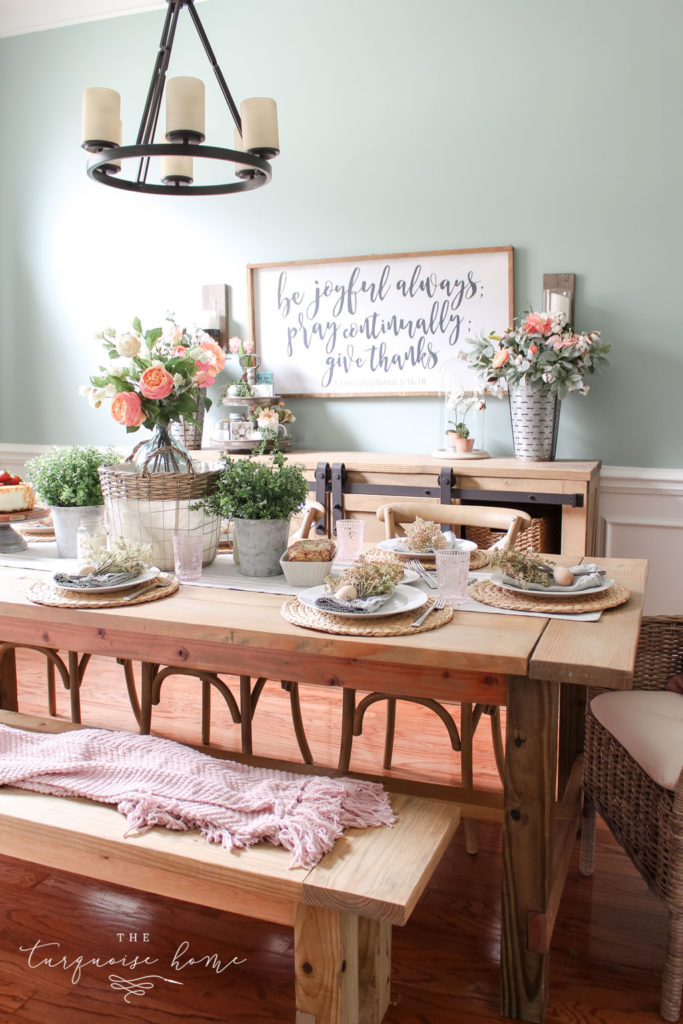 Last week I shared my spring tablescape with lots of florals. I thought I'd give a little bit of a closer look at my tiered tray. I usually keep it all dressed up in the living room, but I moved it into the dining room this time and I like it here for now.
SHOP THIS LOOK: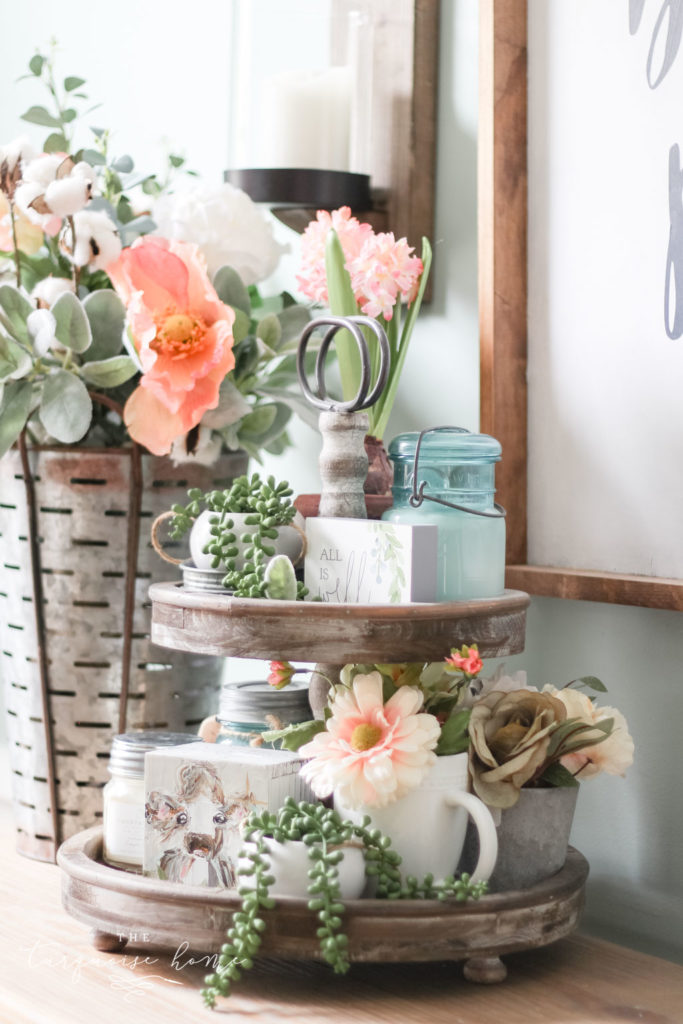 I stuck some faux blooms in my lambs ear and cotton stem galvanized buckets. I keep the lambs ear and cotton stems in there year 'round and just change up whatever else I put in there depending on the season. In the summer I add lavender and at Christmas I add pomegranates. It's a great arrangement that transitions well to any season.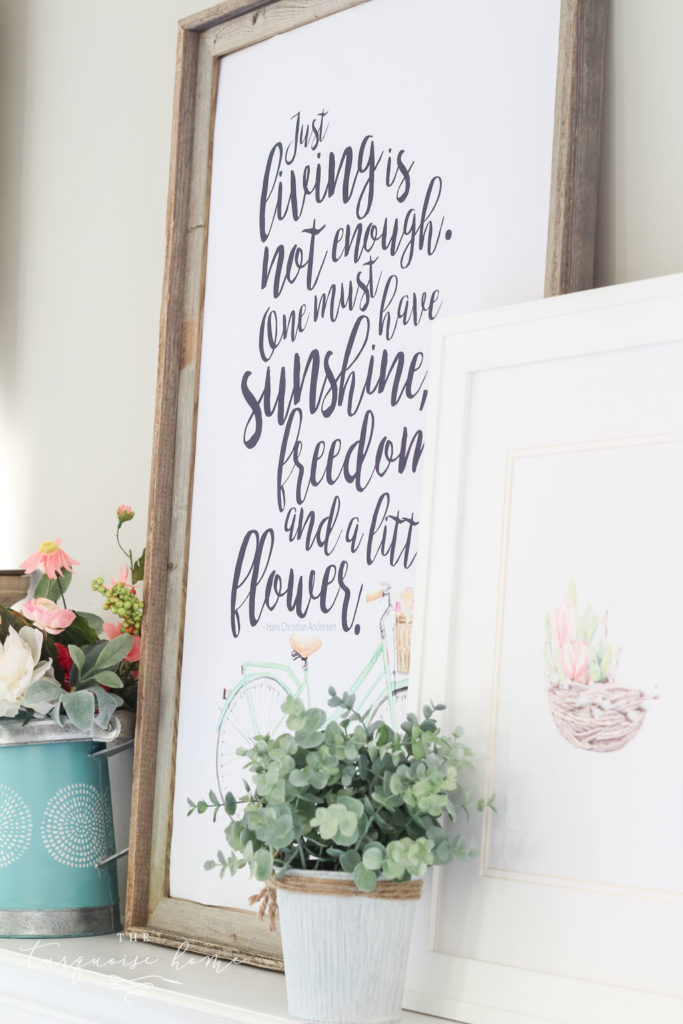 In the living room, I blew up one of my new spring free printables into a 24″ x 36″ poster and put it in a frame I already have. I shared all TEN of my new spring printables right here (click here)!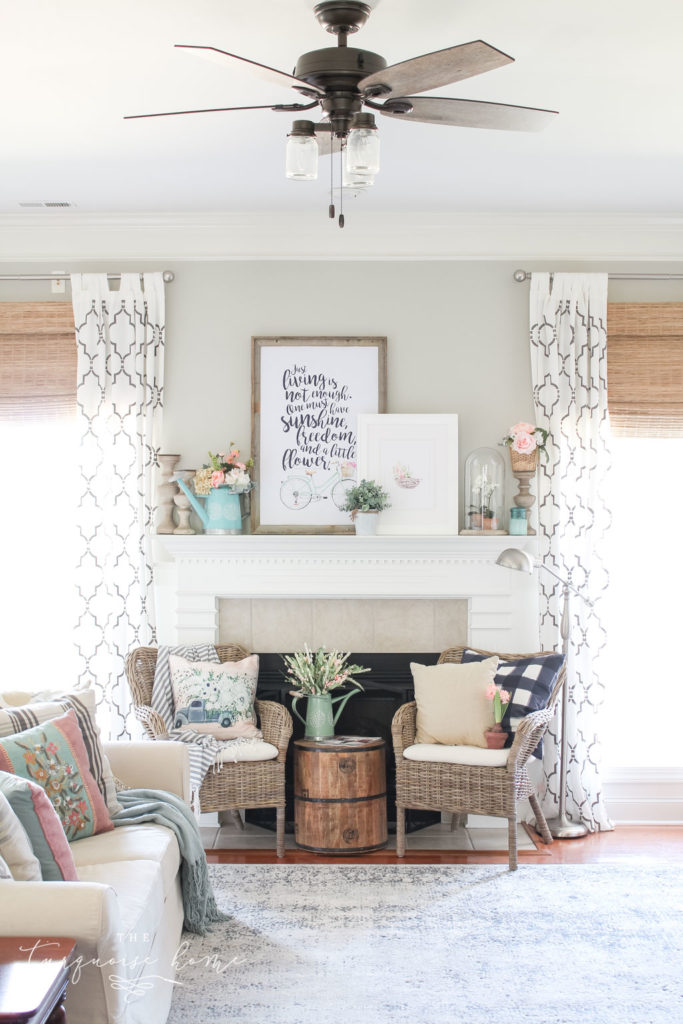 I brought as many flowers in as possible to create a flower market vibe and I kind of love it. The quote on the printable says, "Just living is not enough. One must have sunshine, freedom and a little flower." – Hans Christian Andersen.
Mr. Andersen – I wholeheartedly agree!
SHOP THIS LOOK: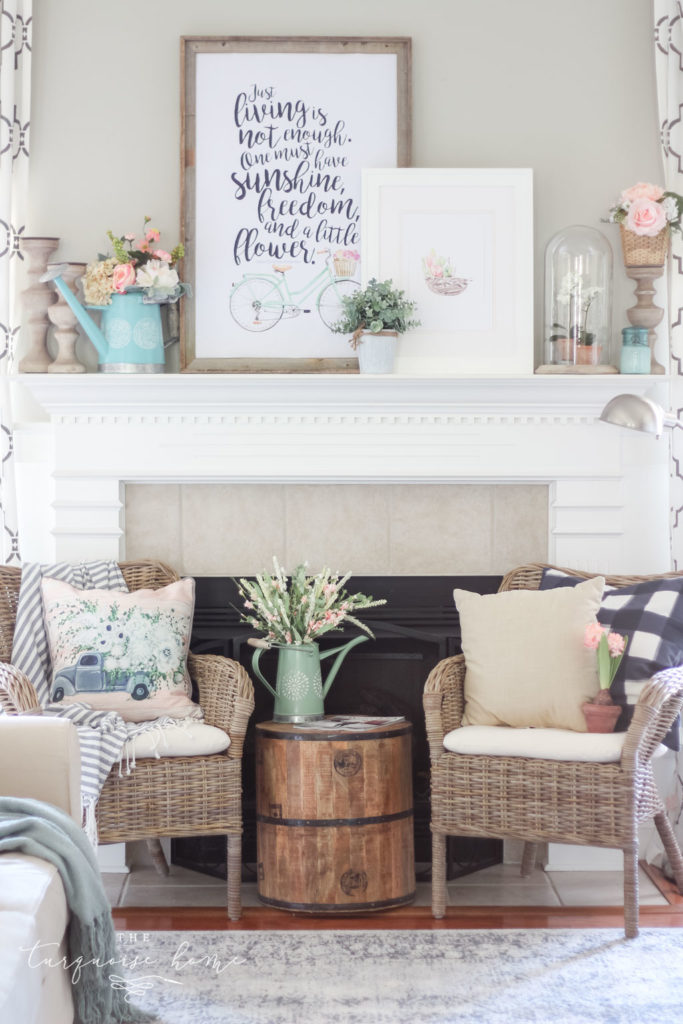 The smaller print is also one of my free printables I shared (click here). There are 10 in all and more of them in the kitchen, so you'll definitely want to grab some of these!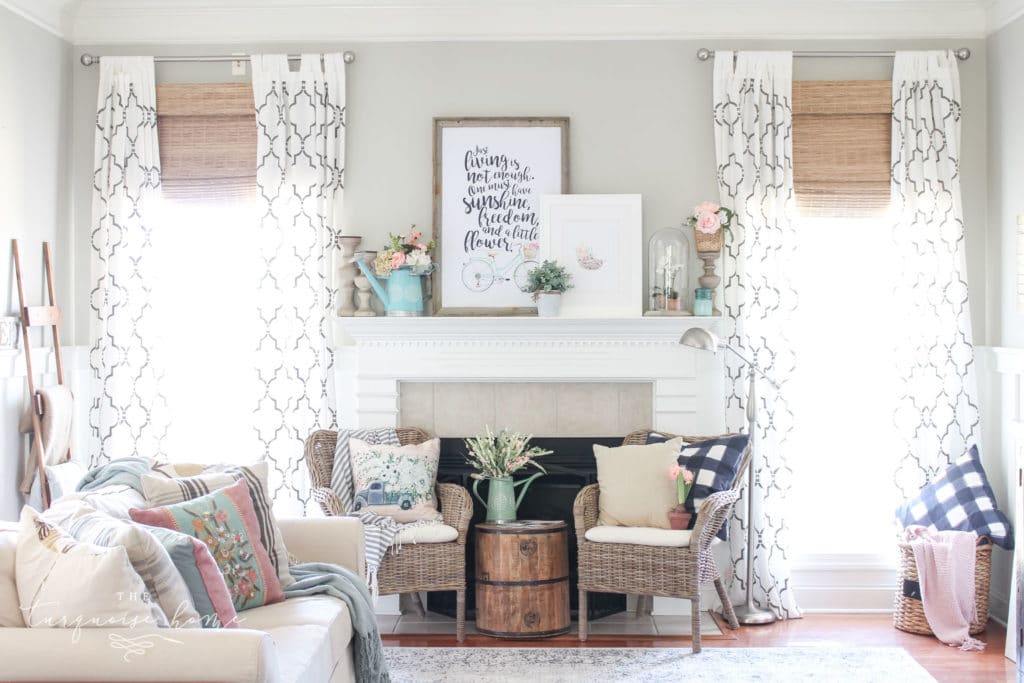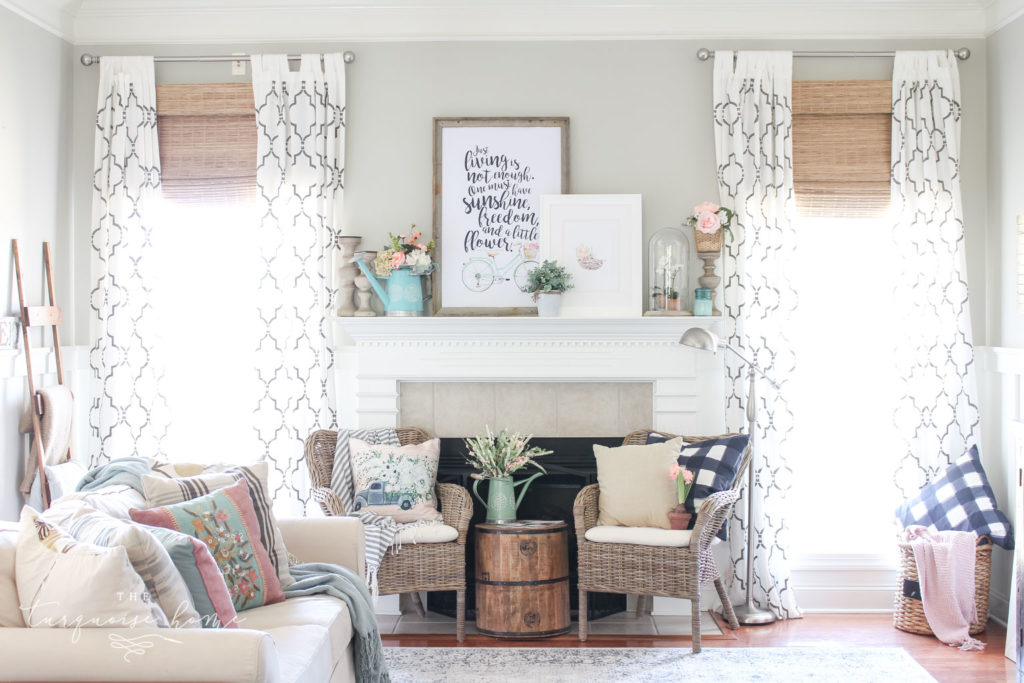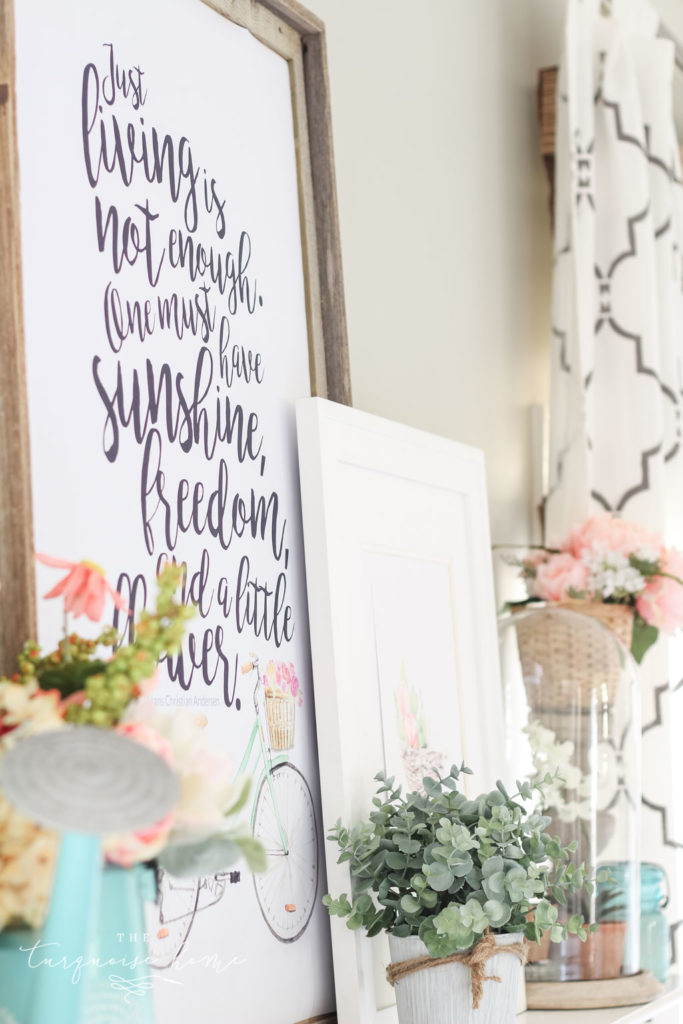 On into the kitchen I grabbed more fauxtanicals and dressed up my open shelves with tons of florals and some more free printables.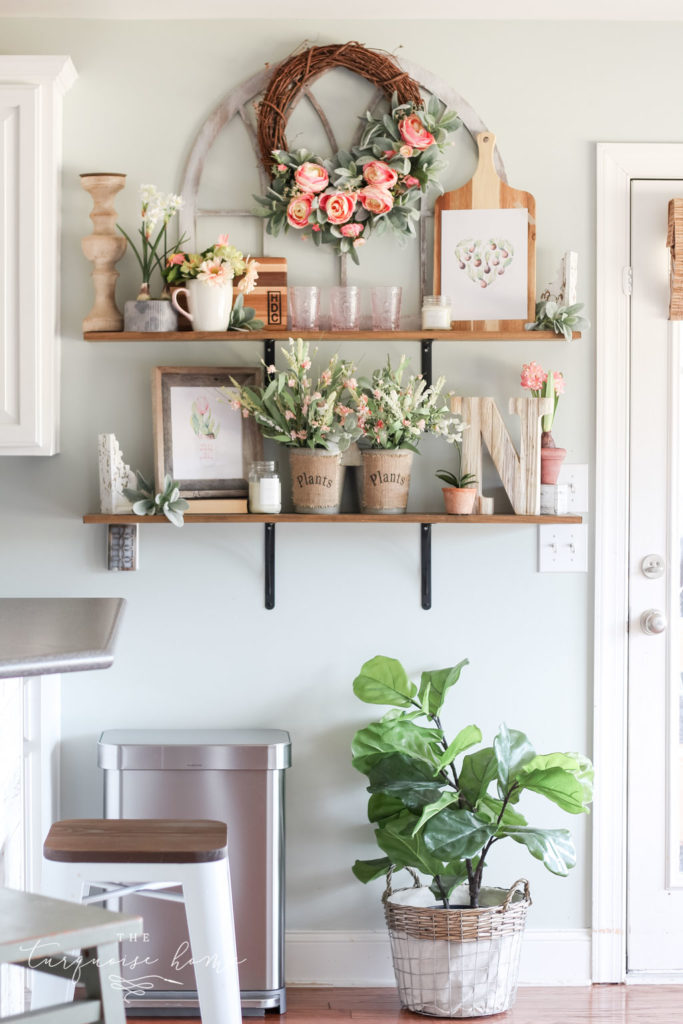 Learn how to make my lamb's ear & peony wreath here.
Here's a little something funny to note … I never would have taken a photo with my trash can in it before, but we got this new amazing trash can for Christmas and I'm obsessed! It always sits here, so this is what my kitchen looks like normally.
By the way, if you want to make your life better, treat yourself to one of these trash cans. This one is huge (14.5 gallons) and there's a place to hold the garbage bags on the back of the can, so you just grab one right there when the old one is full. It's a first world luxury, but we LOVE it. 😂
This photo is how I like to style this space for photos. So pin this one if you want a pretty picture. LOL
SHOP THIS LOOK: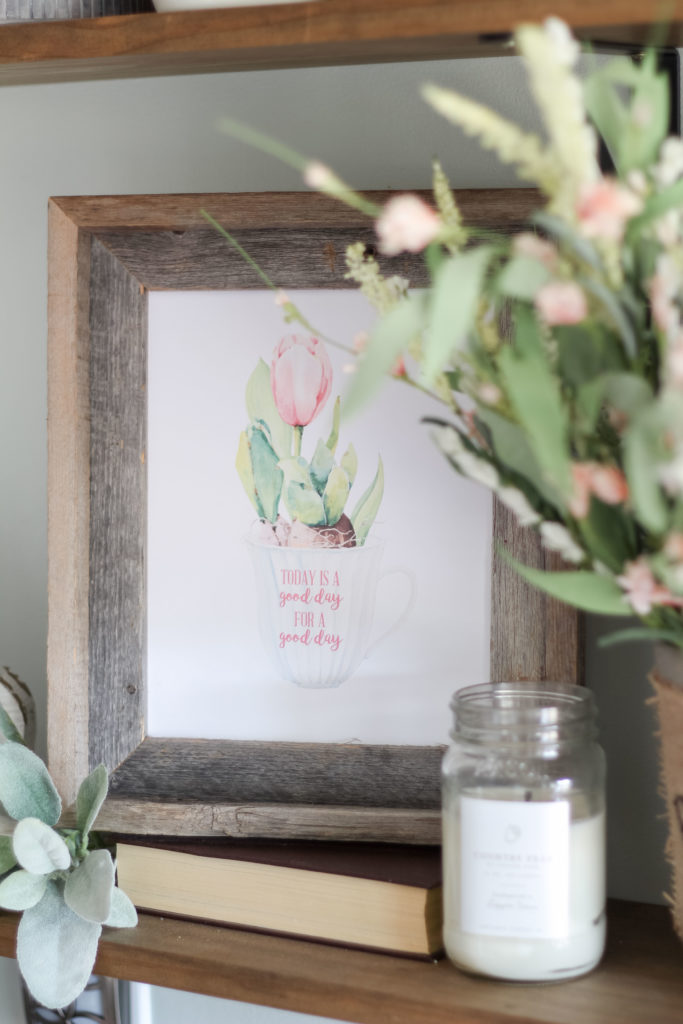 This sweet tulip blossom in a tea cup is another free printable of mine … and this one with the succulent bulbs in the shape of a heart is too!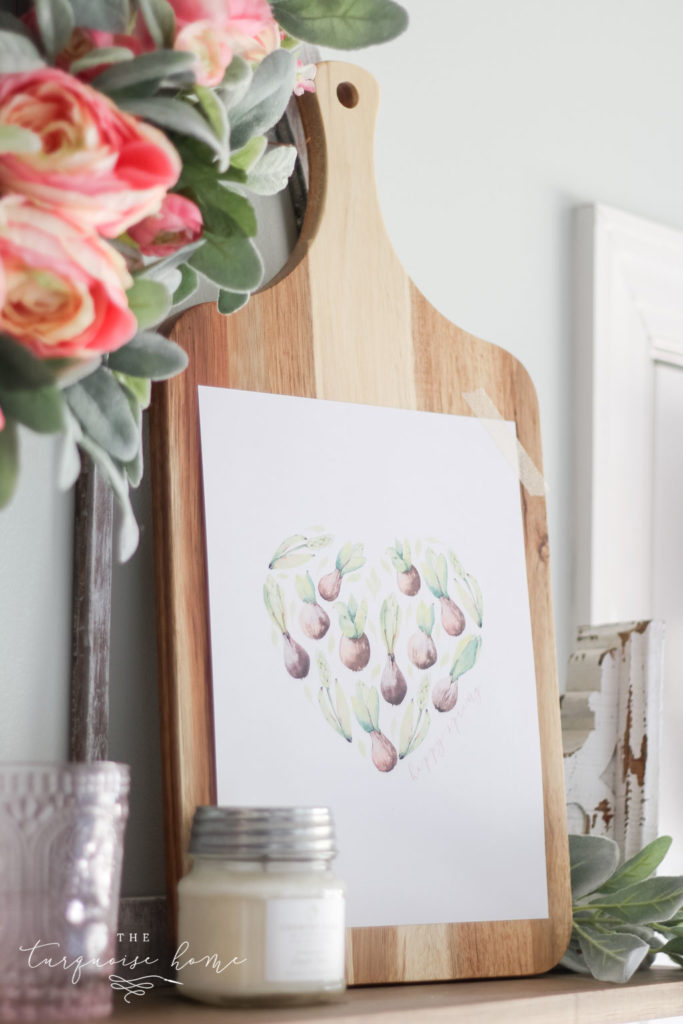 The succulent bulb heart has "happy spring" written down on the right of the heart faintly.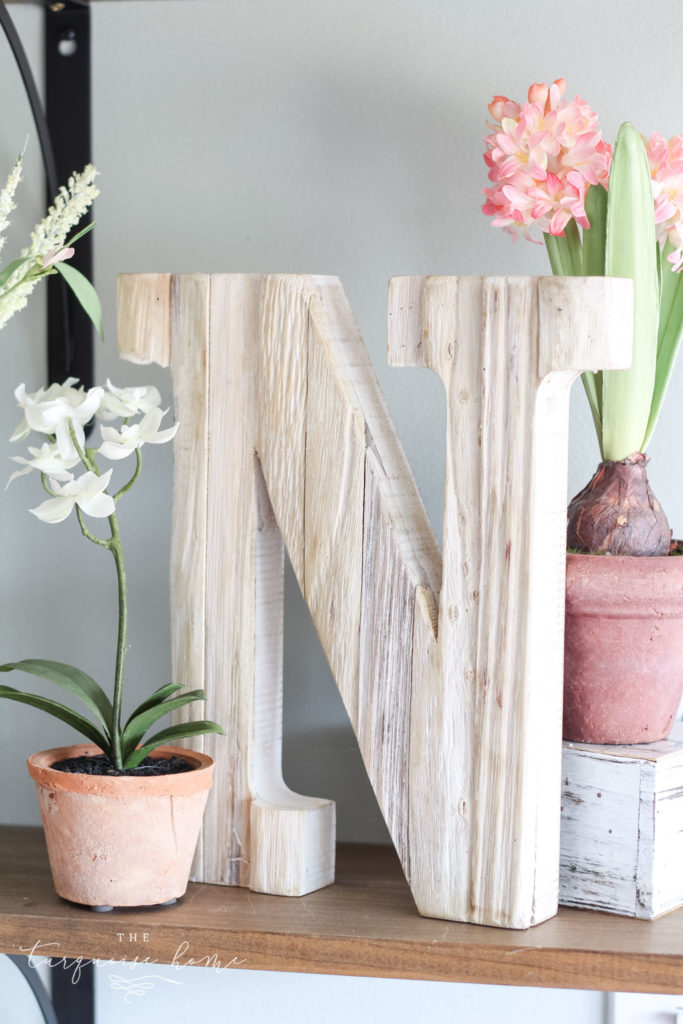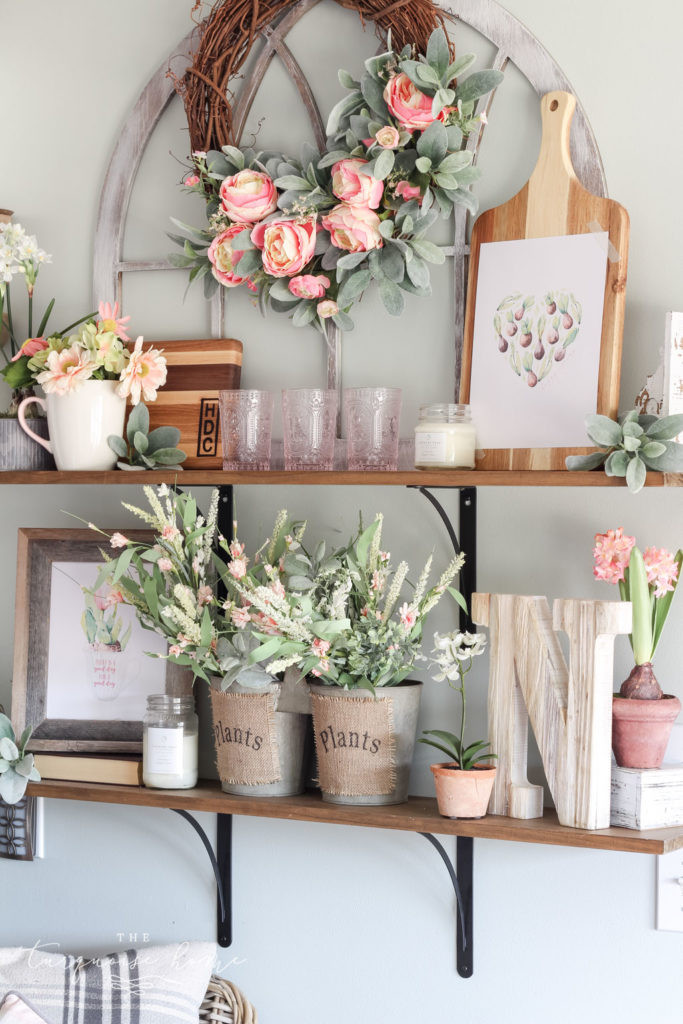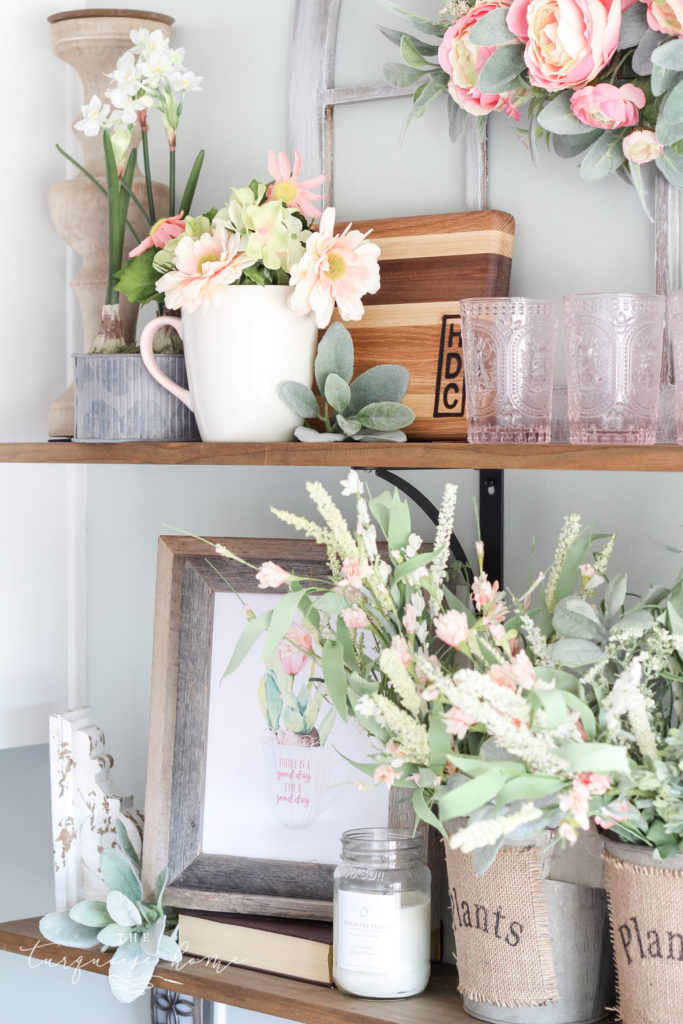 Thanks for visiting my home all gussied up for spring! I hope it gave you all of the floral feels and inspired you to spring-i-fy your home, too!
Sources from my Spring Home Tour
The Open Shelves
Pink & Green Floral Bunches (in the "plant" buckets)
Plant Buckets (old from Hobby Lobby)
Country Pear candles (perfect for spring or anytime!)
Dining Room
Living Room
Watering Cans (old from Target)
MORE POSTS YOU WILL LOVE: