This farmhouse bedding is the easiest way to add farmhouse style to any bedroom. These bedding sets are not only beautiful, but they are completely functional—the perfect place to cuddle up for the night.
Ever since I bought my new rug, I've been contemplating making some more changes in our bedroom. Give a mouse a cookie, you know? Or more like, give a girl a new area rug…
Anyway, the rug and my current duvet cover are kind of in a competition. So, I've been trying to come up with a different alternative and thought I'd let you in on the fun!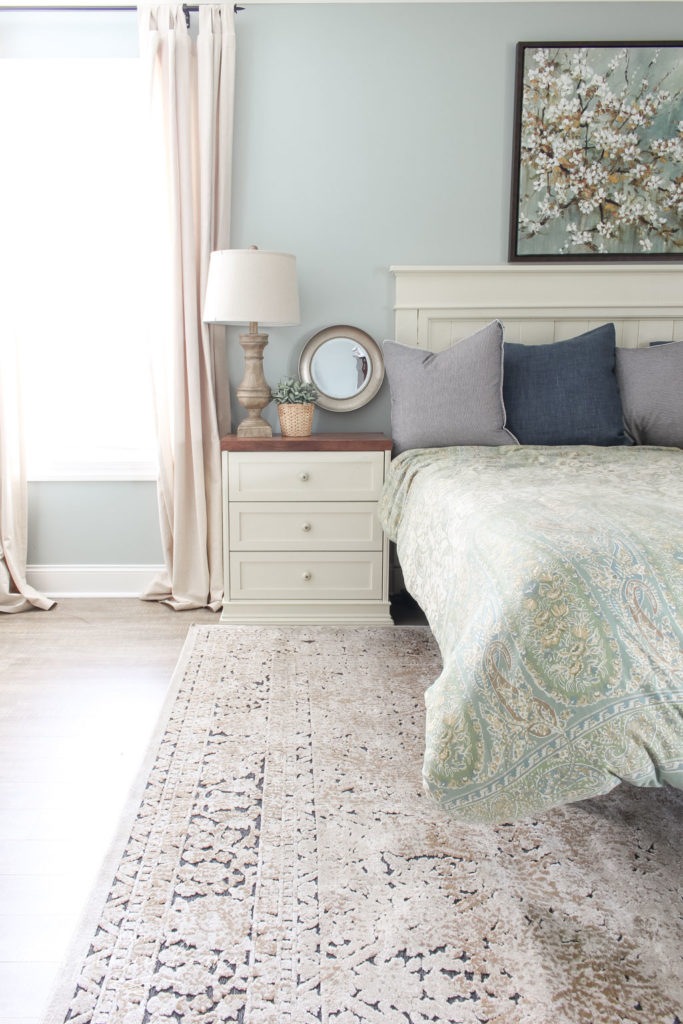 Swapping out bedding is probably the easiest way to transform the entire look of any room. Want to give your room some fall style? Simply swap out your comforter for a buffalo check pattern. Or, if you are ready for a touch of spring? Then layer on a delicate floral print.
Farmhouse style bedding can often be quite affordable too, and thanks to its rising popularity, easier to find than ever. Yay!
Update: I finally learned how to make a bed properly and shared it! I love our new bedding and pillow sets!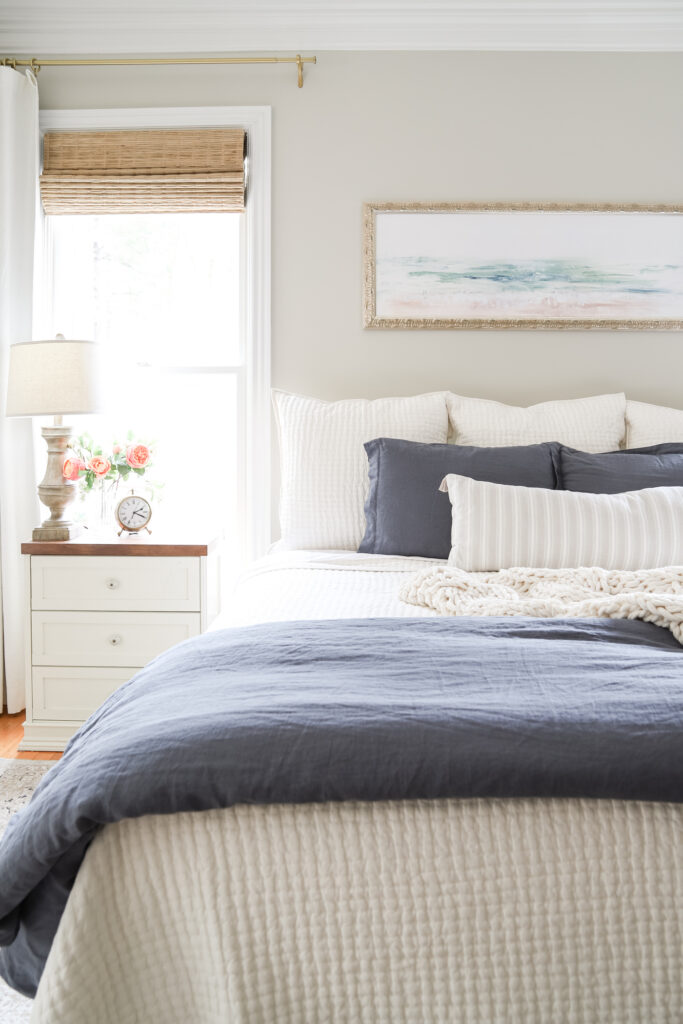 15 Pretty Farmhouse Bedding Sets
I've pulled together some of my favorite farmhouse bedding sets in this post—each and every one of these are the perfect way to add simple farmhouse style to your bedroom (or guestroom!).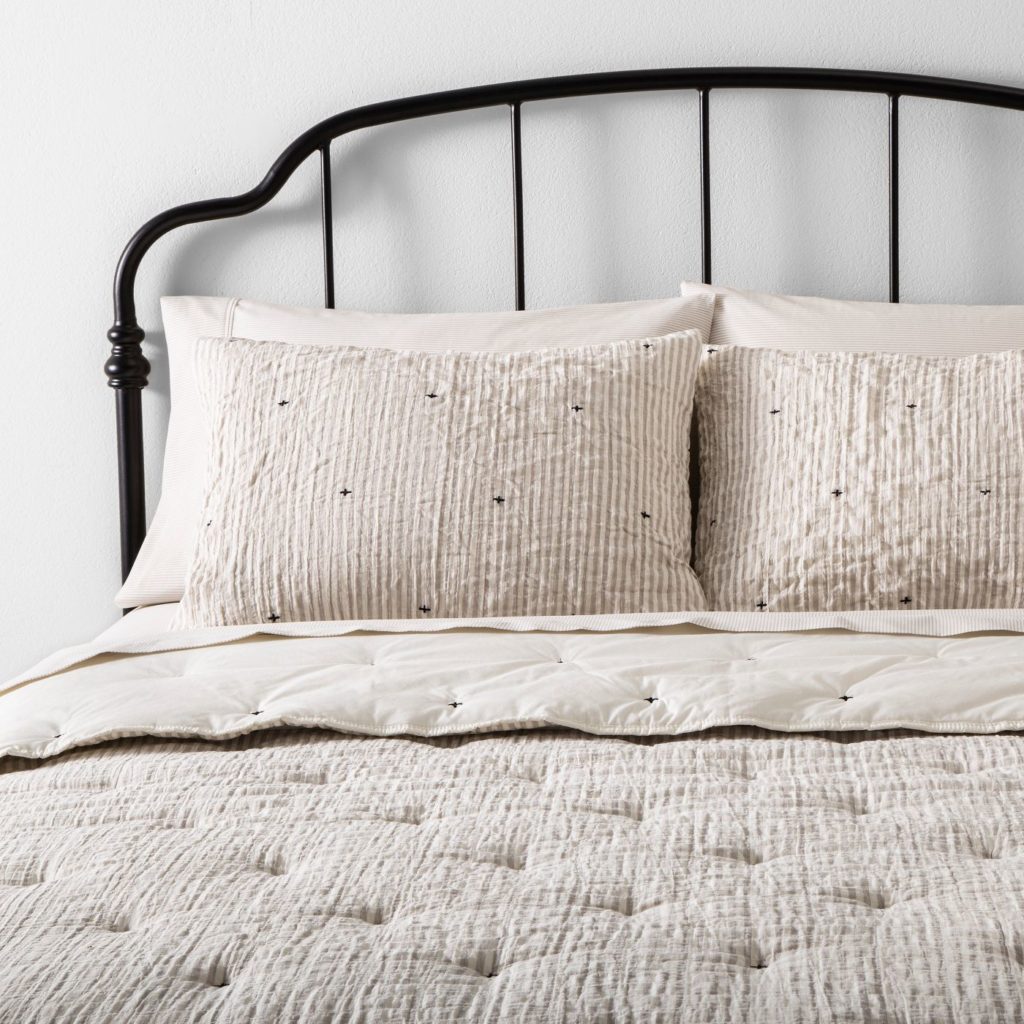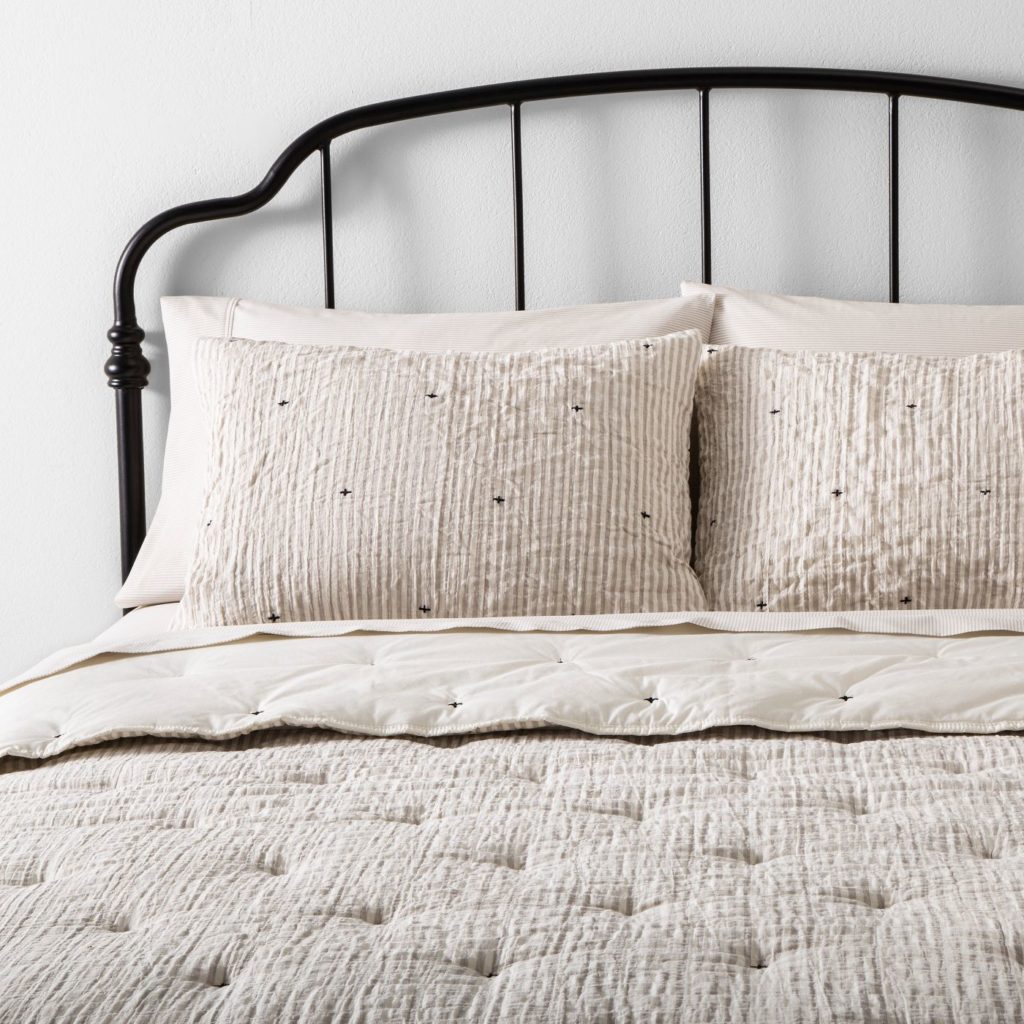 Here's a stunner – and probably my favorite! This gorgeous Hearth and Hand farmhouse bedding set comes from none other than Joanna Gaines' beautiful Target line. I love this simple stripe and stitch pattern and the tufting for even more texture.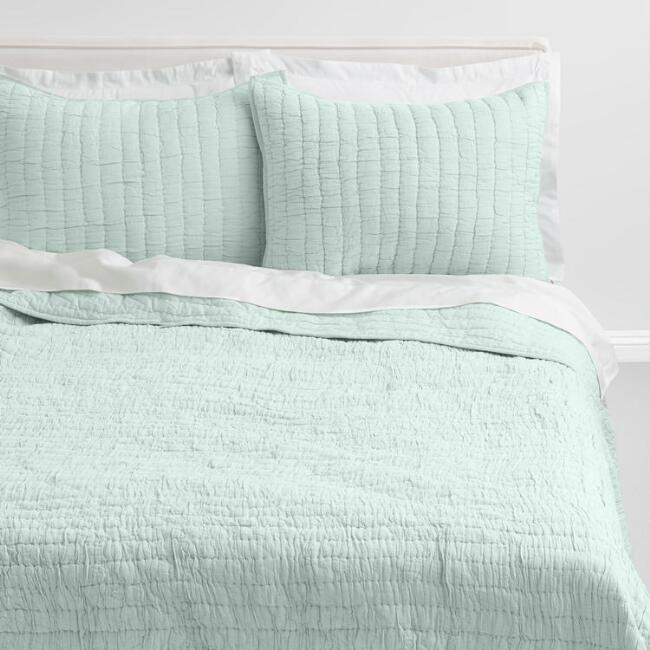 If you love a fun splash of color, it doesn't get much prettier than this handmade minty-green quilt from World Market. Not only is the color going to add a punch to any space, but the ruching adds texture and visual interest too.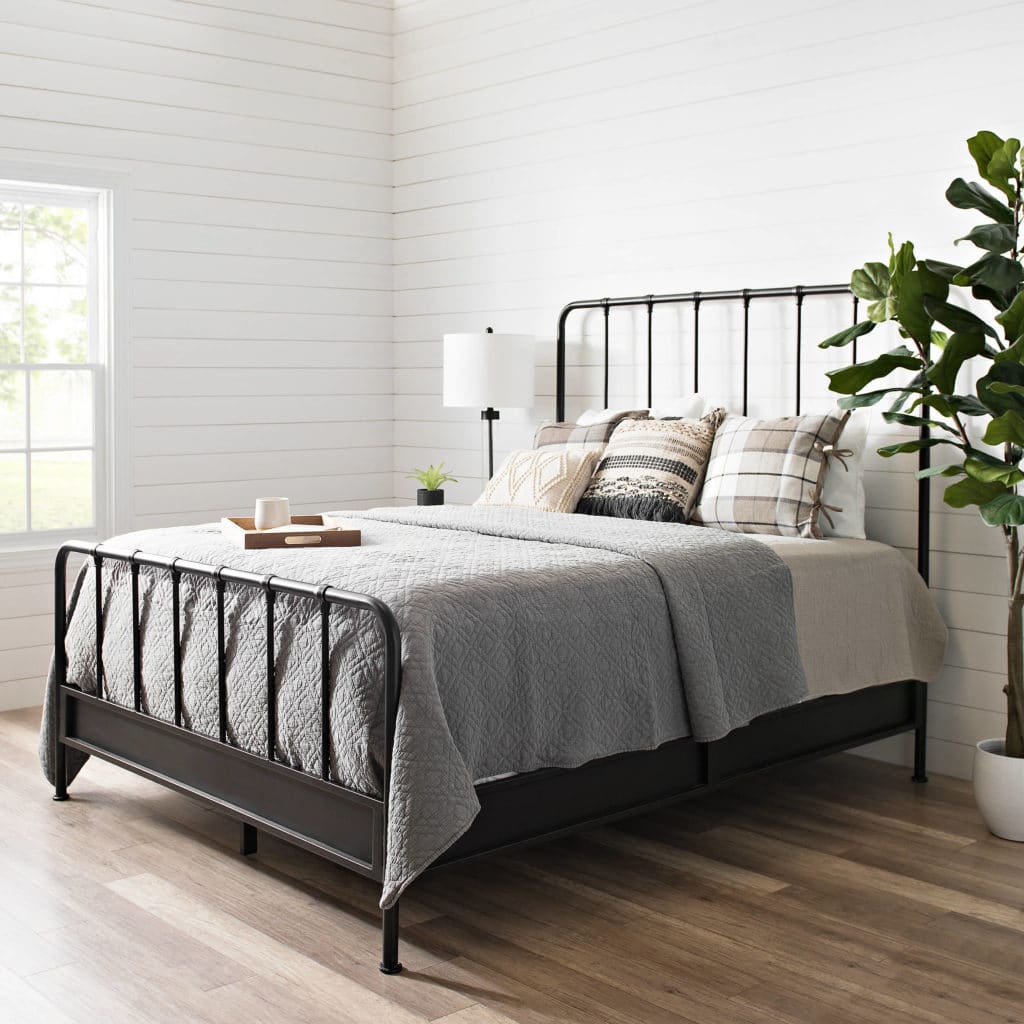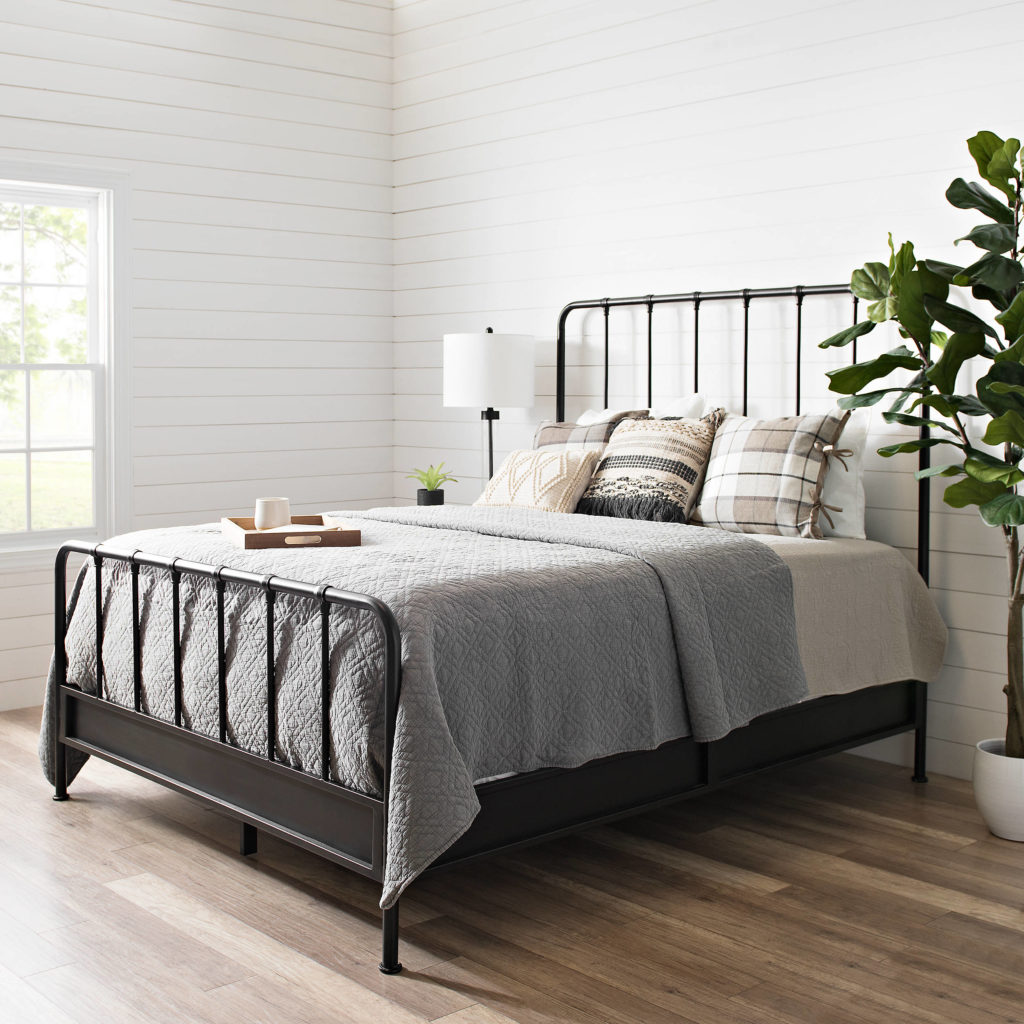 This simple gray quilt can be used in so many ways. In the summers, this is the perfect lightweight blanket. In the cooler months, however, you can use this blanket layered on top of a thicker comforter—at only $99, it's a fantastic deal!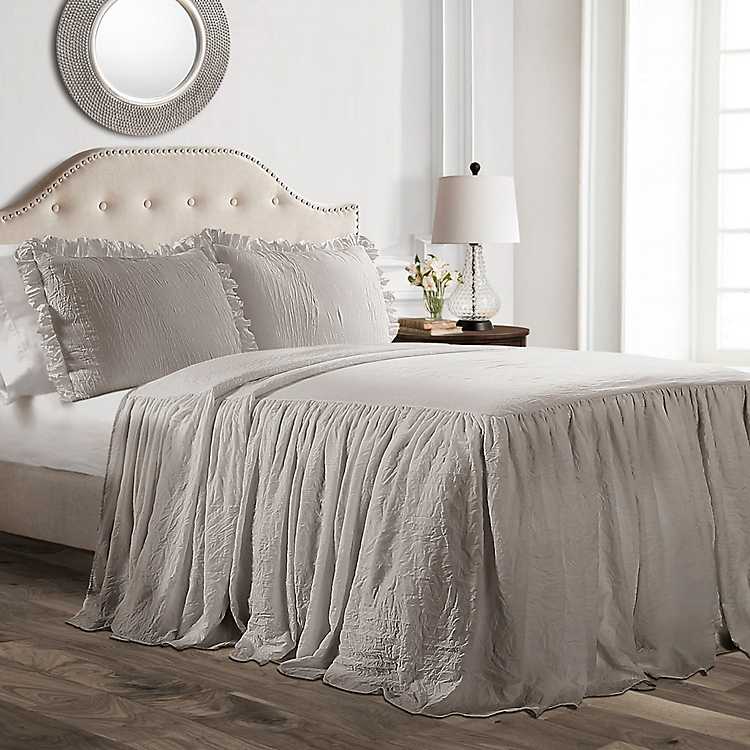 This is one of the most stunning farmhouse bedding sets I've ever seen. I love the romantic ruffle skirt that's built right into the comforter. Plus, the set includes the two shams that will work with pretty much any accent pillow color.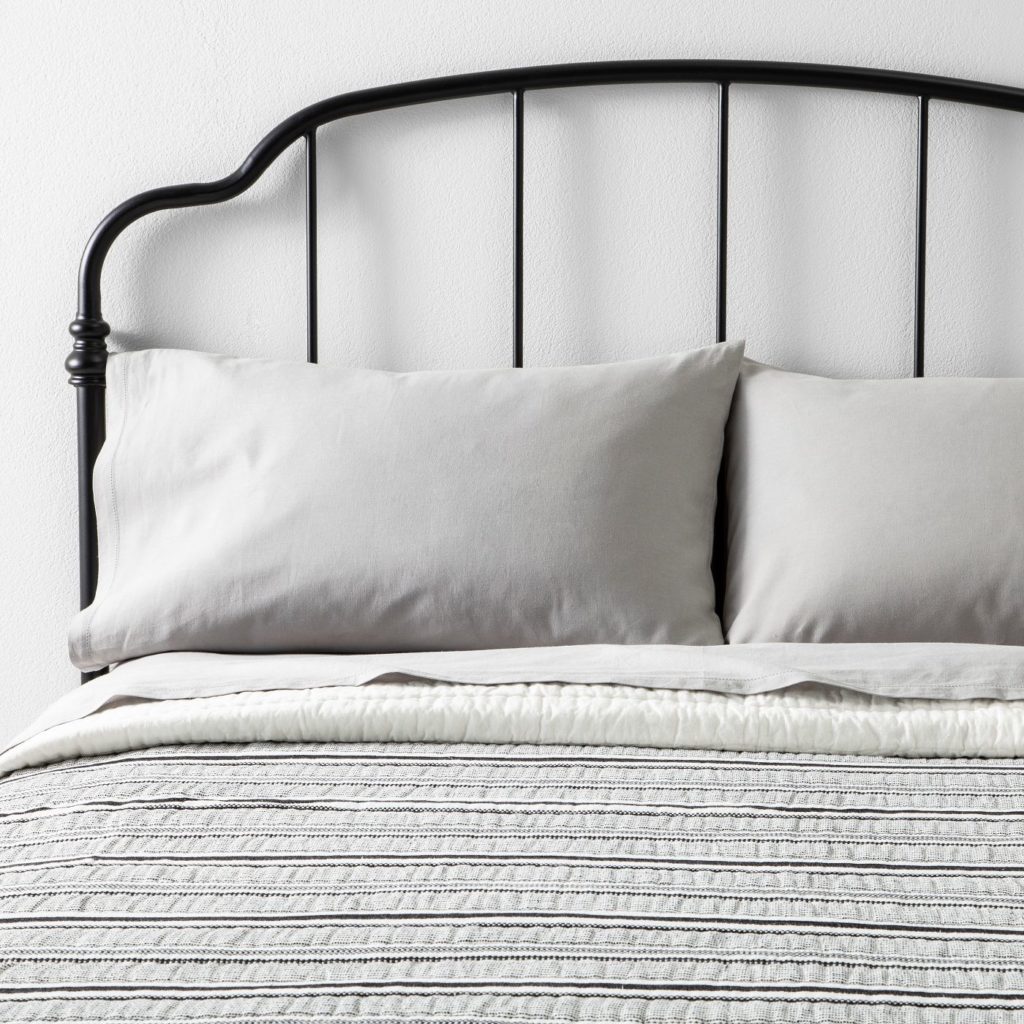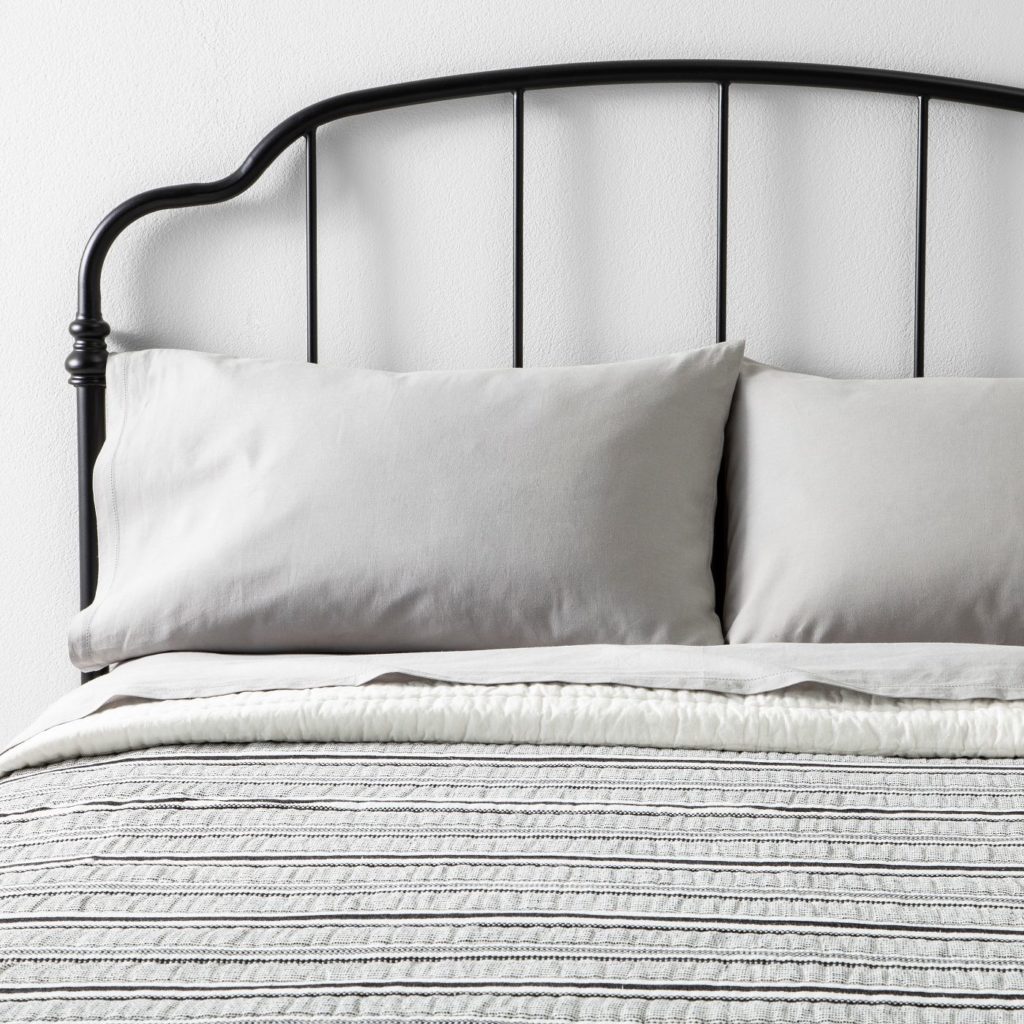 I love the subtle stripe pattern on this farmhouse style bedding from Hearth & Hand at Target. This stitched warm gray quilt is perfect for creating a cozy space in any bedroom.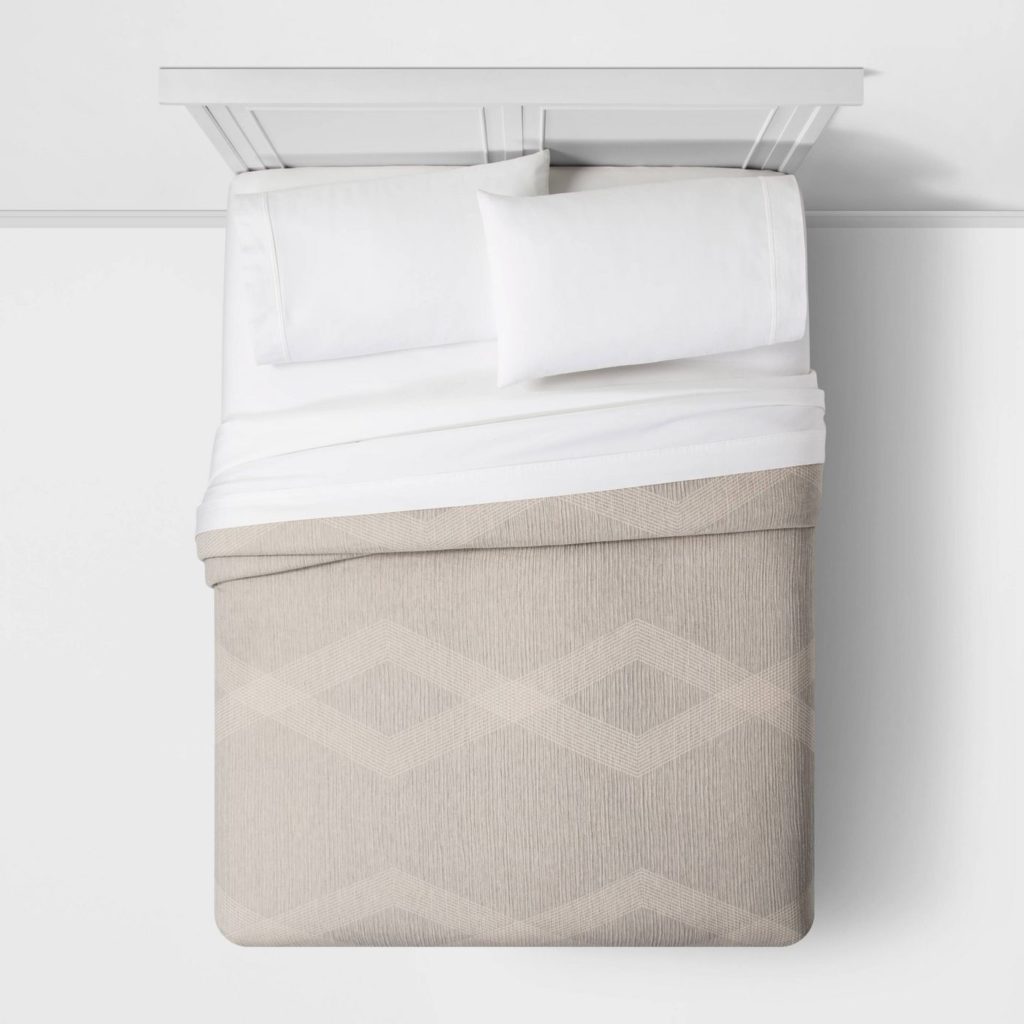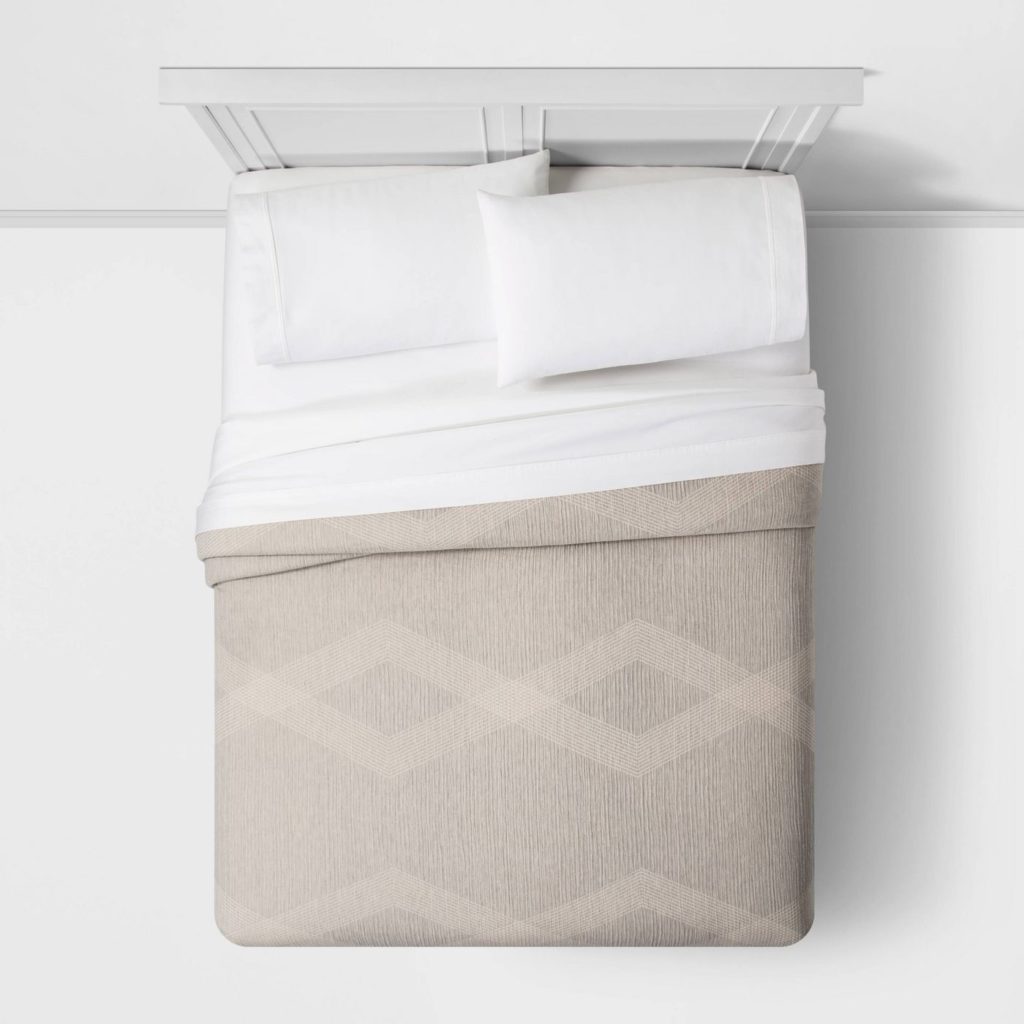 Nate Berkus worked with Target's Project 62 to create this piece, and it's the perfect neutral farmhouse bedding set. The hue is subtle enough to work with any accent color, while the striped pattern gives it a modern edge.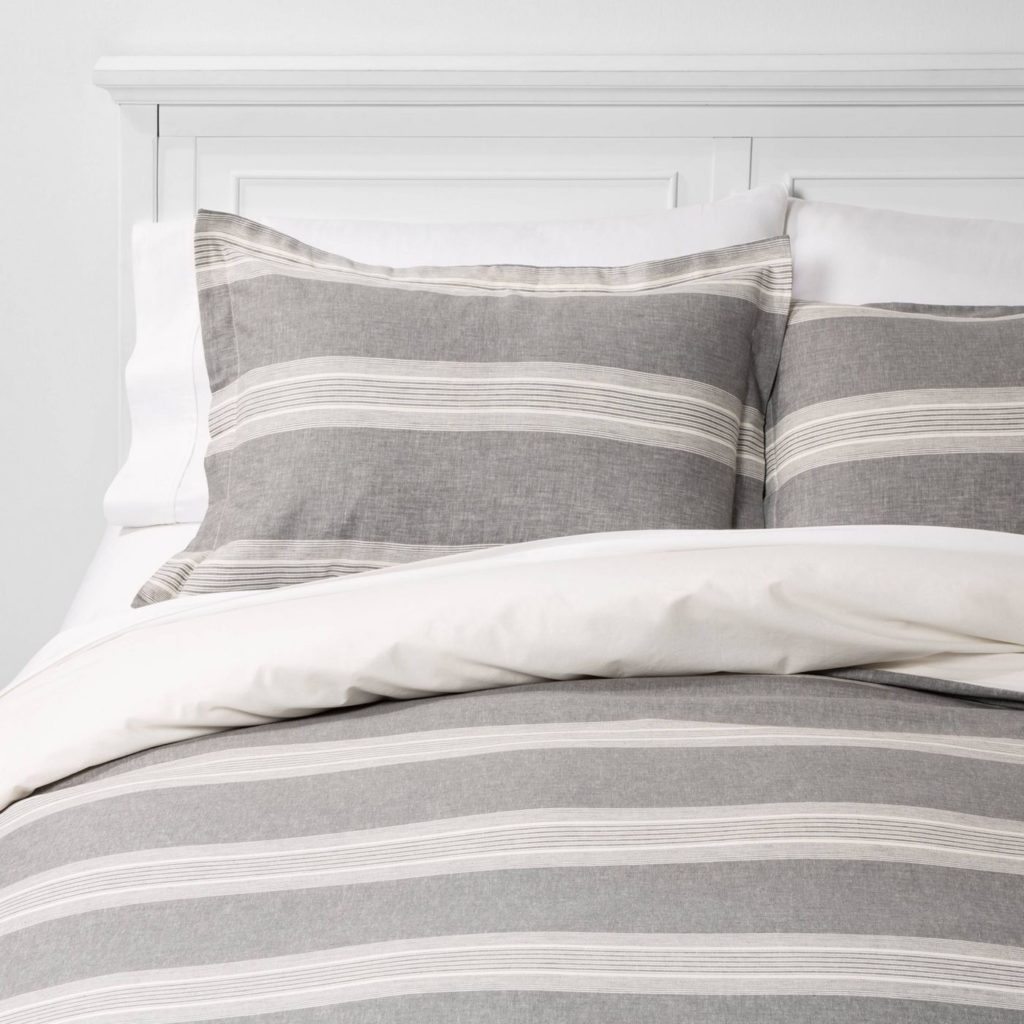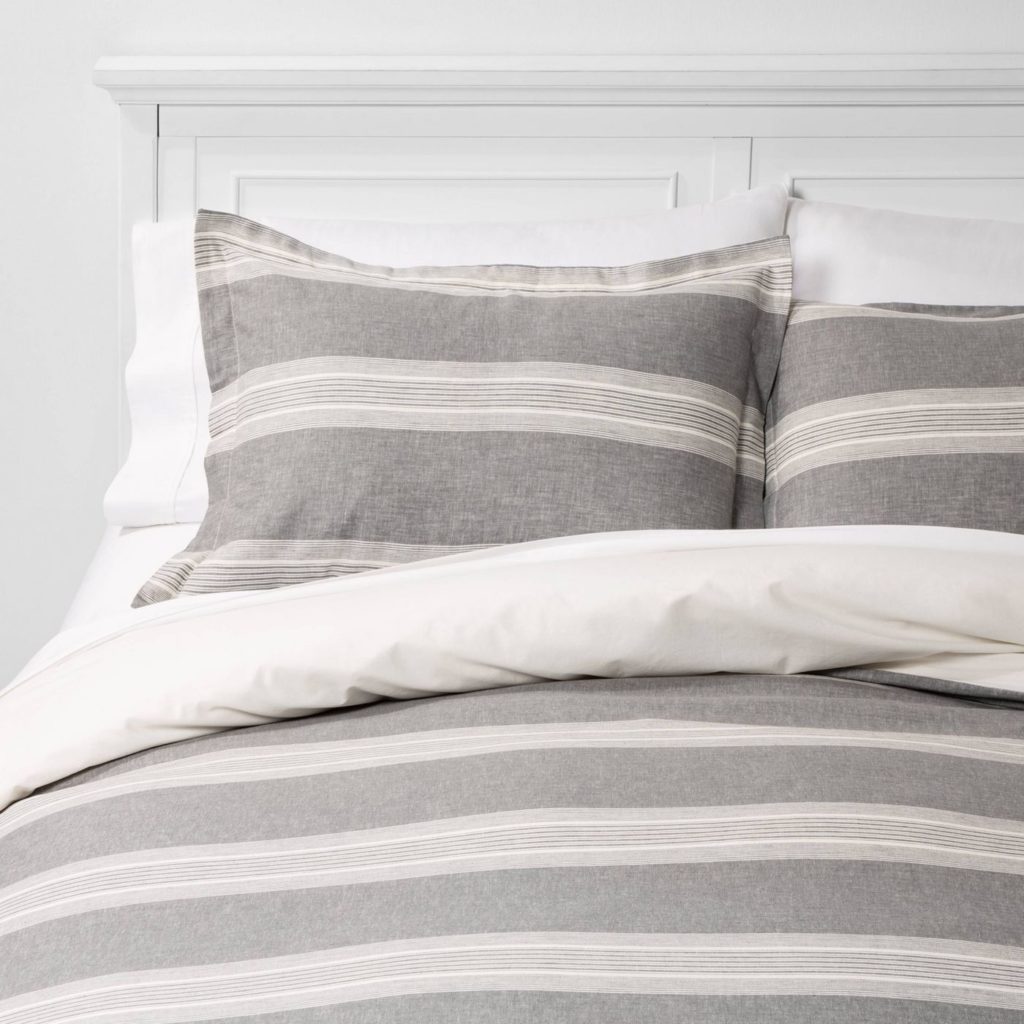 If you want a comfortable and cozy bed that's decked out in modern farmhouse style, add this pretty farmhouse bedding set to your wish list, stat! This comforter can work in both cool and warm painted rooms, thanks to the alternative striped colors.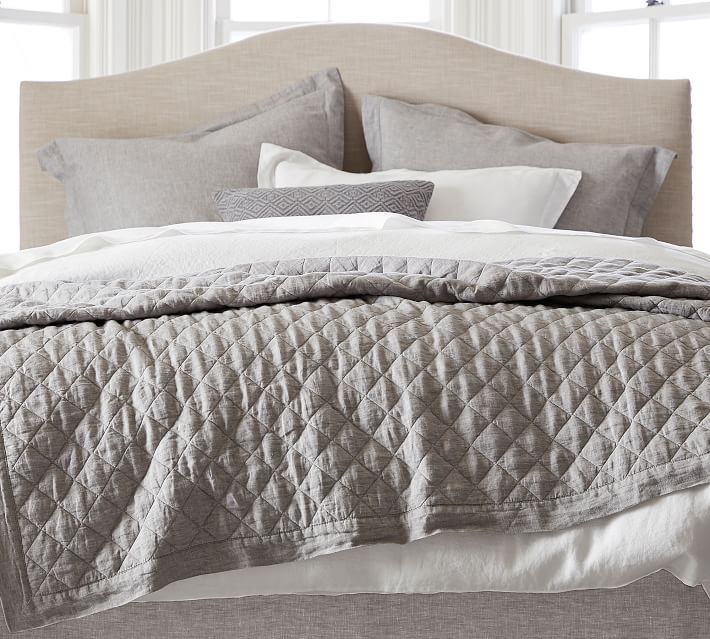 A pretty quilted pattern stitched into the linen makes this a timeless and classic bedding piece. Use this as your main bedding, or layer it in with pretty much any farmhouse bedding set you already own—either way, it's fantastic. Bonus: it comes in 10 colors to match any style!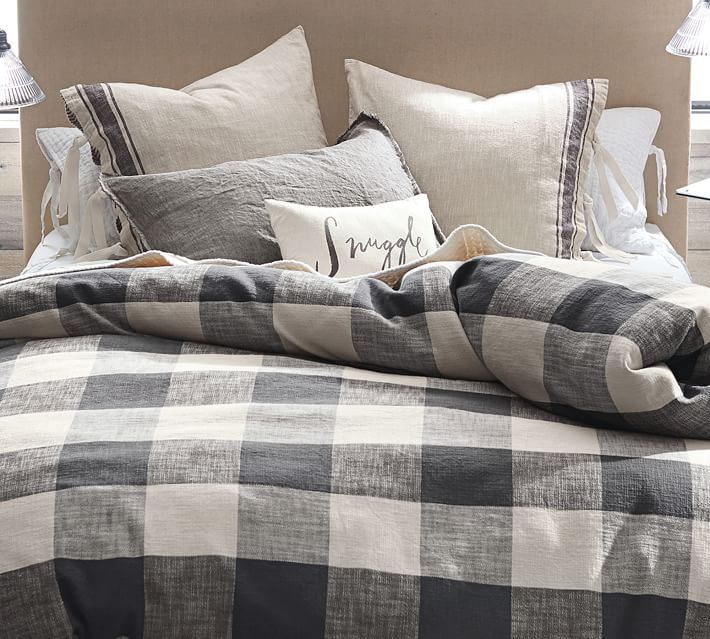 Everything about this large-scale buffalo check bedding screams cozy. This would be a great fall and winter bedding set and adds a seasonally-appropriate effortless style.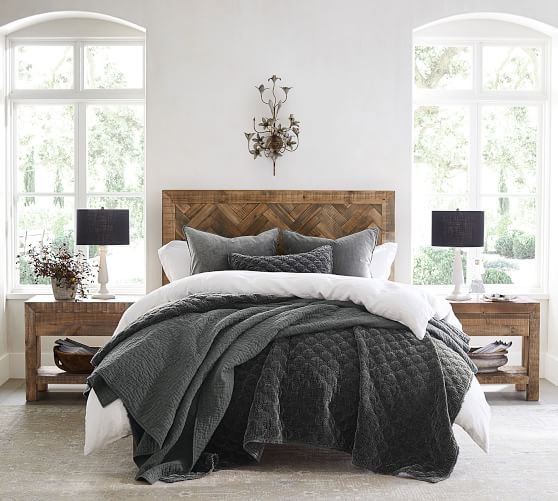 Velvet is one of the most trendy fabrics right now, and this farmhouse bedding is certainly right on-trend. This quilt does a fantastic job drawing together dreamy velvet with farmhouse style.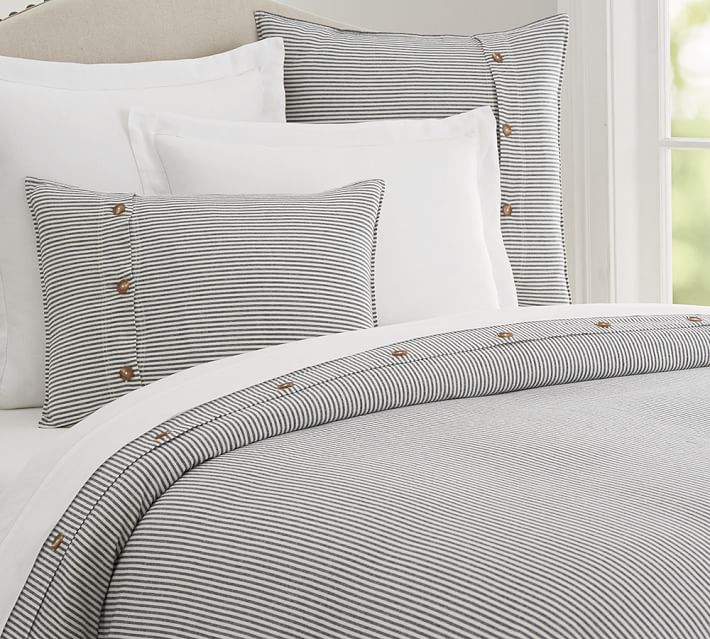 The button trim on this beautiful farmhouse style bedding set adds a beautiful accent to this nautical striped set. This duvet will add a crisp, clean feel to any space.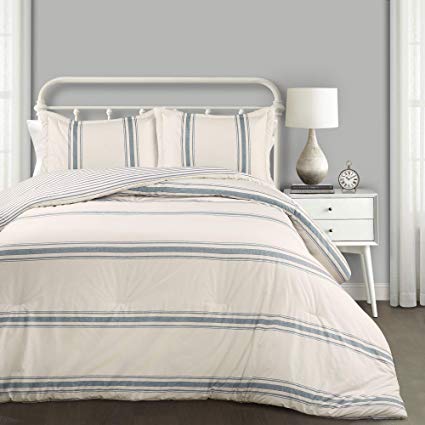 Love classic farmhouse style? This is definitely the set to snatch up! I love the creamy color with the pretty blue stripes. This farmhouse bedding set includes the two shams and will look cozy all year long.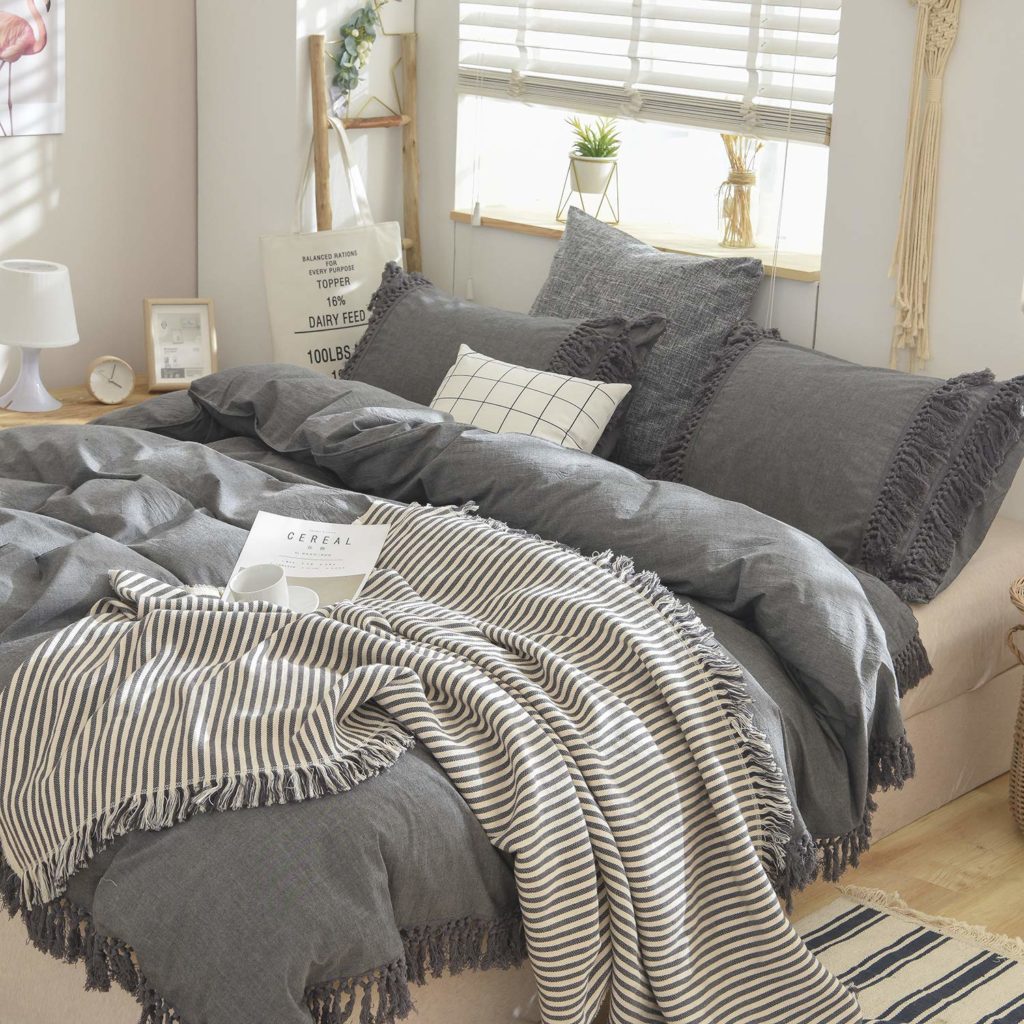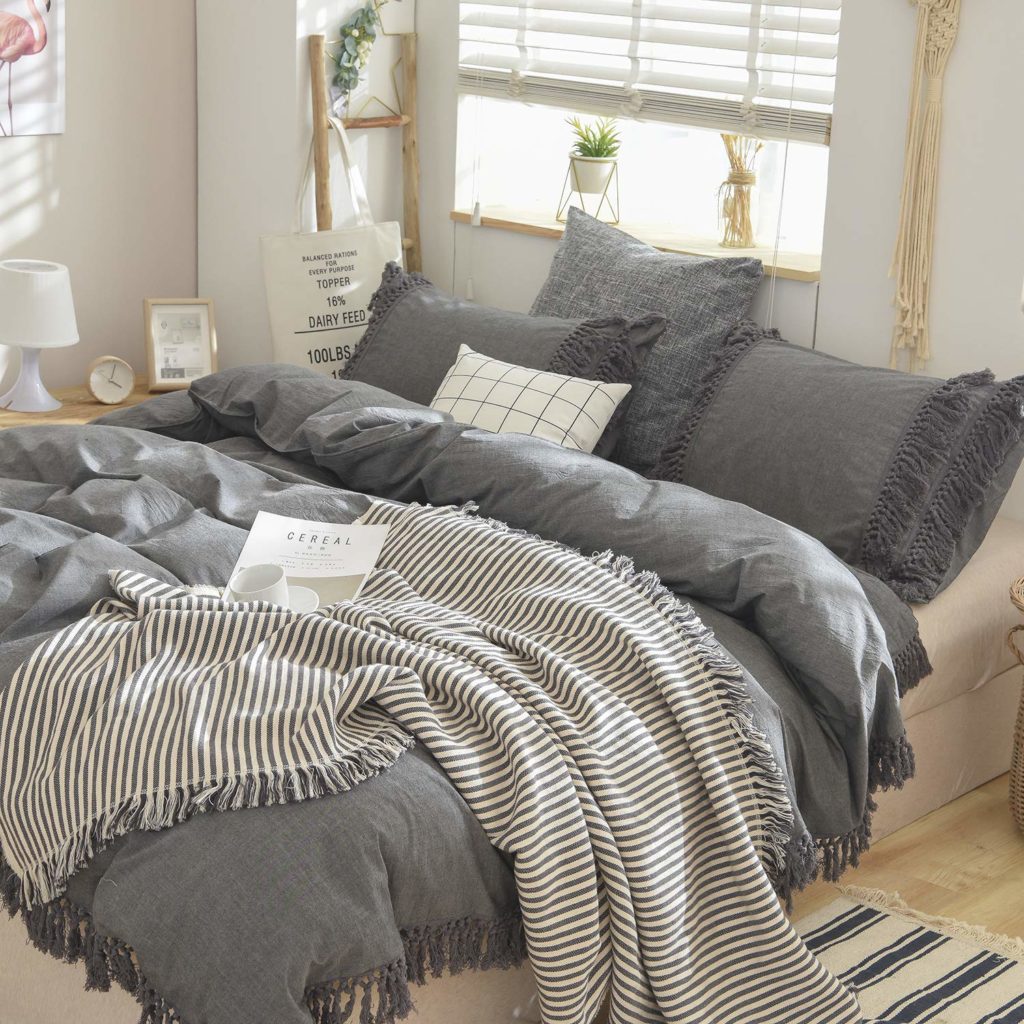 Who says you can't mix farmhouse style along with bohemian flair? The fringed edges on this otherwise neutral bedding gives this farmhouse bedding a fun boho style.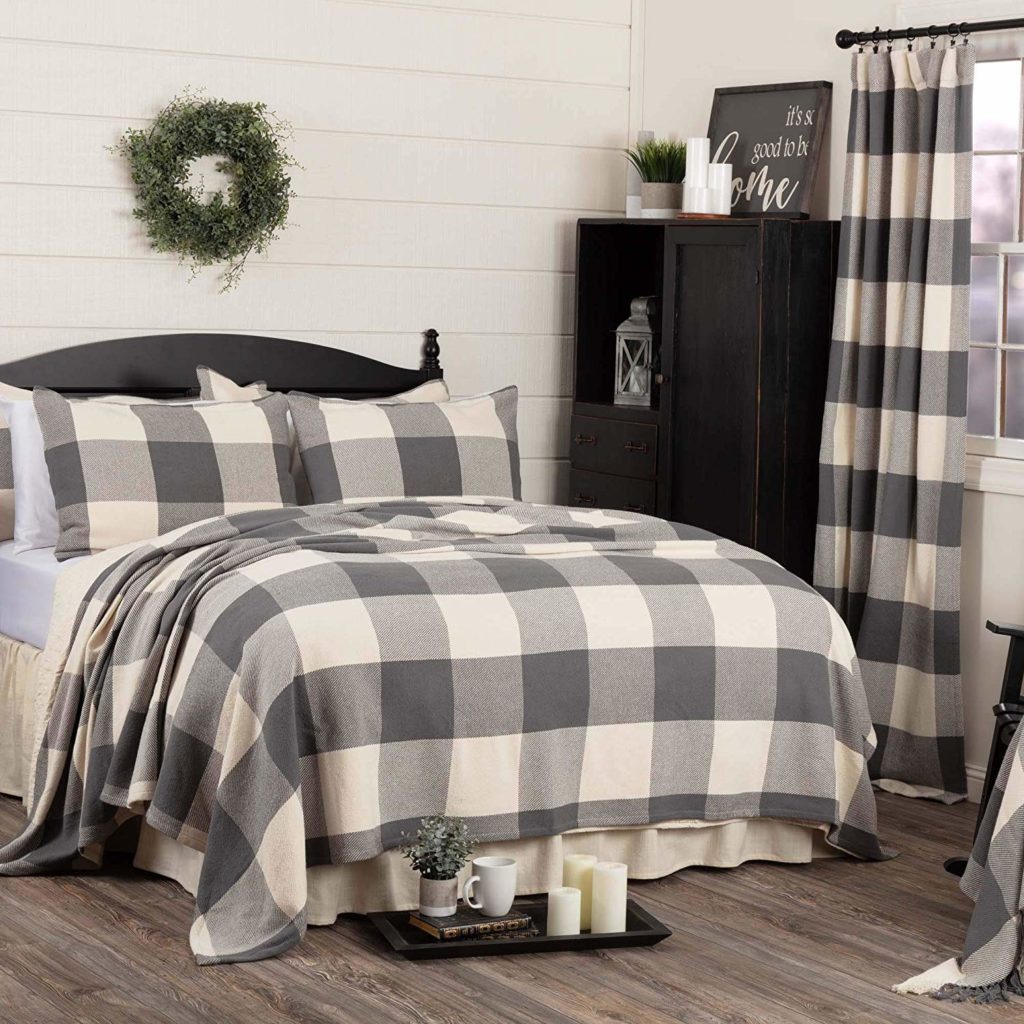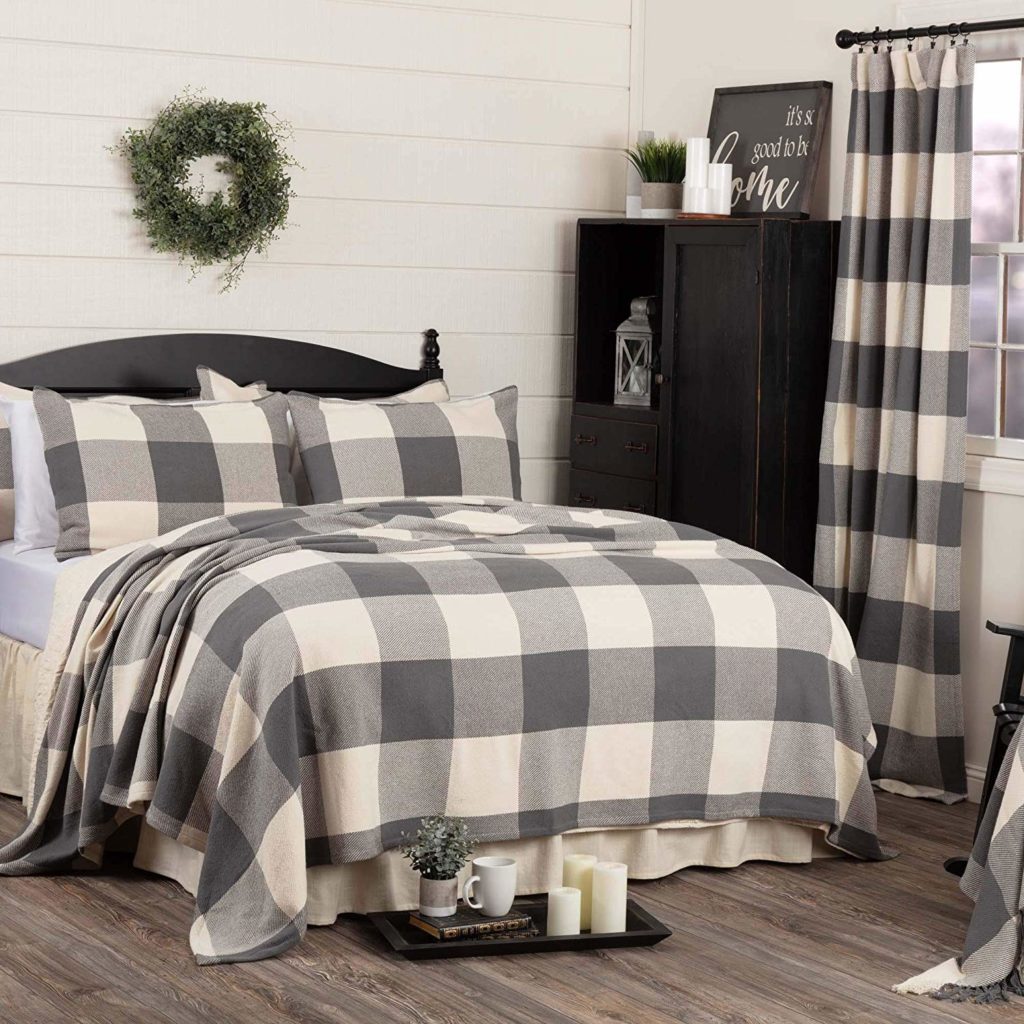 I love everything about this beautiful farmhouse bedding set! The classic buffalo check adds instant farmhouse style while the soft fabric makes you want to curl up and take a nap…don't mind if I do! 🙂 You can use this bedding on its own, or layer it on top of a solid-colored duvet. (It's a budget-friendly option to the buffalo check from above!)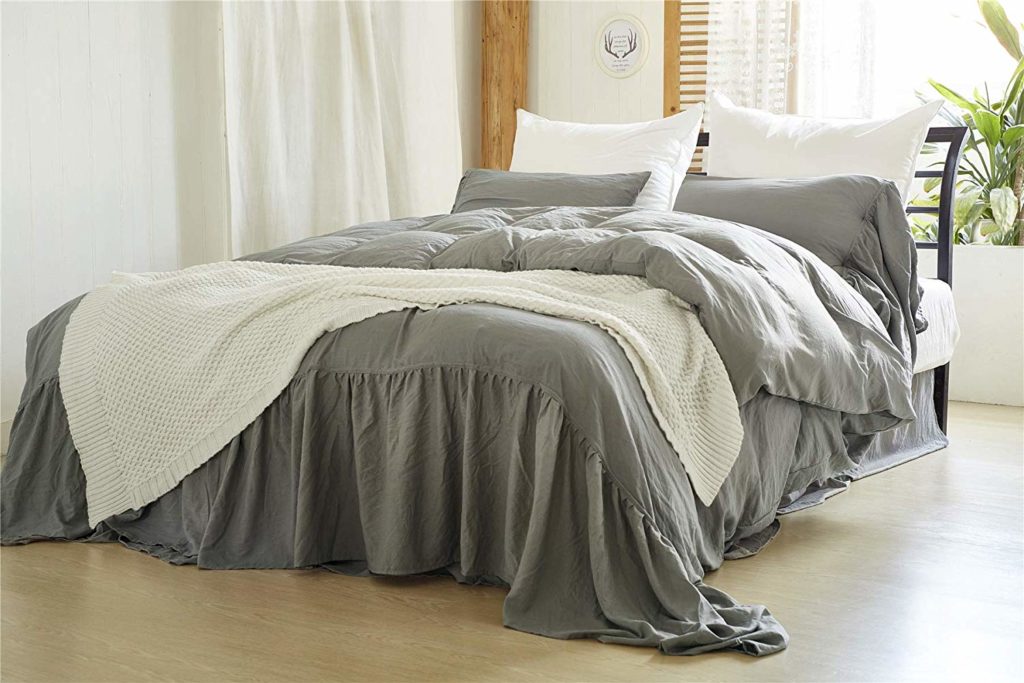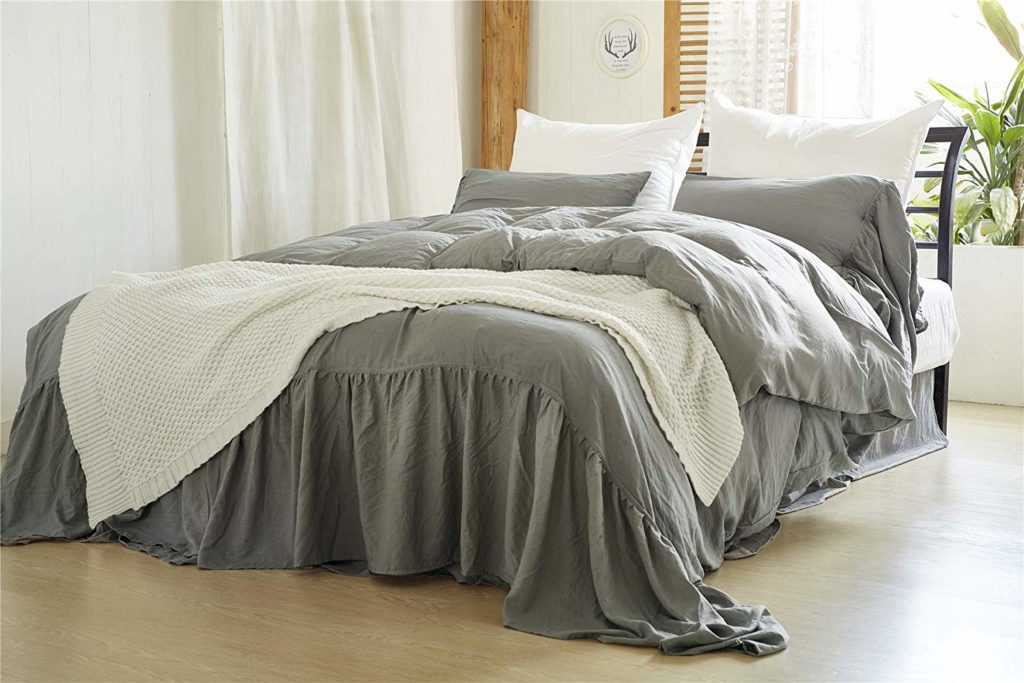 Last, but certainly not least, is this beautiful, romantic farmhouse style bedding. I absolutely love the long ruffled trim that's on the bedding. It's a bit hard to see in this photo, but the included shams also have a ruffle that ties the entire set together.
As you can see – there are so many gorgeous farmhouse bedding sets out there! Which one of these is calling your name? Grab a few and rotate them out to keep your bedroom looking fresh and cozy. I'm eyeing that first buffalo check option for a cozy, fall vibe!


MORE POSTS YOU WILL LOVE: