10 Tips for a Successful Yard Sale
My best friend and I joined forces this past Fall for an epic yard sale. Seriously, we had so much crap stuff.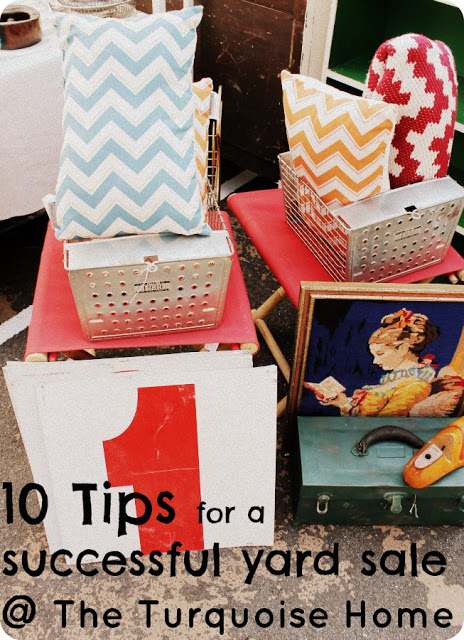 You may remember last Spring when I wanted to have a yard sale, but I ended up getting scared and not doing it. I'd never done one before. But thankfully my best friend has, so I decided to learn from a master. Our yard sale was a HUGE success. Together we made over $1,000. I'd say a pretty good deal. Make money and get rid of a bunch of stuff!
10 Tips for Having a Successful Yard Sale
1. Organize. My best friend is an organizational queen, so this was her doing. But we had tables for each category of stuff: home decor, kitchen, baby, clothes. Her husband built a hanging rack for the clothes. We got many comments on it being the most organized yard sale ever. I am pretty sure it helped us sell more stuff.
2. Facebook. Use Facebook to the extent of its potential by becoming a member of local buy/sell groups and posting your sale. I also posted the individual large items. We got several interested parties from those groups. Also, don't forget to post to your personal Facebook account. I had several friends come and shop our sale.
3. Craigslist. I listed our sale and all of our larger items in the appropriate categories on Craigslist. I sold one of my larger items from the Craigslist ad and had several people drive from far away just to come to our sale. It definitely paid off! Oh, and pictures, pictures, pictures. I don't ever go to a yard sale that doesn't show me what they are selling! (I did not post our address on Craigslist, but rather had them call for directions. I feel weird about putting an address on Craigslist.)
4. Extras and details. We covered our tables with table cloths to make our stuff look a little nicer. We also had music playing to prevent the awkward silence. Keep things clean and as things sell, move items around to keep the tables looking full. As items sold from the tables, we would move things we had on the ground on to the tables. It made it look like we still had a lot of stuff to sell.
5. Price everything. Almost. I know it's a pain to price everything, but we bought those pre-priced stickers to help. (LOVE these stickers. They make things so much easier.) We did have a few bins that were "$1 for each piece." But make sure your signs are visible. You don't want people to walk away because they can't figure out what the price is, and they can't find someone to ask. We didn't price all of the baby clothes, but made a sign that "every piece is $1" and it worked out fine for those.
6. Describe items. If you have an obscure-ish item, go ahead and make a sign to tell people what it is. It's also helpful to maybe tell them how much it costs new. That way people know what kind of deal they are getting.
7. Place a sign at the entrance to the neighborhood. And well in advance. We had a sign at the front, on a main street, three days before the sale. I heard many people say they had anticipated coming by. You want to build momentum for your sale.
8. Multiple families. I think it's key to get several families to participate in the sale. I think it draws more people when they know there is a LOT of stuff. At least it is something I like to see. I know it'll be worth my time when there is much stuff at a sale.
9. Multiple days. We opened our sale on Friday afternoon. And honestly we made more money on Friday than on Saturday in less hours. Several people commented how much they appreciated us opening on Friday, because it was more convenient. And I think if we do this again, we'll open even earlier on Friday.
10. Prepare. Prepare. Prepare. We did a LOT before the sale, pricing and organizing. We both had been piling up stuff for months before the sale. Definitely don't wait until the night before, or the week before to start collecting things. And start pricing stuff a couple of weeks before the sale. Price EVERYTHING days before the sale. Because you'll spend a lot of time right before the sale just setting things up and organizing.
Overall it was a great experience and worth it. But, it was a lot of work too. Plan to put in long hours and be on your feet a lot. Plan for someone to bring you lunch or breakfast. Several times we were starving and didn't really have any way to leave.
Have you planned a yard sale for this Spring? Or maybe you've already had one? Do you have any yard sale tips to share?