An Organized House Cleaning Schedule
A clean home is essential for a productive household. Having an organized house cleaning schedule will help you complete your cleaning tasks on time, every time.
It's time for the truth bomb. I despise cleaning. Seriously, it's at the bottom of the "things Laura's wants to do" list. So, for me, I try to keep things super simple to stay on top of the necessary chores and the rest … well, it gets done when people are coming over to the house. Ha!
I did make one of my New Year's goals geared toward cleaning: to hire someone to do it for me this year. 😉 Seriously, the idea of someone else cleaning my house every two weeks sounds heavenly. We'll see if I muster up the courage to find someone, but it's high on the priority list of goals I want to accomplish this year. LOL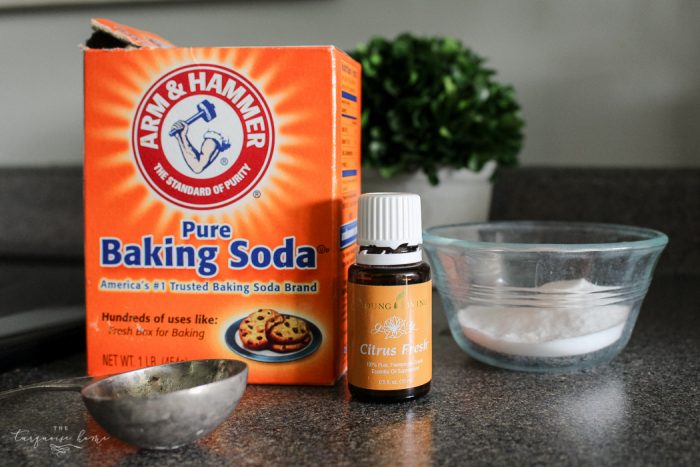 Although I don't like to clean, I have a few cleaning posts here. Above I'm making my all-natural glass stove top cleaner.
But even if someone comes to my house and cleans every couple of weeks, I still have to keep up with the daily picking up (hello! kids live here) and the dishes and the laundry and the wiping down the counters and all of the other eleventy-bajillion things to do to keep a home from turning into a complete hot mess zone.
Tips for An Organized House Cleaning Schedule
Set real and attainable goals for your daily home. Examples: do one load of laundry from start to finish every day, don't go to bed without a clean kitchen, vacuum the living area every evening after dinner, make your bed each morning. Whatever is important to you, make it a priority.
Be disciplined about your goals. I am personally learning that organization is not a one and done thing. I can't just make a goal or set up a system and it will magically run itself for me. It's a life-long learning process with bumps and failures and miscues and wins all along the way. But to succeed at it, one must be disciplined about keeping a home in order. Remember to give yourself grace in the process, and then get back on the organization wagon.
Turn your goals into daily rituals. For me, I always run the dishwasher after dinner. Even if it's not completely full, I run it. That keeps things in check. I also do laundry on Wednesdays and Saturdays. Those are my laundry days to get it all done. I also will go through seasons where I'll do a load a day or every two days. Whatever you choose, make it a "rule" and try to stick to it. I dump my clean laundry on my bed and force myself to fold it while my hubby is getting ready for bed each night. (I stay up later than he does, so I don't need to get ready for bed just yet.) This keeps it from piling up somewhere out of sight.
Commit to a Cleaning Schedule. If you're the sort of person who likes a schedule, then create one for the other regular cleaning chores like dusting, vacuuming, cleaning windows, etc. I personally just do them as needed or when someone is coming over. 😬 It all went out when window when I had my first baby, so it's probably time I either hired someone to do it (updated: I finally did and it's amazing!) or reinstated a cleaning schedule. #preachingtomyself

Flylady.net is one of my favorite resources for cleaning your home and keeping it clean. I used her system and her app to keep track of all that before I had kids.
Do you want to clean your whole house in one day? Use this checklist.
Need a list of daily, weekly, monthly and seasonal cleaning chores? Then you'll need this.
You can print out this blank cleaning checklist printable, laminate it and use a dry erase marker to check it off as you go!
Whatever you choose, put it in your Home Organization Binder to keep it handy! I'll be doing the same!
Update: I got a Roomba for Christmas in 2017 and it has CHANGED my LIFE! If you can get one, do it. It's worth every penny to have your floors cleaned once a day. Seriously, best investment in the past 5 years.

Declutter! I've always thought of myself as a pretty good declutterer. But I've recently realized,with this little book (affiliate link), that I'm not at ALL a good declutterer. (Is that even a word??) I have major clutter in my home. But I'm remedying that and will share more about it very soon. It's super exciting! 😂 You'll become an amazing declutterer, too, I just know it! Without clutter, though, it's sooooo much easier to keep your house clean. So, this may be the solution for my distaste of cleaning. We'll see!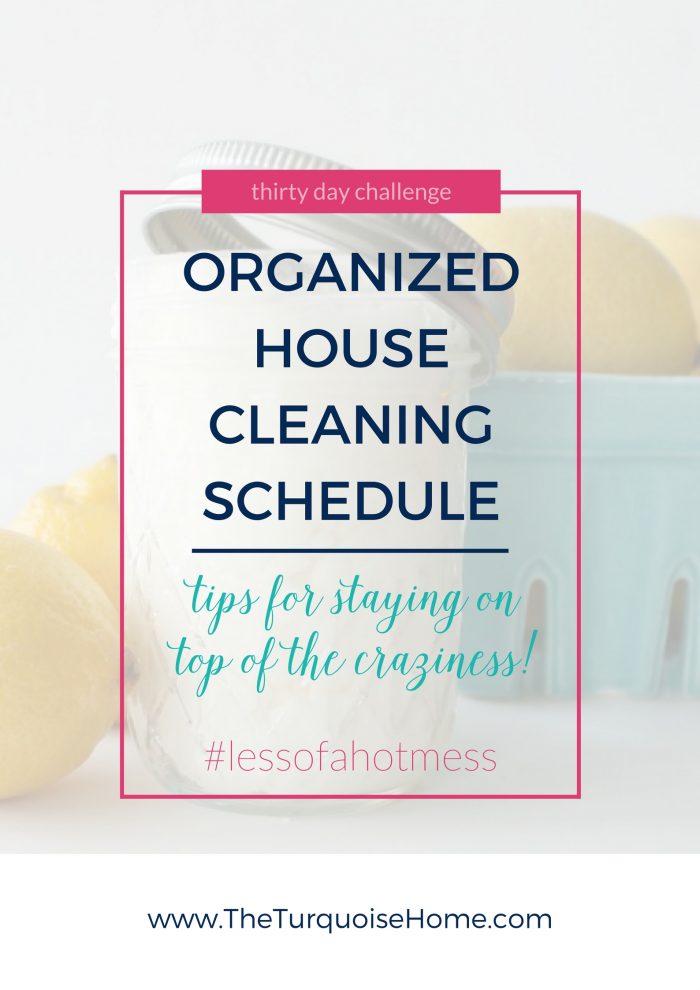 Do you have a tried and true cleaning schedule that you follow? If so, share with the rest of us in the comments. We're dying to know what works!
Don't forget to share your organizing and decluttering this month on social media using the hashtag #lessofahotmess.
The Messy Work: Determine your cleaning goals and make a cleaning schedule. Write it down (or find a cute printable – use search on Pinterest) and stick it in your Home Organization Binder. I'll be doing this one with you! #longoverdue
We're going to take things light and easy this weekend, so that you can get caught up if you missed any of the "Messy Works" during the week. But tomorrow we'll chat about decluttering and organizing something that you take with you wherever you go! See you tomorrow!
In the mess with you, Laura
More Posts You Will Love: