One of my most favorite traditions at Christmas time is all of the Christmas cards! I just love checking the mail every day between Thanksgiving and New Year's because there is bound to be at least 1 card in there. And so it's something that begins to weigh on my mind as early as September. I need to start planning for the perfect photo Christmas card.
I know that it's become more common in the past decade, to forego the traditional Christmas cards for the photo Christmas cards. But in a day and age where everything seems to be digital, I love having the physical copy of my loved ones' picture in my hand.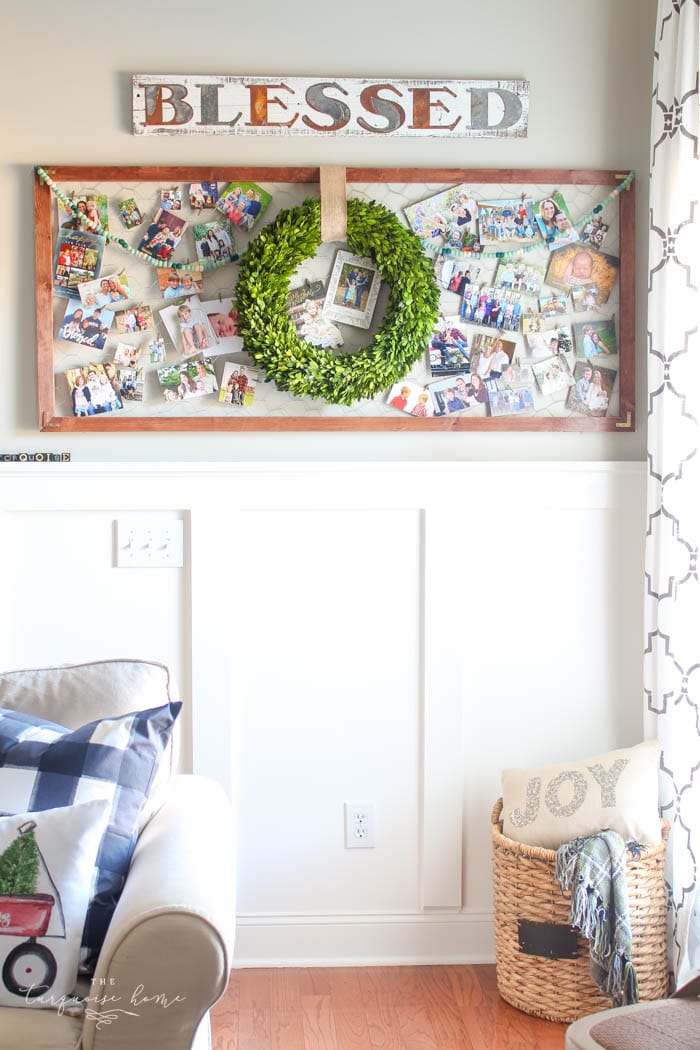 I love them so much that I keep the pictures and display them all year on my DIY chicken wire display. A friend came over one day and commented that we have some really pretty friends. Ha! She is right. They are all so cute.

OK, so how about choosing that photo Christmas card? Well, first you're going to need a photo. I gave my tips for planning and taking the best card photo last year in this post (click here). I suggested that you find your favorite card first and then take the picture. But you can do it in reverse, as well, which is how I did things this year!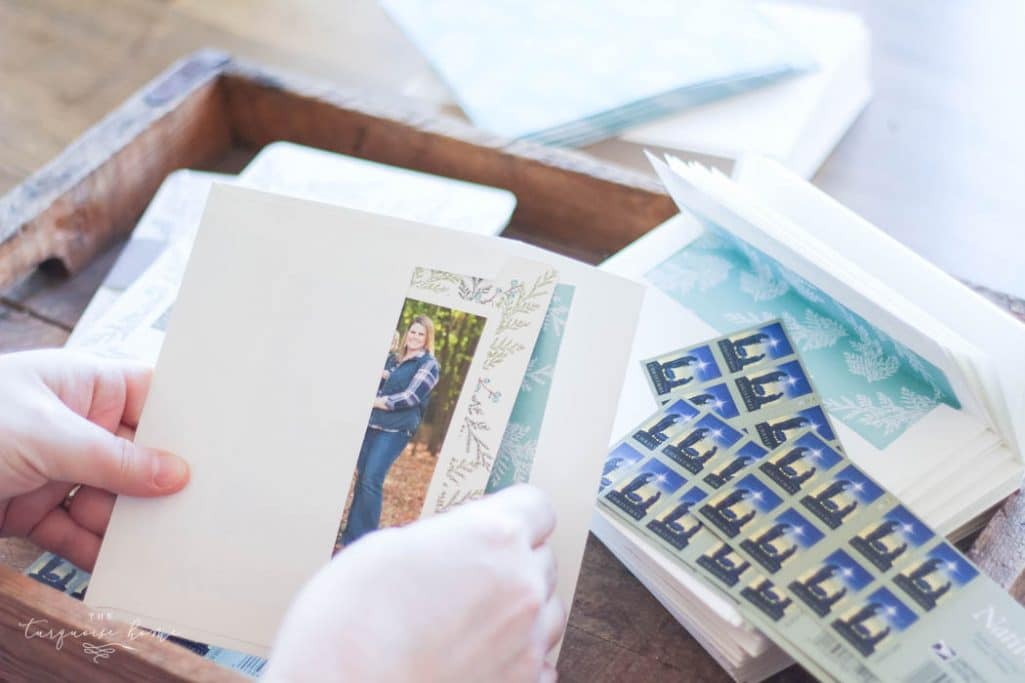 My friend Amanda snapped some great shots of us at the park on a warm fall day. I was pretending that it was cool outside and donned my puffy vest right before we posed for pictures. 😂 Check out Amanda's photography if you're local to North Alabama. Affiliate links are used for your convenience.
After researching my Christmas card options this year, I knew that minted's cards were my top choice. So, I approached minted.com to sponsor this post and to give away a $100 Minted gift card to three (3!) individual winners. Stay tuned until the end for a chance to enter!
How to Choose the Perfect Photo Christmas Cards
1. Select Your Best Photo. Obviously you'll want to have an idea which photo is your favorite, because it will matter if it is landscape or portrait or if there is "white space" at the top or bottom of the picture.
2. Look through the holiday cards at minted.com.  I chose minted after looking at several other photo card companies. I loved their quality, price, card options and the free printed addresses on the cards. Such a time saver for this busy mama!
Ultimately, I chose this design, because I just loved the pretty foliage and the berries were a pretty blue color, which of course I love! There are multiple colors you can choose from and an assortment of holiday or New Year messages. I love that there are so many ways to customize your card.
And for my friends and family who receive my card – surprise! Here it is. 😍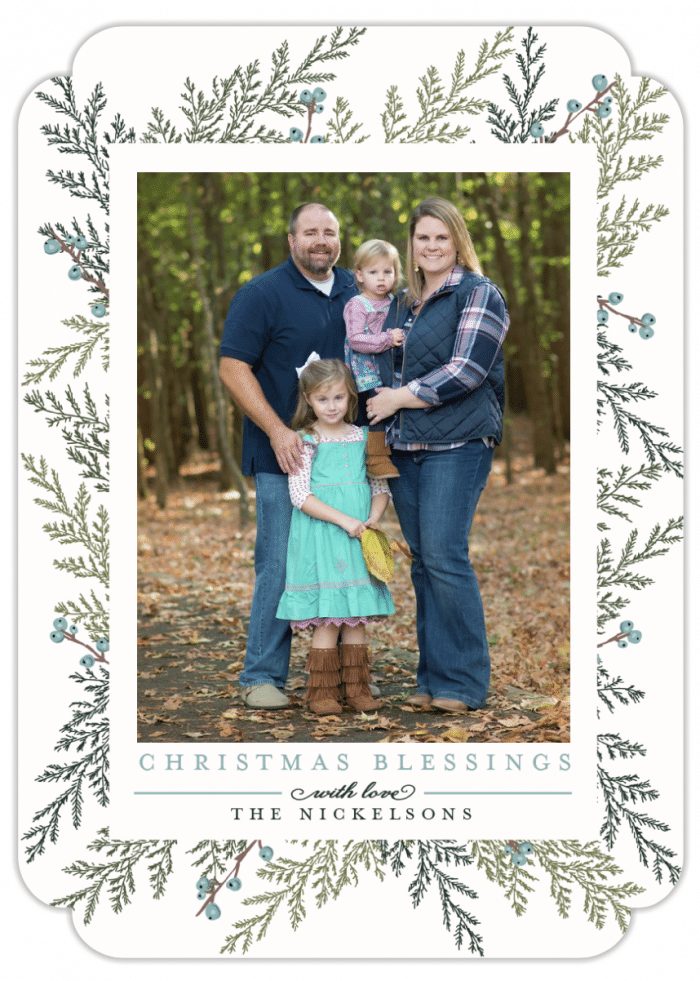 Last year I chose this simple foil design, and I love all of the foil options!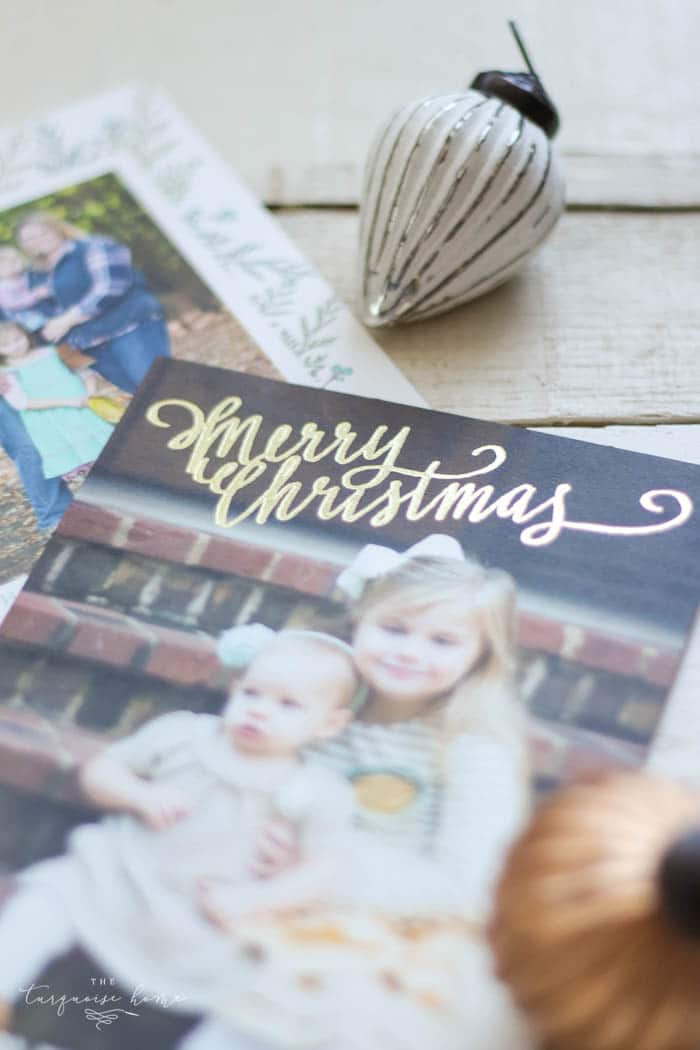 Some of the other contenders for my 2016 card were…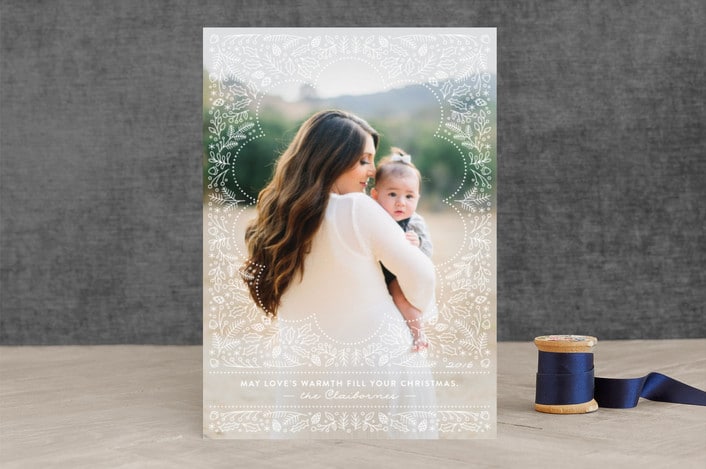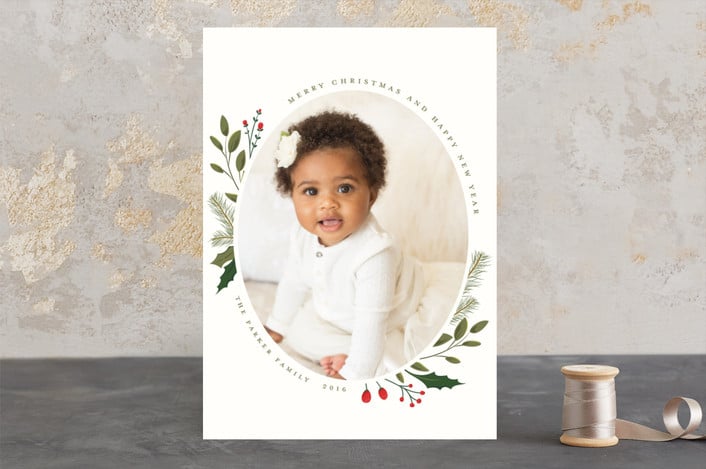 Christmas Sprigs (same designer as my card)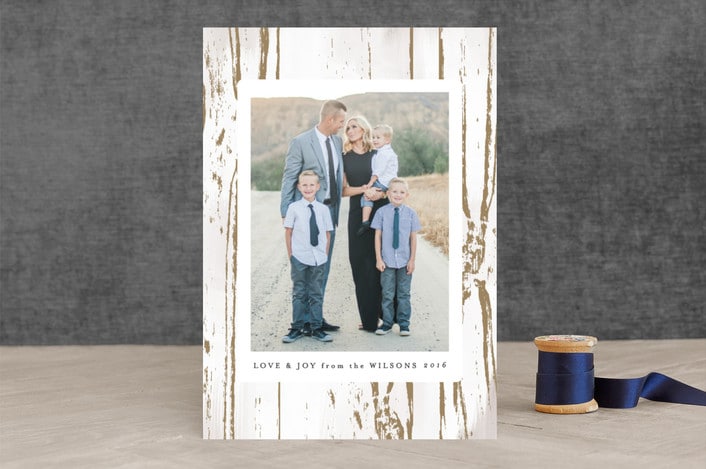 In the end I saved more than 30 designs, and then narrowed it down to these 4-5 card designs. Read on for ideas on how to make your selection even faster!
3. Click on the Find it Fast™ toggle button. This allows you to see your photo in all of the cards on the page! Genius!!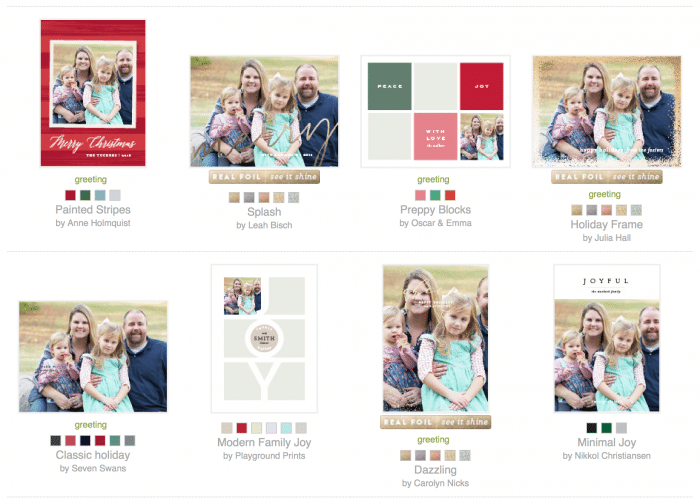 This allows you to see very quickly which cards work for your picture and which ones don't. You can also narrow your search at the top by number of photos, a landscape, portrait or square photo and more!
Tip: You can click on the heart icon on any of the cards and it will save it as your favorite to view again later.
Another tip: Choose a card that coordinates with your family's photo. If the card clashes with your photo, then make your photo black and white.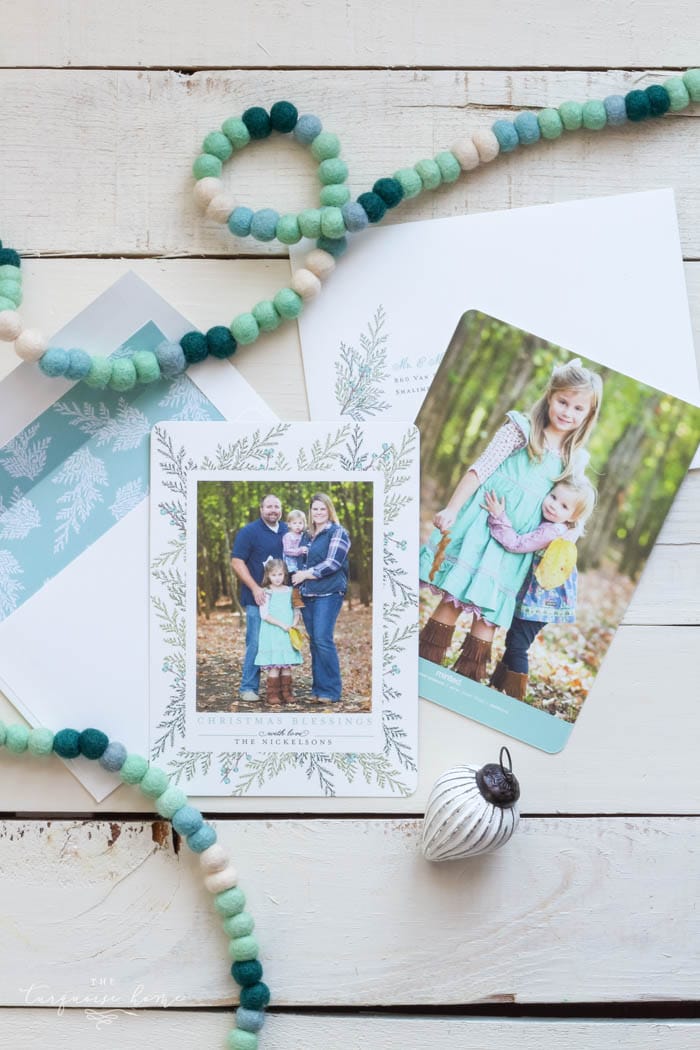 If you really love a particular card and haven't gotten your pictures taken yet, then ask the photographer to take a look at your favorite card and make sure she takes a picture that would work in that space. Here are my tips on getting a great holiday photo!
4. Time to Customize! Once you have selected your favorite photo card, you can customize it so many ways!
Change the shape to rounded corners, scalloped corners and many more. I chose rounded corners, because it's something fun, but classic.
Change the format to a cost-saving format like a postcard. I love this idea for people with a tight budget! It'll be cheaper to print the cards and you'll save on postage, too!
Most of the cards have color options, so choose the best one for you that coordinates with your photo.
The greeting can be changed with the click of a button. Choose Holiday, New Year's, Christmas or Religious Christmas. I love those options!
Don't forget to edit your name or names on the card.
5. Add Some Extras. The possibilities are nearly endless when it comes to adding extras. You can even get matching postage stamps for your cards. Isn't that wild?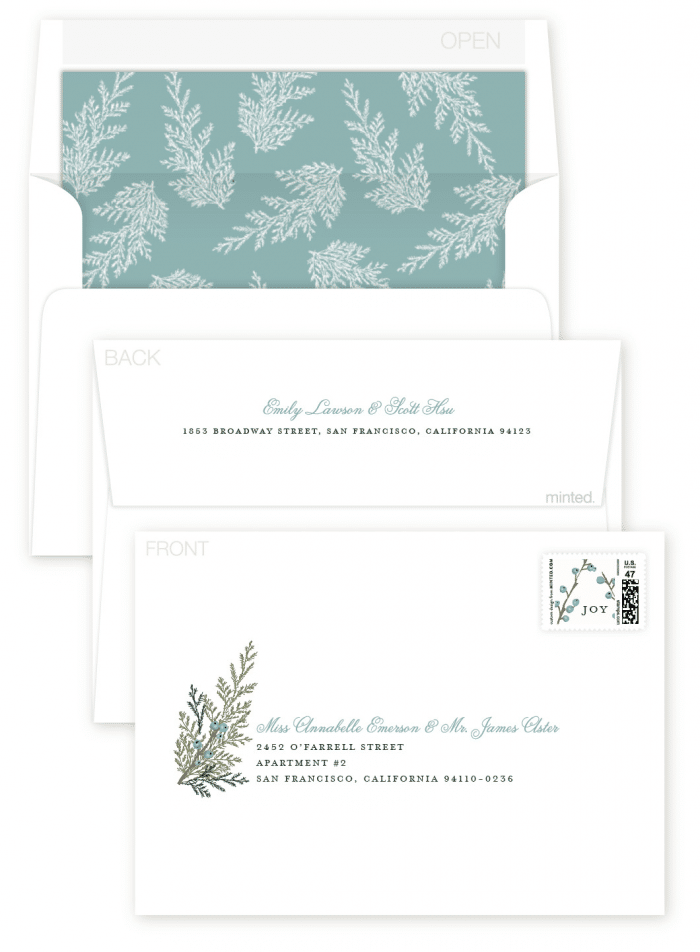 Select the color of your envelope.
Choose a slip in liner for your envelopes.
Select if you want to have the return address printed on the envelopes. This is one of my favorite upgrades because it saves me so much time!
And my favorite extra?? It's free! The recipient addressing is so awesome. You just upload your addresses to their site and they will print them for you! 🙌🏻 Then I print out the addresses, add them to my Holiday Planner and check them off as I send them out. (I'm a dork, I know.)
OK, now time for the fun part! Who wants to win a gift card to select your own perfect photo Christmas cards?!
Giveaway: Three $100 minted Gift Cards!
Minted has generously given three (3!) $100 minted gift cards to give away to my readers. Just click on the link below to enter the drawing!
The Giveaway is Over Now. Congrats to Briana, Ashley & Susan
Due to certain promotional laws, the giveaway will only be open to U.S. residents. It will run from today (11/21/16) until 11:59 pm PDT on November 28, 2016. Then minted will draw three winners and they will be notified by e-mail.
Thanks so much for entering! And thanks so much to minted for providing the gift cards!
*********************************************************
Do you love photo Christmas cards as much as I do?
Do you save the photos all year long like me?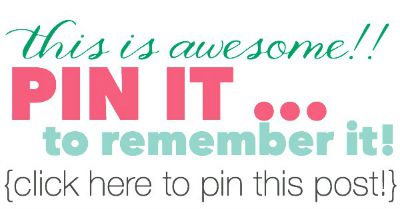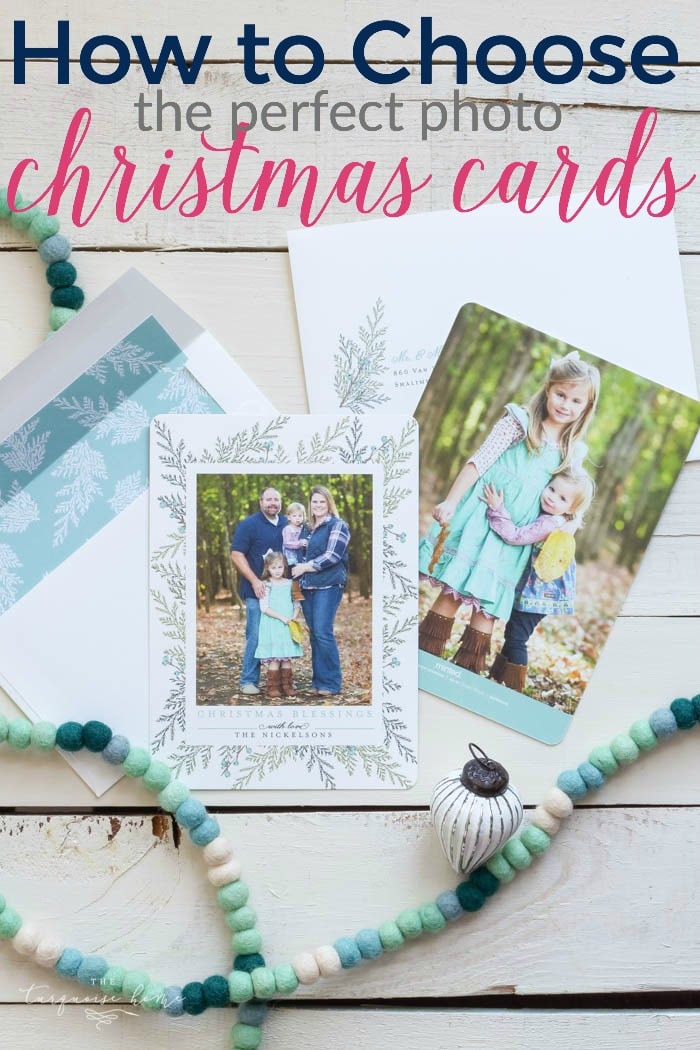 Get Instant Access to my Guide to Customize Your Home on a Budget
Grab your FREE guide for 10 Ways to Customize Your Home on a Budget: simple projects to transform your home from builder beige to a home with character and charm!