These super-easy DIY throw pillow covers are one of the simplest projects you can do. If you can sew a straight line, like me, then you can make your own pillows!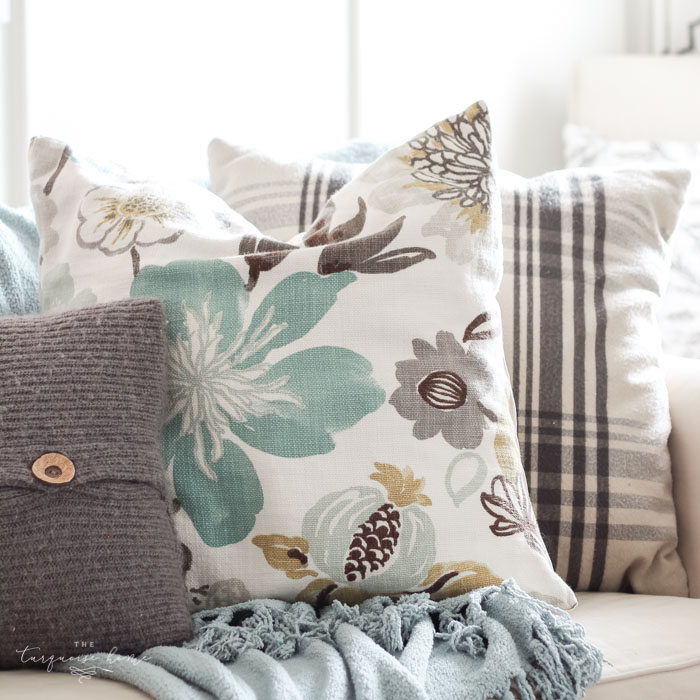 I love that I can grab a pricy piece of material and bring it into my home on a budget. Or I've made pillows out of drop cloth from the hardware store and stenciled them! It's one of the most affordable ways to decorate your home and change it out for every season! This post contains affiliate links for your convenience.
Quick note: If you came to this post looking for this exact pillow, because you love the fabric like me, and you don't have time or the desire to make your own? You can find these pillow covers on Etsy (click here). You're welcome.
OK, so now to this beautiful fabric.
When I originally found this Braemore Gorgeous Pearl fabric months ago, I wanted to use it to make curtains for my kitchen. But with a $30/yard price tag, that was a major no go.
So, then I decided to make envelope throw pillows for my couch. And it took me forever to sit down and make them. Why? Because I have a love/hate (mostly hate) relationship with my sewing machine. Until now! This was by far the easiest sewing project I've done so far. If you're looking for a beginner sewing project, then throw pillows would be perfect!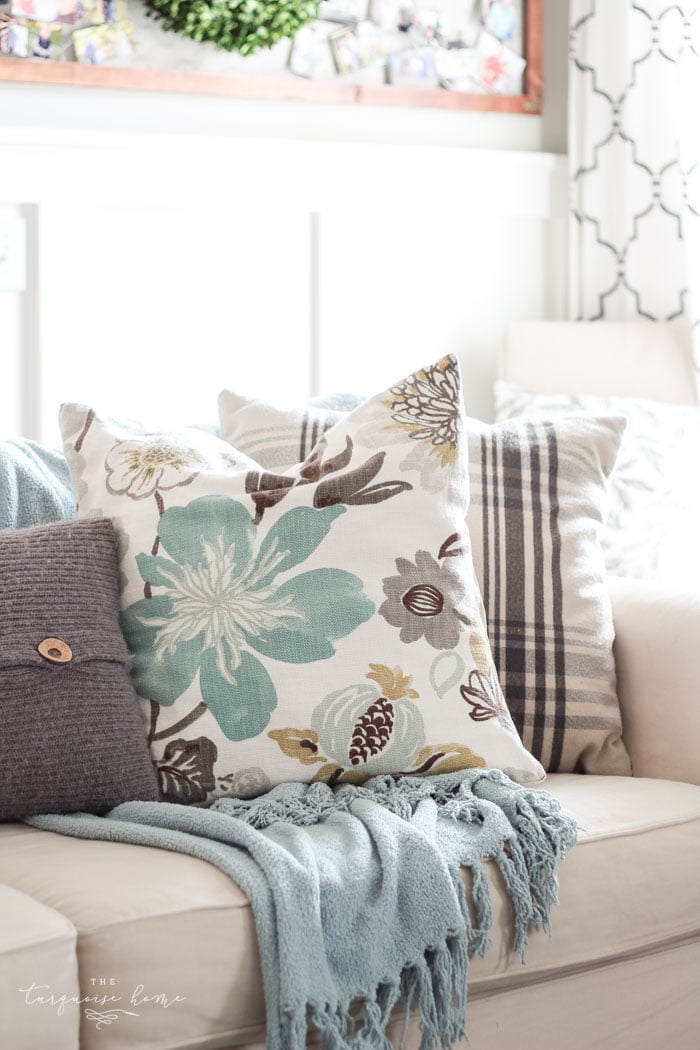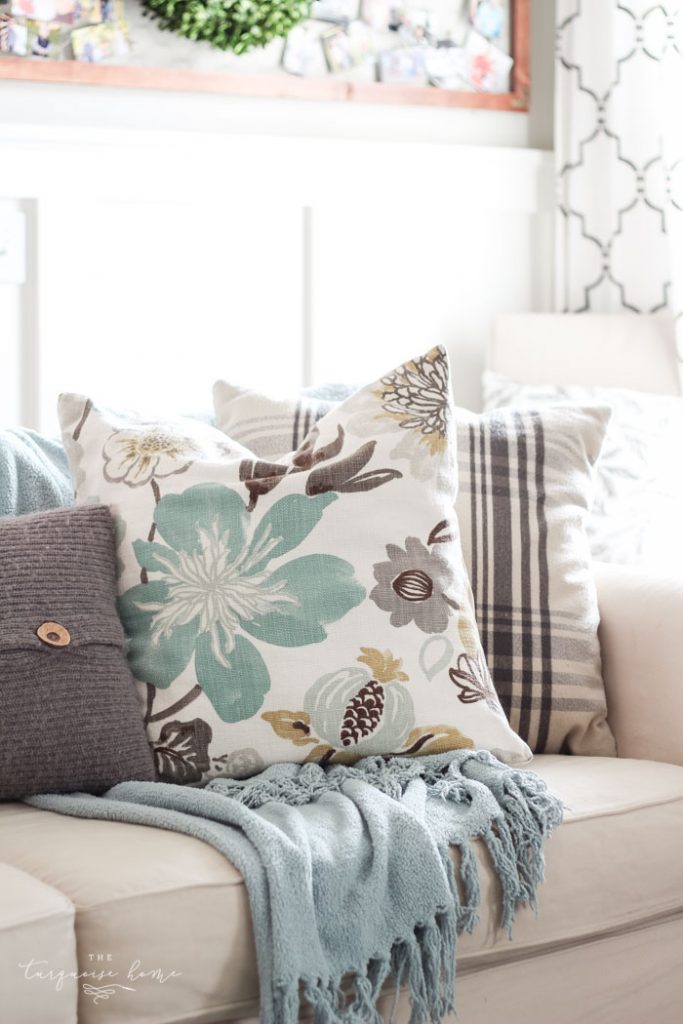 Seriously, I want to make throw pillows for my whole house now. Super easy, peasy!
Supplies Needed for an Easy DIY Pillow Cover
How to Make an Easy DIY Pillow Cover
1. Decide on the Size.
I first decided what size to make my pillows. I had Euro inserts, which are 26 x 26 inches. And I wanted the pillows to be somewhat plump. So, I decided to cut the fabric at 26 x 26, so that after I sewed it all up, it would be a little smaller and the insert would fill it up.
2. Measure your Fabric.
I only ordered 1 yard of the Braemore fabric, and decided to use some less expensive fabric for the backs. (I think it was just an off white canvas material.) Since the floral pattern repeated twice on one yard, I cut out a "frame" from some wrapping paper.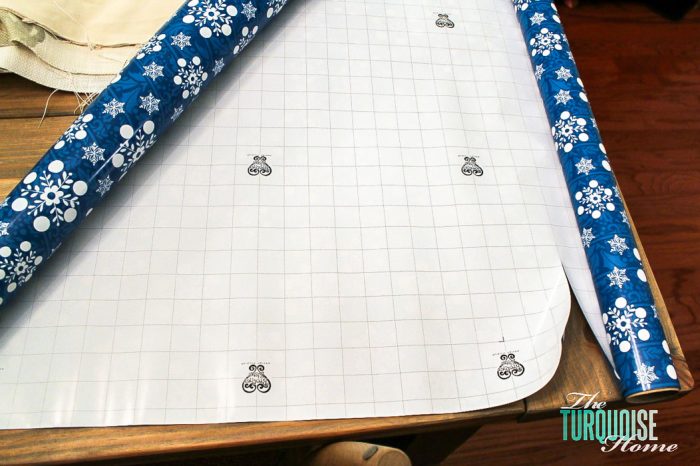 I'm sure you're thinking, wrapping paper and making pillows? Strange. But this was my MacGyver way of measuring my pillows, because this wrapping paper has a grid on it so I knew it was exactly square when I cut it out. Ideally you would use a tape measure, a transparent ruler or a cutting mat. And those rotary cutters are pretty handy as well.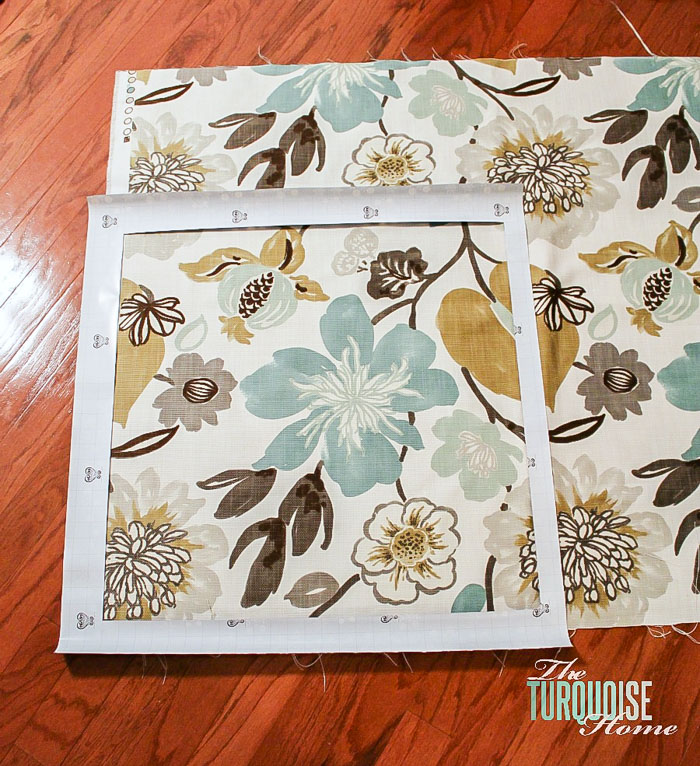 3. Cut Your Fabric.
The thing that was really nice about the wrapping paper method (😂) is that it helped me picture the pattern I wanted on the front of the pillow. And once I cut out the first square, I just placed it over the other half of the fabric and it was easy to cut out the second square.
I cut out two pieces of the back fabric for each pillow. One piece was 26 x 20 inches and the other piece was 26 x 16 inches. This left plenty of room for the two pieces to overlap on the back and to have a generous hem allowance.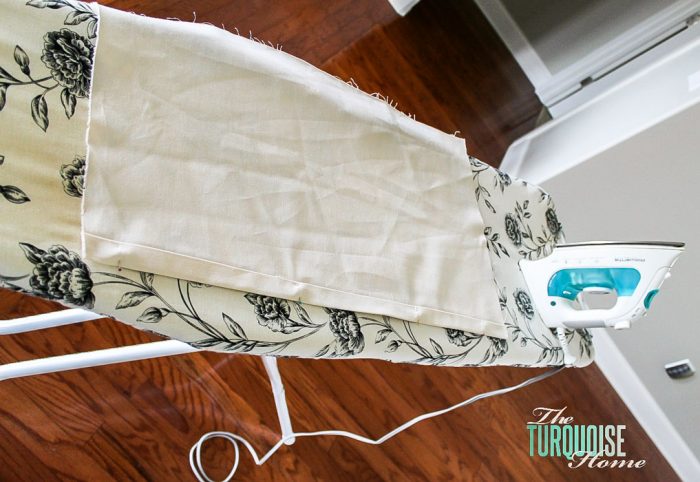 4. Iron Your Fabric.
I then ironed all of the pieces of fabric. This isn't necessary, but it will make your sewing job so much easier if you do!
5. Sew the Edges
I hate that I didn't take pictures of all the steps to sew, but I took a picture of a finished envelope pillow and I'll try to show you what I did with arrows and such. 😜
First, you want to hem the two sides of your back pieces. These are the edges that will come together in the back to create your envelope. I folded the hem down 1 inch and ironed it. Then I folded it again and ironed it again, and then hemmed it. You can see how I'm ironing the back piece in the above picture.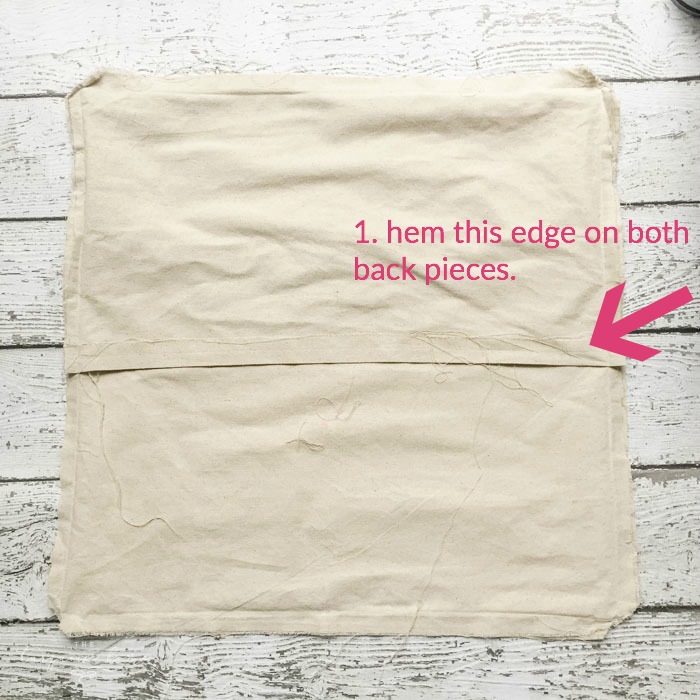 Once your two back pieces are hemmed on one long side, you'll want to put your front piece FACING UP toward you. Then you'll place the two back pieces on top, making sure they are all squared up. The two hemmed edges should be facing up at you.
Pin each side in a few places and then sew the four sides, leaving a 1-inch allowance.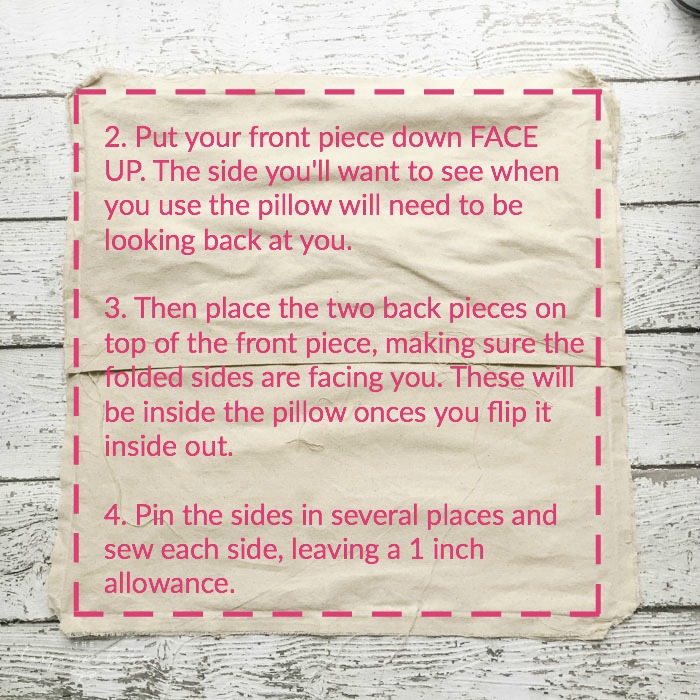 6. Cut the Corners Off.
Now cut the excess fabric off of each corner, making sure to not cut your stitch. This will keep the corners from being bunchy when you turn the pillow inside out.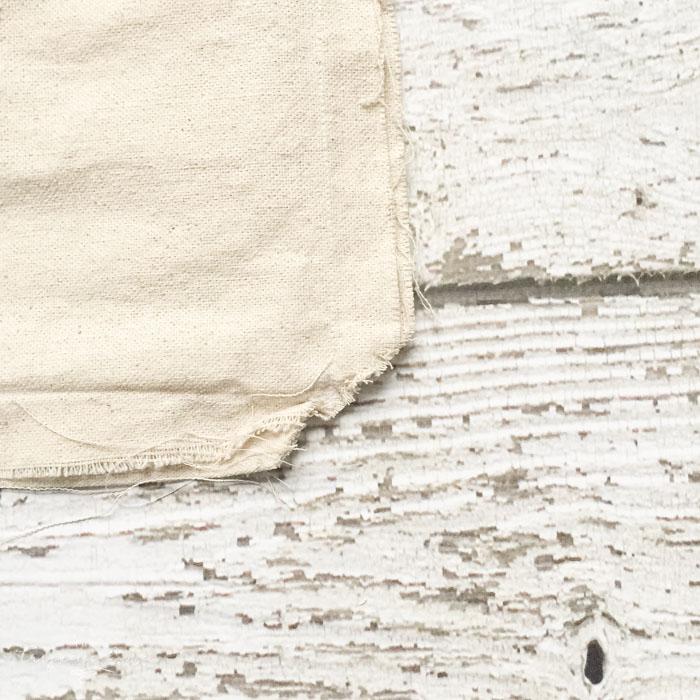 7. Turn Your Pillow Inside Out, Stuff it, Fluff it and Enjoy!
Turn your pillow inside out, stuff the insert inside and fluff. You now have your very own pillow cover, which was super easy to make!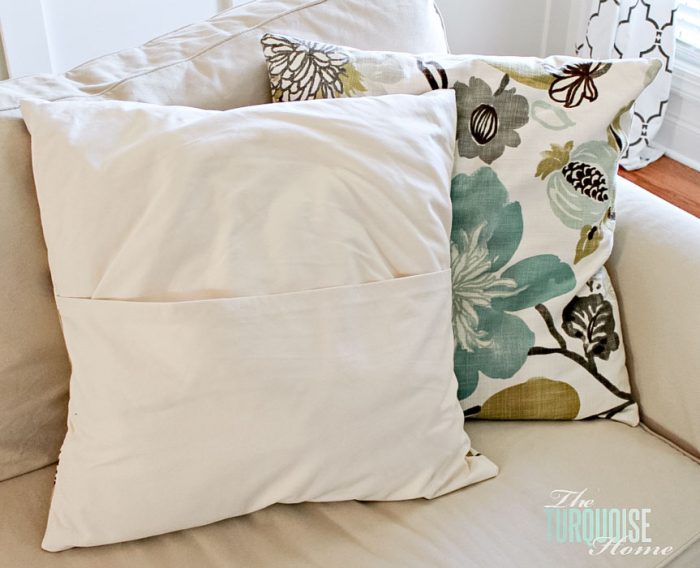 I think what makes this project so simple is that it's fairly small and you're just sewing straight lines. Once I got everything cut out and ironed, I think it took me maybe 15 minutes or less to sew them all together. It was definitely a 1 nap time project. I love those!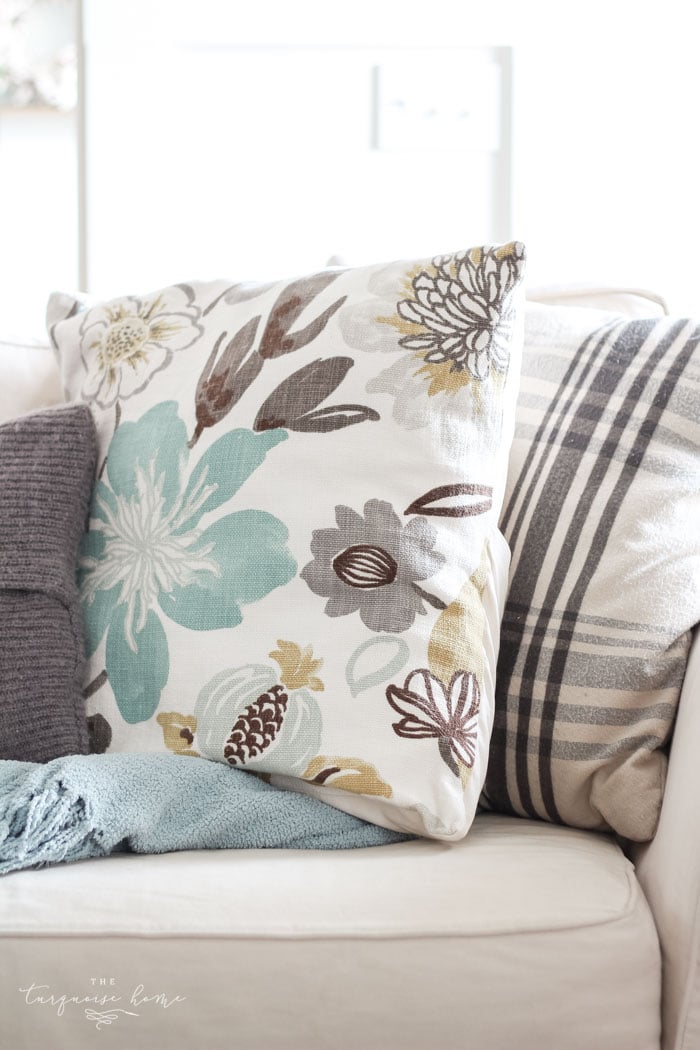 I love, love, love how this easy project turned out. And now I can't wait to buy more fabric to add more pillows to the couch … and maybe every other room in the house.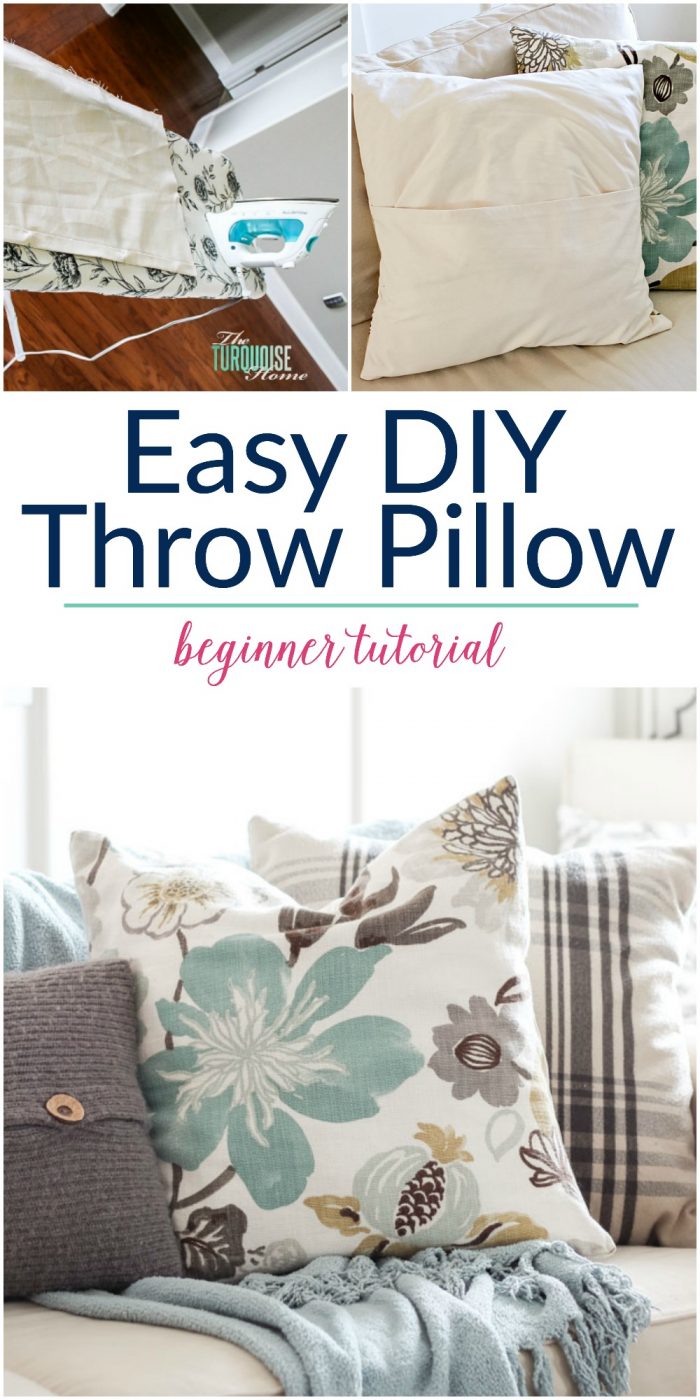 Have you ever made throw pillows? If so, do you have any tips or tricks to share?
READ THE OTHER LIVING ROOM MAKEOVER POSTS:
1: Paint
2: More Paint
3: Caulking and Spackling
4: Blue Accessories
5: Gallery Wall
7: Final Reveal!
MORE FAVORITE POSTS YOU WILL LOVE: