Welcome to Day 22 of the 30 Days to Less of a Hot Mess Challenge! We're decluttering, reorganizing and taking a breath of fresh air to create a home we love. If this is your first time at the challenge, you may want to start here at the beginning. Affiliate links used for your convenience.
**************************************************************
I mentioned in my e-mail newsletter yesterday that the best way to learn something is to teach it. I'm so glad I decided to share this challenge, because it has forced me to tackle some of my biggest organizational hurdles.

The surprising benefits of being decluttered and organized have really been a blessing to my life. I encourage you to take the time to declutter and organize your home. The benefits might just amaze you!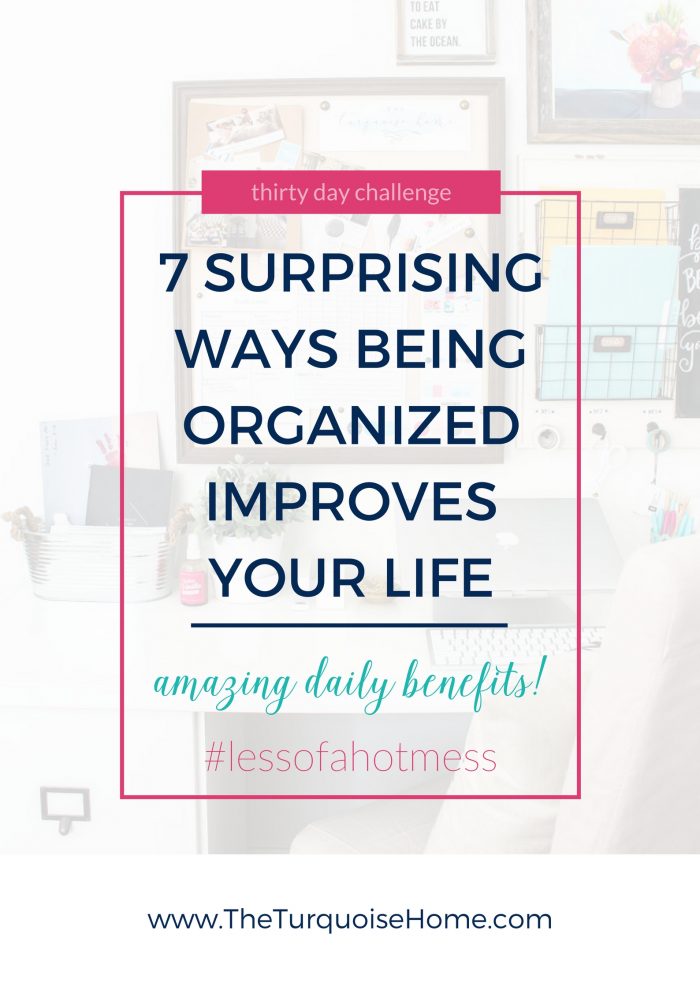 7 Surprising Ways That Being Organized Improves Your Life
1. It's easy to spot something when it is out of place. And it doesn't take long to put it back in its rightful place. When your counters are cleaned off every night, it is so easy to spot an offensive cup or lego piece. And it's very easy to return 1-2 things to their place. When it's 50 different things on the counter, I just get overwhelmed and give up before I start.
2. It's Easier to Clean The House. You're not having to pick up in order to clean. It takes less time. And you're able to do it more quickly when there's nothing to move around from room to room. You just have to wipe down the flat surfaces or sweep, vacuum and mop the floors. Easy peasy to keep everything clean! When it takes several hours just to pick up your home in order to clean it, ain't nobody got time for that!
3. It's Not Stressful to Have People Over. When your home is in order and tidy, it's no big deal when someone wants to pop by with short notice. I have been so embarrassed so many times when someone comes over. I've jokingly said it's my ministry to make other people feel better about their homes because mine is such a wreck all of the time. But if it's tidy, decluttered and organized, even if things are out of place, it's super easy to bring it back to clean.
True story: My office is also my guest bedroom. I've canceled on people coming over to stay the night with us. These are friends from out of town whom I would love to see. But the stress of having to clean up that room was either too much for me to handle or I didn't have time to handle it. Now? It's decluttered and organized and it's going to stay that way!
4. It will Make You More Productive. Oh my word! I've become so much more productive since tackling some of my biggest decluttering projects (like my office)! I can't even tell you how much mental exhaustion (stress) is gone because I'm not having to side step over every little pile of stuff. It's liberating and I feel like I can now be my best self in business because I'm not encumbered by stuff.
5. You Have More Time for What You Love. Gracious sakes! I'm astonished at the amount of time I used to spend moving stuff around, only for it to fall back out of the closet door when I opened it the next time. I have time to work out now and time to meet with friends for fun. I'm more attentive to my girls and I'm planning fun activities for us to do together.
In the past my busyness was directly tied with my mental haze of clutter. I feel so much less stress and am able to have a handle on my schedule. (Please also know that I'm still a mama of little kids. Things come up and life happens. It's never going to be perfect, but it is oooohhhh so much better!)
6. It Saves you Money. Who doesn't want to have more money in the bank?? I'm here to tell you that I have spent less on groceries, household items, clothing and decor since become more organized. I now have a confident grasp of what I have in my home. I also know that I don't have room for some things.
Also, being organized helps you keep track of bills and things that need to be paid. Almost everything in my life is auto-drafted from my account, but just a couple of weeks ago I thought I had put my HOA check in the mail only to find it a week later in a pile of papers. Oops! It would have been a $100 mistake if I hadn't found that check in time.
You'll avoid overbuying, too, because you know that you already have 10 new glue sticks in the cabinet when the teacher writes an e-mail asking for parents to send some in. #truestory
7. You will be Able to Make Quick Decisions About What Comes in and Out of Your Home. It's easy to be frustrated and go buy something that you need, but know that you already have. (Hello, not saving money there.) It'll be this long, time-consuming issue of trying to find said item and then eventually ordering another one, or running down to the store. Having everything it its place helps you make quick decisions about your home and life.
An example: The other day someone offered to buy my daughter a toy that she wanted. Just because. It was a kind offer, but I had to decline it. Even though my daughter wants this toy, I don't have the floor space to keep it in my home! It's so freeing to be able to make quick, informed decisions about what needs to enter (and leave) your home!
You may be dragging your feet on tackling a decluttering or organizing project. But let me tell you that it's so worth it. Press through making the 1,000th decision about whether or not to keep something. (Decision fatigue is a real thing that you get when decluttering. Take regular breaks and then get back at it.)
I know that when the process gets worse before it gets better, it's easy to just throw in the towel and shove it all back in the closet. But resist the urge.
You will be amazed at the side benefits that come into your life because you took the time and did the hard thing of decluttering and organizing.
Do you have any surprise side benefits from decluttering and organizing? I'd love to hear about them in the comments.
The Messy Work: Start a dreaded project today. Seriously. Do it! And then make a plan to finish it, if it'll take more than today. You will be so grateful you did!
In the mess with you, Laura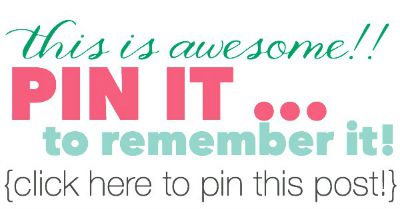 Get Instant Access to my Guide to Customize Your Home on a Budget
Grab your FREE guide for 10 Ways to Customize Your Home on a Budget: simple projects to transform your home from builder beige to a home with character and charm!