Organized Jewelry and Cosmetics | 30 Days to Less of a Hot Mess
Let's do an easy challenge today, ok?
No decluttering whole rooms or cleaning out the fridge. Whew! I don't know about you, but this challenge has been great, but I'm starting to look longingly at February 1.
(And if you're doing this challenge in real time with me, then bravo!! And if not, then good for you, because these should all probably take more like 6 months than 1 month. Ha!)
Welcome to the 30 Days to Less of a Hot Mess Challenge! We're decluttering, reorganizing and taking a breath of fresh air to create a home we love. If this is your first time at the challenge, you may want to start here at the beginning. Affiliate links used for your convenience.
Today we're going to tackle the jewelry and makeup. It's all fairly straight forward and simple, so let's dive right in!
The same "rules" apply to this challenge as everywhere else.
Remove everything from the drawer, organizer, storage space.
Ask yourself as you hold each item: "do I love this?" and "do I use this?"
Another thing to ask yourself with cosmetics is, "Is this expired?" Here's an article on how to check for cosmetics expiration dates.
Place everything back that you want to keep! Organize in a way that makes sense for your space and your life.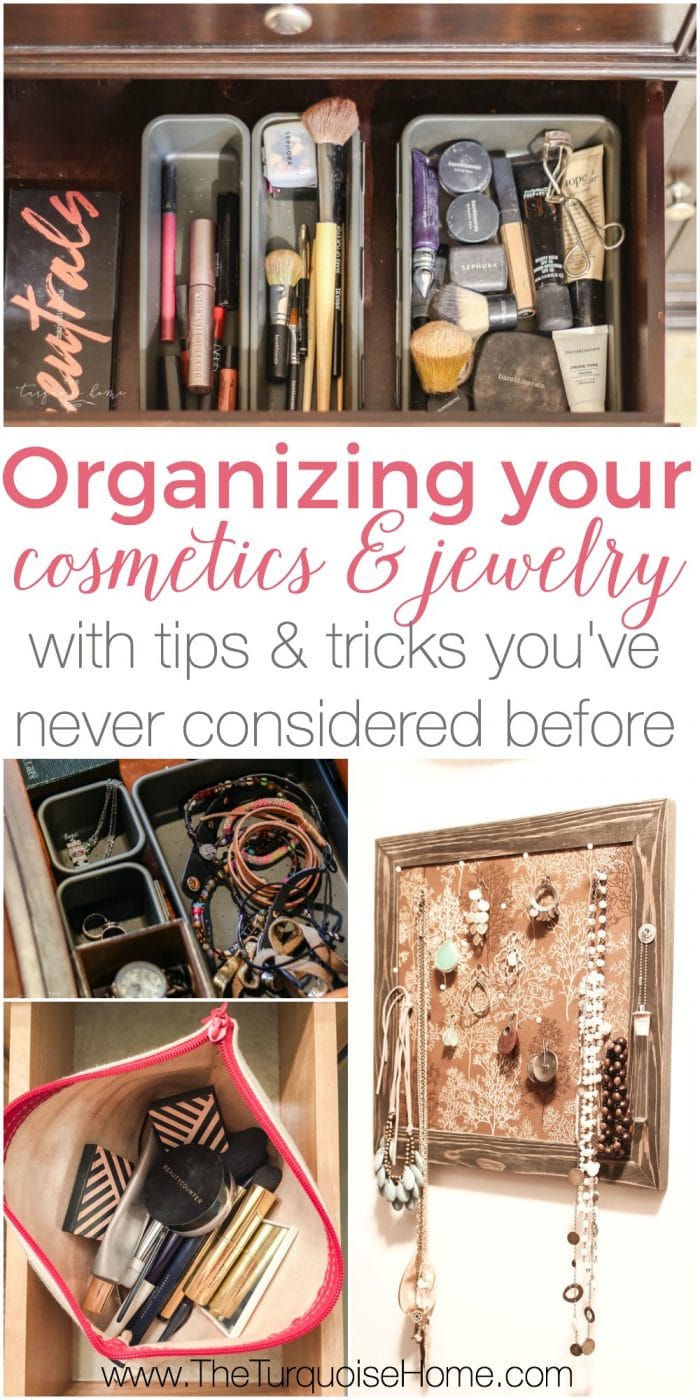 Declutter & Organize Your Jewelry
I personally don't wear much jewelry. I have a few necklaces and earrings that I keep on a display in my closet. I bought this vertical wall display years ago on Etsy, but basically it's a piece of sturdy foam core in a frame with push pins. Simple! It could easily be a DIY project. Or you can look on Etsy, because they have a ton of similar, cute jewelry organizers.
I love, love, love having my jewelry hanging up on the wall so that I can see it all! If you have the space, I highly recommend it. Things don't get tangled and it's easy to see what you have.
This is the before shot…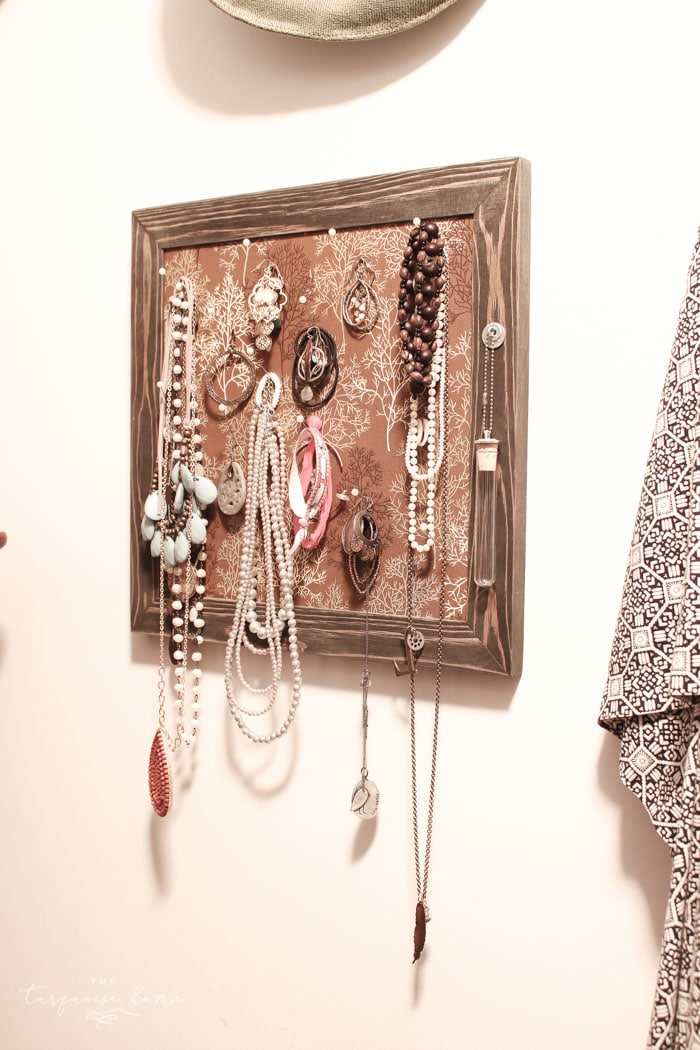 Sorry for the terrible lighting. I so much prefer to take natural light photos to closet photos. 🙂
So, I went into this little challenge thinking I wasn't going to change much. I might just hang all of my necklaces in a more organized order. So, I took everything off and I was amazed how many lonely earrings I had that had lost their partner. I had several necklaces that I had never worn or hadn't worn in years!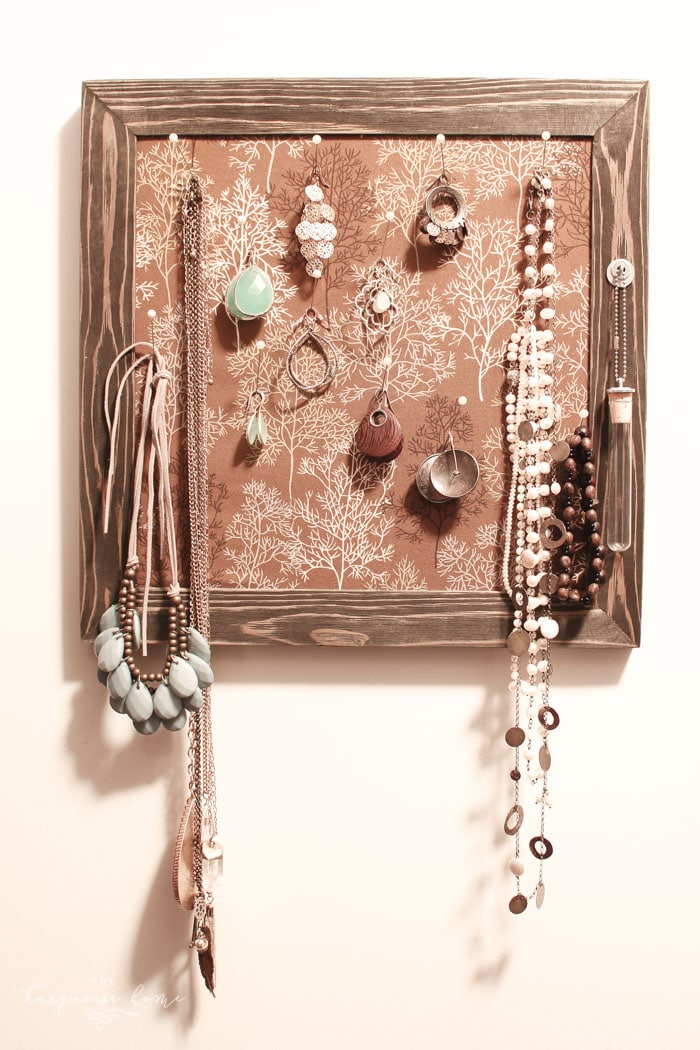 It's so nice to now have just the necklaces and earrings that I DO wear hanging on my wall. Yay!
My assistant, Emily, went through her jewelry drawer and got rid of a ton of stuff. She picked up some organizers at TJ Maxx, but you can find these everywhere, like Target (white bins), The Container Store (clear bins) and Amazon (gray bins).
The before situation…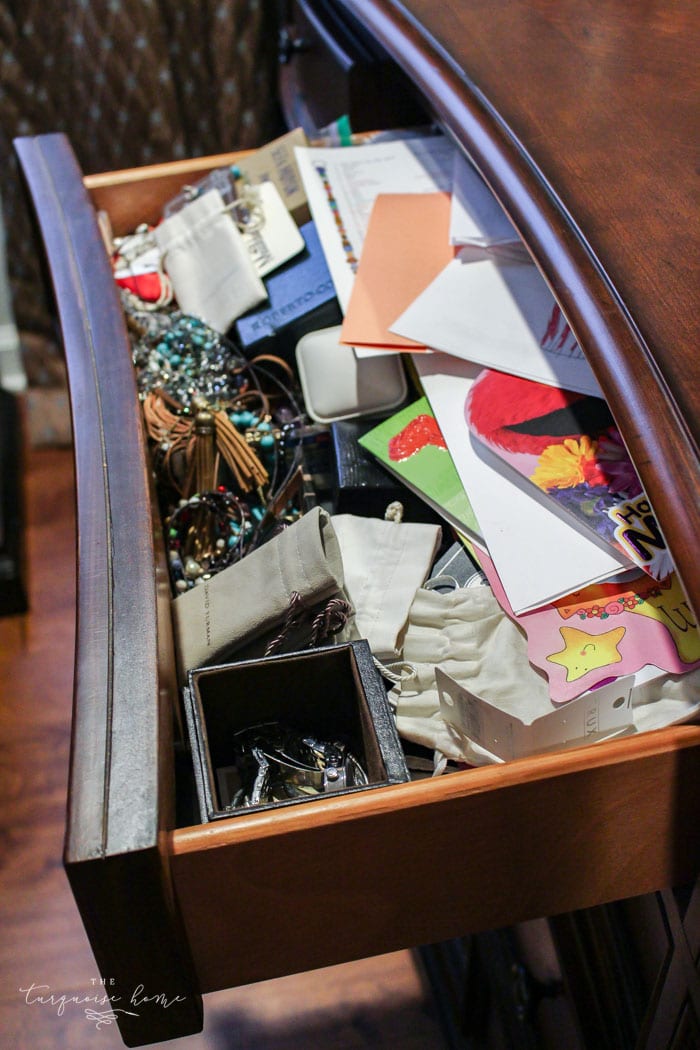 She had everything in there, plus her jewelry!
And now it's all organized, easy to find and full of things she wears all of the time.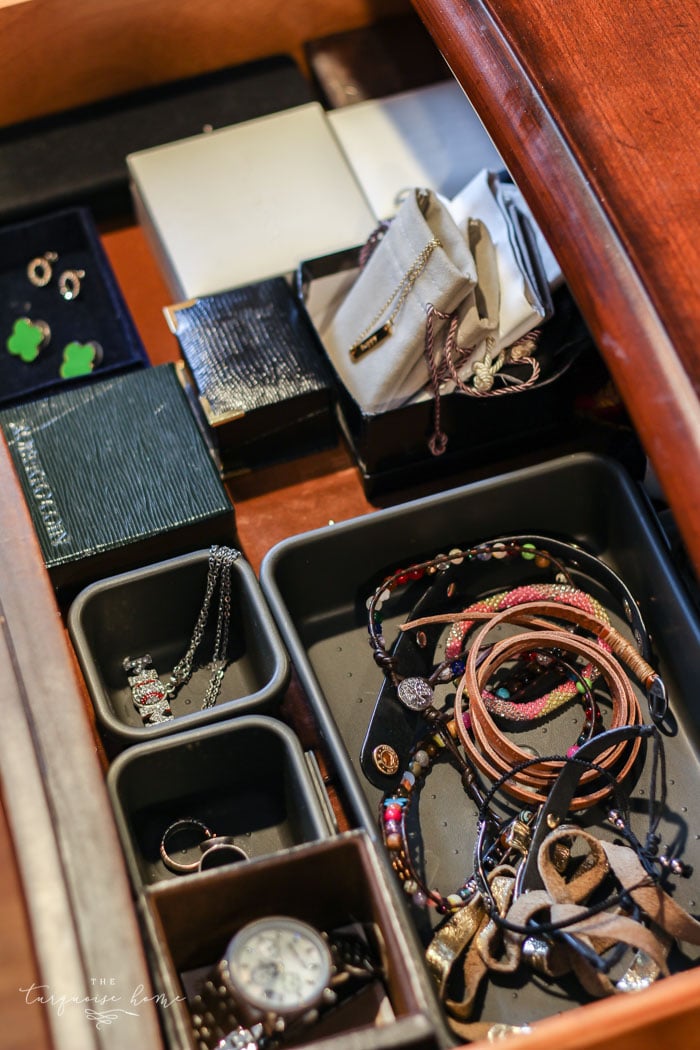 This is a great time to use pretty bowls or containers that you already have. Grab some bowls and put jewelry in them in your drawer. You will smile every time you open it up!
RELATED: Distressed Industrial DIY Jewelry Organizer
And she made these hooks in about 5 minutes to hang on her closet wall for her necklaces. It's butted right up next to the door because a mirror is going next to it.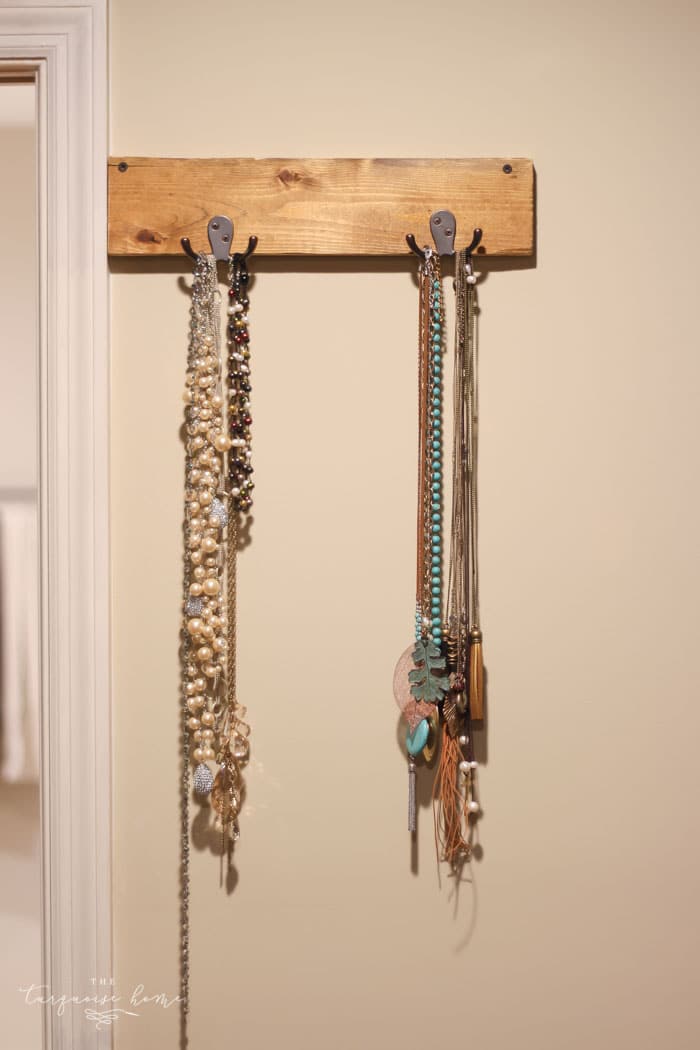 Declutter & Organize Your Cosmetics
My own cosmetics were already in good shape. I overhauled all of my makeup last summer when I switched to BeautyCounter. (Watch this video if you're interest in why I switched.) So, I got rid of everything that was a different brand, which meant anything that was expired was gone, too.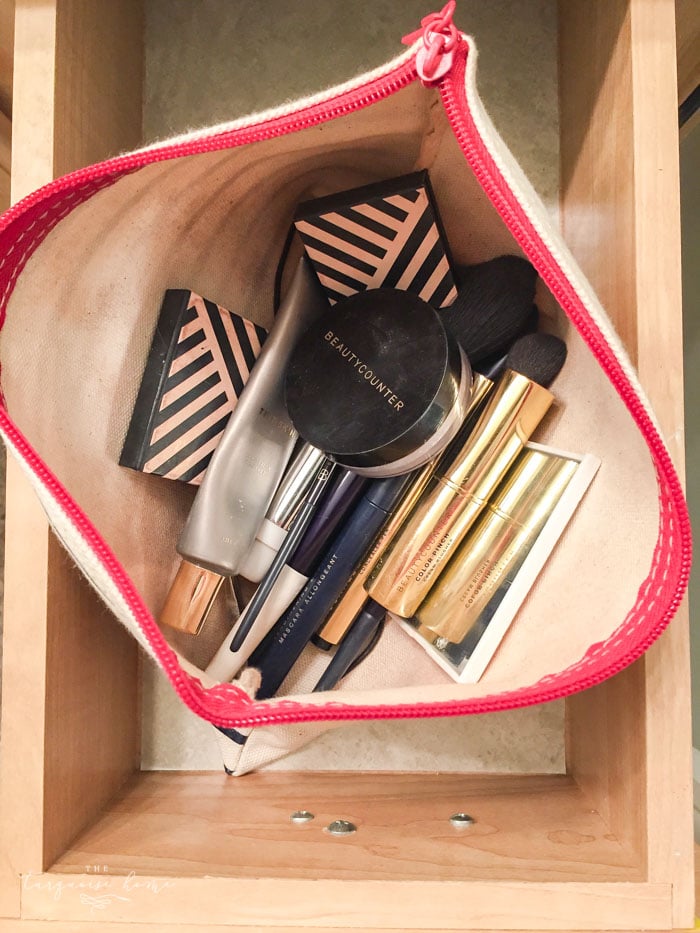 Everything I use fits into my little canvas bag and I keep it in my bathroom drawer. There is nothing in there that I don't use. And I don't keep my makeup organized in a drawer because half of the time, I am grabbing my makeup while running out the door. I often can be found applying makeup in the preschool parking lot. Or in the passenger seat of my car while my husband is driving. 😂 So, it's got to be mobile ready at all times.
My friend, Emily, on the other hand, keeps hers in her drawer and she decluttered and organized her drawer for us! I love that she used the same bins that she use in her jewelry drawer mentioned above.
This is the before situation. 😊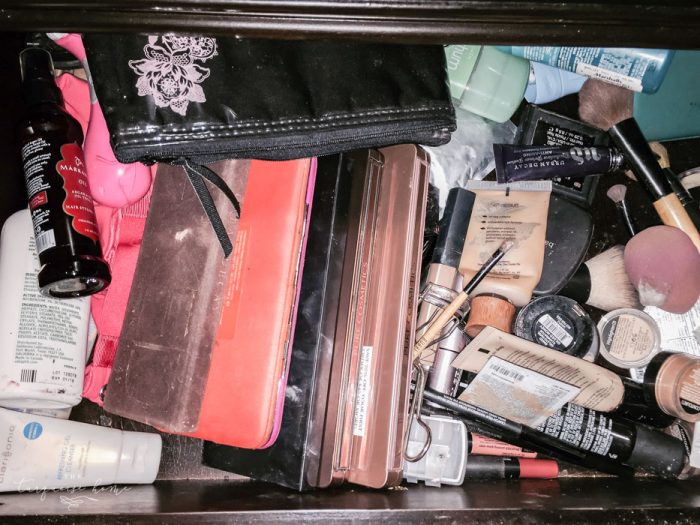 And now, it's all organized, decluttered and easy to find exactly what she needs!!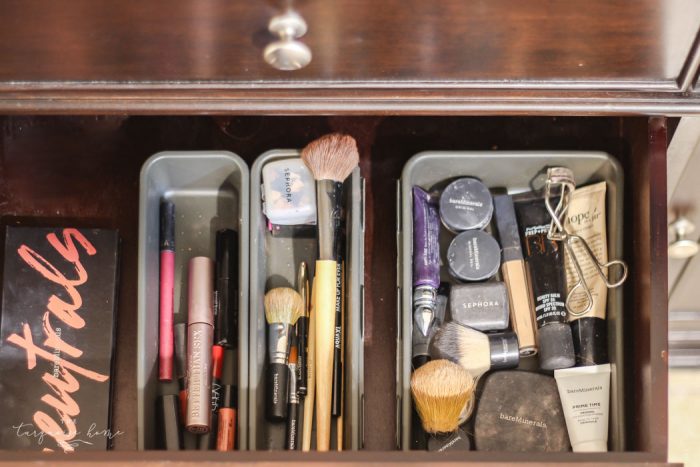 Wow!! Such a difference a little decluttering makes!
The Messy Work: Tackle those jewelry and cosmetics spaces today!!
In the mess with you, Laura