Organized Closet Systems | Day 23: 30 Days to Less of a Hot Mess
Welcome to the 30 Days to Less of a Hot Mess Challenge! We're decluttering, reorganizing and taking a breath of fresh air to create a home we love. If this is your first time at the challenge, you may want to start here at the beginning. Affiliate links used for your convenience.
**************************************************************
What is one place in your home that you use every day? Your closet, of course! And the organization of it is so crucial to your mornings and how your day goes. I know that if my clothes are in disarray, then it usually means I can't find what I'm looking for and I start the day frustrated.

But imagine if you decluttered your closet. Everything has a place and you can start your day with ease. That sounds a whole lot better, doesn't it?
Closet Systems
Let's first talk about your closet system. We haven't put a closet system into our master closet (yet) because what came with the house works fairly well for us.
It's a wire shelving unit that spans across the left wall and back wall of our walk-in closet It has 2 levels for hanging pants and shirts for the most of it and then one small part of it has just the top rack for hanging longer clothing like dresses and suits.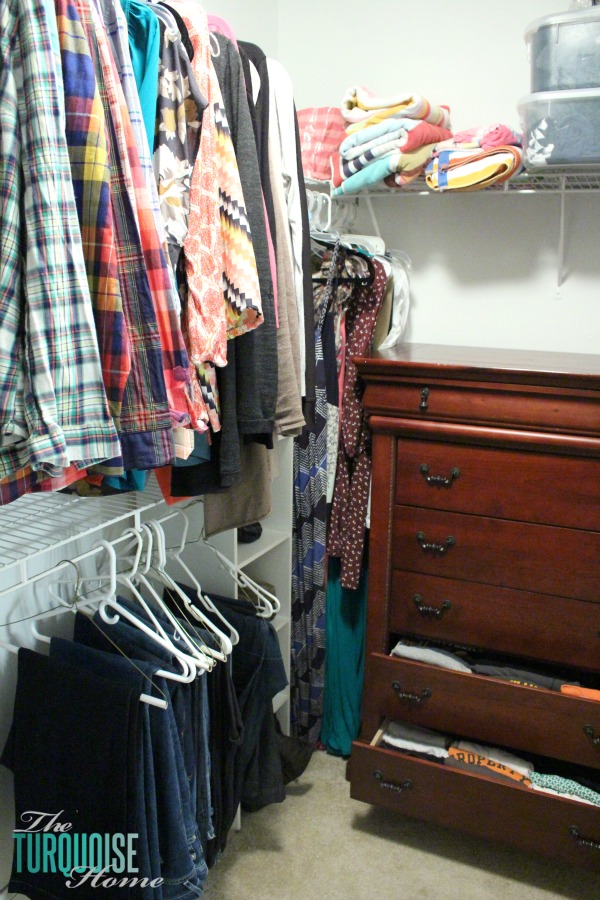 And then one wall was empty, so we put our dresser in there. It holds t-shirts, underwear, socks and a few of my sweaters and nicer shirts that I fold up.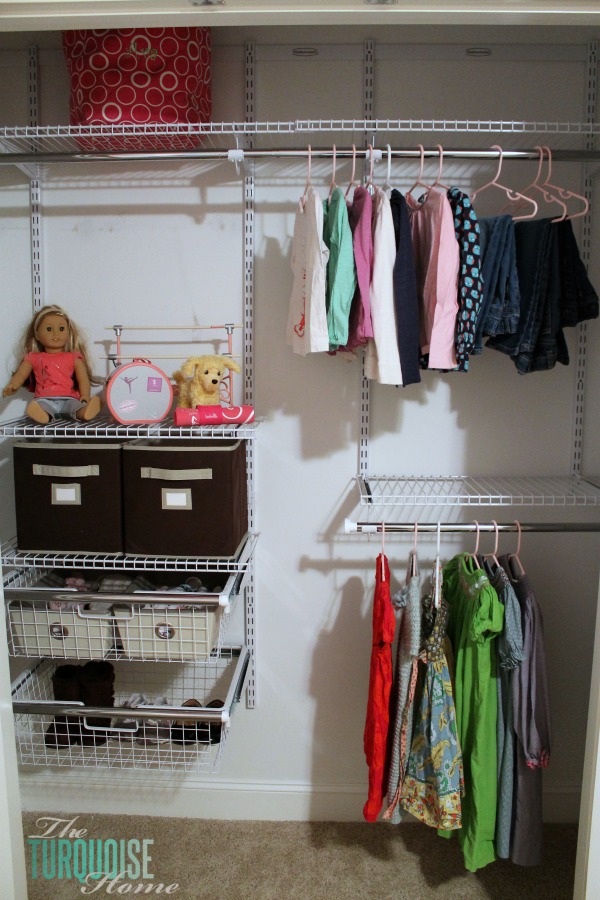 We did install a closet system from Lowe's a couple of years ago in my daughter's closet. I absolutely love this system for her clothes. There are several configurations in the Rubbermaid HomeFree Closet System line. It's a wire shelf base, but you can can add wooden shelves, drawers, shoe cubbies and more to suit whatever needs you have. We still love it as much as the day we first installed it!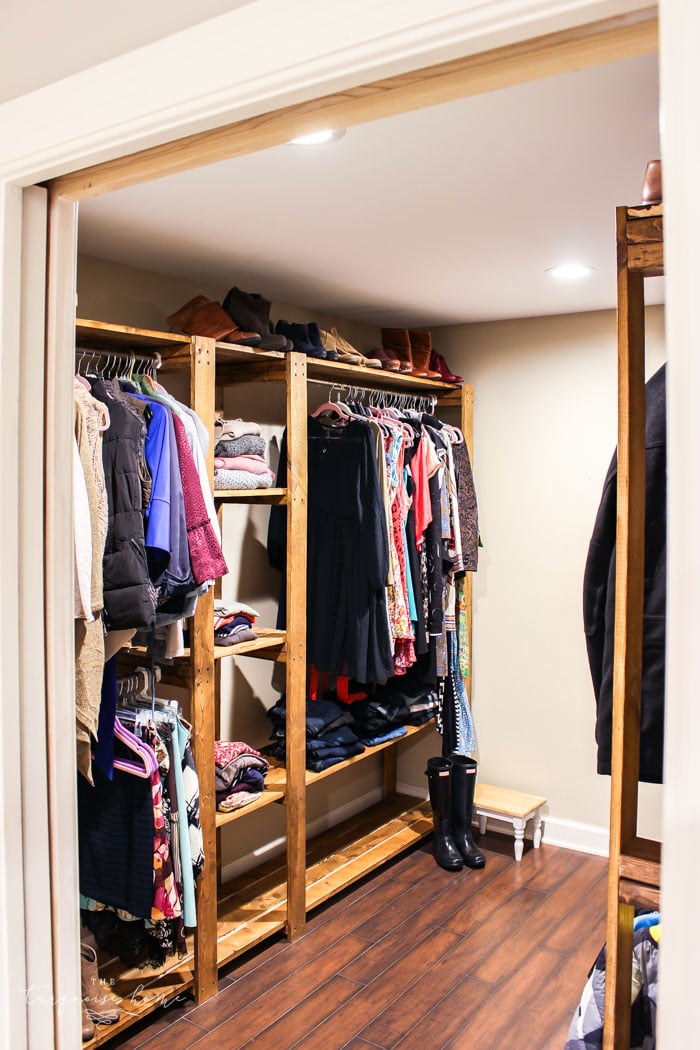 My good friend, Emily, made a closet system for her and her husband's master walk-in closet. She used the Ana White plans found here. It's such a great option to customize your closet on a budget!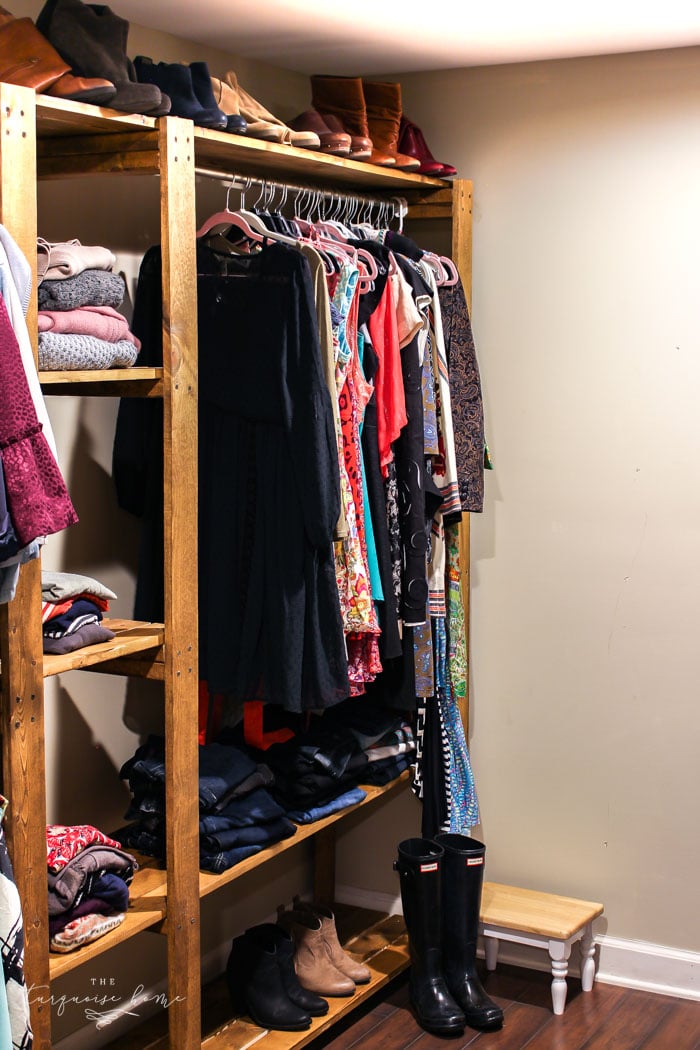 She said it was very easy to make and it's their favorite room in the house! They are planning on building a shelf along the back wall of the closet, too, very soon!
So, I highly suggest that when you are decluttering and organizing your closet, that you take some time to think through your closet system. Is it working for you? Would there be a better way to utilize your space?
How to Organize Your Closet
OK, now it's time to talk about the actual decluttering and organizing part of getting your closet in check. This was the very first KonMari task that I tackled, because, well that's what she suggests tackling first! 😉
I already shared my process in a post, so I won't re-write it here, but you can hop on over and see how I took my closet from looking like this …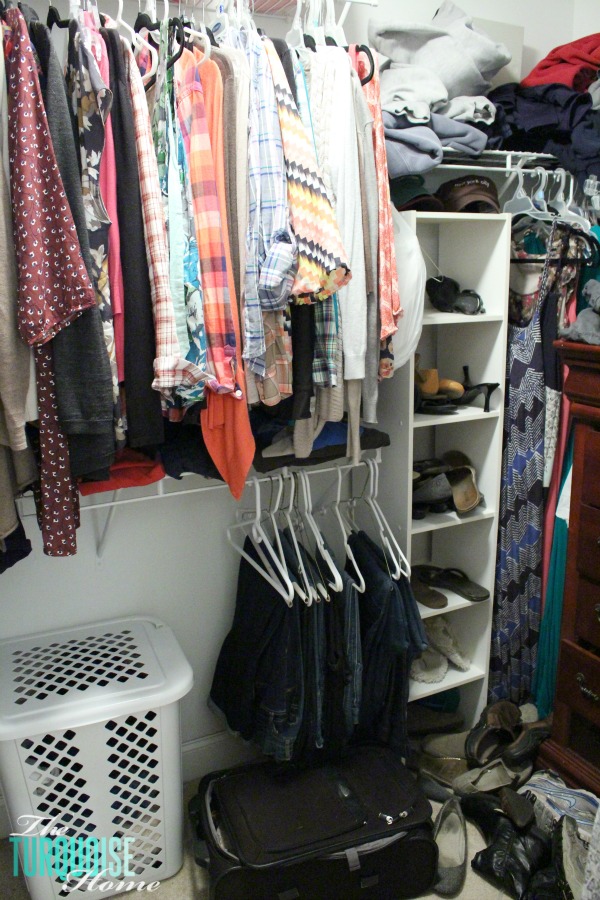 To much better!
One thing that I did keep when I decluttered my closet last year was old clothes that don't fit anymore. I kept them because they are nice and good quality items. But here's the deal. I'm not sure that 1) I'll ever be that size again and 2) if I were to lose the "baby weight" then my shape is going to be a lot different than it was when I was 25. So, it's time to let those clothes go to a new home. Instead of them sitting there telling me I'm not thin enough, I'll pass them on to someone who CAN wear them today!
The Messy Work: Remove everything from your closet. Pick up each item and ask yourself, does this fit, look good on me and bring me joy/or do I use it? Anything that you can say "no" to those things needs to go!
In the mess with you, Laura