50+ of the Best 2022 Free Printable Calendars
Never forget something ever again with this fresh batch of 2022 free printable calendars. From kid-friendly to floral designs, there is a calendar on here for everyone. Let 2022 be the year of organization and a to-do list that actually gets crossed off!
Are you looking for a sure proof way to stay organized in the new year? If so, look no further! In this blog post, I have collected 50+ free printable calendars for 2022 from all over the internet.
These printables are both functional and cute! Whether you only want one month or twelve months on your calendar, there is something here on this list for everyone.

These calendars are so much more than just a cute way to jot down appointments. They will actually help keep you organized which will allow more time to focus on your family and other important things in life rather than wondering where the day has gone to.
Go ahead and grab a cup of coffee or tea while scrolling through this list because it's going to be a long but fun ride! Happy New Year! 🙂
2022 Free Printable Calendars with Holidays
If you are searching for free printable calendars with holidays, this is the post for you! I've researched and created a list of some of my favorite calendars available. These calendars will help keep your family organized throughout the year.
Monthly Motivational Calendar by The Housewife Modern – this calendar will keep you motivated, providing monthly quotes amid seasonal designs.
Printable Calendars for Moms by iMom – this calendar livens up the months with seasonal lyrics, complete with important holidays.
Chalkboard Calendar by Botanical Paper Work – if you like simple yet elegant, nab this printable.
Ocean Calendar by Botanical Paper Works – water lovers can take a dive inside with these ocean-inspired drawings.
Eco-Tips Calendar by Botanical Paper Works – get a monthly boost of tips to live a greener life.
2022 Calendar by Dream Calendars – download a year at a glance calendar complete with a list of important holidays.
Free Daily/Weekly/Monthly 2022 Calendar Printables
Whether you want to use your calendar for big-picture items or map out every detail of the upcoming weeks, there's a calendar for you here.
Cake Calendar by The Cottage Market – here's one for all the bakers and home chefs! This calendar looks great in the kitchen.
Watercolor Wash Calendar by The Cottage Market – this printable is perfect for those looking for a simple layout and basic (but beautiful) design.
Cute Weekly Planner by Shining Mom – pair your monthly calendar with a weekly planner. This one maps out this week, plans for next, and any must-have notes.
Pretty Roses Calendar by Printables and Inspirations. – this vertical calendar looks beautiful! It's adorned with illustrations of roses atop of the months.
Half-Size Daily School Planner by Printables and Inspirations – keep things small with this school planner. It includes a monthly calendar, daily planning pages, notes pages, and quotes.
Coloring Calendar by Botanical Paper Works – relax and unwind by coloring these calendar pages.
2022 Monthly Calendar Templates by Calendarlabs – customize your own calendar using an online editing tool.
Free Printable 2022 Calendar by Abby Lawson – plan out your month with this simple yet gorgeous monthly printout.
Weekly Planner by On Planners – map out each day and create priorities with this weekly planner.
Fully Editable Calendar by Home Printables – map out your month directly in Microsoft Word before printing this monthly calendar.
Pretty Calendar by Cute Freebies – vibrant with warm colors, choose a Sunday or Monday start for this calendar.
Crystal Gems Calendar by Cute Freebies – print this calendar adorned with gorgeous purple gemstones.
Super Cute Calendar by Cute Freebies – this calendar has cozy and cute vibes to print for your home office or kitchen.
Free Yearly Calendars for 2022
Like to see the year at a glance? I like having a simple, pretty yearly calendar to keep near my command center, while the more detailed version lives in my office.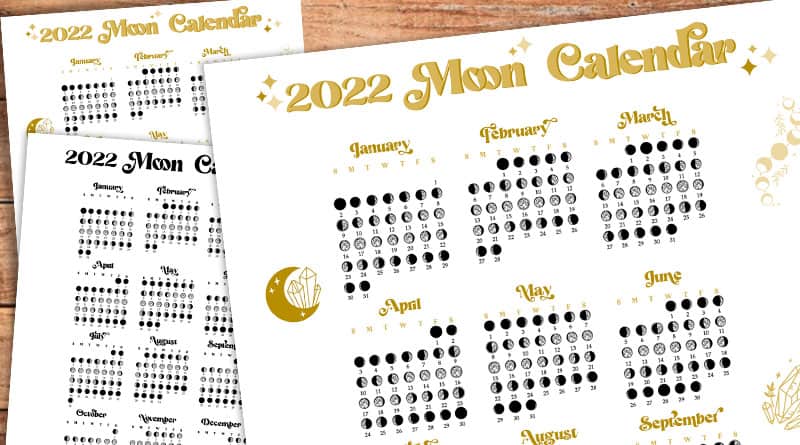 Moon Calendar by Lovely Planner – cross off your days of the month and check in with the moon with this year at a glance calendar.
One-Page School Calendar by Lovely Planner – this one-page calendar will help students get ready for the school year. I like that it highlights key events, so you're never surprised.
Understated Rainbow Calendar by Scattered Squirrel – find the calendar that works for you, from Sunday or Monday starts to yearly or monthly calendars.
2022 Calendar by Beta Calendars – simple and useful, print off a 2022 calendar to keep an eye on the year ahead.
Printable Calendar by Anny Studio – these one-page printables work well as a printout for the fridge. You can also put them in a planner, or a DIY bullet journal.
Watercolor One Page Calendar by Paper Trail Design- add a little color to your yearly calendar with this simple watercolor design.
2022 Printable One Page Calendar by Paper Trail Design – take your pick with this printable calendar, opting for a basic black and white, floral, or watercolor background.
Colorful Yearly Calendar by NYC Design – make sure your printer has colored ink for printing this bright calendar!
Minimal 2022 Calendar by Indoorzy – this minimalist calendar looks crisp and simple.
Printable Floral 2022 Calendars
Want to brighten up your space? These floral-themed printable calendars will do just that! Add some cheer to your day-to-day planning with these 2022 options.
Free Printable Calendar by On Sutton Place – you get more than just the months with this calendar, including a floral cover, inspiration quotes, notes, and a meal and faith planner.
Floral Wreath Calendar by The Cottage Market – you'll have a fresh wreath to greet you as you go through each month.
2022 Free Calendar by Shining Mom – you'll find plenty of cute florals in this calendar! Plus, it comes with a checklist at the bottom for all your monthly goals.
Floral Calendar by Paper Trail Design – follow all the seasonal delights with this floral-inspired calendar.
Modern Leaves Calendar by The Cottage Market – if a little bit of foliage is more your speed, surround yourself in greenery with this calendar.
Bible Verse Calendar by Printables and Inspirations – a Bible verse every month will help inspire you while you stay organized.
Momtastic Monthly Planner by For Mommies by Mommy – this monthly planner has a gorgeous floral border to keep things looking pretty while you pencil your stuff in.
Floral Drop Calendar by The Cottage Market – there's a fun burst of colorful flowers at the top of each month.
Boho Chic Calendar by Botanical Paper Works – this soothing-looking calendar has dates and a cute boho header.
Plant Calendar by Cute Freebies – plant lovers rejoice with this terrarium-themed calendar.
Botanical Calendar by Botanical Paper Works – for something a little more neutral but still feminine, try this printable.
Cherry Blossom Calendar by Cute Freebies – it's cherry blossom season year-round with this calendar!
Kid-Friendly 2022 Free Printable Calendars
It's never too early to get your little ones on board with calendar management! These calendars have all the function of the ones above but are filled with whimsical, colorful designs your children (or you!) will love.
The Harry Potter Calendar by The Cottage Market – for your little one obsessed with the boy who lived! They will love this Harry Potter inspired-calendar.
Printable Coloring Calendar by Kindergarten Worksheets and Games – updated for 2022, this calendar allows your kid to take part in planning with their coloring skills.
Superhero Calendar by 123 Homeschool 4 Me – for all the little Avenger and Marvel fans out there, they'll find their favorite superheroes inside this calendar.
Watercolor Animal Calendar by The Cottage Market – watercolor pictures are simply stunning. Plus, this one features a different animal for every month.
Cute Dog Calendar by The Cottage Market – because you can never go wrong with printing pictures of cute dogs.
Traceable Calendar by 123 Homeschool 4 Me – start the month off with a little coloring session and teach your kids how a calendar works.
Princess Zodiac Calendar by The Cottage Market – if you have a kiddo who loves princesses, these are some of the cutest illustrations.
Monthly School Calendar by Lovely Planner – this one works for the busy mom, mapping out the entire school year in one easy calendar.
Calendar for Kids by Cute Freebies – this cute calendar has a reading theme to illustrate the pages.
Under the Sea by The Cottage Market – take a trip underwater with this collection of watercolor animals.
Enjoy these free calendars! Let me know which ones are your favorite and which you plan on printing for 2022.
MORE POSTS YOU WILL LOVE: