It's common to forget about our garage spaces because you don't have to stare at it every day… Until you try to park your car in there. Here are some amazing garage organization ideas to help create storage space and clear out your garage to be used in any way you intend. You will have your space in tip-top shape in no time!
I like to consider our garage as an extension of our home. It's a great space to add storage for outdoor toys, tools, coolers, and other equipment you don't have room for inside your home.
Oh, and our cars too, of course. 🙂


So, if you are trying to take your garage organization skills to the next level make so that you open the door and NOT have an avalanche of stuff come out falling on you, this article is just what you have been looking for!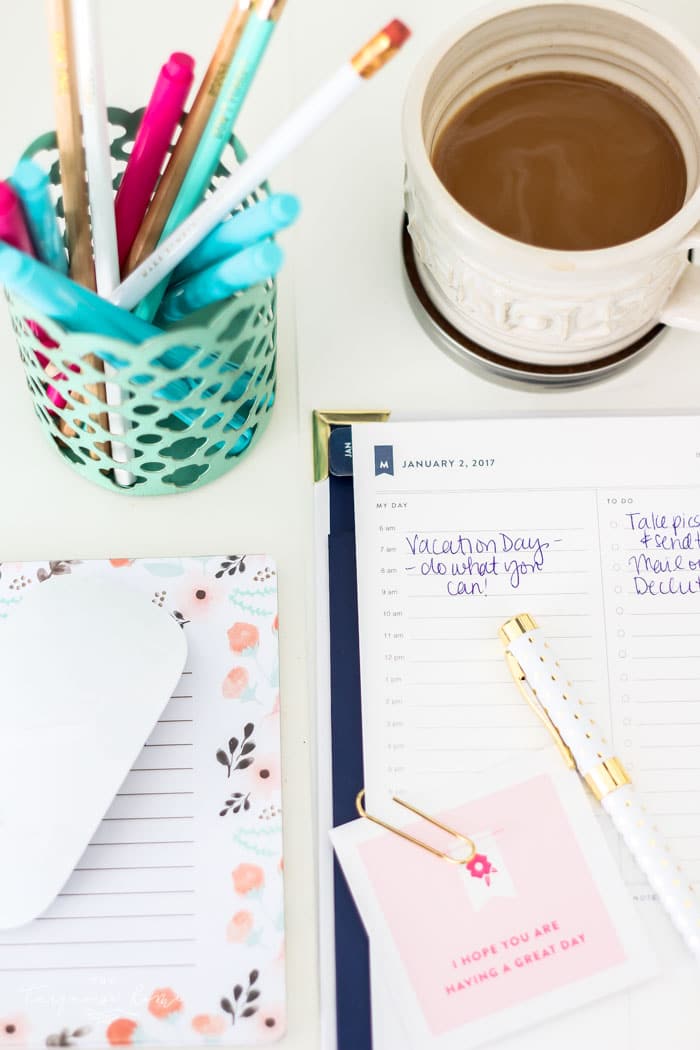 Tired of Feeling Overwhelmed?
Join the FREE 30-Day Decluttering Challenge & Find Peace in Your Home Again!
Garage Organization
When you walk into your garage, you may feel a little overwhelmed if it's full of stuff. It's okay because that's perfectly normal!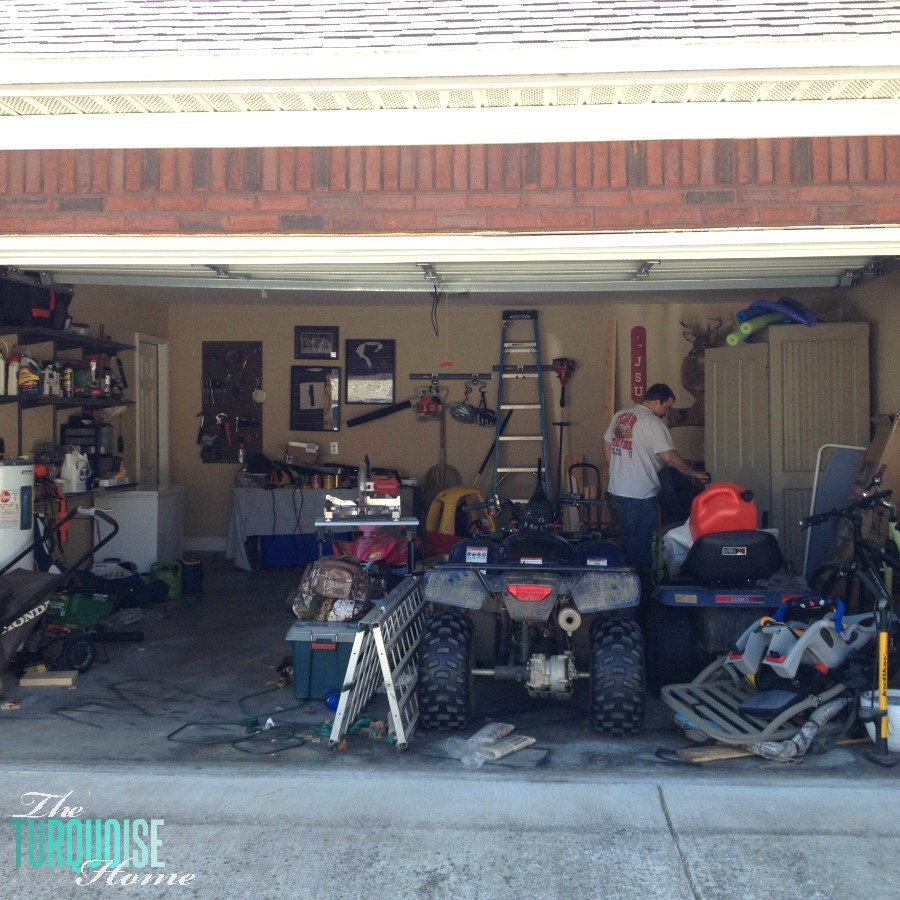 Garages tend to accumulate a lot of extra things you don't always know where to put. If you don't find the proper place for every item right away, it can really build up.
After you have everything in its proper place, you can enjoy your space and feel great about what you've accomplished.
This post contains affiliate links for your convenience. See my full disclosure policy here.
What Is The Best Garage Organization System?
There are so many different garage organization systems to choose from; it can be a little overwhelming and confusing.
I find that the best thing to do is to have a variety of storage options available. I recommend buying units that are different sizes and shapes because you are going to need different types of storage for each one.
Here are some of the best options to choose from:
Garage Wall Organizer
They have several options for sale that are wall mount storage solutions for the garage wall. They have different heights and widths to choose from as well!
Many have pull-out drawers and various shelving units that have support attached baskets to the shelves or other storage containers to keep it all organized. Once again, you will need to label everything that you can, so you know exactly where everything belongs.
Storage Cabinets
If you want something that closes up, invest in some storage cabinets so that everything inside won't be visible. This will make your garage appear to look extra fresh, cleaned, and situated.
Floating Shelves
Using floating shelves is a wonderful place to put storage totes and create more space to stack items.
Overhead Garage Storage
If you aren't lucky enough to have overhead storage space in your garage, you can make or install your own! They sell some fantastic overhead storage, and you can store items like your Christmas decorations, camping equipment, and even fishing gear.
The options are endless, but you really want to use this extra space.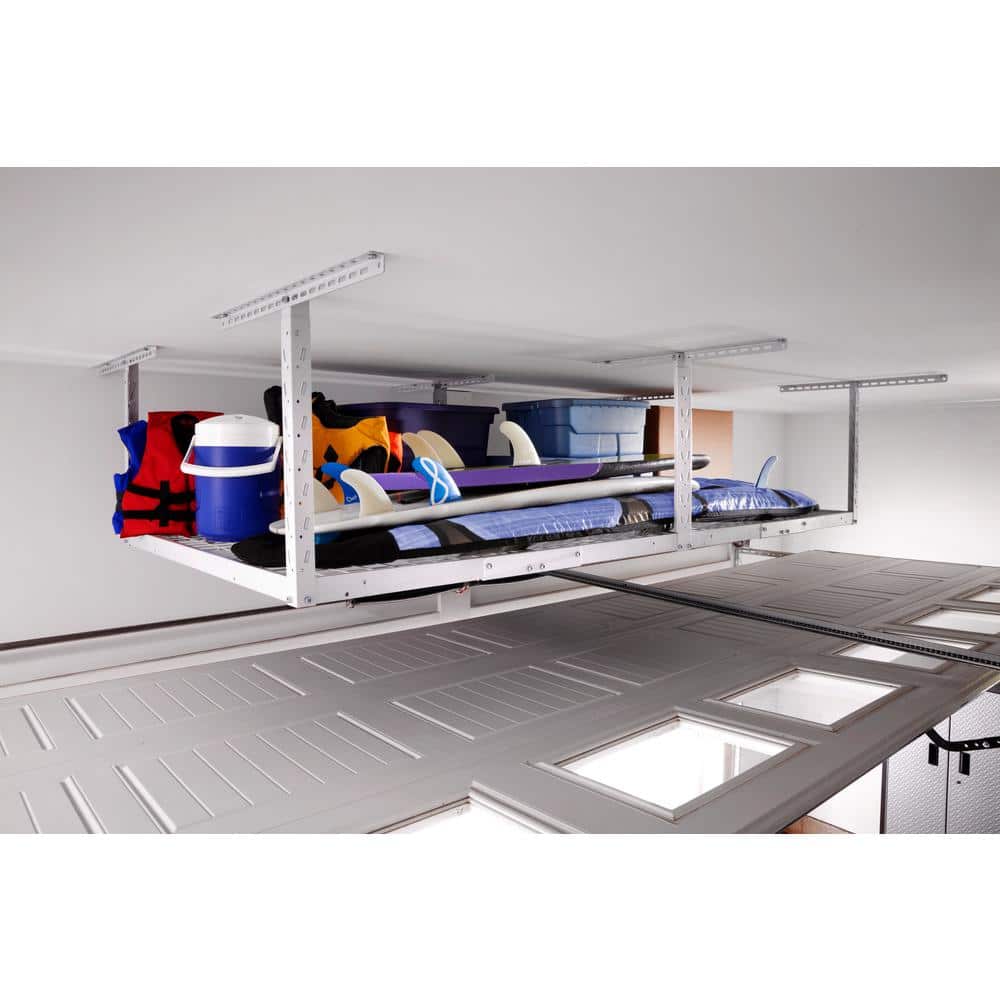 Pegboard System
You'll be amazed at all the ways you can utilize vertical space with a pegboard system. They are entirely customizable and can be changed as many times as you wish until you have it how you want it.
Tools, brooms, and rakes are a few items tend to work best when looking for things to hang off a pegboard.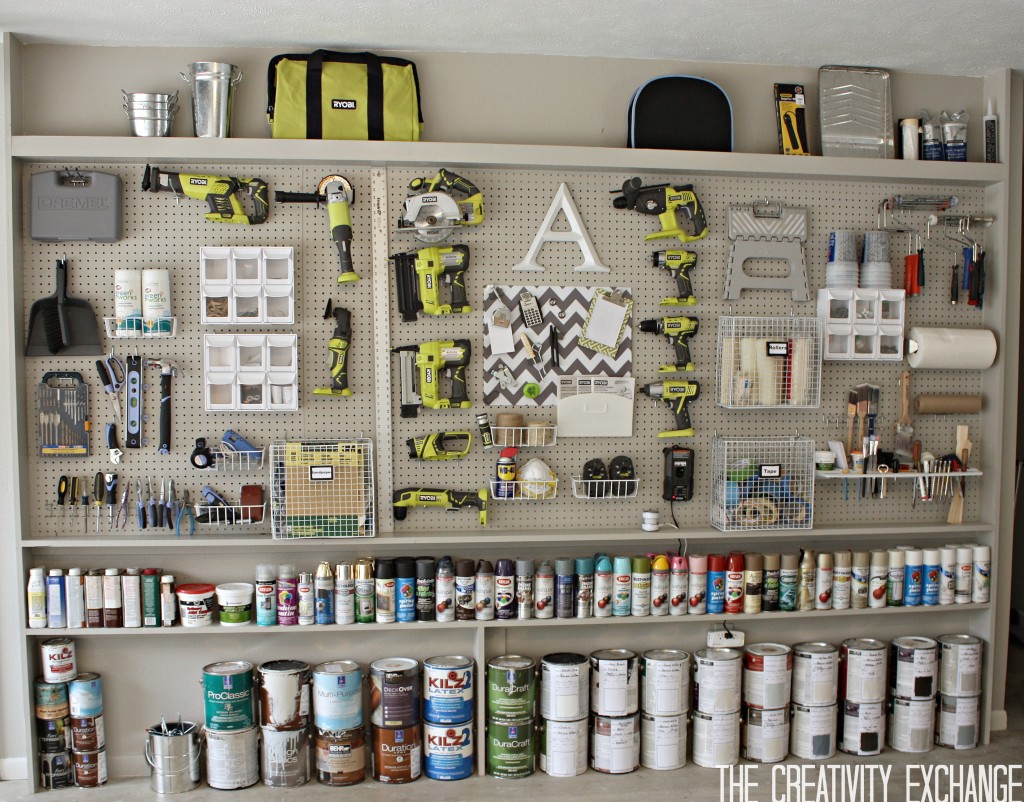 Cabinets
There are many styles of cabinets that can fit perfectly in your garage! They come in several colors, shapes, and sizes that can be customizable to your garage style.
I like to assign each shelve in the cabinet to be for something specific. For example, the entire cabinet is for painting and materials and I'll divide each shelf by paint, paintbrushes, trays, and any other supplies. You can store and organize your cabinets to hold everything neatly!
You'll be so glad you added something like this to your space.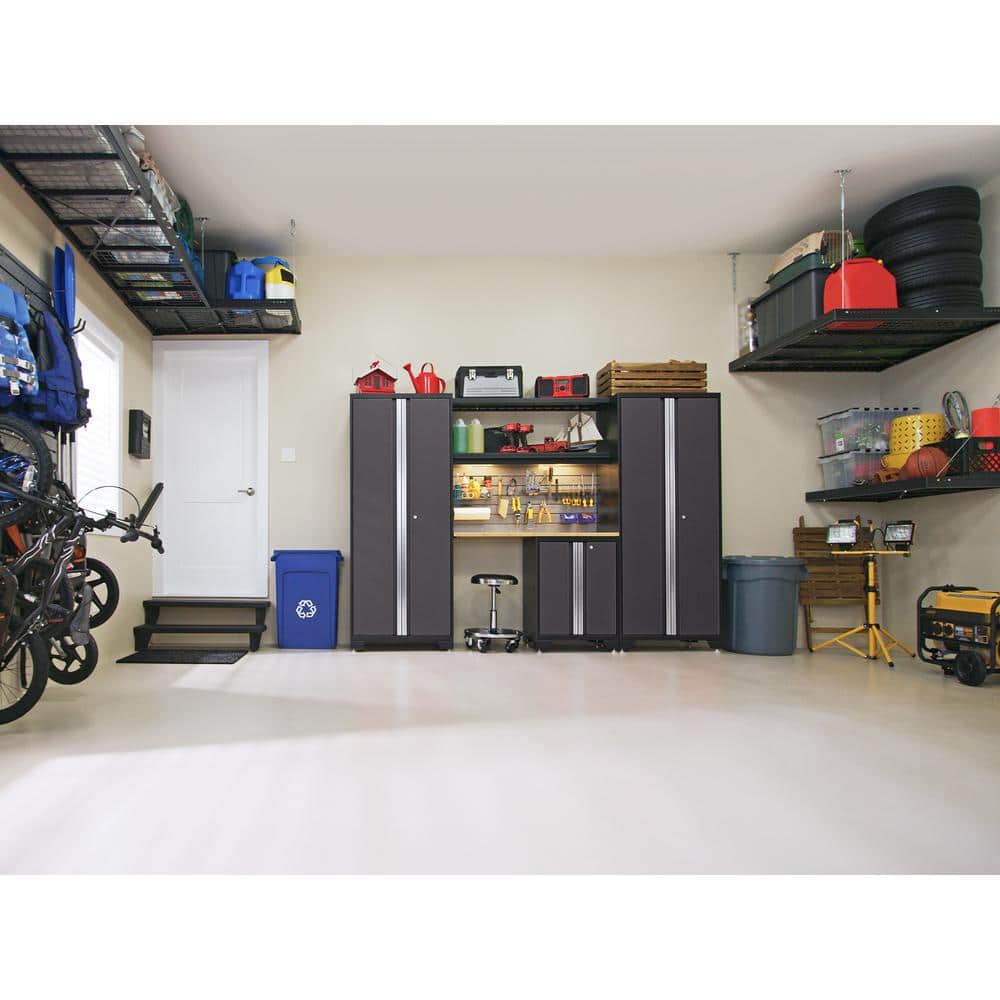 Toolbox System
When we first moved into our home, we invested in a large toolbox to keep in our garage. I would recommend purchasing a toolbox system that has lots of drawers and is easy to organize your wrenches, hammers, nuts, bolts, screwdrivers, and more.
Horizontal Track System
This is one of my most favorite garage organization tips!
Using a horizontal track system is ideal for hanging your ladders, brooms, bicycles, sports equipment, and lots of other things. You really should consider adding one to your garage, and you will be shocked at how it helps clear out all the clutter.
Hanging Bikes from the Ceiling
In our previous home we utilized the ceiling space with bike hooks for our bycyles. It was a perfect way to get them up off the garage floor and help the garage feel less cluttered.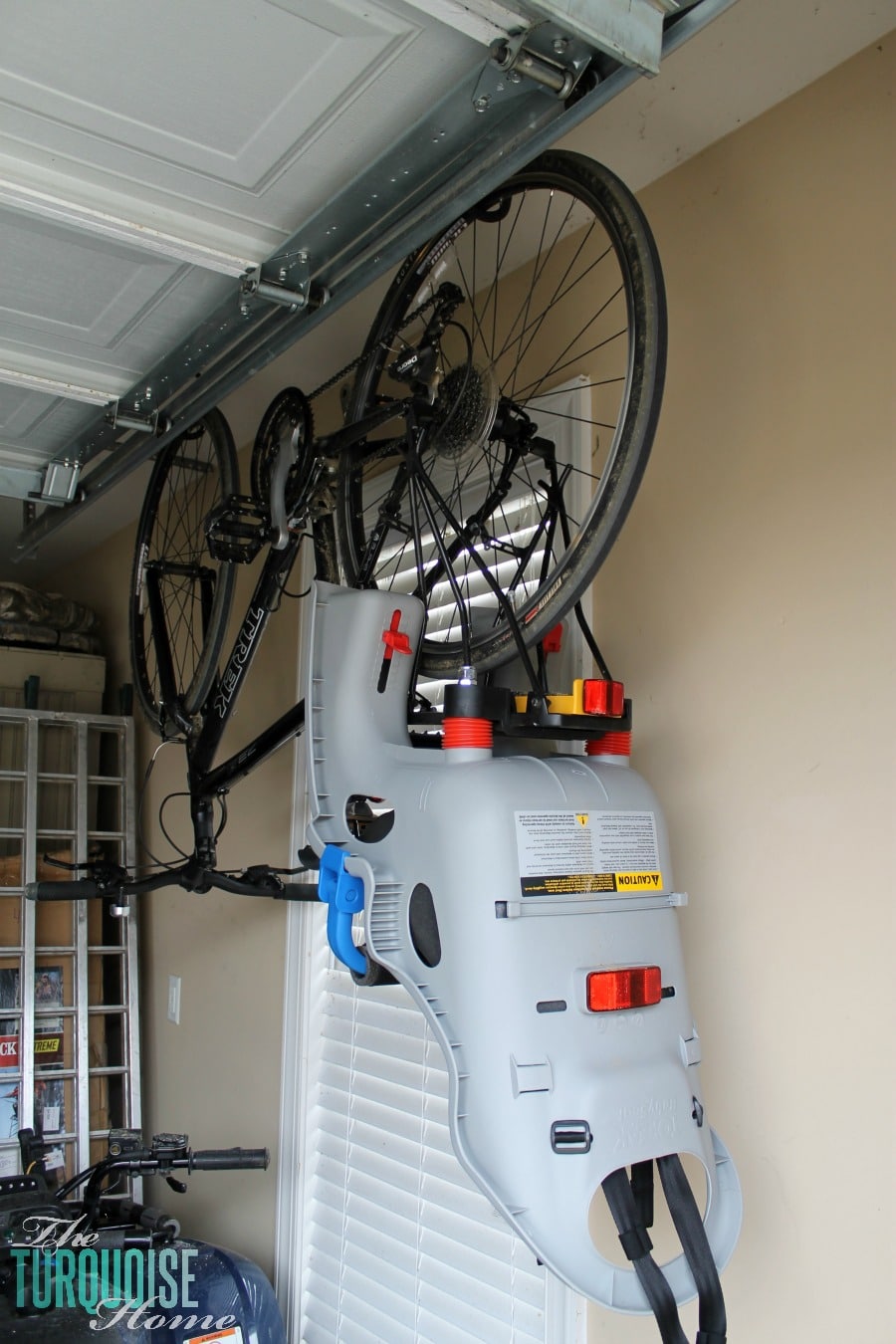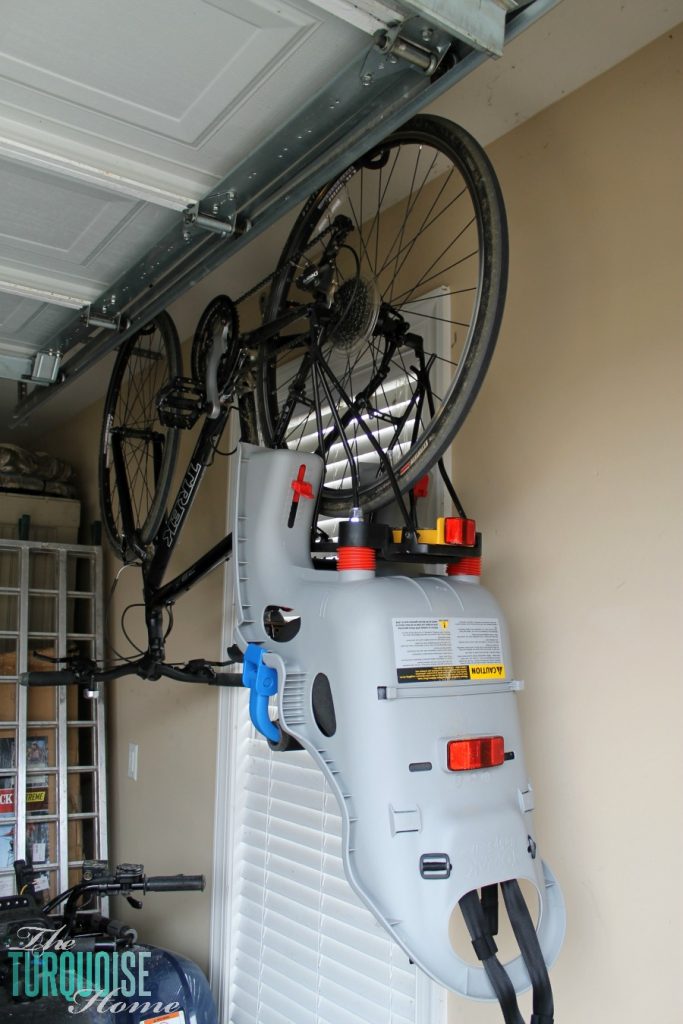 My only note of caution is to make sure you have easy access to your bikes, or else it will defeat the purpose of having a bike in the first place!
5 Quick And Cheap Garage Organizing Ideas
If you follow these helpful tips and hacks for some of these garage organization systems, you will have the garage of your dreams in no time! Take a peek a these easy to follow ideas to get started.
Choose a day when the weather is nice and dive into this project. Open the garage door and pull everything outside. I know this may seem extreme, but it will make it so much easier to organize when you know exactly what you have. Get the kids and spouse involved, too, so it will go faster. Once you have it all organized and have completed the next steps, you will be able to put everything back inside.
Put similar items together. You can use tarps or different areas on your driveway to put like items together. Sports equipment, tools, fishing gear, and anything else that belongs together should be organized that way. It will make your life so much easier to find what you are looking for when it's kept together.
Throw out the garbage and anything broken. Keep a trash bag close by in order to throw away any items that no longer work or aren't in good enough condition to reuse. You will be amazed by how much stuff you can get rid of when you are cleaning and organizing.
Utilize and add garage organization systems. There are all sorts of things you can use, from shelving to baskets to get it organized. Use large plastic totes for balls, holiday decorations, or other similar items. Label everything, so you know exactly what's inside.
Use overhead and wall space. Not only can you use shelving, but you can also hang items on the walls and put things overhead if you have space. It's all about making the most of the space you have available and utilizing every inch.
Spending a weekend organizing your garage is the perfect way to get things situated. I promise it's worth the effort once you get it all done. It will take some work, planning, and tools, but it's going to be amazing.
If you are looking to organize and create storage systems in other parts of your home, check out this organization section on my blog! Once you have everything done, then you just need to keep it that way by putting everything where it belongs after you use it each time.
MORE POSTS YOU WILL LOVE:
Get Instant Access to my Guide to Customize Your Home on a Budget
Grab your FREE guide for 10 Ways to Customize Your Home on a Budget: simple projects to transform your home from builder beige to a home with character and charm!