6 Tips to Keep the Kid Clutter in Check!
Welcome to Day 26 of the 30 Days to Less of a Hot Mess Challenge! We're decluttering, reorganizing and taking a breath of fresh air to create a home we love. If this is your first time at the challenge, you may want to start here at the beginning. Affiliate links used for your convenience.
**************************************************************
What is a home organizational challenge if we don't talk about kid clutter? And by "kid clutter," I mean toys that appear out of nowhere and get messy faster than you can say "clean up your room!" If you have kids (or grandkids), then you know this one is a hard-fought, uphill battle.

Maybe this sounds familiar? These are from some of my sweet readers:
"My big home decorating challenge is staying organized with a growing toddler – there are constantly outgrown clothes to put away and store, toys on the floor of every room and new pictures to print or hang!" – Summer

"I have been in my house for 2.5 years and I still don't feel like it's home. With two small boys (almost 4 and 18 months) I have found it so hard to 'cutesy' up the living room with all of the toys. We do have a play room but they always want to be in the living room so all of the stuff accumulates in here. Any ideas to hide the toys but still have them accessible for the kiddos?" – Lisa
Ladies! I feel ya!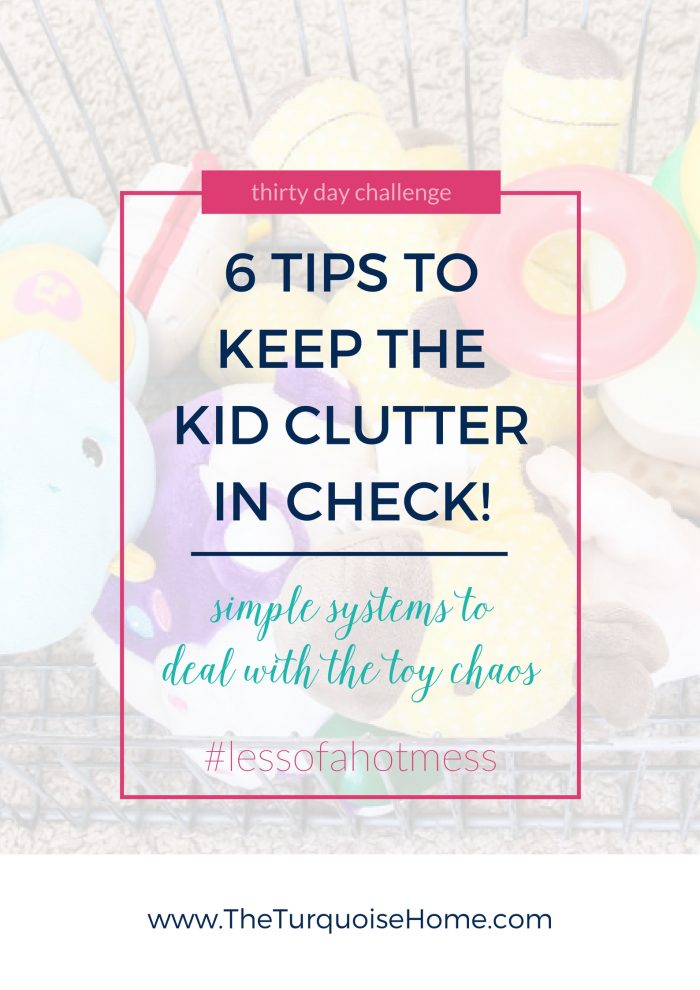 I know all of the moms who have grown kids just say "embrace the mess; you'll miss it someday." But when you're living in it and stepping on legos and Barbie shoes at every turn, it's sometimes hard to just enjoy it. 😉
In our home we practice a lot of giving and throwing things away, but it still can be overwhelming at times.
Tips for Keeping Toy Clutter in Check!
1. Hide the Toys. One of the best things I ever did was place a large toy basket in the living room area. It's tucked neatly under my Everett console table on my gallery wall and that's the only toy storage in my living area. It can be hard to 'cutesy' up the living room with all of the toys. I love this idea to hide the toys but still have them accessible for the kiddos.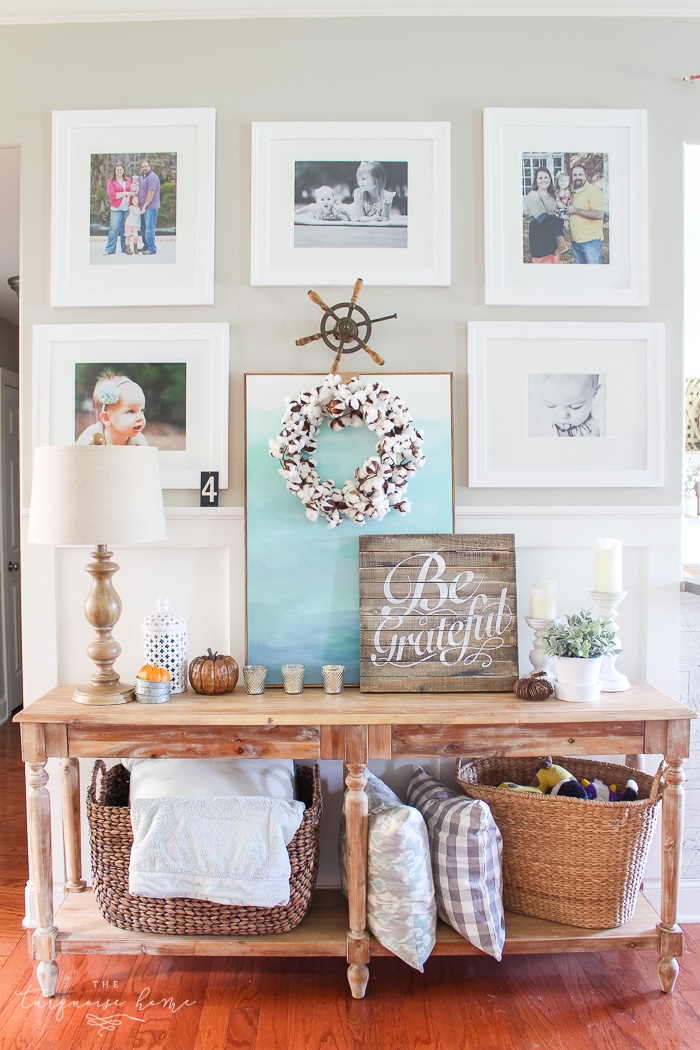 Can you spot the toy basket??
At the end of the day, we throw every toy that's left in the living room in the basket and the room is cleaned. Takes hardly any time at all. If the basket gets too full, then I'll take it to the girls' rooms and sort them all out.
This probably happens once every 1-2 months, because we *try* to make them clean up their toys and take them back to their room each day. It's system that works for me and keeps my living room picked up each night. And it's simple, which is key!
2. Designate Some Containers if You Have a Lot of One Thing. Now, toy storage in their bedrooms is a little different story. If I have enough of one type of toy to fill up a basket, then I will designate the basket for that specific toy.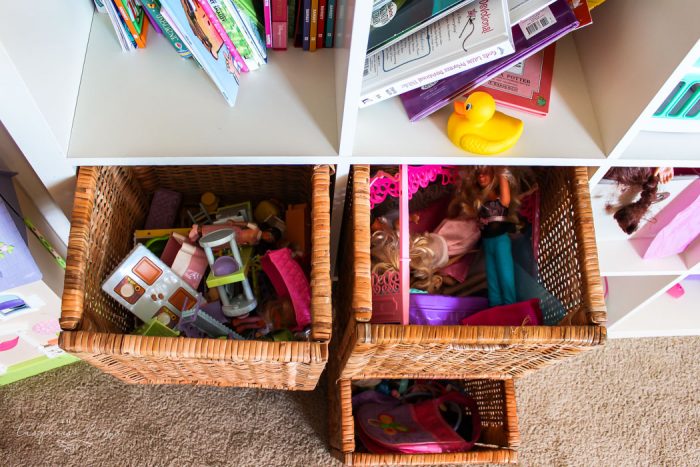 I have three (and only three) designated baskets in my older daughter's room: one for Barbies, one for a dollhouse accessories and one for American Girl doll stuff. Everything else can go wherever it wants to go (in the bins, of course).
3. Deal with the Christmas Overload. Your kids probably got a bunch of stuff for Christmas. I know mine did. And their birthdays are both within a week and a half of Christmas, so we get a ton of stuff! It's time to purge.
If the gifts that your child received a month ago still haven't found a home, then it's time to do a few things.
#1 – Find it a home That may mean you have to get rid of something else, or get rid of the toy itself if you can't find a place for it. But you must find a place for it.
#2 – Consolidate Did your child get something that they already had or something very similar? If your daughter has 4 different small princess castles in various shapes or size, then choose the one she plays with the least and donate it! I recently sorted through my daughters' books and realized we had 3 copies of The Tale of Peter Rabbit. There's no need to keep them all!
4. Don't Even Bring it Home. I give back (or get rid of) all of the little kids' meal-type toys we receive. I may let my kids play with them for a little bit, but then they go bye-bye. I'm not going to have a designated bin for "small, cheap toys that will clutter my home."
5. Rotate Toys. I am very limiting when it comes to the toys my kids keep, but it can still feel like a lot sometimes. I've recently started rotating the toys that they have access to.
Why? Because my kids play better when they have less options!!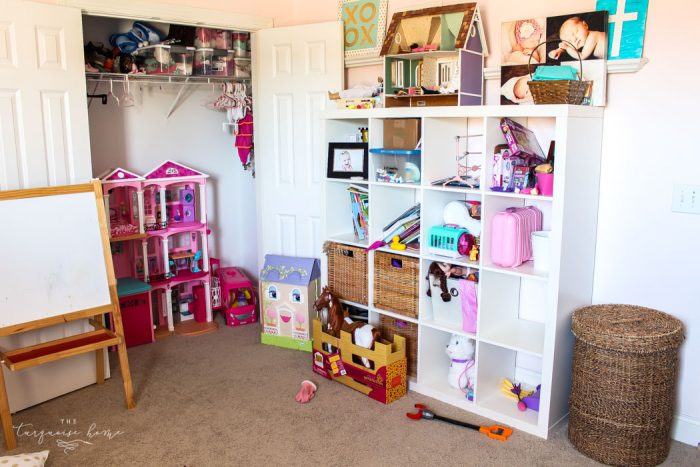 My daughter's room when I started. Not too bad, but still needs some work.
Have you ever experienced the phenomenon that happens when you send your child into their overstuffed room or cluttered play room to play, but they last for maybe 5 minutes and then come back out and say they can't find anything to play with!?
And then you start cleaning up the room and all of a sudden they are mesmerized with a doll their forgot about underneath a pile of dress up clothes. It may be a clever ploy to try to get out of cleaning, but I find that if my daughters' rooms are cleaned and decluttered, then they will play in there for hours!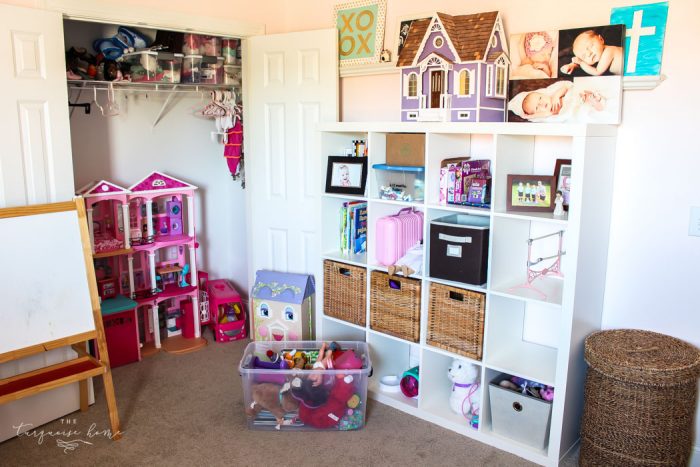 Her room with the stored toys in the clear bin.
So, I've started packing up a large, clear tub worth of toys and stowing it away for about a month. Then I'll bring those toys back and take another bin of toys away. It's like they received a gift all over again and play with these "just-broke-out-of-baby-jail" toys. 😂
This system keeps our home less cluttered and my kids play so much better on their own when they have less!
6. Store the Baby Toys. I regularly go through my daughters' toys and remove the toys that are really too young for them. Of course when my oldest daughter outgrows her toys, they get passed on to my younger daughter. But all of the baby toys are going in the attic.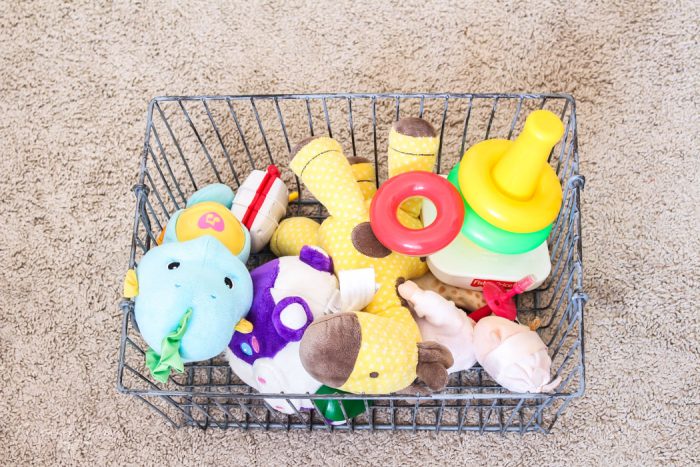 Tip: when putting toys away for a younger child or a future child, make sure to remove the batteries. Otherwise the batteries will corrode and ruin the toy. (I know from experience. #newmomfail)
The Messy Work: Choose one area or category from your kid's room and declutter! Use your free printable organization checklist to keep track of what you've tackled and what's left to do!
In the mess with you, Laura
MORE POSTS YOU WILL LOVE: