Why I Finally Hired a House Cleaner
The sink was so dirty that you could literally carve your name in it. Like how you can write "wash me" on the back of a dirty car. Yikes!! It was pretty disgusting and I was disgusted as I walked by it. As a mom of two little kids and a momtrepreneur, I was drowning in responsibilities and cleaning the house was at the bottom of the list of priorities. Gross, I know!
I kept the house mostly picked up, but a deep cleaning just wasn't high up on the priority list. And the dirty sink staring back at me was adding another layer of stress to my already stressful life.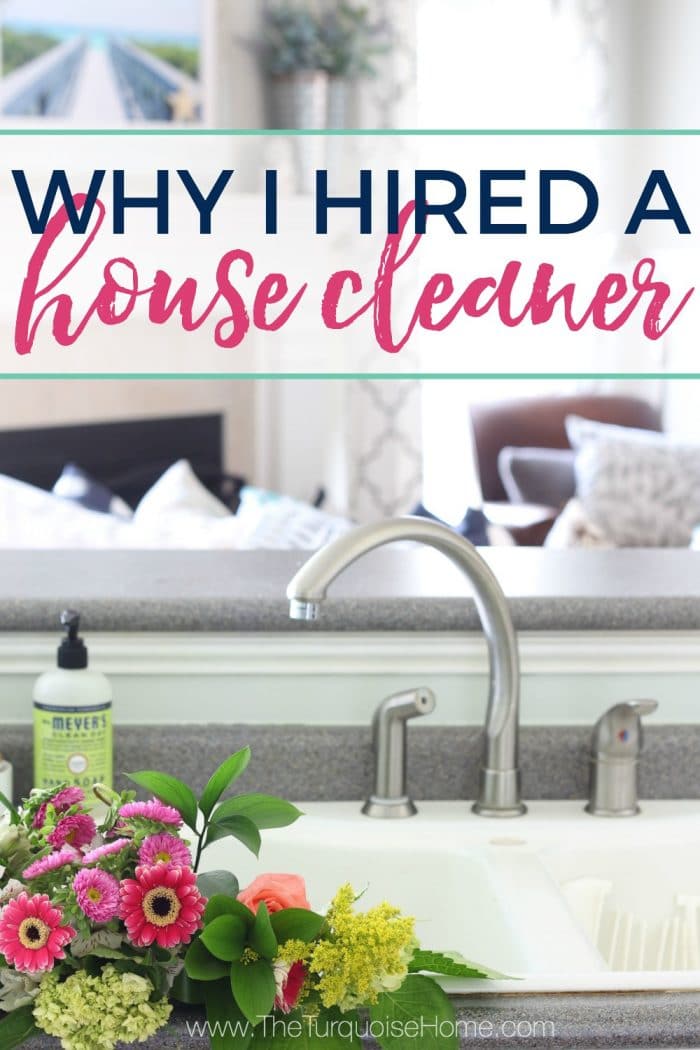 But I'm a stubborn DIY girl. I hate to pay someone to do something that I am perfectly capable of doing myself. And while I don't love to clean, I am fully capable of doing it myself.
For example, I cleaned houses to earn extra money in addition to babysitting when I was in high school. But it was becoming increasingly clear that just because I could do something didn't mean that I would do it.
There just wasn't enough time in the day.

The stress of having all of that to do, and then feeling like I wasn't able to take care of my home was making me a pretty grumpy person.
Another issue for me was that I felt like my house was too cluttered. I needed to declutter before I thought it would be worth it to hire someone to clean. Looking back, I should have hired someone to help me declutter, but I did it myself.
I wrote my 30 Days to Less of a Hot Mess series based on my decluttering efforts and that were a huge improvement for my home!
Side note: my home is less cluttered than it's ever been and it's amazing. I still have a few stacks of stuff here and there that I need to clean up, but it's nothing like what it was! You'll see why it's stayed so clutter-free in a minute.
Why am I Telling you About my House Cleaner?
And I want to be super clear about something. I don't share this so that I can wave around a "look-at-me" flag so that you can admire that I have a house cleaner. Nope, no way.
I share this to show you how delegating something when it makes sense in your life is so helpful. It's not helpful to try to do everything yourself if you can afford to hire someone to help you. In the same way that I hired a couple of part-time assistants to help with my work tasks, it just makes sense to give someone else a job that they can do, while allowing me time to do the things only I can do.
It makes sense at a certain point to hire help. AND a huge factor in helping me decide to hire someone was that I read account after account of other mompreneurs doing the same thing. It helped me see that it really was worth it to free up the time and relieve the stress and mom-guilt.
So, if you're a busy working mom, or a busy volunteer mom – or if you're taking care of a family member and the cleaning is just not high on your priority, then it might be something to consider. And even if you can clean and want to do it, sometimes it's better to delegate.
Pros to Having a House Cleaner
In addition to having a freeing up my valuable time and having a clean home once again, I have found several surprising benefits to hiring a house cleaner. If you're in the fence about hiring one, then I these might help you see the light!
Once every 2 weeks my home is clean! Duh. Right? You're thinking I've lost my marbles. But I mean that my entire is all clean all at once. Both of the bathrooms are spotless. The hardwood floors are so clean that they are slippery and every surface is wiped down. I try to schedule events when I'm hosting people at my house right after my house cleaner comes. Or, I schedule weekend visitors right before she comes. LOL Make this work in your favor!
The longer she comes, the cleaner my house gets. My cleaning lady has been coming for 5 months now, and the hot spots that were always messy are disappearing. For example, I probably never deep cleaned the baby's high chair. One day after she left, the high chair was missing! What?! How does a high chair go missing?? I walked into the laundry room and it was turned upside down in the utility sink. She had thoroughly clean that sucker! Yay!!
It forces me to pick up and sort through the junk every two weeks, which means I have less clutter and less mess. This is why my house has continued to stay mostly clutter free for all of these months! It's forcing me to declutter and throw away trash every two weeks instead of ignoring it. And now I'm decluttering even more, because I'm seeing what I still need to work on since everything else it straightened up!
I have more time for my family. This not only means I get to spend more actual time with my family, it's more quality time with them. I'm not snapping anyone's heads off because I'm frustrated with a dirty house. That's always a win in my book!
I am more efficient. Have you ever heard of the saying that physical clutter equals mental clutter? I wholeheartedly believe that it is true! I now have less clutter in my home, which means I am able to focus and have clarity where before it was hard to concentrate with all of the physical distractions. My mind and schedule are now freed up to do that things that only I can do, like mother my children and run my businesses!
The One Thing that Could be a Problem
There's not a whole lot of problems I see with having a cleaner home, but I do want to make sure one thing doesn't happen. I am extra careful to make sure my girls are still having to clean up after themselves and do regular chores around the house. This is mostly in regards to my 6-year-old, because the 2-year-old is still a little young.
But I want to make sure they don't grow up thinking they can just get by without cleaning up. There are plenty of regular chores that need to be done. And as they get older and can help with more around the house, I may cut back to only having the house cleaned only every month or so in order to give them the opportunity to learn how to clean their home.
It has been Totally Worth It
In the end, the decision to hire someone to clean my home a couple times a month has been more of a blessing than I could have ever imagined. It was worth giving up my pride that I can do it all to take back some of my sanity. The lack of clutter and the fact that it forces me to deal with trouble spots and messes in my home is just the icing on the cake.
If you are on the fence, then I encourage you to at least try it and see if it works for you. Find a reputable cleaning company in your area that is bonded and insured. I highly encourage you to ask around for recommendations from trusted friends and family. That's how I find mine!
What are your thoughts? Has this been a valuable service in your life? Are you contemplating delegating the cleaning in your home?