Complete colorful inspiration for a feminine bathroom refresh without ripping out any walls or doing major DIYing. Balancing young & fun with grown-up function, gather great ideas for a colorful, pretty girls' bathroom makeover that doubles as a guest bathroom, too!
Welcome to the bathroom that triples as our girl's bathroom, overnight guest bathroom and visiting guest bathroom. Yep, we're a 2-bathroom home, which means I have to keep the toothpaste cleaned out of the sink and the toilet paper (flushed &) fresh, otherwise my guests might run screaming from my home. (Just kidding, my friends are super sweet and would never say anything, but I'd be super embarrassed.)
I both hate and love that we only have 2 bathrooms. On one hand I can't hide our dirty mess, yet I only have to keep 2 bathrooms clean. Yay!
Shortly after we moved in 7 years ago, I made a few improvements to the builder-grade, beige-on-beige action going on in there.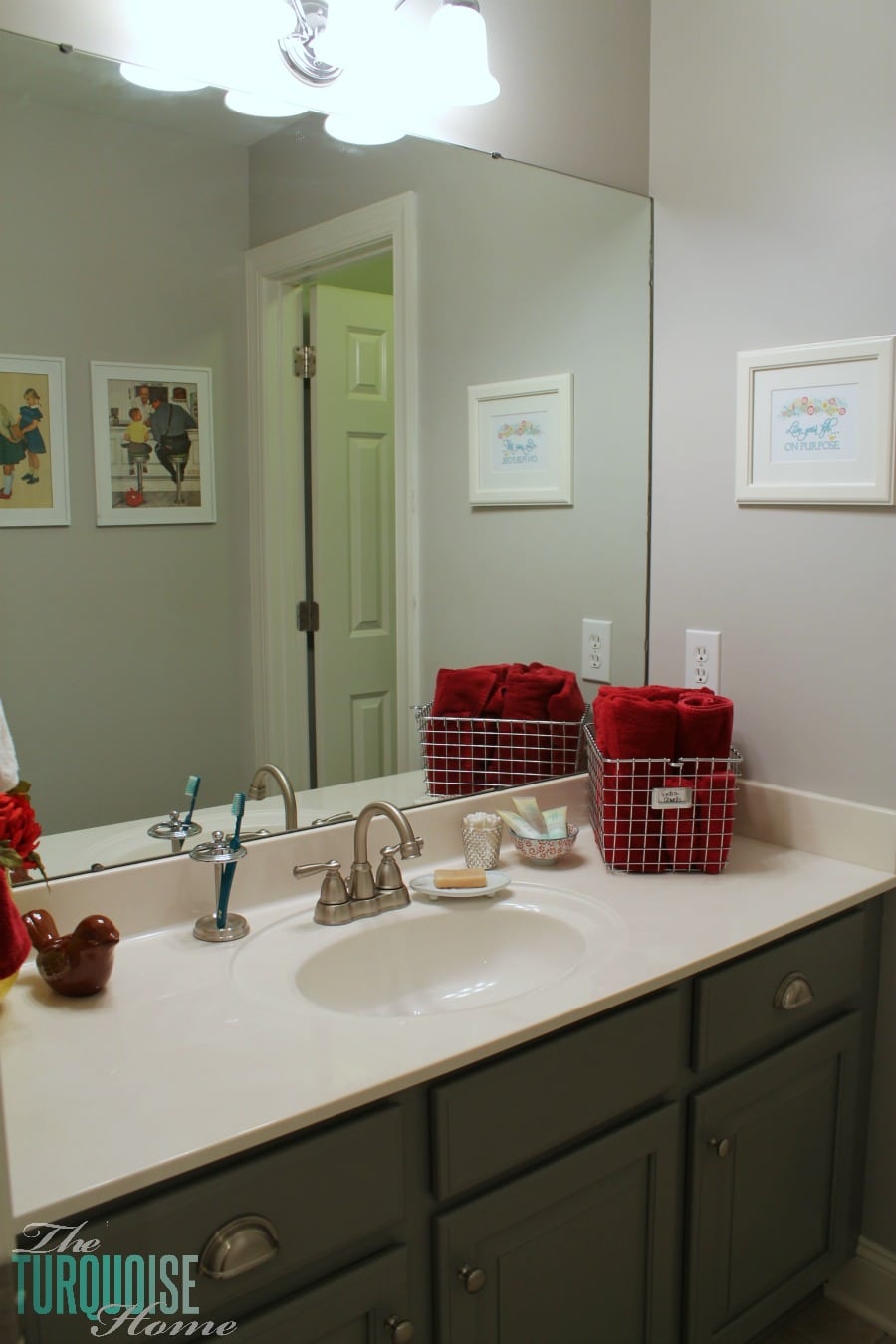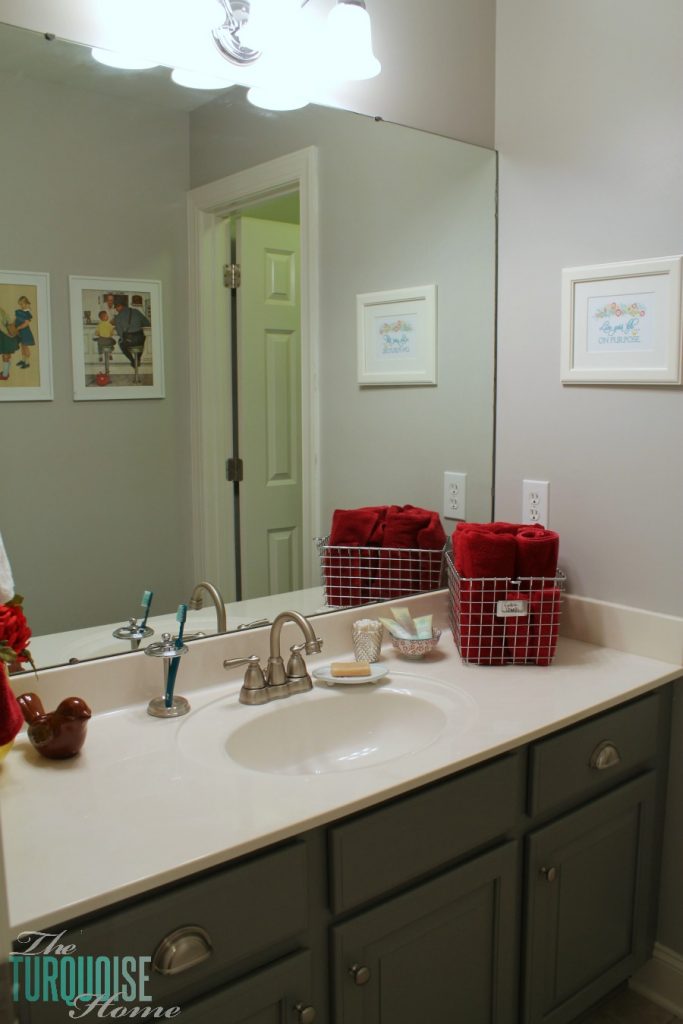 I hung some sweet Norman Rockwell prints that I inherited from my great-grandmother when she passed. (I just picked them out of a stack of her things because I remembered them hanging in her home.) Then I upgraded all of the hardware and painted the walls Oyster Pearl by Clark + Kensington (Ace Hardware's brand).
I painted the cabinets Ominous Cloud by Clark+Kensington (Ace Hardware's brand).
You can see almost all of the updates here in this post.
After that, I framed out the mirror to give it a more custom look, which I still love.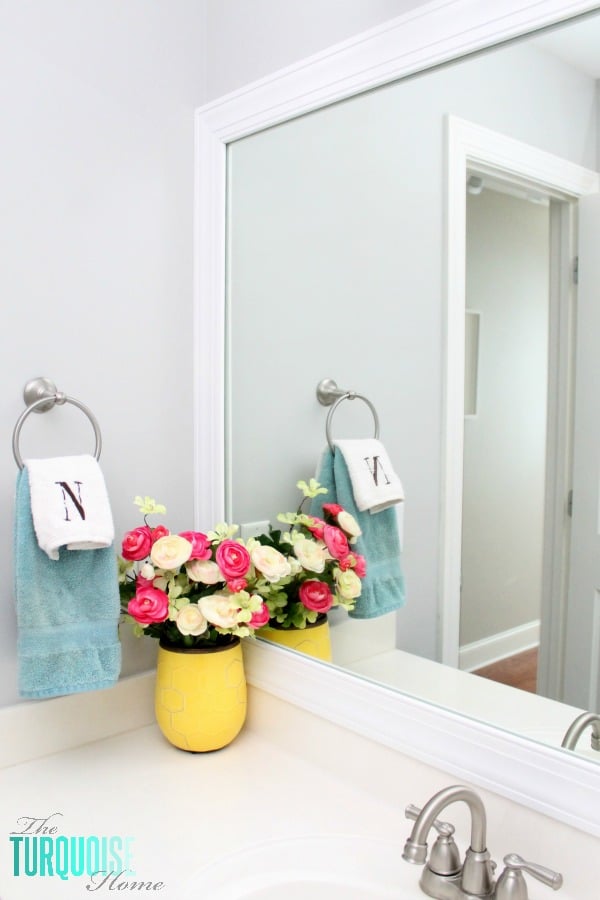 But after a while I grew tired of the pops of red, which I didn't really like in the first place. And when you look out of the bathroom from the inside you see the gray cabinets, gray walls and Revere Pewter gray walls in the hallway. It's just too much of one color.
I am changing the wall color, but you may be surprised that I'm not going to go crazy with color on the walls.
And I decided that it was time to spend some time doing a refresh in here, a little bit more feminine as a nod to my two girls and a more welcoming space for our guests. The toilet paper holder has been broken for a couple years now, which is kind of embarrassing. So, it's time to give it a new, fresh look!
The Girls' Bathroom Refresh Mood Board
So, without further ado, let's take a look at the mood board for the room. I always start with a mood board because it helps me see the elements all together. I've changed my mind multiple times during the vision board process, because pieces that I thought would look good together didn't actually look good next to each other.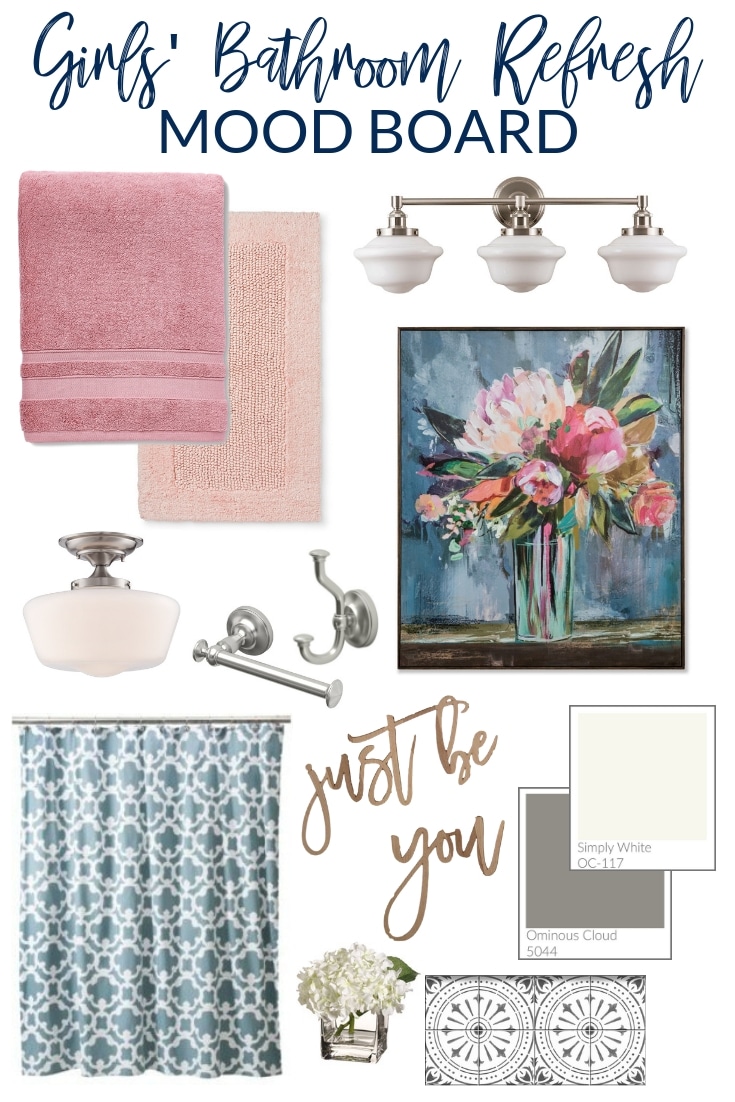 Pink Bath Towel (in Coral Reef) // Pink Bath Mat (in Porcelain Pink) // 3-Light Schoolhouse Fixture // Flush-Mount Schoolhouse Light // Toilet Paper Holder // Hook // Floral Art // Shower Curtain (not available, but similar here and here) // "Just be you" wood sign // Vinyl Floor Tile
Do you want to learn how to make these mood boards for your next room refresh or makeover? Get my "Fool-Proof Way to Create a Room You Love" E-Guide for just $7 with the code MBSPECIAL7.
The plans for the Girls' Bathroom Refresh
1. I am going to patch the hole in the wall where the toilet paper holder fell out and then paint the walls Simply White by Benjamin Moore. This is the same white I used for my kitchen cabinets and the board and batten in my living room. It's not too cold or too warm, but just the perfect amount of warmth in a white in my opinion.
2. I am going to replace the old "boob" light 😂 and light over the mirror with these schoolhouse-style lights. I have the same single light fixture in the hallway outside the bathroom and I love it! The 3-light fixture will compliment them both and I think it adds some feminine detail to the bathroom.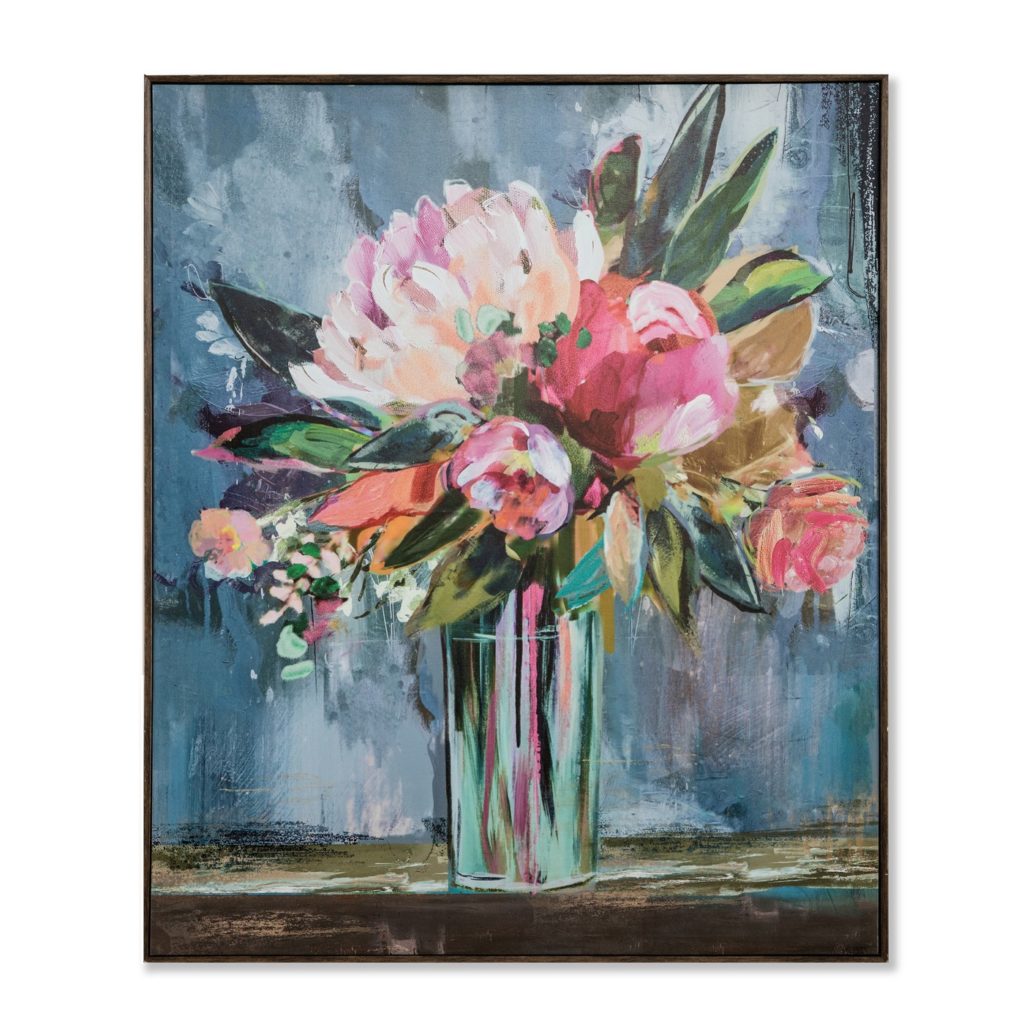 3. The Floral Art was the jumping off point for this refresh and it will go on the wall opposite the mirror. I love it so much!
4. The towels and bath mats will be pink!! I'm so in love with them and thankful to be done with the reds. I knew these would be perfect after I found the art. These were my second purchase of this whole makeover/refresh thing.
5. I will replace the current broken toilet paper holder with this toilet paper holder. And I plan to have some hooks on the walls for our girls to actually hang up their towels. #notholdingmybreath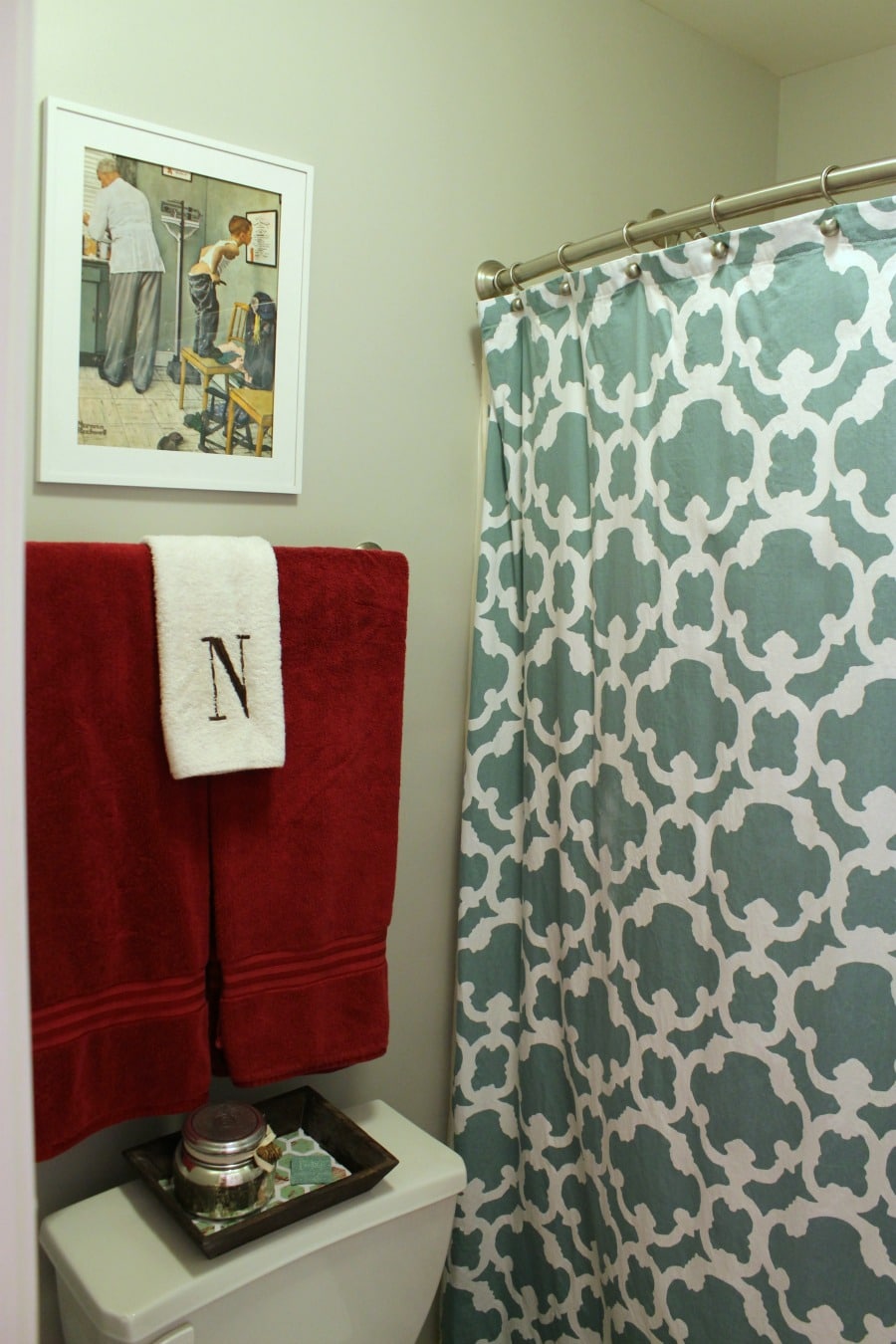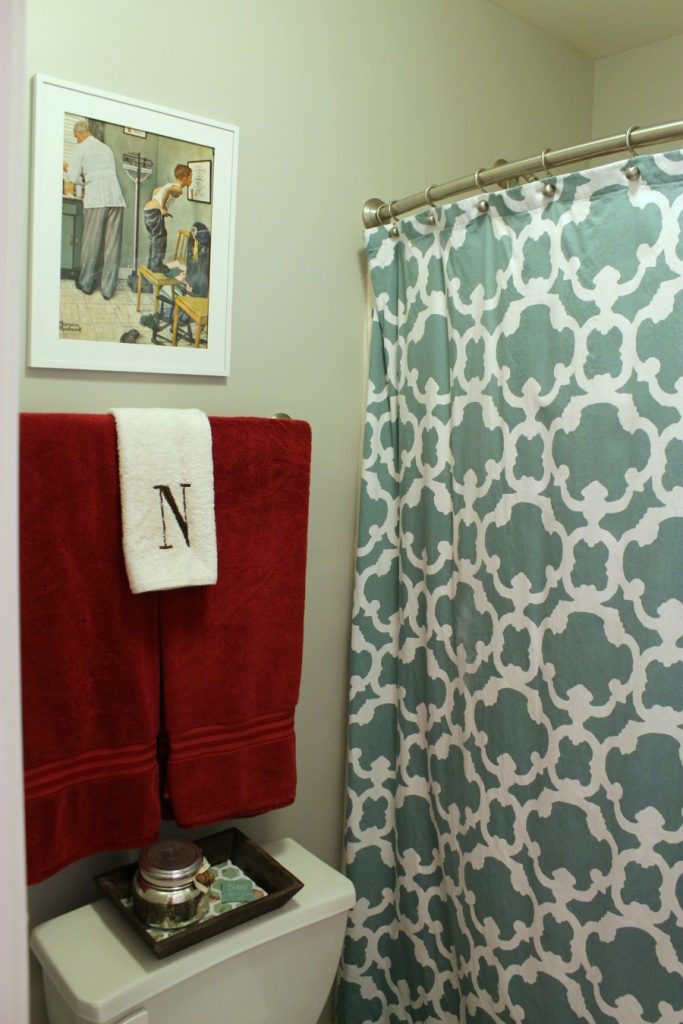 6. The shower curtain is staying the same! I bought it years ago from Goodwill still in the package from Target. It had a small red stain on it (looked like a spilled ICEE) that I was able to get out and I've been loving it ever since! (It was discontinued a long time ago, but I found some similar dupes for you: Moroccan Tile Motif Shower Curtain | Geometric Print Curtain in Aqua.) I think it looks great with the pink towels and the new art.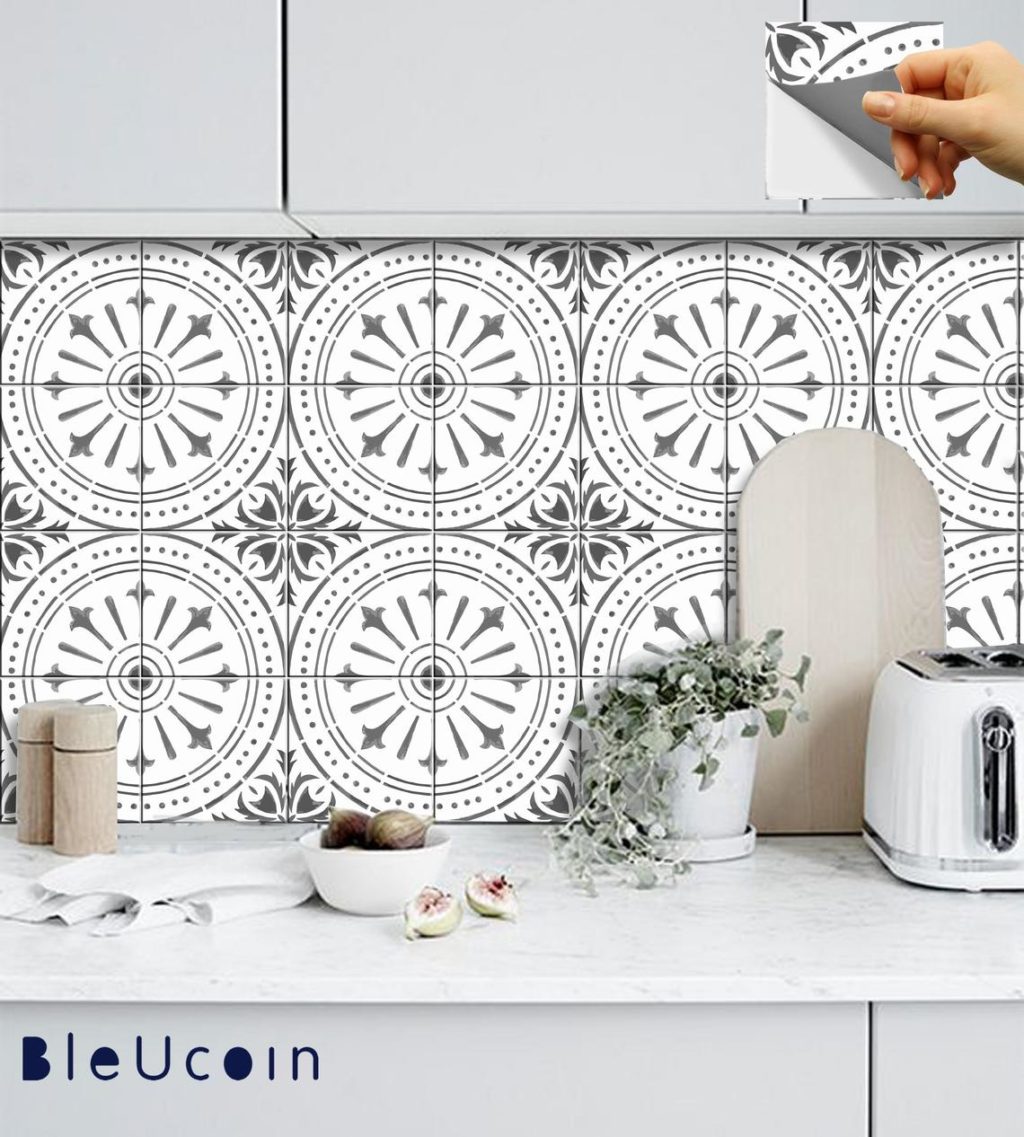 7. One of the most exciting changes is going to be this vinyl tile that I am going to put over the existing plain beige floor tile! I've been wanting to use this in multiple places in my house, so I'm excited to finally try it! There were several contenders for my favorite pattern, but I ultimately chose this Naples tile, because it coordinated well with the existing shower curtain and the colors.
8. The "Just Be You" wooden cut out sign is so pretty and one of the most important messages for my girls to know! I'm excited they will see it every day as they get ready.
9. And flowers, of course, because I love them!
So, that's the plan! I think I can finish this in a couple of weeks and it will look like a brand new space with just a little DIY and style changes. I can't wait to see how it all comes together!
What's your favorite thing? Is it the art or the tile? Let me know in the comments! Or chime in over on Instagram!
MORE POSTS YOU WILL LOVE:
Get Instant Access to my Guide to Customize Your Home on a Budget
Grab your FREE guide for 10 Ways to Customize Your Home on a Budget: simple projects to transform your home from builder beige to a home with character and charm!