Add big style to your small bathroom with budget-friendly items like bright paint, flooring with some personality and charming accessories. Just a few simple updates will give you a space you will love!
It's finally done!! That's right… the bathroom refresh I started in January and wanted to finish in February is finally getting the finishing touches in April. Ha! Better late than never, right?
I started off strong, as always, then about the 75% mark, I started dreaming (and purchasing) for my next makeover/refresh/room. Why do I always do that?!? 🤪
But because I make myself sit down at the beginning of each project with the end in mind, I was determined to finish this room before moving on to the next one. This is why I always create a mood board/vision board for my makeovers … so that I'm not tempted to quit mid-way through!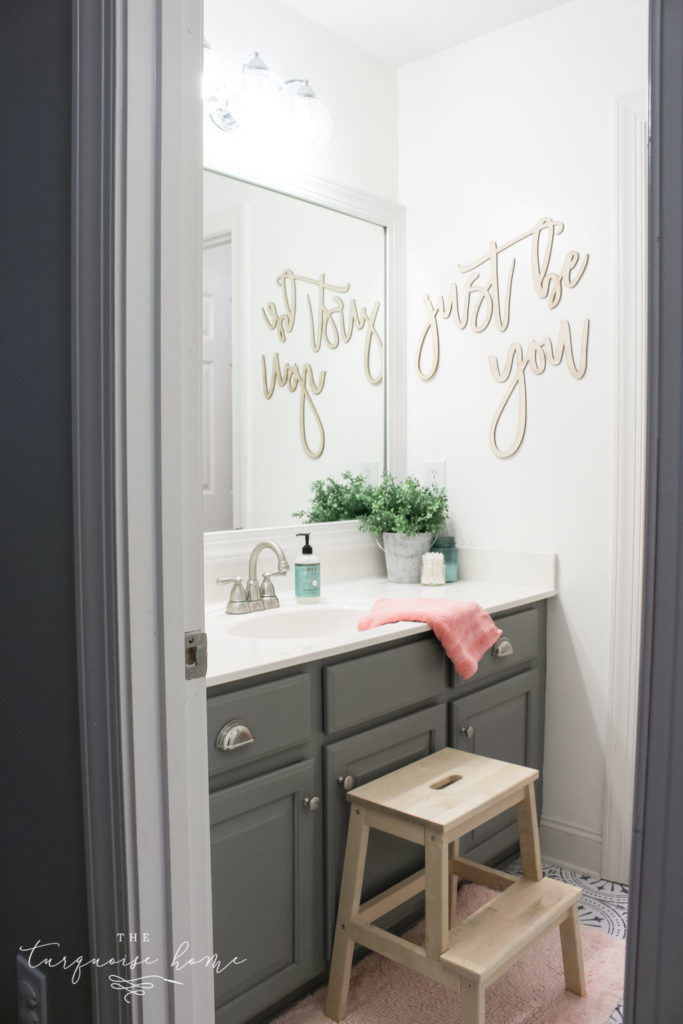 The overall plan for this small bathroom was to add a punch of personality and as much function as possible without creating bulk. This bathroom is very tight, so there's not any room for extra anything. Therefore I kept it simple and added personality with various finishes and accessories.
How to Create Big Style in a Small Bathroom
These are the overall ways I added personality to the space:
1. Give the Floor Some Big Personality.
I actually made the floor the star of the show in my bathroom. Because it's so small, I needed some wow factor. And the new peel & stick vinyl floor tiles were just the ticket!