How to Create Big Style in a Small Bathroom
Add big style to your small bathroom with budget-friendly items like bright paint, flooring with some personality and charming accessories. Just a few simple updates will give you a space you will love!
It's time to share the girls' bathroom makeover, which took a small bathroom and made it feel so much bigger, brighter and more beautiful without ripping anything out!
I make myself sit down at the beginning of each project with the end in mind, so I was determined to finish this room before moving on to the next one. This is why I always create a mood board/vision board for my makeovers!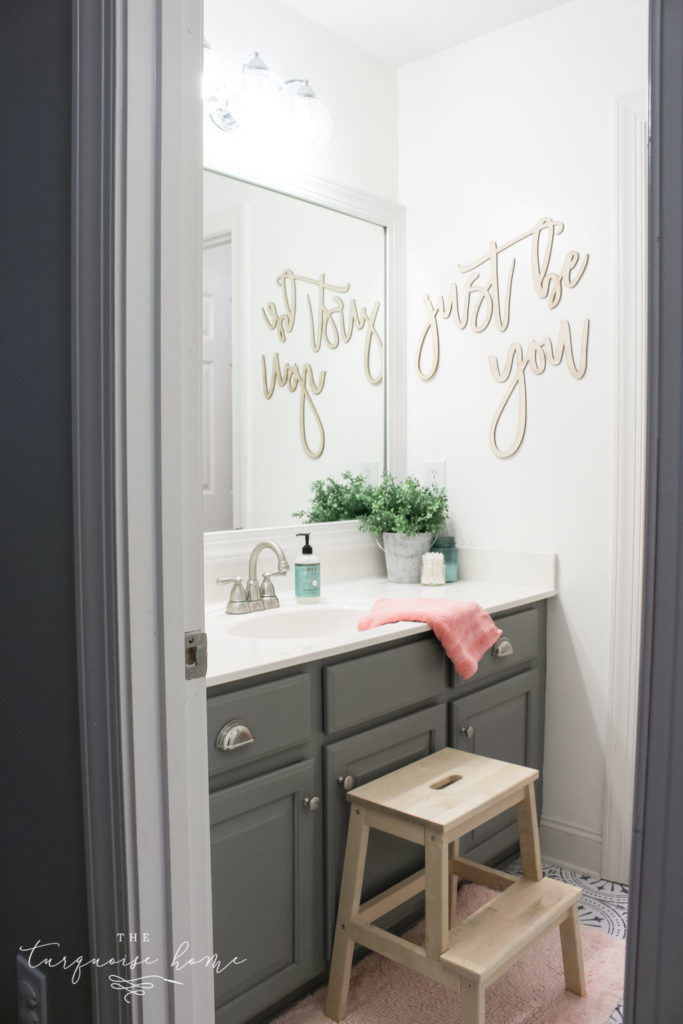 The overall plan for this small bathroom was to add a punch of personality and as much function as possible without creating bulk. This bathroom is very tight, so there's not any room for extra anything. Therefore I kept it simple and added personality with various finishes and accessories.
How to Create Big Style in a Small Bathroom
These are the overall ways I added personality to the space:
1. Give the Floor Some Big Personality.
I actually made the floor the star of the show in my bathroom. Because it's so small, I needed some wow factor. And the new peel & stick vinyl floor tiles were just the ticket!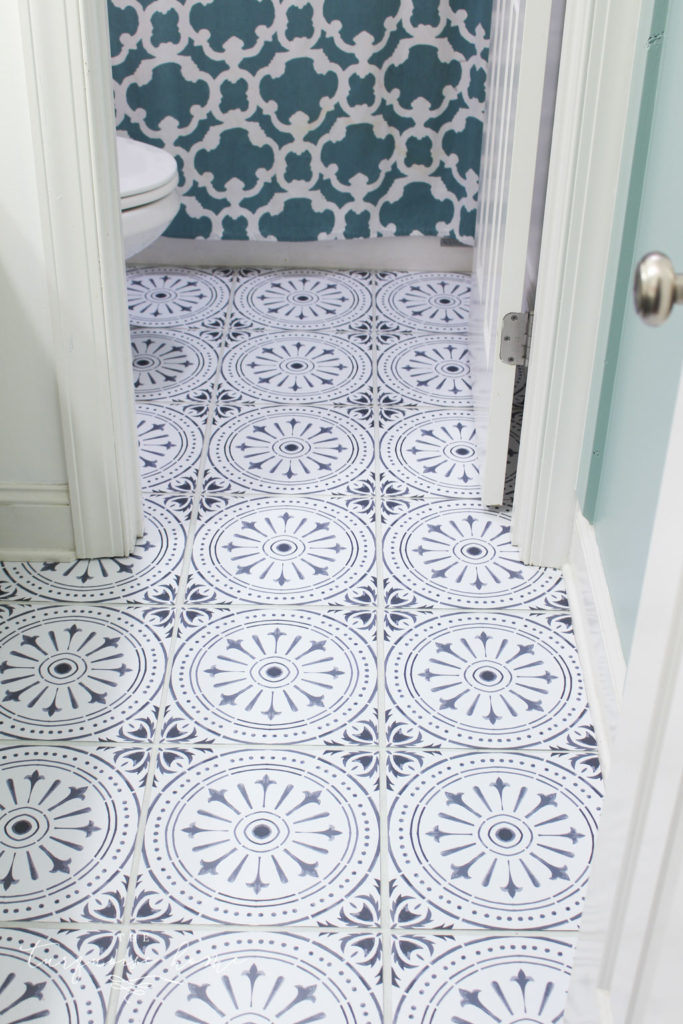 You can read all about my feelings and experience with the floor tiles, but overall I would definitely use them again. They've held up great for the month they've been there and I love the look!

Find other cheap flooring ideas here.
2. Replace the Lighting.
Either replace the lighting altogether, or do what I did and just replace the light shades on the current fixture. I gathered a bunch of budget-friendly bathroom light fixtures in this post. And I will probably use one of those to replace the lighting in here eventually.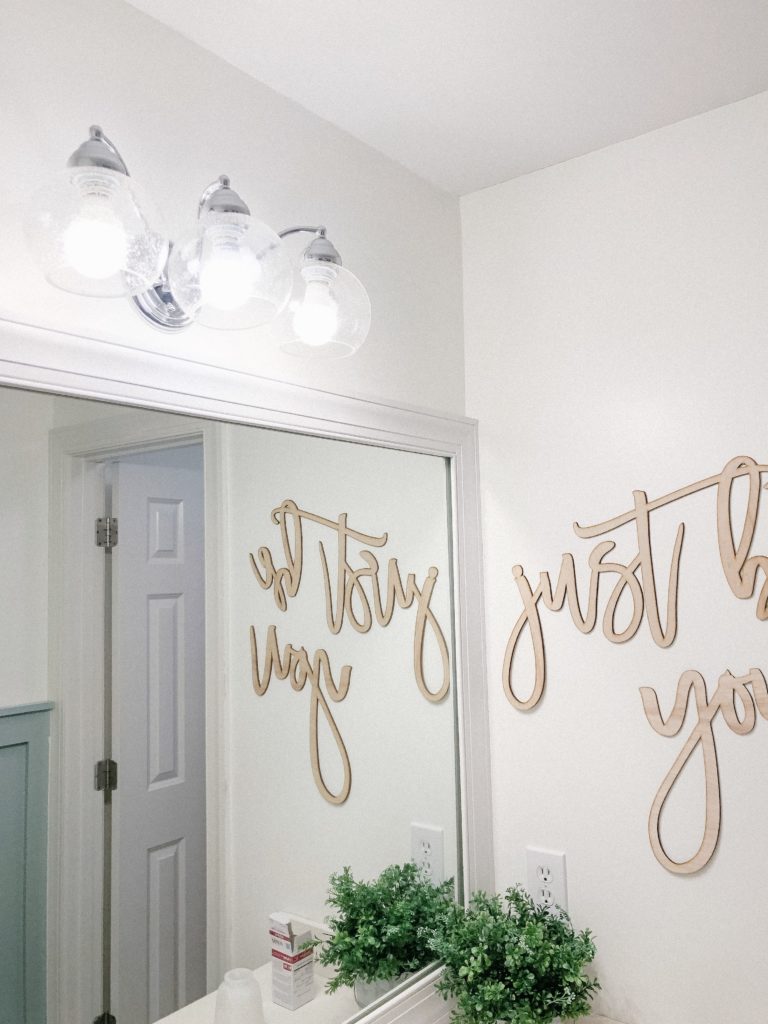 But I was ready to just wrap this project up. And so I replace the dated light shades with some new glass globe shades that made the fixture look more modern.
If you look closely that middle light shade is sticking out a bit further than the others, because I measured for the width of the shades, but not the depth. So, I've ordered some similar shades that will work, but they haven't come in yet. So, don't be like me 😉 and measure both for width and depth when replacing the shades in your light fixtures.
3. Install Smart Storage.
As with any small bathroom, it's a good idea to add smart storage via hooks, baskets, wall shelves above the toilet and shower caddies.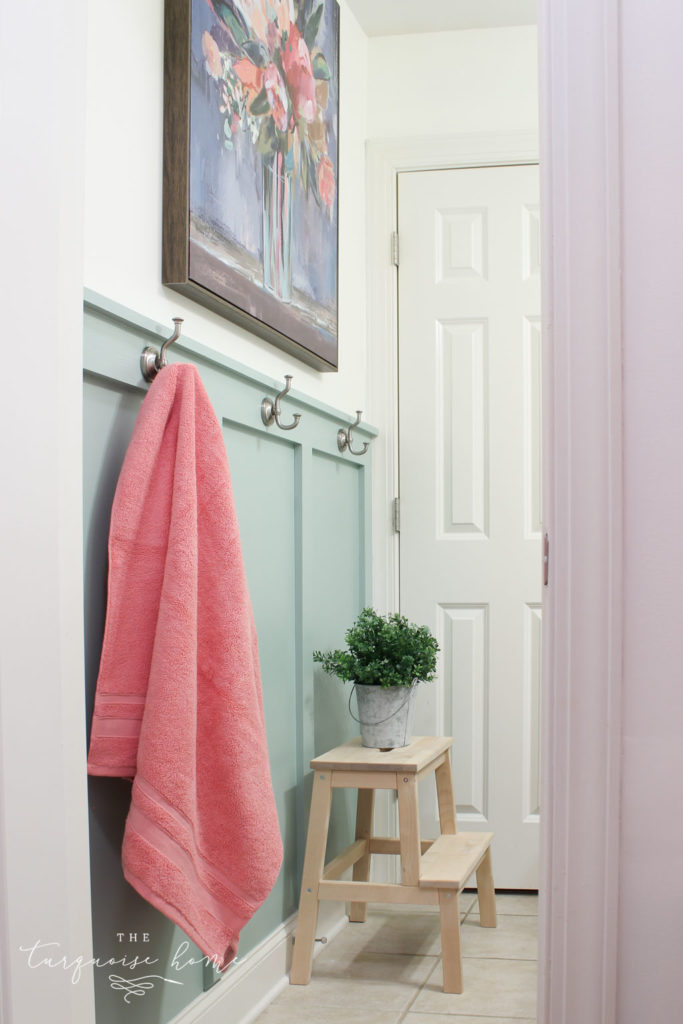 There's only so much room to use in a small bathroom and you still need to be able to hang up towels, clothes or anything else that you want to keep off the floor. If it's a guest bathroom and there's not much counter space, a guest can hang her toiletries bag on a hook for ease and convenience.
My girls are still young, so they can't reach the towel bar above the toilet. But they can reach the hooks we installed in our walls. I added a pop of personality with the colorful board and batten treatment (tutorial here). I could have just put hooks on the wall, but what fun would that have been?? 😉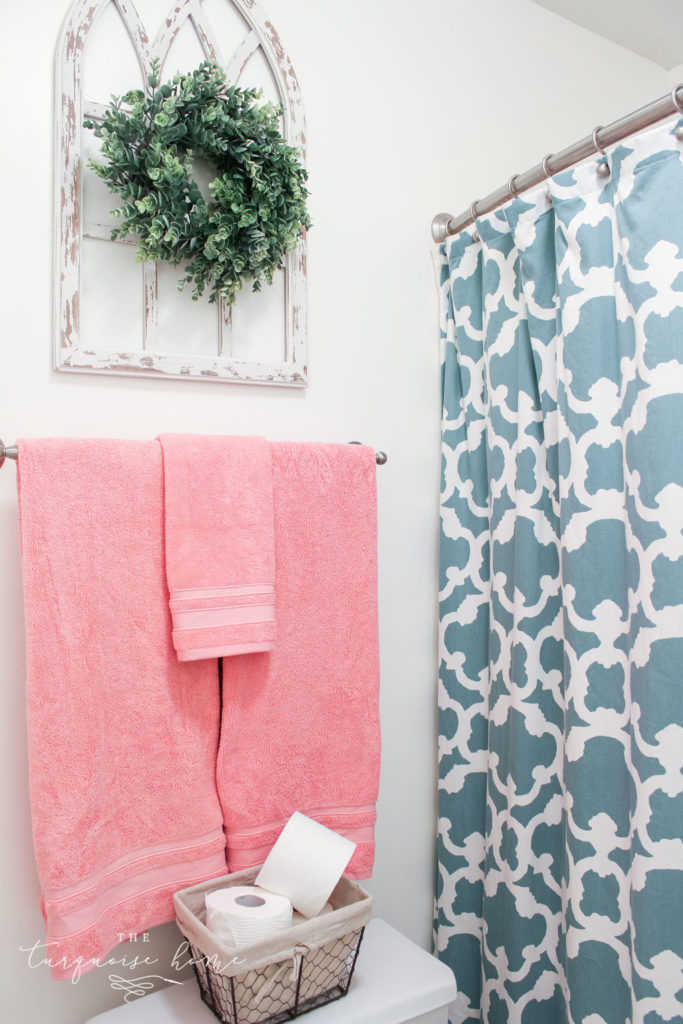 I love the idea of adding shelves or a cabinet above the toilet for personal hygiene storage or toilet paper storage. I decided to pass on that for now since we have plenty of storage in our vanity. But it's a good idea for down the road or if you still need additional storage space.
You can always add a basket to the top of the toilet for your storage needs, as well.

4. Add Charm with Signs and Art.
No makeover is final until you add the finishing touches with accessories like art and architectural decor. I took down the old photos from our bathroom and added in some personality with graphic signs, art, wooden cutout signs, an architectural window and a wreath.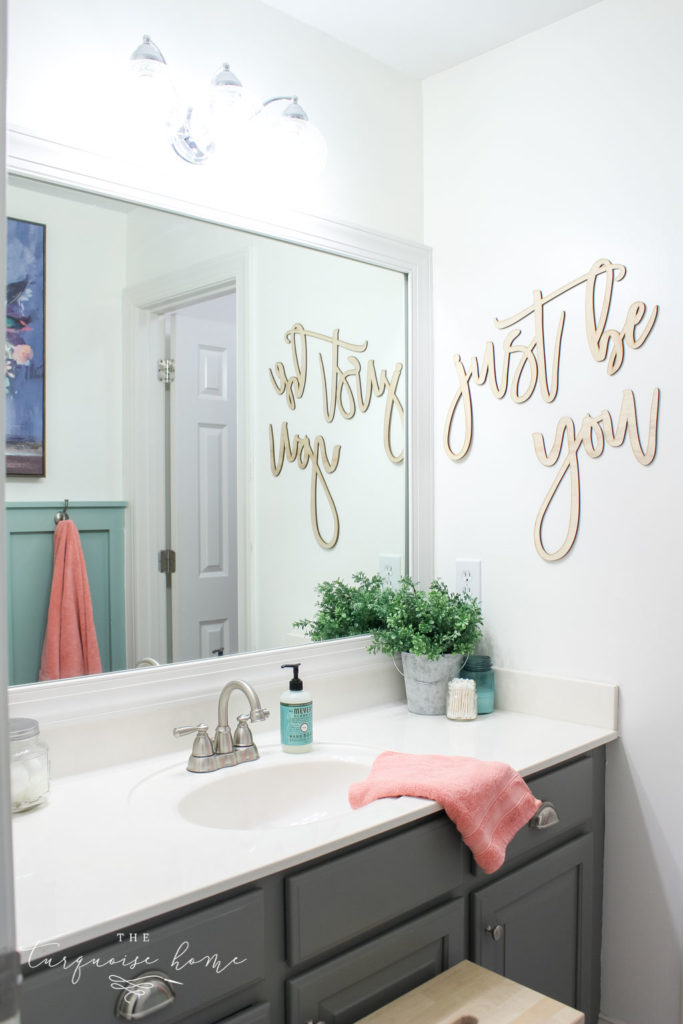 I love to vary the type of accessories I use. For example, I don't want to use all typographical signs because that can be just too much. Or you don't want to use all wreaths, because then it's just boring. So vary the types of accessories you use.
Charming accessories I used in my bathroom:
I added a pop of color with the towels and bath mats that I chose as well. I love having that pop of pink for my girls!

5. Brighten the room with Paint.
A great way to give big style to a small bathroom is by painting it a light and airy color to make it seem bigger! I went with the lightest of paint colors by painting my bathroom walls Simply White by Benjamin Moore since my bathroom doesn't get any natural light.
Read this post to discover the best white paint to choose for your space.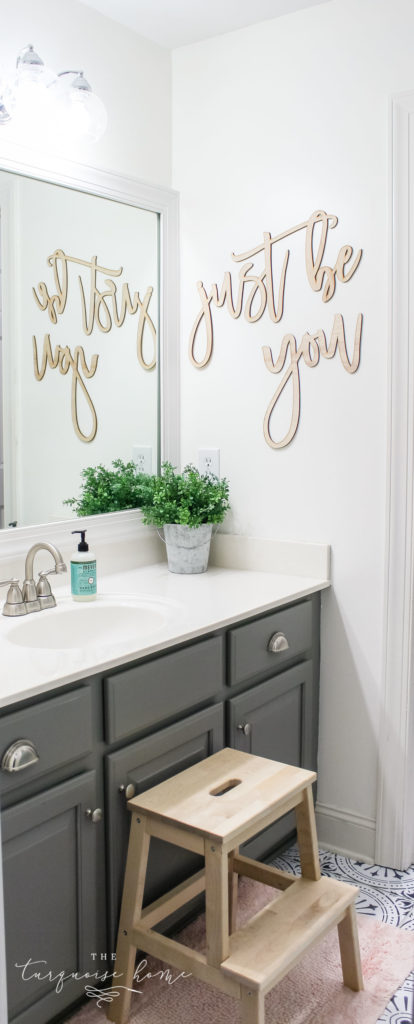 Even though the ceilings, trim and mirror frame are also white, I'm so glad I went with the white walls. They open up and brighten the space more than anything else.
Now, the white walls are the reason I went with a colorful board and batten treatment, but that's just because I need color in my home, too. ☺️
6. Frame Out the Mirror for a Custom Look
Instead of removing the large balder-grade mirror on the wall, I simply added a frame to it! It add so much personality with just a few boards, glue and paint!
Read the full custom mirror tutorial.
Before and Afters of the Bathroom Makeover
It's hard to imagine how the bathroom looked before, but I have photographic evidence of how much it was NOT my style. You can find more of the before pics in this post (click here).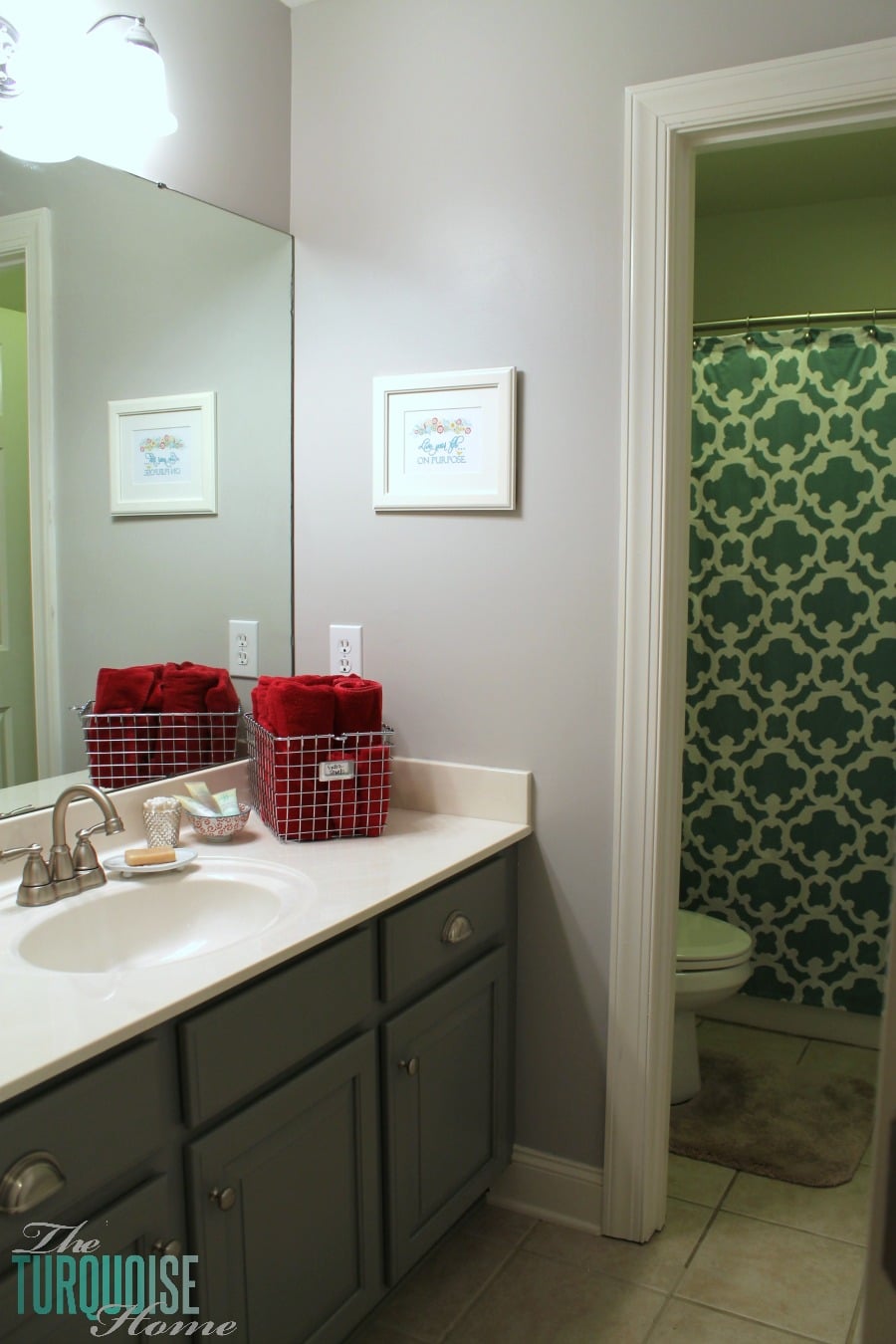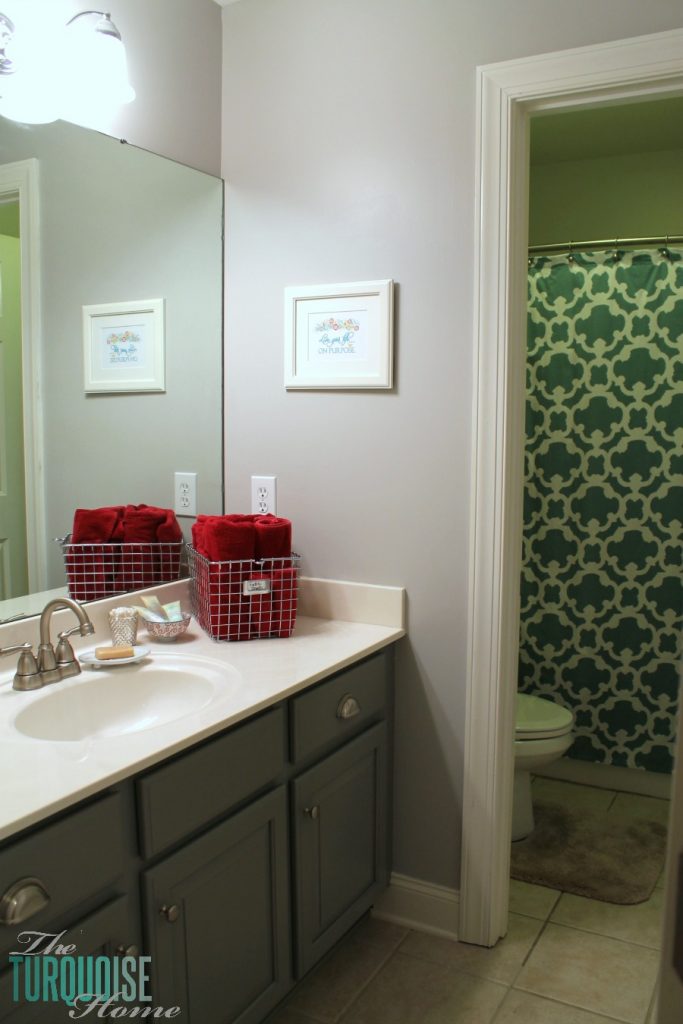 I loved the painted cabinets, but didn't love the walls or the decor.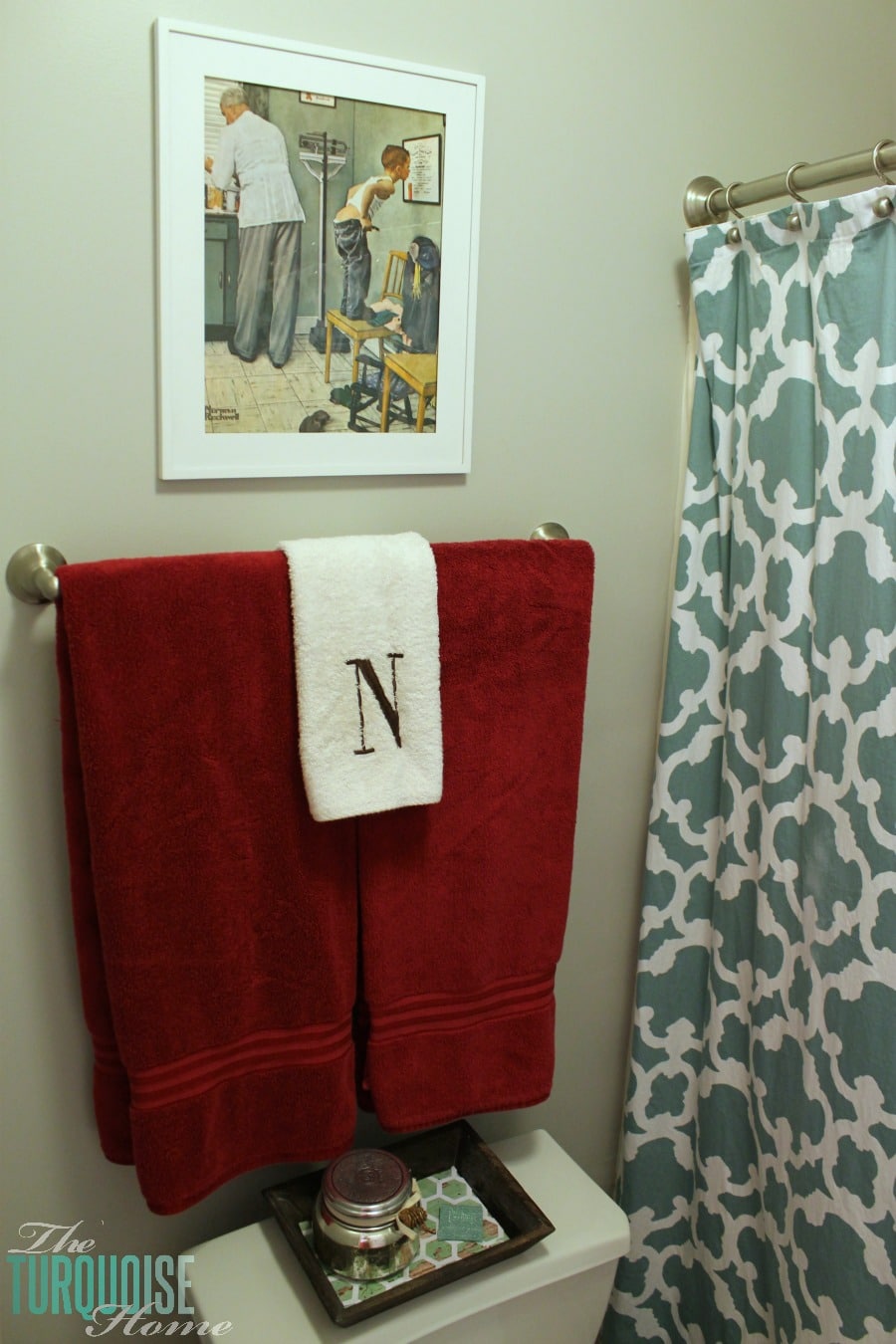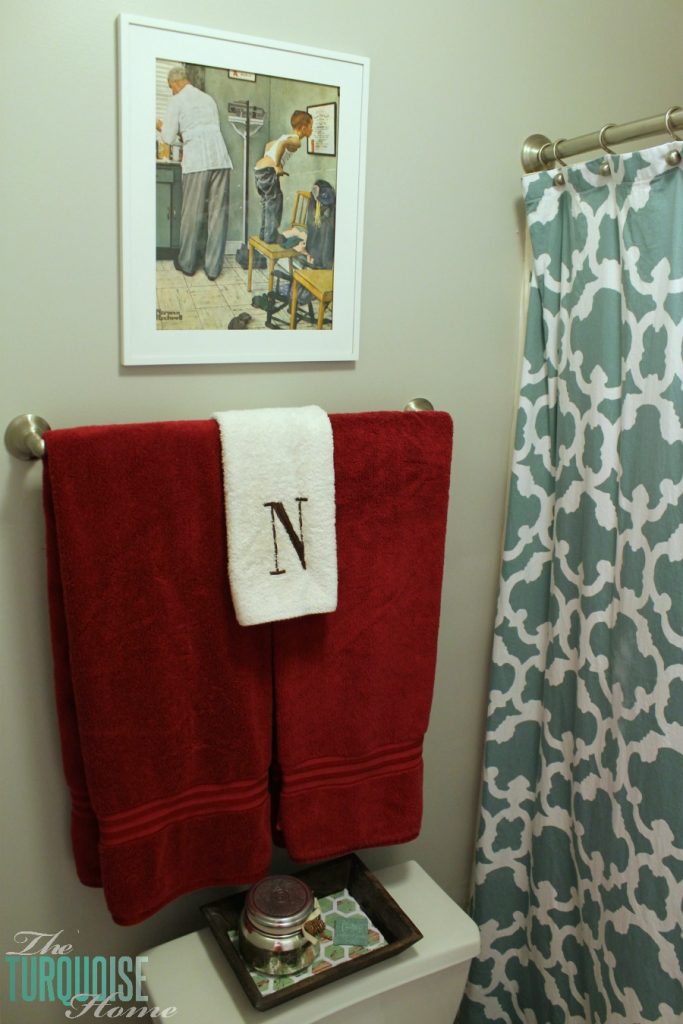 It was just lacking the finishing touches that made us feel like it was us. You know?
But now? We are so happy with how it turned out!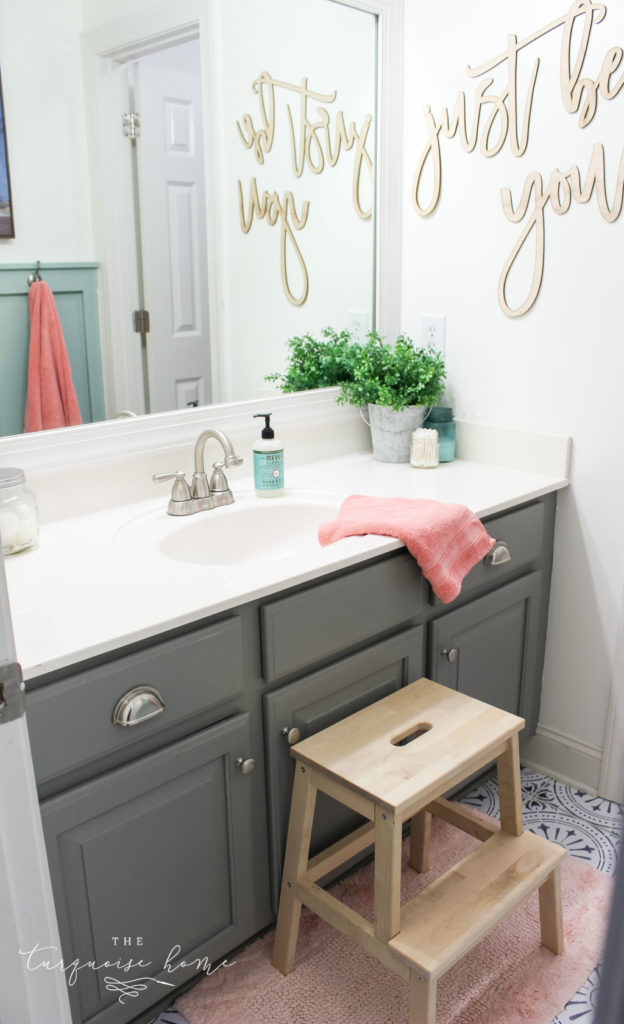 I'm so happy with how the whole room turned out. I know my girls love that it fits their style more. And it's so much lighter and brighter!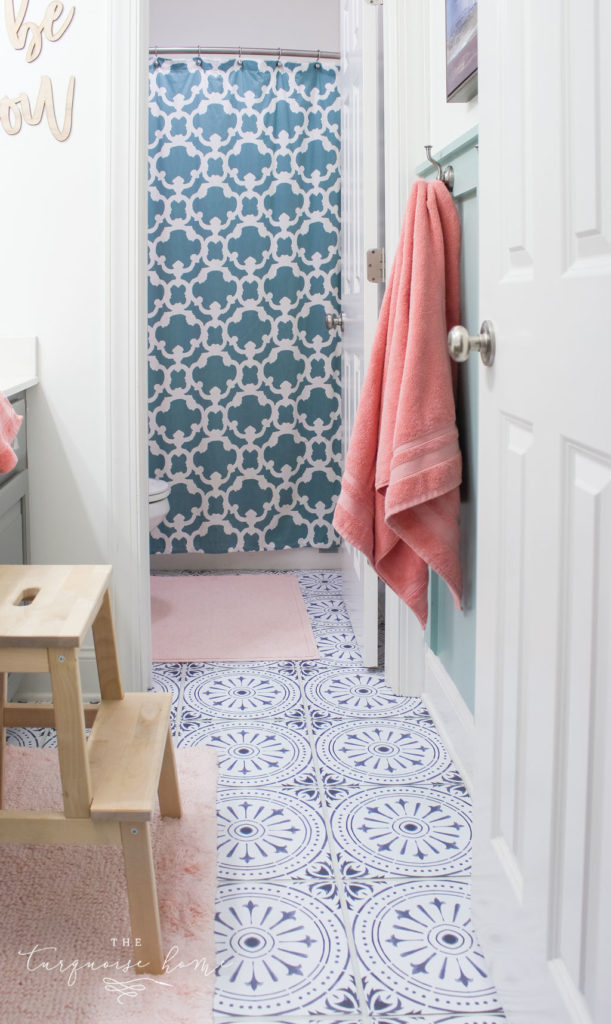 My youngest is 4 and she came into my bathroom the other day and announced that we needed to make it pretty, too! 😂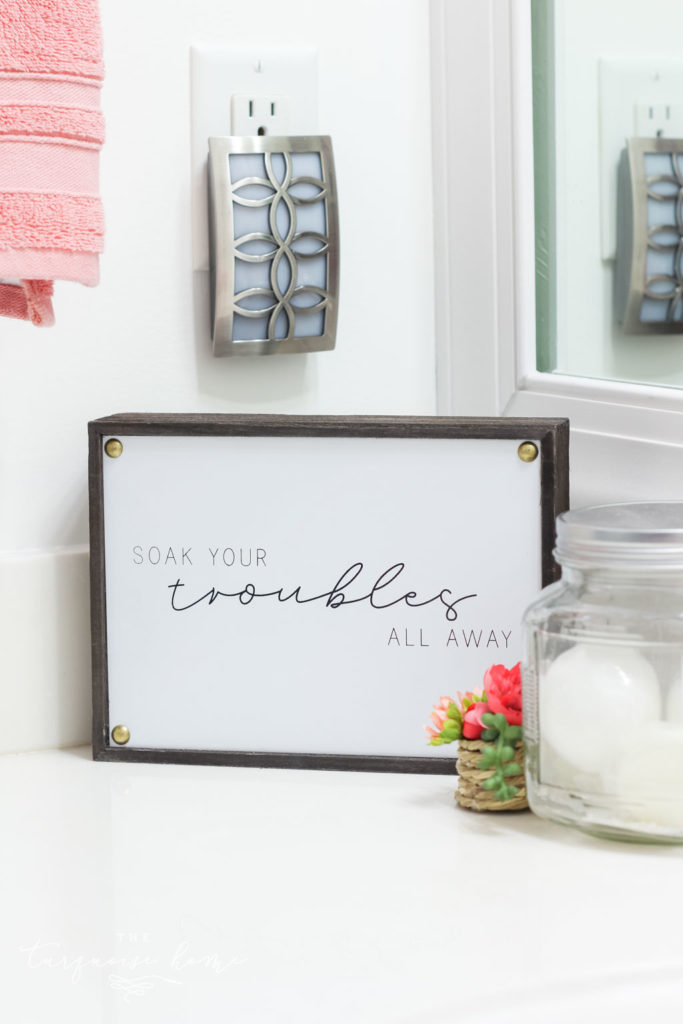 I guess that will be one of the next projects on our list since I haven't touched it since we painted when we moved in!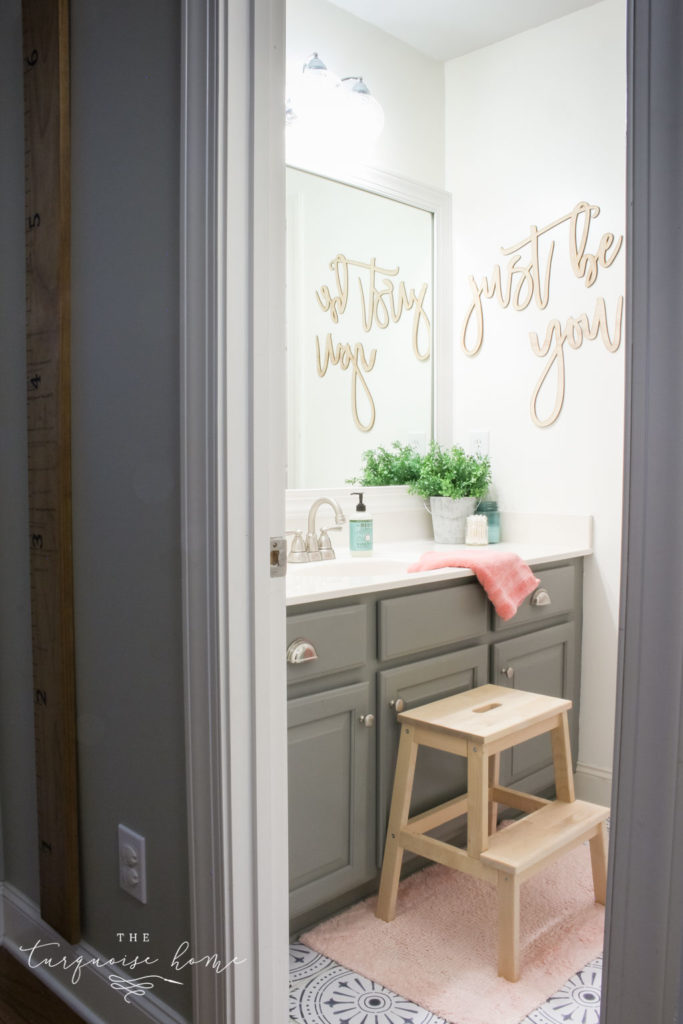 You might also notice how my photography skills have changed in the past couple years comparing this bathroom to the old pics. Ha! It's not easy to take pics of a room without any natural light, but I've come a long way.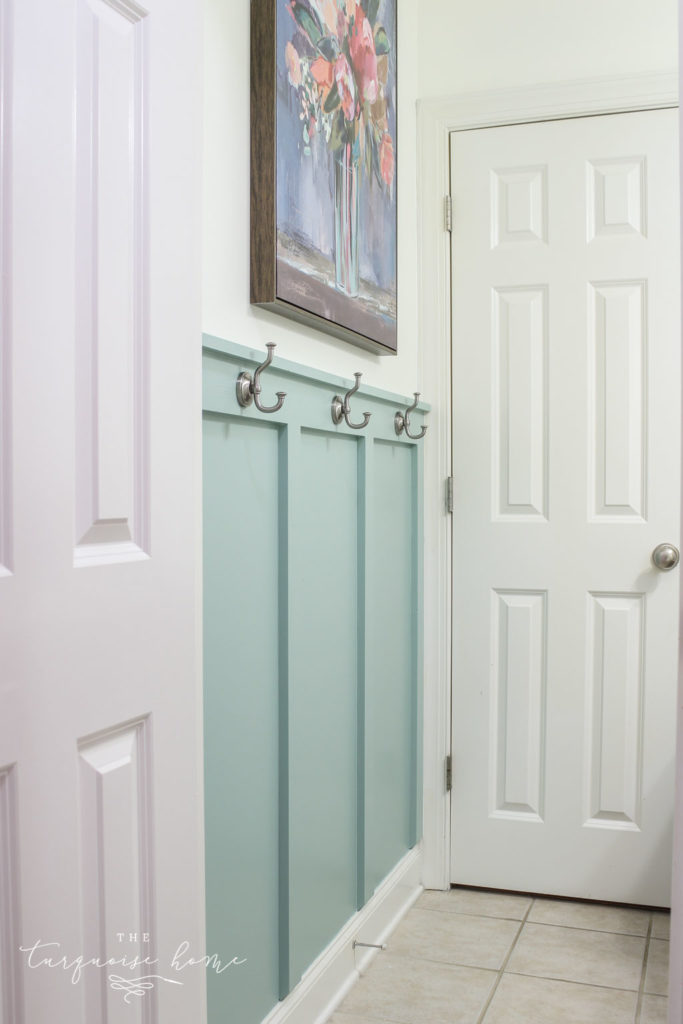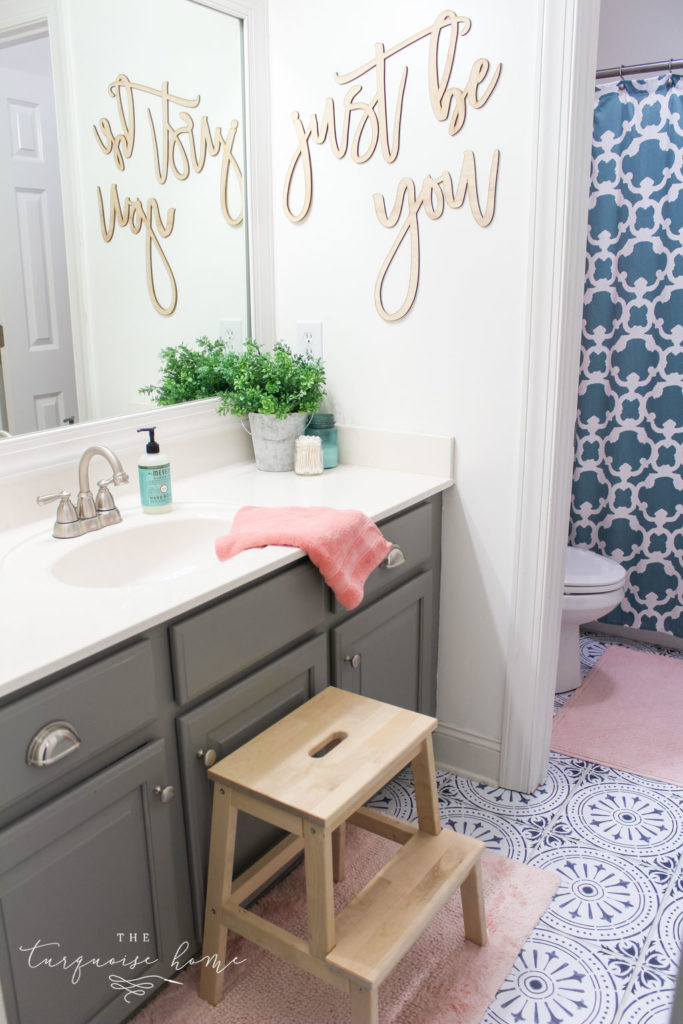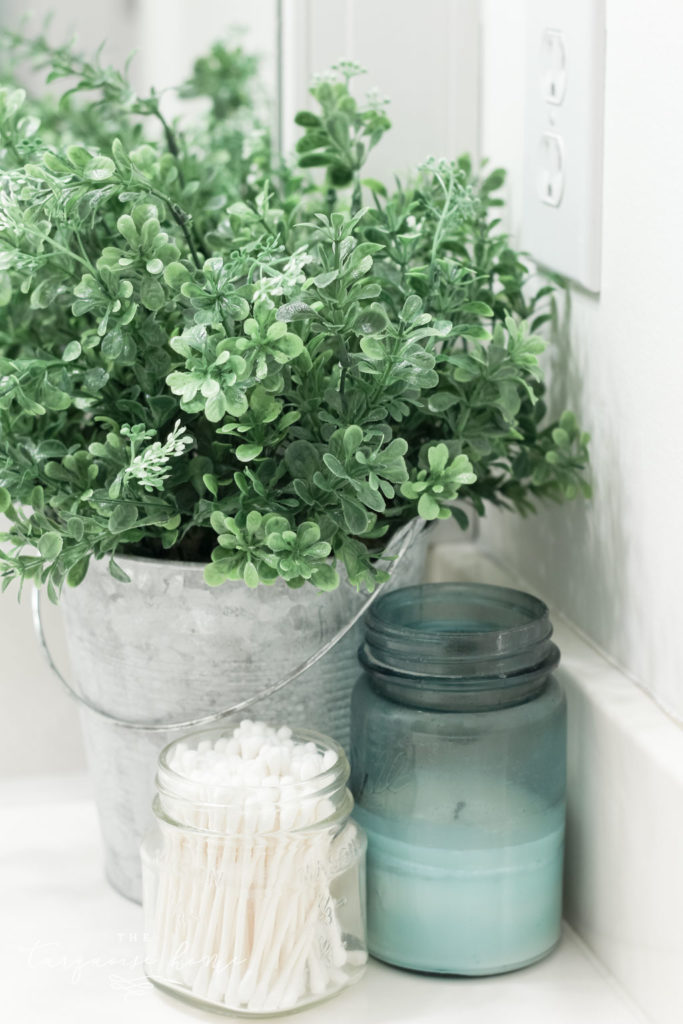 What's YOUR favorite way to add big style to a small space? I'd love to hear your ideas in the comments!
If you want to save this post to reference later, you can pin it here: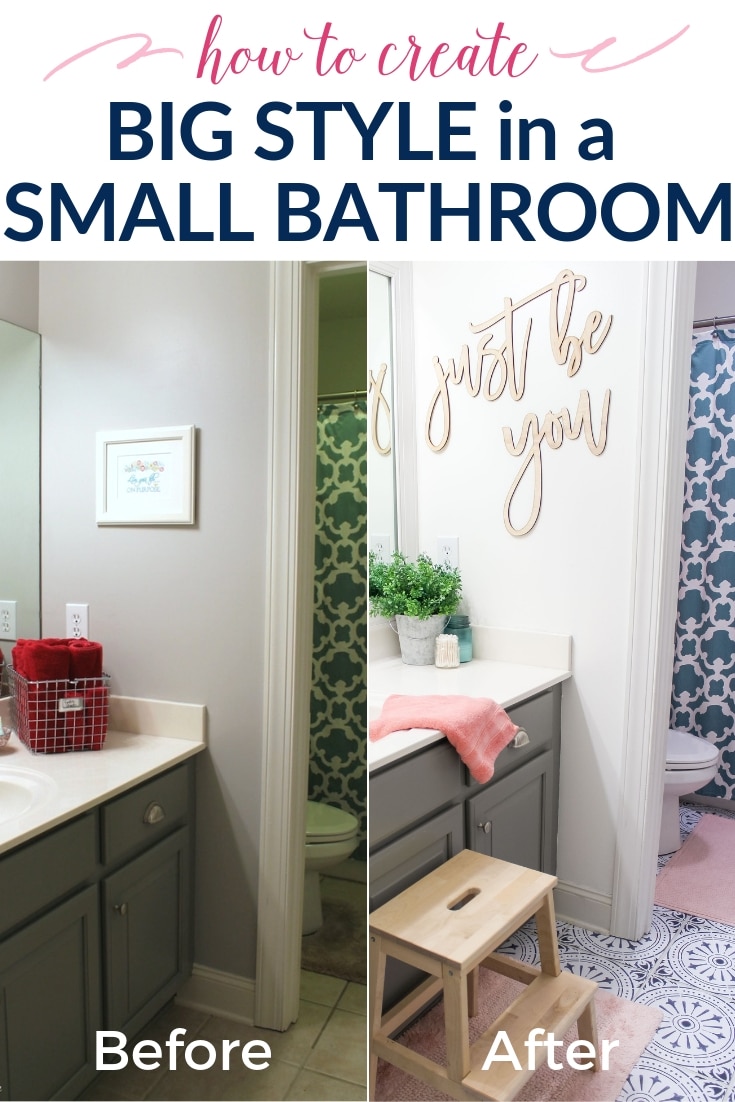 More about the process of the girls' (& guest) bathroom refresh (click the title to read the post):
The Mood Board and Vision for the Girls' Bathroom Refresh
Affordable Bathroom Lighting for Every Budget
How to Patch a Hole in the Drywall
The Best Peel and Stick Floor Tile Ideas
Girls' Bathroom Progress (and changing course)
Board & Batten in the Girls' Bathroom
How to Make Grout White Again
DIY Peel and Stick Vinyl Floor Tile
MORE POSTS YOU WILL LOVE: