DIY Lamb's Ear and Peony Wreath
This lamb's ear wreath with peonies is a quick and easy DIY project, perfect for the summer! The adorable "welcome" cut out sign brings it up a notch and gives it extra farmhouse charm.

This lamb's ear wreath idea was born when I used the lamb's ear stems with eucalyptus and lavender in this galvanized olive buckets on my summer mantel this year. I fell in love with the soft, fuzzy leaves that are such a pretty shade of green.
And I've been needing a new wreath on my front door, because my old burlap wreath was tired and needed to be redone. So, I thought this one would be super cute! What do you think? This post contains affiliate links for your convenience. See my disclosure policy here.
Supplies to make a Lamb's Ear Wreath with Peonies
18 inch grapevine wreath form (I get them from Hobby Lobby and use the 40% off coupon)
9-10 peony blooms (I also get these from Hobby Lobby when floral stems are 50% off)
10 lamb's ear stems (Hobby Lobby's stems are the best quality I've seen for the price, but they've been sold out for more than a month, so I ordered mine from Etsy. Lamb's ear stems on Etsy. You can also find it on Amazon.)
Welcome cut out sign, optional (I bought mine from Feather and Birch, a favorite shop on Etsy.)
glue gun
How to Make a Lamb's Ear Wreath with Peonies
1. Collect your supplies and cut down the stems to a more manageable length.
They will need to fit in the wreath, but not come far out the back side of the wreath.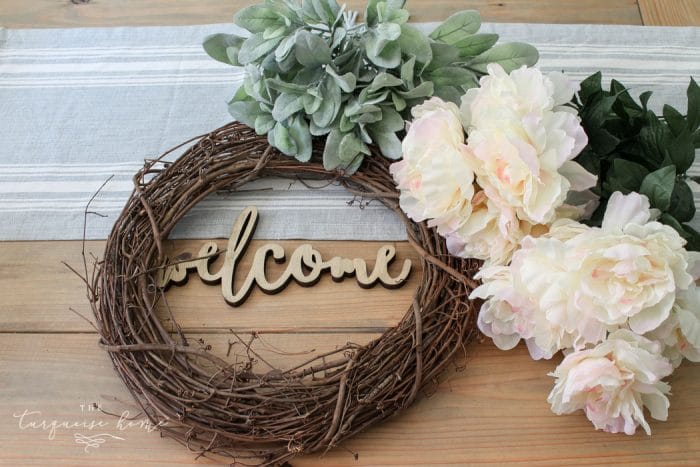 2. Pre-arrange the Flowers
Arrange the peonies first as you would like them by sticking the shortened stems into the grapevine wreath.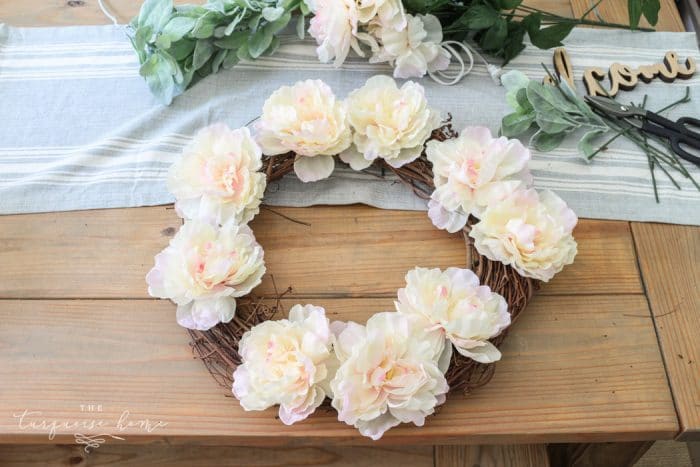 3. Add in the lamb's ear stems to fill in the gaps.
4. Hot glue the stems in place, once you have them arranged how you like them.
5. Affix the "welcome" sign using twine tied to the wreath.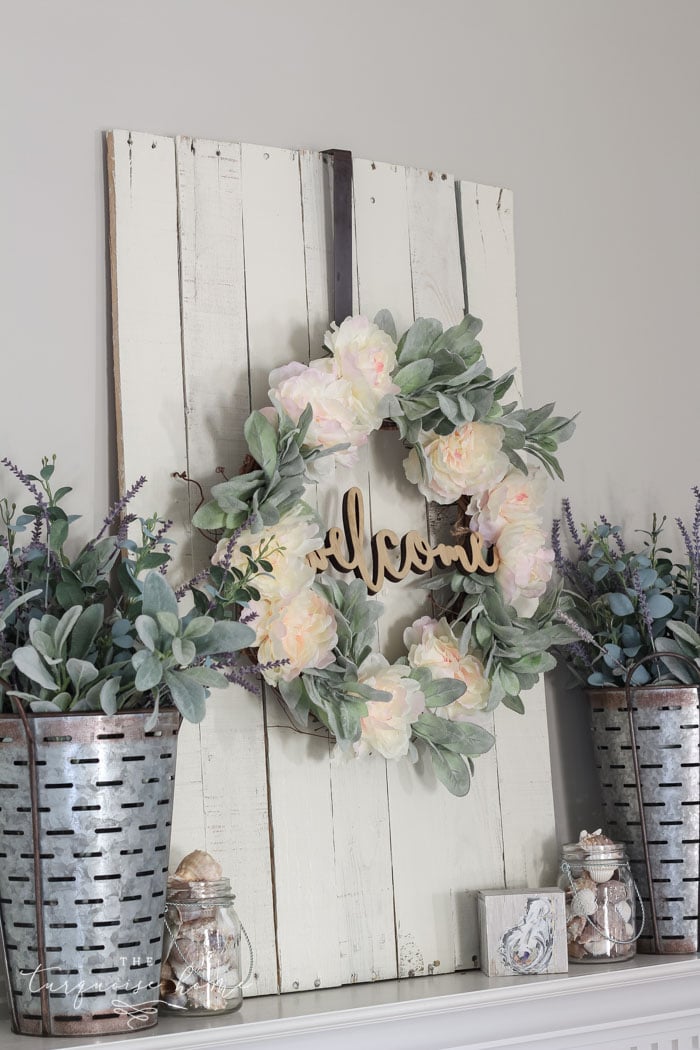 You're done! How easy was that and so cute?
It was getting toward the end of the day when I took these pictures, so the lighting was off. And I couldn't take a picture of it on the front door like I normally do because the afternoon sun was beating down brightly on the door. So, I opened the door and took some pictures so you could hopefully get the idea.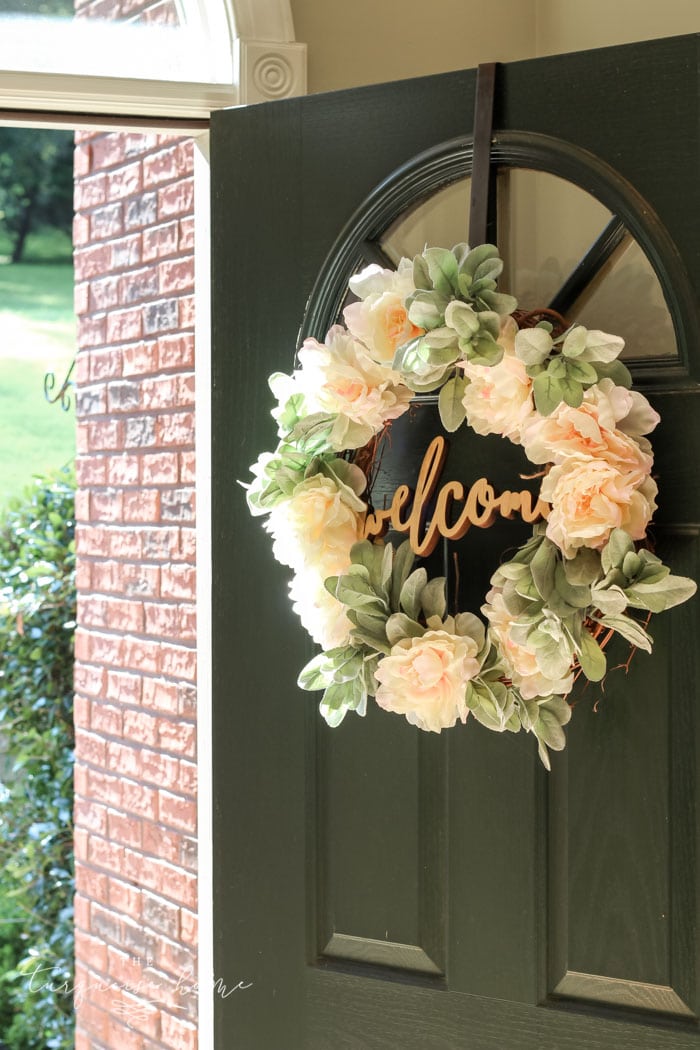 And I air conditioned the outside while I was at it. My dad always drove it home to never, ever leave a door to the outside open because we didn't want to pay to heat or cool the outdoors. Old habits die hard, Dad. It was all I could do to leave the door open long enough to snap a couple of pics. Ha! #quirkyconfessions #yallthinkImweird #frugal
More Great Ideas to use Lamb's Ear Stems in Decor
Lamb's ear and cotton wreath – perfect for fall! Just change the peonies to cotton bolls and you'r golden!
Add lamb's ear leaves to the end of a DIY Wood Bead Garland
Add lamb's ear stems to a galvanized bucket with eucalyptus and lavender stems (like on my summer mantel)
Mix lamb's ear with red berries for a farmhouse Christmas wreath
Accessorize a burlap wreath with lamb's ear stems and a pretty bow!
Add lamb's ear stems to a Christmas tree. Just stick it in randomly like any other decor!
Mix it in a vase with any other blossom or cotton stem, depending on the season! It will add that farmhouse charm to any flower arrangement in a heartbeat!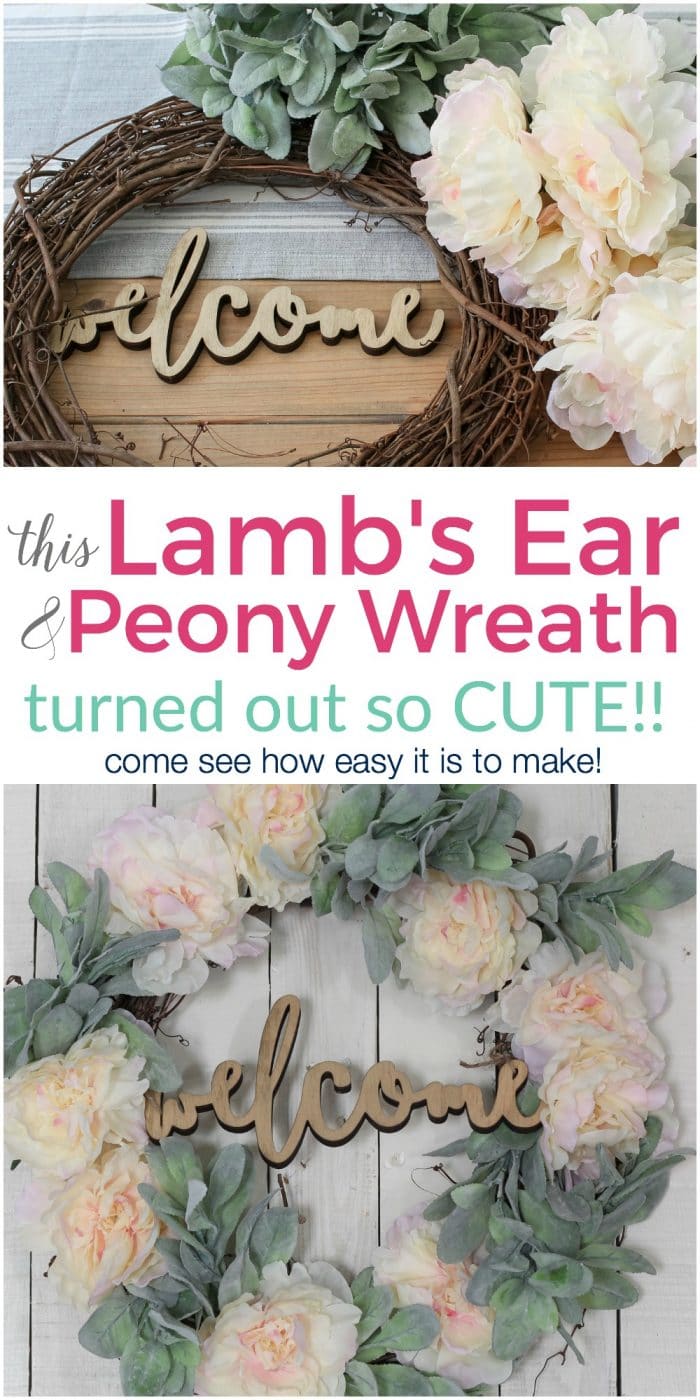 More Posts You will Love: