Do you sometimes want to spoil yourself or someone else with an expensive gift at Christmas? My husband and I will usually use Christmas to gift ourselves something that is a luxury item at the holidays. In the past that's been a Frame TV, and Apple watch or a Solo Stove.
So, I've gathered some of our most favorite "expensive Christmas gifts" we've given ourselves over the years in case you want to use this season as an excuse to buy something for yourself, too!
This post contains affiliate links for your convenience. See my full disclosure policy.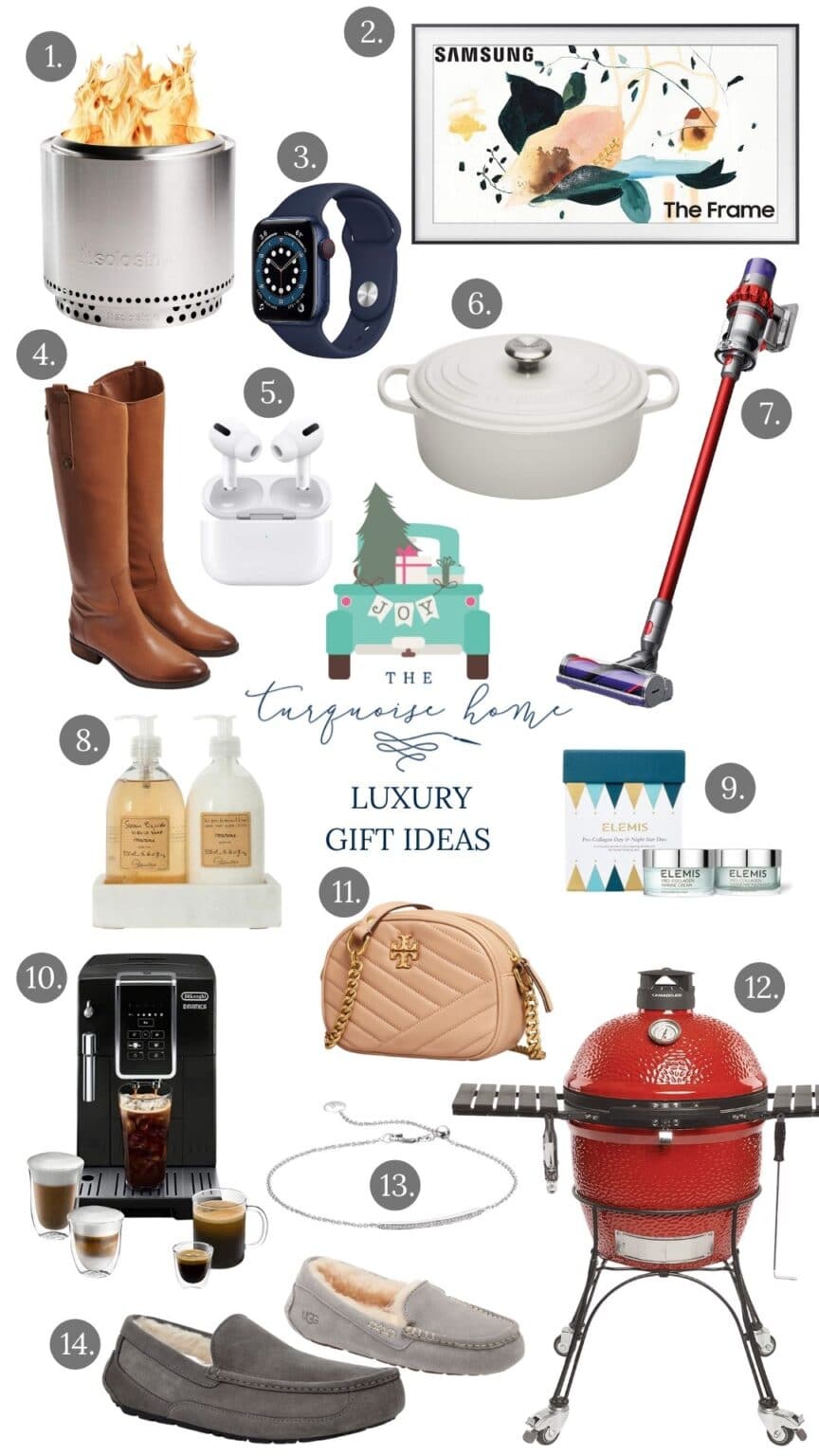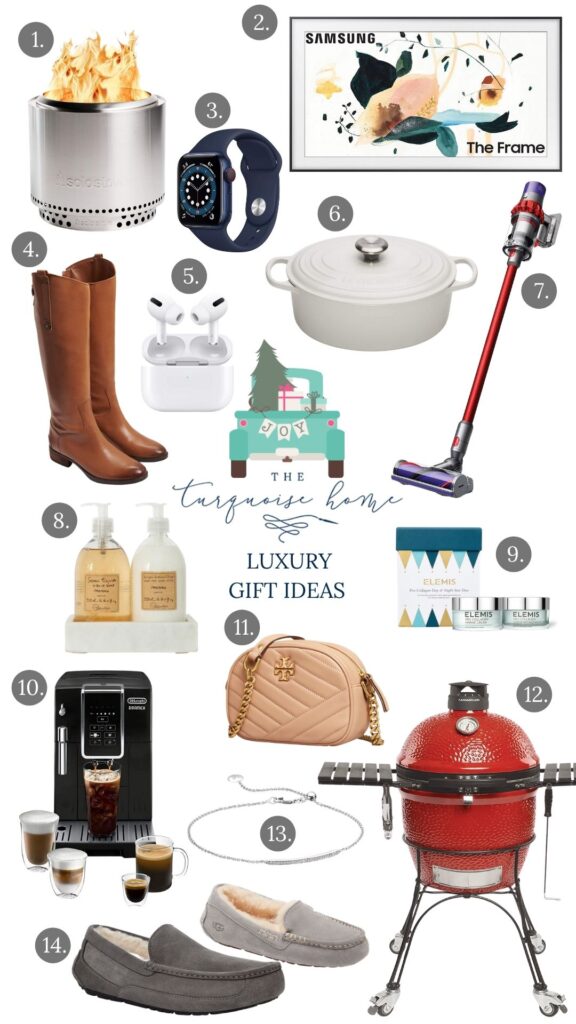 1. Solo Stove | 2. Frame TV | 3. Apple Watch | 4 Leather Riding Boots | 5. Apple Air Pods Pro | 6. Le Creuset Dutch Oven | 7. Dyson Stick Vacuum | 8. Hand Soap & Lotion Set | 9. Luxury Skin Care | | 10. Coffee and Espresso Machine | 11. Tory Burch Cross-body Bag | 12. Kamado Joe Grill | 13. Diamond Bracelet | 14. Ugg Slippers
Luxury Gift Ideas to Spoil Yourself or Others this Christmas
Honestly at our age, if we truly need something, we just go out and buy it. So the days of "asking" for small items are pretty much gone. I realize that not everyone had the same budget, so luxury items will vary by household. So, for some these will seem like a normal purchase and for others it will be way out of their budget. I get it!
My husband wanted this portable (although large) fire pit for a couple of years and we splurged on it last Christmas! It's so good and smokeless (if you follow the directions and get a good fire going). We love it for backyard s'mores cooking with our girls and friends. We have the largest size, the Bonfire.
We love. Love. LOVE. our Samsung Frame TV. It's one of our favorite purchases ever and I shared my full Frame TV review of it here.
I know these have been the norm for a while, but I still don't have an Apple Watch. We bought my husband's watch a couple of years ago on Black Friday as his big Christmas gift. And I'm thinking this might be the year I get one for myself. It's finally time. 🤪
My mother-in-law gifted these riding boots to me several years ago and I wear them constantly in the fall and winter. They never go on sale, so just go ahead and get them now! I love that they come in a wide-calf option, too!
I have had the regular air pods for years and use them daily. They are definitely a want, not a need, but gosh, they are so handy and good! I've been eyeing the air pods pro version for a couple years now and plan to upgrade soon!
I don't have one of these … yet! But it's on my wish list, for sure. I've heard nothing but wonderful reviews about the Le Creuset kitchen tools and they are just so beautiful, too! I'm also in LOVE with this gold handle that you can replace the one that comes with it. 😍
I know these Dyson stick vacuums are pricy, but I've had mine for 3 years and it's the BEST gift I ever gave myself. I use it every day for a variety of vacuuming situations and it's still going strong. LOVE it!
I recently splurged on some gorgeously yummy soap and lotion set in a marble tray. It feels so luxurious to level up an every day experience like washing your hands!
This Elemis moisturizer is some boujee stuff and I love it! Every so often I'll buy the gift size when it's on sale and use it sparingly. This would be an awesome way to treat yourself or someone you love.
These are really not too much of a splurge because they last for so long! I just replace the soles with these shearling replacements and they keep trucking. Find the men's slippers here and the women's slippers here.
If you want to replicate your coffee shop drinks at home, try this amazing coffee and espresso machine for all the coffee things: shots of espresso, long coffee, drip coffee, milk-based drinks like lattes and cappuccinos. It can also make iced coffee drinks that aren't watered down! 🙌🏻
I've never had a Tory Burch bag. I'm kind of a one bag woman and just use it until the wheels fall off. But if I were to buy a nice bag, I'd buy one like this! I've heard great reviews, of course.
Diamonds are always a good idea! I love that this dainty diamond bracelet could be worn everyday or stacked with other small bracelets for a more impactful look.
My husband LOVES this grill. And while it's quite a splurge, the meat that comes off this smoker is divine! He pretty much only uses this grill now even though he still has his gas grill.
MORE POSTS YOU WILL LOVE:
Get Instant Access to my Guide to Customize Your Home on a Budget
Grab your FREE guide for 10 Ways to Customize Your Home on a Budget: simple projects to transform your home from builder beige to a home with character and charm!