25 No-Fail Ideas for Housewarming Gifts
Here's a guide full of 25 clever and practical housewarming gifts that are perfect for the new homeowner in your life!
Housewarming gifts have a reputation for being regifted or thrown away. However, a thoughtful and practical housewarming gift can go a long way when making a new house into a home.
It doesn't take much to come up with a terrific housewarming gift idea, and your effort will be rewarded with sincere gratitude!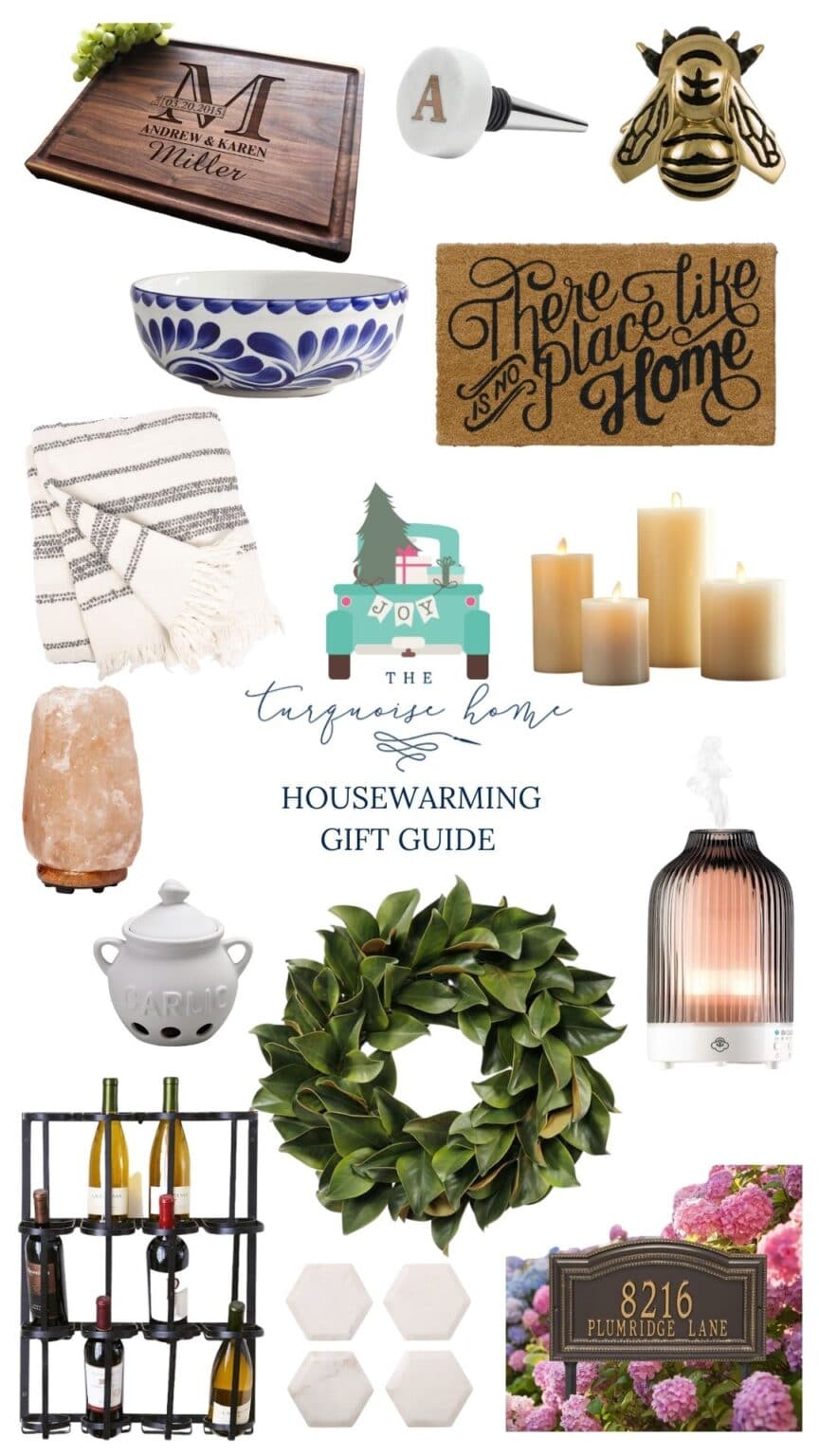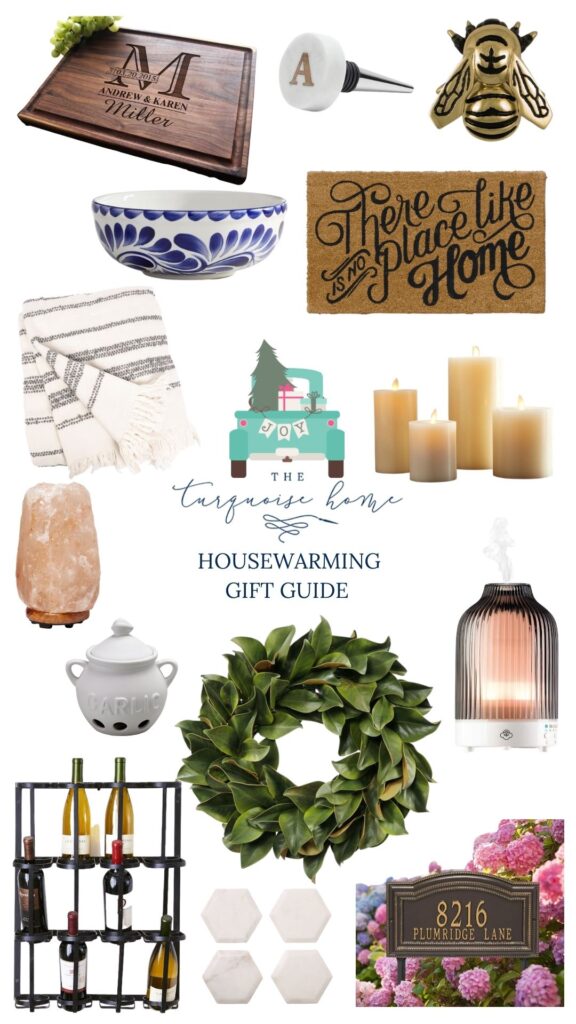 This post contains affiliate links for your convenience. See my full disclosure policy.
25 No-Fail Ideas for Housewarming Gifts
To help you choose the perfect gift even easier, I included links for many of these items. However, there are a couple of ideas that I wasn't able to link to since they involve buying multiple or local items.
Make the new homeowners feel official with this engraved wooden cutting board. Personalize it with names and a date – or any way you want to. It makes a great practical housewarming gift…as well as a beautiful piece of decor to display in the house.
This a great traditional housewarming gift. When it comes to giving a potted plant, you can easily go two different ways. Pick a faux plant that looks beautiful and requires no work at all, or go with a houseplant that's easy to care for. I love The Sill for beautiful and easy potted plants.
Make sure to choose a stylish pot for it so that it's also an instant piece of decor!
Related Post: The 3 Easiest House Plants + Indoor Plant Care Tips
Adding ornaments to the tree that mark special events through the year is a fun tradition and also makes a thoughtful housewarming gift idea for anyone who moves in anywhere around the holidays.
You can also use a house ornament as a housewarming gift for other times of the year as a decor piece.
A stylish address plaque makes an excellent practical housewarming gift! It's a small item that makes an impressive first impression for the house and some instant curb appeal.
Every hostess needs a well-stocked wine supply. An ultra chic wine rack makes a thoughtful and practical housewarming gift.
As someone who tends to misplace her keys, a key holder is a must!
Choose a stylish piece that can double as a piece of decor or can function as a note board for important household notes.
Every home needs a throw blanket. Something that not only looks wonderful but also gives a house a homey feeling.
Gift the new homeowner a chic blanket that doubles as home decor and a tool for staying warm.
Just as every home needs a throw blanket, every home needs plenty of dish towels. You can never have too many dish towels!
Pick a nice neutral color scheme or if it's near the holidays, you could also go with a fun holiday design.
Speaking from experience, a front door mat can be one of the last things a new homeowner thinks to buy and put into place. Save them the hassle by buying a cute doormat as a housewarming gift!
If they haven't already hopped on board the salt lamp trend yet, it's time. A salt lamp not only helps to ionize the air, but it also fills the room with a beautiful subtle glow.
This housewarming gift idea is a winner!
So. Many. Beautiful options. A traditional housewarming gift such as a coaster set can add a small but lovely conversation piece for the home – all while preventing water stains on the furniture.  
Give a traditional housewarming gift like a serving dish. Every hostess needs one, and every home can use decor pieces to display. It makes a practical, beautiful, and thoughtful gift idea.
Every wine drinker needs a few wine bottle stoppers!
Choose from colorful and cheery or classic and chic. Either way you go, it's a useful gift that homeowners will appreciate. Add a bottle of wine and it's the perfect gift set!
Gift a vase full of fresh flowers. It's a practical gift that can be reused later and the flowers can be enjoyed immediately!
Cut flowers in a vase are a great gift for someone who enjoys flowers but doesn't want to care for a living houseplant.
A door wreath adds instant curb appeal and homey vibes to any door. Choose an everyday wreath, one for the season, or one in colors that will look lovely with the house.
It's a thoughtful and traditional housewarming gift that's sure to please.
Candles make a great housewarming gift because they add a quiet yet powerful ambiance of tranquility to any space. When someone has just moved into a new house, tranquility is a welcome relief to the chaos of moving.
Pick everyday or seasonal versions, depending on the time of year. Bonus points for choosing flameless candles!
17. Housewarming Gift Basket
Gift baskets make great housewarming gifts because they tackle general topics with multiple items. Plus, who doesn't love receiving a gift basket – it's like Christmas for adults! You can easily grab a basket or a bucket and fill it with items by theme.
Some ideas include movie night, gardening, tools, relaxation, and more.
This is a genius housewarming gift idea! Your friends and family will think of you every time they grab a warm towel out of their home towel warmer.
19. Gift Card For Favorite Restaurant
Gift card for a night off of cooking? Yes please!
Moving, unpacking, and organizing a new home takes a lot of work! Gift the gift of a done-for-you meal – it will be hugely appreciated!
An interesting door knocker adds instant curb appeal to the front of the new house and welcomes guests. Pick a knocker style that reflects the style of the rest of the house or reflects something that the new homeowner loves.
Get more curb appeal ideas here.
Here's a bit of a non-traditional idea, but it makes for a very practical housewarming gift. A garlic keeper allows garlic bulbs to have good airflow while keeping the counter nice and tidy.
It's perfect for anyone who enjoys cooking!
Here's another idea for the everyday cook. This gift set of olive oil is a treat and will make all their homemade foods take amazing.
How many times have you made guacamole and had to store leftovers only to find your fresh, amazing guac turned brown in the fridge? Give that guac fan in your life a guacamole keeper so they never have to deal with that problem again!
You could also combine a few small ideas like this, the garlic keeper, and the olive oil to create a kitchen essentials gift basket.
Who wants to show off their Softsoap plastic dispenser in their guest bathroom? I love having a pretty, chic soap dispenser to welcome guests in the guest bathroom.
While maybe not the most traditional, it makes a great housewarming gift that your friend will love.
I'm sure I can't be the only one who worries about my house smelling bad for guests (or enjoys seasonal scents in the air)!
Essential oil diffusers make great housewarming gifts because they not only add fragrant ambiance but also add a little humidity to the house during the dry season – all with the touch a button.
Don't forget to include some calming essential oils such as lavender or peppermint, or sweet orange.
I hope you found this list helpful! Was there anything I left off that you have found makes a great housewarming gift?
MORE POSTS YOU WILL LOVE: