A power tool set makes a great gift for the home improvement buff in your life. Here's your guide to the best power tools a homeowner needs to take on their next project.
Having a good quality power tool set is a must for any homeowner. Whether you love to DIY and ambitiously take on home improvement projects on the regular or just like to be prepared for the occasional minor repair, it's good to have at least the basics on hand.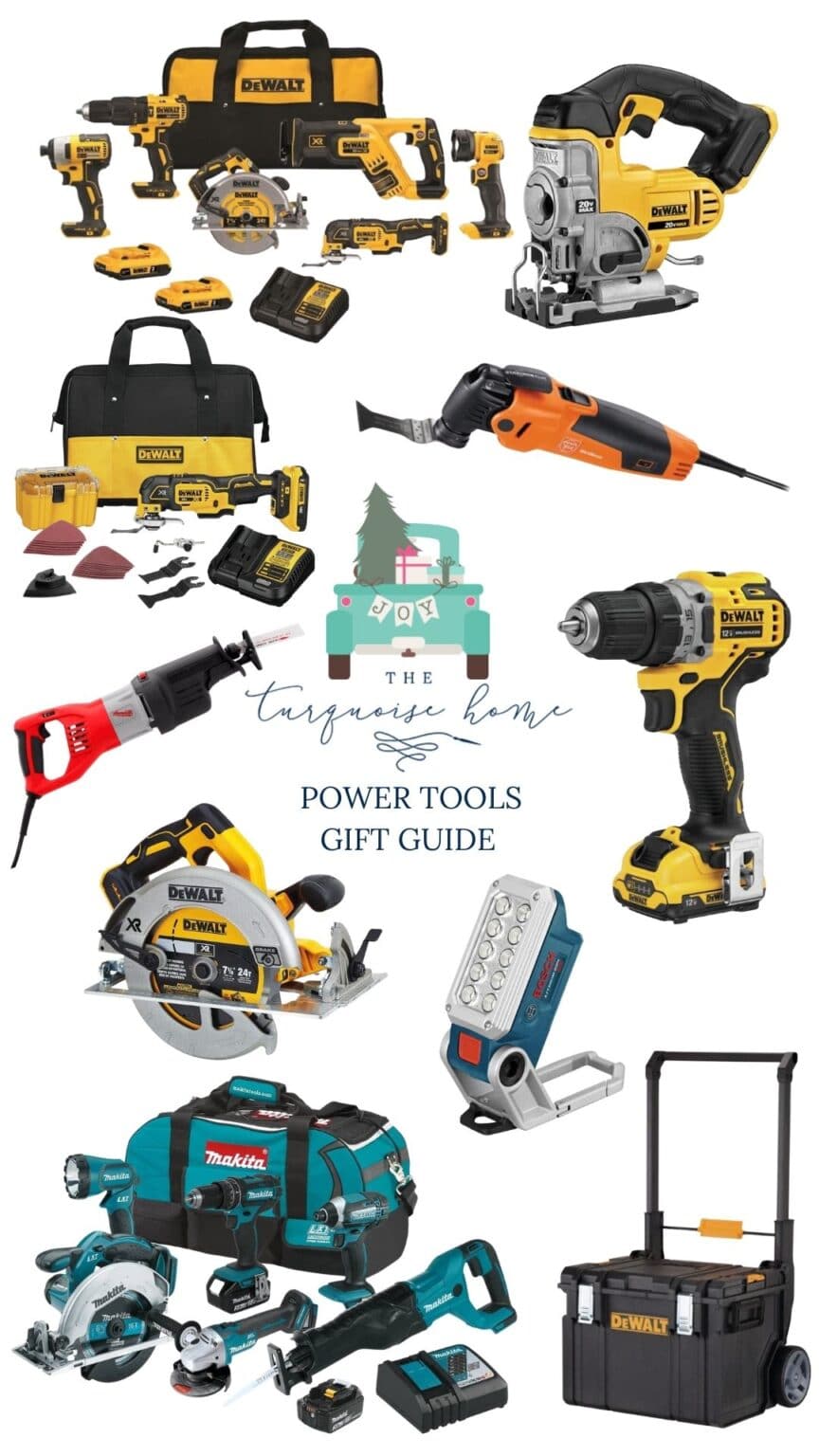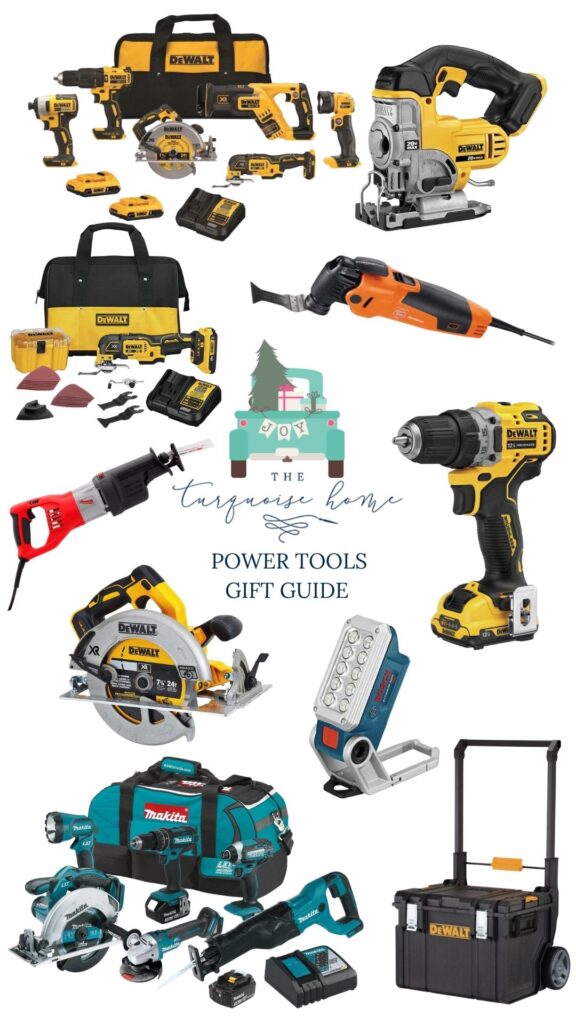 Toolkits have long been a popular gift for dads everywhere, but now with more people spending time at home, power tools make a great gift for anyone. To really impress your gift recipient, skip the novelty gift shop toolkit and invest in some real, sturdy, get-the-job-done power tools.
Researching products of any kind is always an overwhelming task, and power tools are no exception. In fact, if you aren't very familiar with the realm of home improvement, it can be particularly daunting to learn about the best power tools to buy.
Fortunately, I've taken the guesswork out of building a great power tool set for you. Here is your guide to the BEST power tools to buy this holiday season!
This post contains affiliate links for your convenience. See my full disclosure policy.
Combo Kits: Kick Start Your Power Tool Set
If you want to get an all in one power tool set, this six piece kit by Makita is a great place to start. It includes all the basics one would need to get started on everyday home improvement projects in a handy tool bag: hammer driver-drill, impact driver, circular saw, reciprocating saw, brushless angle grinder, rechargeable flashlight, two batteries, and a charger.
2. DeWalt 6-Tool Combo Kit with Soft Case
DeWalt offers professional-grade products that last for a long time. For that reason, it's a popular brand for professionals and hobbyist tradespeople who plan to get frequent use out of their tools. This six-piece power tool set comes with all the same components as the Makita kit, but instead of the brushless angle grinder, it includes an oscillating multi-tool, making it a great choice for woodworkers.
3. Ryobi Cordless 6-Tool Combo Kit
For those on a budget looking for their first toolkit, Ryobi makes a six piece power tool set at a low price. It comes with a drill/driver, impact driver, reciprocating saw, circular saw, multi-tool, work light, two batteries, charger and contractor bag. Your gift recipient will be able to get to work on their weekend projects in no time!
Drill / Driver Kits: The Heart of a Power Tool Set
4. DeWalt Drill/Driver Kit – A drill / driver set is the cornerstone of any power tool kit. For building a tool kit from scratch, this is a good place to start. DeWalt is frequently named as the best drill / driver set out there. This cordless set includes a standard drill and an impact driver. 
5. Milwaukee Compact Brushless Drill/Driver Kit – This Milwaukee drill / driver kit is big and powerful enough to handle tough jobs. If you need to drill a lot of holes or have projects that take a long time, this will help you get the work done faster, and its long-lasting battery will go the distance. It's reasonably priced, too!
Circular Saws
6. Makita Circular Saw – With a 4.8 star rating on Amazon, this Makita circular saw is a solid choice and a must-have for those needing to cut lumber for their DIY projects. It's a corded model, so it needs to be used within range of a power source, but it's powerful and circulates at 5,800 RPMs – one of the fastest circular saws on the market. 
7. DeWalt Circular Saw – DeWalt makes a powerful cordless option, making this circular saw a breeze to use. On Amazon, you have the option of purchasing the saw separately, but you can also buy it with the cordless starter kit (includes a battery, charger, and fuel gauge) or a ToughSystem Tote. 
Reciprocating Saws
8. Milwaukee Reciprocating Saw – This corded reciprocating saw from Milwaukee is one of the best on the market, and good-looking to boot. It's powerful and heavy-duty, yet lighter in weight than other saws in its class. It also has incredible cutting speed. 
9. Makita Cordless Reciprocating Saw – For a great cordless option, Makita makes the best. Its 18-volt batteries last a long time and they quickly recharge when needed. It's also incredibly powerful, holding its own against almost any corded reciprocating saw. 
Oscillating Multi-tools
10. Fein MultiMaster – There are so many uses for an oscillating multi-tool. Owning one will make you a home improvement hero. This multi-master by Fein is high performance and professional grade. It can be used to do anything from baseboard cutouts to grout removal. 
11. DeWalt Oscillating Multi-Tool Kit – Are you surprised to see another DeWalt product on this list? Its cordless design will make your life so much easier. Choose from three speeds and quickly change attachments with its quick-change accessory system.
Jig Saws
12. DeWalt Jig Saw – It's incredibly telling that a DeWalt product has made it into almost every category on this list. Cordless, high-speed and accurate, you really can't go wrong with this DeWalt jig saw. Its powerful battery gives you plenty of time to work before needing to be recharged. To top it all off, it has an integrated dust blower that helps keep your workspace free of debris so as not to obscure your cut line.
13. Milwaukee Jig Saw – Compact and lightweight, this Milwaukee cordless jig saw has several features that help you deliver a smooth cut: hybrid grip design for maximum control, counterbalance system that minimizes vibration and LED light to illuminate the cutting surface. 
Flashlights: A Power Tool Set Must-Have
14. DeWalt Rechargeable Power Tool Flashlight – Flashlights are a must-have in any power tool set. This 20-Volt rechargeable option from DeWalt helps illuminate dark work areas with three bright LEDs and one bright red LED to preserve night vision. With two brightness settings (maximum light output and extended runtime) and a 90-degree pivoting head, this pick is sure to save the day on many occasions.
15. Bosch Rechargeable Power Tool Flashlight – You'd be hard-pressed to find a brighter work light for this price point. This 12-Volt rechargeable flashlight by Bosch features ten high-intensity LEDs and a variety of mounting options: magnets, carabiner clip, and a screw thread for tripod compatibility. 
Tough Cases for Power Tool Sets
16. DeWalt ToughSystem Tool Box Combo Set – For the home improvement veteran who already has everything they need, a tough case to organize all their goodies makes an amazing gift. Your best bet is to shop the brand that they tend to favor. Here's a great set from – you guessed it, DeWalt!
I hope this list helps you find the perfect gift for the handy person in your life!
MORE POSTS YOU WILL LOVE:
Get Instant Access to my Guide to Customize Your Home on a Budget
Grab your FREE guide for 10 Ways to Customize Your Home on a Budget: simple projects to transform your home from builder beige to a home with character and charm!