Our Master Bedroom Window Treatments
Ivory curtains, brass curtain rods and beautiful bamboo shades are the perfect window treatments for this master bedroom retreat!
I'm so excited to share the progress we've made in the master bedroom makeover. I hadn't really planned to share anything from this room until later, but it's already coming together and I couldn't wait to show you!
Thankfully we said goodbye to the pistachio colored walls shortly after we moved in. And I'm here to tell you that paint colors make alllll the difference. Let me say it again for those in the back: PAINT COLORS MAKE ALL THE DIFFERENCE!
I present the original pistachio green walls, in case you forgot. 😉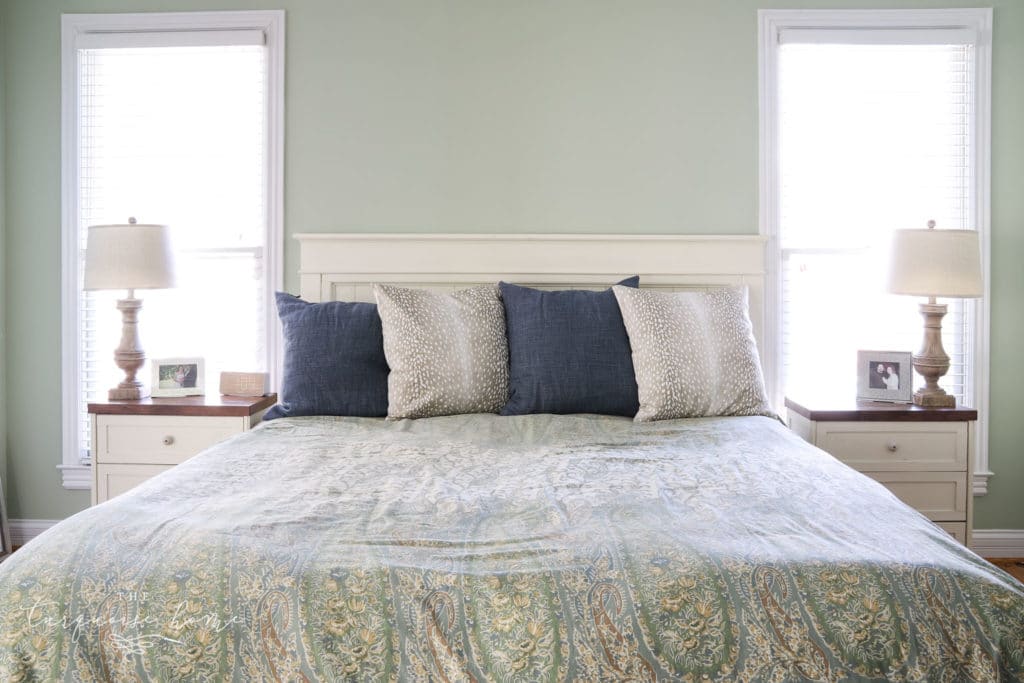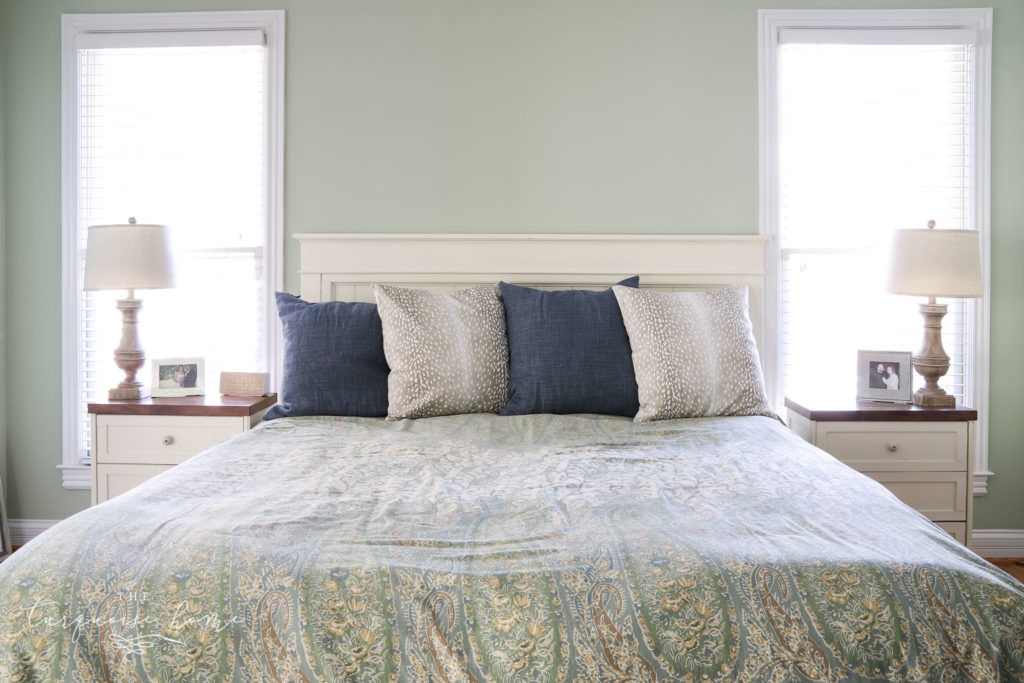 I had planned to keep the walls green until we saved the money to gut the master bathroom and remove the columns in the bedroom. But, my friend, convinced me they needed to be painted now in phase 1. She was SO right.
I used Revere Pewter in our old house, so I knew I would love it here as well. It's a color that works well with both cool and warm tones, and I love that!
This post contains affiliate links for your convenience. See my full disclosure policy.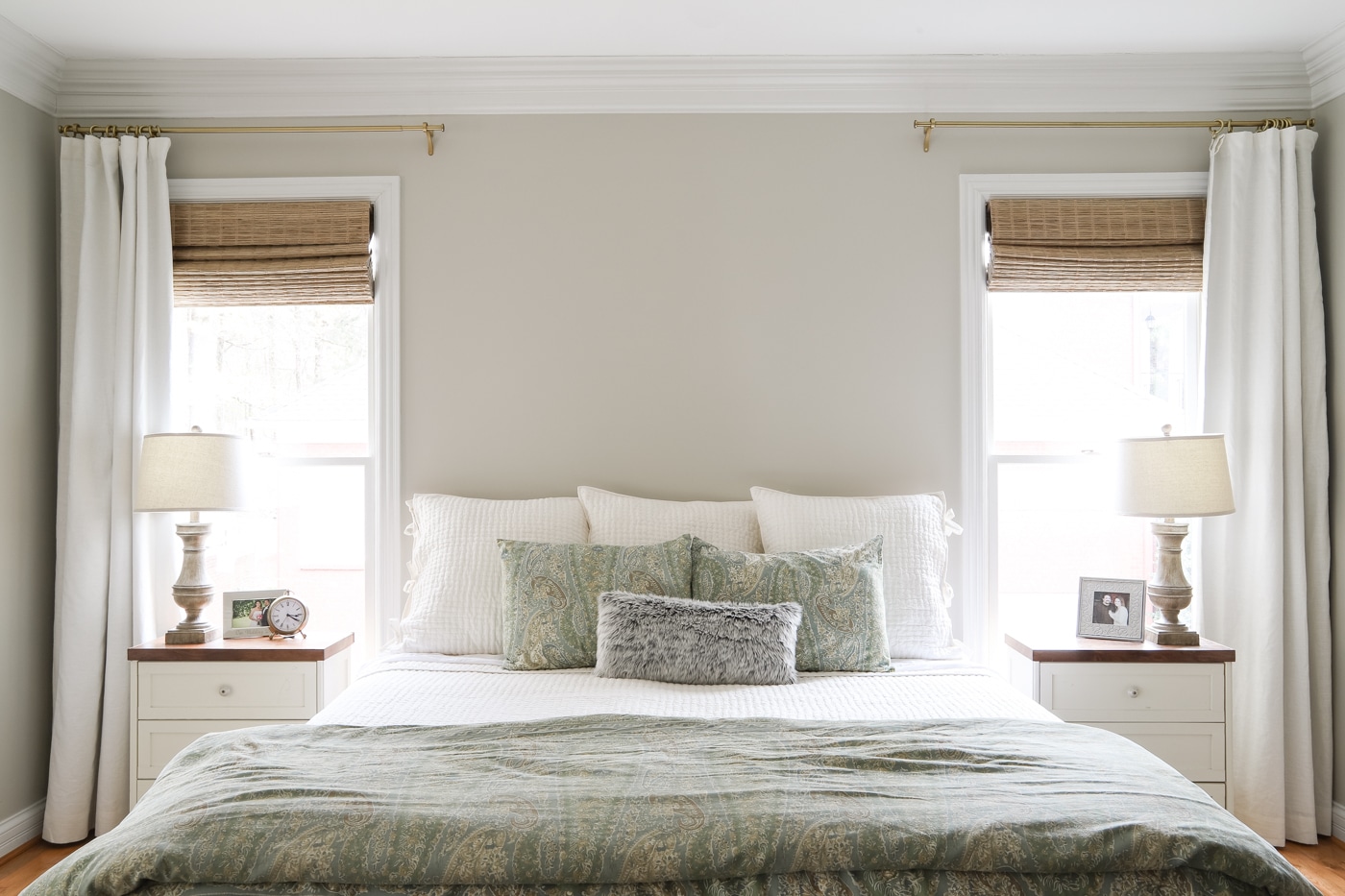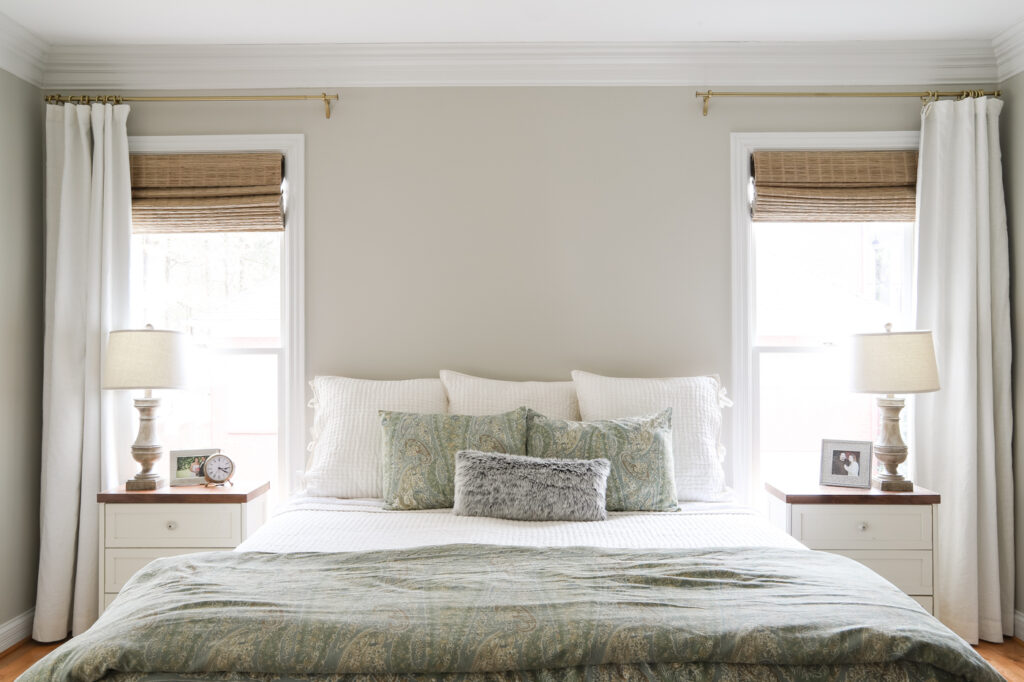 Click/tap the images below to shop the space:

Window Treatments in the Master Bedroom
But I didn't want to just share the paint today, I want to show you all of the window treatments.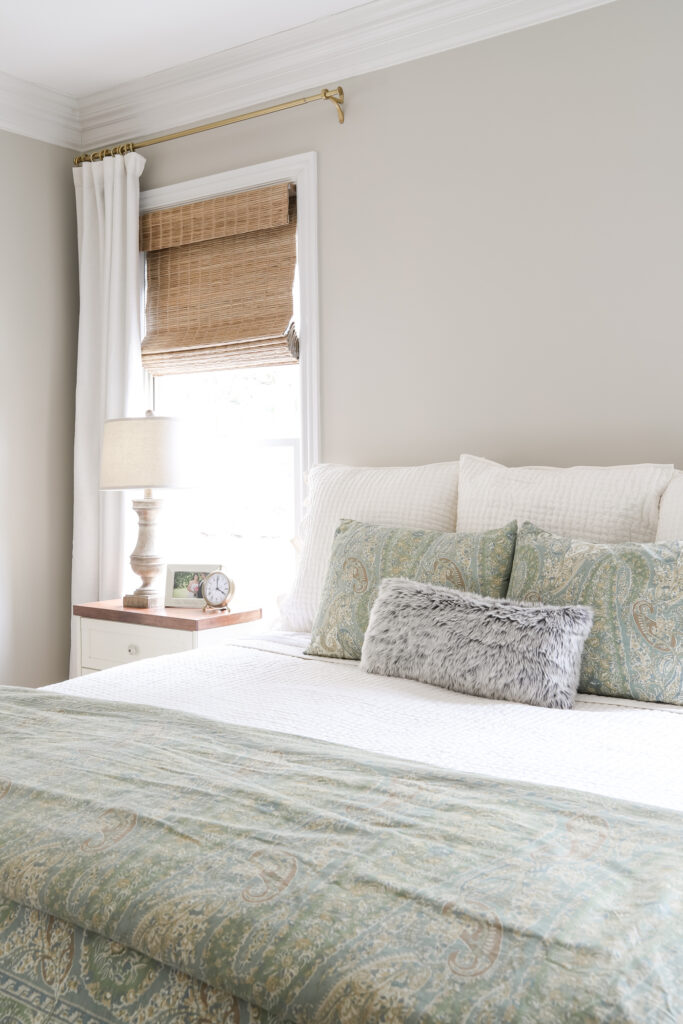 Brass Curtain Rods | Ivory Curtains | Bamboo Shades in Jute Wheat
I actually bought the first pair of curtains for this room when we first moved in. The wood blinds (that came with the house) weren't doing very much to keep the bright morning sun out of our eyes. It. Was. Brutal.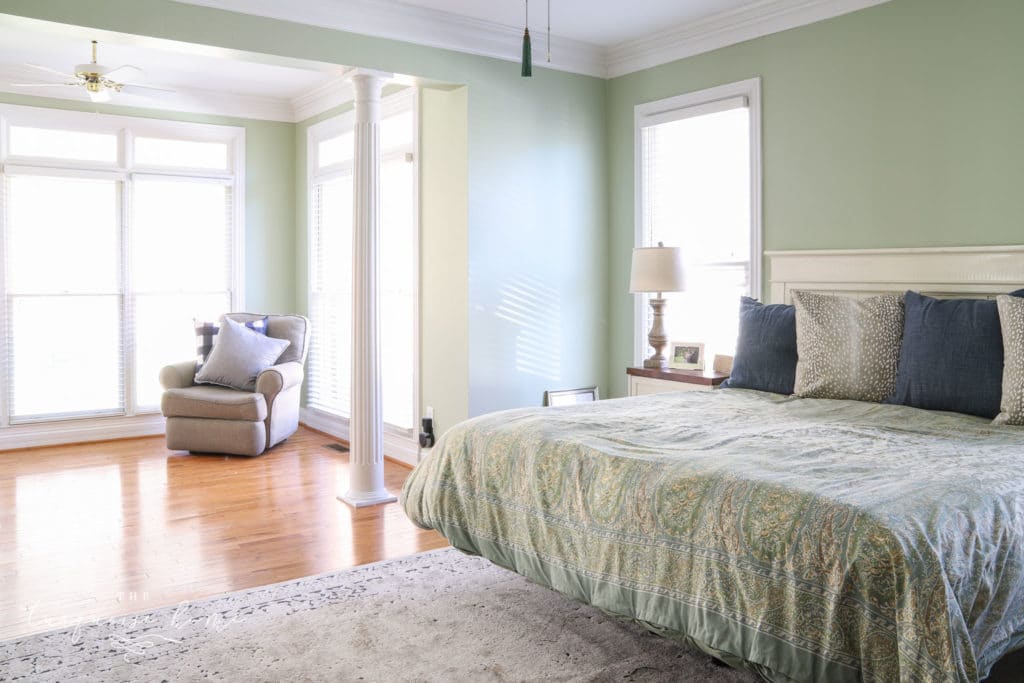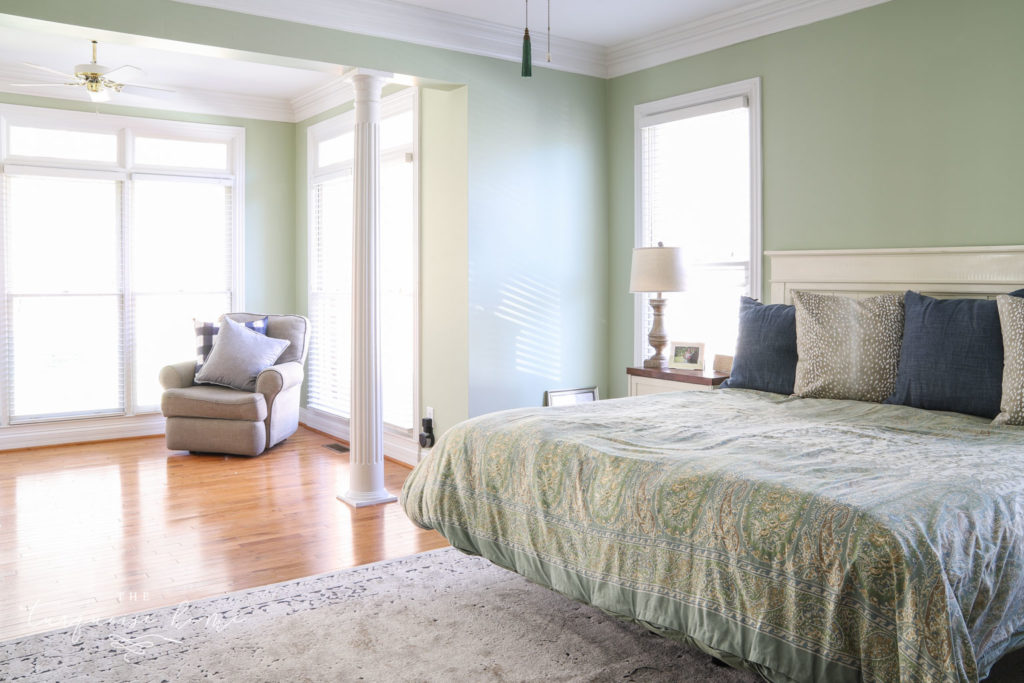 The light-filled room is beautiful during the day, but not so much when I'm trying to sleep in on a Saturday morning. 🤪
So, I ordered some black out curtains to help. But all along I knew I wanted the bamboo shades and ivory curtains on the windows next to our bed.
Actually, one of the TOP things I had my heart set on when we were looking for a new home, was that I wanted two windows flanking the bed in the master bedroom. I loved the look of a king-sized bed between two windows with bamboo shades and a curtain hanging on the outside of the windows. 😍 So dreamy…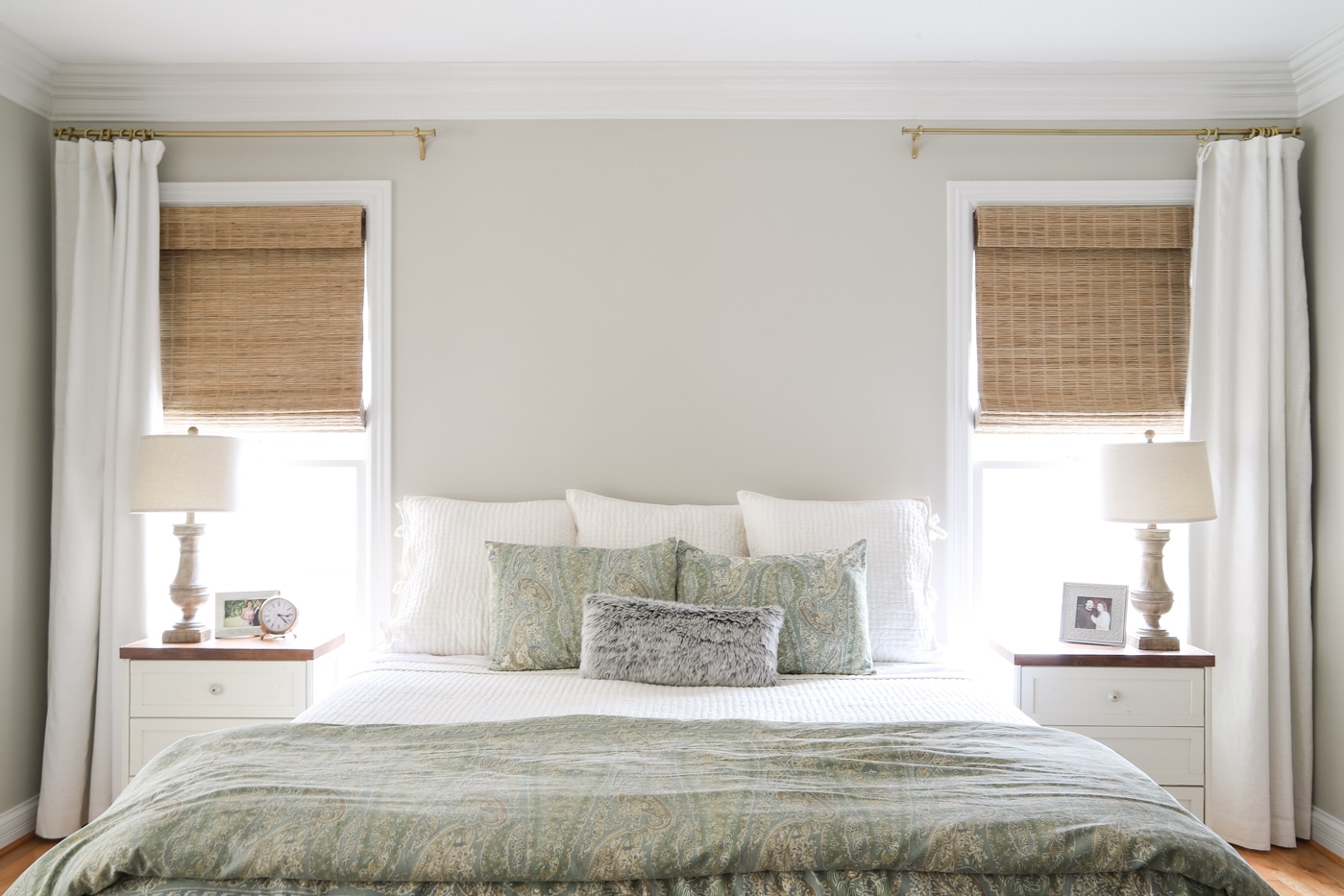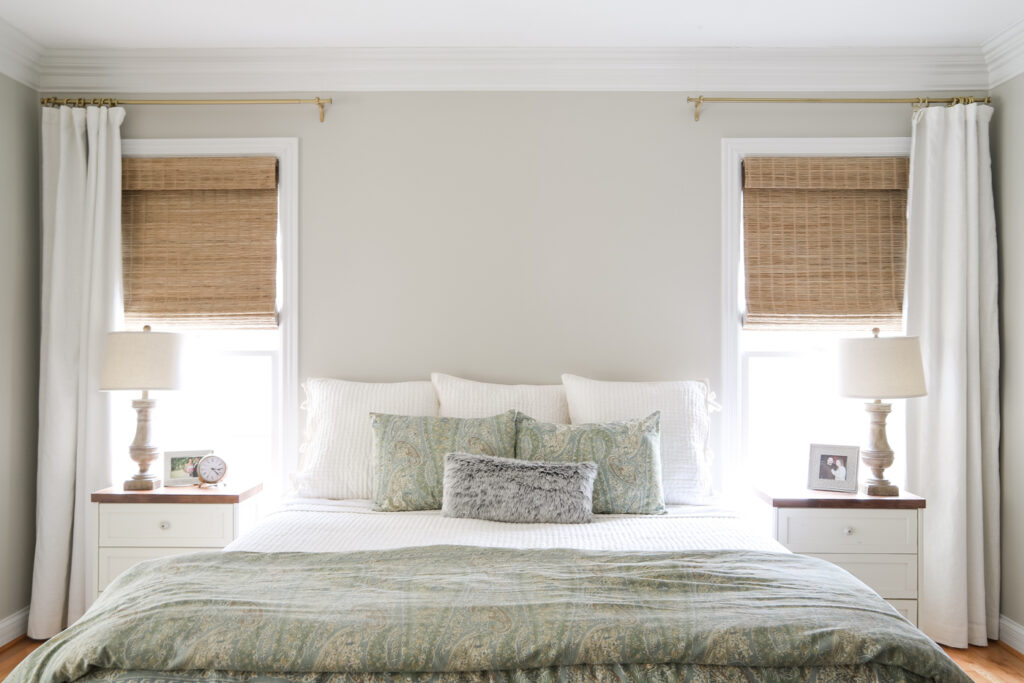 Brass Curtain Rods | Ivory Curtains | Bamboo Shades in Jute Wheat
And I'm so thrilled with how it turned out. After I got the first window done, I stepped back and squealed with delight. It was exactly what I had pictured in my head for years.
Black Out Bamboo Shades
I had to wait a little bit for my beloved bamboo shades to come in, but when they did, they were so worth it! I love that they have a black out liner. So they REALLY keep the sun out (and the neighbor's garage lights that shine in our windows at night).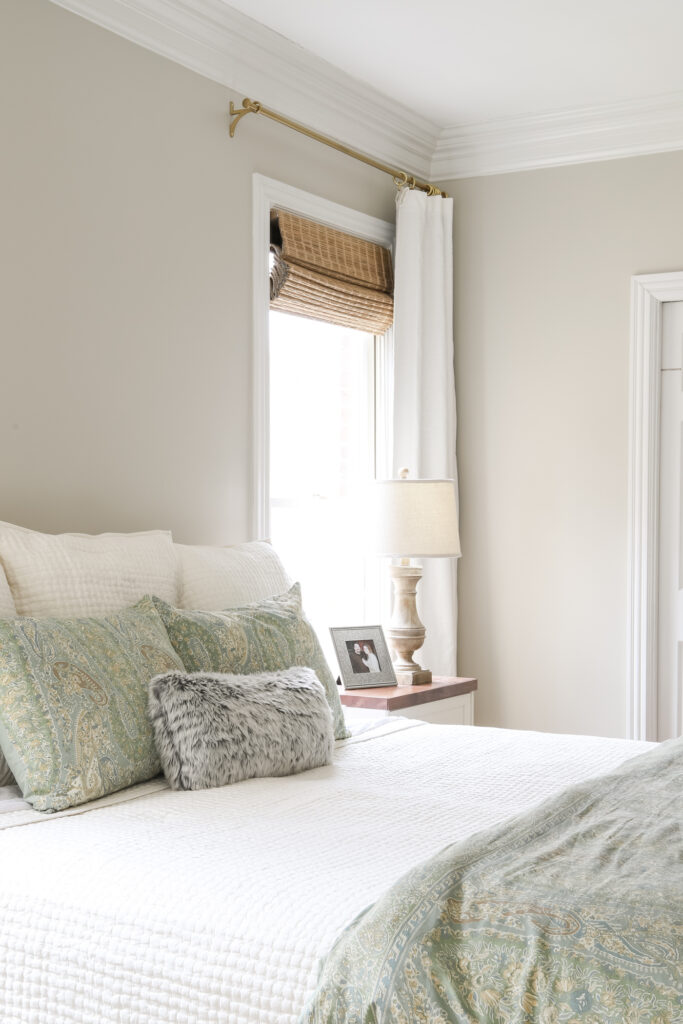 Curtain Rods | Curtain Rings | Simple Finial | Ivory Curtains | Bamboo Shades in Jute Wheat | Ivory Quilt
Let's chat about the bamboo shades for a sec. We have the Designer Series Woven Wood Shades in Jute Wheat. And I couldn't love them any more if I tried! We had them in the kitchen and living room in our last home and I loved them. So, I knew I wanted to buy them again.
Note: Sadly the jute wheat bamboo is no longer sold.
And if you're struggling with what kind of bamboo shades to order, I have a whole post for you: Everything You Need to Know to Choose the Best Bamboo Shades.
This time, though, instead of getting the cordless option on my shades, I got the continuous cord loop! Since the window goes down below our night stands, I wanted an easy way to raise and lower them without having to move the night stands. I love how the loop is covered by the curtains: out of sight, but easy to reach!
Bamboo Shades on the French Doors in our Sitting Room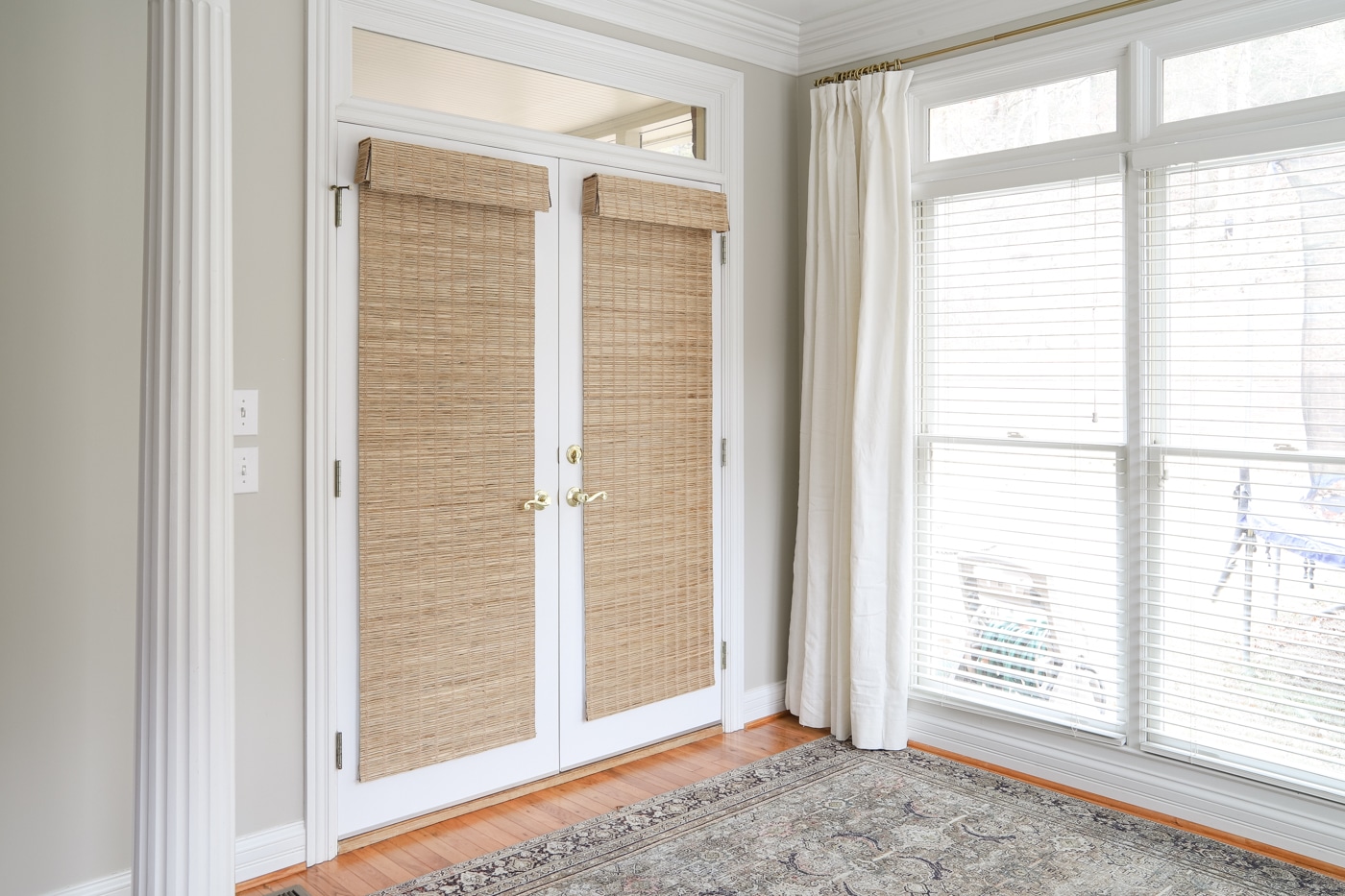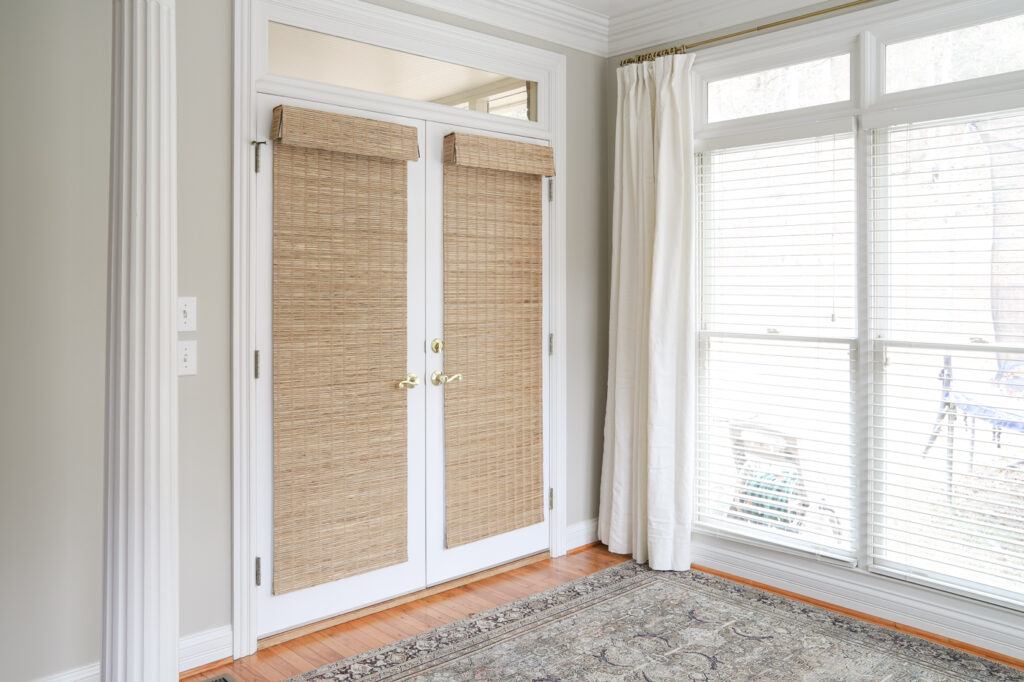 We also added the bamboo shades (with privacy liners) to the french doors that lead out to the patio from our bedroom sitting room.
The blinds that came with the house were cheap and very see-though. It was OK since our backyard is completely private, but it still felt weird to have a see through window in our bedroom, if you know what I mean. 😬😂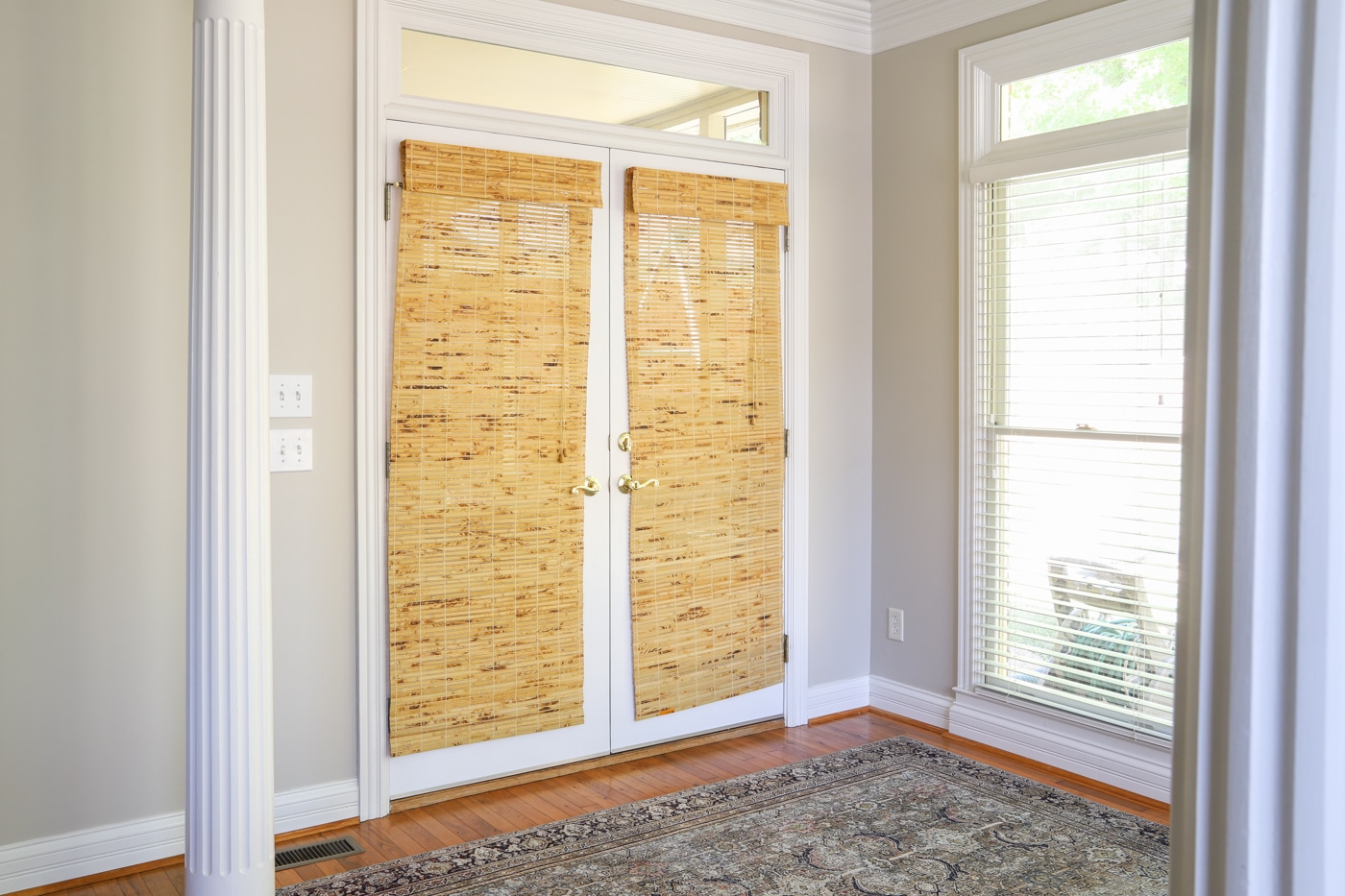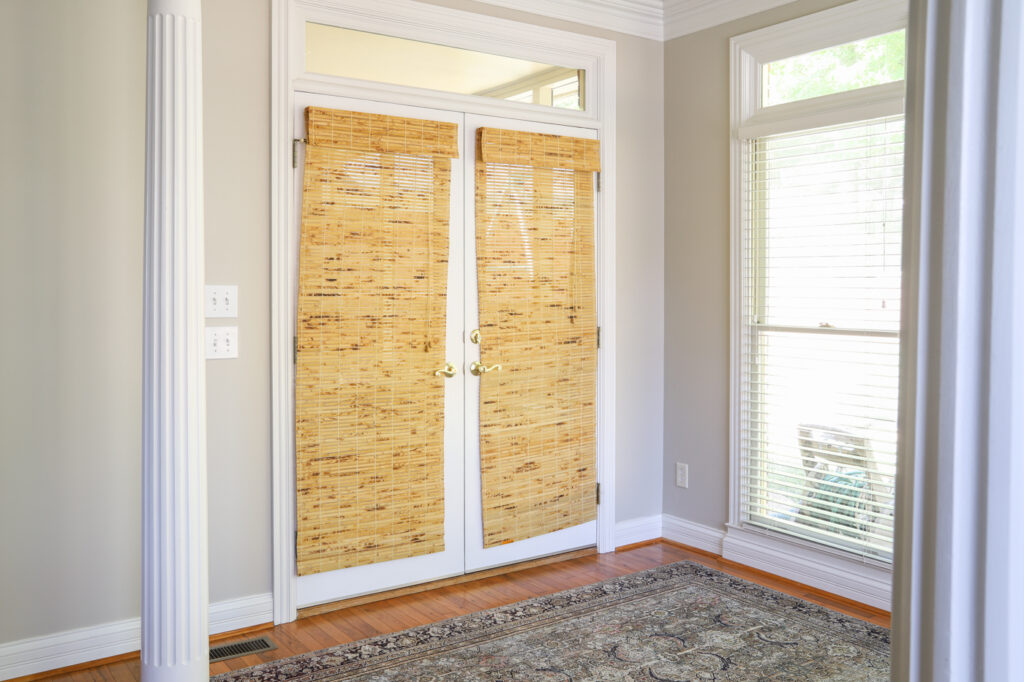 And see how they weren't made to fit the space?? They were too wide for the doors and had cords that dragged the ground when they were pulled up. I hate them! I'm so glad to have replaced them with custom bamboo shades with privacy liners so that we don't have to worry about anyone looking in. ☺️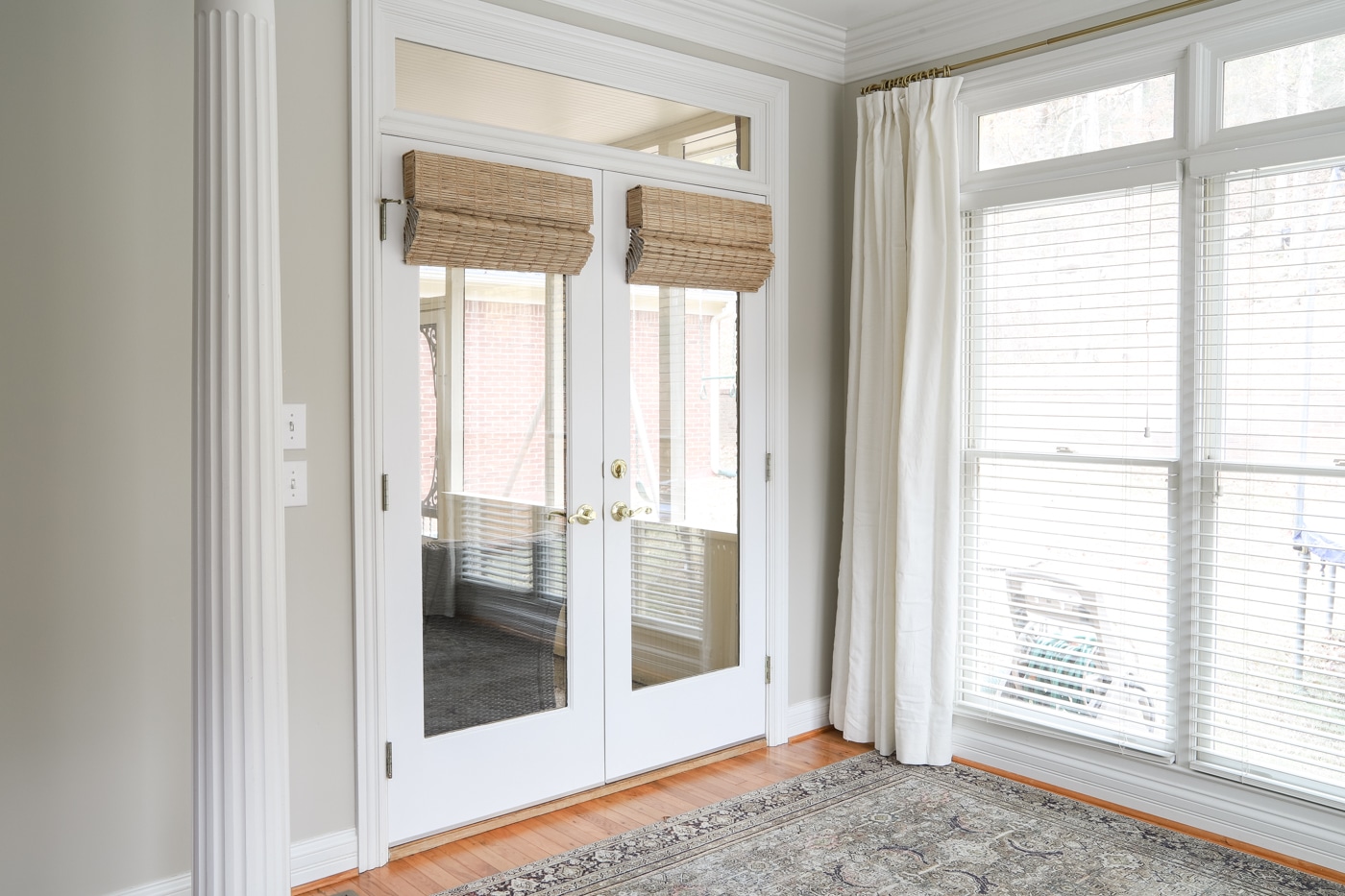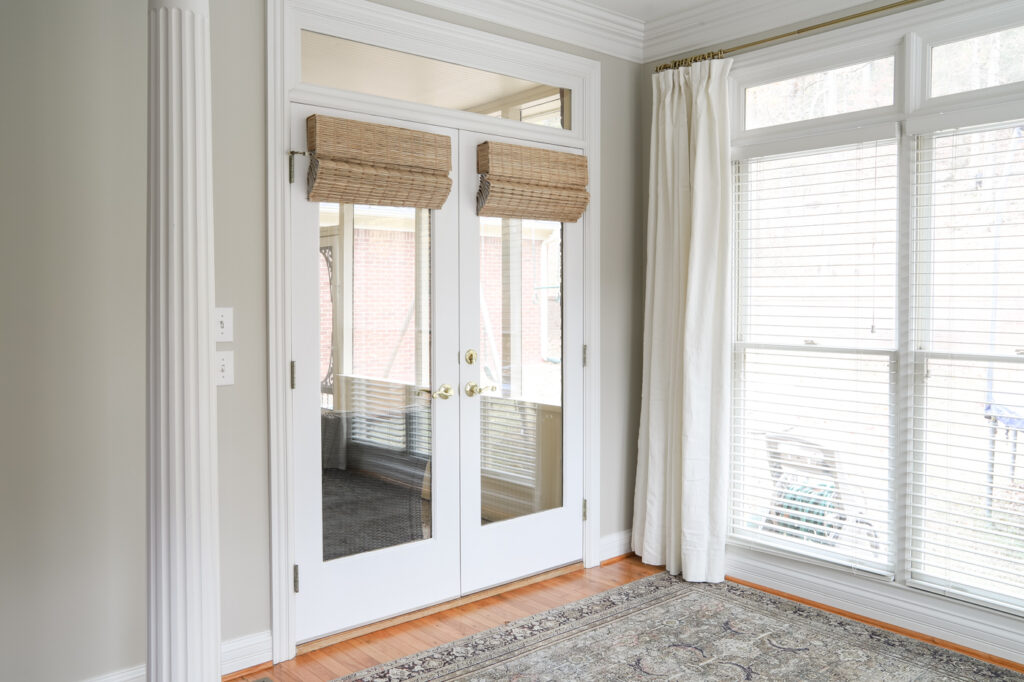 Curtain Rods | Ivory Curtains | Bamboo Shades in Jute Wheat | Rug
Our new shades have the cordless option, so we just pull a ring at the bottom of the shade and they lift up! Super easy, kid-safe and no messy strings!
Linen Curtains and Brass Curtain Rods
I decided to buy some nicer curtains and curtain rods for our bedroom since they are classic and we will keep them for a long time!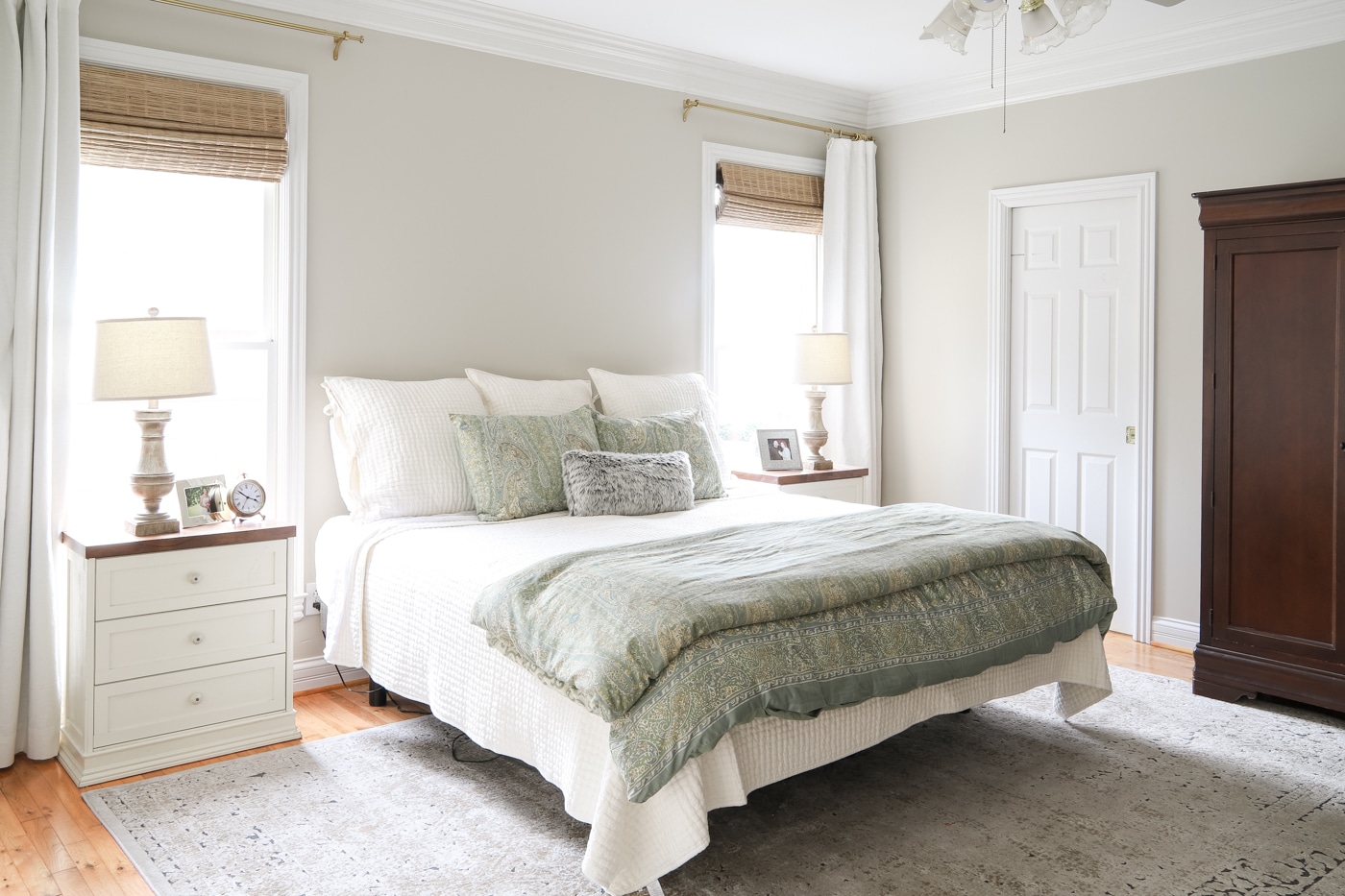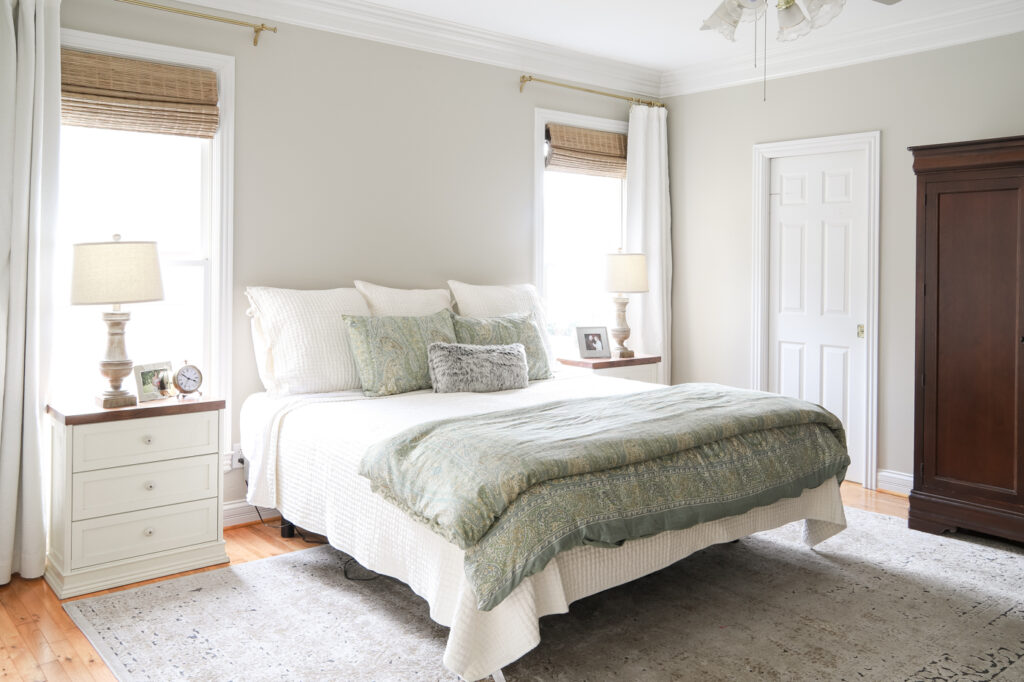 I've been eyeing these brass curtain rods for years, because I love the pretty profile on the sides and they are just gorgeous!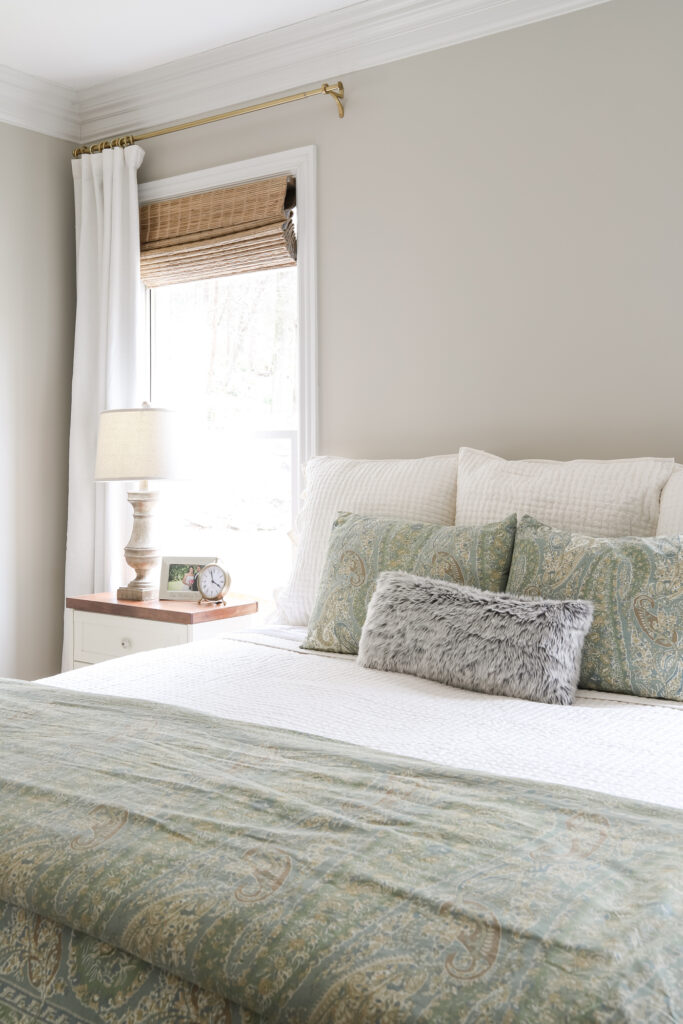 Curtain Rods | Curtain Rings | Simple Finial | Ivory Curtains | Bamboo Shades in Jute Wheat
I tried to piecemeal cheaper curtain rods and rings together, but I couldn't find any that matched and that I loved. I found a cheaper set for my office, but they don't exactly match. And I wanted something a little more upscale in our bedroom. So worth it!!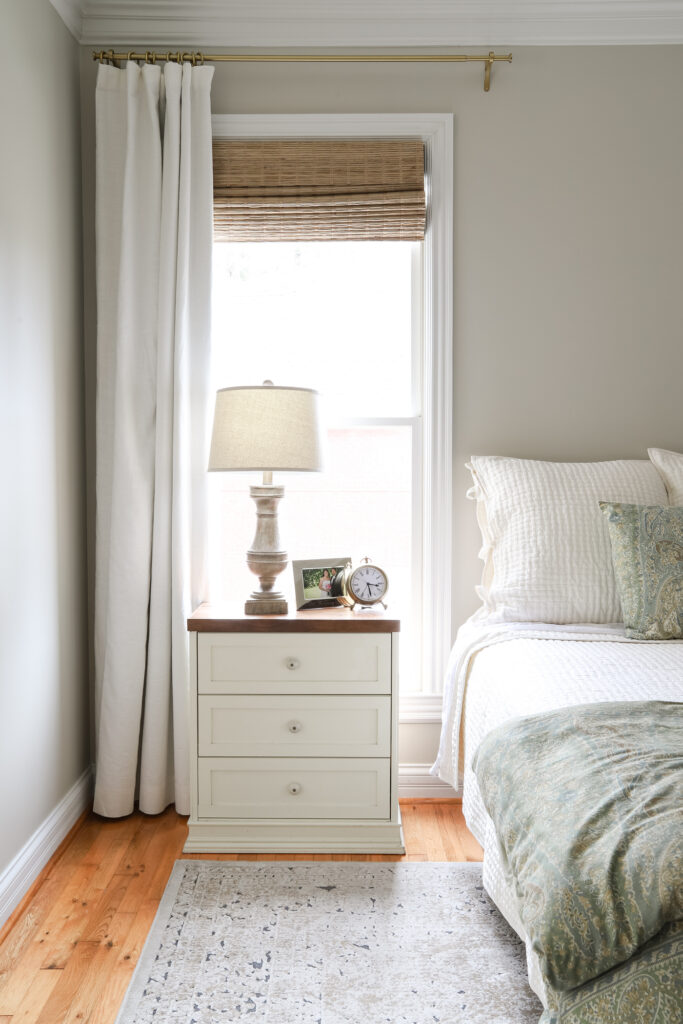 Curtain Rods | Curtain Rings | Simple Finial | Ivory Curtains | Bamboo Shades in Jute Wheat | Rug | Clock | Night Stands (DIY) | Ivory Quilt
The curtains are a linen/cotton blend and they hang so nicely. It took me a minute to figure out how high to hang them because they elongate as they hang. And I didn't want them to drag the floor.
I found that screwing the top screw of the curtain rod at 99″ was the perfect length for my 96″ curtains to hang and almost reach the floor, but not puddle.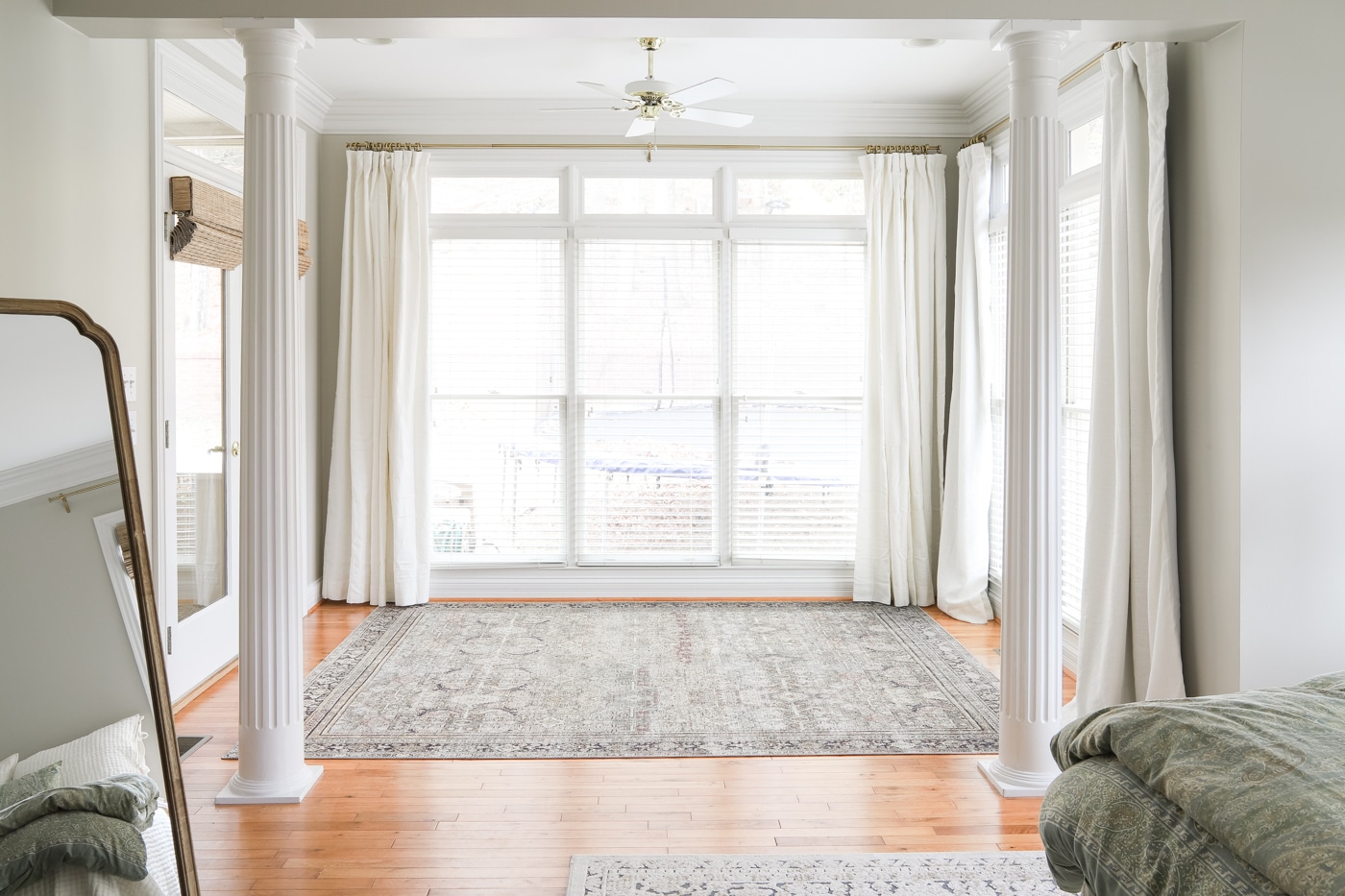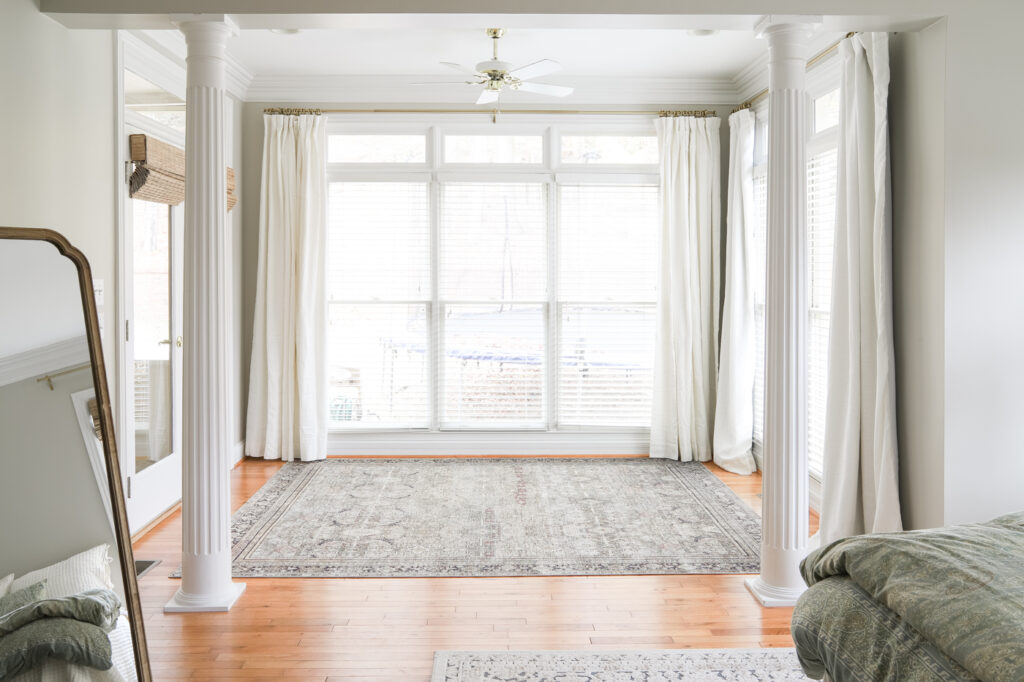 One pair of curtains "grew" a bit more than the others in our sitting area. I think I will call the company and see if they will replace them since they are so much longer than the other curtains – and they are all supposed to be the same length. Eventually I will have furniture in front of them, so I'm not sure that it matters. But I'm going to call and see.
But four of my six panels are the perfect length and I love the look!
I also love that they cover the transom windows at night to keep the room dark! Then in the day time we pull them open to get the best views and let all the light in!
THE WAY TO HANG CURTAINS AND MAKE YOUR ROOM LOOK LARGER
I always take any opportunity I can to share about where to hang curtains so that your room looks the best.
As you can see in the diagram above, the rule "high and wide" when hanging curtains makes your room and window look larger.
A good rule of thumb is to hang your curtains 4-6″ above the window frame and 3-6″ beyond the sides of the window.
And pay attention to the length of the curtains before you hang them. If you're going to be opening and closing your curtains often, leave 1/4-1/2 inches between the bottom of the drapes and the floor. If you are leaving them in place and want to create an upscale vibe, leave 4-6 inches puddled on the floor.
I shared more information at the end of this post: Where to Buy Cheap Curtains post (click here).
What's Next?
Now, the plan is to buy some new furniture for the space! I explained the whole design vision for the space in my Master Bedroom Retreat Design Board.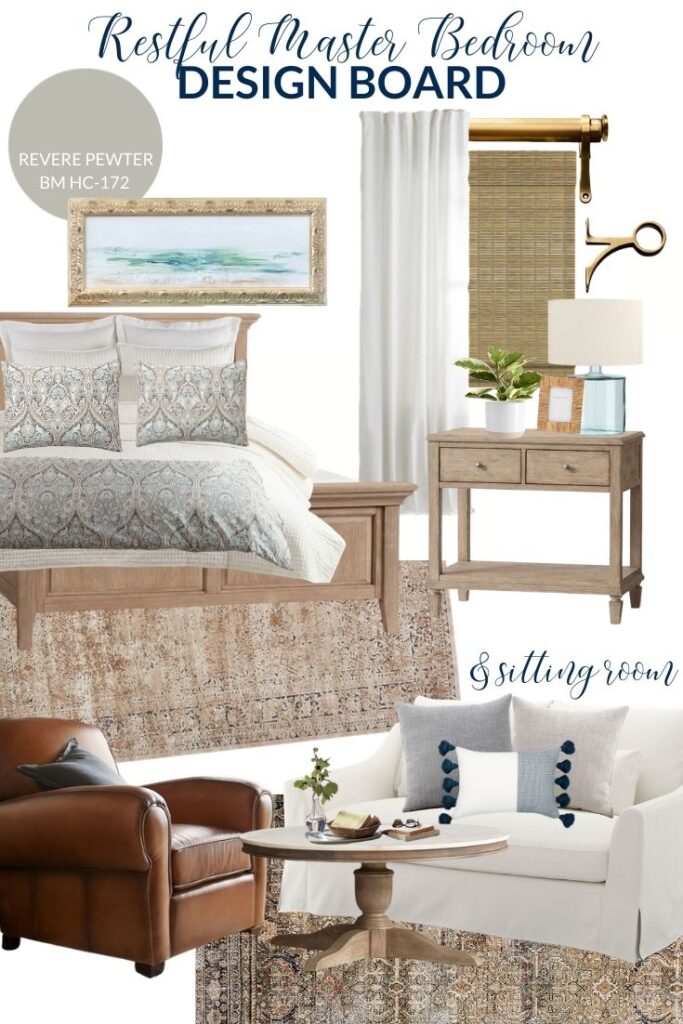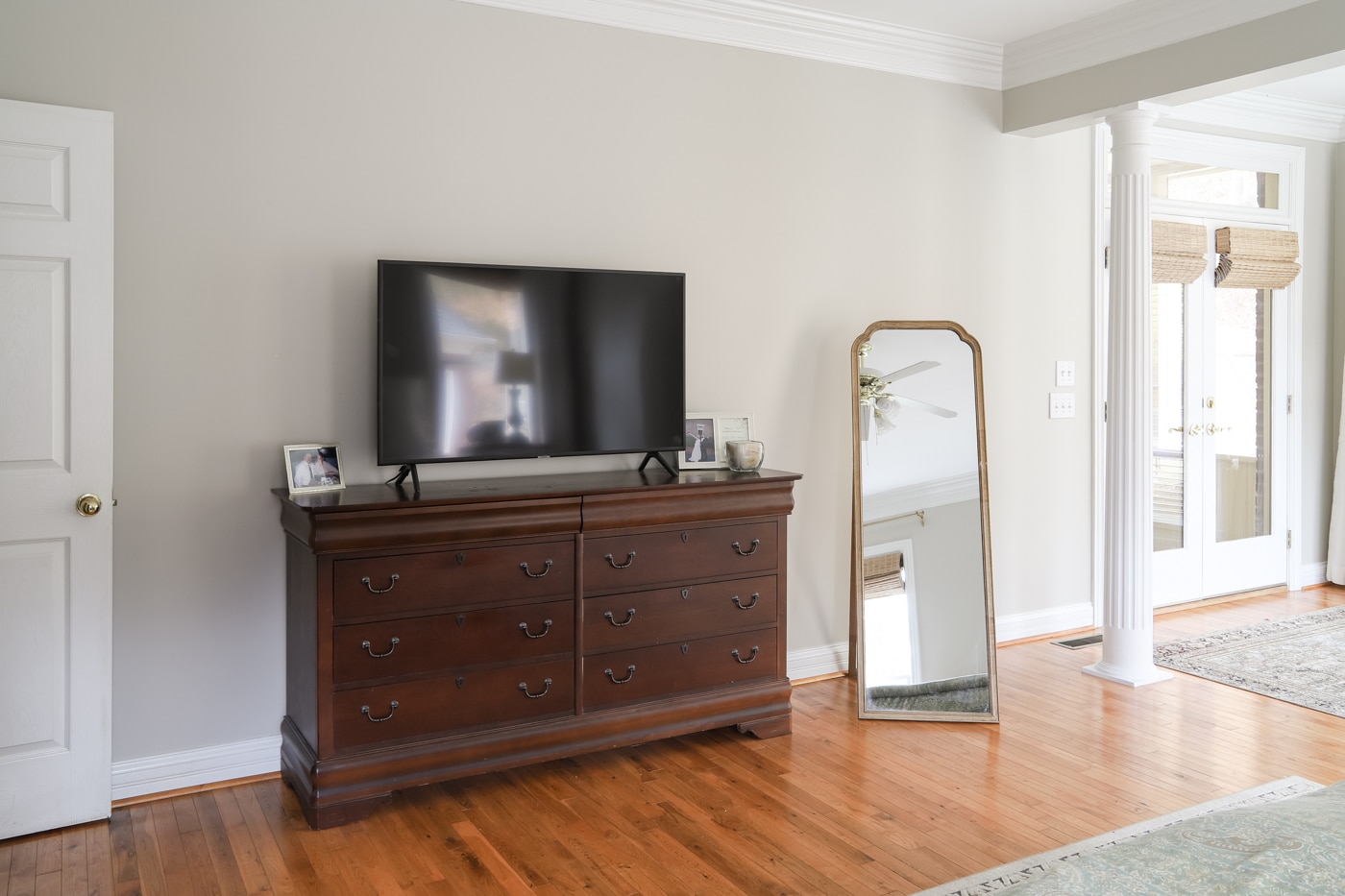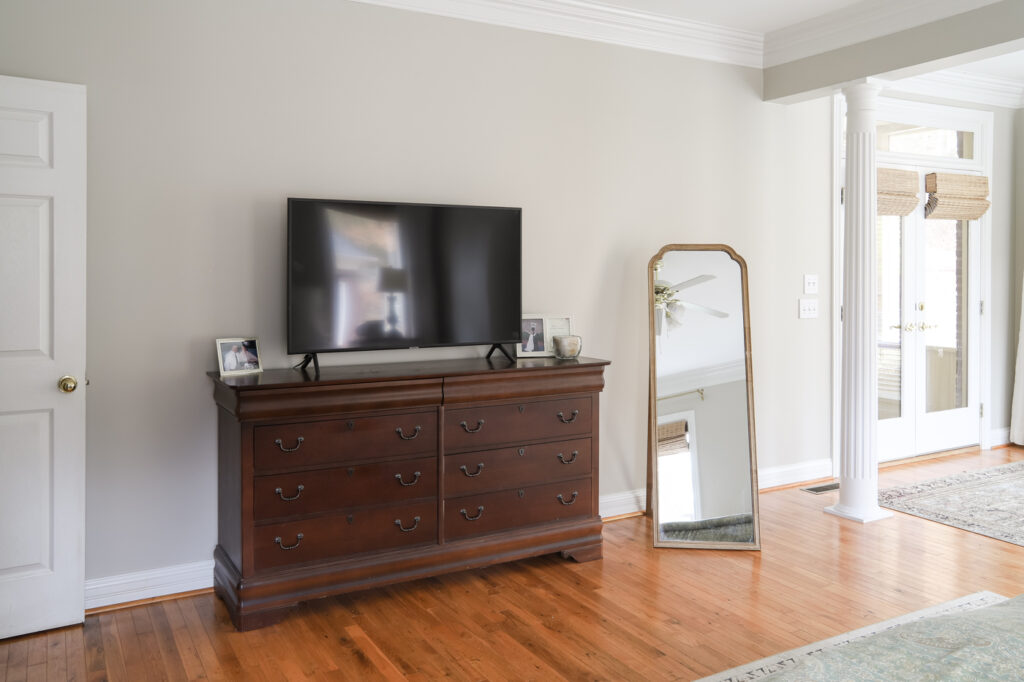 I'm hoping our bed and night stand will go on major sale soon, and I'll snag them for a good price. The love seat I want in the sitting room is sold out right now, so I'm waiting on it to come back in stock.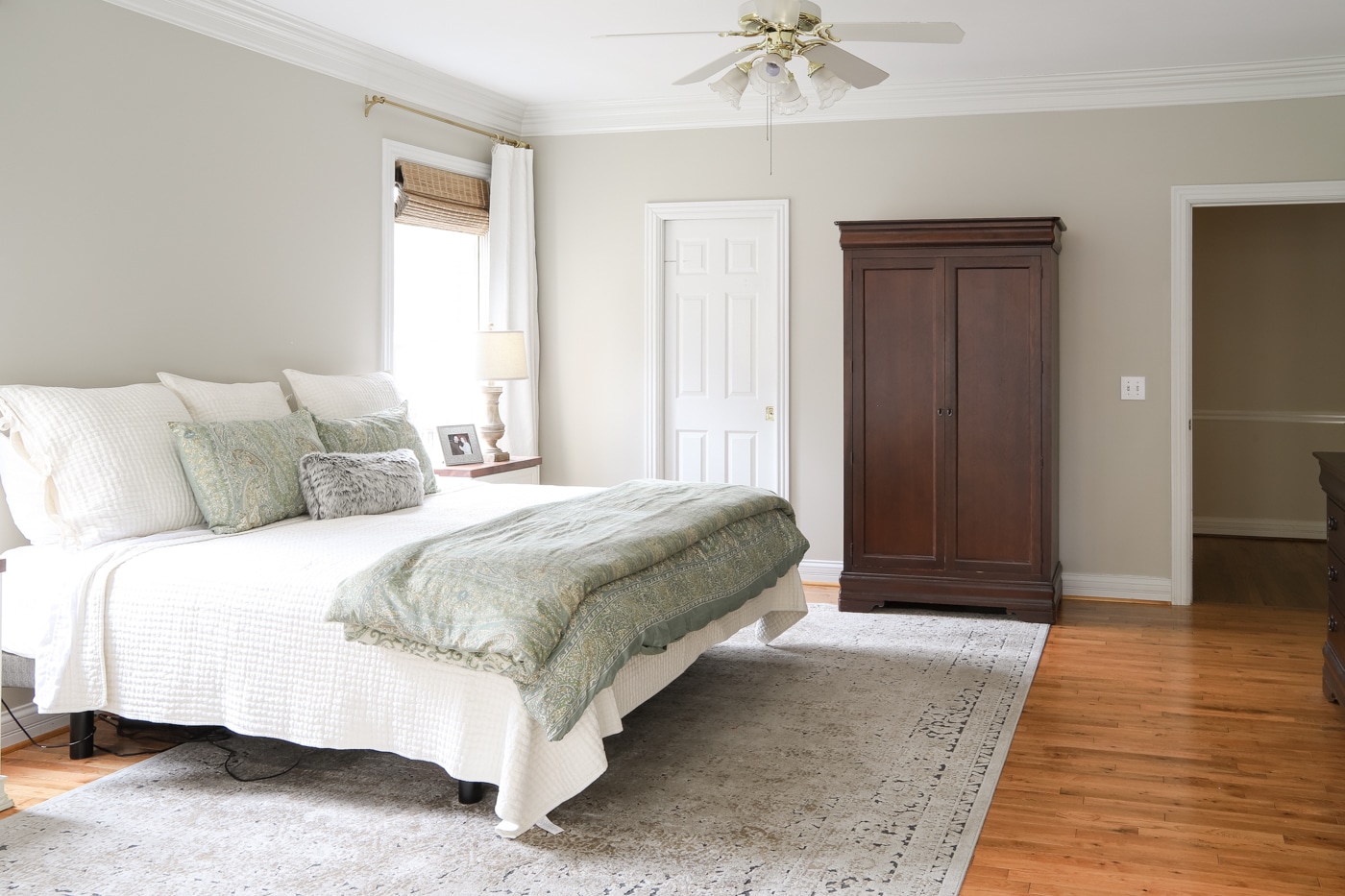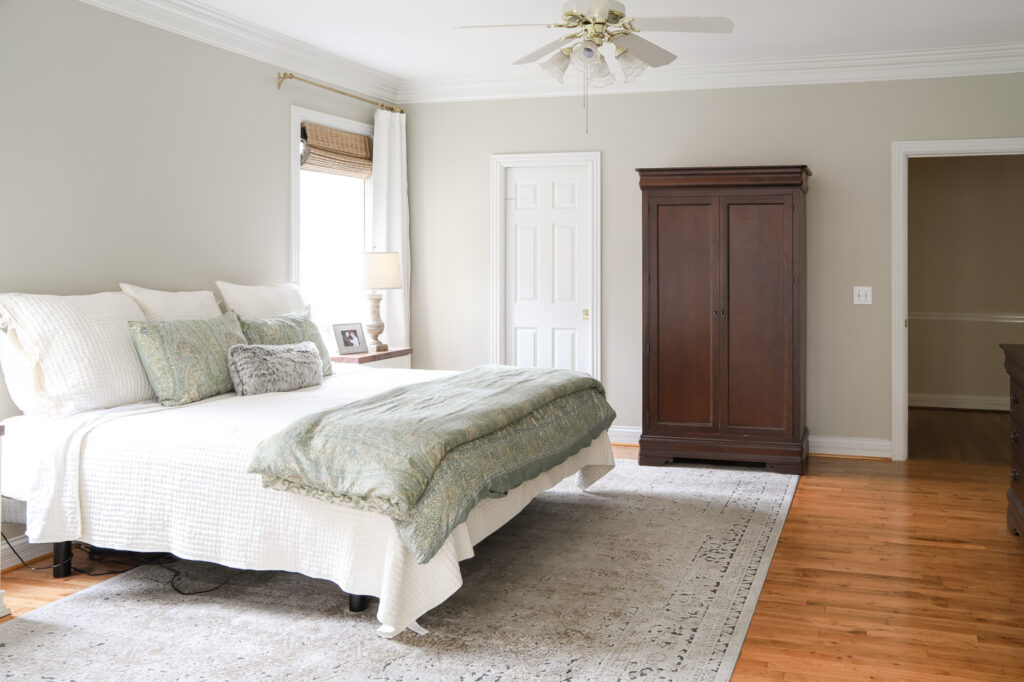 For now, though, I'm loving this whole look and we're enjoying the darker mornings with all of the window treatments in place!
MORE POSTS YOU WILL LOVE: