Welcome to Day 5 of the 30 Days to Less of a Hot Mess Challenge! We're decluttering, reorganizing and taking a breath of fresh air to create a home we love. If this is your first time at the challenge, you may want to start here at the beginning.
**************************************************************
Hi! I'm Laura. And I'm a busy work-at-home mom. I plan my days around play dates and nap schedules, school drop offs and pick ups and work whenever I can fit it in. I stay up reeeealllly late and don't get much sleep. I run on coffee, diet dr. pepper and chocolate.
Wait. That sounds like a terrible plan for success, right?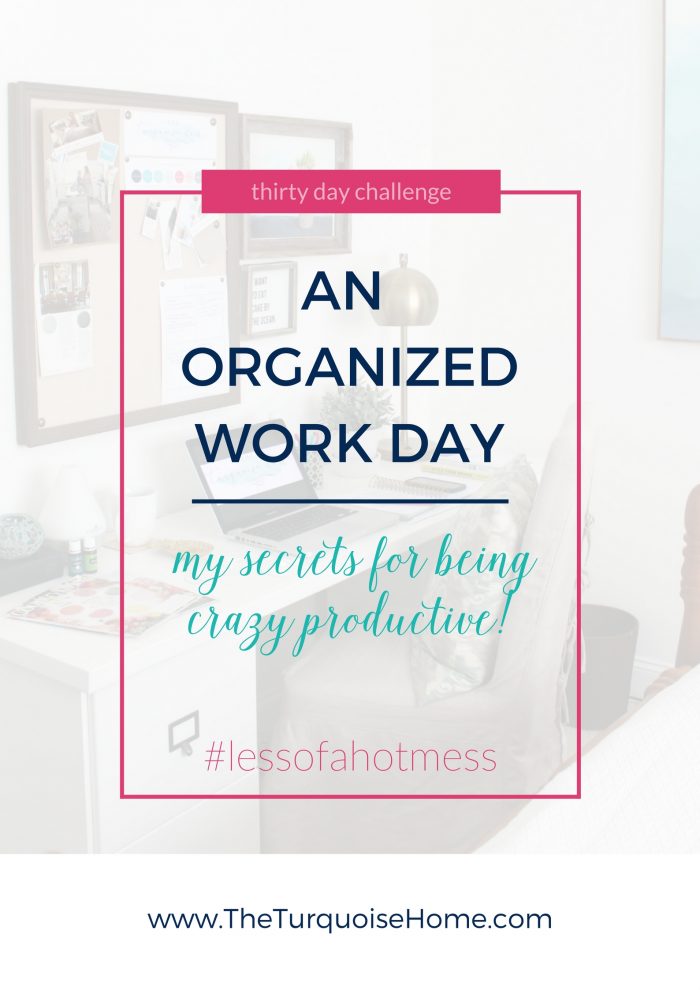 Well, that was mostly my life up until recently. I never in my wildest dreams imagined that I would be a self-employed working mom when I signed up for this wild blogging ride, but that's exactly what I am and I absolutely love it! It's the best of all the worlds. I get to be home for my girls when they are home and I get to work on my own schedule. I can take days off when my kids have field trips or when they are sick and need extra snuggles.
It sounds like an awesome gig, and it IS! But it comes with its fair share of struggles, too.
I find that it's hard to separate life and work since it all happens under one roof, oftentimes in the same room. There have been plenty of days when my kids get sick and I'm smack dab in the middle of a deadline. I spend the day trying to entertain them with the TV while I take pictures of whatever and curse quietly under my breath because no one is winning when Mommy is frustrated and babies are crying.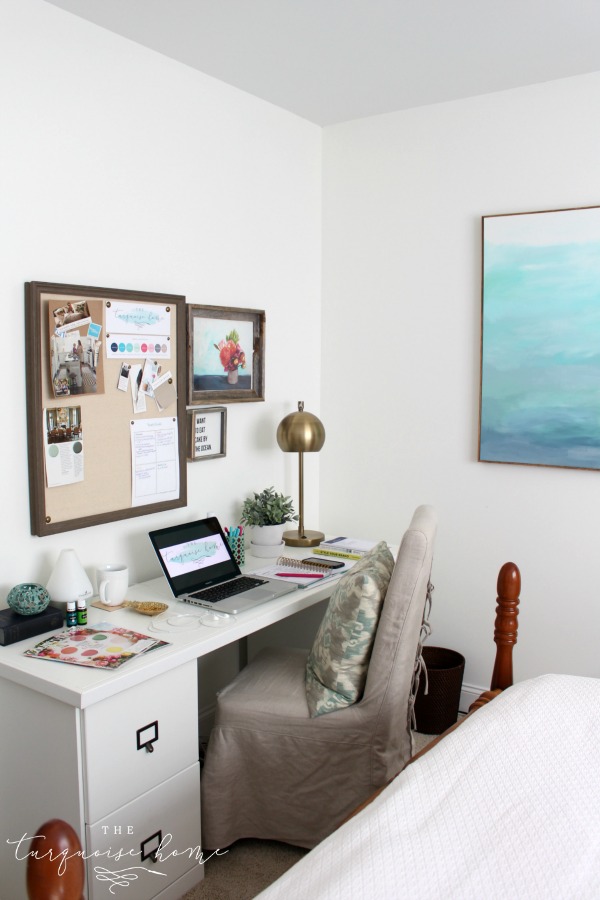 Honestly, it doesn't matter what you do or what stage of life you're in, there is always some kind of work to do. You may be a full-time homeschooling mom with a school routine, cleaning and cooking schedule. (I have the same cleaning and cooking schedule, but not the school routine.) Or you may be a full-time out-of-the-house working mom with kids in daycare. You have to find ways to focus while Ms. Talks-a-lot wants to fill you in on every little detail of her weekend.
Bottomline: we all have struggles staying focused, keeping organized and winning at our work!
I wrote a post a while back about How to be an Efficient Blogger. And what I shared then still applies today:
Have a designated office space. I've been working in my guest room/office for a couple of years now, but I'm getting seriously decluttered in there and organized like never before. I can't wait to share it all next week!
Use a Great Planner. We've already talked about this here and here. But to recap: I use a personal daily planner and a blogging planner for more in-depth business details.
Create office hours. This point has been the hardest for me to keep. It changes with each season and with holidays and summer, but I'm also bad about putting away the laptop and just spending time with my family. More on this in a sec.
Have Pretty Organization. I still love some pretty organization. It makes all of the difference for me in my work, too. I need a beautiful, organized space for me to work well.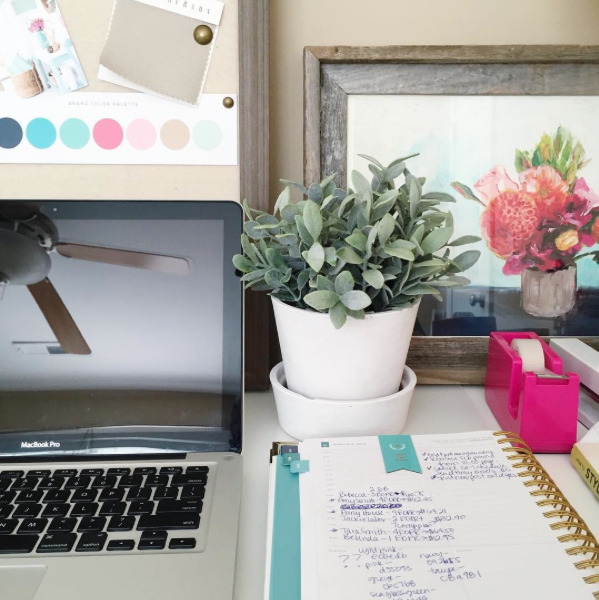 OK, so those are great tips and goals, for sure. I still work best when I'm sitting at my desk in my office with little to no distraction, everything is organized and I'm following my plan. I've worked this way for a while now, but I've recently gotten a bit more focused and serious about getting things done.
Find more working from home tips in this more recent post!
How to Time Block and Work More Efficiently
I've been using a 20-hour work week time block plan. This is how I do it. You can modify it to whatever time you have to work each week. (Stay tuned for a free weekly time block printable near the end of the post!)
Time Block Work Schedule Rules
Decide your Time Block Hours. BLOCK them out in your daily planner. These are your office hours. As in, if someone calls and asks if you can go out for coffee during those times, the answer is no. If a co-worker stops by and asks if you can take a break, let her know you'll be ready when you have a break.
Choose your Focus Categories. Decide what tasks are most important each week as you will assign each block a focus category.
Work in 25-minute Time Blocks with Breaks in between. I will work one 25 minute block and then take a 5 minutes break. Then work another 25 minute block and take a 10 minute break. I alternate 5 minute and 10 minute breaks between my time blocks.

For example, if I'm working 2 hours on Monday morning while my girls are in school, I will work from 9:30-9:55, then take a 5 minute break. Then I'll work from 10:00-10:25, then take a 10 minute break. And then work again from 10:35-11:00, take a 5 minute break, and then back at it from 11:05-11:30. Rinse and repeat.

FREE TOOL ALERT!!!

I use Tomato Timer on my computer to time each block and break. It's super simple and great for productivity!
Have your list of duties in front of you when you start and race to beat the timer!

Turn off all distractions!!! Do NOT have your phone next to you. I can still get texts and calls on my Macbook Pro if my phone is nearby, but I'm less tempted to pick it up and look at random stuff if it's not sitting right next to me. No Facebook, Pinterest or otherwise unless it's strictly related to your focus category.
Complete the hours consistently each week. Make them up if you miss them for some reason (holiday, sick kids, field trip, etc.). And try to say no to any non-necessary distractions, like spontaneous trips to Target. Not that I know anything about that! 😉
Let others around you in on your plan. I know that working from home is hard when my family is home, but I let them know what I'm doing and they know not to bother me unless it's an emergency. (I'm not talking about leaving my girls to fend for themselves, I'm talking about when my husband is home and he's caring for them while I work.) The same would be true for cleaning or taking care of household chores. Let your family know what you're doing and maybe they will jump in and help you beat your timer!
My Sample Focus Categories
I know these won't relate to everyone, but I wanted to give you an idea of what the categories might look like for a work-at-home blogger. 🙂
Writing – 8 blocks per week
Staging and Photography – 4 blocks
Photo Editing – 2 blocks
Graphic Design – 3 blocks
Comments – 1 block
E-mail – 2 blocks
Scheduling & Editing Posts – 3 blocks
Pinterest maintenance – 2 blocks
Goals – 2 blocks
Newsletter – 2 blocks
Weekly to-dos – 3 blocks
Monthly to-dos – 1 block
This is only 16.5 hours, but I have several hours in the evening that I work on other projects for my other businesses.
Weekly Time Block Schedule | Free Printable
I made a simple free printable for you to block off your time. It's super simple to just fill in the time slots on the left and block off the time as needed for each day. This really keeps me focused and on the right track each week!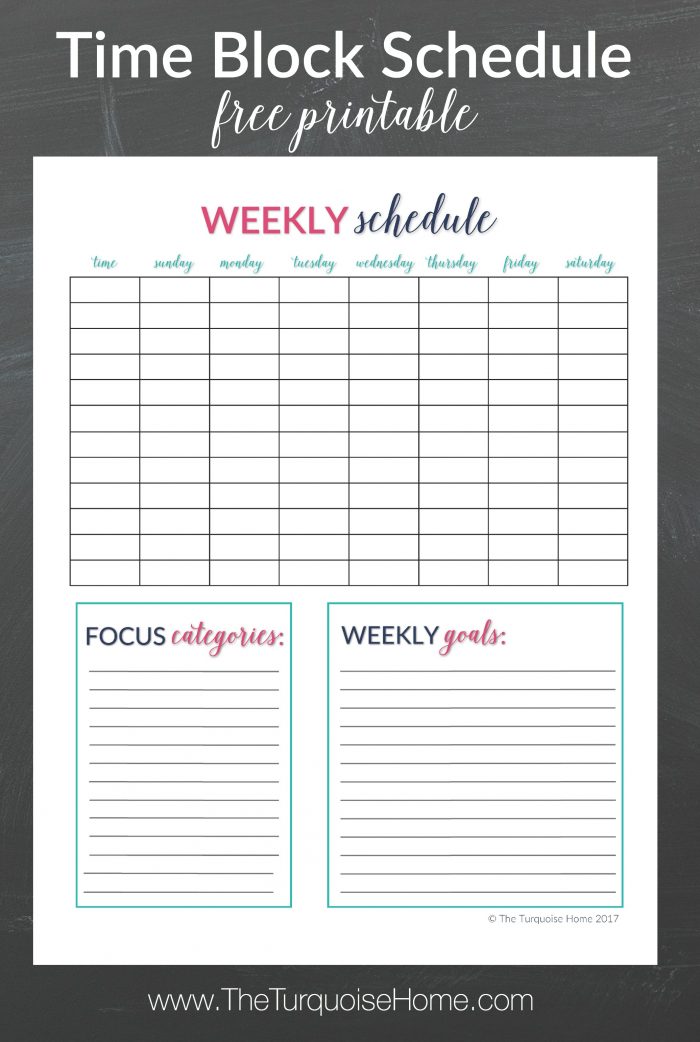 **IF you are already a blog newsletter subscriber, go to your most recent e-mail from me and log into the VIP Library with the password in the e-mail. The free Weekly Time Block Schedule is available for download there. Or you can click above and sign up again. You won't get double e-mails unless you use a different e-mail address than before. 🙂
Don't forget to share your organizing and decluttering this month on social media using the hashtag #lessofahotmess
The Messy Work: Print off the Weekly Time Block Schedule and list your focus categories. Block off your time slots to work on each one! Stick to them and make them up if you miss one.
Tomorrow we'll be talking about the organized cleaning schedule! Ohhhh buddy, it's gonna be so fun. LOL See you then!
In the mess with you, Laura