Happy Monday! Thank you all so much for the sweet words and kindness you sent to me after my grandmother passed away last week. And thank you for being patient with me as I return to my daily life (lots of laundry, cooking & cleaning) and blogging. I counted it and figured up that my family was in the car for more than 21 hours last week, driving back and forth between the states of Alabama, Tennessee and Georgia. The Georgia trip was pre-planned and was a fun (yet muggy) visit to the zoo with family. Needless to say, we're glad to be sleeping in our own beds again and taking it easy this week!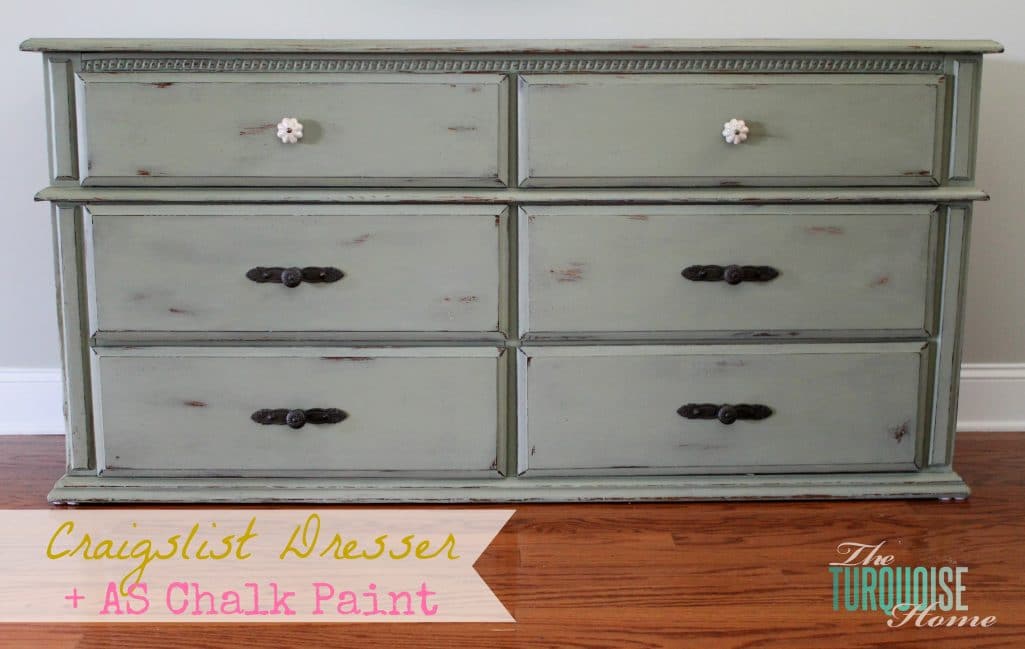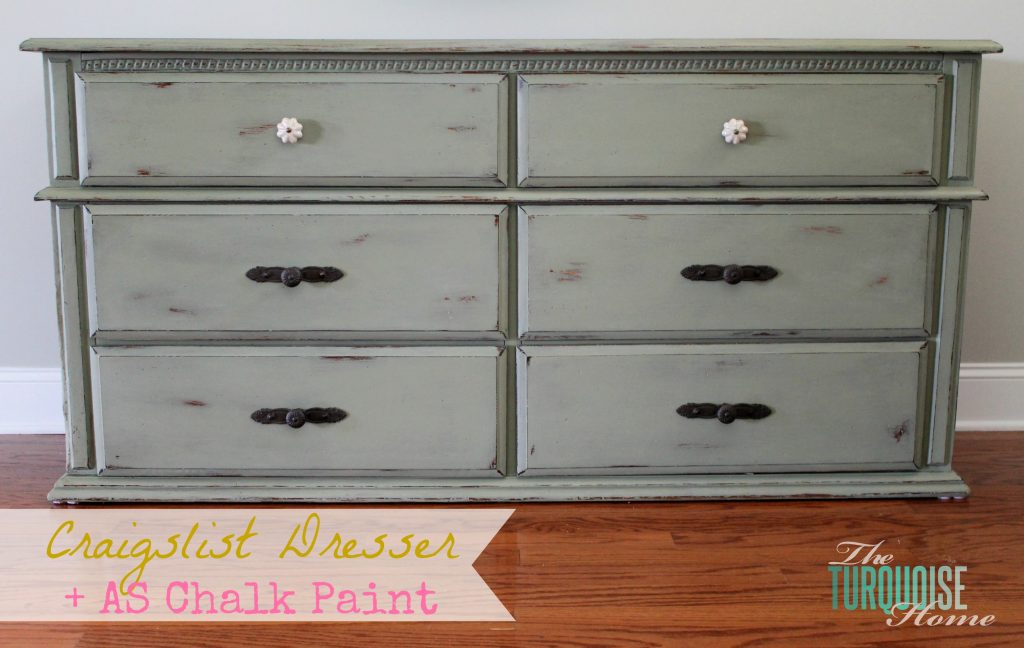 So, now on to the Craigslist Dresser. I introduced her  a few weeks ago, along with a little list of lessons learned when buying furniture from sellers on Craigslist. I didn't realize until I got home that one of the corners had been chewed up by what I presume was a family dog. And so many of you encouraged me to spend some time fixing it up and that it would look great in the end. Thanks so much for all of your sweet comments!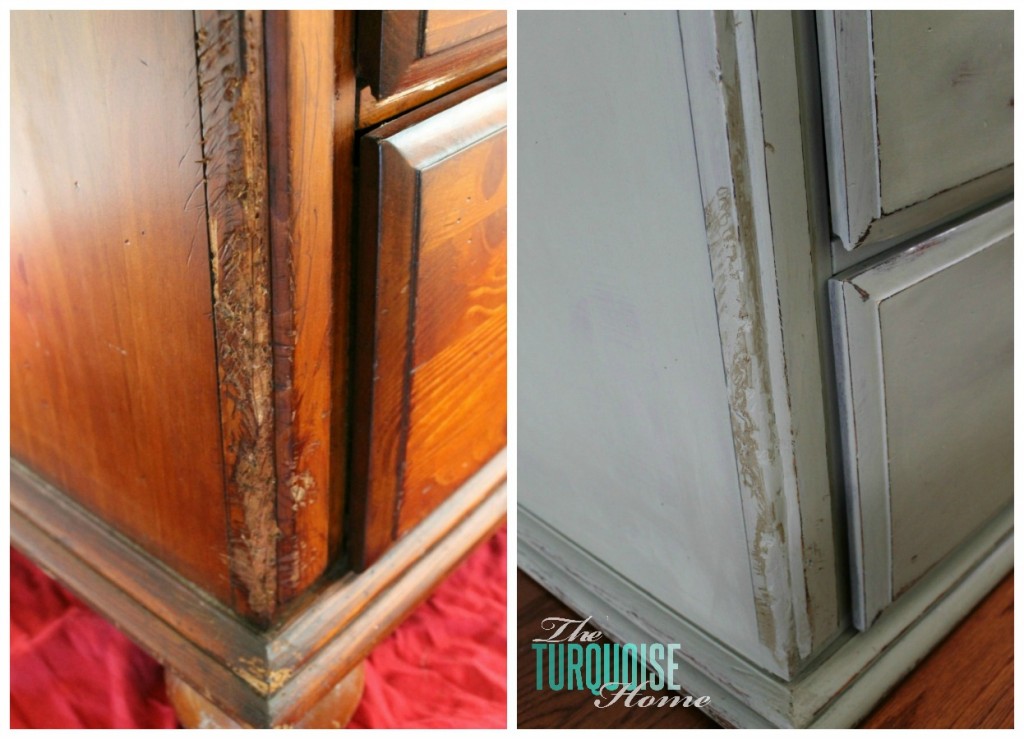 I did use some wood putty on it, and sanded it down quite a bit. And while I doubt anyone else will ever look closely enough to be able to tell there was something wrong, I can definitely still see it. And it's fine because the finish is so distressed, but I can still see it. It looked much less noticeable before I applied the wax. When I applied the wax, wood putty had a funky color reaction as you can see. But again, the distressed nature of it keeps it from being too noticeable.
I went with the ASCP Chateau Gray because I was looking for something to compliment these two fabrics that are in my dining room and living room. I didn't want my typical blue/green, so I wanted to go with more of an olive green.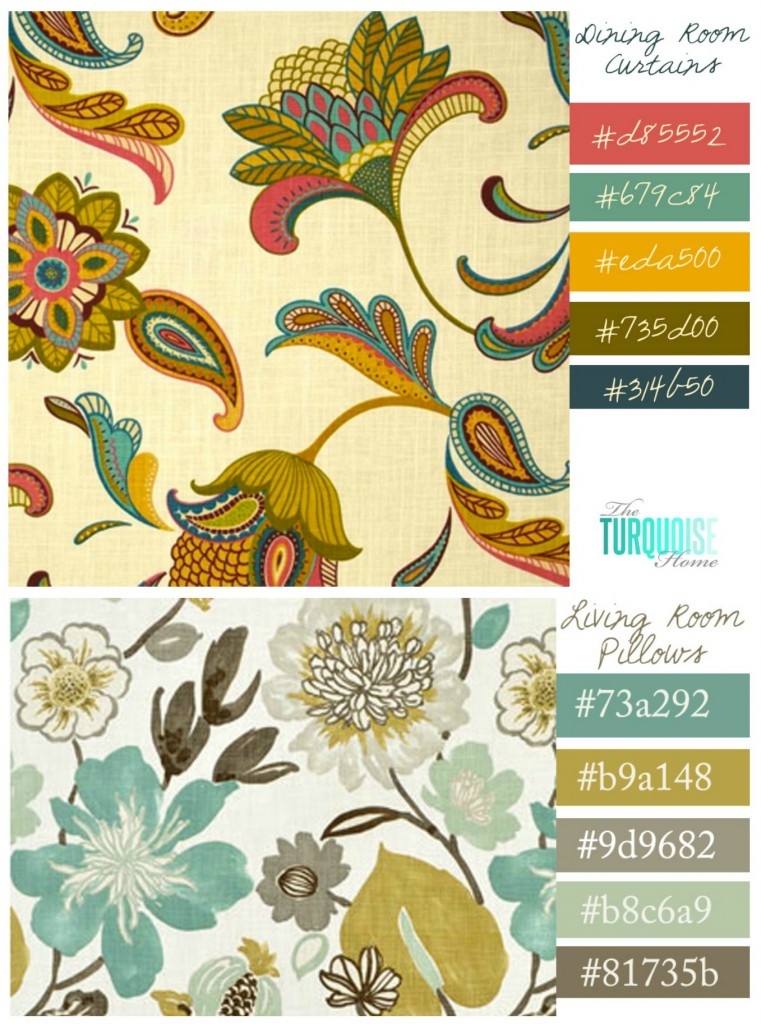 I wanted an olive-y green that played well with these other two greens from the living room and dining room.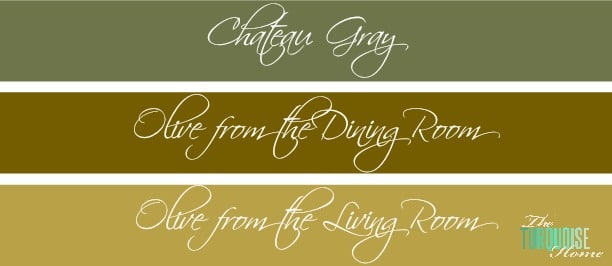 And now I'll have to bring in some bright colors from the other rooms. I'm thinking some yellow and pinks from the dining room curtains to pop some color into the entry way.
In regards to the painting, I learned from my first chalk paint experience on my bar stools that I didn't want two full coats of paint on this dresser. I didn't want full coverage and then some distressing. I wanted some slight variations on the large surfaces like the top and sides. So, I applied one light coat and then an even lighter second coat. I would say that the second coat was only in some places where I thought it needed more paint. You can see what I mean about the variations and brush strokes on the top of the dresser.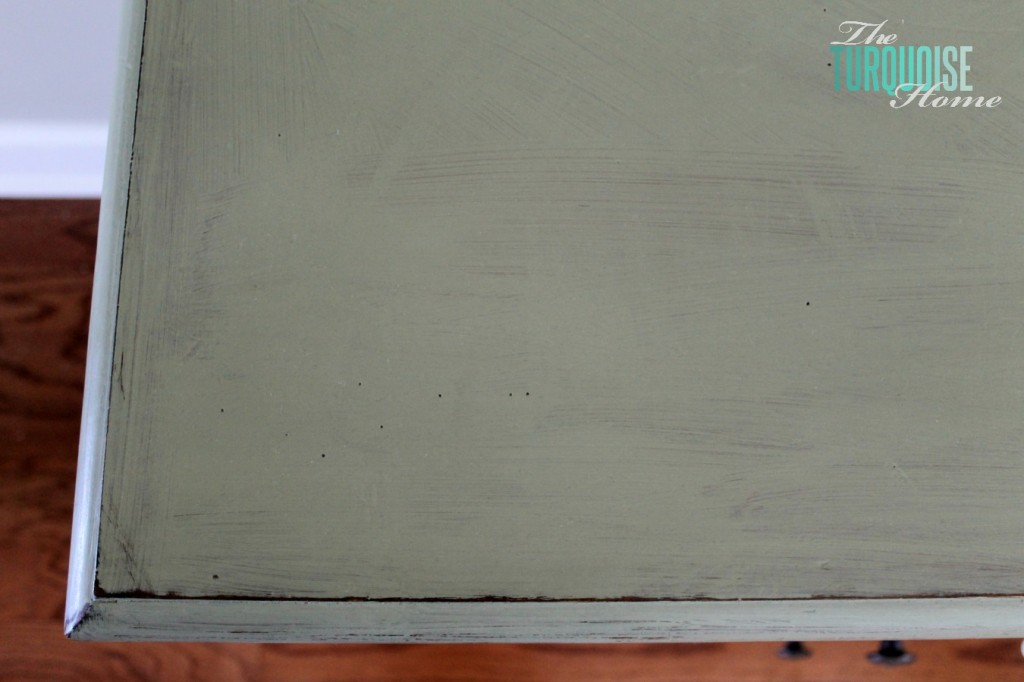 Also unlike with the bar stools, I distressed the dresser before I applied the wax top coat. The paint came off so much easier and I was able to do a lot of my distressing with a damp cloth instead of the sandpaper. I liked that technique so much better than waxing, distressing with sandpaper, and then waxing again.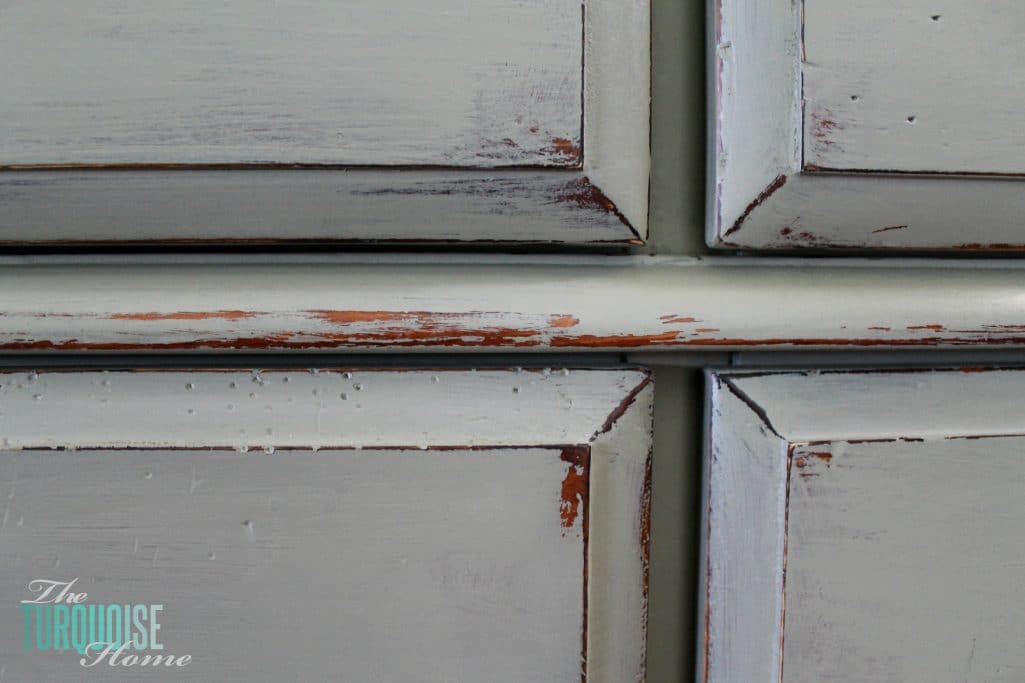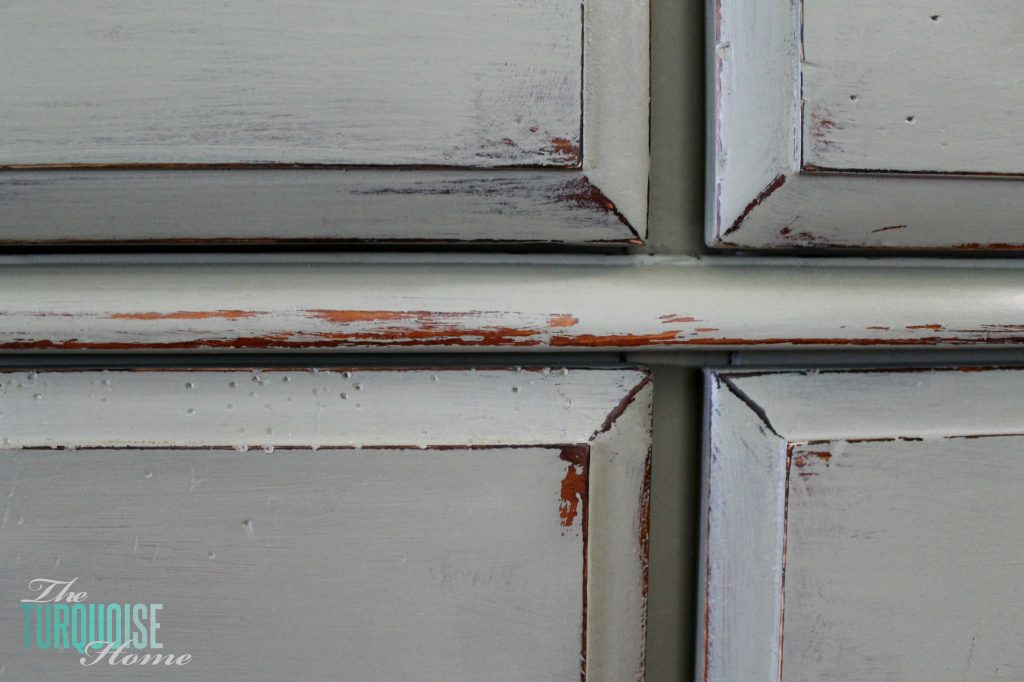 I tried to keep in mind what Miss Mustard Seed says about distressing a piece of furniture: you want to tell a story. As yourself, why would this part be rubbed off more than another spot? I'm not sure how great of a job I did telling a story, but I'm pretty pleased with my first large piece of chalk painted furniture.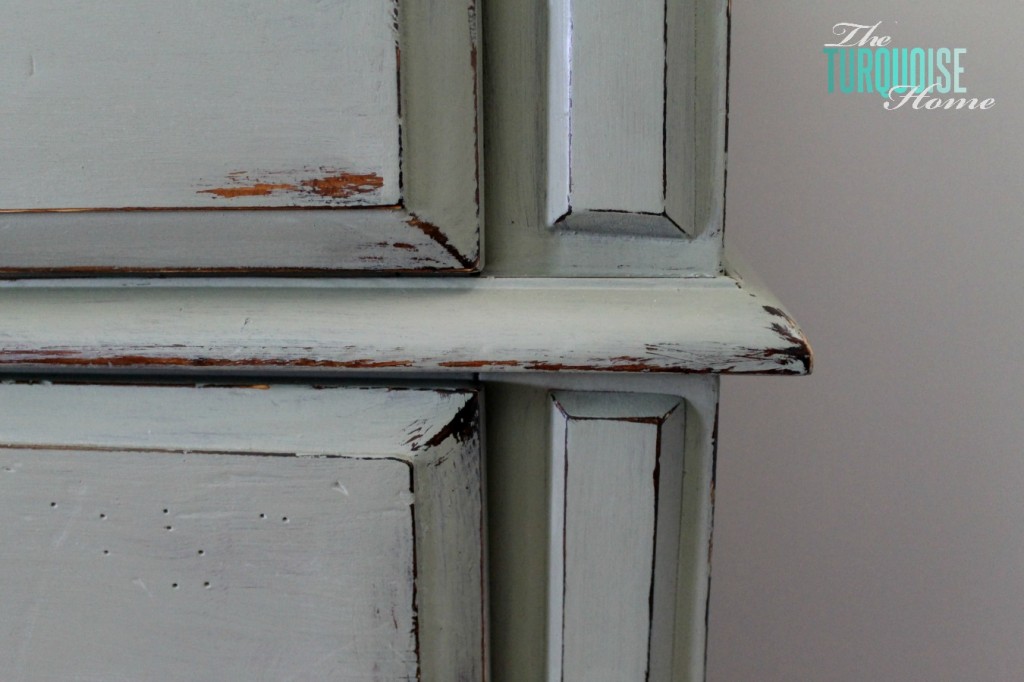 I bought the new hardware at Hobby Lobby. I ran over there one night right before they closed and had about 15 minutes to pick it out. I needed longer than that, and at first didn't like my choices, but they've grown on me. I liked the bottom four knobs, but not so much the top two knobs. I may end up replacing them at some point, but they're staying for now.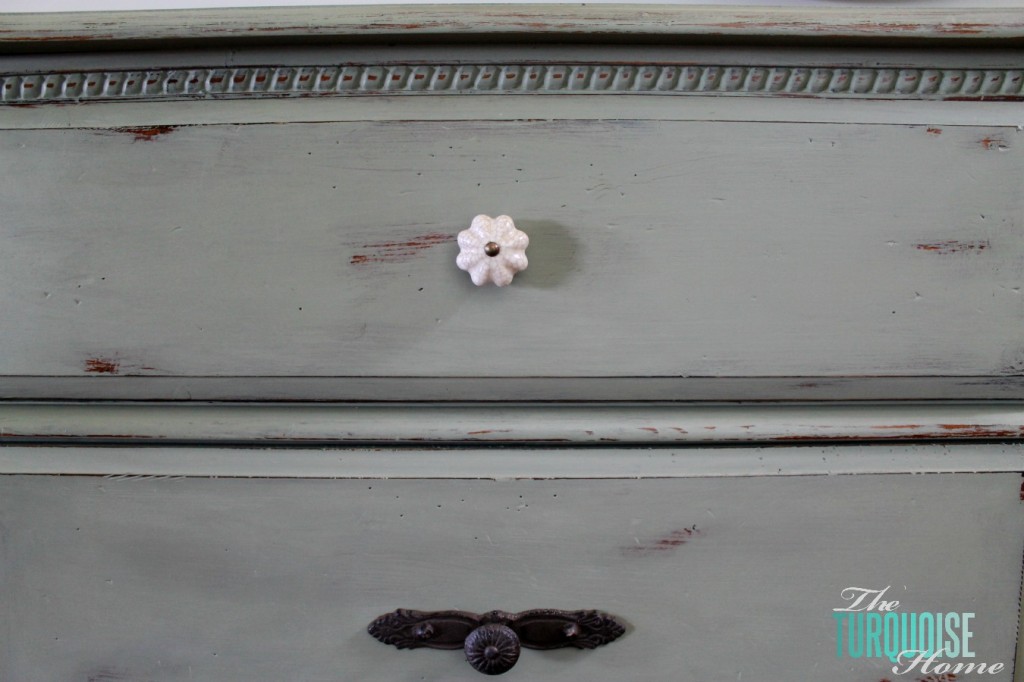 And now to finish the rest of the entry way. I plan on putting a large, round mirror above the dresser and maybe a lamp or two on it. I'm not exactly sure how I want to style it.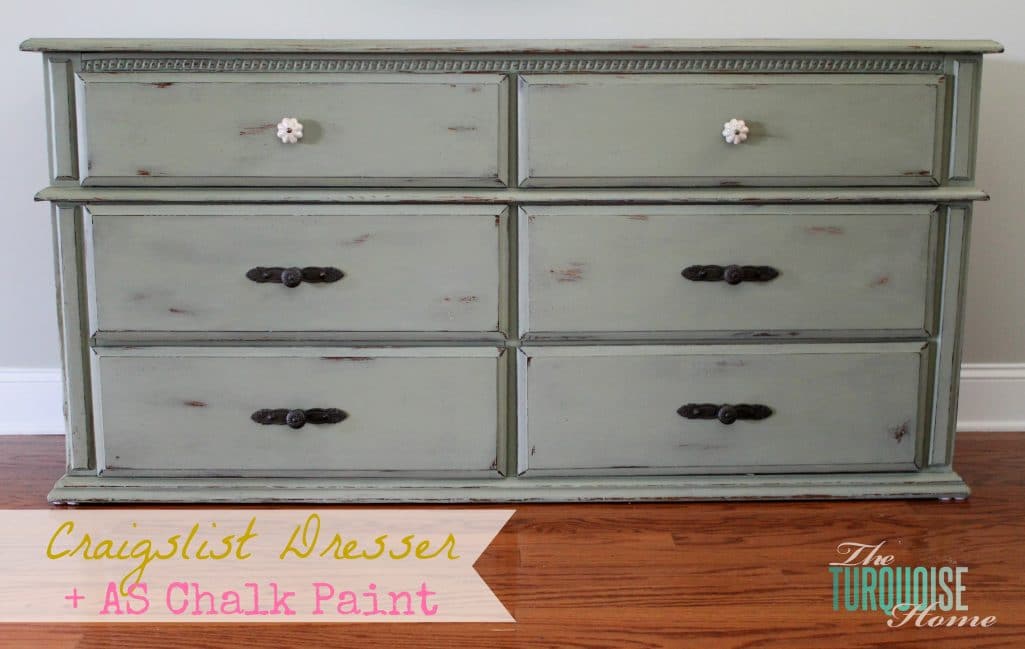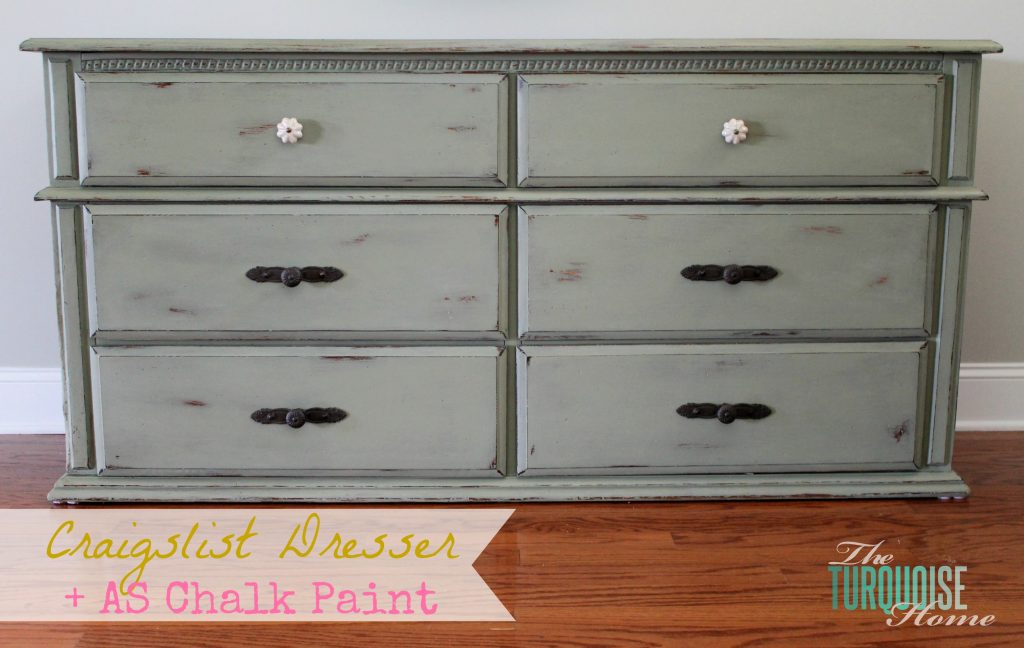 And then a rug? I'm considering all kinds of rug options in a foyer. To have a rug or not to have a rug? What do you think?
If you want to see it accessorized on any regular old day? The click HERE. And then HERE for the Fall version. 🙂
SaveSave