There are millions of girls room ideas for decorating your special little one's rooms. I've decorated two girls' rooms over the years from nursery to elementary aged-girls, so I hope these help!
I recently cleaned up my daughters' rooms and did a major decluttering effort, which I do every year before the holidays. I'm a big proponent of decluttering in the fall in order to make room for the inevitable toys and stuff that comes with their birthdays and Christmas.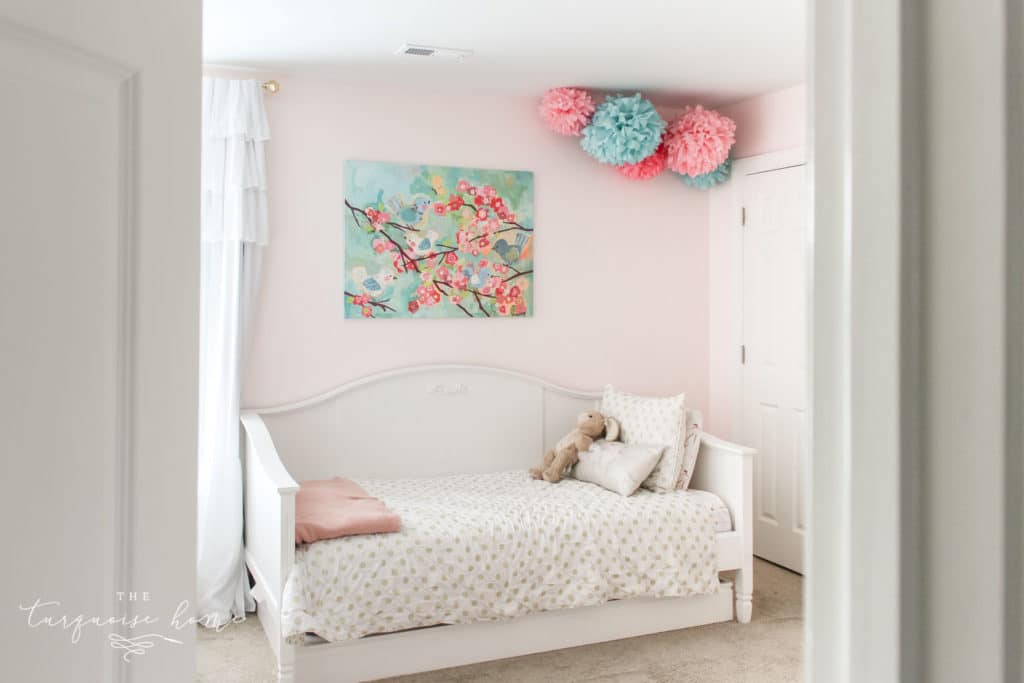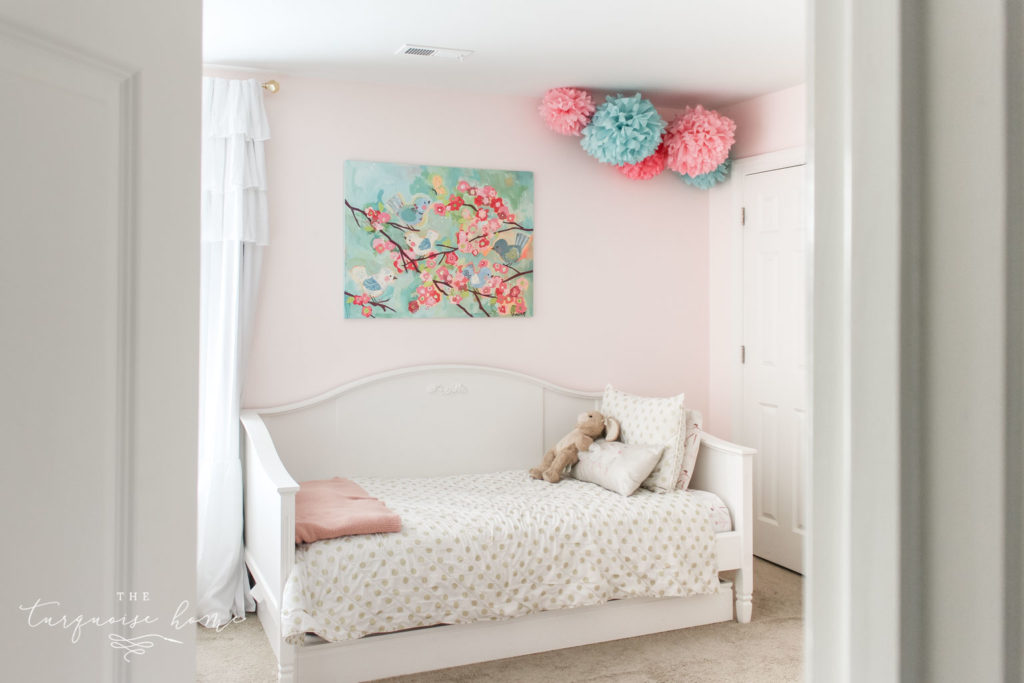 I have a section dedicated to "How to Declutter before the Holidays in ONE DAY" in my Holiday Planner! Use code OHOLYNIGHT for $10 off! CLICK HERE!
I really haven't shared much about their rooms since I shared their nurseries, which was almost 5 years ago! So much has changed, and yet some things are still the same. You can see my older daughter's nursery here and my younger daughter's nursery here. (Also a look back at some pre-historic photography skills. 😜 We all start somewhere! 😂)
I've done many DIY projects in these rooms, so I hope you find them inspirational for attainable little girls bedroom ideas.
This post contains affiliate links for your convenience. See my full disclosure policy here.
Turquoise & Pink Nursery Turned Gold & Pink Big Girl's Room
First up, my oldest daughter's room. She's currently 8 and I think it'll be time to do an overhaul of her room and make it a tween room soon. But for now there are still elements from her nursery that we're clinging to.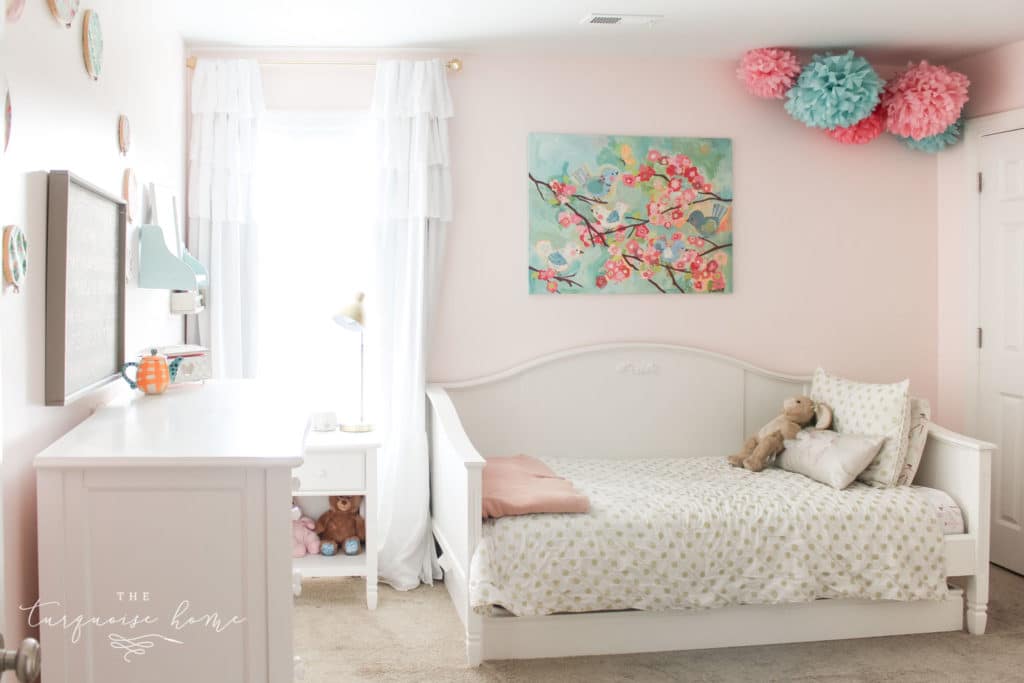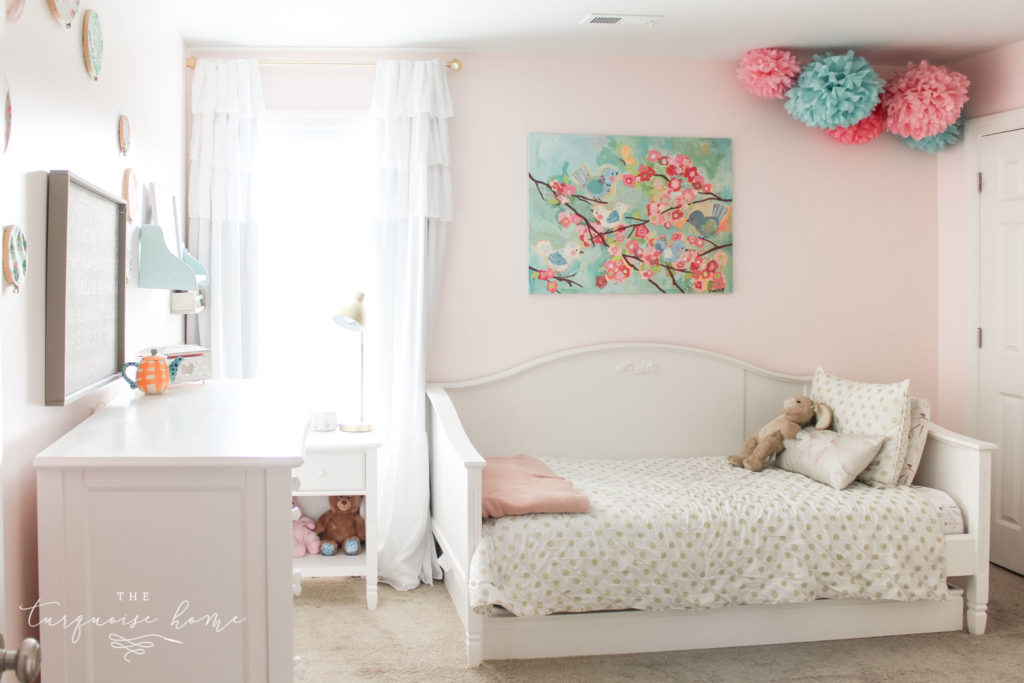 Years ago, when we bought her daybed and trundle (similar bed) I started to transition the color scheme from the nursery colors to pink, gold and white. But my daughter never wanted me to take down the bird canvas hanging above her bed. So, we've left it there this whole time along with the tissue paper pom poms in the corner.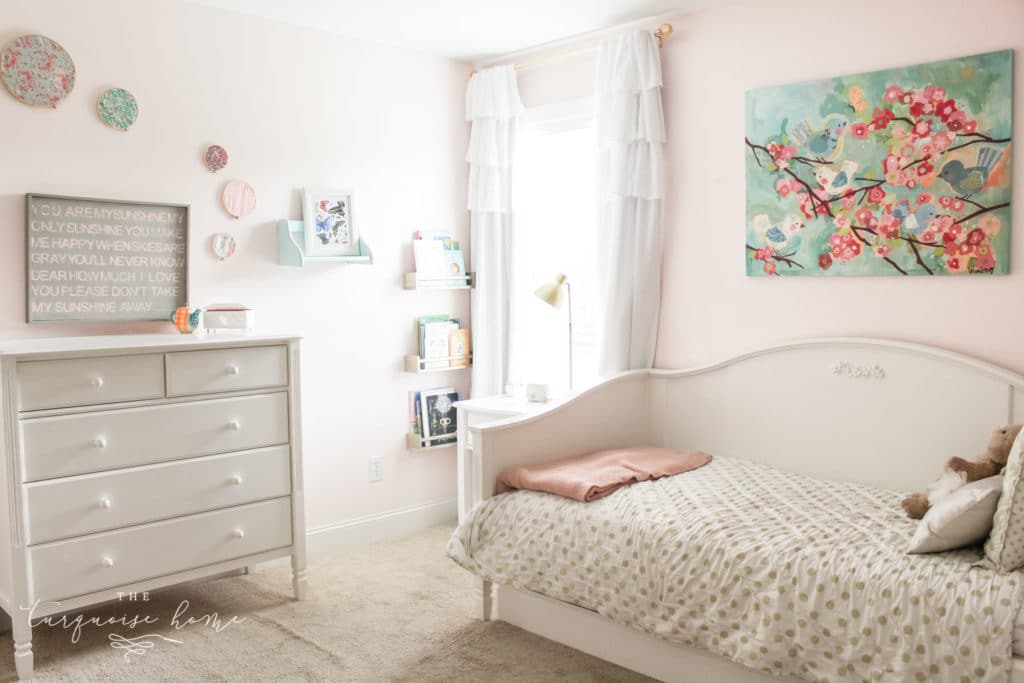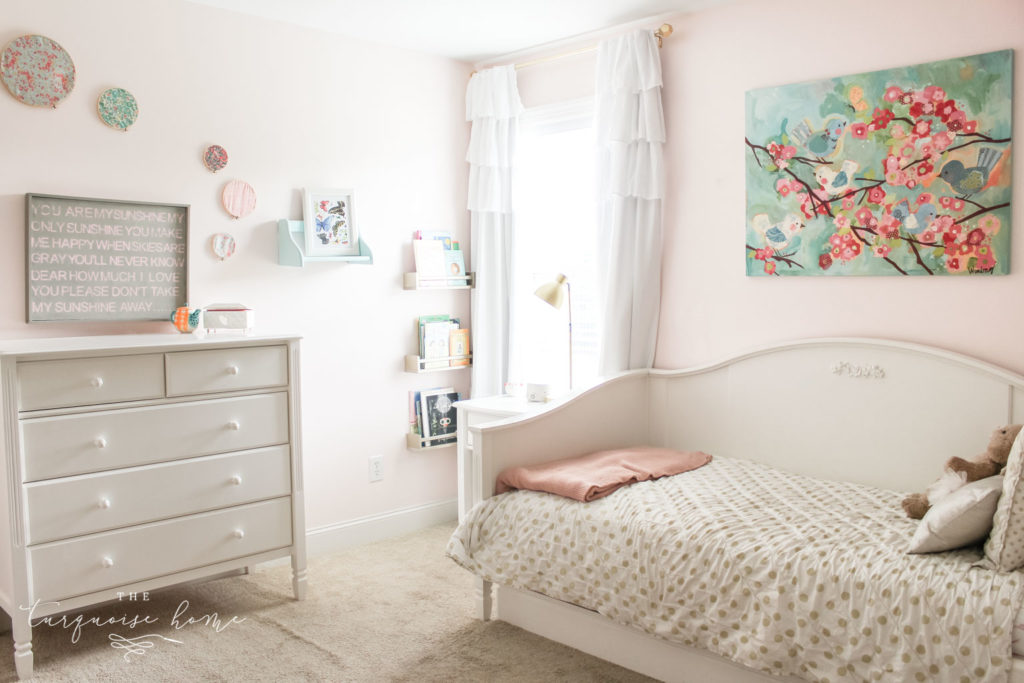 And inevitably because I bought most of these elements a long time ago, they are no longer available. But I'll link some similar items if you'd like to have them in your girl's room.

The gold and white things I bought were for her "big girl bedroom" were things like the "Hello Sweet Beautiful Girl" framed art from Hobby Lobby. It's not longer available at Hobby Lobby, but you can still buy it from Lindsay Letters Shop.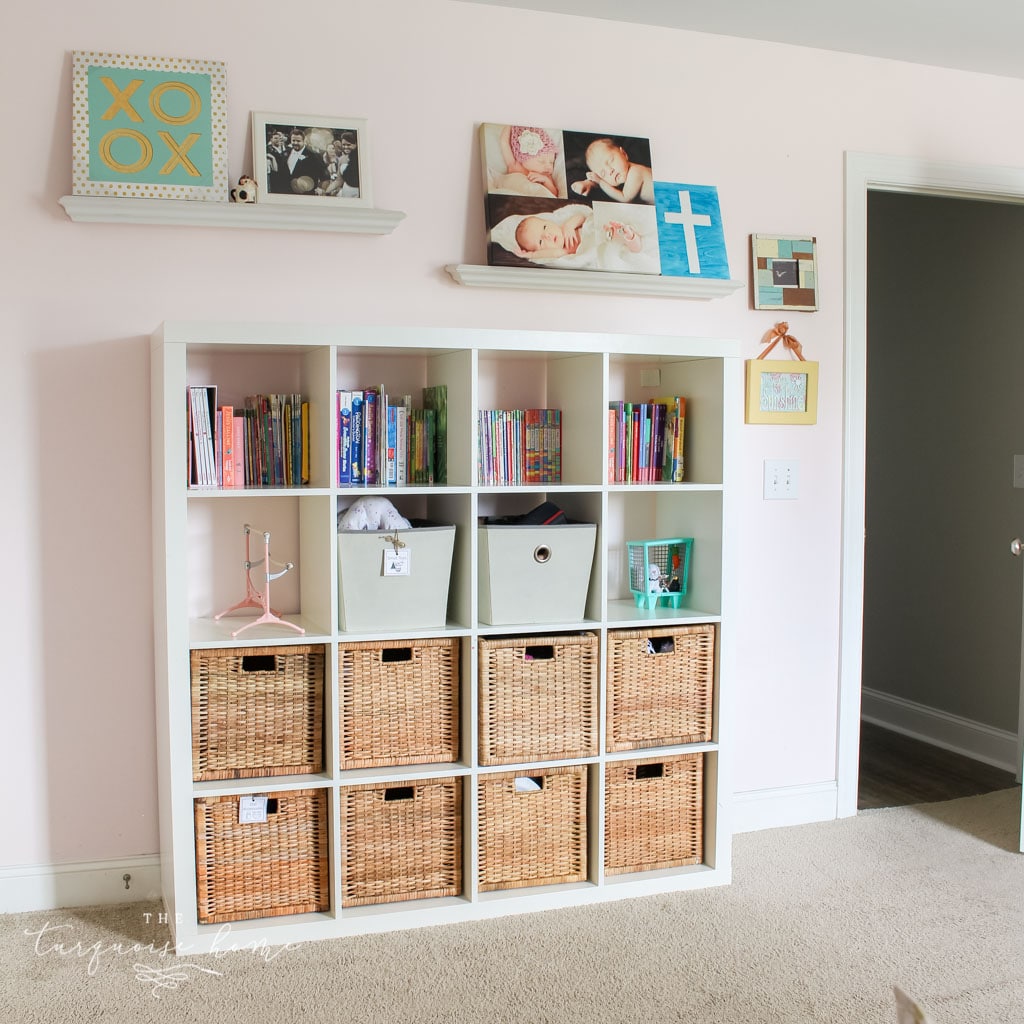 The gold and white polka dot duvet and ballerina sheets are some of my favorite elements in the room.
I built the little book shelves in the corner from IKEA spice racks and painted them with gold spray paint. And made the hoop art from some fabric I picked up on a trip to New York City. I made the "You are My Sunshine" art with a DIY stamp project, too!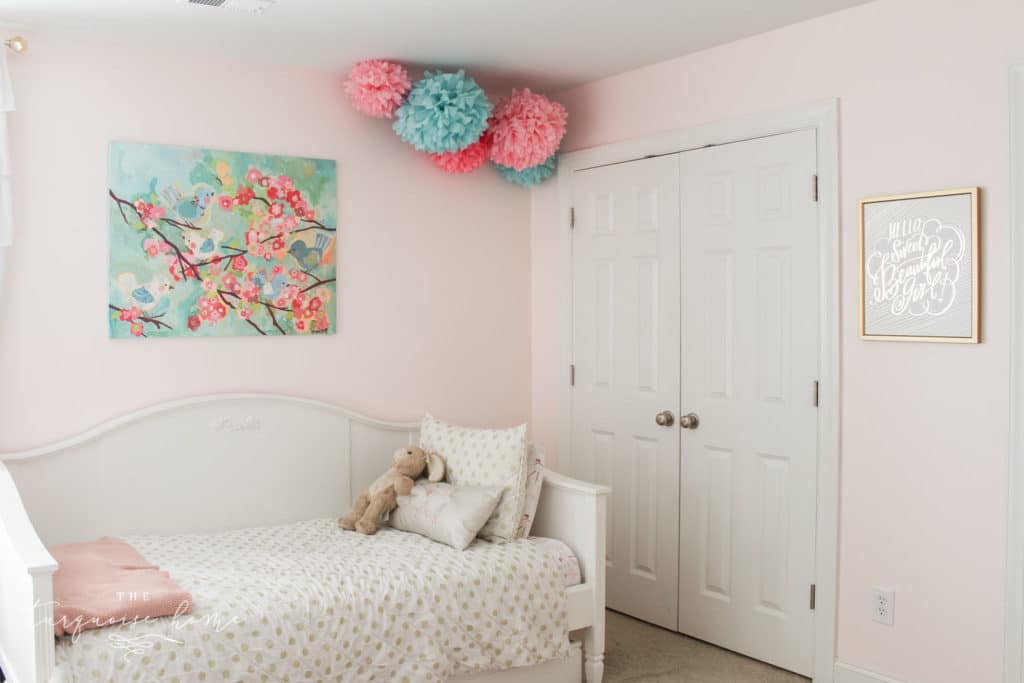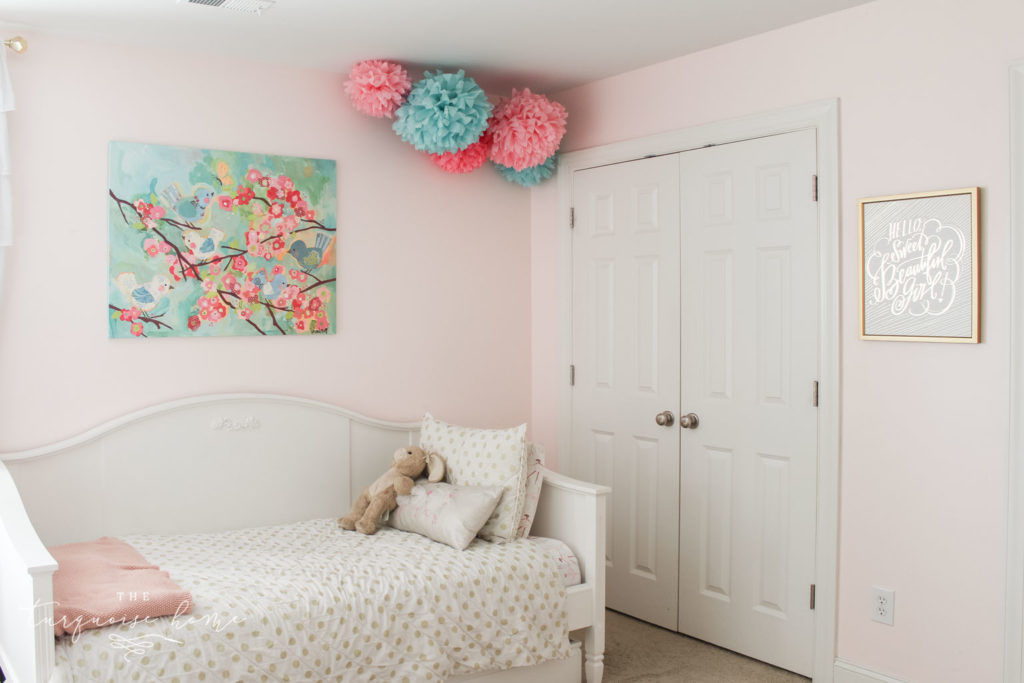 I think we'll probably transition to a full tween/teen girl room soon, but in the meantime I'm enjoying the fact that we're still teetering between the sweet nursery look and a little girl's room.
Woodland Creature Nursery Turned Little Girl's Room
Now on to my younger daughter's bedroom. She's 4 and it still looks very much like her Woodland Creatures Nursery I did when she was born, which was one of my very favorite kid rooms ever. I spent a LOT of time planning and executing every single detail.
And really the only changes now are that the rocking chair isn't in there and we converted her crib to a full bed frame. Oh, and added the IKEA Kallax cube storage system in the corner for her toys, which has plenty of storage.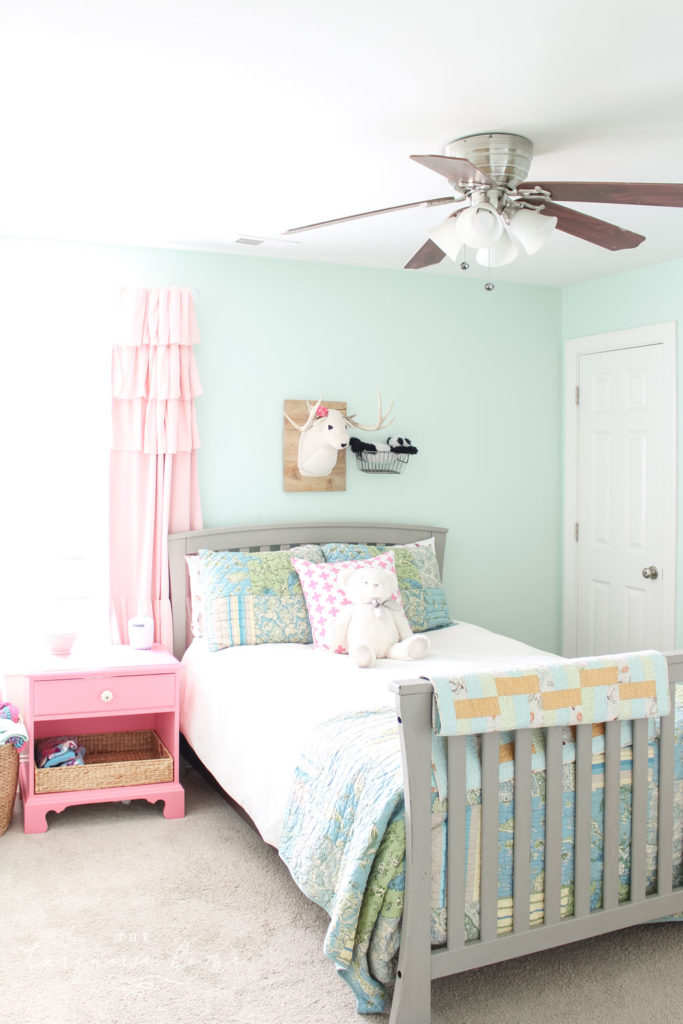 I moved her dresser into her walk in closet to make room for the toy storage. Now all of her clothes are in the closet and I can get everything in one place without walking back and forth between her closet and her room.
Can you believe that I MADE that DIY faux taxidermy head over her bed? I'm still so glad I took the time to craft that. I love it so much, even though the deer antlers have fallen a little bit over the years. (Those antlers are real from a buck my husband shot before she was born.)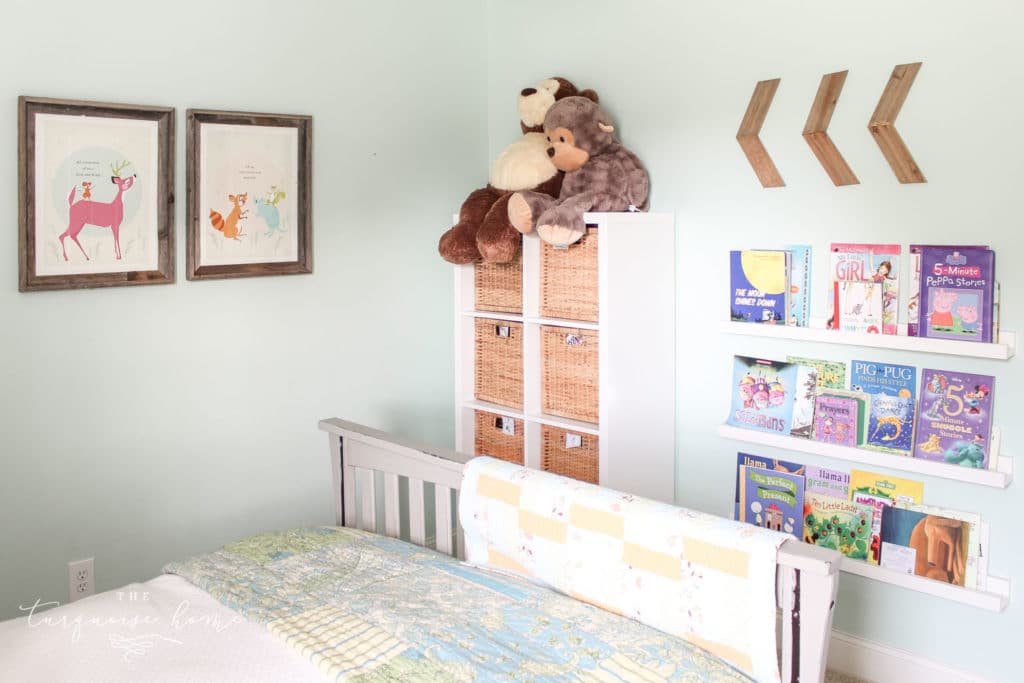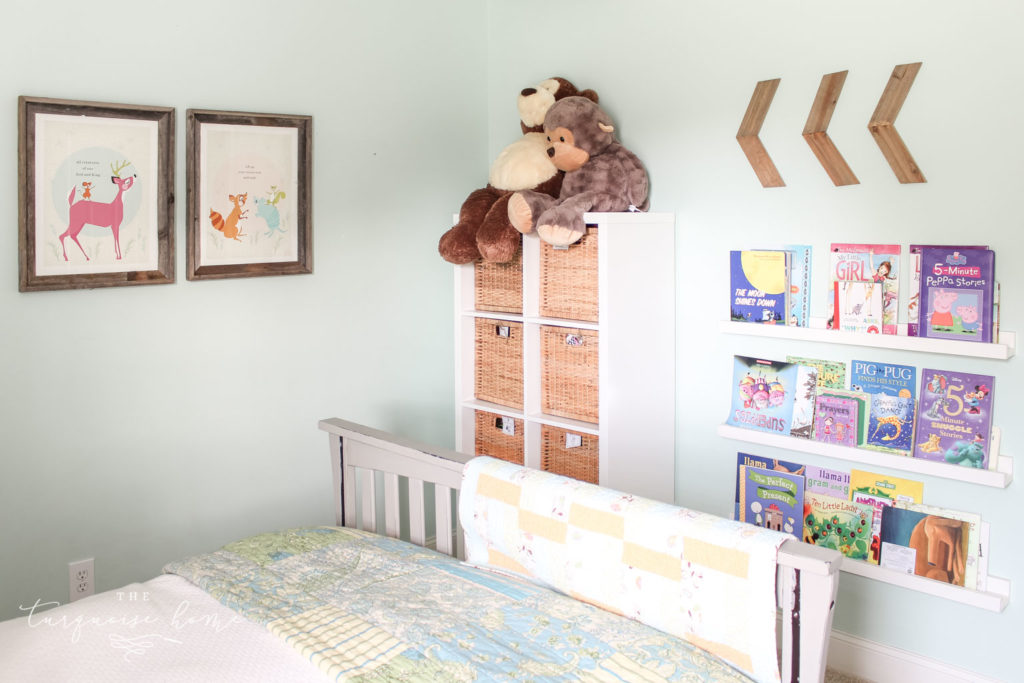 The bookshelves on the wall are similar to the IKEA spice racks I did in the other room, but these I built from boards from the hardware store. I shared the easy bookshelf ledge tutorial to build those here.

The whole room was originally inspired by the Deer & Mouse and Raccoon & Armadillo wall art prints. I still love them as much as the day I bought them! I highly recommend falling in love with a print or fabric and building your room from there. It just makes me happy every time I walk in the room. You can see my whole vision board for the nursery here.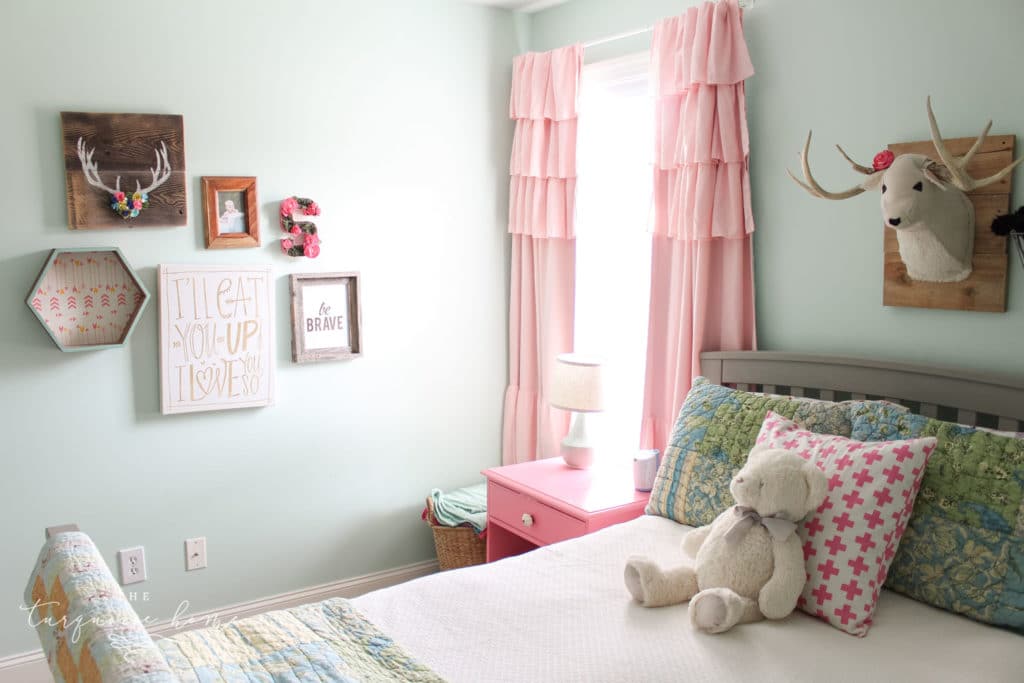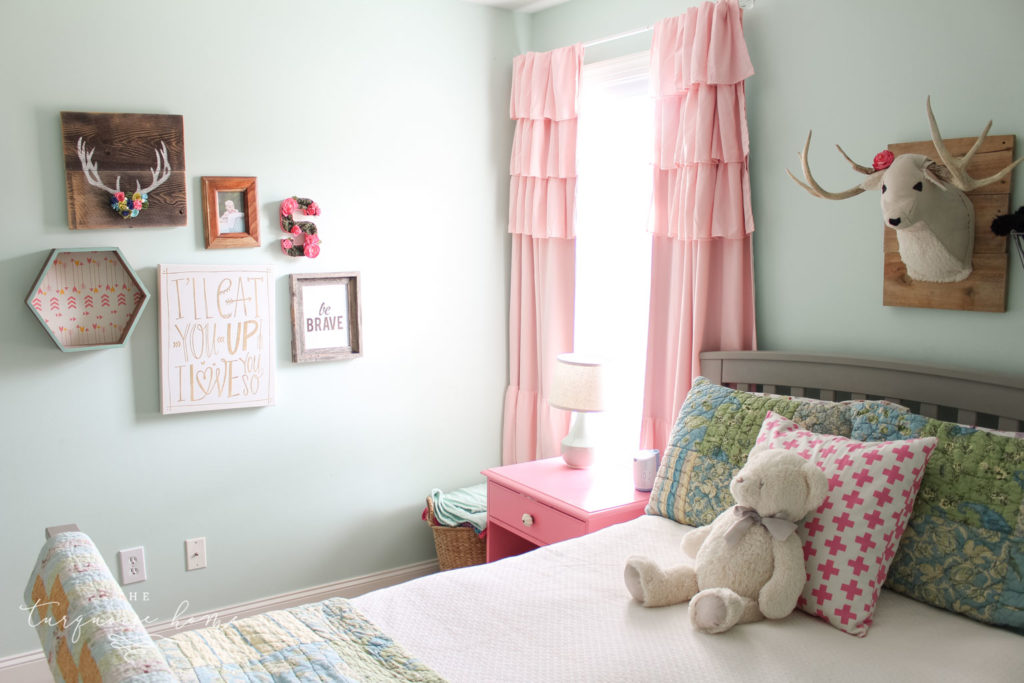 One thing I've added to both girls' rooms in the recent years are these ruffled black out curtains. They are pretty inexpensive and get the job done! I love them for helping them sleep later in the summers 🙌🏻 and going to bed earlier then too. 😜 I think they are a great purchase for a girl's room if you're also in need of blocking out the sun. They come in three colors and three different lengths!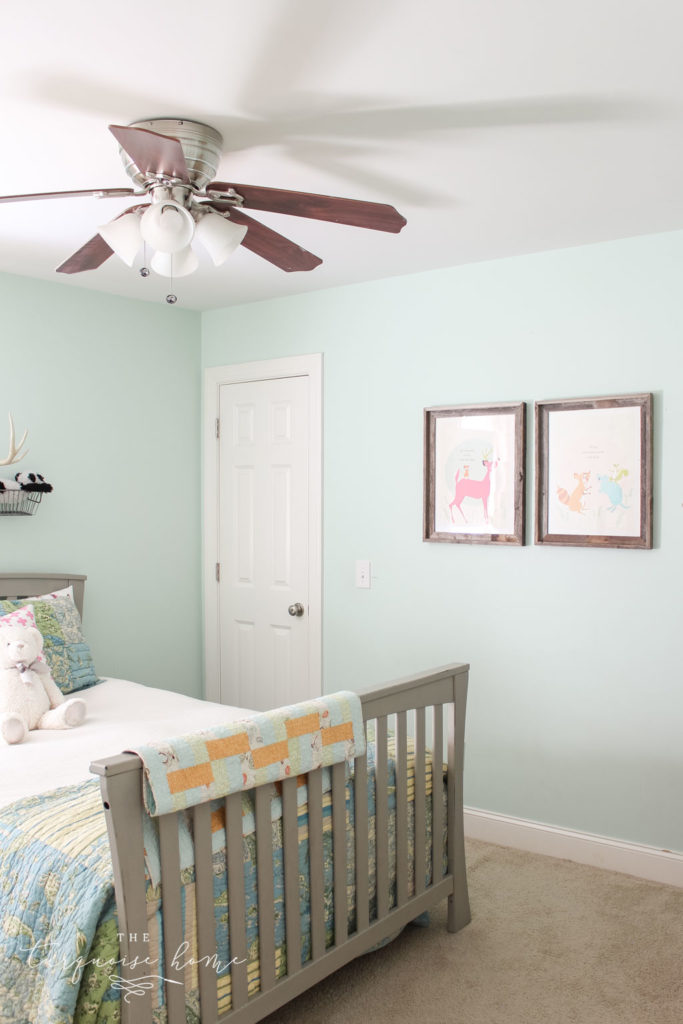 In the future, we're eyeing this bunk bed for them. They've decided that as they're getting older, they'd rather share one bedroom and have the other room as a play room. We'll see how that goes! Maybe Santa can bring them a bunk bed this year. 🎅🏼😉
I hope you've enjoyed this update on my girls rooms and hopefully have some new room decor ideas for girls in your life!
Paint Colors in Each Room:
Pink Room is Cream Puff by Benjamin Moore
Blue/Green Room is Lido Green by Benjamin Moore

Get Instant Access to my Guide to Customize Your Home on a Budget
Grab your FREE guide for 10 Ways to Customize Your Home on a Budget: simple projects to transform your home from builder beige to a home with character and charm!