Pairing Paint Colors with Revere Pewter
Let's talk about my favorite paint color and the most common search term that leads people to my blog: Revere Pewter. Seriously, people are eaten up with this crisp, gray hue. And one of the most common questions I get is "what colors work well with Revere Pewter?"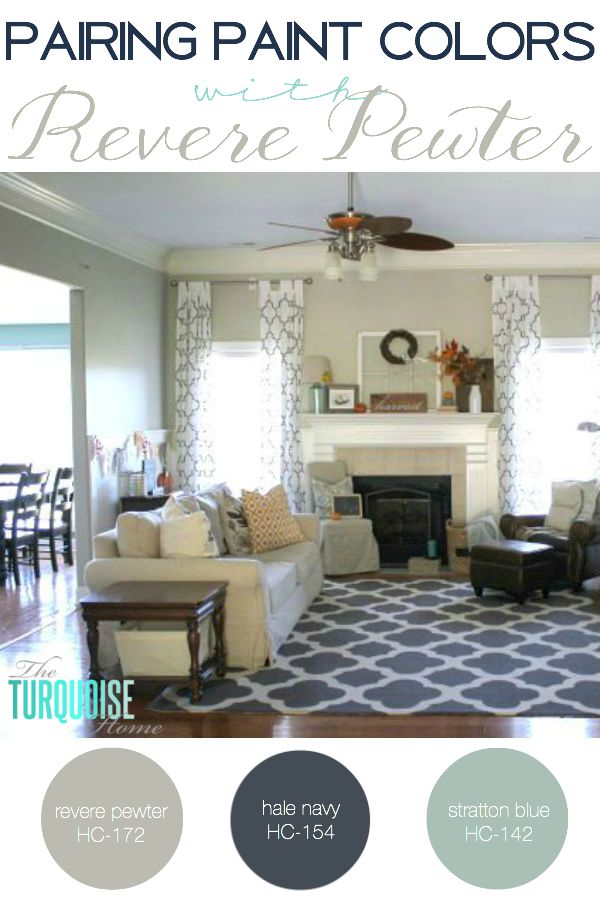 So today I thought I'd share some colors that I've paired with Revere Pewter. I can only speak to what I like, but I've found that Revere Pewter goes well with any color on the color wheel! Really, it looks fabulous with both warm and cool tones.
I love it with my wood furniture as well as the cool blue greens on my adjacent walls. Since it's in my open living space, it has to look good with everything. I have never regretted the decision to paint the walls this color and I can't imagine ever changing it. It's just that pretty – not too red or yellow, green or blue. Just the perfect gray!
OK, so first. I think it pairs so well with blues. Of course, right? This being The Turquoise Home and all, I would obviously pick a gray that looks well with … turquoise.
The walls next to Revere Pewter in my open living space are my kitchen and dining room walls, which are two very similar colors: wythe blue and stratton blue both by Benjamin Moore. Really, all of the rooms in my home are adjacent to RP with the exception of the master bathroom and closet. So, if you look through my paint colors in my home, you can choose any of them and be good. 🙂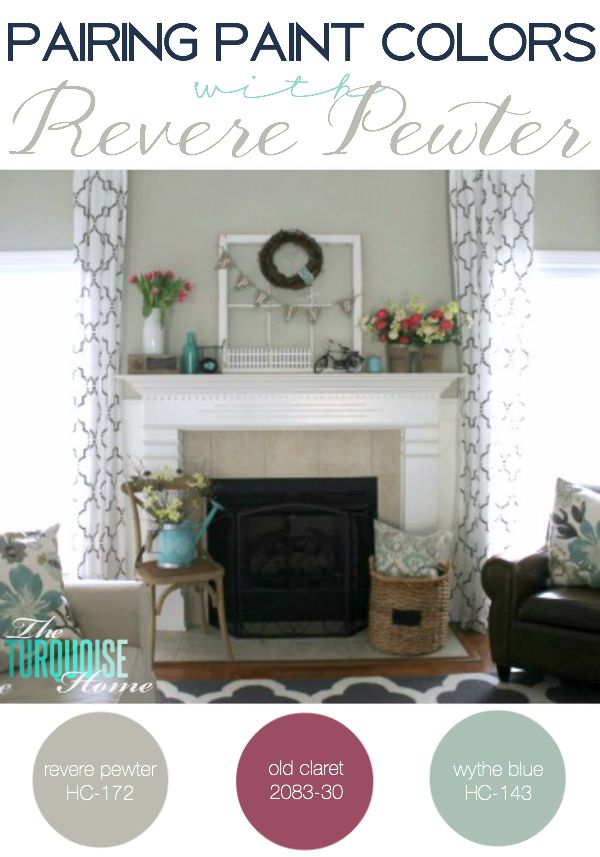 But I've also taken a couple of my mantels and chosen colors that I think would look good with Revere Pewter.
I love, too, that you can choose RP as your open space color and choose neutral furnishings and then bring in pops of color through your decor. Then you can change them out as you want! As you can see, I love to decorate with pinks, yellows, all shades of greens and blues. And then during the fall I'll also add in some reds and oranges.
Have you found a perfect go-to wall color?
Or are you in love with Revere Pewter like I am?
PS – all colors are Benjamin Moore colors. I personally have Hale Navy, Wythe Blue, Stratton Blue and Revere Pewter in my main living space. I love that combination the most!
More Posts You Will Love: