Our Brick House Exterior Makeover (White Trim & Black Shutters)
After 1 and a half years in our house, we finally have the outside of our home looking like we want! It's crazy how much a learning curve there can be when starting out with a new yard and home. But we finally have everything looking the way we like!
And probably much to the surprise of many, we did not paint our red brick house.
I have decided I really like the red brick look. And while I think the white painted brick homes are beautiful, we'll be keeping this one as-is!
When we moved in almost 18 months ago, our red brick cape cod style home had yellow trim and hunter green shutters. A sure throwback to the 90's era in which it was built. But as much as I love green, I was ready to get rid of it on the shutters. And yellow has never been a favorite color of mine.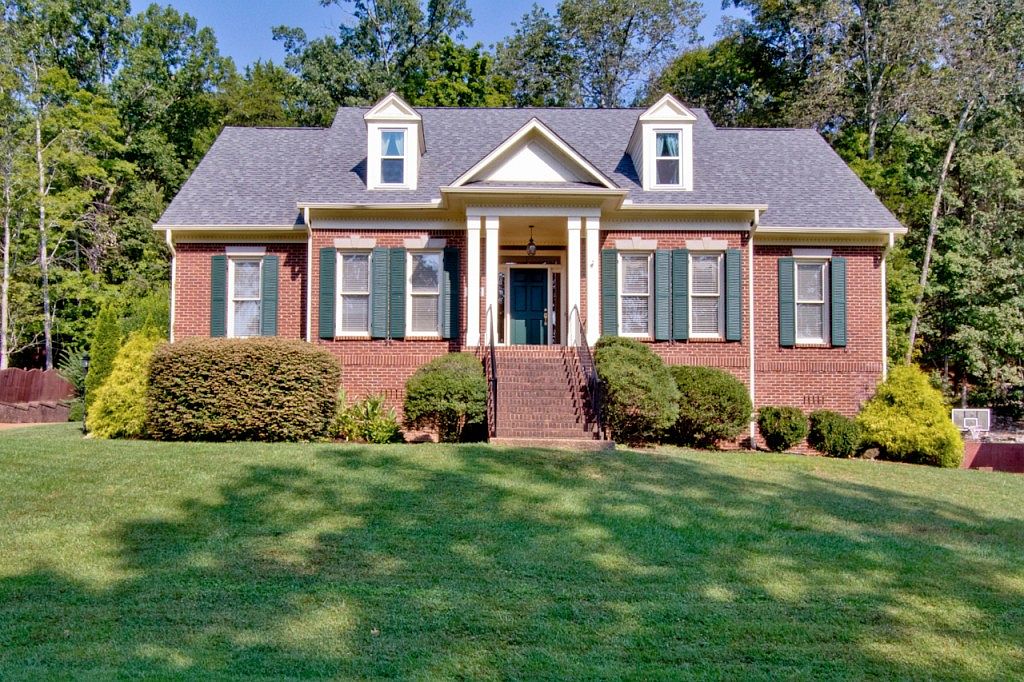 Other than the trim and shutter colors, I really loved the outside of our home. I love the grand steps and the real shutters and the two dormers upstairs. It's a classic, beautiful home, in my opinion. The grass was nice and lush, too. The landscape was a little overgrown, but you'll see here in a minute how it looks now.
Then last summer (our first summer in the house), we hired a lawn company to keep the weeds at bay. And instead of simply eliminating the weeds, they killed a lot of our grass in the front yard. It was a mess. If you remember, the house looked like this for a while…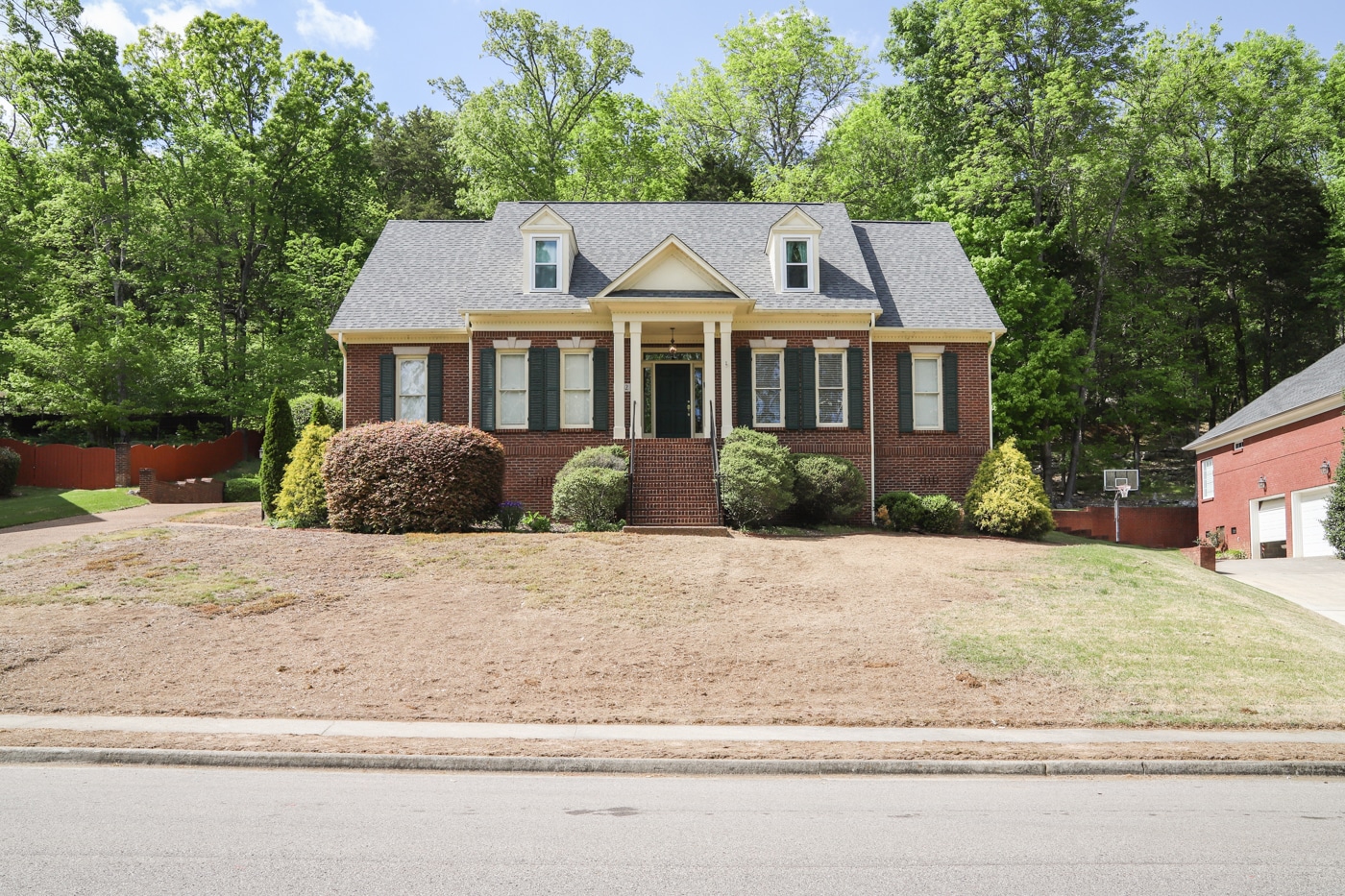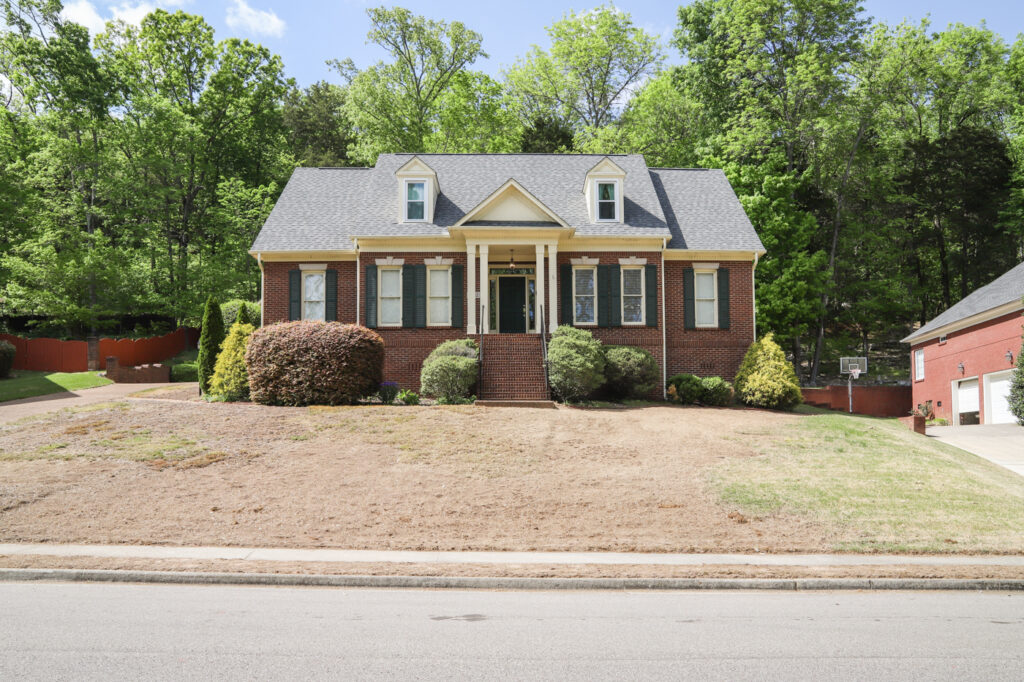 Every time I pulled into the driveway, it made me sad to see the brown yard. (That's not just dormant grass. It was dead as a doorknob.) So, we made plans to fix everything this spring.
And I shared my plans in my Home Goals 2021, Part 1 post back in January. My goal was to get a quote for painting the yellow trim and green shutters by the end of April. But lo and behold, the painting was FINISHED by the end of April. Kudos to me! 😜
In that home goals post, I shared, "I'm thinking about painting the white trim my favorite white: Simply White (Benjamin Moore). And I'm considering Graphite (Benjamin Moore) for the shutters and front door. It's a soft black or charcoal and looks really good on the exterior of a home."
And that's (almost) exactly what I did! Keep reading to see which paint color I ended up choosing for the front door and shutters.
We hired the painters in February, which meant we got put on their schedule and then had to wait for their schedule and the weather to line up. They started in mid-late April. And it took them about 3 1/2 days to get it all done. In the end I was so pleased with how well they did and how quickly it was.
What Type of Paint to Use
My painter asks the homeowner to get the paint for his projects. This saves him a step and makes sure I am getting exactly what I want. I think it helps him cover himself from disputes, too, because if I'm picking the paint, I can't complain. You know?
I did not want to skimp on the type of paint I got for this job. If I'm paying someone to paint for me, then I want to make sure the paint quality is top notch. The painters told me over and over again about how good this paint was and that they have painted homes before that took 4+ coats because the owner bought cheap paint. And in the long run it cost them more money and wasn't a good product on their home.
OK, so I did my research and for the white trim, I bought Valspar Duramax Exterior Paint in a Satin Finish from Lowe's. It went on great!
Then for the front door and shutters, I bought it from my local decorating store that carries Benjamin Moore paints. I didn't want to get a wrong color match. And I so I used the Benjamin Moore Exterior Regal Select Paint in Soft Gloss finish for the front door paint and shutters. The soft gloss is a somewhere between a satin and a high gloss finish.
Learn more about how to select the right paint finish here.
Is there any Prep Before Painting the Exterior the Trim and Shutters?
I've never had anything on the exterior of a house painted before, so I was nervous that all would go well. I asked my painter about pressure washing the exterior of the house before painting and he said it wasn't necessary. They would wipe off any dirt or cobwebs with a clean paint brush as they went.
I was nervous about this, and decided to pressure wash as much as I could before they started painting. I bought this pressure washer and did as much as I could. We'll see how it holds up over the years, but so far, so good!
The After
Are you ready to see it?
I'm in love …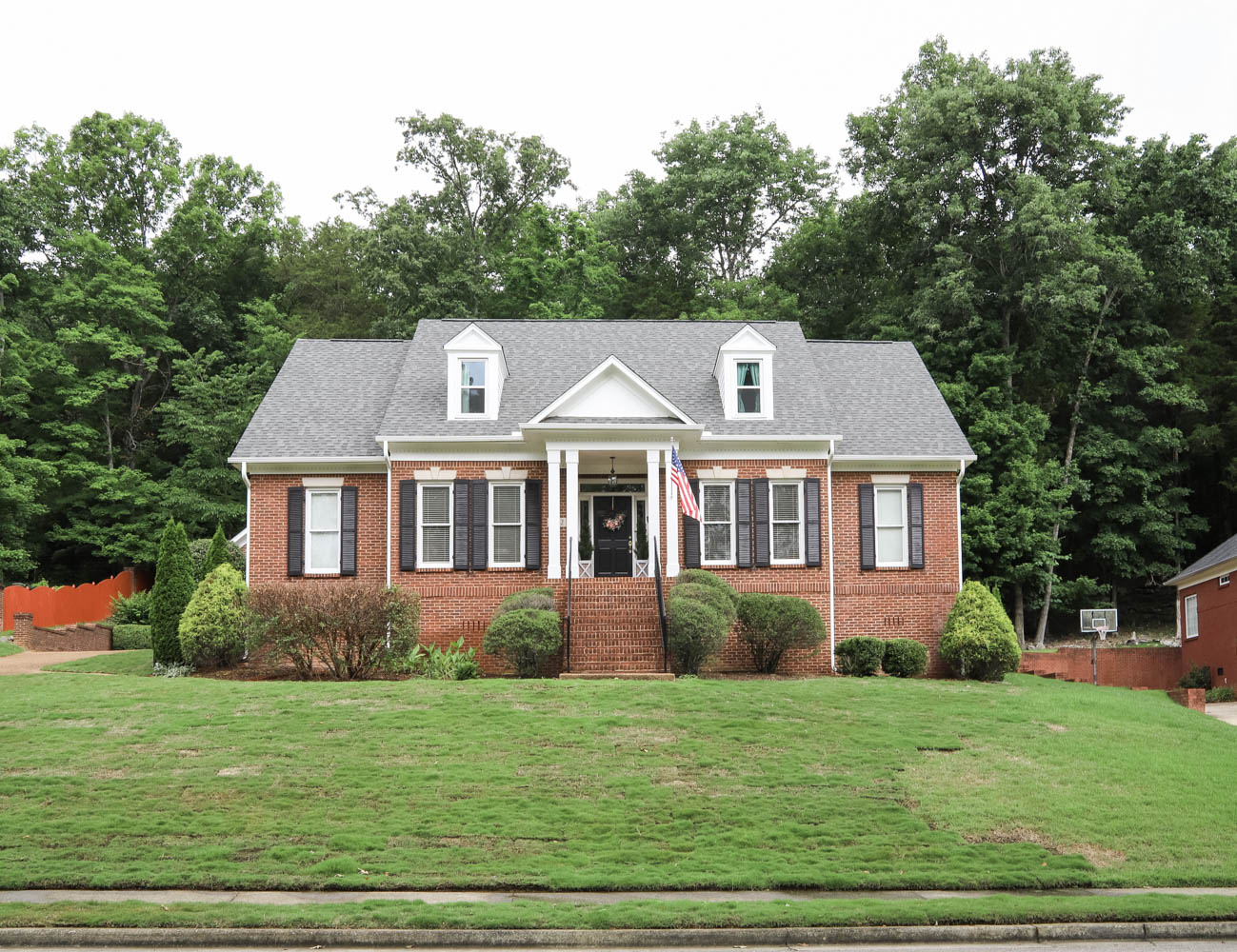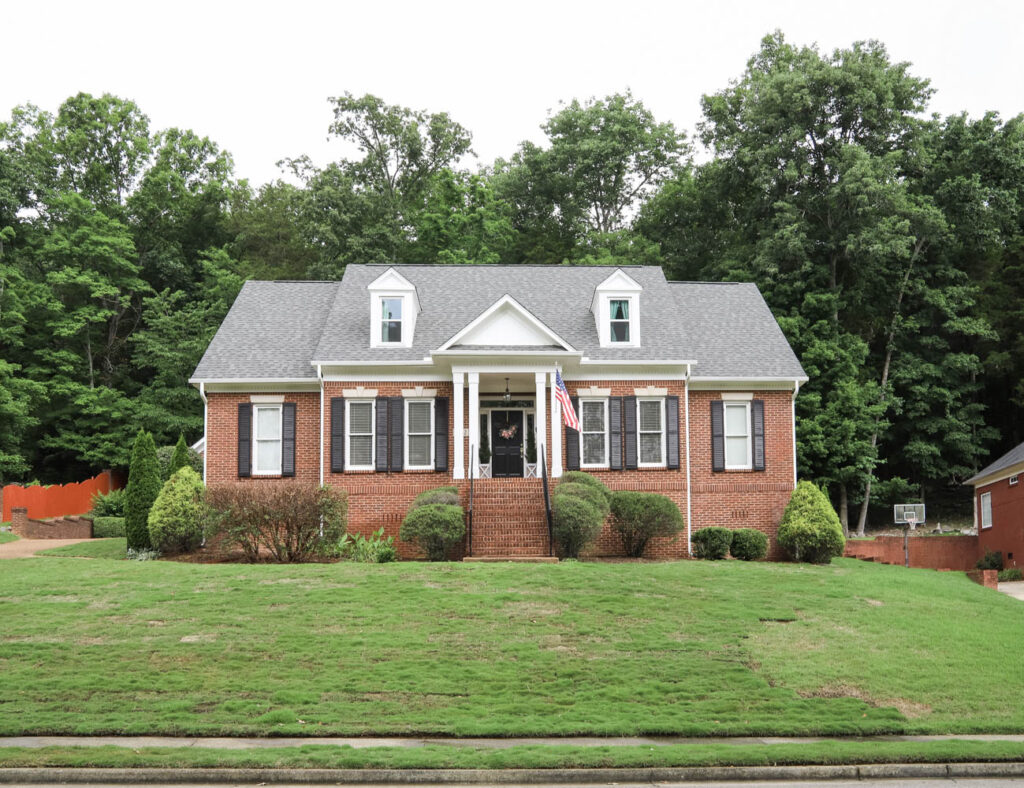 As you can see, we not only have white trim and black shutters, we also have grass! My husband put down sod around the same time everything got painted. And it all looks a thousand times better.
So that you don't have to scroll back, here's the before again …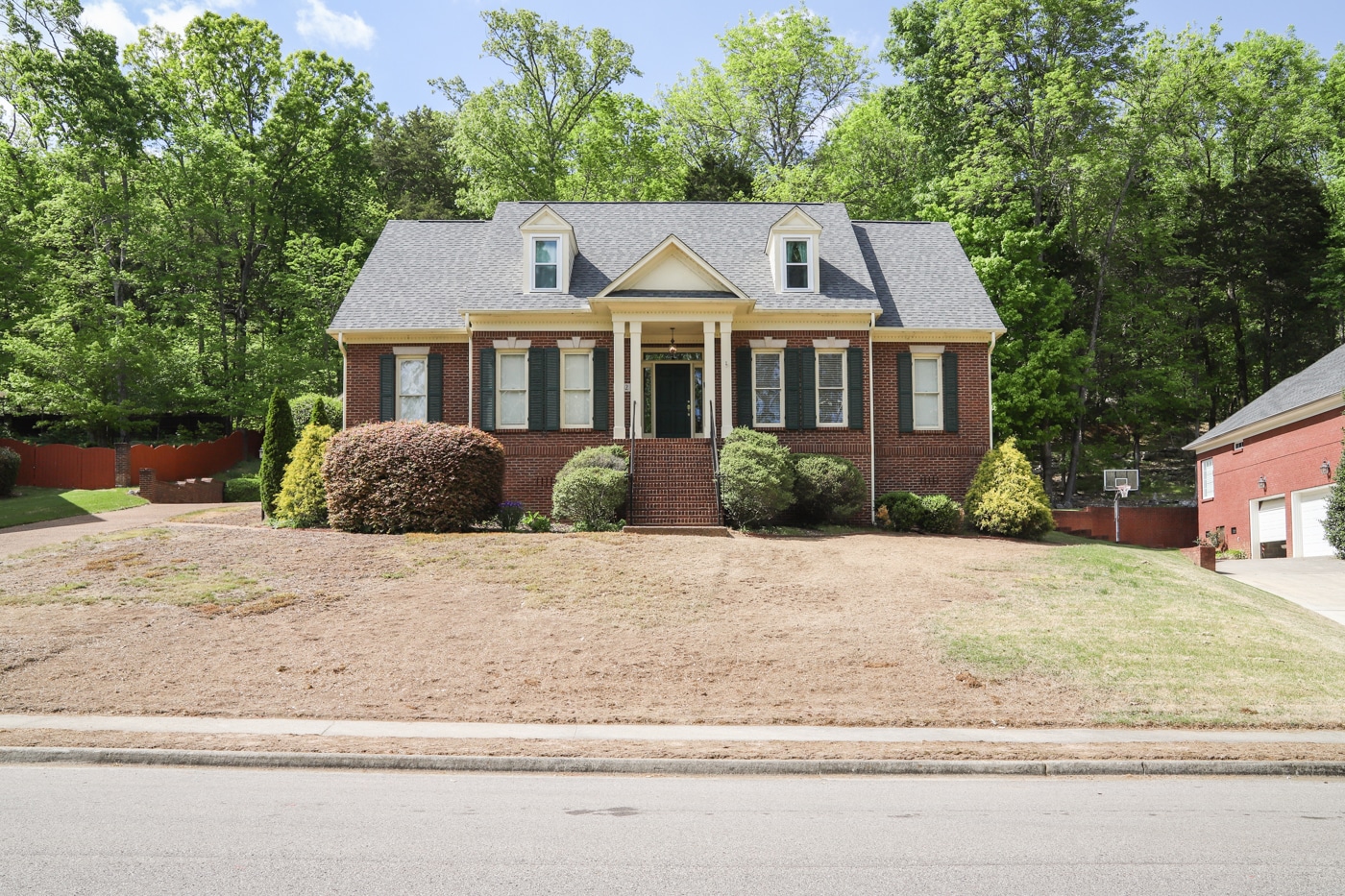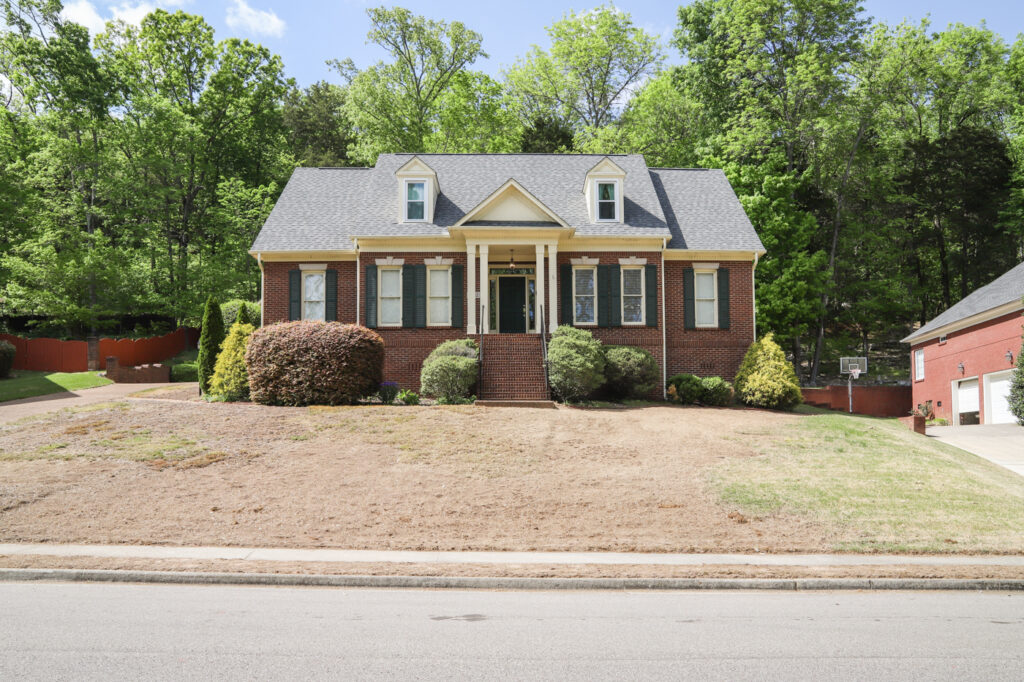 The sod is still growing in, greening up and we haven't been able to cut it yet. So, it'll continue to look better with time. But I'm beyond thrilled with how it's all going!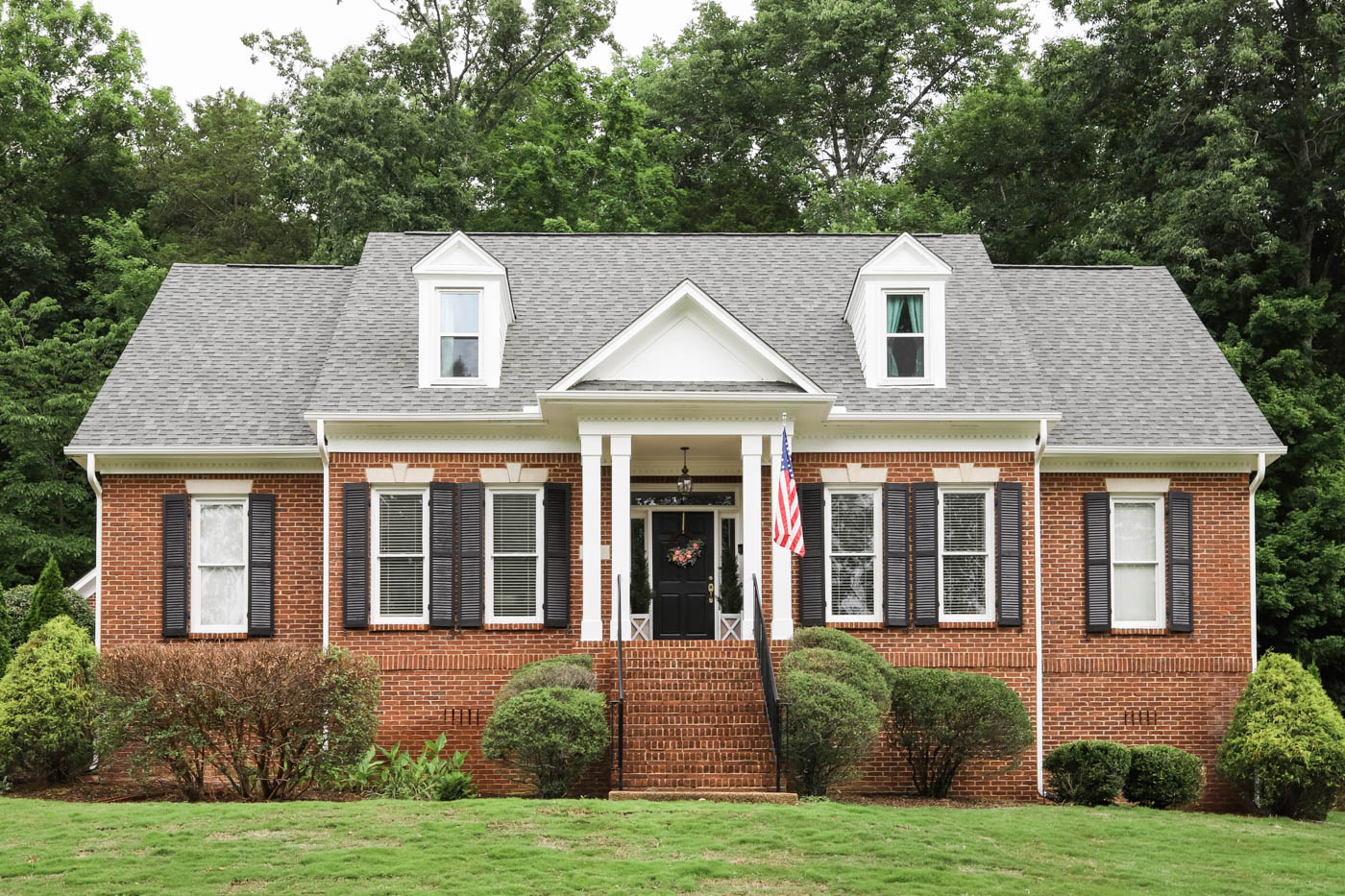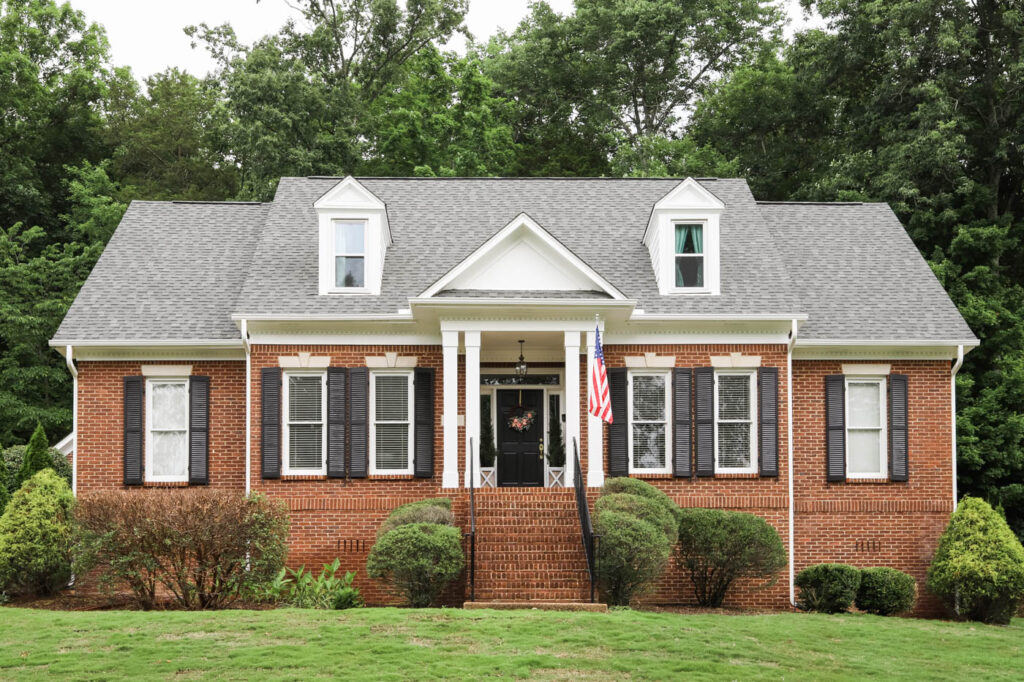 We also hired a landscaper to come in and give all of the greenery a major trim. It was getting out of hand and we don't have the time or expertise to get it under control. That large loropetalum bush was overtaking the sidewalk, so we had it cut back a LOT and it will grow back with time.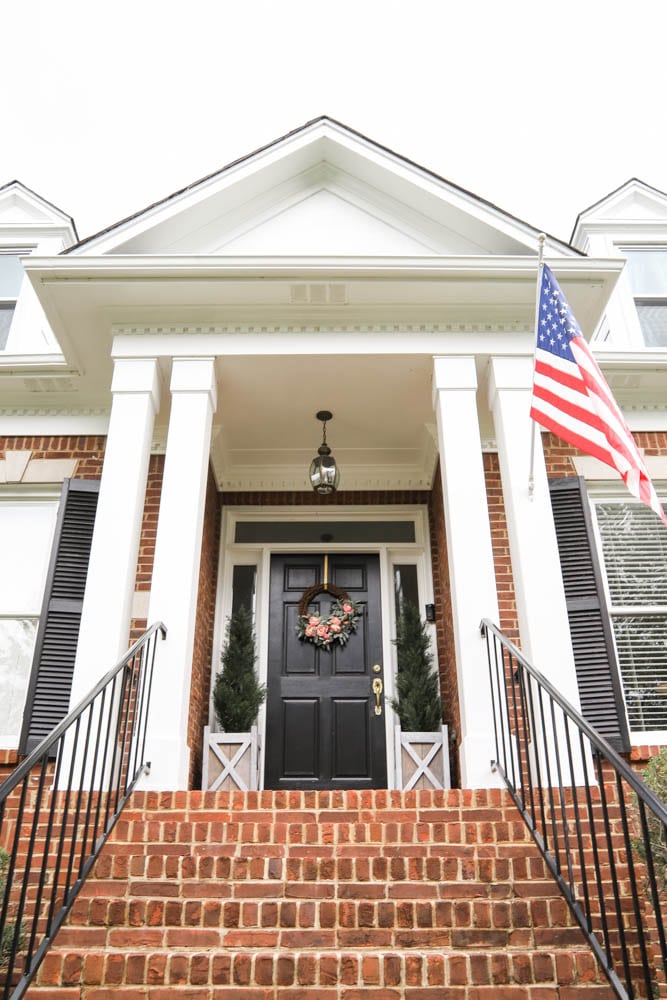 Our brick stairs with the black iron railing is one of my favorite parts of the front of our home. Now that I pressure washed them, they look so much better! And I love the black front door. I might change it out for a wood door someday, but for now the black door is perfect.
You may remember that I shared a mini front door makeover in a recent home goals post, and I've ordered several of those items. They are slowly coming in, and I hope to share soon! You can see I already got the American flag out there in time for Memorial Day and July 4th. I love it!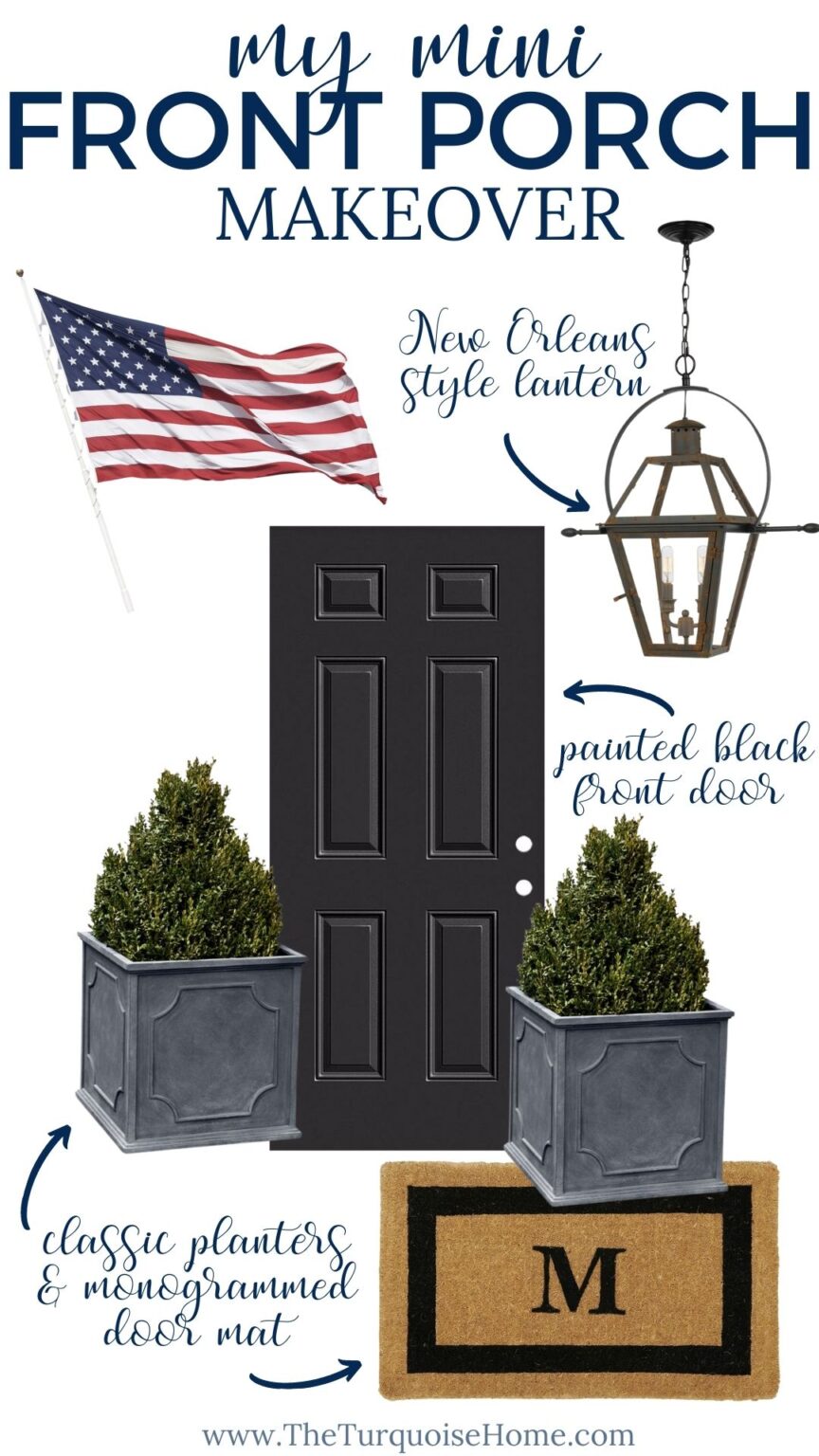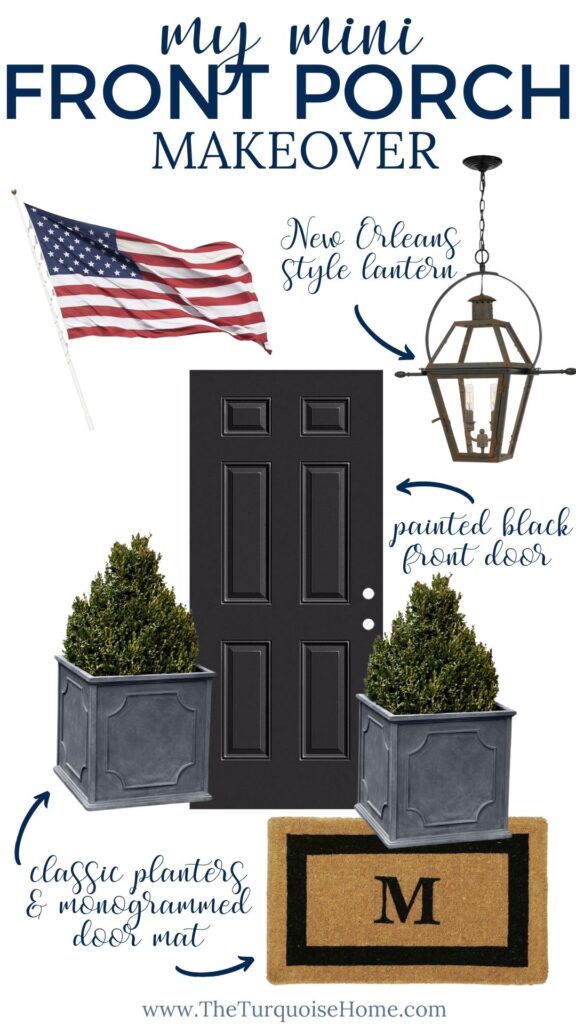 New Orleans style lantern | classic planters | faux boxwood topiaries | American flag | monogrammed front door mat
The Paint Colors I Used
Now that you've seen the transformation, let's talk about paint colors! In my opinion, it's harder to choose paint colors for the outside of the home than the inside. Everything looks brighter outside because it's in direct sunlight. I remember painting Revere Pewter on my concrete patio floor at our old house, and it nearly looked white. So crazy!
But when it came to choosing the white color for our trim, I tried my default white color, Simply White by Benjamin Moore, and it worked great! I love that color so much and I think it looks good with anything. Since it reads a creamy white, I was hoping it wouldn't be too stark on the outside. But it's perfection!
Then for the black/dark gray trim it took me a bit longer to find the right color. Originally I was planning to paint the shutters and front door with Graphite from Benjamin Moore. I had the sample color matched at Lowe's. And when I tried it on the front door it was way too light. I wanted a very dark gray and it was more medium gray.
I honestly think the color match wasn't right. So, then I went to the decorating store and had them color match Black, Black Beauty and Onyx. And in the end, I chose Onyx by Benjamin Moore because it was the one I liked the best, so I just went with it!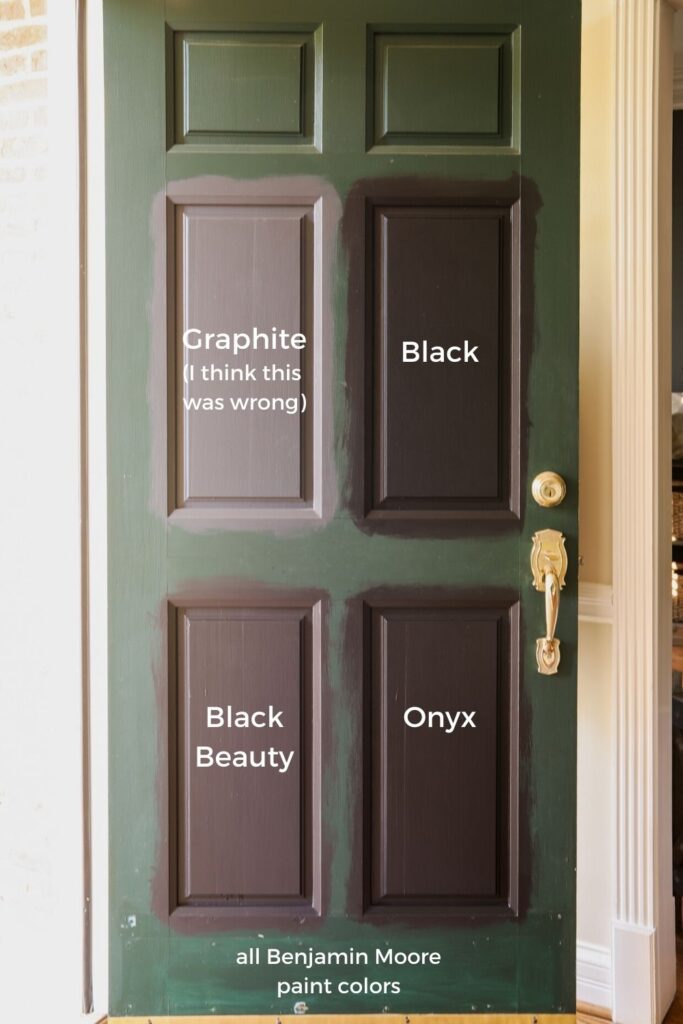 And truthfully now that it's on the shutters and door, it looks black, not dark gray. But I like it, so that's all that I care about! If I ever repaint the front door and shutters someday, I might revisit the paint color, but probably not. ☺️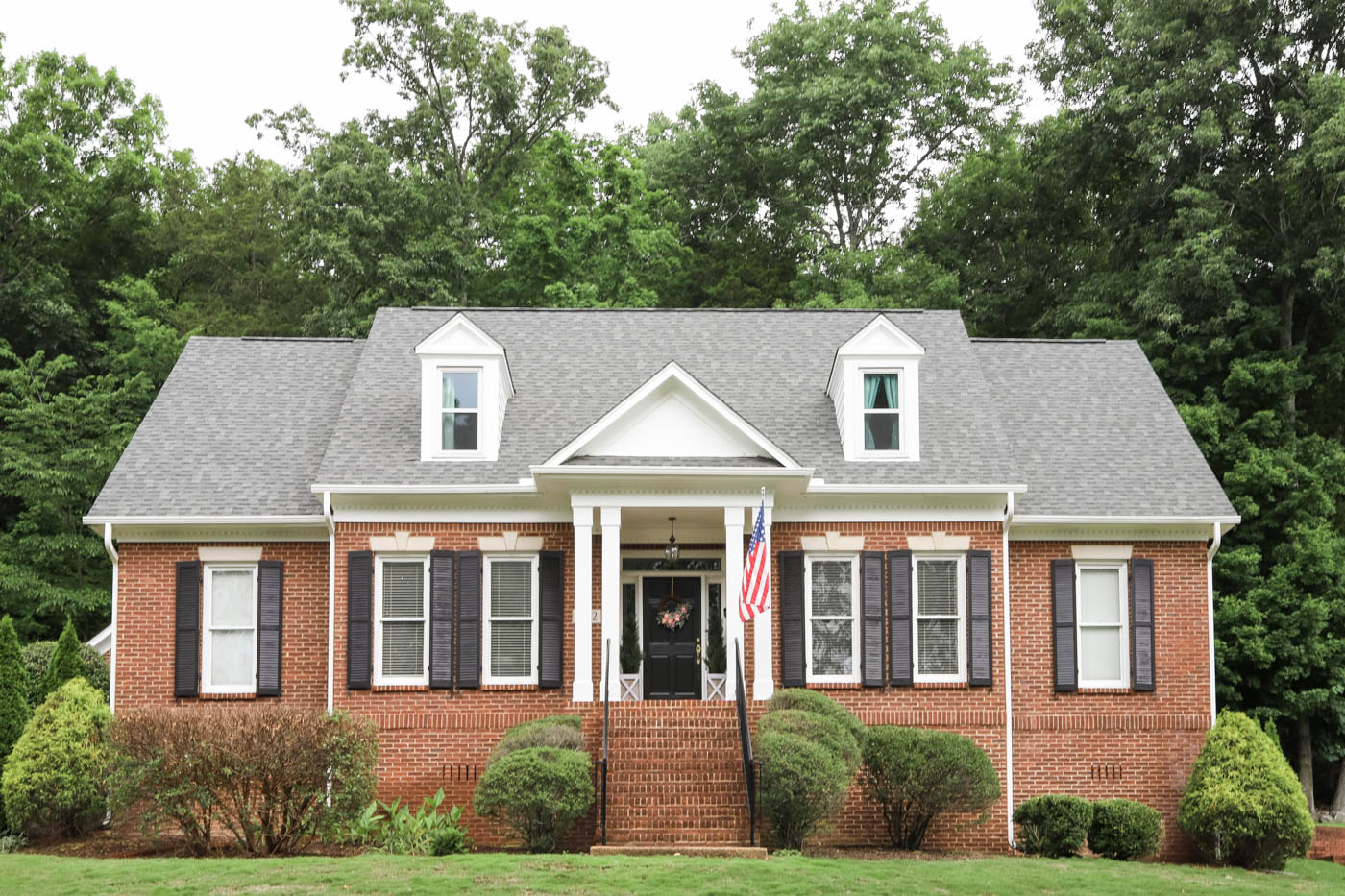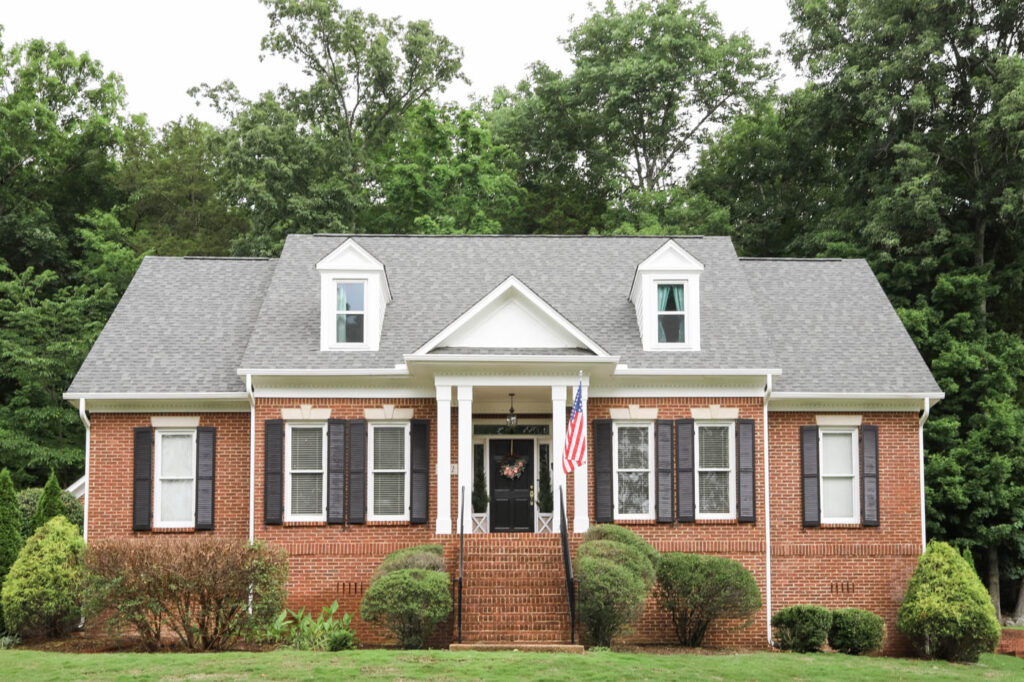 It makes me smile every time I pull into the driveway now. It's never not a good idea to make a home look the way you love.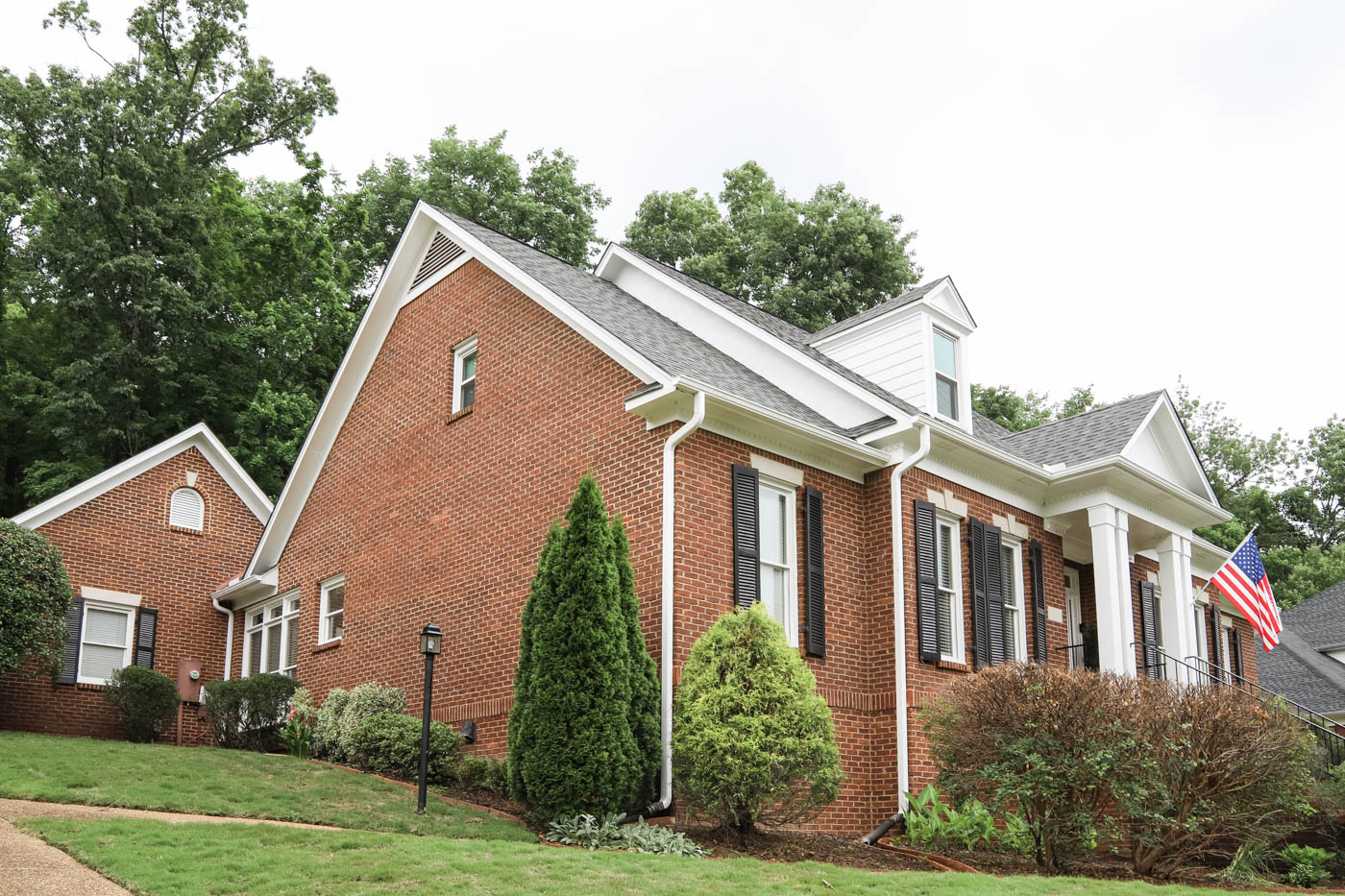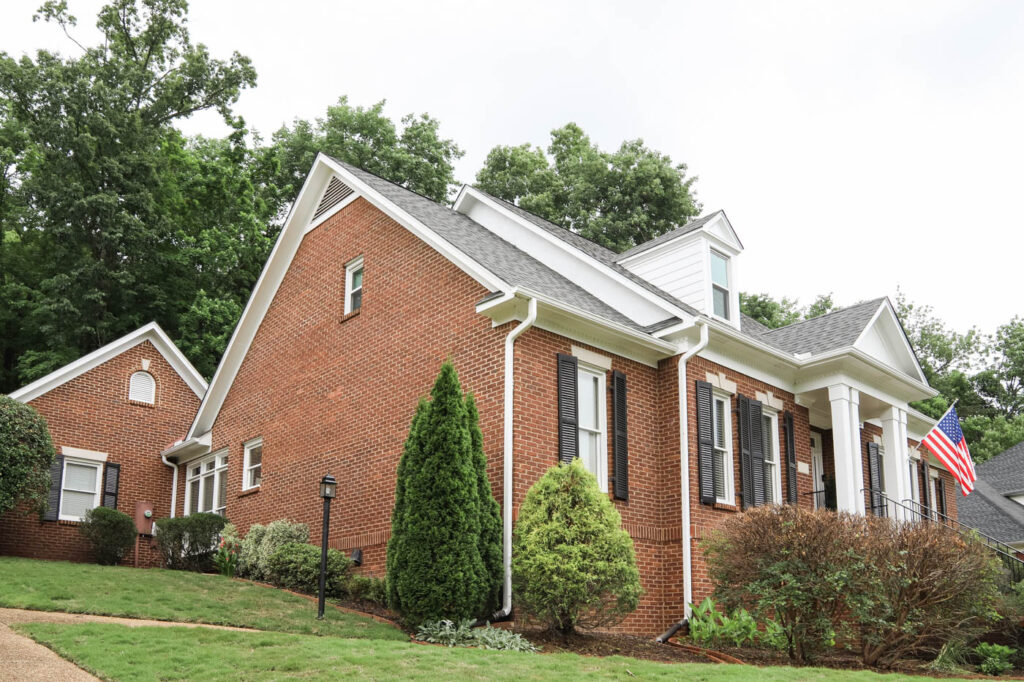 What do you think? Would you have painted the brick white? Or do you like red brick houses?
Let me know if you have any questions in the comments below!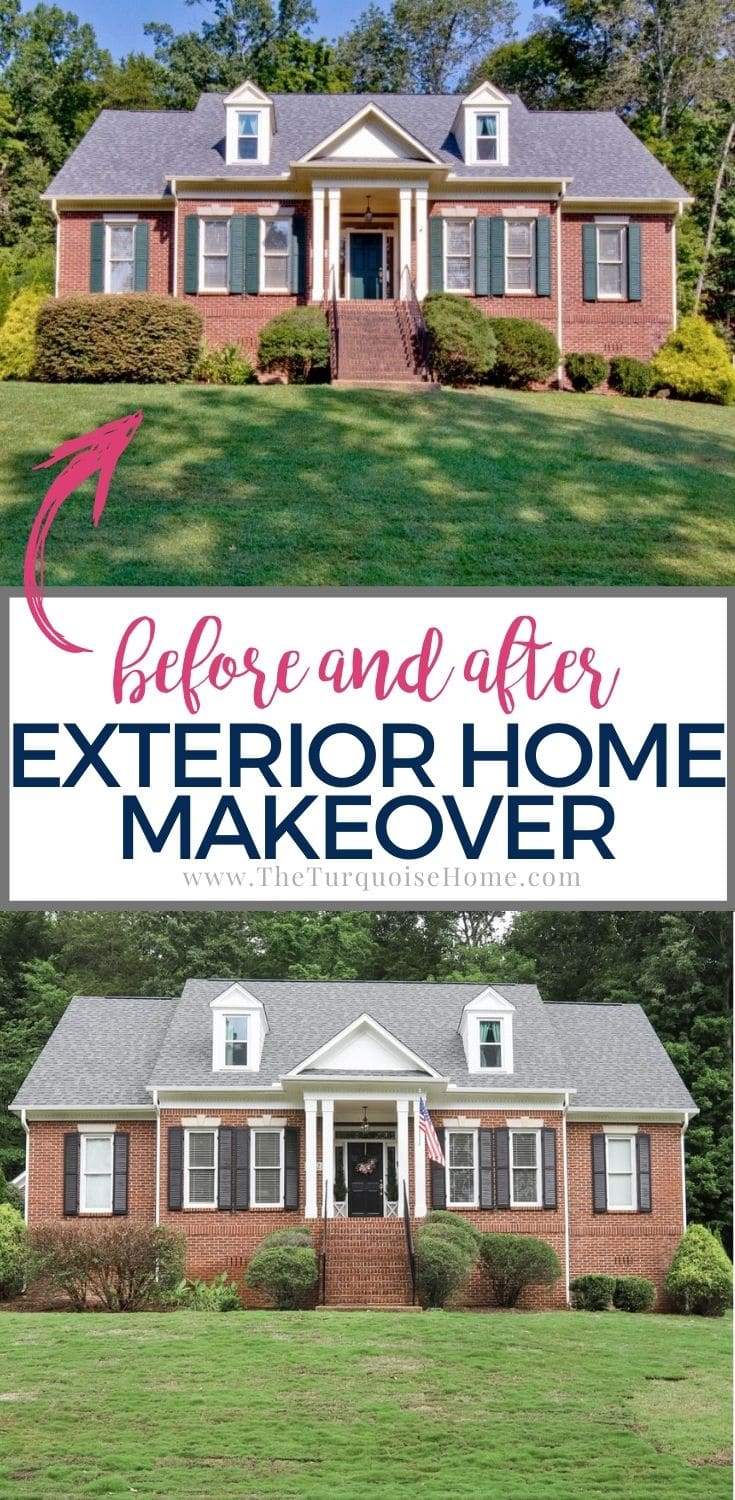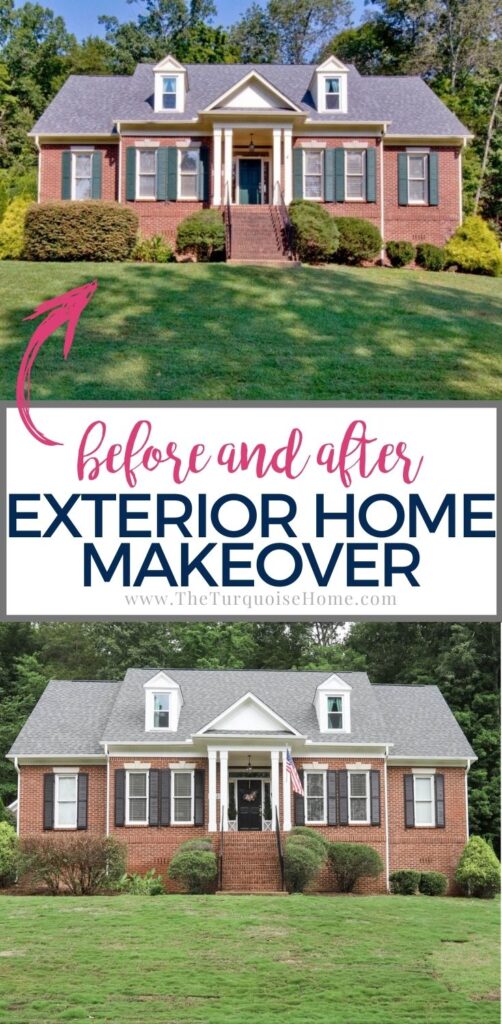 MORE POSTS YOU WILL LOVE: