Traditional Coastal Kitchen Mood Board
This gorgeous plan for a traditional coastal kitchen is filled with neutral colors and textures and just the right amount of blue/green accents.
I recently shared in my Home Goals, part 3 that I would be tackling the kitchen during this quarter of making our new home reflect us. And so, we're diving in head first with a kitchen mood board – the perfect jumping off point for any room makeover.
First of all, this kitchen is pretty fabulous just as it is. It just needs some personality! When we first toured this house, I thought I would be frustrated by the kitchen layout and the countertops, but honestly, I love it!
It has really great bones, beautiful hardwood floors, tons of natural light, white kitchen cabinets, a neutral countertop and a large pantry. I LOVE the original Kitchen Aid double ovens. They are boss workhorses. And the "appliance garage", which missing its doors, is a great place for our microwave and toaster oven.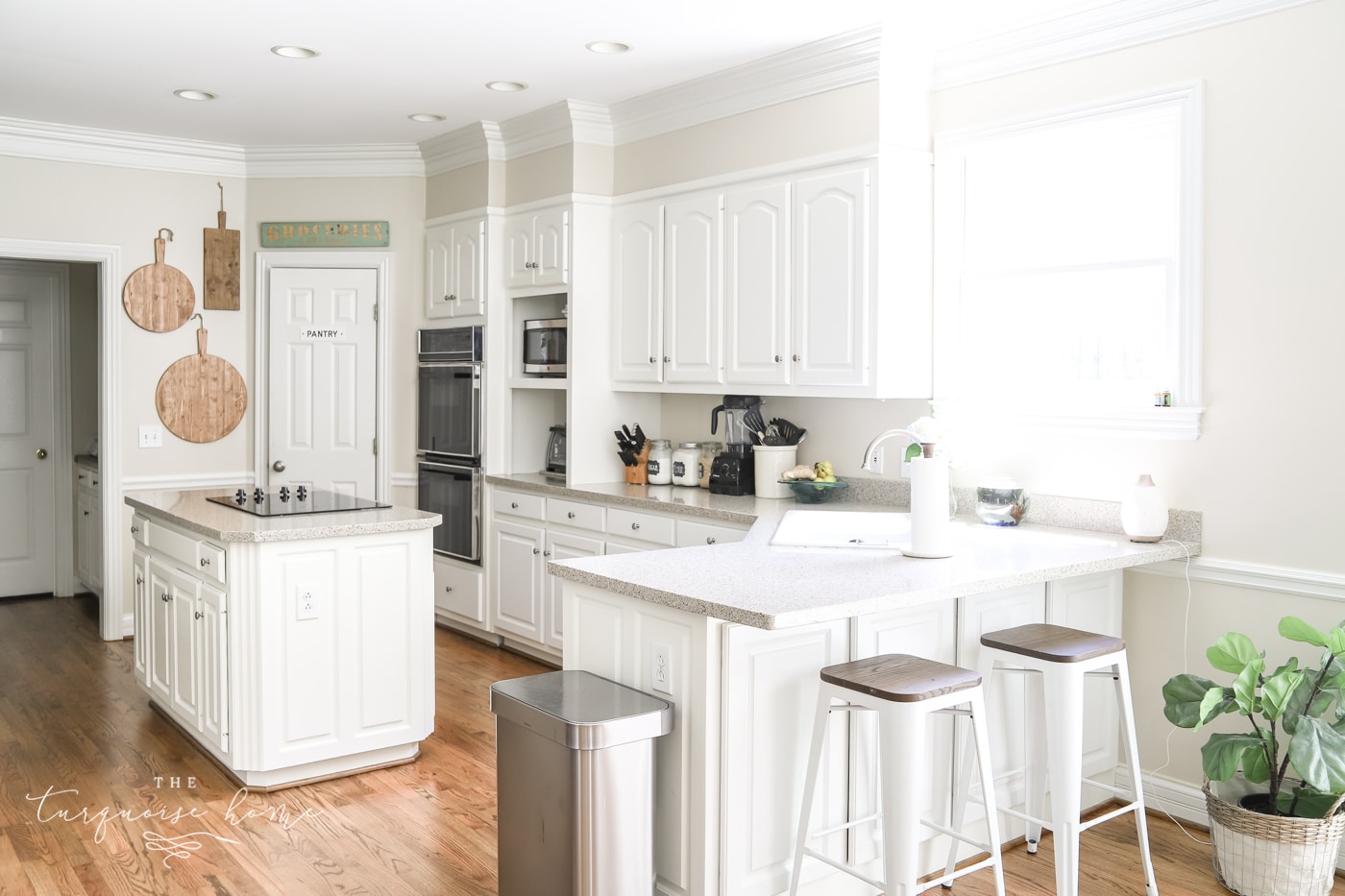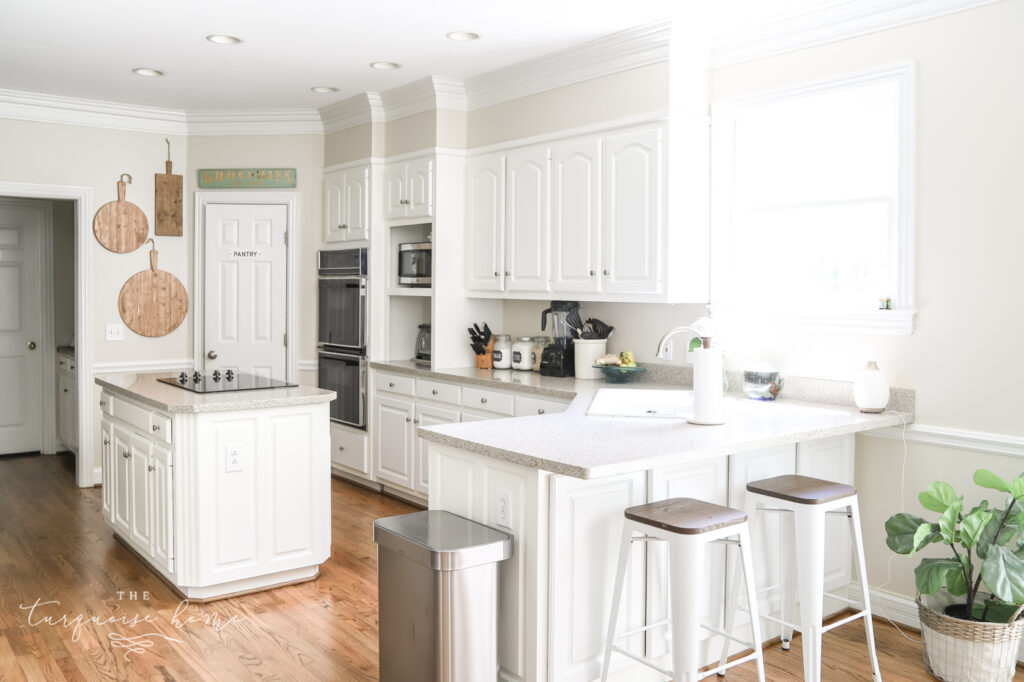 The island cooktop was new when we bought the house. And while I thought I'd rather have a sink in the island, the cooktop being in the island has been great. We use the island no less than 50 times a day. And it's perfect for a serving buffet for when we have guests over.
All in all, I love this space! But it needs some personality. Take a look at where we're starting…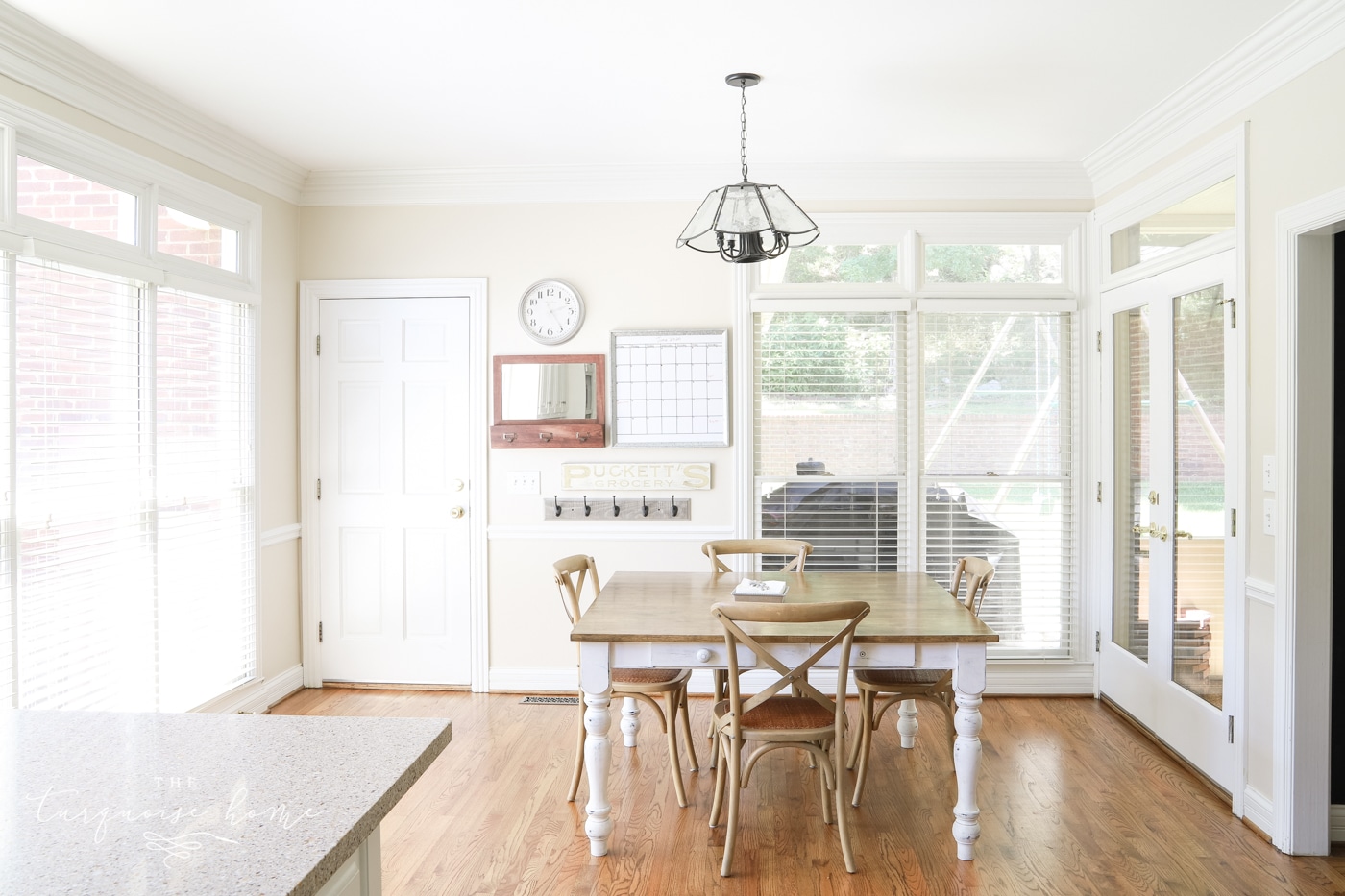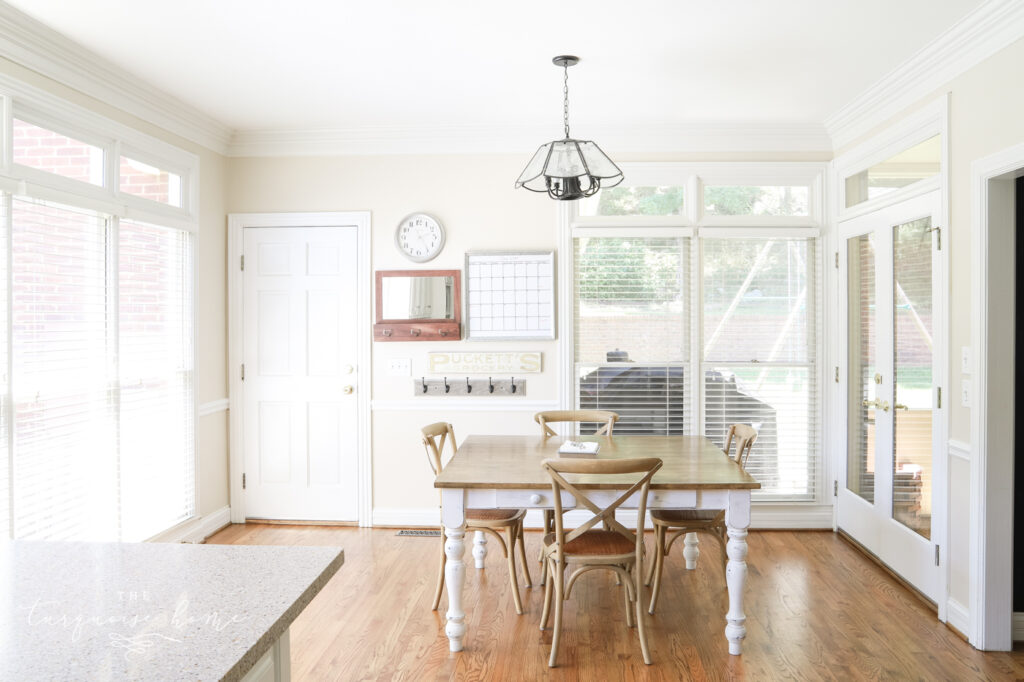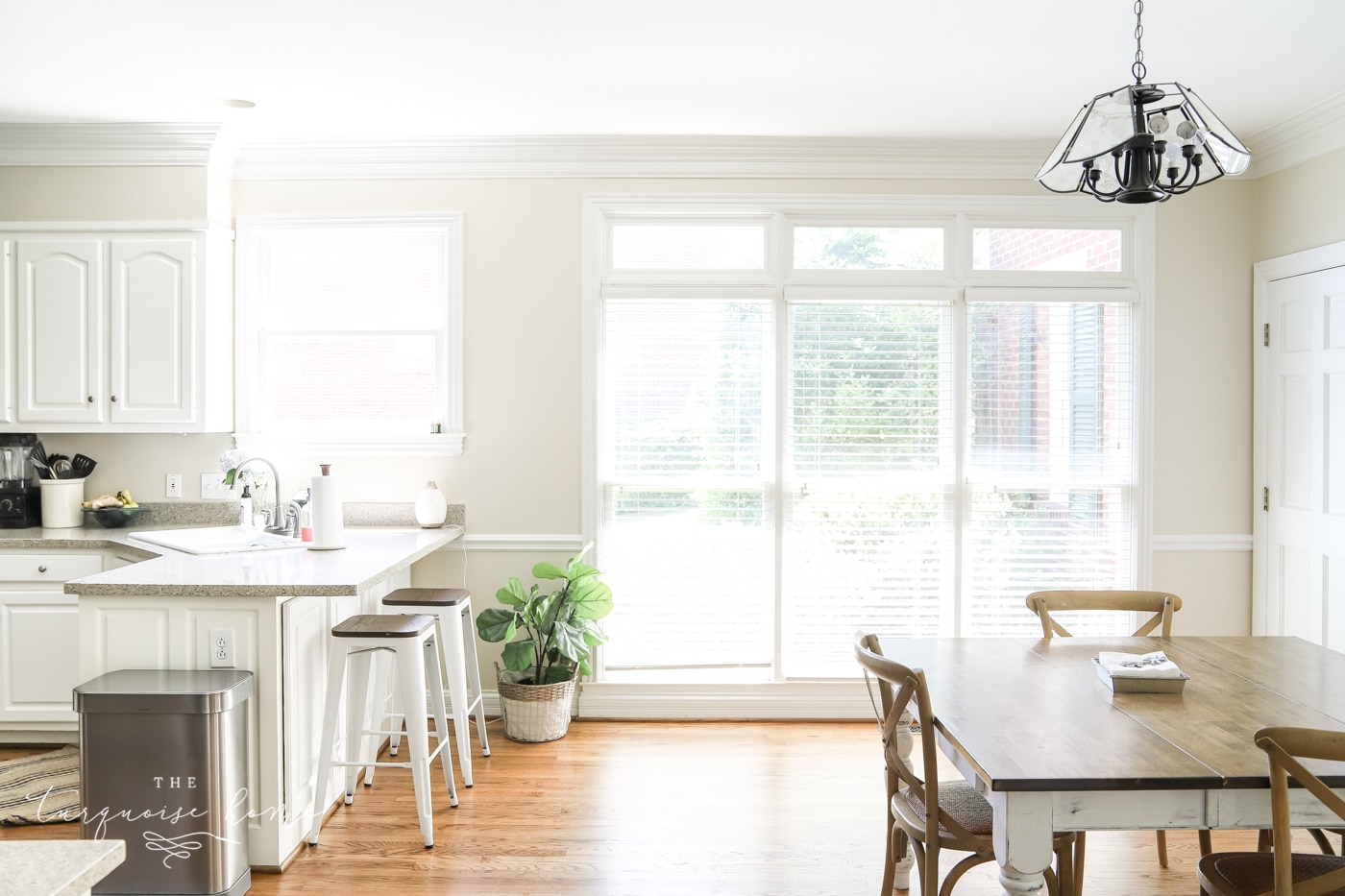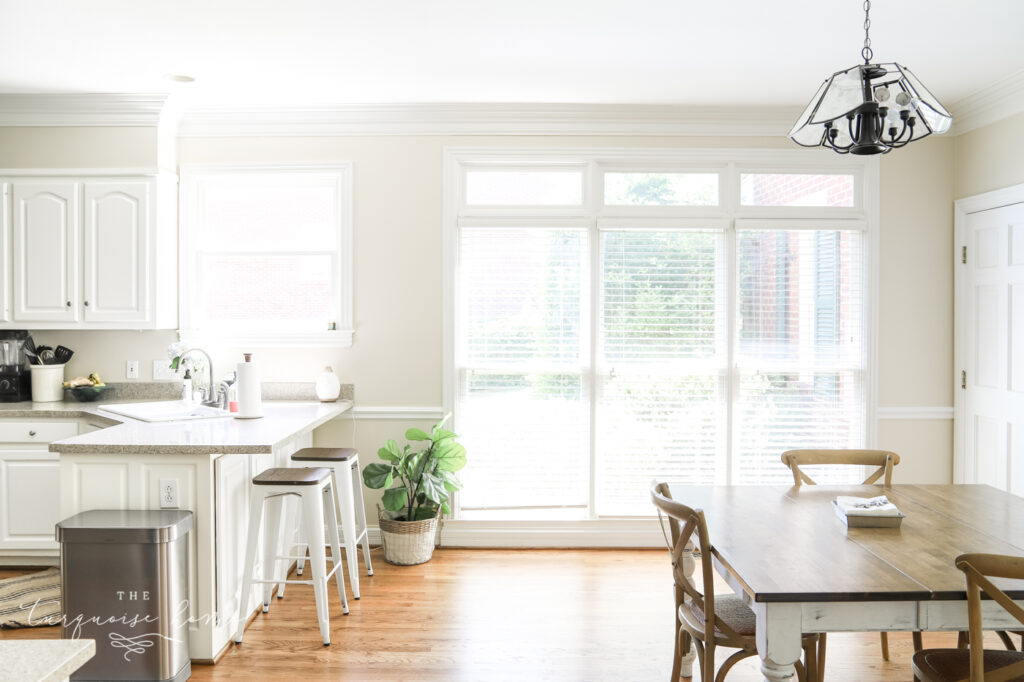 One of the first things I did when we moved in was paint the kitchen Edgecomb Gray (over the previous light yellow) and it took a while for me to love it, but I LOVE the color now!
We painted the color through the kitchen into the hallways and upstairs to a loft area with no windows, so I had to choose a neutral color that works in low light and full light areas of my home. It's perfect.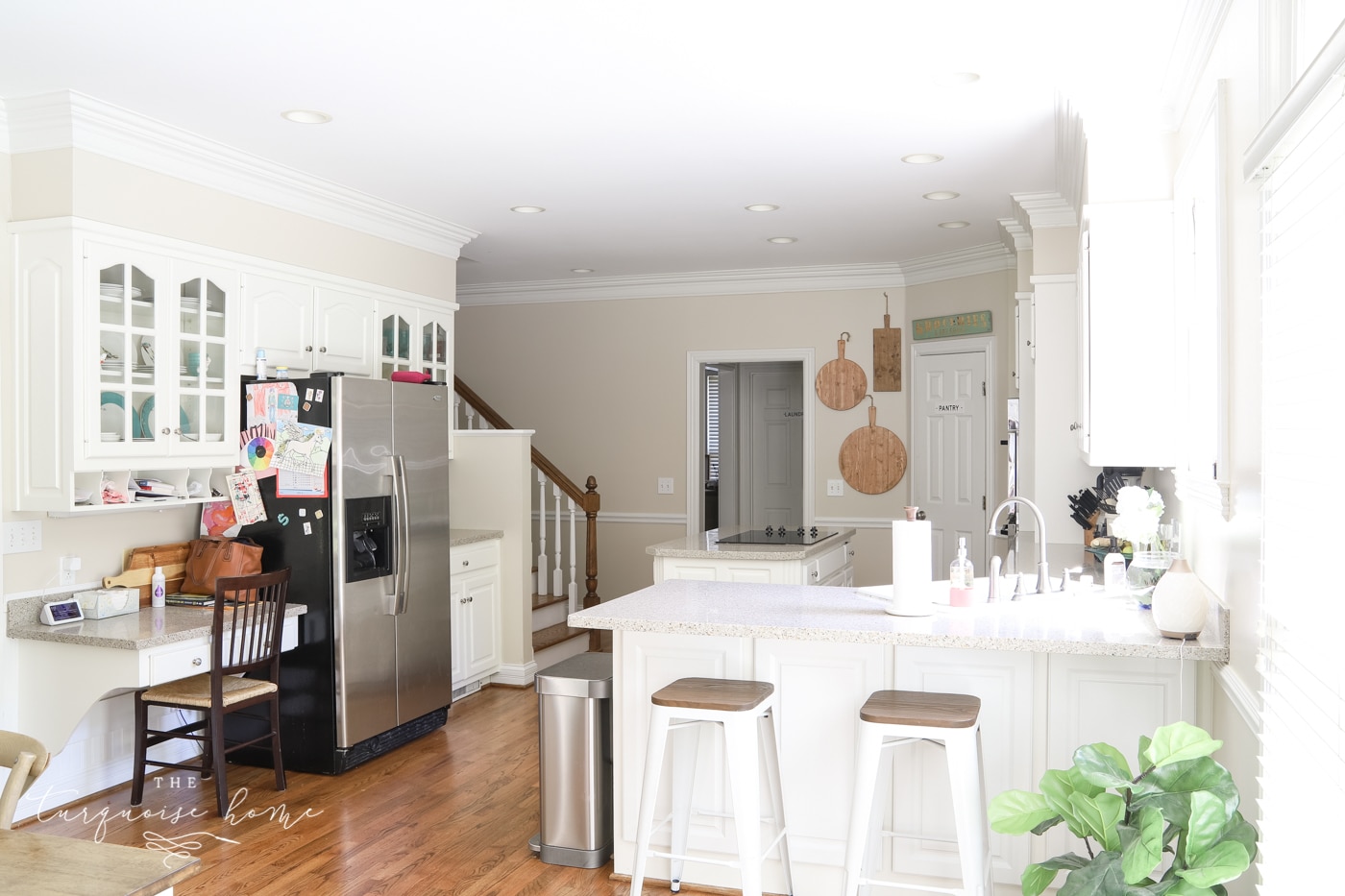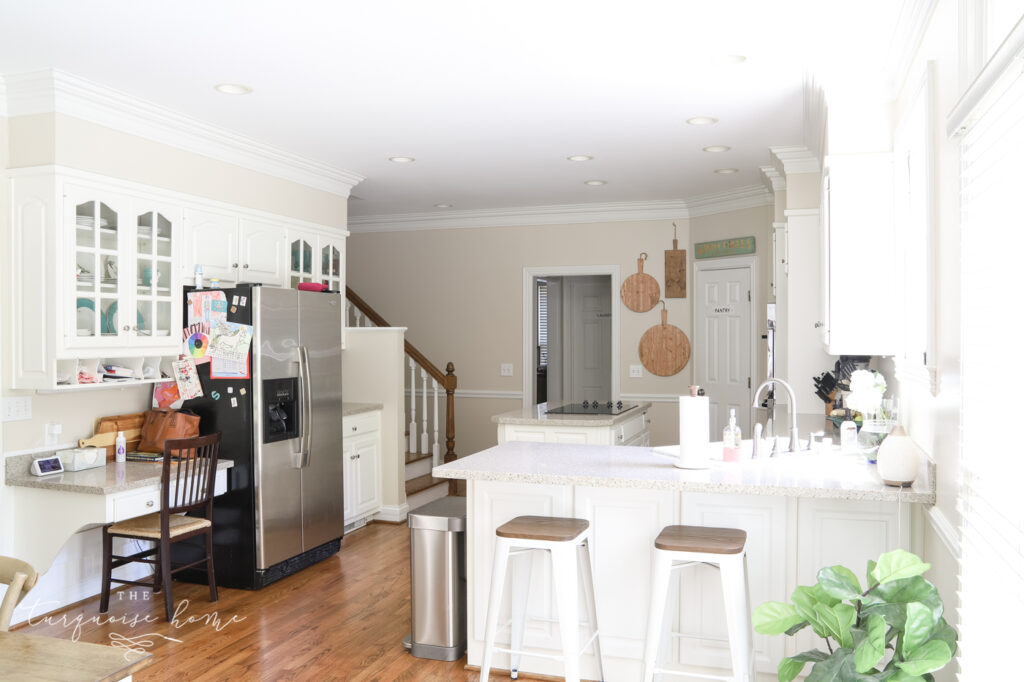 As you can see, it is a great space and the perfect blank space on which to build! I've got big plans and can't wait to get started. Here's the mood board I created to get all of my ideas in one place.
If you want to learn how to create your own mood board, I've got a tutorial for you!
This post contains affiliate links for your convenience. See my full disclosure policy.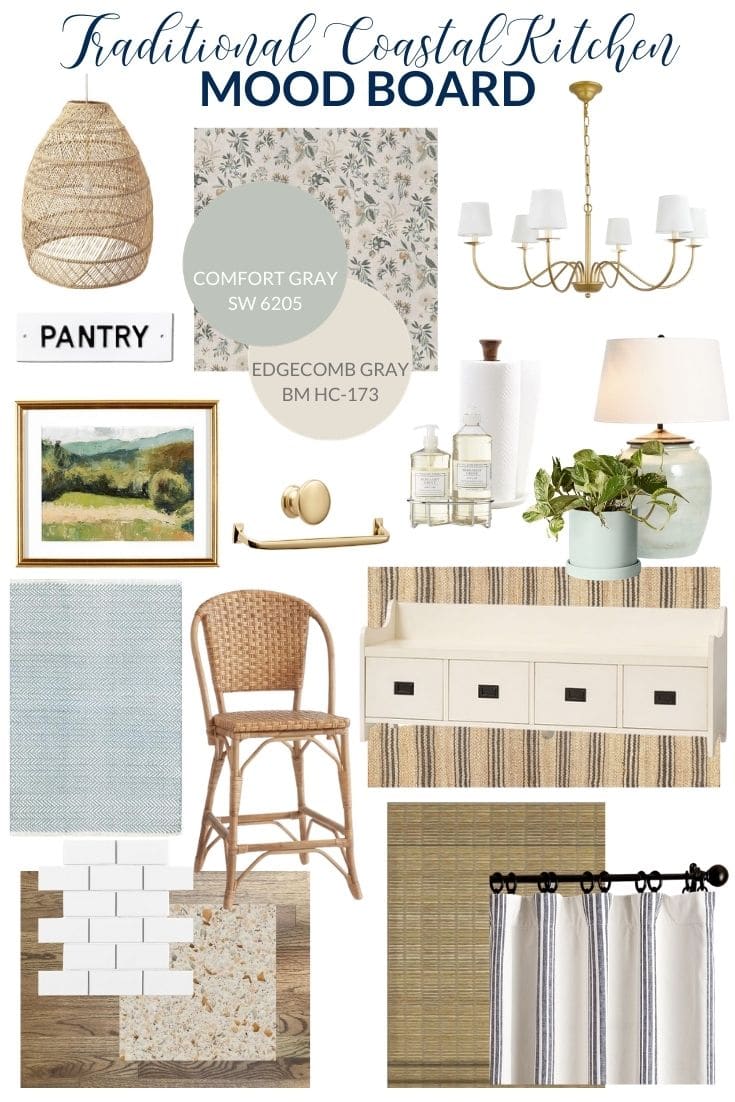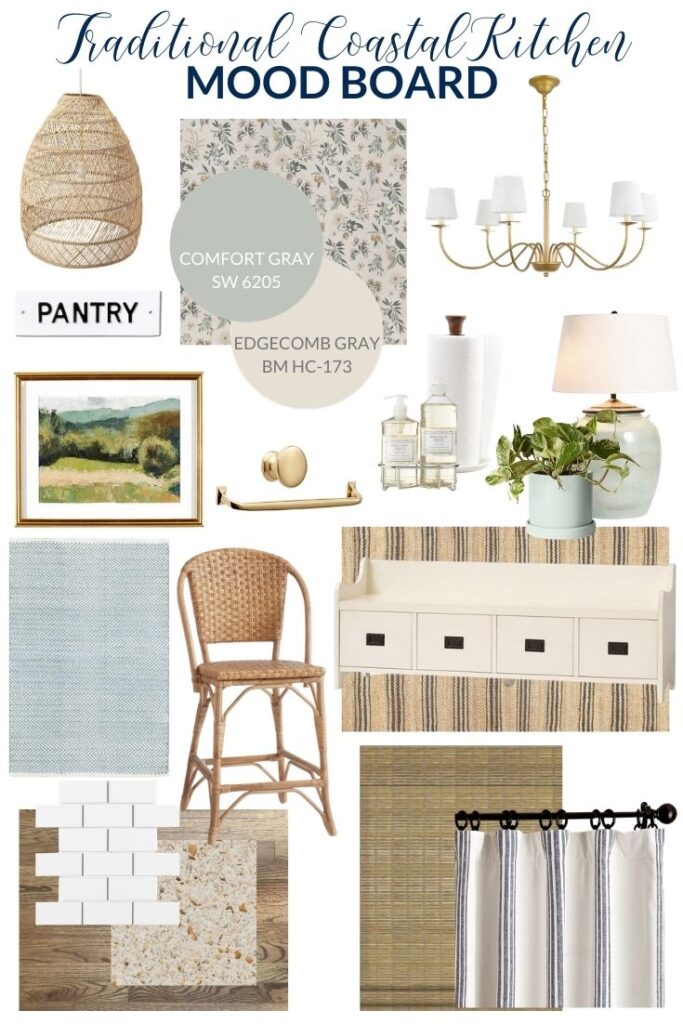 Tap the Images Below to Shop This Look:

I've included some of the elements that came with the room, like the flooring and solid surface counter tops. But most everything else is just adding color, texture and personality to the space.
Lighting in the Kitchen
We have 8 can lights, under cabinet lighting and the chandelier over the kitchen table. There's a ton of lighting, which is a cook's dream. But the light over the kitchen table is broken (not to mention ugly) and needs to be replaced ASAP.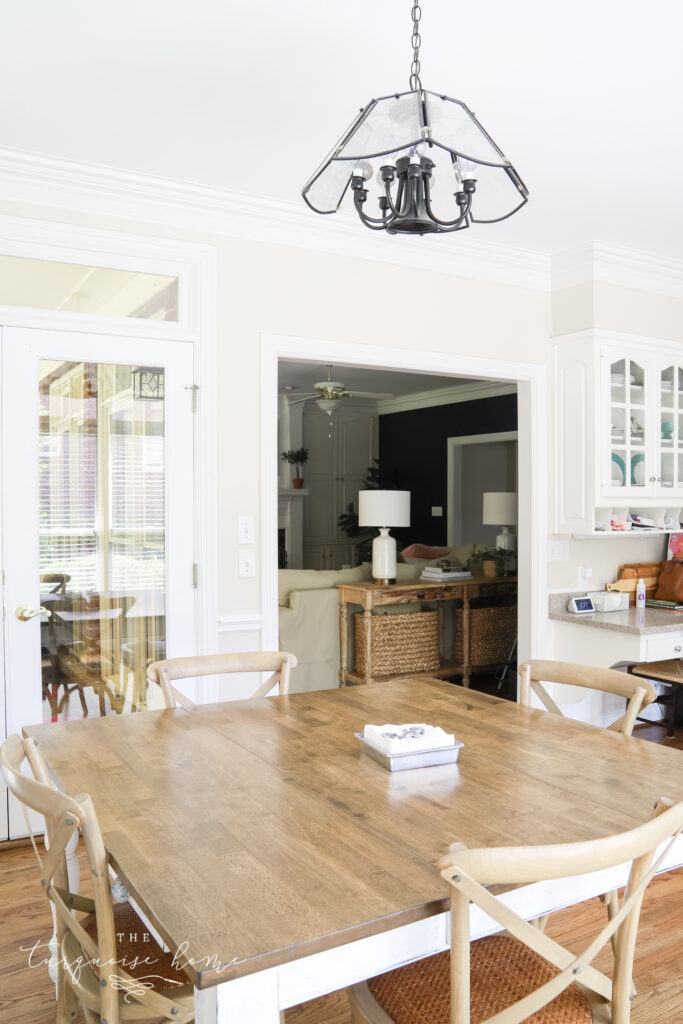 I will be putting this gorgeous brass chandelier over the table:
And then I'd like to add the pendant light with a woven shade over the island. I know there's a way to convert a can light to a pendant light, so we'll try our hand at that. The can light over the island is centered over it, so it will be a fun way to add some texture and personality to that space!
Window Coverings in the Kitchen
I have debated about adding curtains to this room. I usually LOVE curtains everywhere, but I don't want to block any of the natural lighting in the room.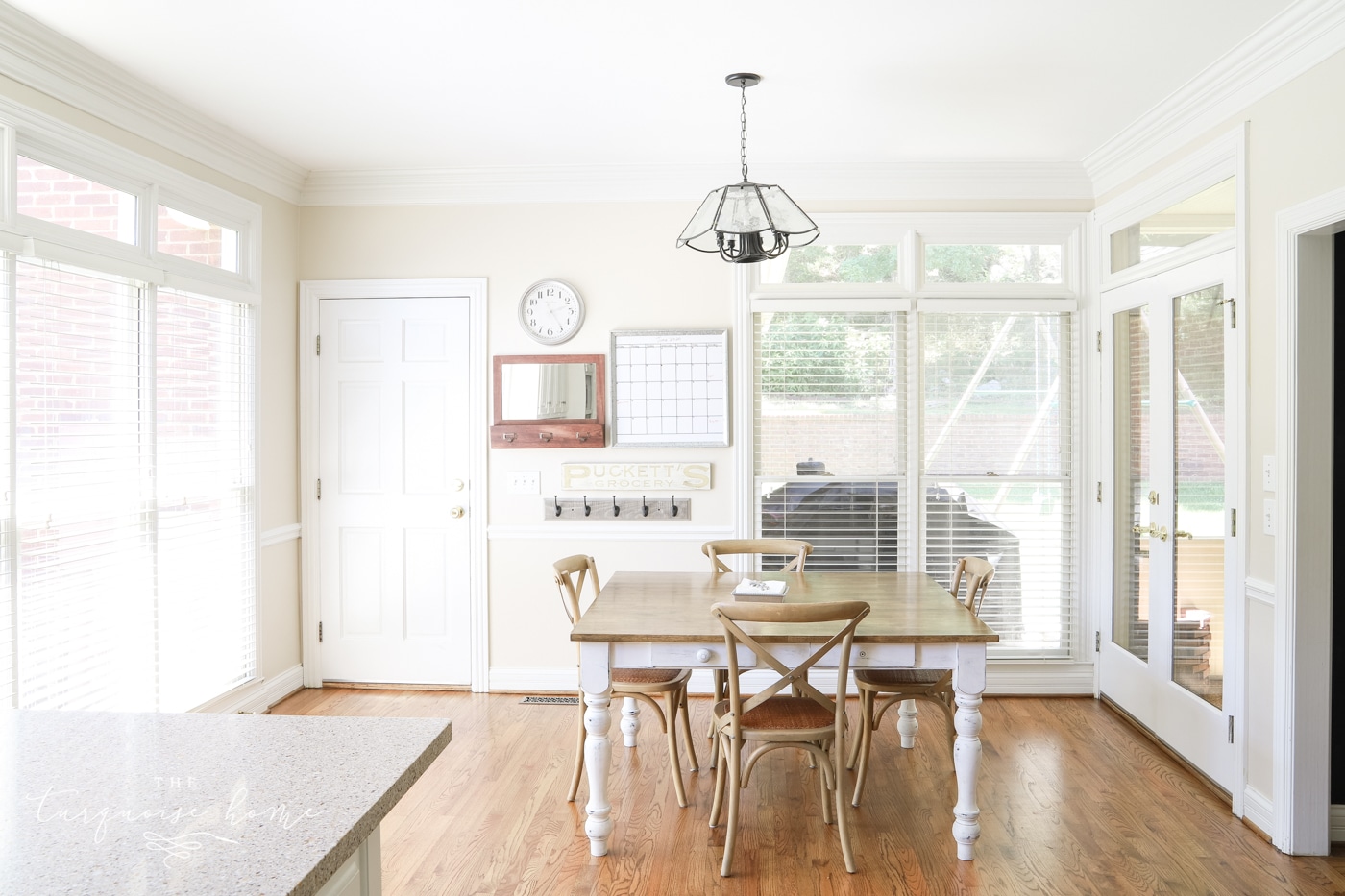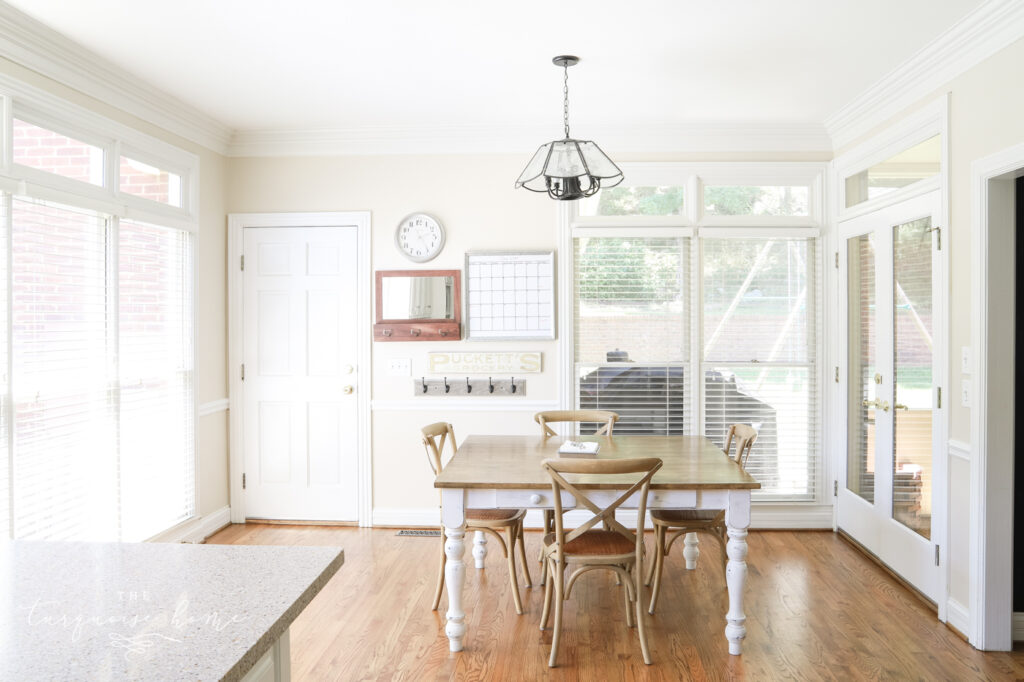 I also don't have much room on either side of the windows next to the french doors. I don't think I'll put curtains there. But, I will add my favorite striped curtains to the windows to the left of the door to the garage.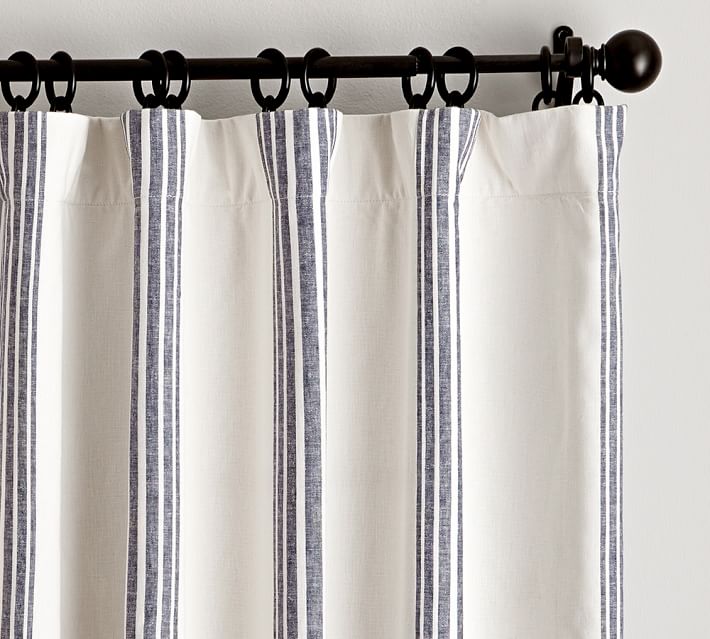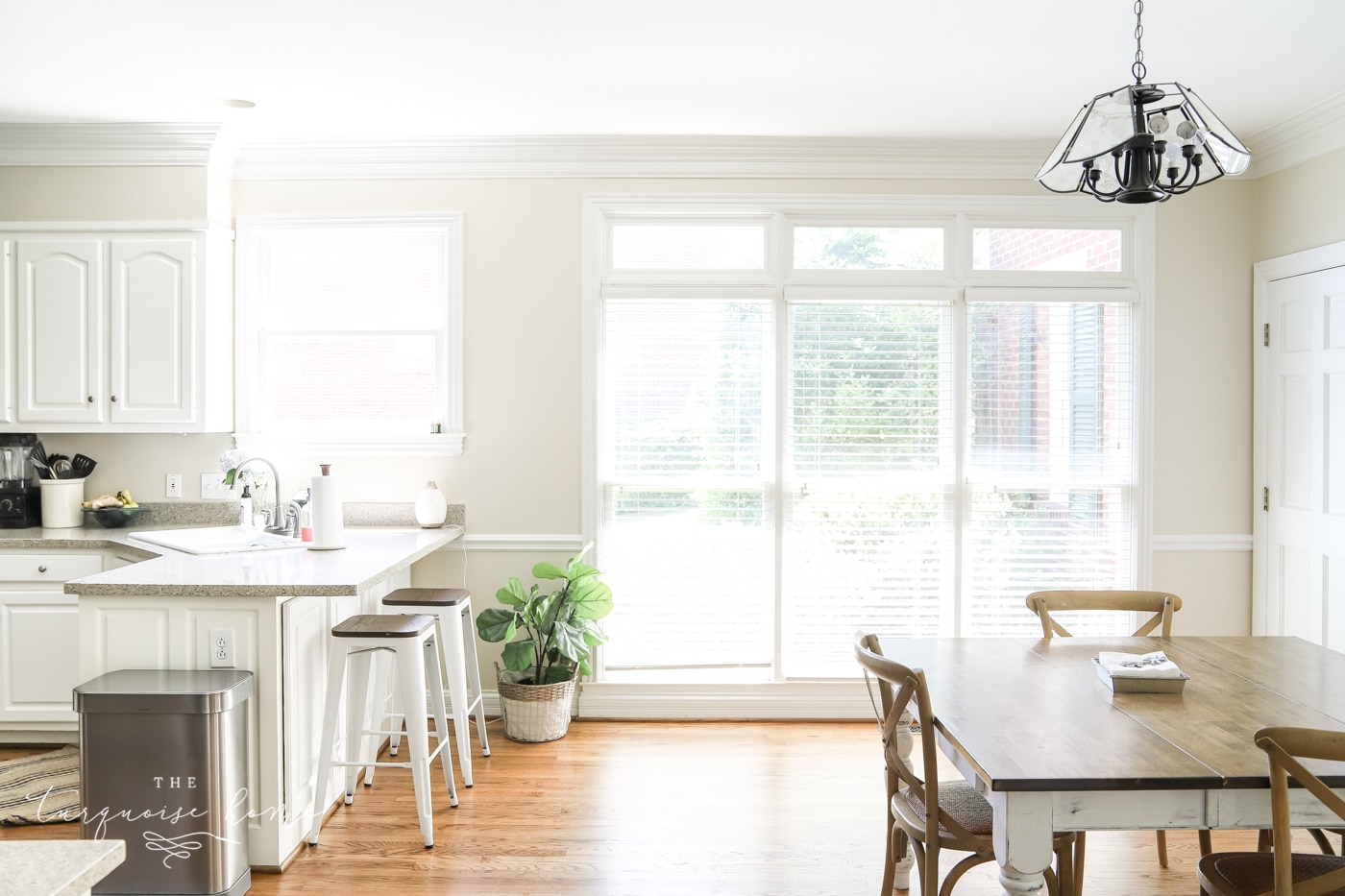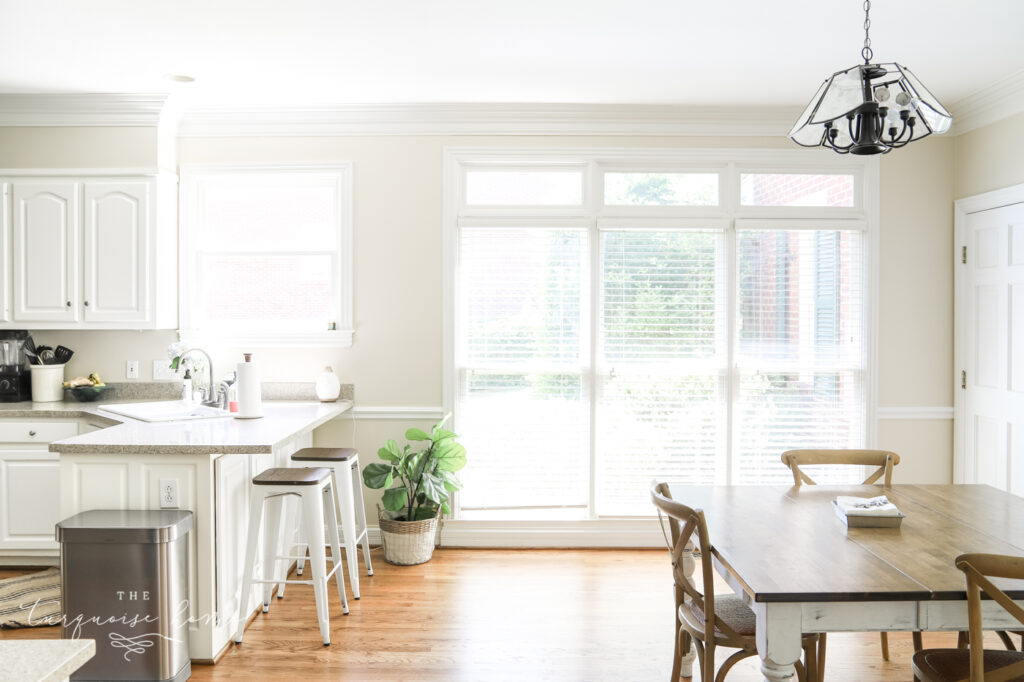 There's definitely room for curtains to hang next to the windows without blocking any light. I think they will just be there for texture and to soften the room, not actually pulling them together at night.
The sun does shine brightly in through those windows in the afternoons, so it might be nice to have the option to block the sun if we want to.
And now to the window over the kitchen window. I have fallen in LOVE with this Fabricut Fleur Botanical Fabric. Trust me, it's even prettier in real life. I'm either going to make a roman shade for that window above the sink, or pay someone to make it. ☺️
This gorgeous fabric is really the jumping off point for this whole design and I'm obsessed. I have a sample sitting in my office and I find myself just staring at it sometimes! 😍
The final window coverings we'll be using are the same bamboo blinds I used in our last home. We're adding them to the french doors in the kitchen (and in our bedroom and my office.)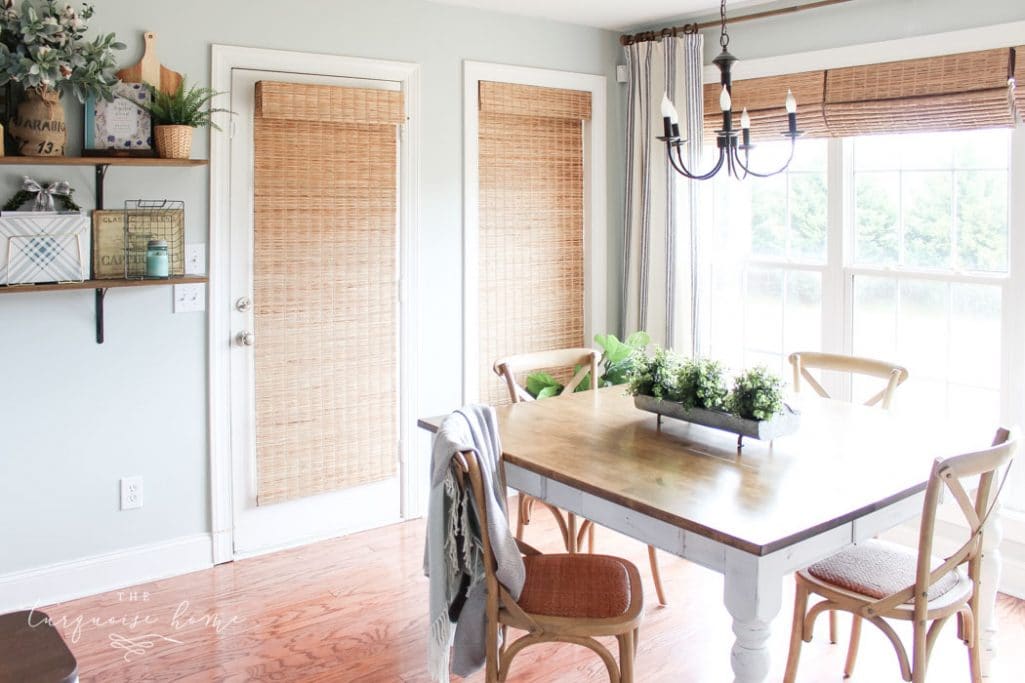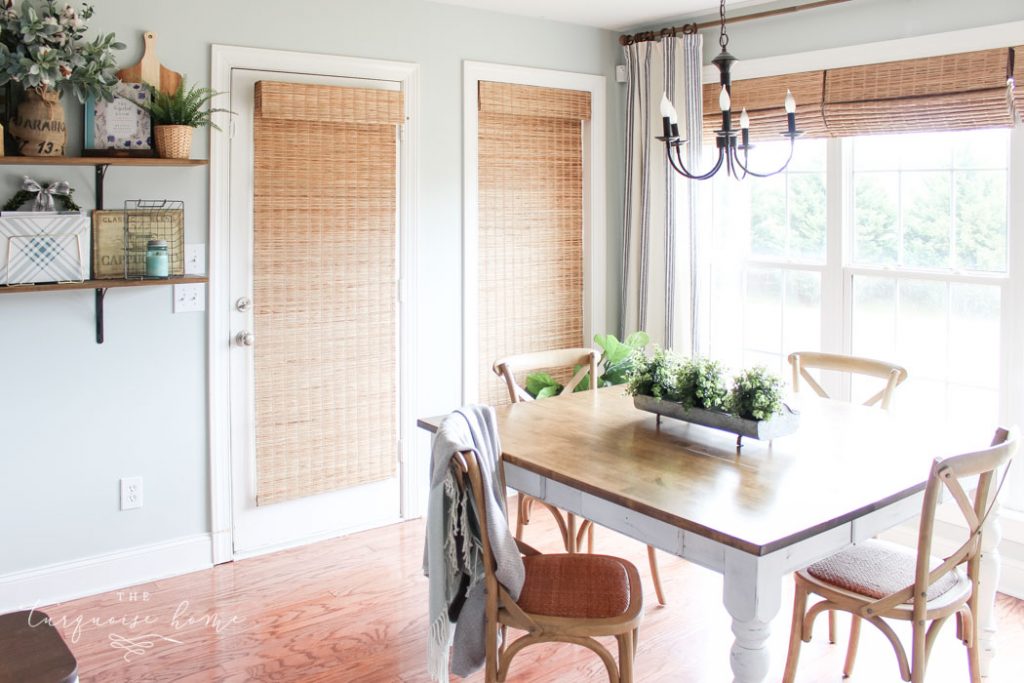 They are the Designer Series Woven Wood Shades from SelectBlinds.com in the Jute Wheat color. (If you use my code TURQHOME, you'll receive an additional 5% off your order.) They are so pretty in real life and I can't wait to put them on the french doors. See more about how to pick out bamboo blinds HERE.
Rugs in the Kitchen
I would love to put this striped jute rug in an 8'x8′ size under our kitchen table. Yes, it will get dirty from my kids, but it will hide stains well and will ground that table area, as well as add more texture to the space.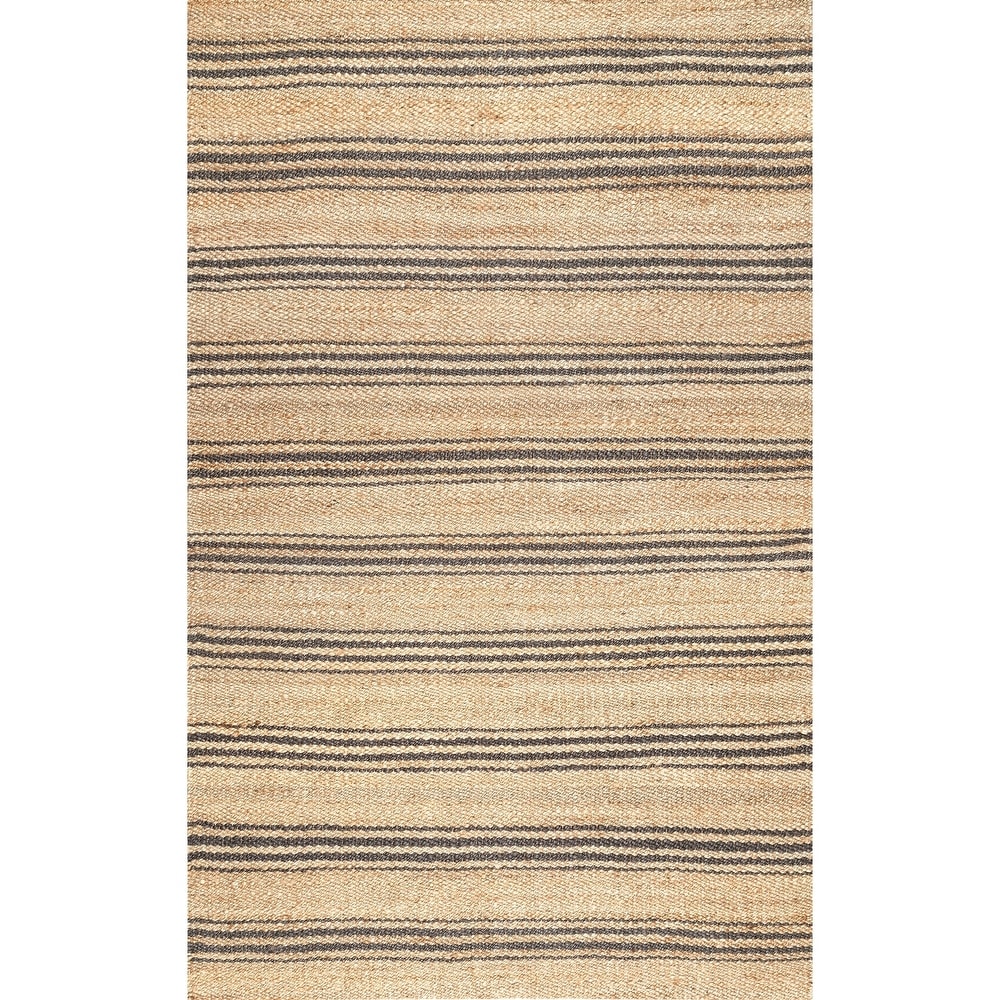 Then, I'd also like to add a runner next to the island where I'm always standing to cook. Maybe something in this blue herringbone pattern? I'm not sure how well this type of rug would hold up to stains, so I may need to do more research, but this is the idea.
Seating in the Kitchen
We are keeping the x-back wooden chairs around our kitchen table. I've had those for years and love them!
I would like to replace the bar stools at the counter with something more woven and suited for that space. This woven Parisian counter stool might not be the exact one we choose, but it'll be something similar.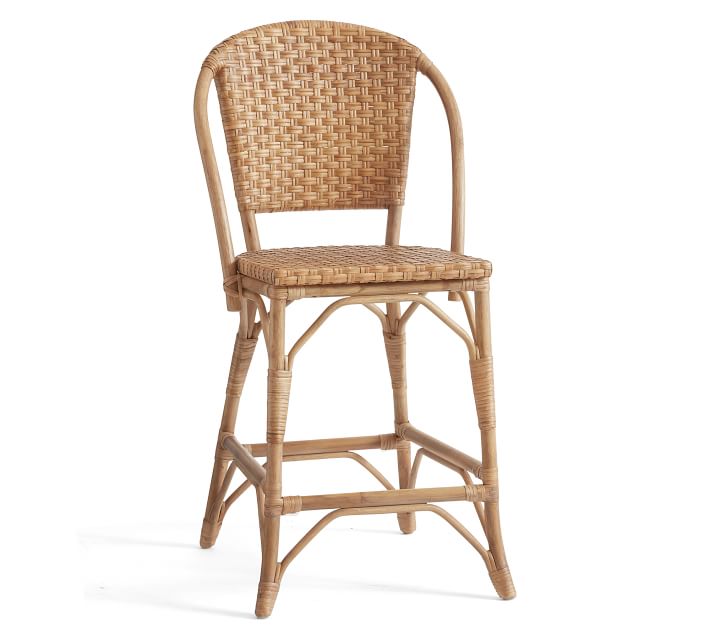 The stools that are there currently came with us from the previous house and are bar-height stools, which has been OK, but they are a little too tall for the counter height. I'd also like to get some stool with a back on them.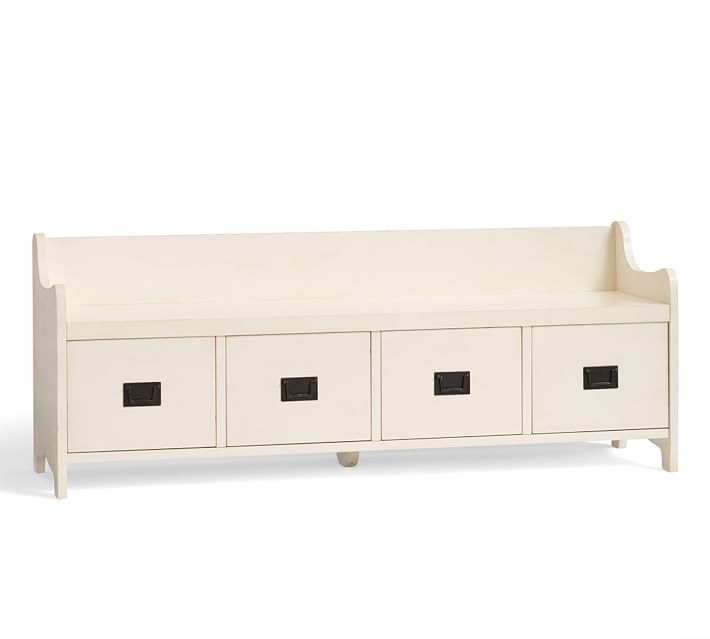 And then, I plan on adding this bench (and bench cushion) with drawers on the wall with the 3 floor-to-ceiling windows. We need more of a drop zone in that area where we come in from the garage. And we need a place to sit down to put on shoes with drawers for shoe storage. I think it will be perfect for that space!
Accessories & Paint in the Kitchen
The accessories in the mood board are mostly already there. I do have my collection of cutting boards hanging next to the pantry door. I love them there and plan to keep them.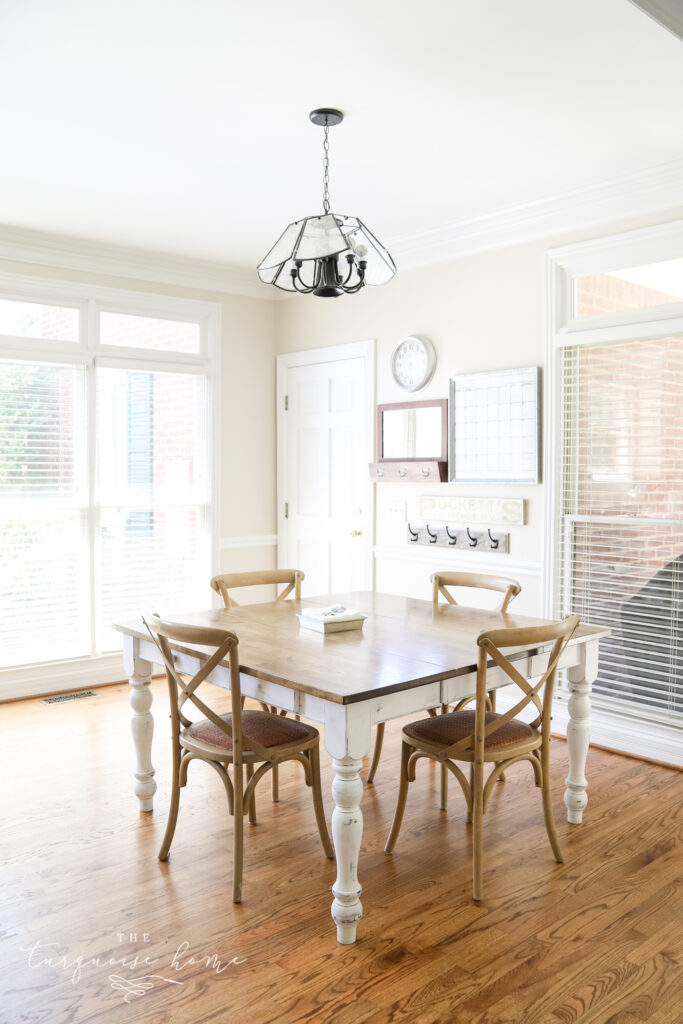 We also hung some mudroom/entryway essentials next to the door to the garage. I've had the mirror with hooks and cubbies for probably 20 years. I may paint it or sand it down and refinish it. But that thing is a work horse for us.

We recently got the dry erase calendar and I may paint the edges a brass color. And the clock as well. Then the hooks were necessary when my kids were in school last year. Currently in the summer, we're using it for my purse, hats and masks. 😜
I'd love to add a lamp on the kitchen counter behind the sink, and maybe one of my favorite easy plants.
As far as how I plan to use the Comfort Gray color in the kitchen? I'm seriously considering painting the pantry door and the door to the garage in that color. I've got a bit swatch painted on a poster board right now hanging on the pantry door and I become more and more obsessed with the idea every day!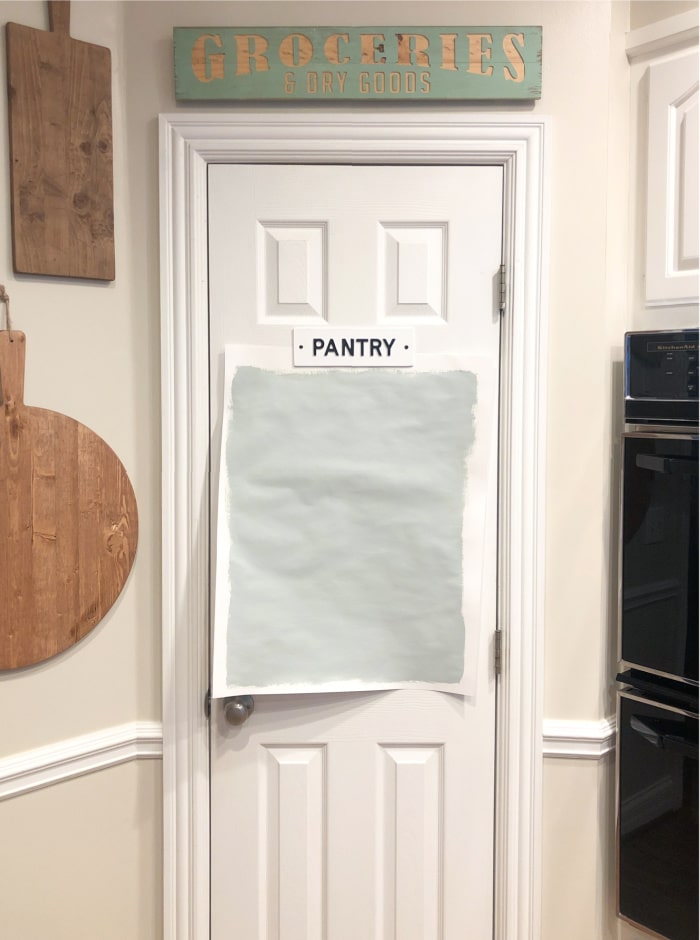 And finally, the gorgeous cabinet knobs and handles I put in the mood board. I would love to replace all of the chrome knobs in the kitchen with these gorgeous brass knobs. I'm not sure I can get 42 of them without a mojor sale, but we'll see! I'll be stalking them for a serious discount!
I bought the handle for my dishwasher cabinet door cover and would love to have them all match. But again, I'm gonna need a sale to make that happen! 😂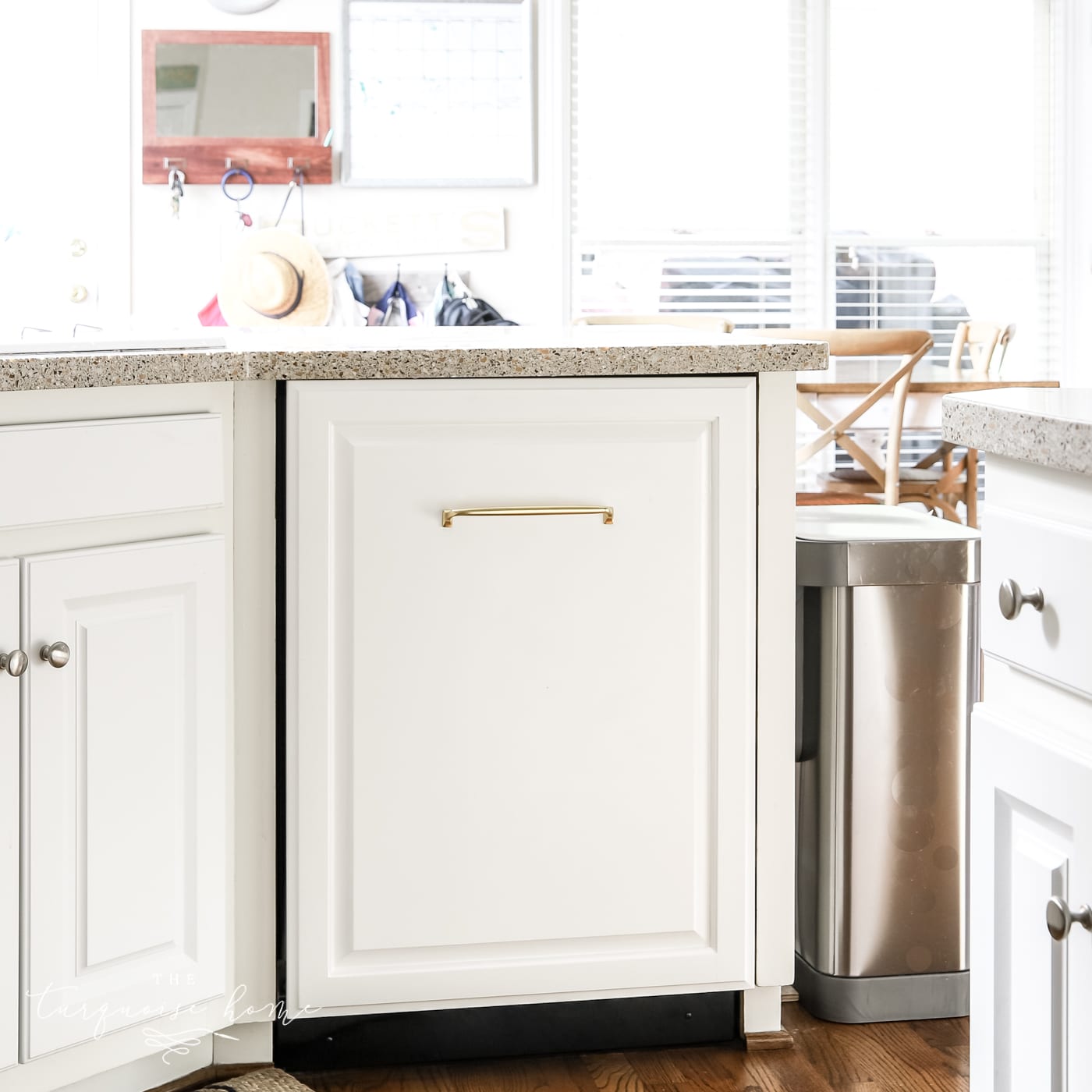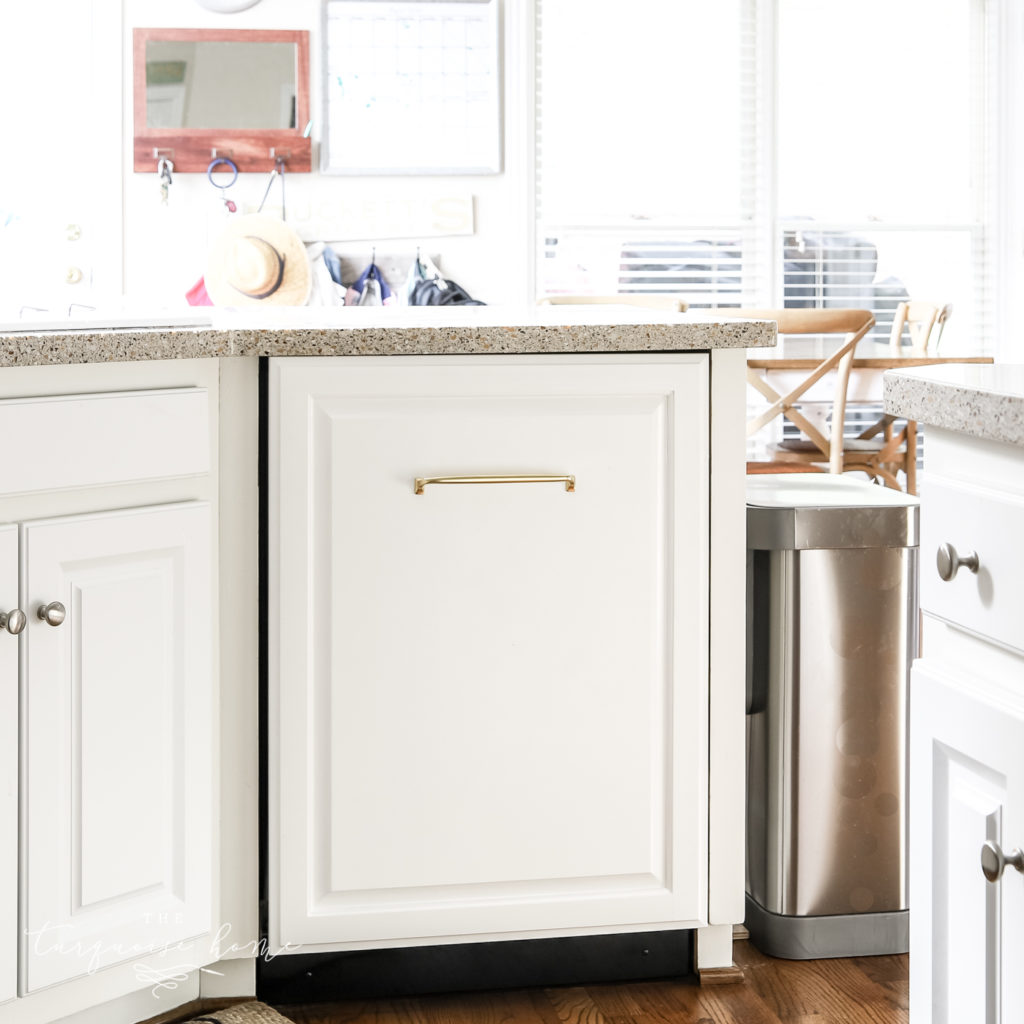 So, what do you think? Do you have any tips for my kitchen makeover? If so, I'd love to hear them in the comments!
MORE POSTS YOU WILL LOVE: