A Blush & Brass Feminine Office Mood Board
Some feminine office decor in my blush and brass home office is the perfect spot for any entrepreneur to get work done! The pairing of blush and brass is so pretty and inspiring for any girly space in your home.
I shared in my 2020 Home Goals post, my first full makeover in the new house is my office! Whoop! Whoop!
As I'm starting to work on making over the rooms in my home, I'm finding that decorating one room at a time is very difficult. I'm so overwhelmed with all of the inspiration and improvements I want to make on this house, that I'm SO glad I made my home goals list and now this mood board to help me focus on one decision and one room at a time.
When you are starting a room makeover, it's so easy to get inspiration overwhelm (followed closely by analysis paralysis and then decision fatigue). These are real conditions, that any home decorator knows all too well. 😂 You look at Pinterest for ideas and the next thing you know, you've got 1 million ideas and no clear direction of where to start.
This post contains affiliate links for your convenience. See my full disclosure policy here.
How to Start a Room Makeover
I like to start the makeover process with a large inspirational piece: like a rug, curtains or a piece of art, and work from there. These items are usually one of the largest and most colorful items in the space, so that color scheme will dictate the rest of the room.
In my office, I started with the rug – kind of out of necessity. When we moved into the house, I knew I needed a rug for my office ASAP because I didn't want to scratch the newly refinished floors with my rolling desk chair. I knew I wanted a feminine space, so I searched for "blush rug" and this one popped up! I fell in love immediately.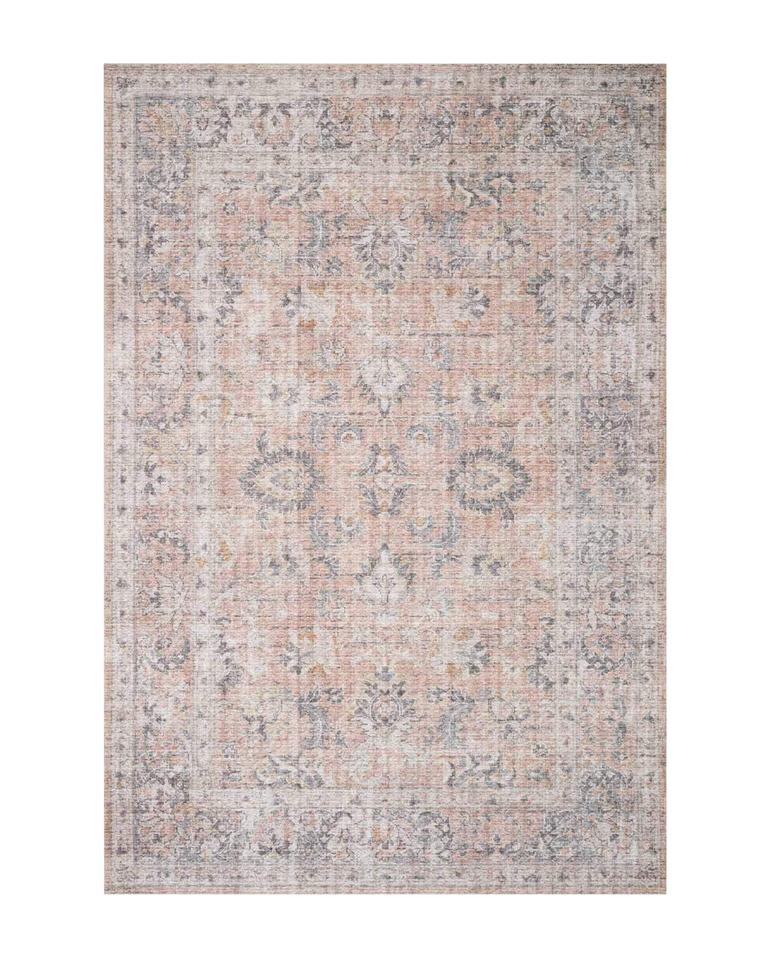 One piece of advice that I tell myself when I get overwhelmed by inspiration and making a decision … is if you like it and it works in the space, then get it! There's no need to belabor a decision forever. Just do it!
Why I Chose to Makeover the Office First
It's hard for me to decorate and design the rest of the house when I'm sitting in an uninspiring room. It also is one of the first rooms you see when you walk in the front door, so I want those rooms to be the first rooms I tackle.
This is what it looked like when we first moved in.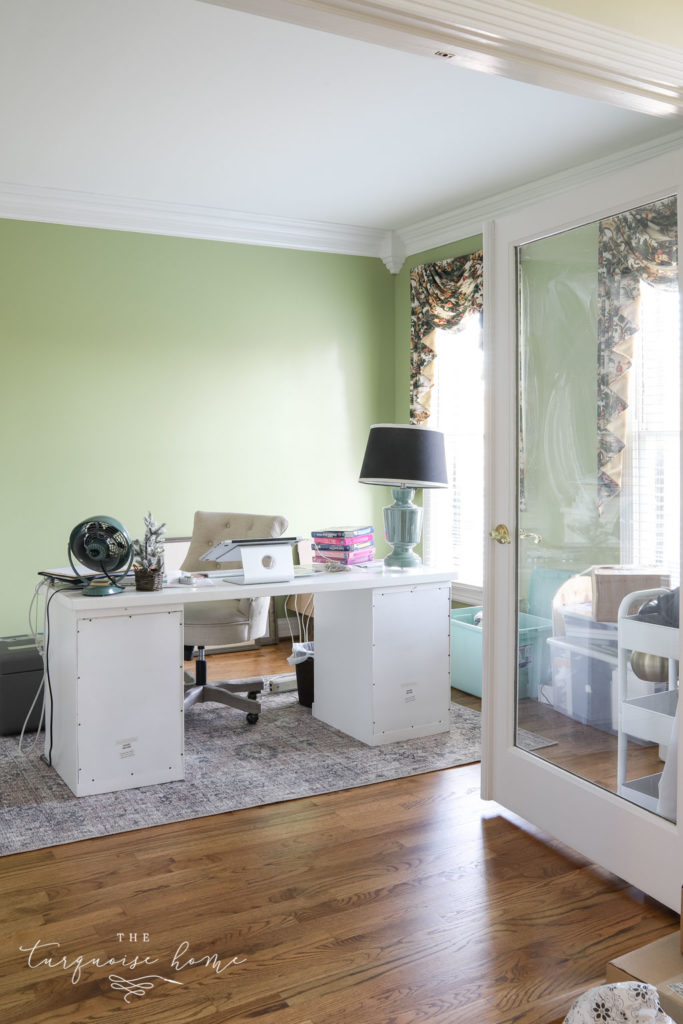 The green walls were doing a number on me, so I had the room painted pronto!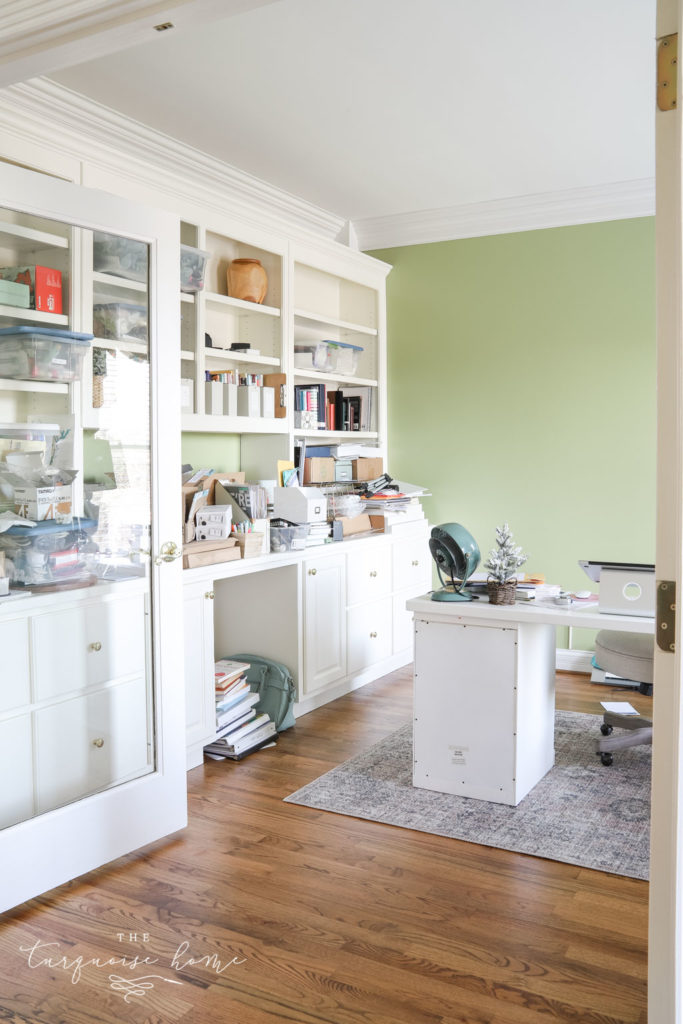 The plan is to makeover every single space in this house, but it will take years to get it all done. Thankfully the office doesn't have to undergo any major makeover changes, just paint and some decor! Here's the list of things I want to do in here:
Finish organizing the space (mostly done)
Paint the walls Shoji White (Sherwin Williams) – see my favorite white paints colors here.
Add an overhead light (I will have to hire an electrician to run the wire for an overhead light.)
Add blinds to the french doors (I think I want bamboo blinds.)
Remove old curtains & buy and hang new curtains (I've ordered them and they are scheduled to arrive in March.)
Make panels for the back of the desk – I've got the materials to make it and just need to do it!
Style the bookshelves – just ordered a few things and have been tweaking as I'm inspired
Order or DIY art for behind the desk and other wall
Hang calendar and art behind the desk
Either replace the knobs in the built-ins with matte brass knobs or use rub and buff to cut down in some of the shiny-ness.
I've crossed off the few things that I've done so far, but I have much more to do! My goal is to have it completed by April 1 and I think I'll make it!
Here's my mood board for the space. I love seeing it altogether!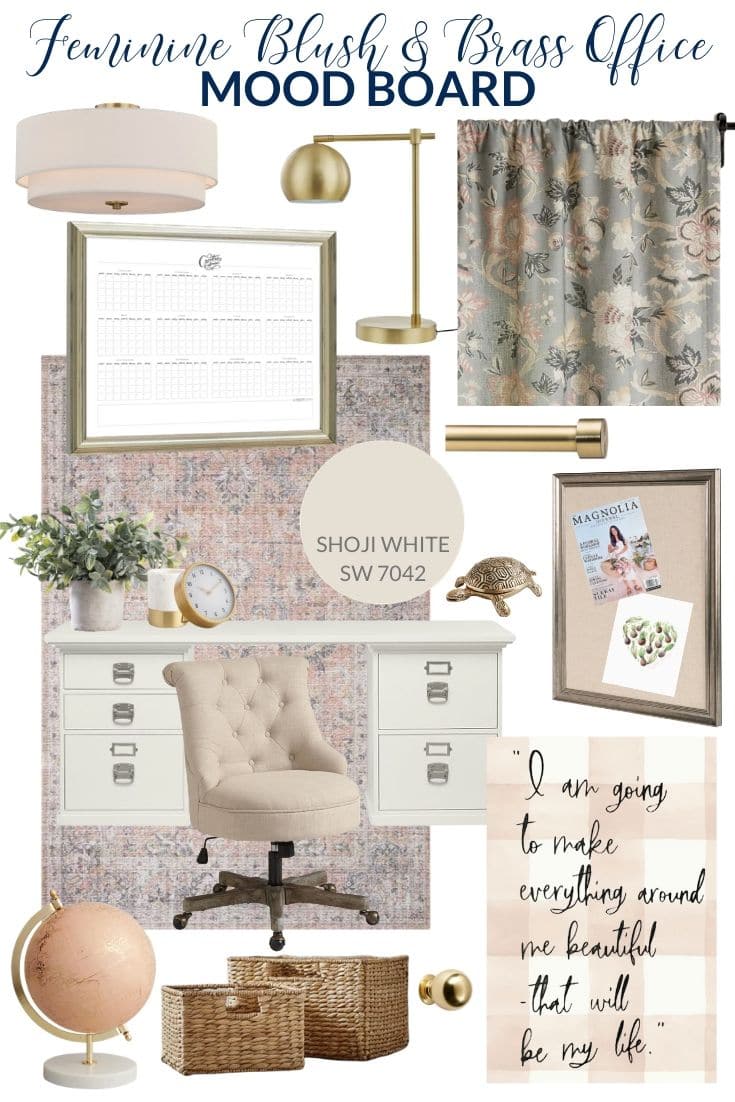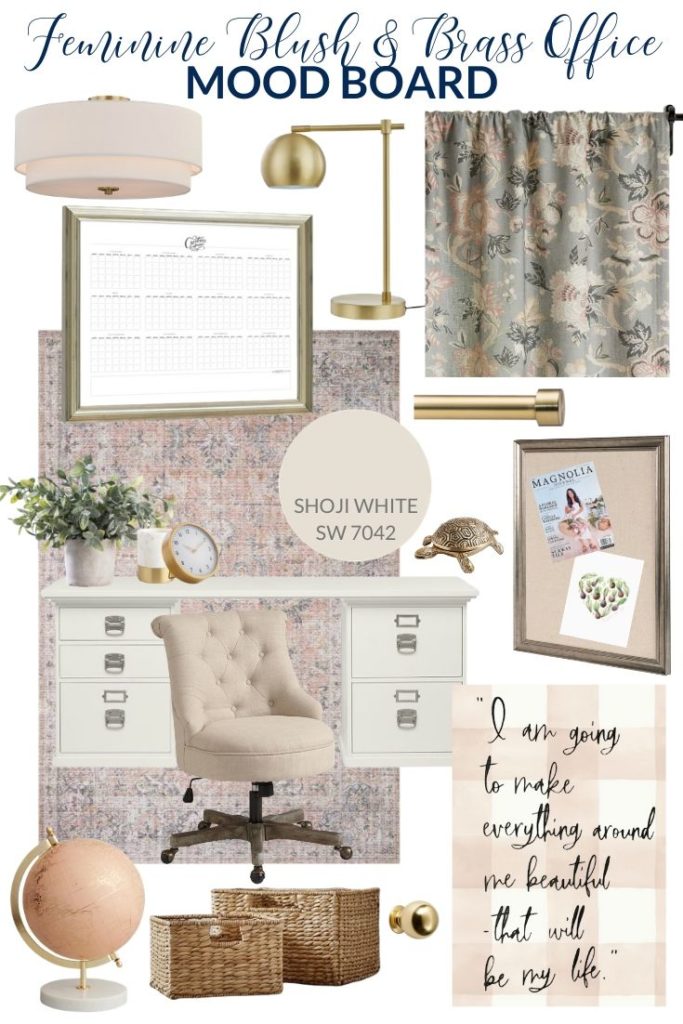 Flush Mount Ceiling Light | Dry Erase Wall Hanging Calendar | Brass Task Lamp | Floral Curtains | Brass Curtain Rod | Blush Rug | Faux Sage Greenery | Marble and Brass Pencil Cup | Brass Clock | Brass Turtle Trinket Box | Desk | Rolling Desk Chair | Bulletin Board | Buffalo Check Wallpaper | Elsie de Wolfe Quote Wall Decor | Blush and Brass Globe | Storage Baskets | Brass Knobs
What do you think? I'm so excited to see it all pull together over the next two months. And I'll be sharing the smaller projects along the way before the big reveal in April! Can't wait!
More Posts You Will Love: