When it comes to painting, prep work is half the battle. If you think the hardest part is getting your paint brushes ready, I've got news for you…it isn't. You have dozens of things to decide before you even lift a finger, including choosing from paint finishes (also called paint sheens). Here's what you need to know!
I always thought the hardest part of choosing paint was picking the actual color. No matter how many paint color guides I read (and write!), there's nothing like actually having to make that call for yourself. But those paint sheens can be almost as tricky!
Of course, once you select the color, you're still not done with the decision-making! Now you've got to decide between paint finishes, which is an entirely different process altogether.
If you've ever wondered what the difference is between satin and eggshell, or when you should use flat paint vs. glossy, today's post is going to demystify it all.
I've also made a free Paint Sheen Guide download at the end of this post, so don't miss it!
What are the different types of paint finishes?
Let's start by breaking down the basic paint finishes. Here is what your options typically are, listed in order of highest gloss to lowest:
Gloss: As the name implies, gloss paint has a high sheen that reflects a lot of light. It's easily wipeable but will highlight any imperfections. This makes it a challenging paint to do touch-ups on.
Semi-gloss: Slightly more reflective than satin, but less so than gloss paint. This option is very easy to clean, making it a popular choice for playrooms or bathrooms.
Satin: Satin paint has a slight sheen to it that gives it a pearl finish. It can be easily wiped down, making it a good compromise between the ease of a gloss and the look of flat paint.
Eggshell: This type of paint has almost a velvety tone to it. It has a very slight light reflection, but without direct light appears more matte.
Flat or Matte – this paint finish has a smooth finish that absorbs light and doesn't reflect light. Flat paint hides imperfections, so it's a great choice for ceilings.
Note: Benjamin Moore and Sherwin Williams have different names for some of their paint sheens. So, when ordering directly from them, ask them which of their sheens is comparable to Satin or Eggshell, for example. I know that Benjamin Moore's "Soft Gloss" is the equivalent of "Satin" at other paint stores.
The Best Paint Finishes For Each Room
Now that you know what each finish offers and why it's important to choose the correct one for each space, let's talk about the best finishes to use in each room.
Which paint finish should I use on my ceiling?
These days, the fifth wall is getting a lot more attention than it has in years past. Gone are the days where your only option was a white ceiling. These days, the sky is practically the limit with bright colors, patterns, and even wallpaper.
That being said, it's rare that the actual finish for a ceiling differs from the norm. The standard paint finish for ceilings is flat paint…and for a good reason!
Flat paint hides any imperfections, more so than any other paint. It's also the easiest paint to touch up. As painting the entire ceiling is a lot more work than repainting a wall, flat finish (matte) became the industry standard.
The Best Paint Finishes For A Living Room
If your family is anything like mine, you spend a ton of time in your living room. After all, this space is literally named after living!
Because of this, I recommend going with a livable sheen somewhere in the middle of the road, such as an eggshell or satin paint.
Note: If you need some suggestions on actual paint colors, I wrote an entire post about the best living room paint colors!
Dining Room Paint Finishes
You want your dining room to feel relaxed and slightly warm, which is why I always recommend eggshell paint. Its velvety, cozy finish adds just the right touch to the dining area.
The Best Kitchen Paint Finishes
If there's a room that could be considered the messiest in the house, the kitchen would be the top contender. This space is not only incredibly high traffic, but the potential for a mess with the food itself is enormous.
While surfaces like backsplashes and countertops are easy to wipe down, make sure to keep your visible walls in a satin and your painted cabinets either satin, semi-gloss or high gloss paint finish for the kitchen. I personally prefer a satin finish for my cabinets.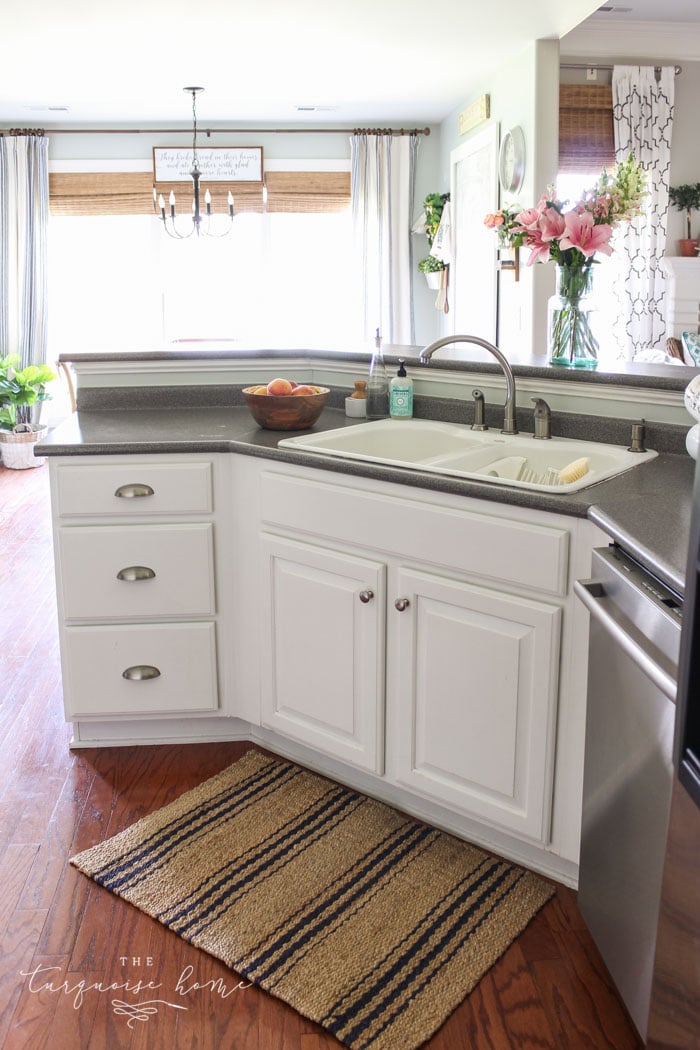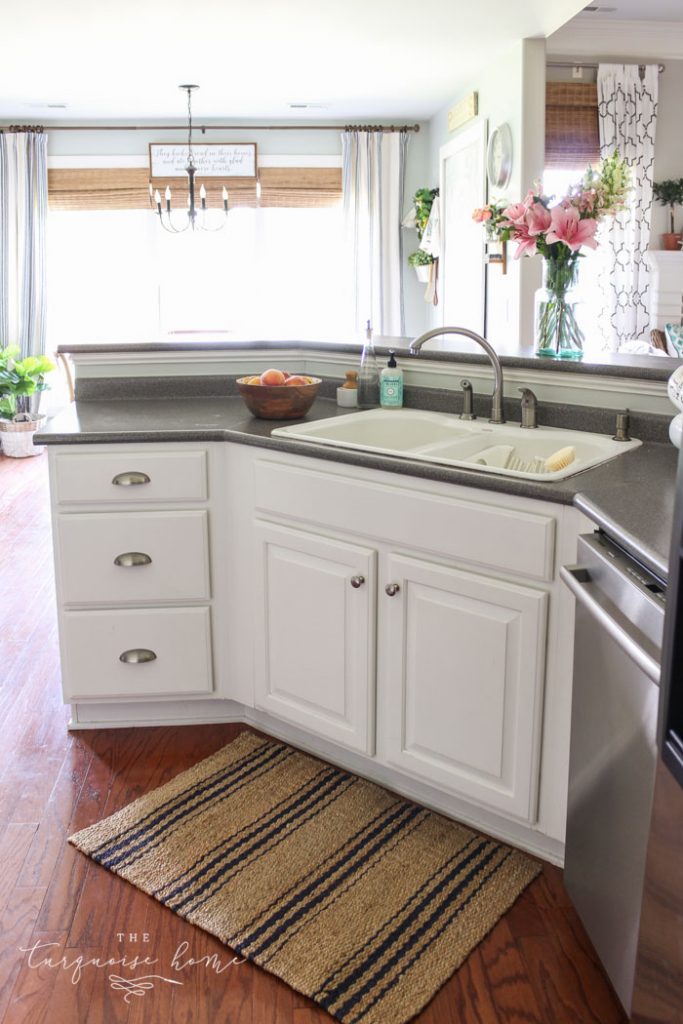 Types Of Paint Finishes To Use In Master and Guest Bedroom
The bedroom is a place for relaxing and unwinding. For me, that means choosing finishes closer to the matte side that create a cozy feel.
I recommend either satin or eggshell paint, depending on your bedroom's lighting and which paint color you choose. I prefer an eggshell finish on my bedroom walls.
Kid-Friendly Finishes (Perfect for Playrooms and Kids' Bedrooms!)
Kids' bedrooms, on the other hand, have some special consideration. It's a lot more likely that you'll want a wipeable, easy-to-clean finish in these sleeping spaces than your own.
Whether you fight through crayon scribbles or food smears, parents will appreciate being able to wipe down glossier finishes like satin. Of course if your kids aren't very messy, eggshell would be fine, or use a semi-gloss if they are extra messy. 😜
Bathroom Wall Finishes
Since bathrooms are subjected to more humidity than other rooms, it's always good to choose a satin finish. The powder bath is one of the most high traffic areas of a home and you want to have a wipeable surface in there, so it's always good to choose a satin paint finish.
Final Thoughts
I know it can seem complicated, but as a general rule I prefer matte finishes to glossy ones. So, I don't choose anything glossier than a satin finish paint. For example, on my exterior trim, shutters and doors, I choose satin.
I even chose satin when I painted my kitchen cabinets in my old house. I think the only time I've ever used a semi-gloss paint is for interior trim.
Even though a semi-gloss or even high gloss finishes might look good, I prefer a less shiny look. So, if there's an option, choosing your personal preference is OK!
When you start the lengthy process of painting a room, make sure to consider not just the color but the sheen of your paint colors. The same color can look completely different in a matte vs high gloss shade, thanks to the absorption and reflection of light!
Paint Sheen Guide Free Download!
Click the above image, or HERE to download your FREE Paint Sheen Guide. You can take this with you anytime you need to buy paint!
More Painting Posts to Read:
MORE POSTS YOU WILL LOVE: