How to Choose and Style Sofa Pillows
What's the secret to making your couch's throw pillows look amazing? It really just comes down to pillow sizes, colors and a few other considerations. In this Throw Pillows 101, I will show you everything you need to know to beautifully style your sofa pillows.
Throw pillows are more than just an afterthought for your furniture. They use patterns, colors, and textures to add style, comfort, and cohesiveness to your home decor.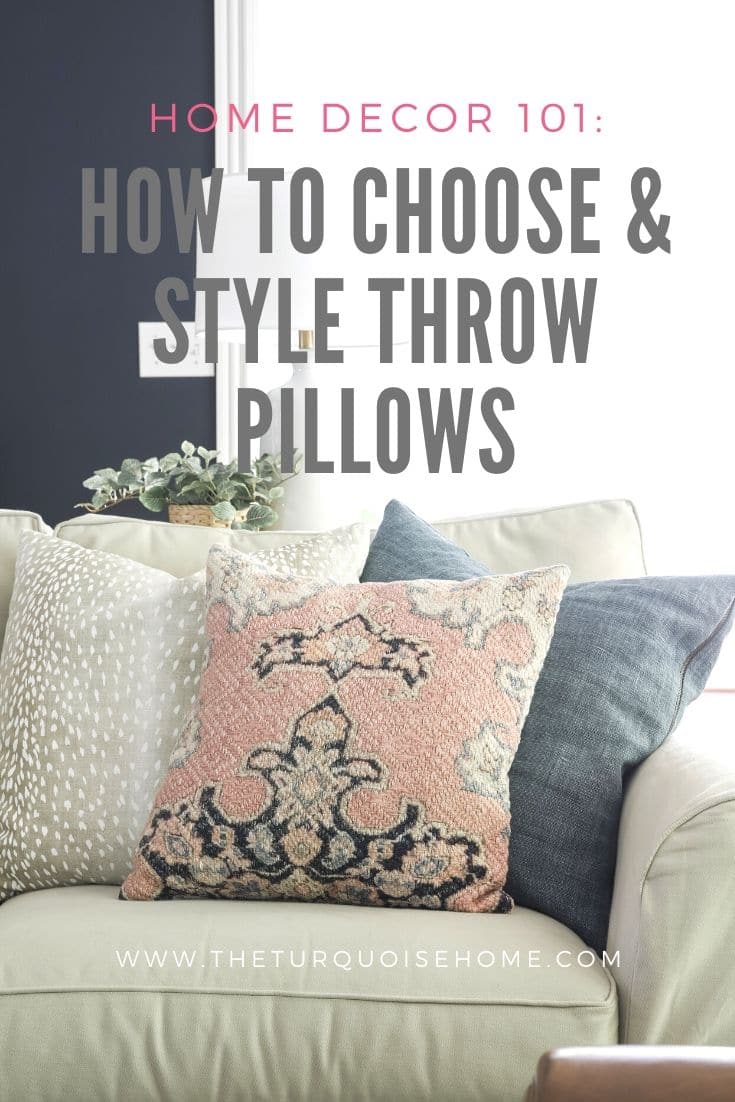 In fact, sofa pillows are the perfect accessory: they do a big job but are easy to swap out when you want a change. I'm a huge fan of buying a neutral sofa, then adding in your pops of color and patterns with pillows!
I'm kind of obsessed with them and have way too many. Ha! It doesn't hurt that they tend to be pretty affordable too!
There are several elements to consider when choosing sofa pillows: size, color, texture, pattern, and shape. Once you have those elements chosen, you can style your pillows on your couch to get that perfect look.
Let's get started!
This post contains affiliate links for your convenience. See my full disclosure policy here.
Your Guide to Picking The Perfect Sofa Pillow
Your throw pillows should enhance and compliment your furniture, not overwhelm it. In order to accomplish that goal, pay attention to the following factors:
Size
Square throw pillows come in even-numbered sizes, ranging from 16"x16″ to 24"x24". Rectangular (lumbar) sofa pillows can vary a little bit between retailers, but typically come in the sizes 12"x18", 12"x 20" or 12"x 24".
Pillow sizes matter, but they matter mostly in relation to the size of your furniture. Your throw pillows should always be sized in proportion to the furniture they adorn.
When it comes to buying pillow inserts, you will want to buy the insert 2″ larger than the pillow cover. For example, buy a 24″ pillow insert for a 22″ pillow cover. That will keep your pillow from looking floppy!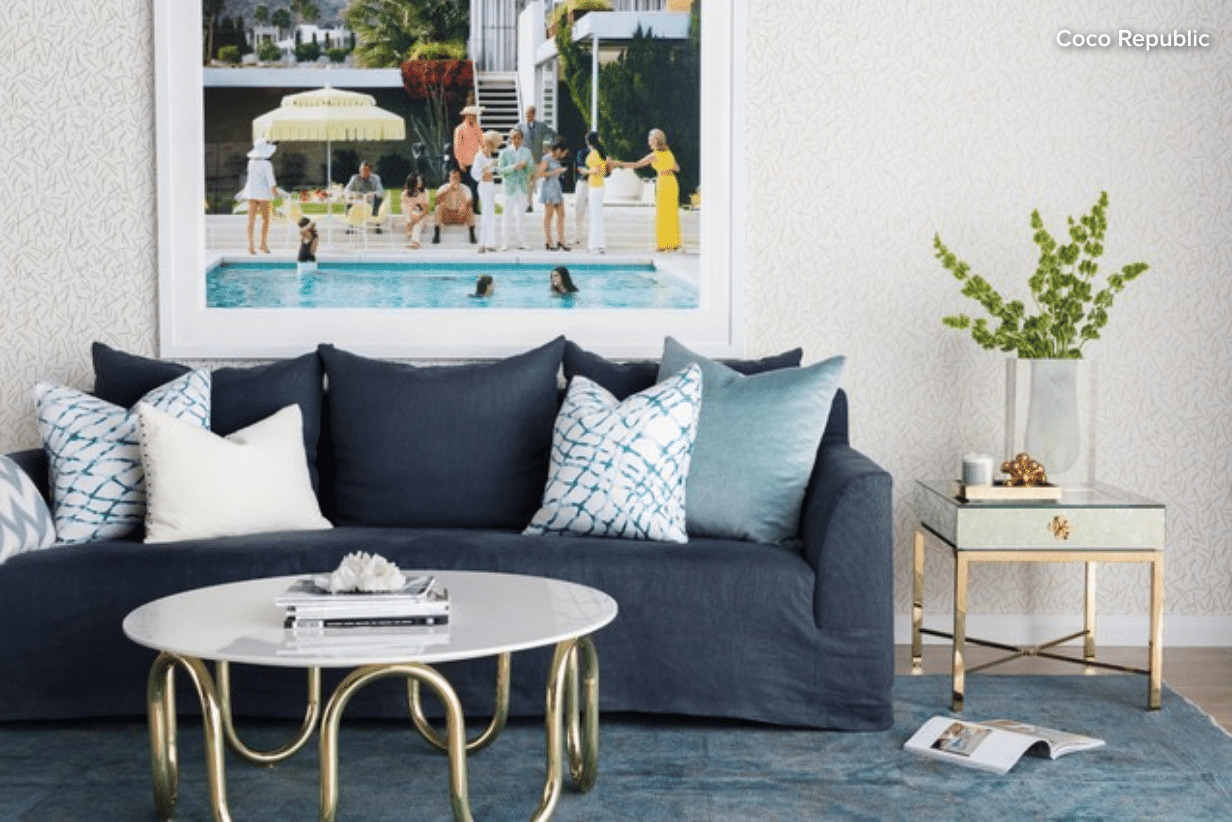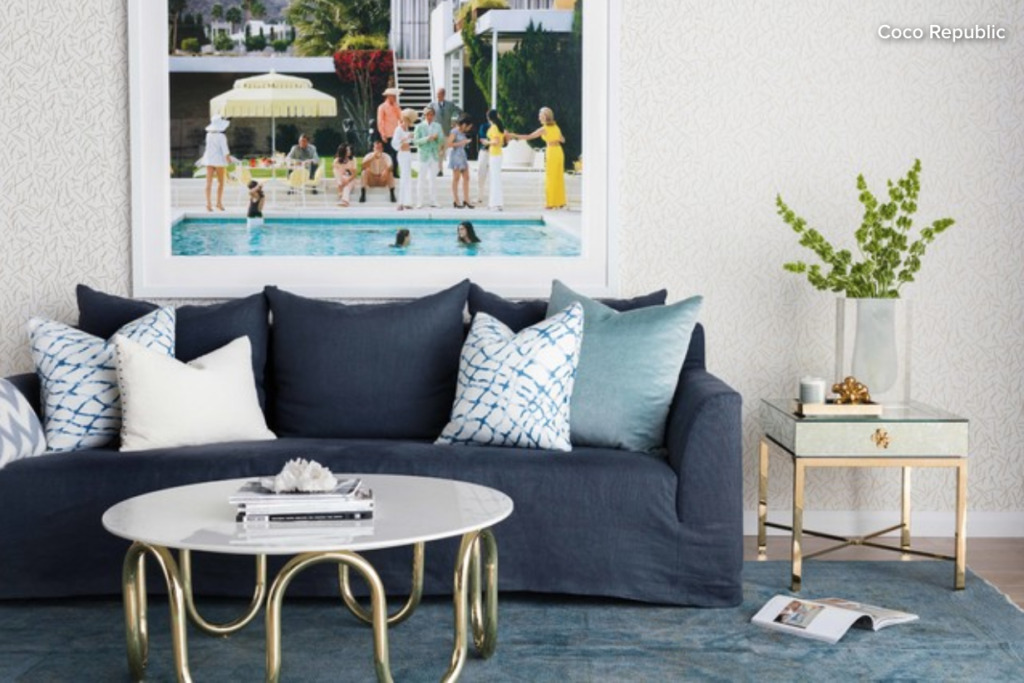 In this example above from Houzz, the throw pillows are nicely sized for the sofa – not too big, not too small.
Color
The color of your throw pillows may be the first thing you think about – but it will definitely be the first thing that people notice when they see your couch.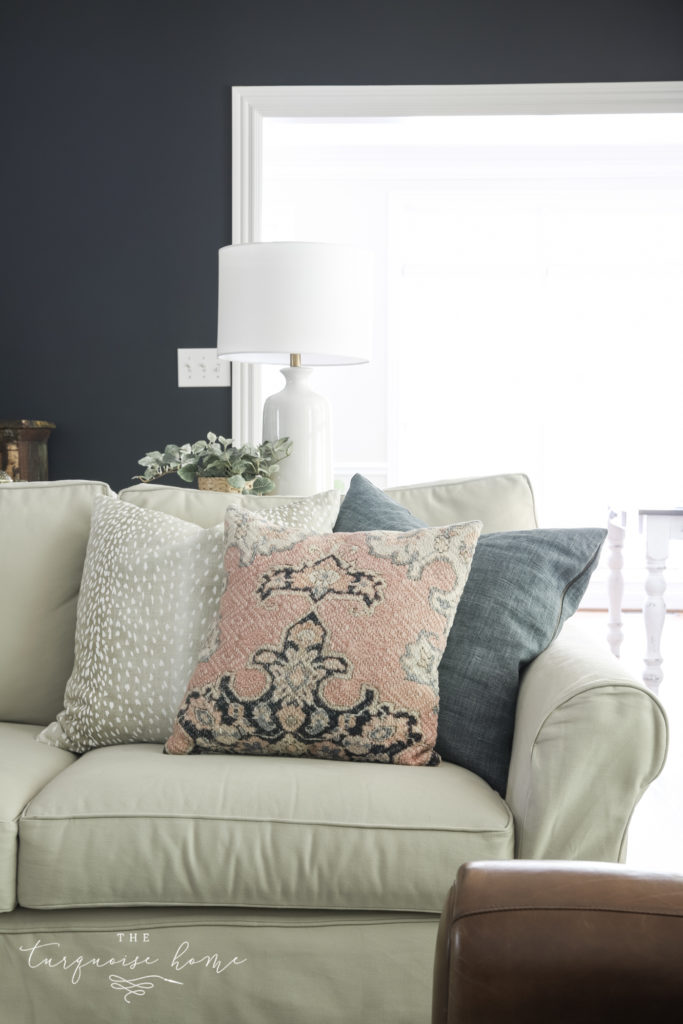 Go for colors that compliment your furniture and don't forget to choose colors from your Whole Home Color Palette. They can match closely or contrast to create more interest. In this image from One Kings Lane, you can see how color is used to contrast the sofa while pulling in colors from the decor in the rest of the room.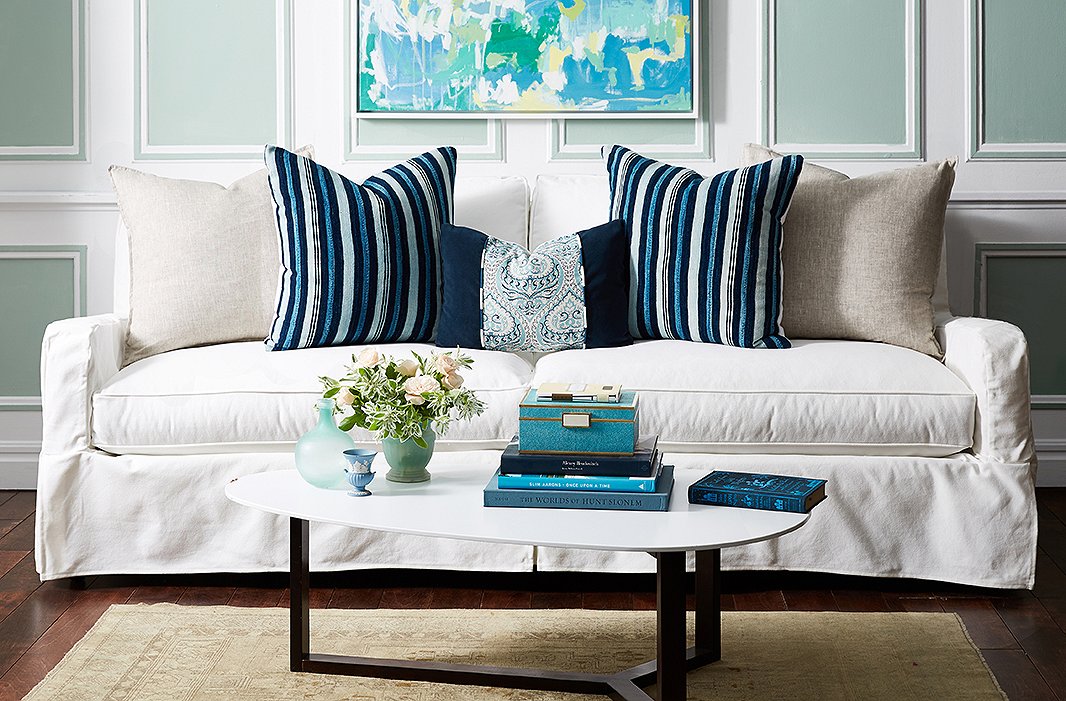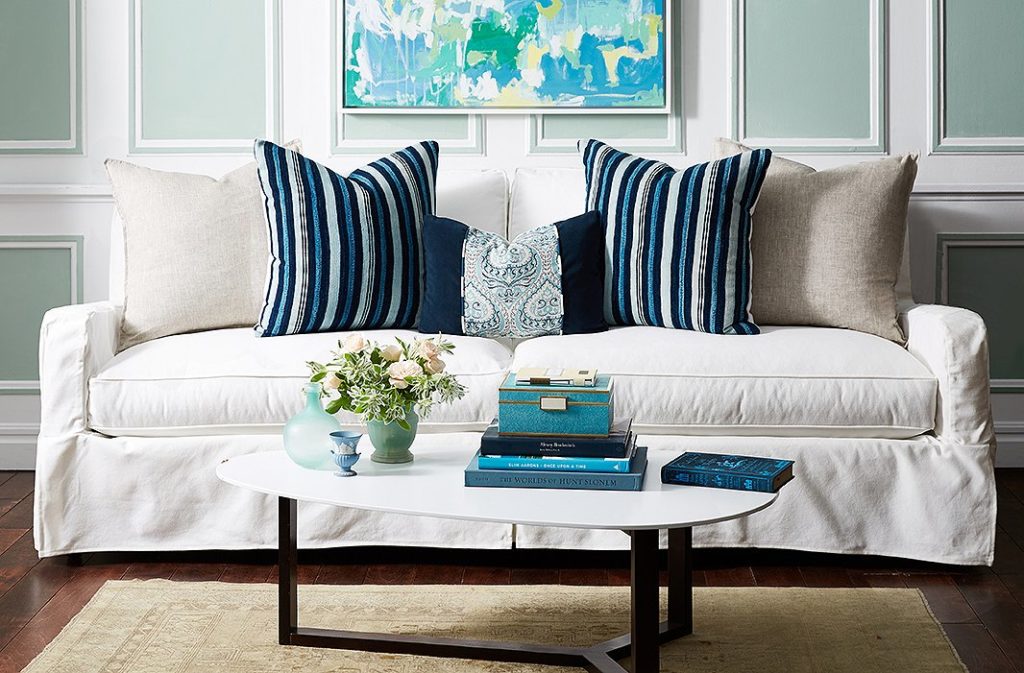 Texture
The texture of your fabric adds depth and interest to any room, and it's just as important to consider when styling sofa pillows. To achieve this, combine a variety of textures!
I love to add a faux fur throw pillow in the winter or a fun whip stitched edging for spring and summer. Other textures you might like are fringe, tufted, cable knit, poms and more! They are all so fun and versatile.
While texture is slightly less important when working with contrasting colors (as color can create a sense of depth), it's essential when going for a more monochromatic style.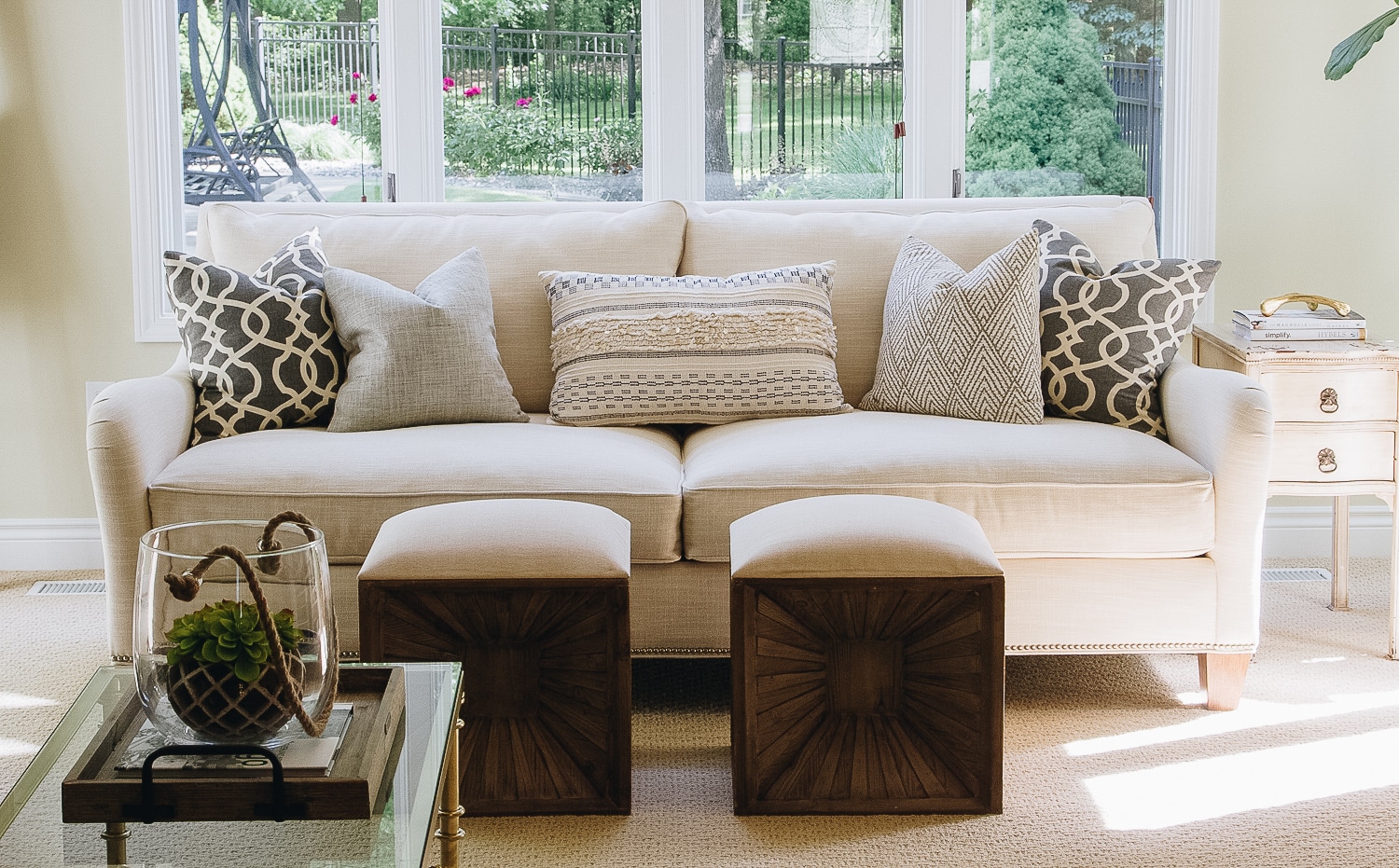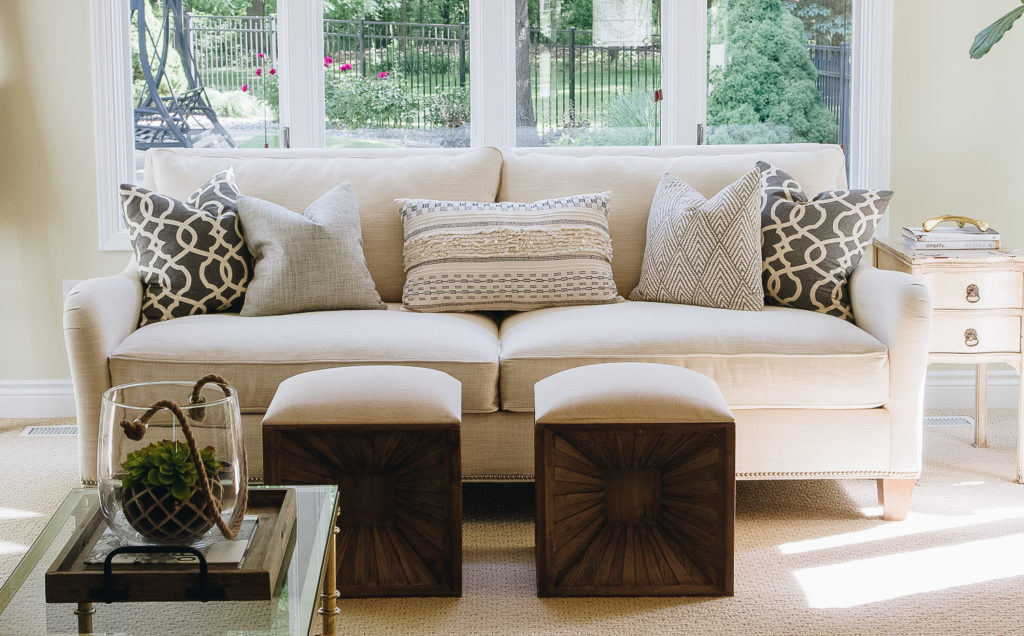 In this example from Amber Tiller, throw pillows of different sizes and textures add dimension and interest to a simple fabric sofa.
Pattern
Ooooh, I love adding patterns with my throw pillows! I'm a sucker for a pretty floral fabric!
They can be so fun, but you have to match them well by using both large scale prints and small scale prints to create a balanced look.
Here's a winning formula for pillow pattern coordination:
Select one floral-type pattern with more than one color in it.
Then select a pillow with a large scale pattern, stripe or solid in one of those colors (or a coordinating color)
Then select a 3rd pillow with a smaller pattern in another color from the first pillow.
Throw pillows for your couch are a terrific way to incorporate a pattern you love or play around with patterns. Don't be afraid to go bold and have fun with your patterns; just make sure to balance out your bold patterns either with soft patterns or solid colors.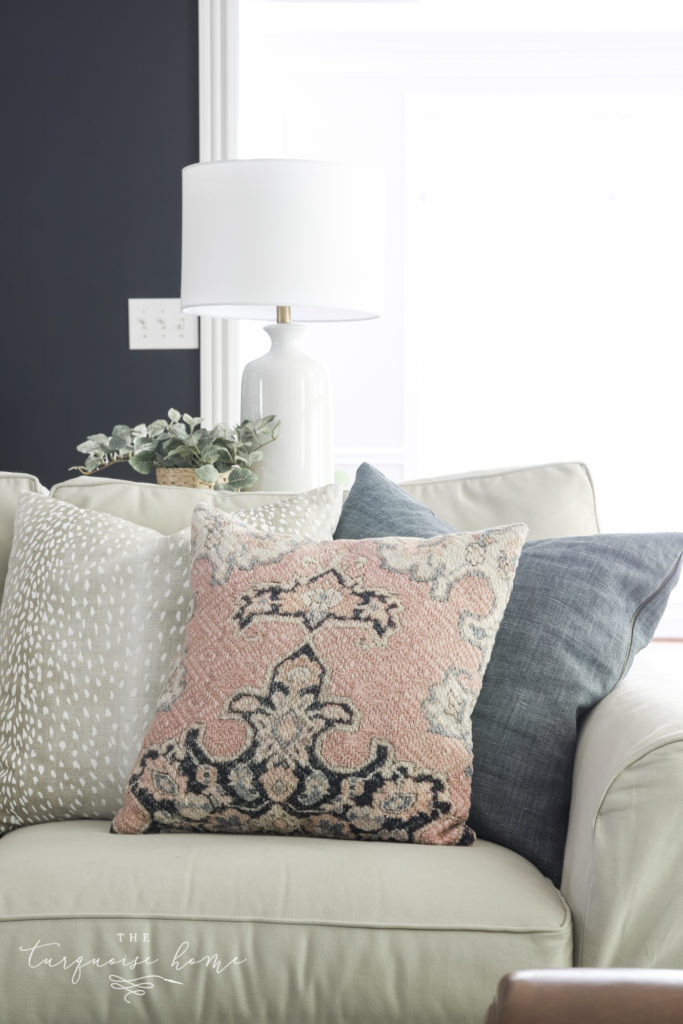 Antelope Print Pillow Cover | Valari Print Pillow Cover | Midnight Blue Linen Pillow Cover
In this example from my living room, you can see how contrasting patterns are used to elevate all of them and make them come together as a cohesive unit. I started with the patterned pillow in the middle, then chose a solid pillow that coordinated and a pillow with a small scale pattern.
Here is another example from my old living room that works well together, too: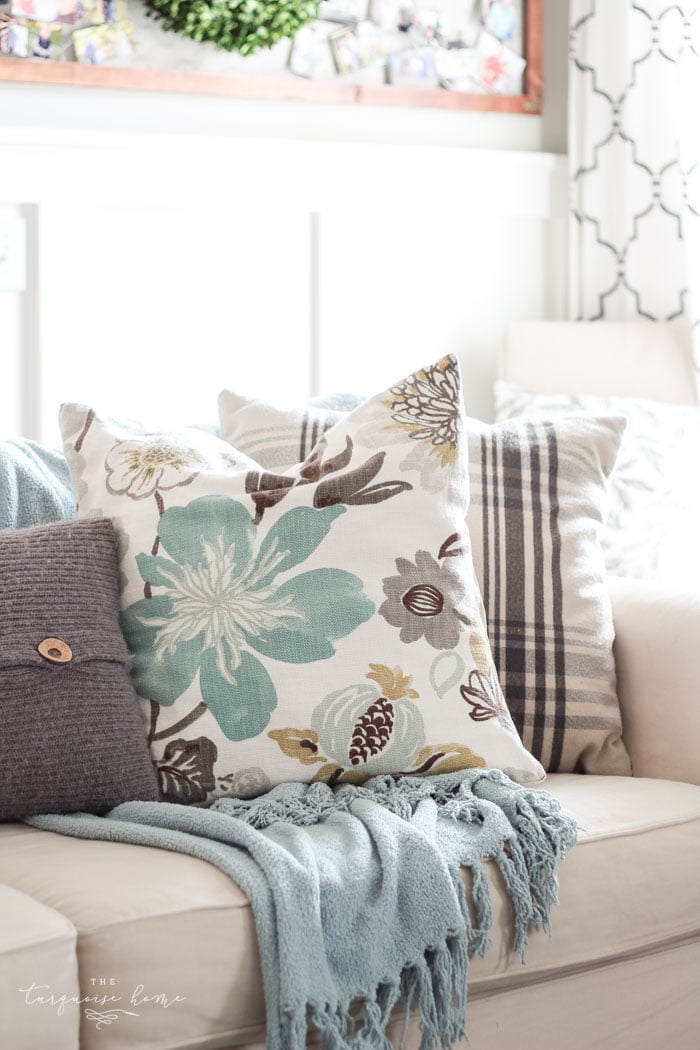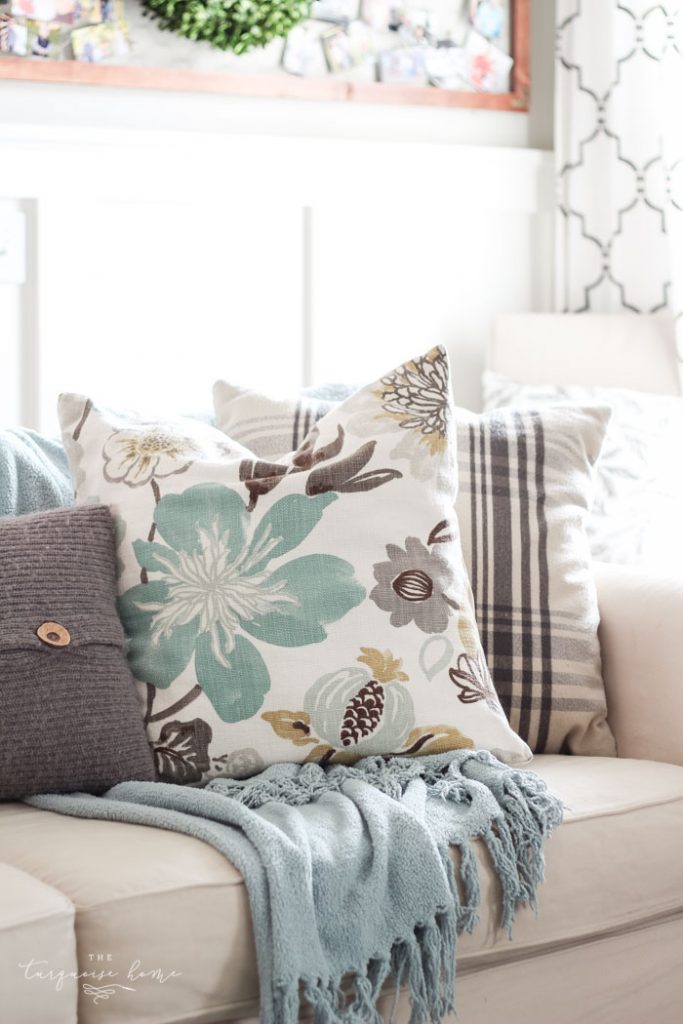 Braemore Gorgeous Pearl Pillow Cover – the others are sold out
Shape
Many throw pillows are square, but you can also use rectangle, bolster and round shapes as well.
The shape of your pillows will also partially determine how formal or comfortable your decor is. Square and rectangle pillows tend to be more comfortable, while bolster and round pillows tend to be a little more formal.
Feel free to play around with shapes to make your throw pillows pop within your decor!
I personally prefer to use square throws in the back and finish off my styling with a different shape throw in the front (usually rectangle). The corner of my sectional shows exactly what I mean by adding that middle rectangle throw pillow as the finishing touch.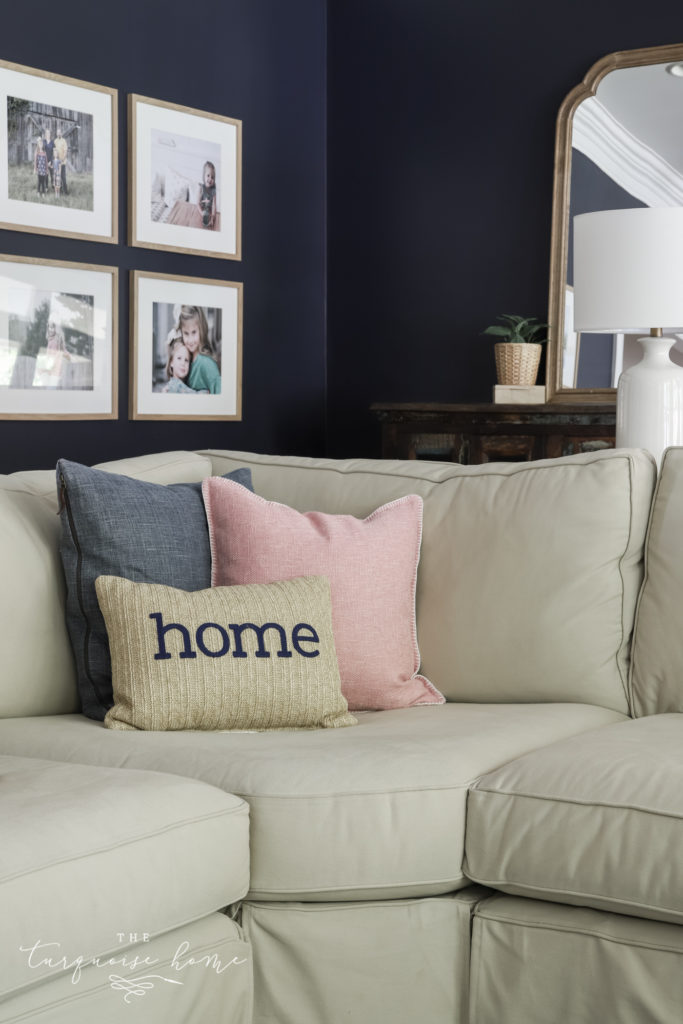 How to Style Sofa Pillows
Now we get to the good stuff! Here's what you really came to find out, right? Here are my tips for creating a beautifully styled sofa using throw pillows.
Remember the rule of odd numbers when it comes to styling? That rule applies to flowers, bookshelves, pictures hanging on a wall, and it definitely applies to throw pillows on your couch.
Opt for groups of three, five, or even seven pillows if you have a large sectional.
Here are some examples of sofa styling arrangements using different throw pillow sizes to give you some inspiration.
Sofa Pillow Combination Ideas
Put your two largest pillows (either 22" or 24" square pillows) in the back corners. Then layer two slightly smaller square pillows (either 20" or 22") in front of those corner pillows. Finish your styling by adding a possible rectangle pillow in the center like this example from Ballard Designs.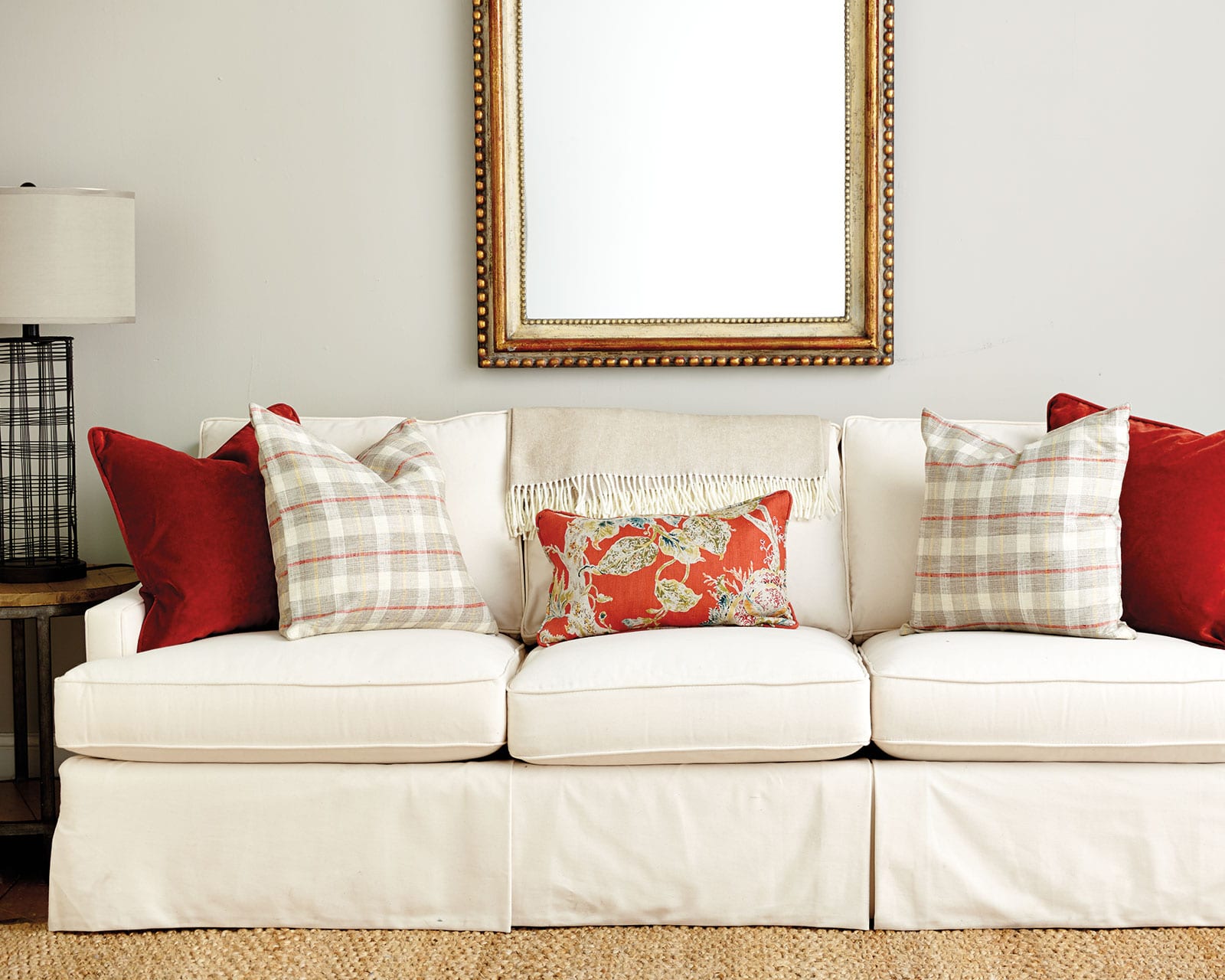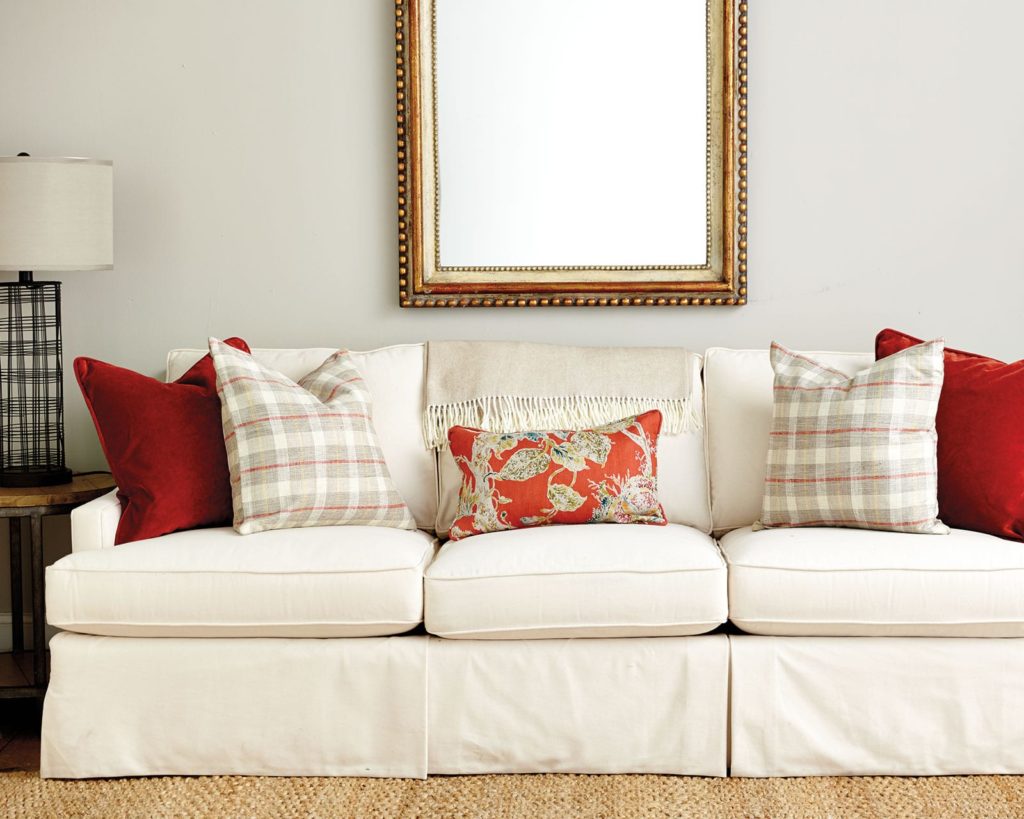 Sectional Sofa Pillows: Sizes and Arrangement Idea
For sectional sofas, put 2 of your largest pillows (22" or 24" square pillows) in the sides. Layer a slightly smaller square (or rectangle) pillow in front of those side pillows.
For the corner, put your largest pillow (22" or 24") in the back, with a slightly smaller (20" or 22") in front of that and a rectangle pillow in the very front.
Offset these three pillows slightly so they look casual and comfortable, like in this example from my living room.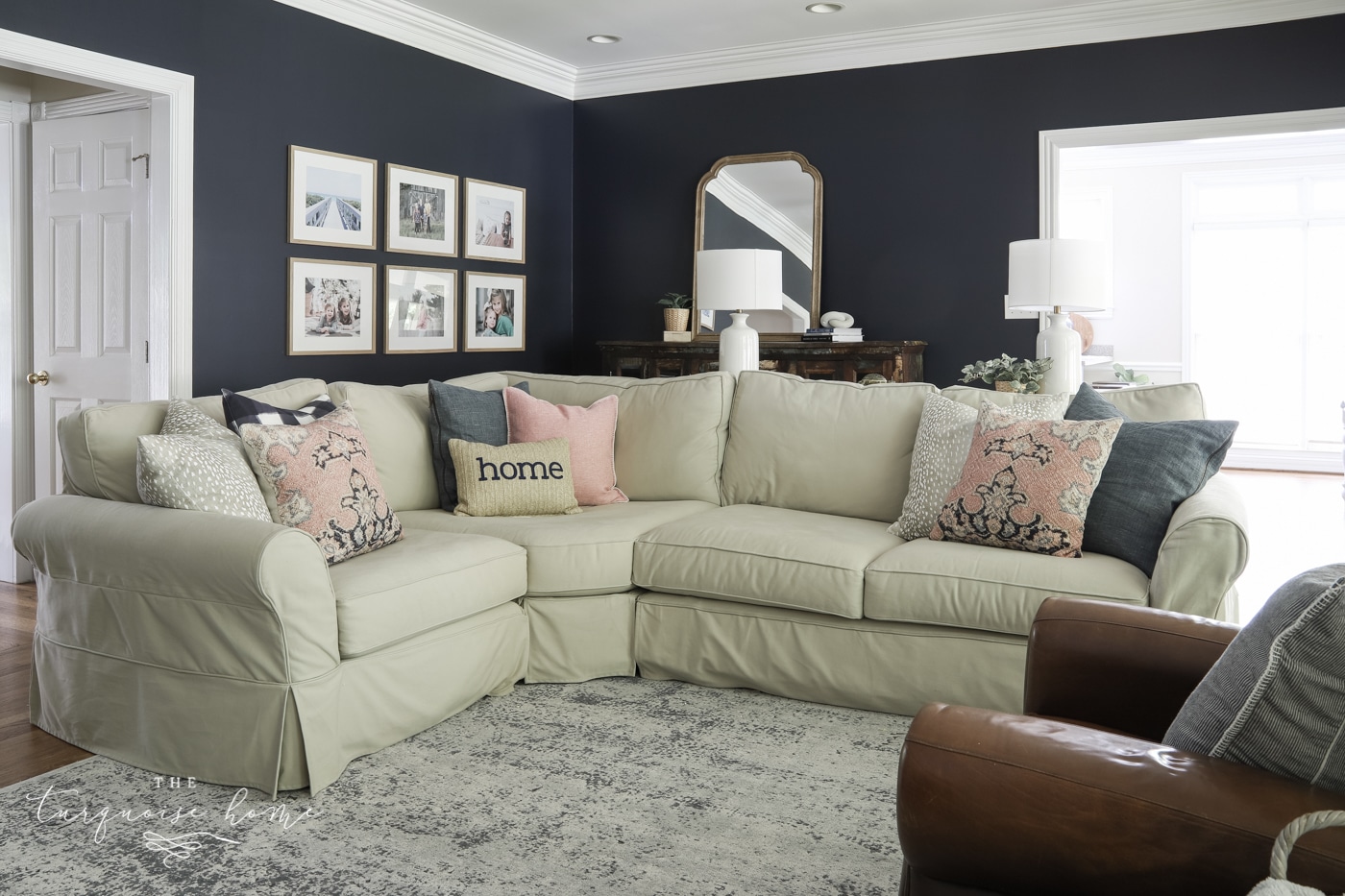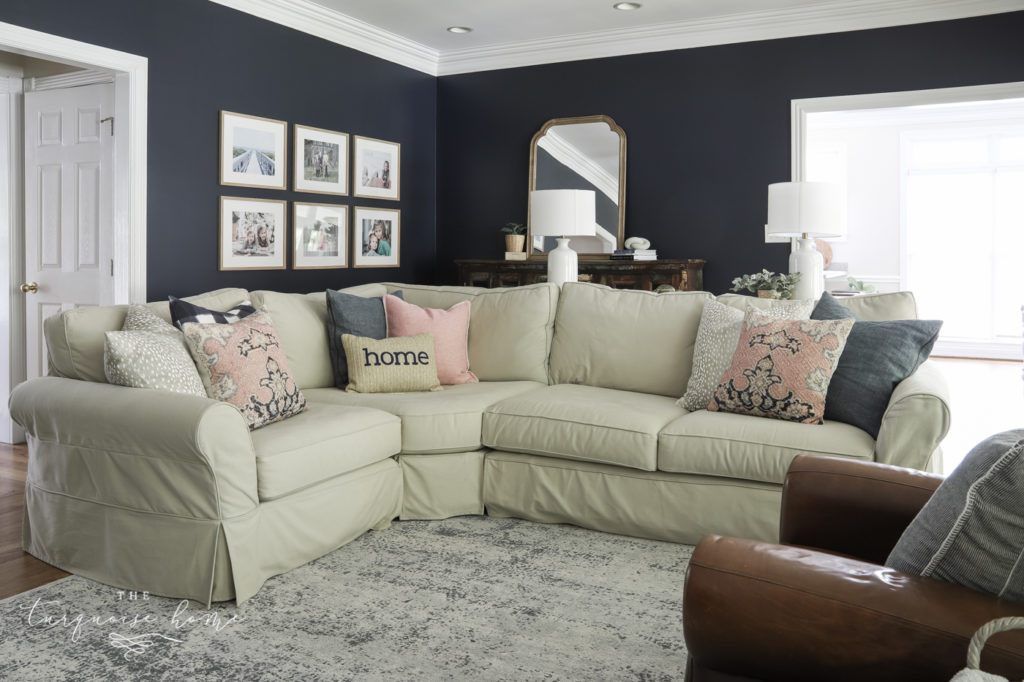 Picture Gallery Frames | Large Wooden Mirror | White Lamp | Sectional Sofa | Blue Area Rug | Faux Plant | Antelope Print Pillow Cover | Valari Print Pillow Cover | Midnight Blue Linen Pillow Cover | "Home" Pillow Cover (Similar)
Here's another example from Studio McGee.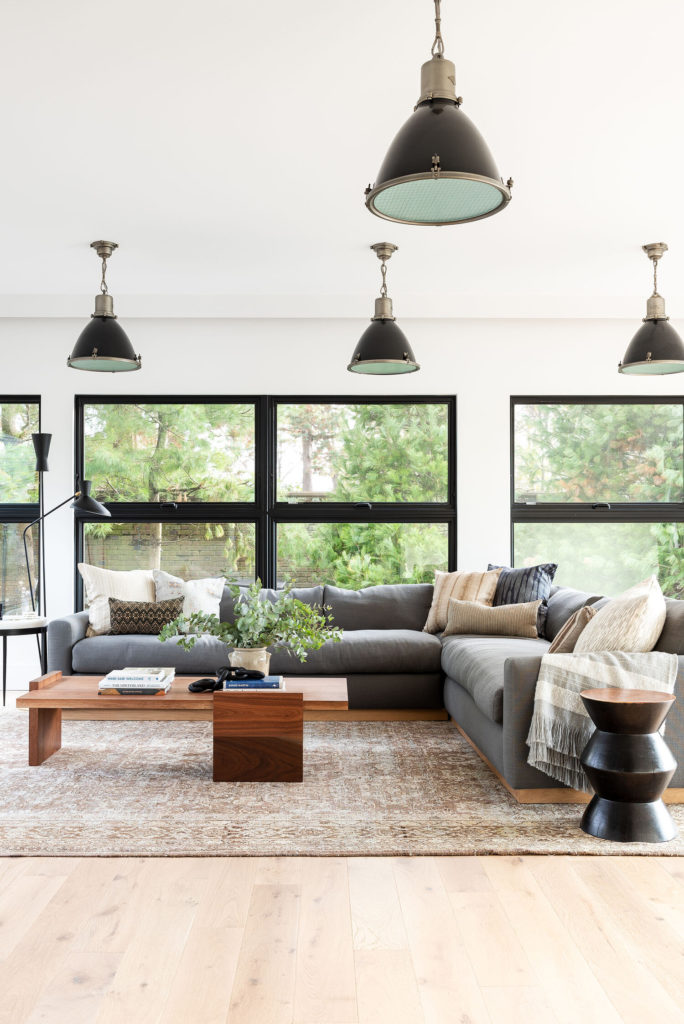 With just a little thought (and these tips), your throw pillows can go from ho-hum to amazing in no time. Then, when you're ready for a change, you can do it again to create a whole new feel!
More Home Decorating Posts You Will Love: